No matter how far we go, nothing tastes quite as good as home. Sinigang, adobo, and tapsilog remain our go-to dishes when we need comfort food; even with the world at our feet, we still crave kanin at the end of the day. Lucky for us, Filipino food is slowly expanding abroad, far beyond our tropical shores. And yes, we mean so much more than Jollibee and Potato Corner! 
From fine-dining establishments in American cities to local hotspots opening branches in Europe, you have your pick of great dining spots outside the Philippines. Here, we've rounded up some of the best Filipino restaurants in other countries that cater to the Pinoy palate. Kain tayo!
Also read: 15 Quick Destinations Abroad for the Next Long Weekend 
Best restaurants for a taste of Filipino food abroad
1. Kasama — Chicago, USA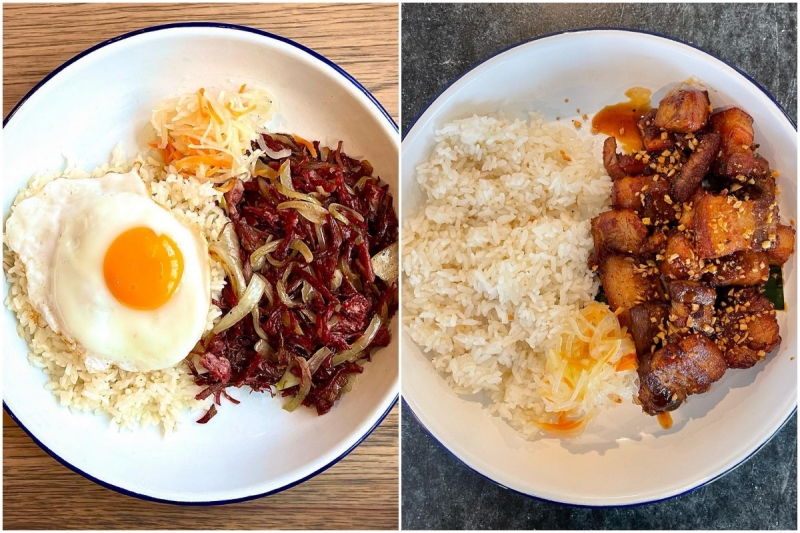 Thanks to chefs Genie Kwon and Timothy Flores, Filipinos in Chicago enjoy access to some of the yummiest Pinoy food on the planet at Kasama. And we're not kidding; Kasama is the world's first Filipino restaurant awarded a Michelin star. Foodies, you should definitely make the trip to Illinois for a meal at this proudly Pinoy hotspot. 
Here, savour a hearty lunch of local classics: lumpiang shanghai, silog dishes, and pork belly adobo. The first-come-first-serve daytime service closes at 2pm, though. If you're willing to splurge, make a dinner reservation for the fine-dining Filipino-inspired tasting menu. 13 courses of exquisitely prepared modern Filipino fare — if it sounds too good to be true, then we guess you'd have to visit to believe it!
Address: 1001 N. Winchester Ave., Chicago, Illinois
2. Archipelago — Seattle, USA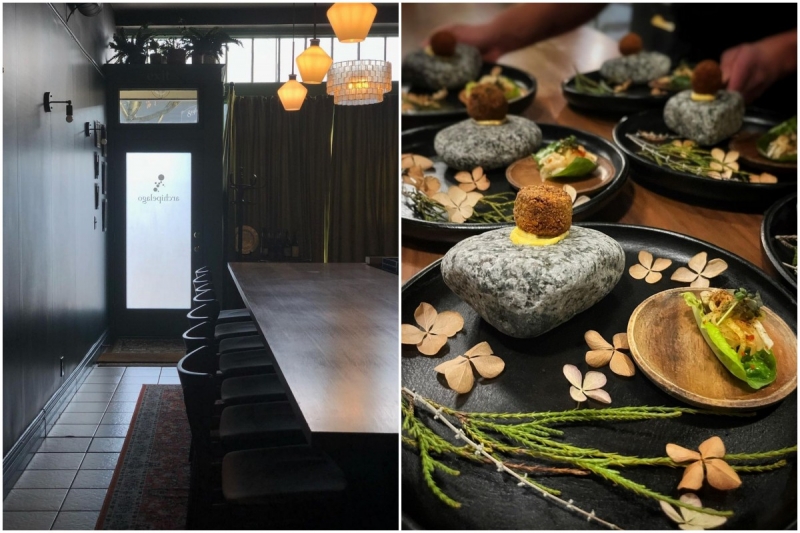 Another exceptional fine dining spot for Filipino food abroad is Archipelago, an intimate restaurant that fuses Pacific Northwest influences with flavours from the Philippine Islands. Each nine- to 12-course tasting menu is a carefully curated experience. Additionally, ingredients are locally sourced from the Pacific Northwest, with the Archipelago team making all the Filipino staples in-house — suka, bagoong, toyo, and patis, included!
An ever-changing menu means that you'll always get something new every time you visit. That said, this renowned Seattle restaurant only seats 10 to 12 people, so you'll have to reserve your slot early.
Address: 5607 Rainier Ave S, Seattle, Washington
3. Purple Yam — New York City, USA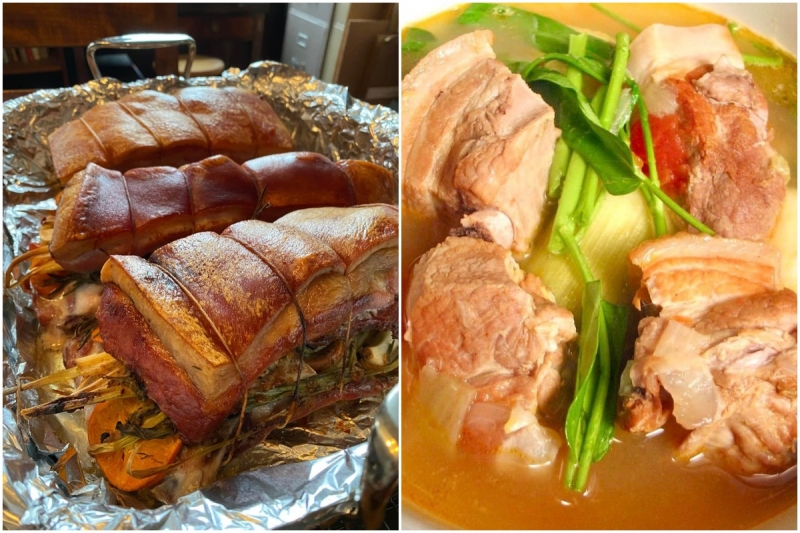 New York, New York! If you ever find yourself lost and homesick in the Big Apple, make a beeline for Brooklyn. Here, you can take a seat inside the cosy restaurant Purple Yam for a taste of something familiar. A great place to enjoy authentic Filipino food abroad, this New York hotspot serves lumpia, chicken adobo, and sinigang alongside other Asian favourites like dumplings. 
Good news to those of us stuck in Manila (for now): Purple Yam actually opened a branch in Malate, after finding success in New York!
Address: 1314 Cortelyou Road, Brooklyn, New York
Also read: Pop-Up Vendors Bring Filipino Street Food Experience to New York
4. Sari-Sari Store — Los Angeles, USA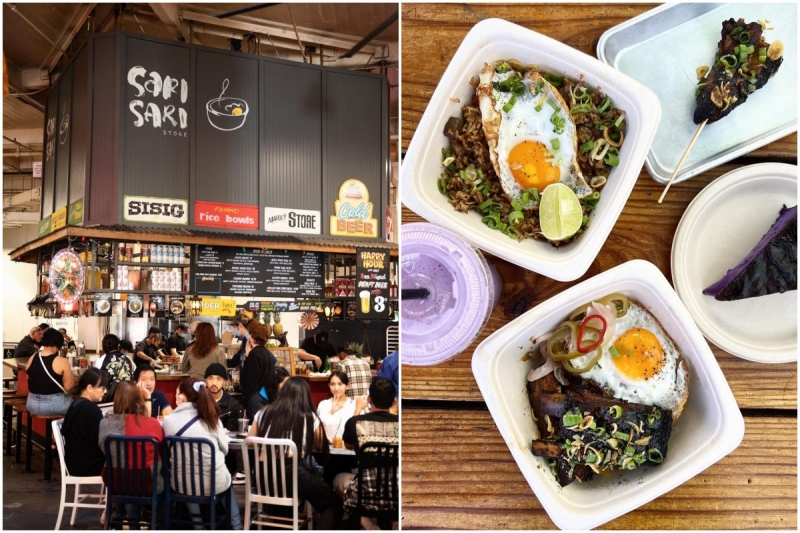 Every neighbourhood in the Philippines has a small sari-sari store that's the trusty place to get Filipino household staples. Well, the tradition lives on in the City of Angels! While it's not really a sari-sari tindahan, Sari Sari Store in Downtown LA's Grand Central Market does serve our Pinoy favourites, like a wide variety of silog bowls, pork belly BBQ, turon, and halo-halo. The tortang talong rice bowl is truly making us salivate right now! 
A brainchild of James Beard-awarded Margarita Manzke and husband Walter Manzke, Sari Sari Store is a cosy and colourful Pinoy haven in California. Don't leave the casual food stall without trying Sari Sari Store's famous buko pies. 
Address: 317 S Broadway Ave, Los Angeles, California
Also read: My California Coastal Road Trip: What It's Like in the Summer!
5. Mineral — Toronto, Canada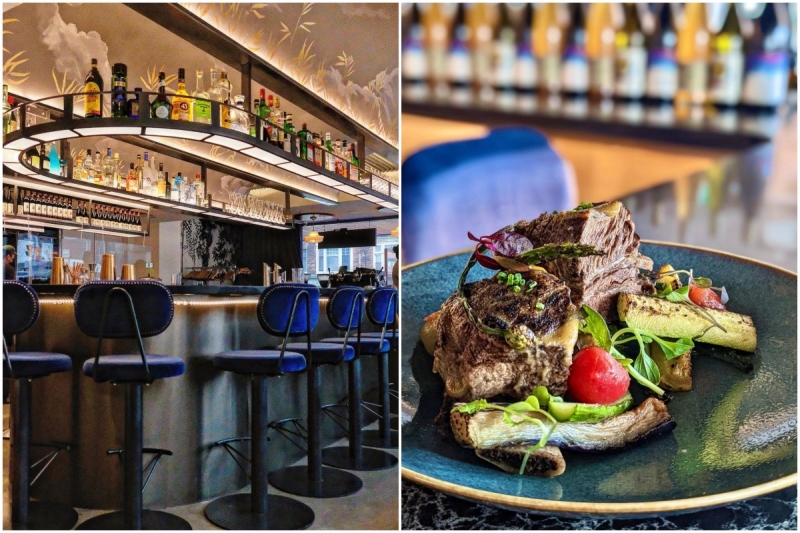 Dine in style while savouring the best cuisine in the world at Mineral. We're fully biased, we know. But when you're sitting in the chic Toronto hotspot, you'll find it hard to argue with us. Mineral's take on Filipino take is more refined than what we cook at home, but a lot of the exquisitely prepared dishes capture Pinoy flavours: the beef tenderloin tartare inspired by bistek; sinigang na baka sa miso; and ube leche flan for dessert. And that's only a handful of the best-sellers at Mineral!
Moreover, Canada's Mineral is a fantastic escape at all hours. A bistro-slash-cafe in the morning, it transforms into a beautiful cocktail bar at the end of the day. 
Address: 1027 Yonge St., Toronto, Ontario
Also read: FYI, Canada Is Now Visa-Free to Eligible Pinoys
6. Romulo Café & Restaurant — London, UK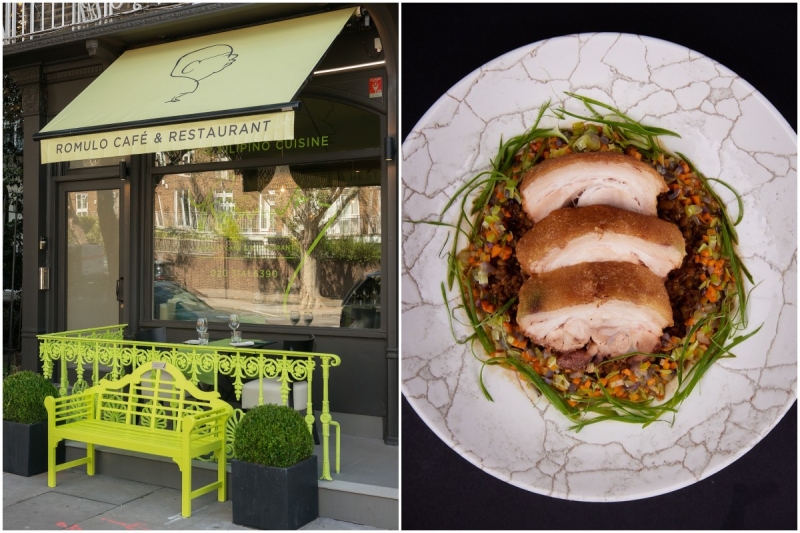 Let's fly across the pond to London, where a famous old-fashioned Manila restaurant sits in the heart of the city: Romulo Café & Restaurant. If you've ever eaten a meal in the Manila branches, you'll know that Romulo is one of the best places to get classic Filipino food around — and with the London branch, it definitely rings true abroad, too! 
Some of the highlights of the restaurant's ala carte menu include kare-kare, crispy pata, and the vegan-friendly lumpia. But if you're hungry, why not spring for the five-course tasting menu? For anyone missing their Lolo and Lola's home cooking, Romulo will undoubtedly hit the right spot. 
Address: 343 Kensington High Street, London
Also read: London Calling: A 9-Day Itinerary for First-Time Pinoy Travellers
7. Reyna — Paris, France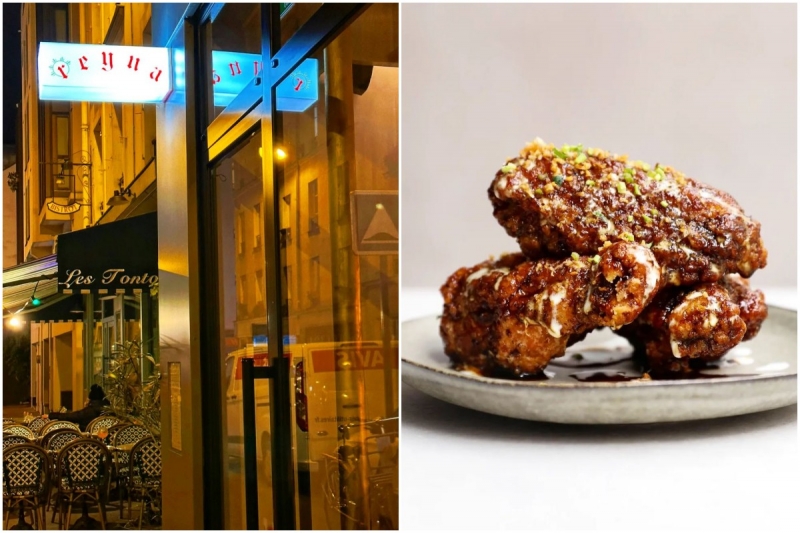 When it comes to good food, few cities compare to the gastronomic scene in Paris. And we're happy to note that there's a place in the culinary capital for Filipino flavours! Reyna started as a supper club in Filipino chef Erica Paredes' own apartment before she started doing pop-ups around Paris. Eventually, she was able to find a permanent spot for Reyna in the City of Lights — one that's a must-visit for foodies exploring France! 
Don't expect the usual dishes you're used to seeing. But Chef Erica captures the authentic flavours and vibrant spirit of Filipino food, taking classic favourites and combining them with other Southeast Asian cuisines and French techniques. Palabok, kare-kare, and sinigang get a bit of an upgrade in Reyna, while a crowd-favourite is the fried chicken with an adobo-inspired glaze. Bon appétit!  
Address: 41 Rue de Montreuil, Paris
8. Ayan — Berlin, Germany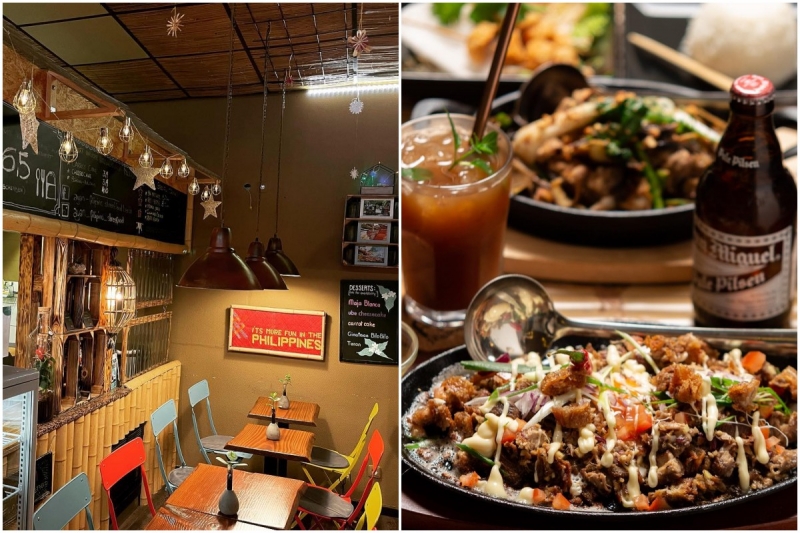 It's easy to take Filipino street food for granted at home, but once you're abroad, you'll probably find yourself wishing for fish balls and turon every now and then. Well, Ayan Filipino Street Food promises to satiate the cravings of Pinoys in Berlin! 
Step inside this casual restaurant and get instantly transported to the motherland. The colourful interiors look straight out of a local eatery! And the extensive Filipino menu features everything from rice boxes and bulalo to fish balls and halo-halo. Need we say more?
Address: Potsdamer Straße 69 10785 Berlin
9. Viva Filipinas — Bangkok, Thailand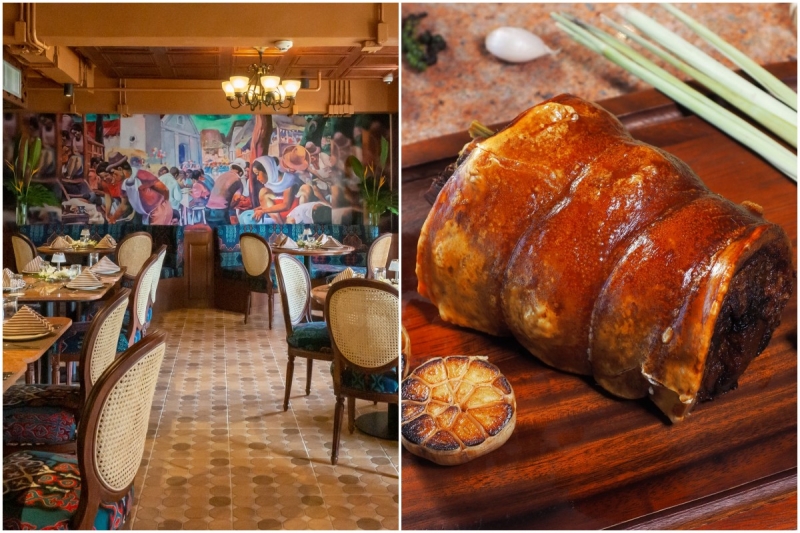 Tasty Thai cuisine is easy to love. But if you find yourself in the mood for Filipino comfort food abroad in Bangkok, then you can book a table at Viva Filipinas. The restaurant and events space promises a true-blue Filipino meal — it even sources specific ingredients like calamansi and soy sauce all the way from the Philippines to ensure genuine Pinoy flavours and authenticity.
The list of awesome local favourites available at Viva Filipinas is far too long to mention — they have everything! A few of the best-sellers include the beef kaldereta, misua with meatballs, and lechon belly. Can we take a little bit of everything, please?
Address: 372 Sri Ayutthaya Road, Rajthevi, Bangkok
Also read: 10 Budget Dos & Don'ts in Bangkok I Wish I Knew Before Flying to Thailand
10. Serai — Melbourne, Australia
Finally, find a piece of home Down Under at the modern Filipino-Australian dining spot Serai. A vibrant reimagining of Filipino food with Aussie influences, Serai is a great way to explore all the ways we bring our culture abroad. Just look at the menu to see what we mean: seared kangaroo kilawin, kare-kare hash brown, and lamb ribs with sticky adobo sauce. No matter how incredible the Melbourne dining scene is, this one's certainly not to be missed. 
Address: 7 Racing Club Lane, Melbourne
Also read: 10 Classic Restaurants in Intramuros for Timeless Filipino Cuisine
It's about time we give Filipino food some love — even if you're abroad! Which of these Filipino restaurants are you most excited to visit?
---
Featured image credit: Viva Filipinas | Official Facebook Page
Facebook image credit (L-R): Sari Sari Store | Official Instagram Page; AYAN – Filipino Streetfood Berlin | Official Facebook Page