Flight delays are horrible. I don't know anyone who wouldn't agree. Sadly, flight delays have become such a norm that most of us simply accept it when it happens. We shrug off a two-hour delay as "two hours lang naman" — mainly because we know that it could be worse.
Earlier this year, I experienced worse.
After my family and I spent a week in Thailand, we finally were bound for Manila. It was a weekday and I was working remotely, rushing to pack and prepare while tapping panickedly on my laptop. Our flight was at 2pm UTC+08:00. My parents decided to leave the hotel at 11am.
Spending a week in Thailand made me quite homesick. I missed sinigang so much. I missed my bedroom, too, because I wanted to fix it so bad with the KonMari method. We were all excited to get home on time. Take note — our ETA in Manila was 5pm.
As we arrived at the Bangkok Airport, we heard that our flight was delayed for half an hour. It wasn't a big deal for us. At least we had vouchers for food. And I got to work comfortably in a coffee shop.
But when I finished working, another announcement came up. Our flight was moved to 7.30pm. In return, they gave us a burger. But, I've had enough burgers by this time.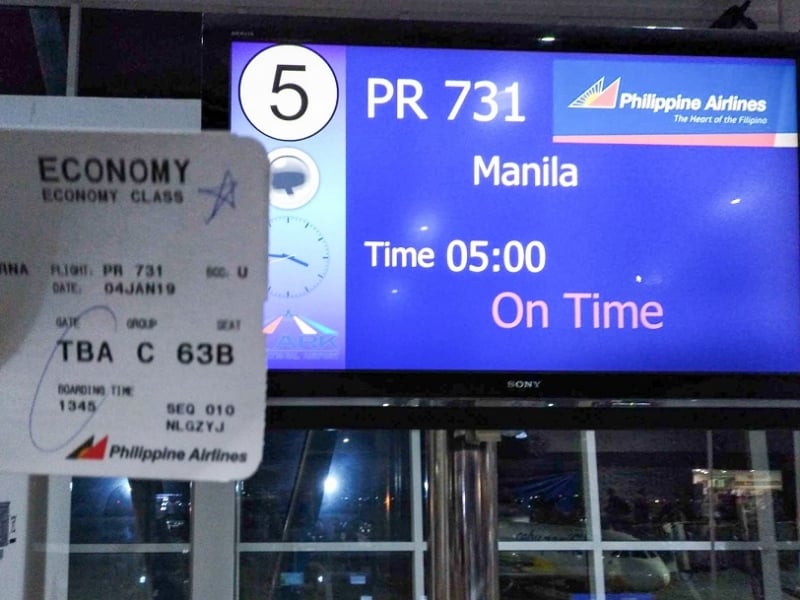 Eventually, our plane departed at 9pm. By the time we were about to land in Manila, the pilot made a horrifying announcement. Apparently, the NAIA runway was closed. We had to land in Clark. Upon landing, airport officials didn't allow us to go out of the airport. We had to fly from Clark to Manila, which wasn't until a couple more hours. People were losing their tempers. Babies, and a few adults, were throwing tantrums. Most of the passengers were in connecting flights, and all of them had already missed their plane.
To cut the long story short, instead of arriving at 5pm, we arrived at 6am. This exhausting experience prompted me to ask around about delayed flight experiences. Because let's face it, it happens. And sometimes, there's nothing else we can do but talk about it. So, here are other travellers doing just that.
Also read: Heads Up Travellers! – 10 Best Ways to Handle Flight Delays & Cancellations
Desperate for Christmas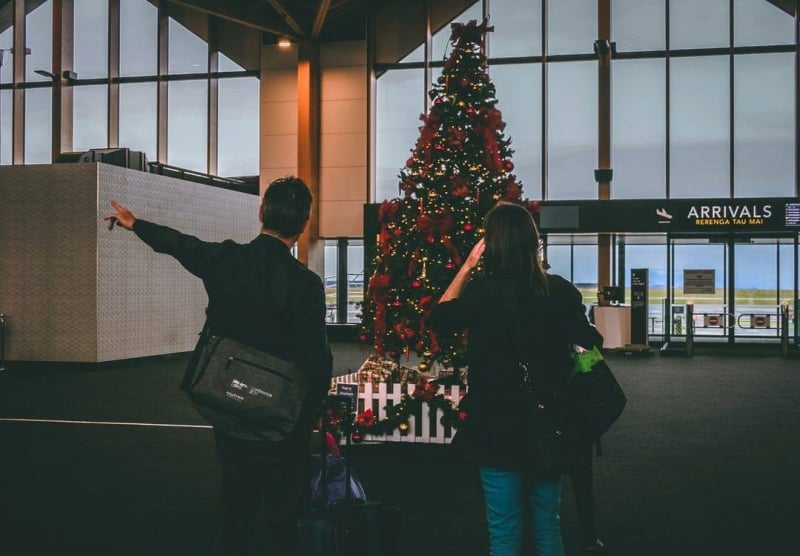 "One time, I was flying from Manila to Kalibo around December 2011 or 2012 para umuwi sa probinsya for Christmas.
We were actually already about to land, but bumalik yung plane sa Manila kasi hindi siya maka-land. It was a night flight, and then the next available flight that they could transfer us to was already in the afternoon or early evening for the next day. It was almost 24 hours na naghintay kami before we could fly again.
We were not provided accommodation or anything at all upon our return. Kaya walang compensation kasi hindi raw nila kasalanan kasi zero visibility raw yung Kalibo airport. But at least, we could leave our baggage naman with them. Still, I stayed in the airport till the morning kasi mahirap na umuwi ng disoras. Nakaupo lang ako sa isang corridor since it was so crowded then. Wapakels sila sa amin.
Hindi ko rin alam kung paano nila napagkasya lahat ng passengers mula sa ibang flights since fully-booked na rin noon. I wanted to get home already kaya nagtanong ako ng kahit ibang route na lang, like Roxas or Iloilo, basta makalipad first thing in the morning. Pero wala raw, eh. Ang nangyari after kong mag-overnight sa airport, umuwi na lang din ako sa Quezon City to sleep for a few hours. Then, bumalik na lang ako doon.
I think the worst part is that nasanay na rin ako sa delayed flights kasi halos laging nangyayari. Yung norm na siya every time I fly. Tapos sad lang kasi what if you have limited time off? You lose time to relax, time with loved ones… Not to mention the financial loss kapag vacation mo at nag-book ka na ng hotel, attractions, etc." – Lenliegh
Not a night person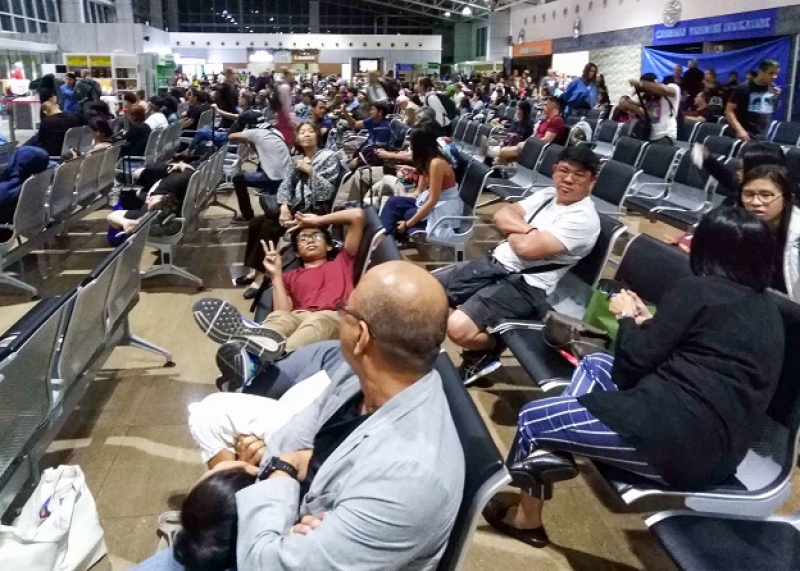 "I was flying back to the Philippines and it was midnight. Having checked in and gotten early to the departure gate, I tried to find a good corner where I can flatten my weary body. Just when I was about to doze off, an airport staff came announcing that we're changing gates. We moved to different gates three times until our flight got delayed for two hours.
Talking of delayed flights, the domino effect is the worst we can get.
The first leg of our flight was delayed. Upon reaching our first port of disembarkation, we had to take the airport train to bring us to the other terminal. Then, the check-in or scanning machine line was so long that we had to ask some of the passengers if they can let us cut into the queue. Others graciously allowed us to. Thank God that we made it just in time for the last call for boarding." – Marlyn
Injured traveller
"Relatively speaking, hindi naman masyadong matagal yung worst delayed flight experience ko. Pero yung sitwasyon ko yung nagpahirap.
Bago ako lumabas ng hotel for check-out, natapilok ako sa stairs and na-sprain ako. Two hours yun before my flight from Armenia to Manila, with layovers in Dubai and Bangkok. Isang araw akong bumabiyahe with a sprain. Sobrang sakit na ng paa ko at gusto ko nang makauwi sa mama ko, pero na-delay pa ng two hours yung flight ko from Bangkok to Manila. Imbes na makauwi na ako kaagad, nakatambay pa ako sa lounge for injured travellers. Sad lang na ganon. Tapos pagkarating ko sa Manila, nawala pa luggage ko kasi hanggang Bangkok lang siya nai-tag. Ang lala kasi wala akong ibang kasama, umiyak na ako." – Marielle
Suffocatingly delayed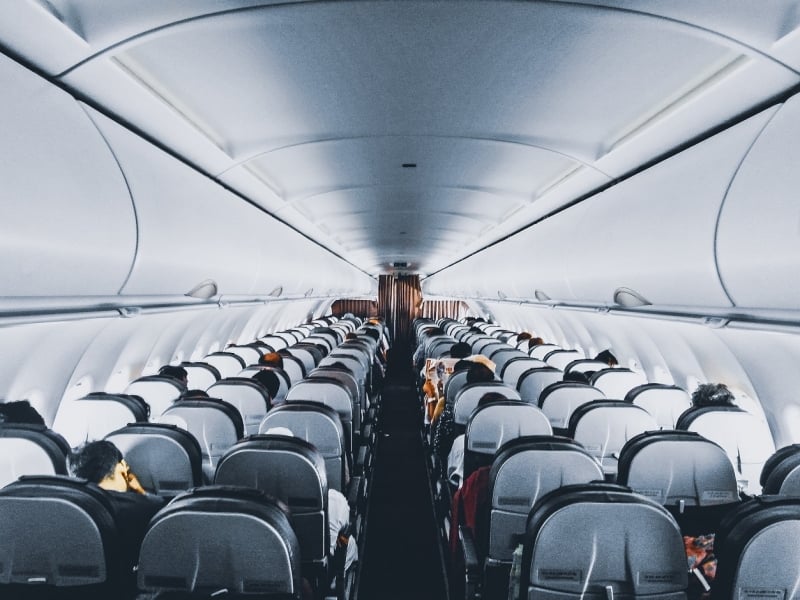 "My worst flight delay experience happened around April 2016. Our flight was from Legazpi to Manila. Naka-board na kami ng plane nung na-inform kaming delayed pala yung flight. Hindi man ganon katagal yung delay, it felt like an hour lang, pero hassle kasi ang init. Nasa loob lang kami ng plane na hindi man lang naka-on yung aircon." – Clam
Running around in circles
"When my wife and I were bound for the US, our connecting flight was delayed by an hour. When we arrived, we still had to line up for security. The US airport police demanded that we had to line up all the way, even when we had another flight to catch. I lost my temper and started shouting. I explained to the people in the lines that we couldn't afford to wait in line, so they let us cut in front of them. After going through security, we ran to our gate in the other airport terminal. It was only when we got there that we were informed that our gate was moved to yet another airport terminal. So, we had to run back to the terminal we originally came from. It was such a tiring flight." – Cris
Also read: 4 Days Surigao Itinerary: An Unforgettable Summer Adventure with Friends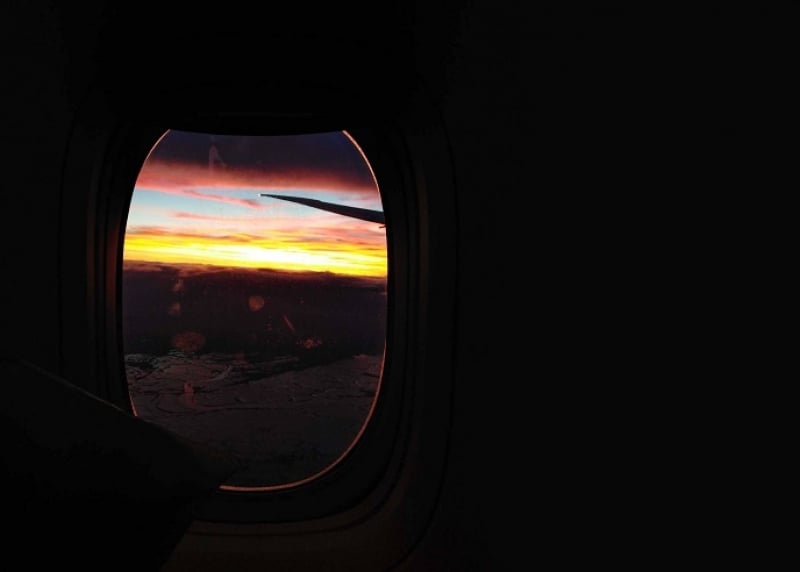 Indeed, flight delays are horrible and I wouldn't wish it upon my worst enemies. Yet, there are times that they can turn into blessings in disguise. I, for one, had time to finish reading some books while devouring my free burgers. Trust me — even this cloud has a silver lining. Sometimes, all we have to do is look outside the plane's window (that is, when our plane finally arrives).
---
These quotes have been edited for grammar, clarity and flow.