Makati City is nothing short of a bustling enclave where business, culture, and entertainment come together in perfect harmony. By sundown, its nightlife scene takes centre stage and invites you to get lost in the music and indulge in unforgettable party experiences. From chic music lounges to lively and energetic clubs, Makati offers a plethora of late-night hotspots for every kind of night owl. Here, we list some of the hippest and trendiest bars to check out on your next night out in the city! 
Also read: 13 Coolest Airbnbs in Makati for Your Next Staycation 
Hip and trendy Makati bars and nightlife spots
1. Kampai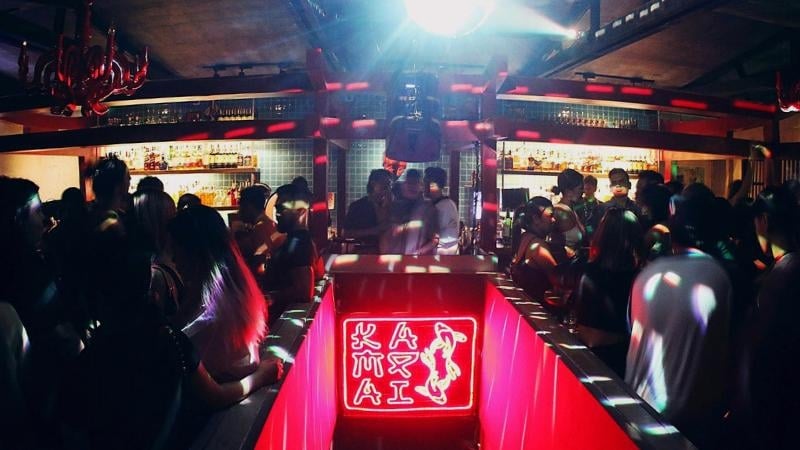 Enter Kampai and you'll feel like you've been transported to Japan's hottest nightlife enclaves like the bustling Shinjuku or Roppongi districts. A Japanese-inspired izakaya in the heart of Poblacion, it features a limited yet succulent selection of authentic Japanese eats and signature cocktails. If you're seeking a more relaxed dining atmosphere, its first floor is just the place to be. Alternatively, head upstairs for the party where bass-boosted electronic music and vibrant neon lights abound. 
Address: 5857 Alfonso corner Fermina St., Barangay Poblacion, Makati
2. Apotheka Manila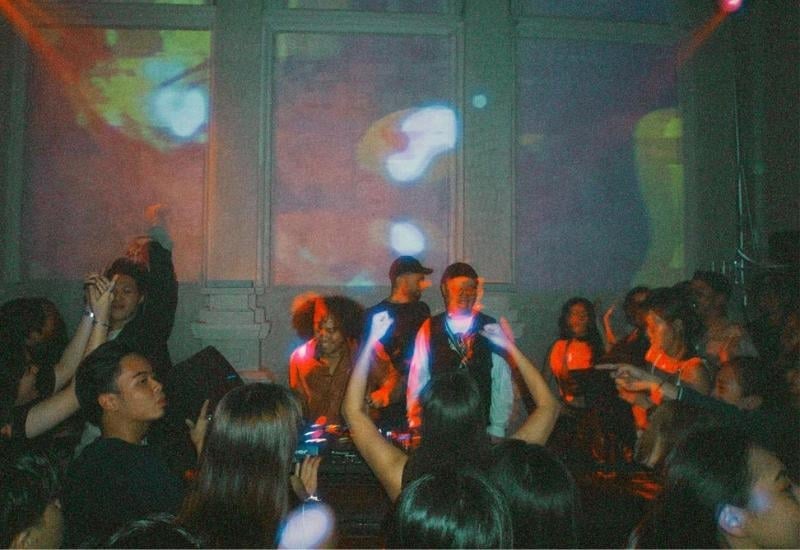 One of the up-and-coming Makati bars as of late, Apotheka is a haven for the wild, young, and free! Dance the night away to electrifying DJ sets and live performances by local bands and musicians. If you're looking for nightlife spots in the city with atmospheric vibes and a spacious dance floor to bust a move, this one can't be missed. Much like an apothecary, if there's anything you're leaving with after a night at Apotheka, it's most likely a remedy to melt those stresses away. 
Address: G/F, White Rabbit Bldg., 5672 Dona Carmen St. corner General Luna, Makati
3. Nokal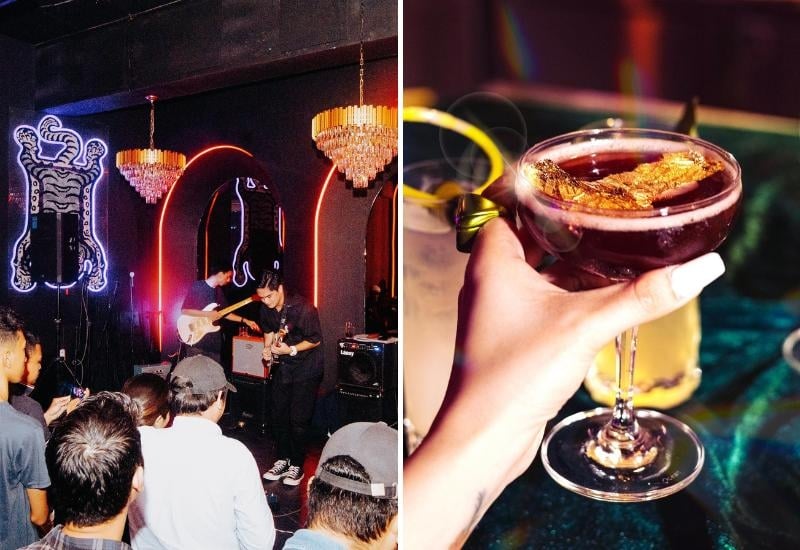 Another hotspot to experience the local party scene is at Nokal, a literal underground club tucked away in the basement of Makati Cinema Square. Despite its rather secluded location, party animals and night owls flock to this retro-chic bar for an epic night out. Groove and move to all sorts of tunes, from house music to disco, funk, and soul. Feeling famished? Nokal serves up cheeseburgers, rice bowls, and finger food to pair with your booze of choice. 
Address: 2130 Fernando St., Basement 1, Makati Cinema Square, Makati
4. Futur:st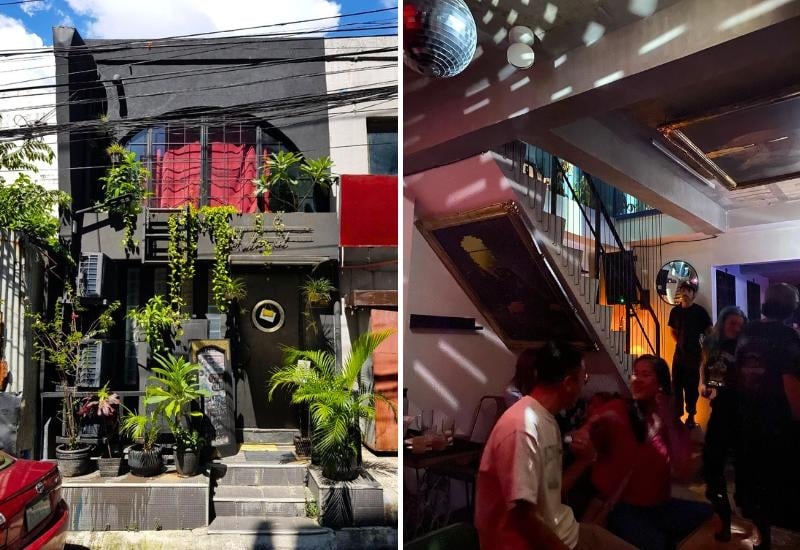 Futur:st, tucked away in the bustling district of Poblacion, is Today x Future's sister watering hole. The latter, located in Cubao, once served as a meeting place for queer and trans folk after a long, tiresome week. Unfortunately, they closed their doors in 2020 after painting the night scene with vibrant colours for 12 years. Now, Futur:st stands as an all-inclusive safe space for people to come together, enjoy great music, and appreciate contemporary art. 
Address: #5062 Guerrero Street, Poblacion, Makati
Also read: Metro Manila Pride: 10 Safe Spaces for LGBTQ Folks to Check Out
5. Ugly Duck Tapas Bar & Rooftop Lounge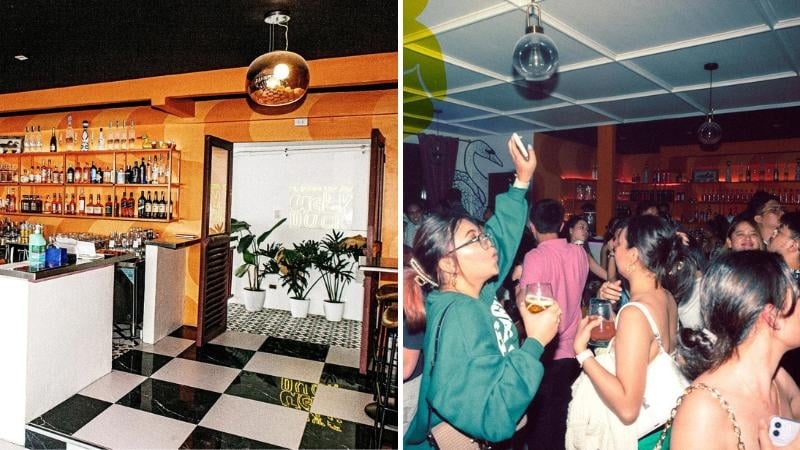 Ugly Duck Tapas Bar & Rooftop Lounge boasts an eclectic and whimsical ambience that instantly catches the eye and grabs attention. We kid you not when we say it's like walking right into a '70s disco club. Their interiors feature a fusion of industrial-chic style and bits of quirky elements here and there, like checkerboard floors and orange-tinted walls. 
However, what truly sets Ugly Duck apart from other Makati bars is their carefully curated selection of liquor-based drinks. Whether you prefer a refreshing and fruity blend or a bold concoction, you name it, they've got it! In addition to their libation, Ugly Duck also hosts a dynamic lineup of live DJ performances that you simply can't miss. 
Address: Rooftop, White Rabbit Bldg., 5672 Dona Carmen St.corner General Luna, Makati
Also read: Silong Lounge: Everything to Know About This Hidden Bar in Makati
6. Alamat Filipino Cuisine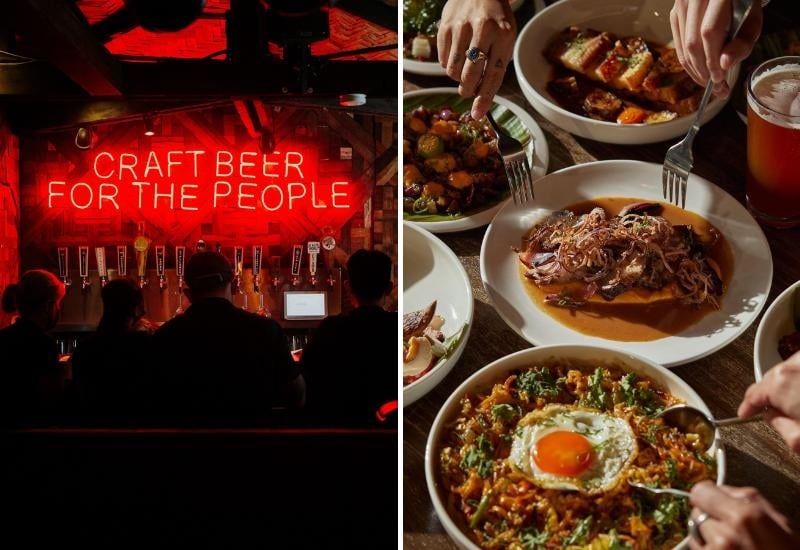 On your Pob pub crawl, surely, you'll start to feel the raging hunger kick in. While there are tons of delectable spots to fill up in Poblacion, there's nothing quite like classic Pinoy eats during your inuman session. Step into Alamat Filipino Cuisine for, well, authentic local bites made with a modern twist — even their craft beers and cocktails are made to cater to the Pinoy palate. Featuring a more laid-back dining atmosphere, you and your barkada can enjoy your kwentuhan sans blaring music. 
Address: 2/F 5666 Don Pedro St. Barangay Poblacion, Makati, Philippines
7. OTO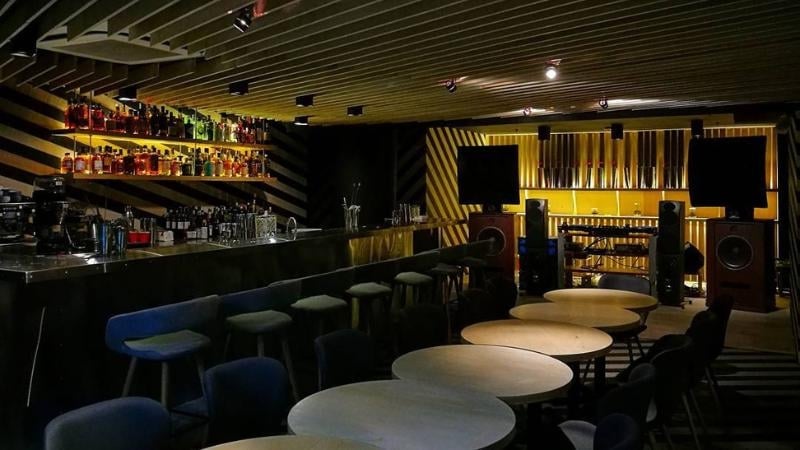 For speciality coffee and craft cocktails over candid conversations, make your way to OTO. Nestled in one of the quieter streets of the Makati CBD, this listening-room-slash-lounge makes for the perfect hangout spot for music enthusiasts and chill vibes seekers. Apart from its intimate atmosphere and cosy furnishings, it boasts an impressive floor-to-ceiling vinyl collection and an incredible sound system that's perfect for indulging in music. 
Address: 5883 Enriquez Street, Barangay Poblacion, Makati
8. 78-45-33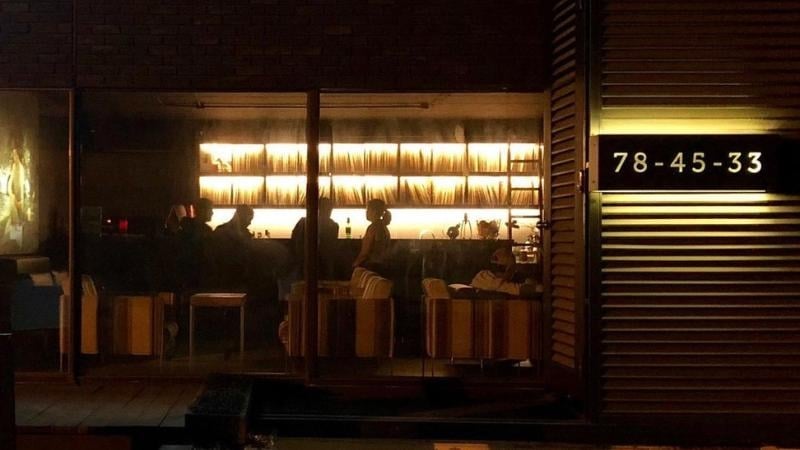 On the lookout for more speakeasies in Makati? Another low-key spot for your late-night adventures is 78-45-33. As its name suggests, this bar lets you in on all things turntablism — especially with its 10,000 vinyl records on display. Notably, dimly lit interiors, moody lighting, and plush seating make it an ideal place to appreciate quality music. Overall, this jazz bar offers a nightlife experience that introverts might find exceptionally appealing!

Address: Ground Floor (rear), 44, LPL Mansions, San Agustin St., Makati
Also read: 9 Best Introvert-Friendly Places in the Philippines
9. Assembly Hall / HereAfter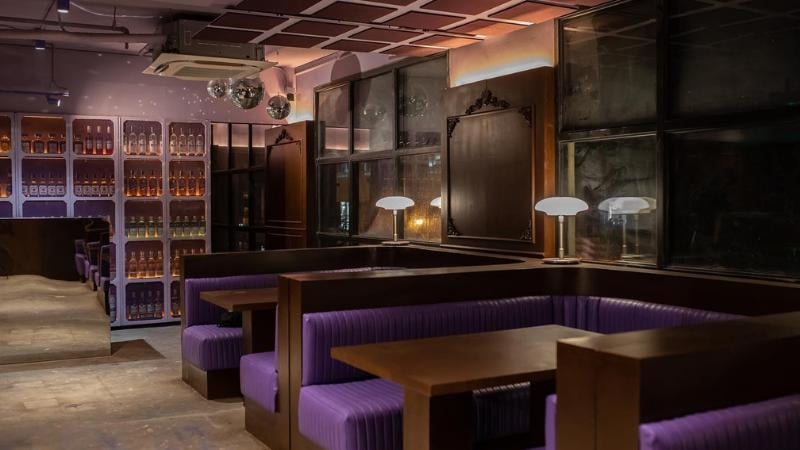 From brunch to after-hours, Assembly Hall / HereAfter is your next fave stomping ground for pick-me-ups! A burgeoning social hub in the heart of Makati, this cafe-slash-bar lets you switch from work mode to play by sundown. When the Assembly Hall cafe finally closes for the day, HereAfter (amusingly located inside the cafe's admin office) opens its door to welcome you to a night of mingling and mixology. Here, expect handcrafted cocktails and unique concoctions like Campfire Cocktail, a s'mores-inspired boozy beverage.
Address: 2F, HMA 773 Building, J.P. Rizal Avenue, Makati
Also read: Flo All-Day Drinking: All About This Trendy Bar-Slash-Cafe in Makati
10. SaGuijo Cafe + Bar Events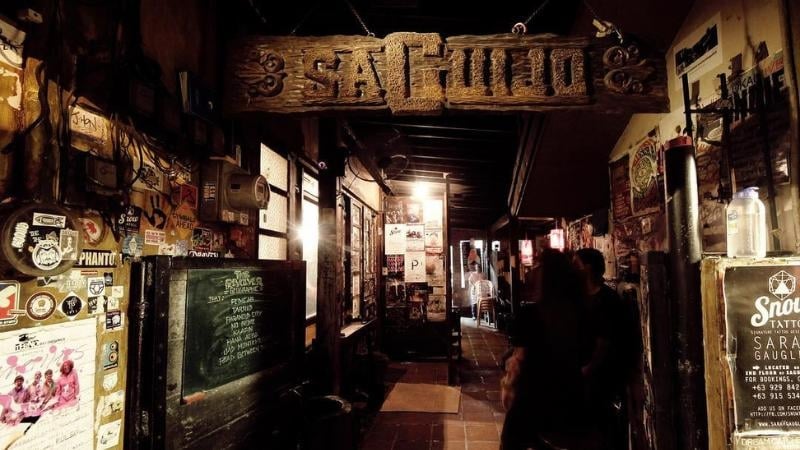 Over the years, SaGuijo Cafe + Bar has established itself as the prime late-night spot for local music and entertainment. A sanctuary for homegrown bands and artists, it also naturally draws in buzzing crowds and folks seeking memorable live music experiences. Ask anyone who loves going to gigs, and they'll most likely tell you that SaGuijo is especially worth checking out! 
Address: 7612 Guijo Street, San Antonio Village, Makati
Also read: A Going Out Guide: Where to Eat in Poblacion From Day to Night
Of course, there are more exciting Makati bars and clubs to explore on your night out! But this list is a great place to start, whether you want to unleash your inner party animal or simply get lost in the music. We're always on the lookout for new spots to explore, so be sure to let us know about your fave Makati bars on our official Facebook page or tag us on your Instagram photos @tripzillaph. Cheers! 
---
Featured image credit: Nokal | Official Facebook Page 
Facebook image credit (L): Nokal | Official Facebook Page