Introverts would know that finding a peaceful and comfortable space to recharge is essential — places far from the city's chaos and the clamour of crowds. On the lookout for more relaxing destinations that don't require much interaction with others? Whether it's a solo getaway destination or a quiet nook in the city, look no further! Here, we round up some ideal vacation spots for introverts in the Philippines. 
Also read: 10 Fun Things to Do in Manila Alone
Must-visit vacation spots for introverts
1. Luljetta's Hanging Gardens Spa – Antipolo City
Undoubtedly, there's nothing more relaxing and healing than escaping to a wellness retreat. Nestled among lush greenery in Antipolo City, Luljetta's Hanging Gardens Spa brings you closer to nature and gives you a taste of Bali in the Philippines! With its rejuvenating amenities and quiet atmosphere, you can simply let loose and focus on pampering yourself without dealing with so many social interactions. 
Address: Barangay, Sitio Loreland Road, Antipolo, Rizal
2. Mt. Batulao – Batangas City
For the adventurous introverts out there, consider taking on greater heights! Mt. Batulao in Nasugbu, Batangas is one of the most majestic peaks down south that also offers a calming respite from the city with its awe-inspiring views. Whether you're a beginner or a seasoned hiker, it definitely deserves a spot on the local mountaineer's travel bucket list. Additionally, its hiking trail is not overly crowded, which allows you to climb at your own pace. 
Also read: 14 Mountains in the Philippines With the Most Incredible Views
3. Province of Leyte
An underrated travel destination in the Philippines, the Province of Leyte in Eastern Visayas is perfect for those seeking a more relaxed and secluded tropical vacation. It boasts a treasure trove of natural wonders and numerous beautiful islets scattered throughout the province. Aside from its undeniable beauty, it also holds a lot of historical significance and great antiquity. 
Also read: 10 Gorgeous Islands & Beaches in Leyte for Sun, Sand & Surf
4. Cabagnow Cave Pool – Bohol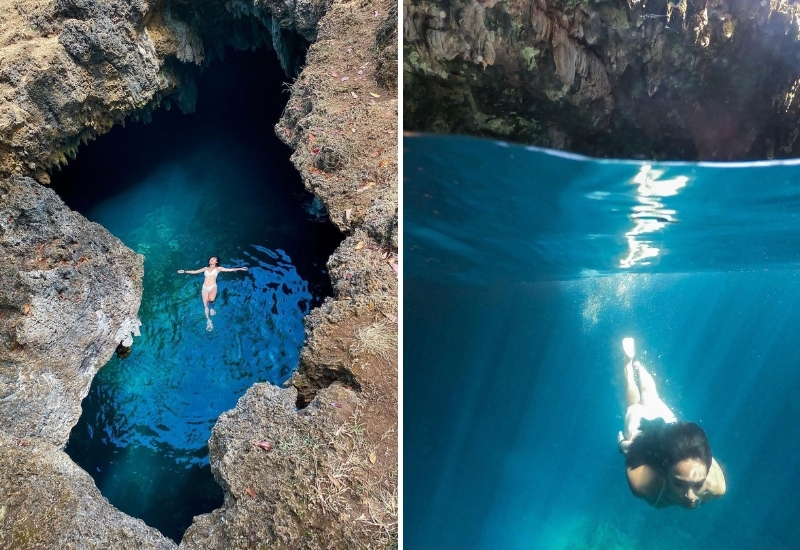 Cabagnow Cave Pool is a hidden natural gem in the small peninsula of Anda, Bohol. For those seeking a unique destination, this 10-foot-deep limestone sinkhole features crystal-clear waters and beautiful surrounding rock formations. Ultimately, its enchanting ambience and rather secluded location make for the perfect respite for introverted travellers who are still up for a little adventure. 
Address: PHMC+84M, Anda, Bohol
5. Gabaldon Falls – Nueva Ecija
Looking for more quiet and peaceful alternatives to touristy beaches in the Philippines? Here's an idea for you: waterfalls! Tucked away in the landlocked Province of Nueva Ecija is Gabaldon Falls, a short three-kilometre hike from the small town of Gabaldon. Its cascading freshwater flows from the Sierra Madre mountain range situated above it. Nature lovers will find this spot especially fascinating, thanks to its tranquil surroundings and picturesque views. 
Address: F947+MH2, Gabaldon, Nueva Ecija
Also read: 10 Waterfalls Near Manila for Day Trips & Long Weekends
6. Camp Agos Daraitan
Seeking a quick weekend getaway in nature? Go off the grid at Camp Agos Daraitan! While this campsite in Tanay, Rizal features thrilling outdoor activities for the adventurous, it also makes for the perfect relaxing escape for those who wish to unwind. Wake up to its breathtaking lakeside views that allow you to enjoy nature to the fullest. The best part? You can also pitch your own tent for only ₱500! 
Address: Barangay, Simeon, Dela Carzada Street, Tanay, Rizal
Also read: Camp Agos Daraitan Lets You Camp Out and Enjoy Nature for as Low as ₱500
7. Mapanuepe Lake – San Marcelino, Zambales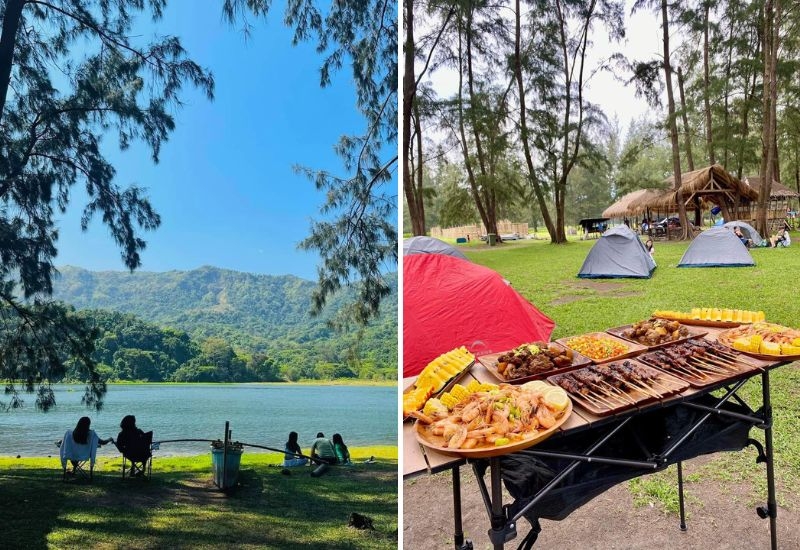 The Province of Zambales is nothing short of a scenic and tranquil destination for nature getaways! Home to the stunning Mapanuepe Lake in San Marcelino, it offers locals and tourists a peaceful retreat from city life. Not only is it an ideal spot for enjoying water-based activities in the Philippines, but it also makes for the perfect place for roughing it in nature! 
Address: Barangay Aglao, San Marcelino, Zambales

Also read: These Pinay Travellers Share Their Favourite Destinations for Solo Travel in the Philippines
8. Father Blanco's Garden – Manila City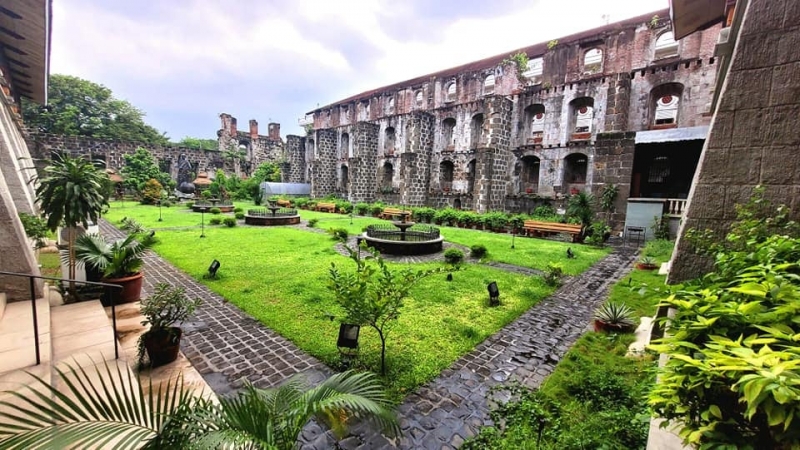 Father Blanco's Garden is a hidden oasis nestled right in the heart of the Walled City of Intramuros. Although situated behind the iconic San Agustin Church, this pocket of nature lets visitors in on a serene sanctuary among lush foliage and historical remains dating back to World War II. Go picnicking, take a stroll, or simply retreat here for some peace and quiet. 
Address:  HXQF+8RW, Intramuros, Manila, Metro Manila
9. Gubat – Quezon City
Of course, no list of ours will ever be complete without mentioning a foodie spot! For your no-frills dining experience, enter Gubat in Quezon City. Tucked away in a literal gubat in the Diliman Bonsai Society Garden, it's no surprise that only a few know about its existence. This quaint, humble eatery serves up your favourite Filipino dishes like lechon kawali, adobong baboy, and beef tapa served with adobo rice, salted egg, and pako salad. So, who's up for some kamay-kainan? 
Address: Bonsai Society, President Carlos P. Garcia Ave, Diliman, Quezon City, Metro Manila
Also read: Why Introverts Make The Best Travellers
That's it! Next time you crave adventure sans social interaction, consider our list of vacation spots for introverts in the Philippines. Whether it's a tropical respite or a peaceful escape from the hustle and bustle of the city, these spots have got you covered when you're in hermit mode. 
Not sure if you're ready to go on a solo adventure? Find out here!