Contributed by hANnaeYTHING
Masungi Georeserve is a vast conservation area tucked in the rustic rain forests of Rizal. The name is derived from the word "masungki" which means "spiked", a very fitting description for the sprawling and untouched limestone landscape within the conservation area.
Also read: 10 Eco-Tourism Parks in the Philippines for Your Next Family Outing
Sharing with you step by step and up close as we traverse the karst terrain for 4 1/2 hours. Are you ready to take this adventure with us? Here we go…
We drove from Manila to Rizal via private vehicle and was instructed to go to the Garden Cottages located at KM 45 Marcos Highway. A Masungi Georeserve staff welcomed us there and checked our name on the list. From Garden Cottages, we were directed to drive 2 kilometres more to Masungi Georeserve gate which has a signage of KM 47 at the right side of the road coming from Manila. They have a big parking area where we were welcomed by their friendly staff.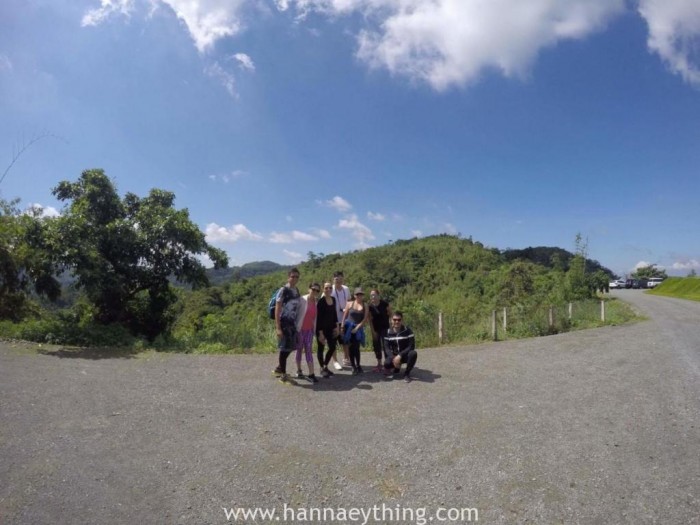 Parking area
We walked for around 5 minutes to go to the receiving and briefing area.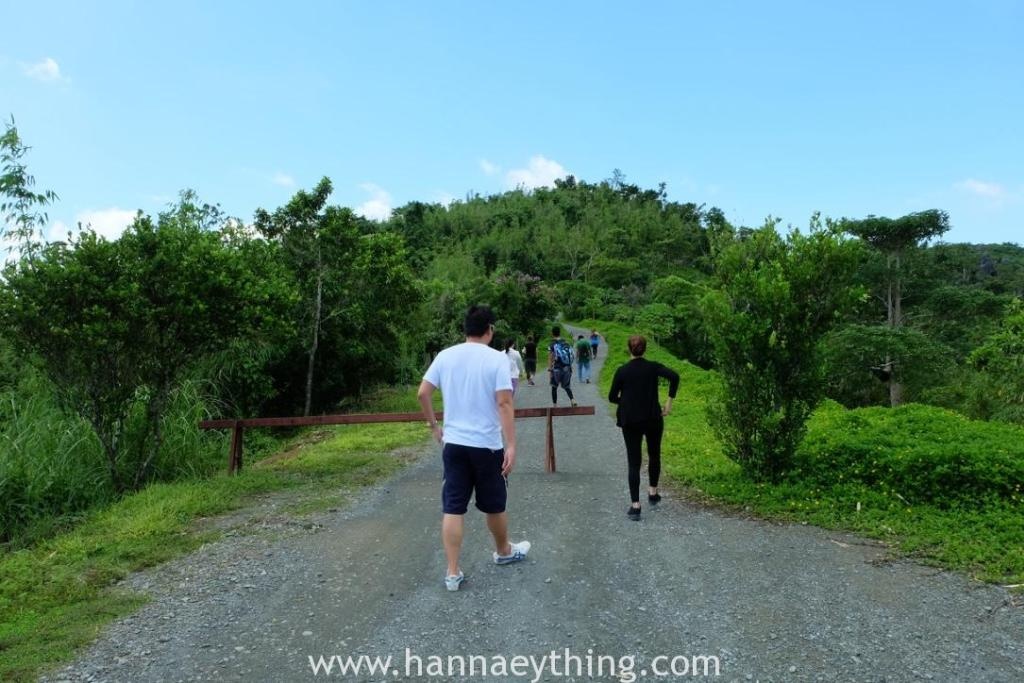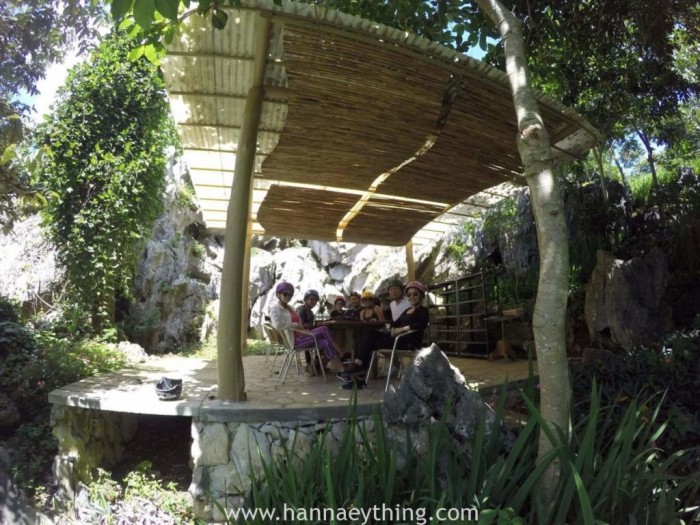 Visitor sheds
Briefing was conducted by our designated park ranger, Sidney. He discussed the Do's and Don'ts during the trail and most importantly, the safety procedures. This is the area where we signed waivers, head gears were given and worn and 2 bottled waters were distributed for our consumption during the trail. They provided bags for us to put our bottled water, phones and other gadgets.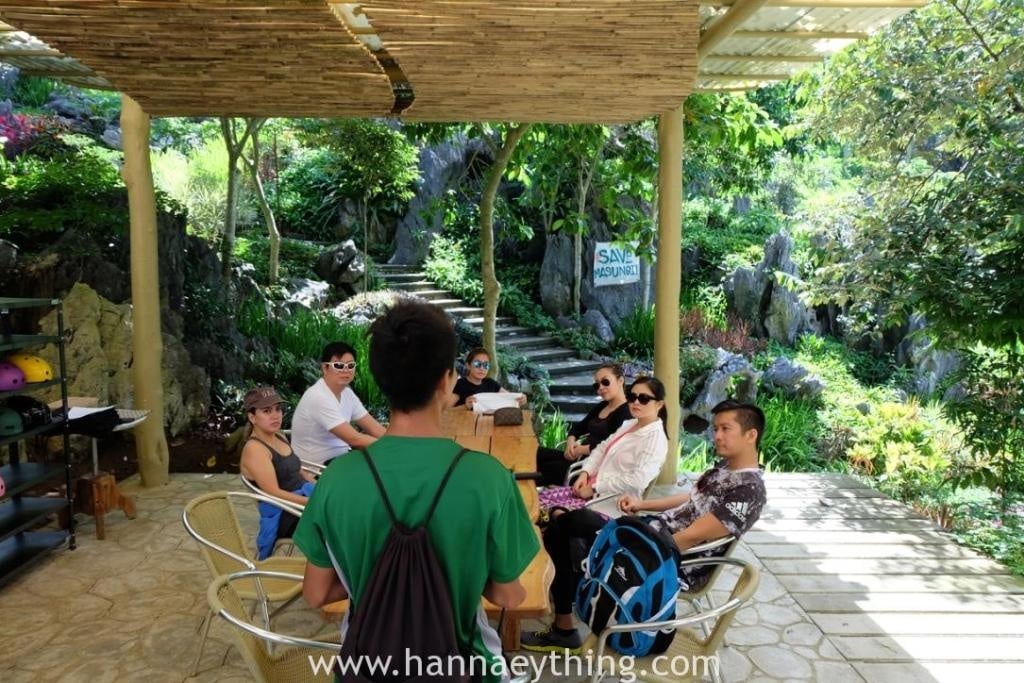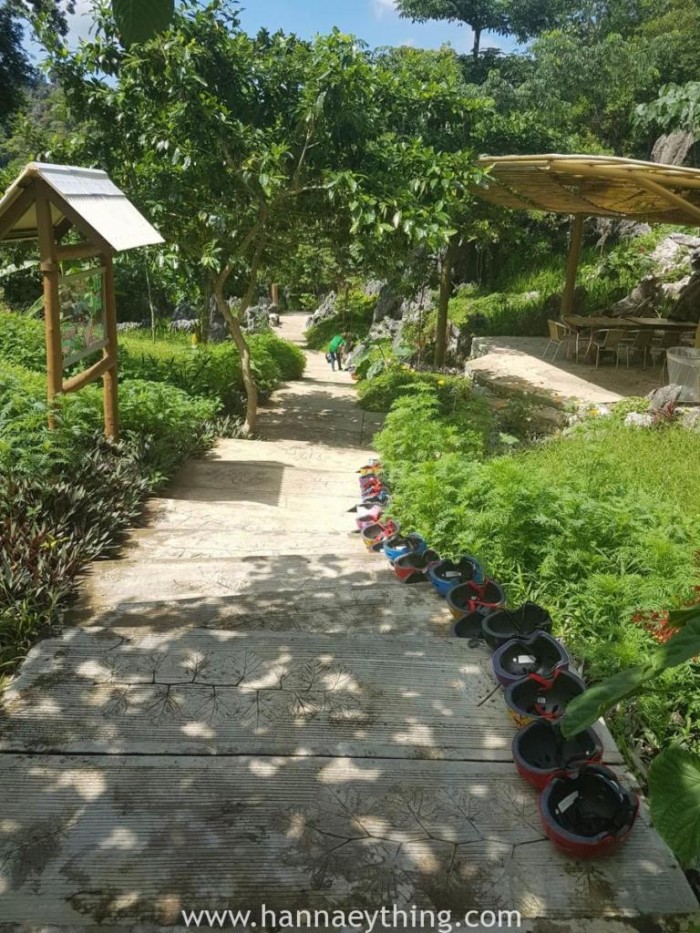 Their restrooms are very nice, clean and complete with sunblock, powder, lotion and hand wash. We freshened up prior to our trek as there are no restrooms along the way.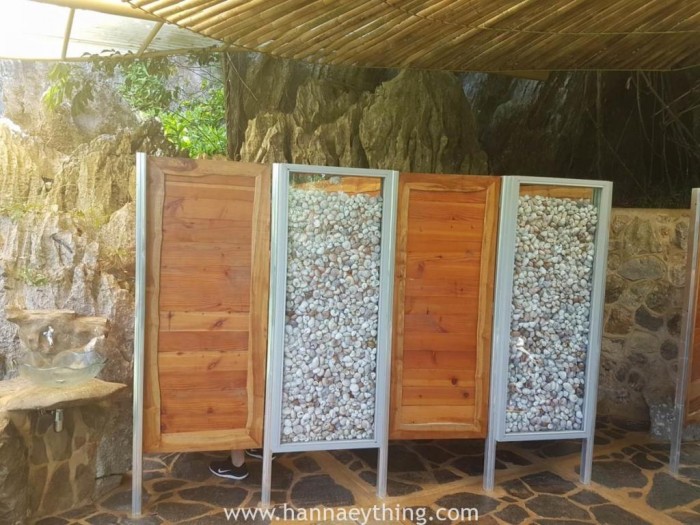 So our adventure begins!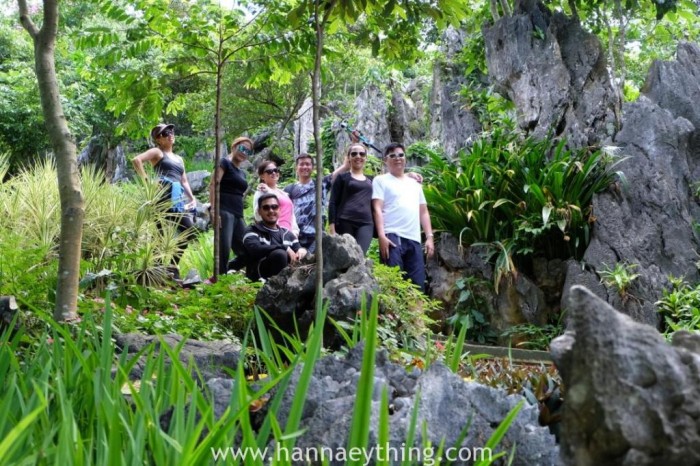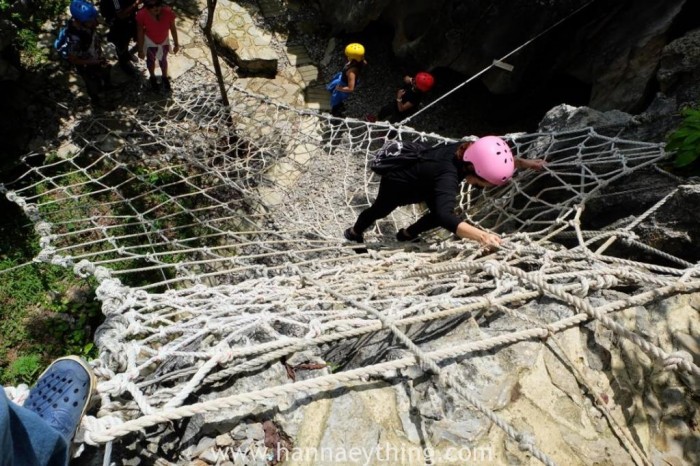 The first hurdle of the trail is to go up on this rope obstacle.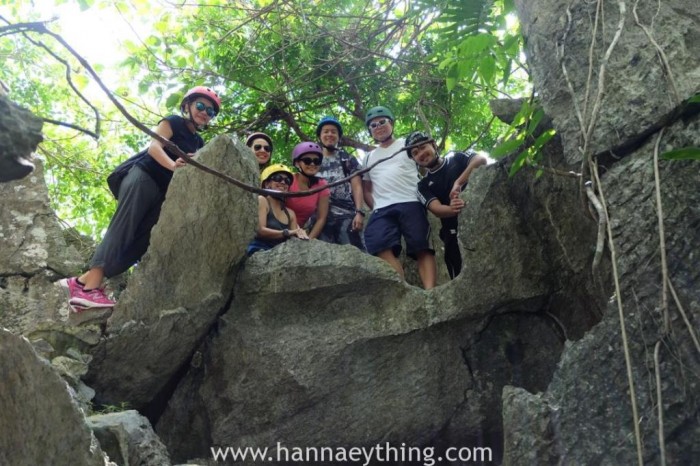 Walked further and got enchanted with all the rock formations we found along the way.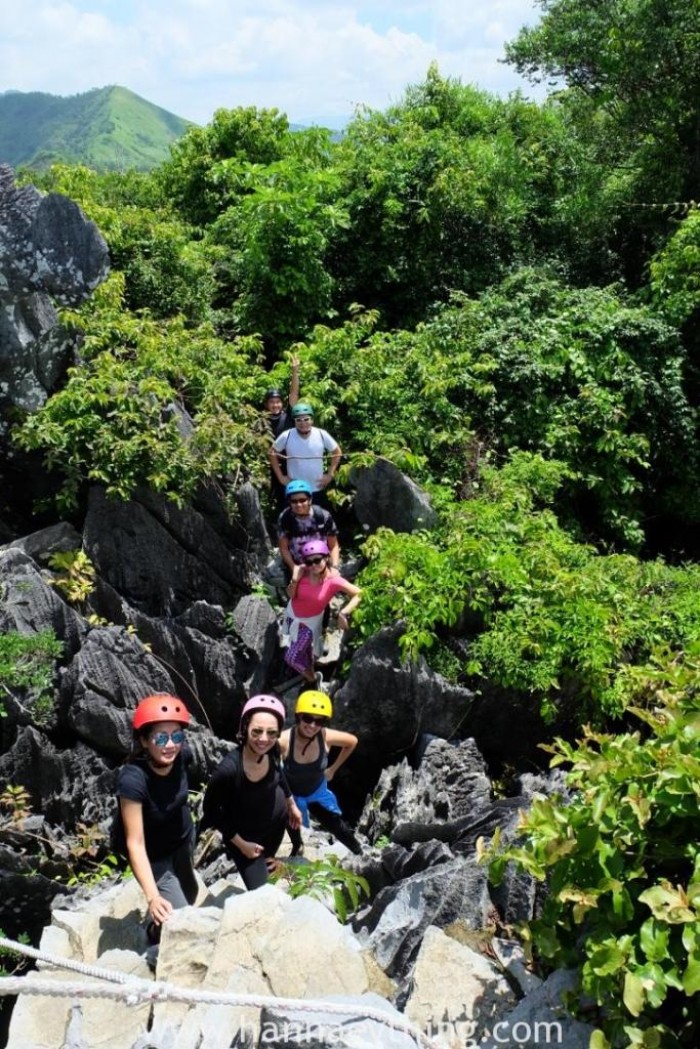 It was an up and down trail with a single pathway all throughout.
After 25 minutes of trekking, we arrived at Sapot or web. Enjoyed the fantastic view of Laguna de Bay from this web-style iron viewing platform.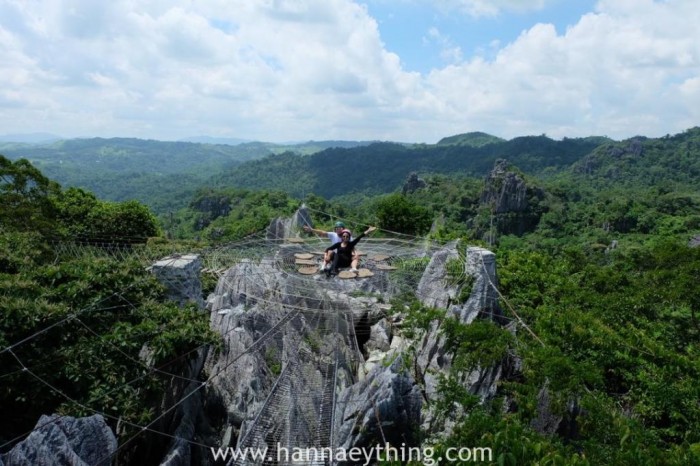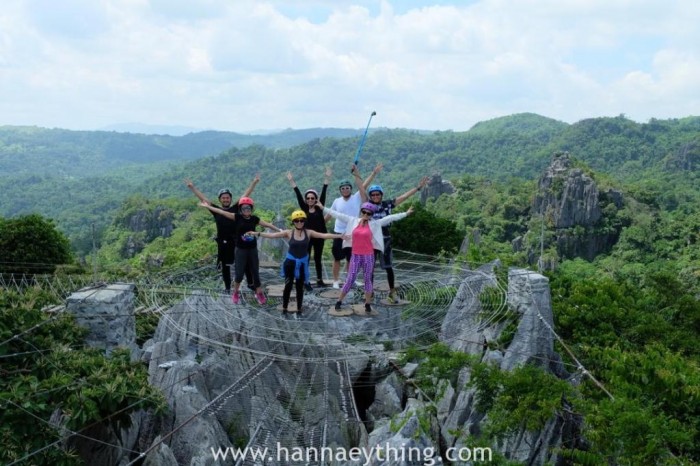 Thankful for friends who are as adventurous as me. Thank you Franco & Via, MJP, Jackie and Angel!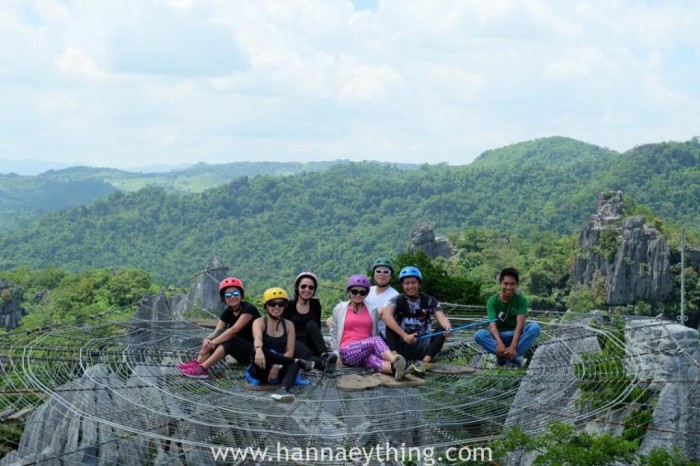 With our ever reliable park ranger, Sidney. He is also well trained on the different plants, rocks and species inside the conservation area.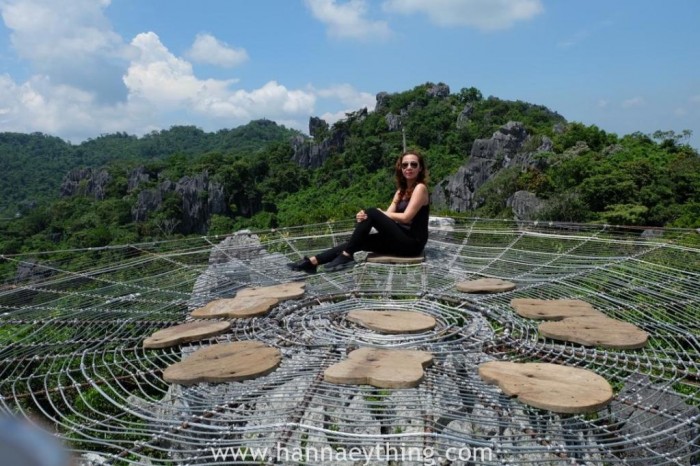 One of the best adventures of my life!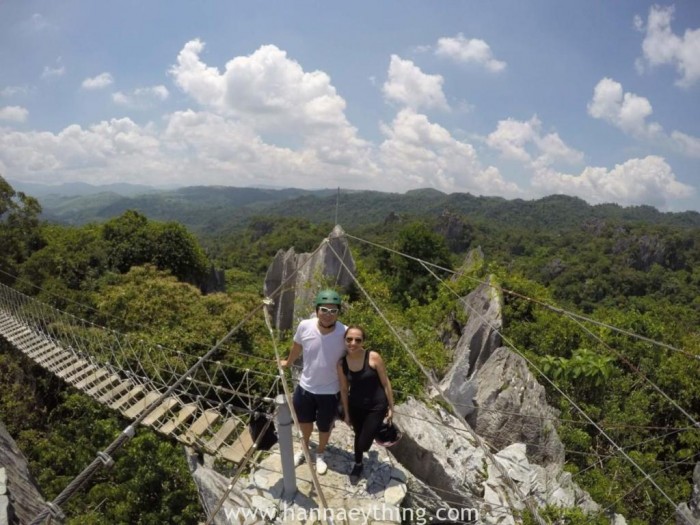 Going down from the Sapot, the trail continues by passing through the hanging bridge.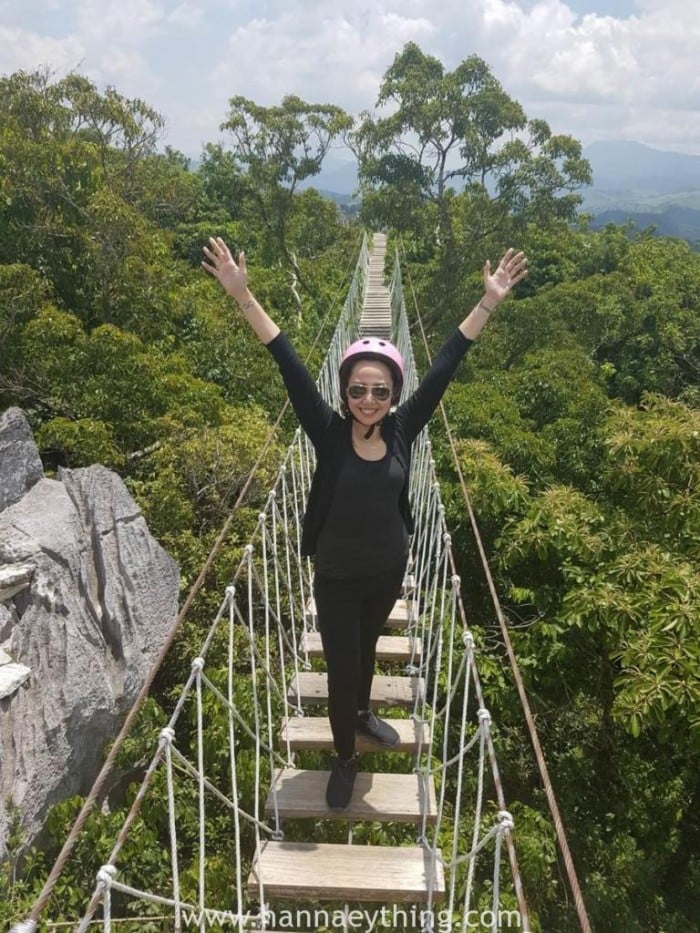 Hanging bridge
At the end of the hanging bridge is another single path terrain with an amazing view!
Walked further for another 30 minutes of immersing with mother nature.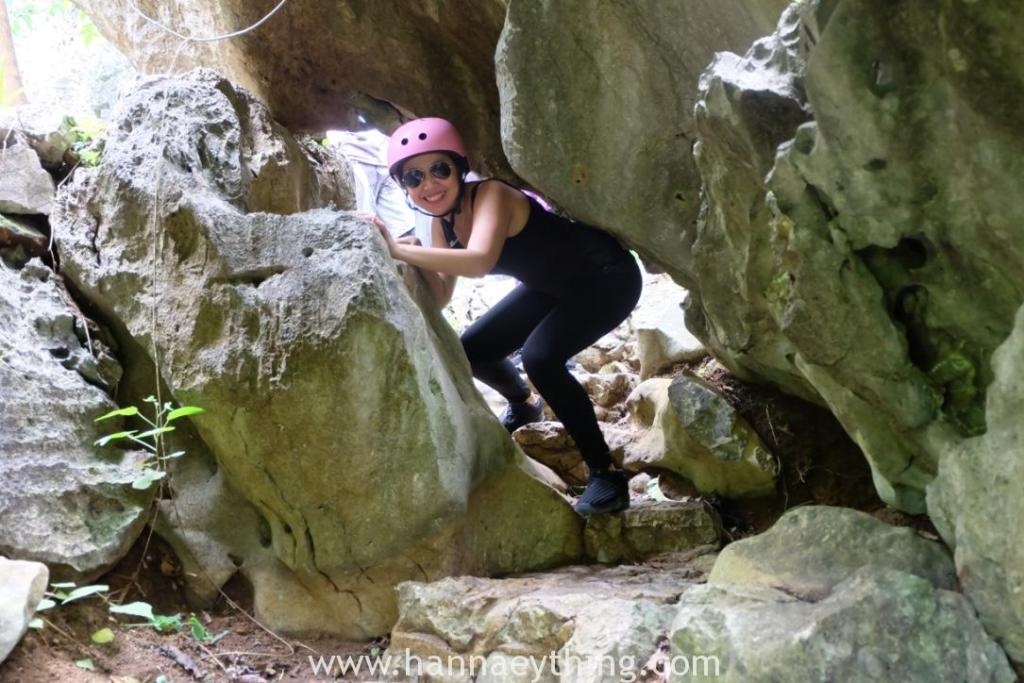 Head gears are very important in this adventure because there are so many caves and other rock formations that have small openings and passageways.
We walked for another 30 minutes and rested on this relaxing place.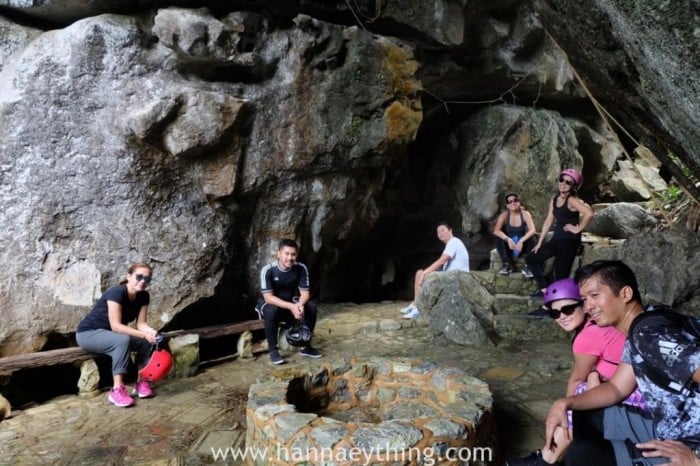 Walked for 30 minutes more and came across the Unggoy or Monkey cave.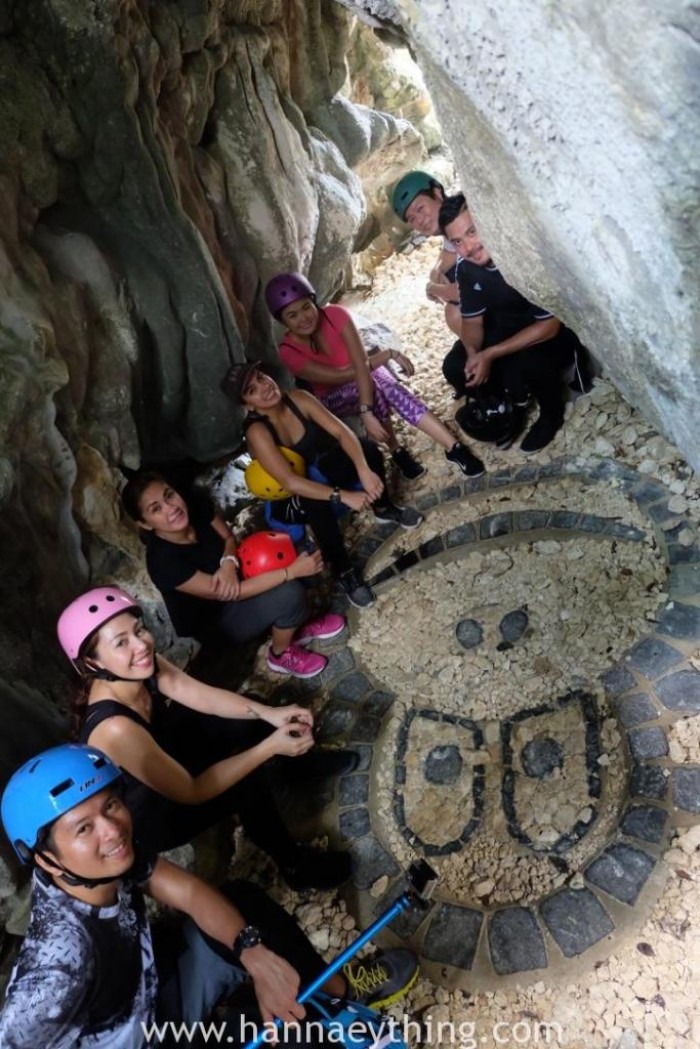 After walking further, we arrived at Duyan. A truly breathtaking view!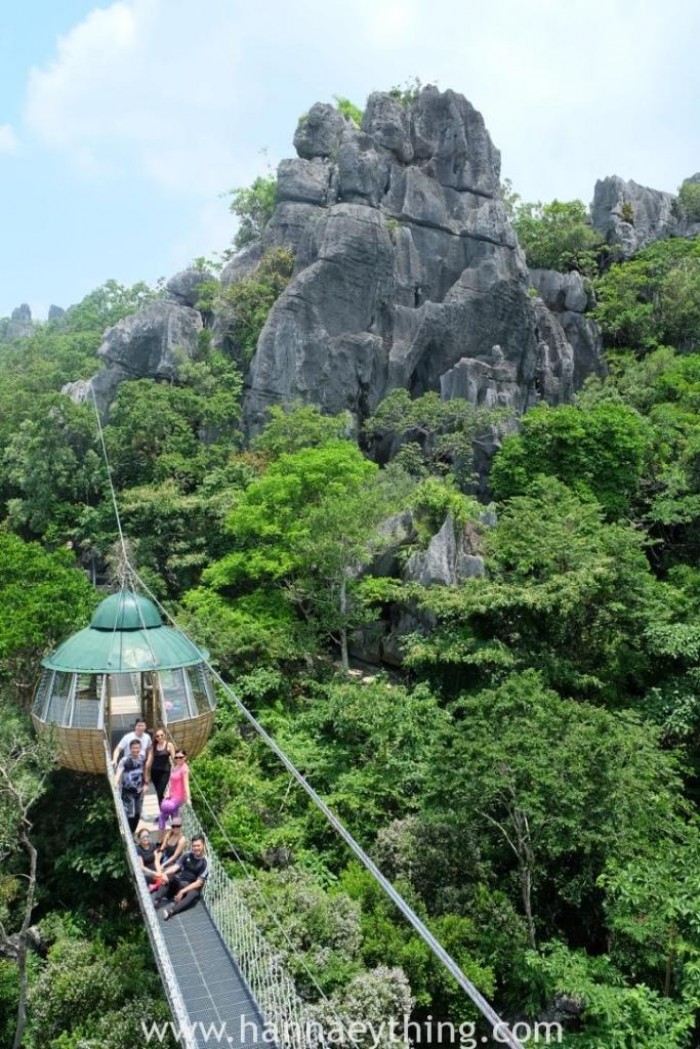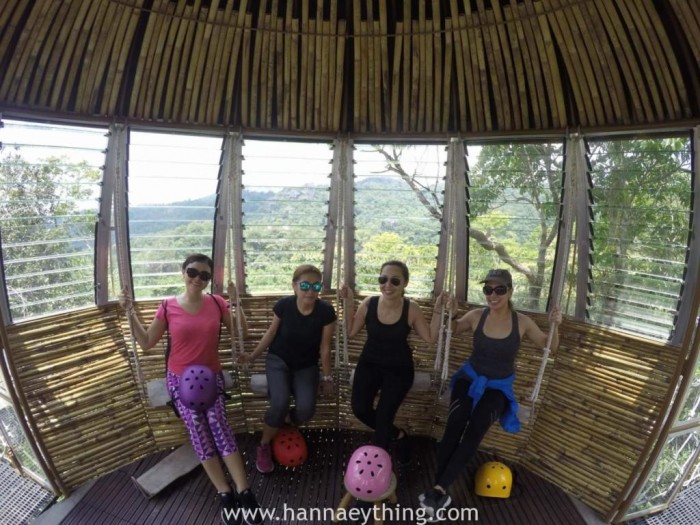 Inside Duyan with my girlies: Via, Jackie and Angel.
From Duyan, we had to walk through the hanging bridge and go up another rope obstacle. Remember, the park ranger will always tell you that there is no backing out because the trail is a one way track.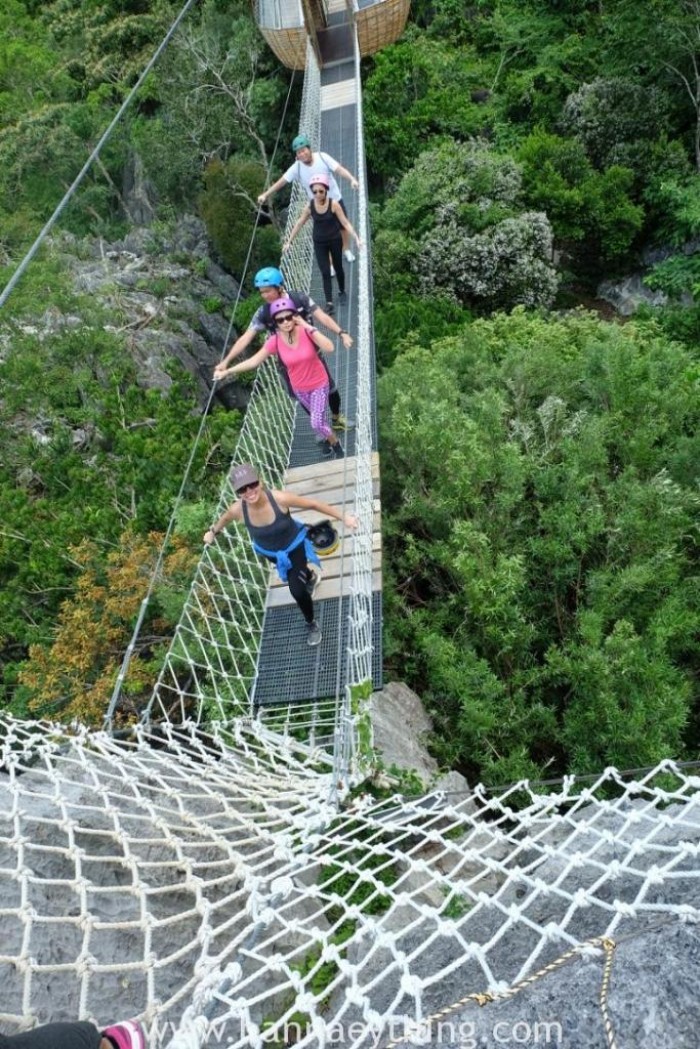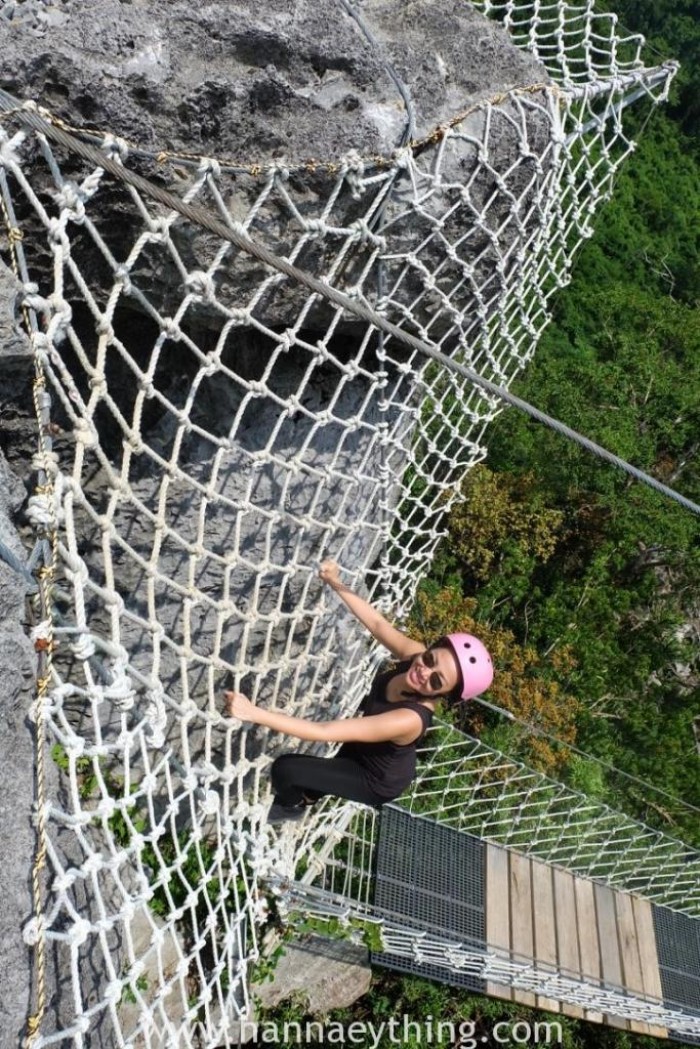 What a spectacular view up there!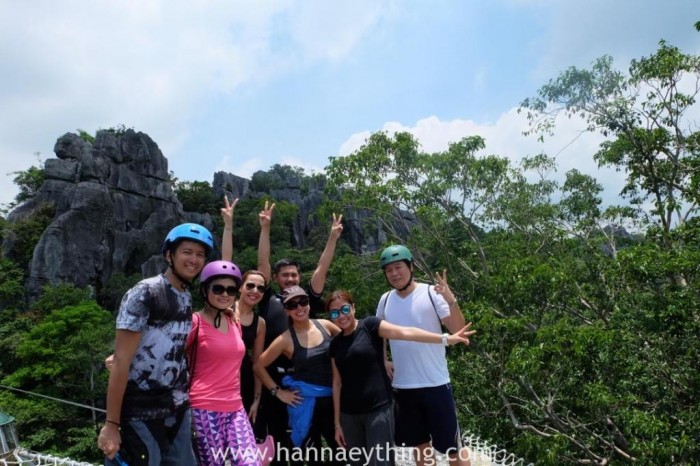 And now the real challenge is going down the steepest rope trail and then walking through the biggest rope hanging bridge in the Philippines.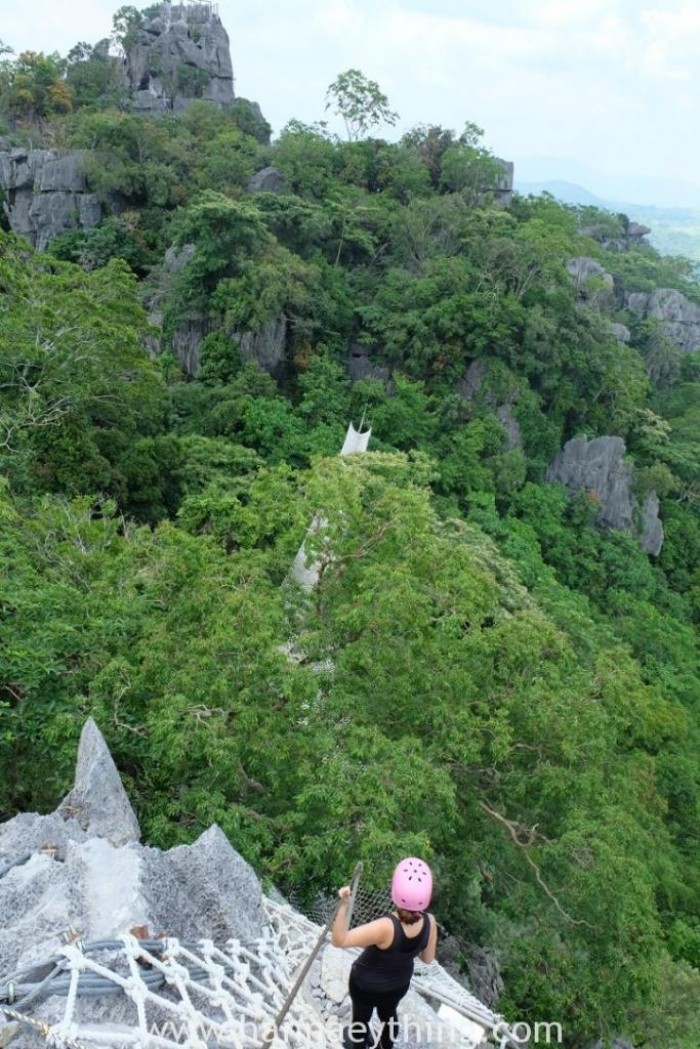 Looking at the path, I was wondering if I could make it until the end of the hanging rope bridge.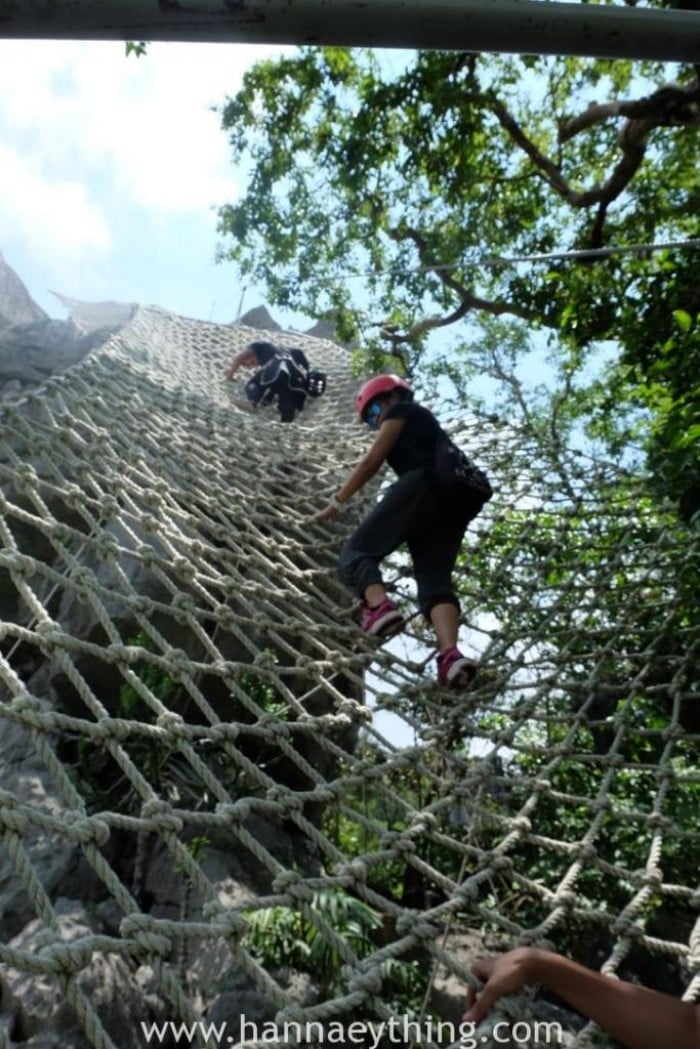 This trail is for fearless and adventurous people.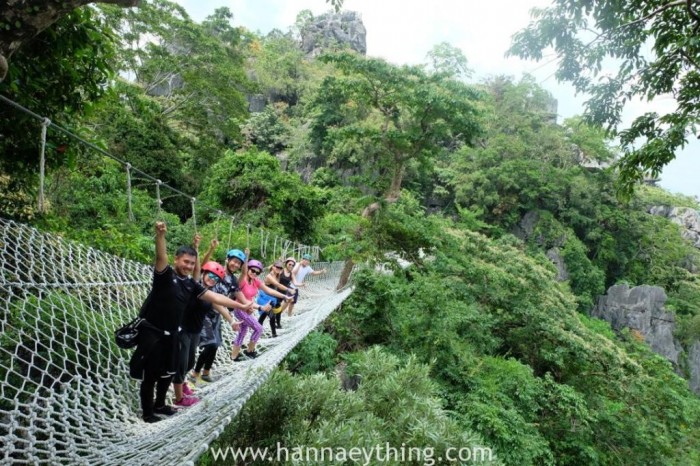 We made it!
From the longest hanging rope bridge, we went down further to enter the Yungib ni Ruben. One of the most beautiful caves I've ever seen.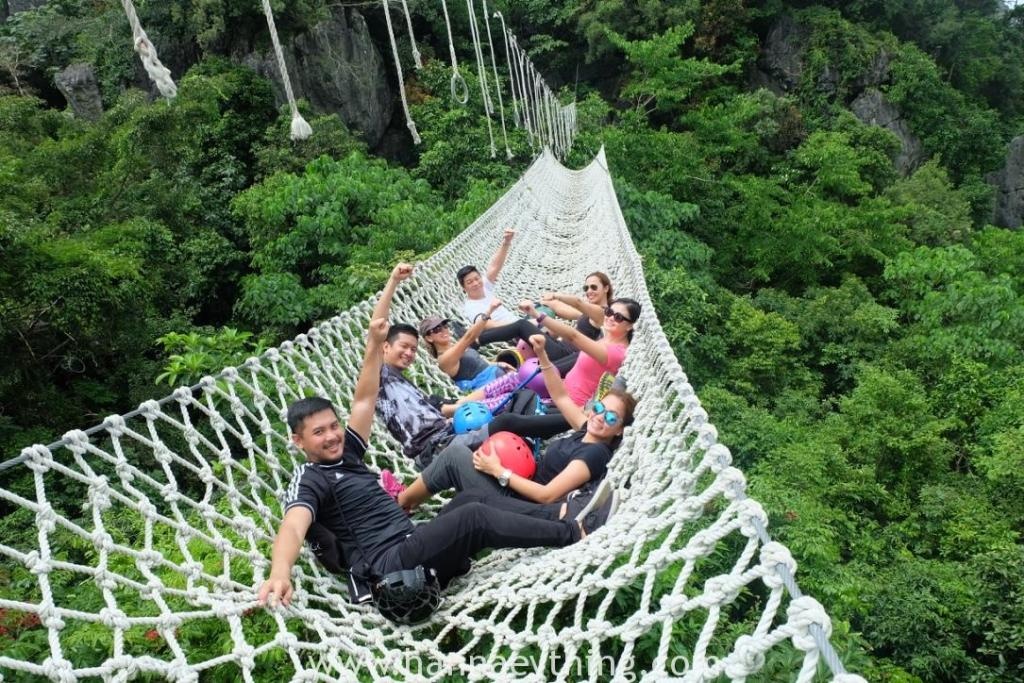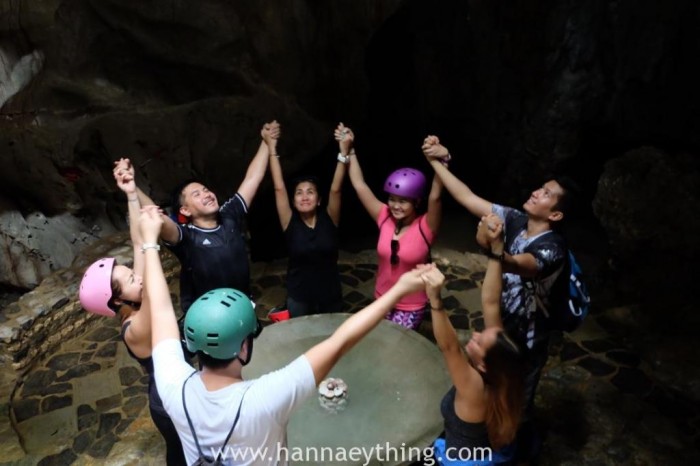 Having fun inside the cave!
Going out of the cave was challenging as we need to pass through a small passageway again.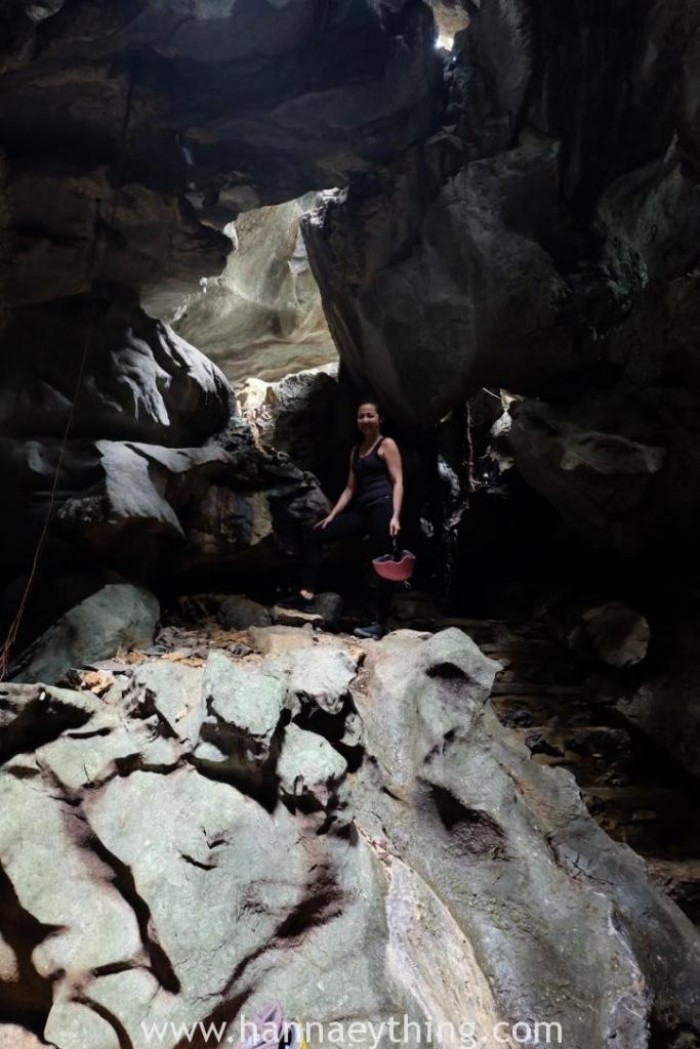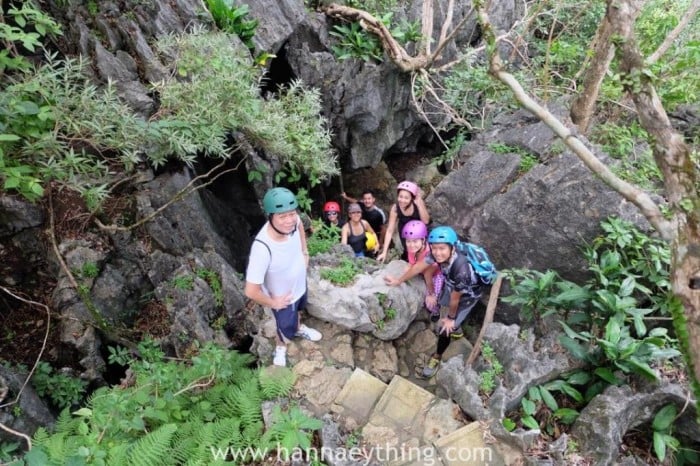 We successfully went out from Yungib ni Ruben.
Everybody was drenched with sweat and our bodies started to give up. Everyone blamed me for asking them to join me in this adventure. haha!
We walked further along the rocks and wild trees.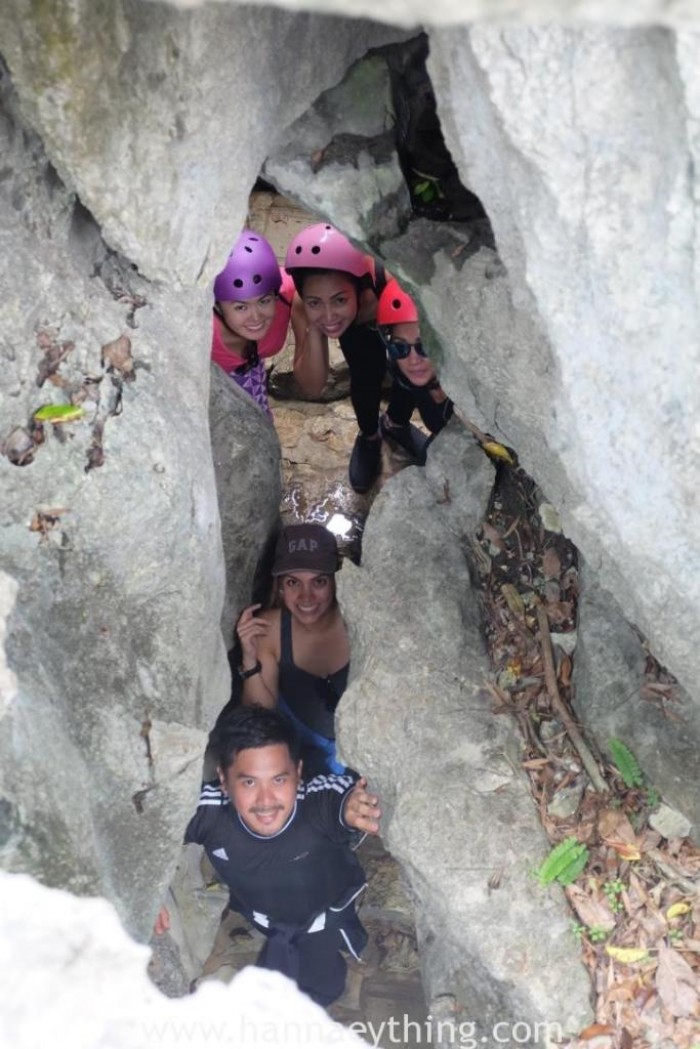 Arrived at the foot of Tatay, the first and taller rock natural sculpture.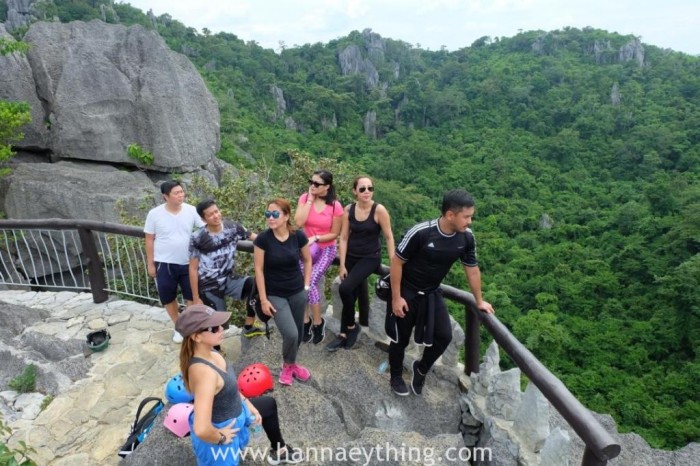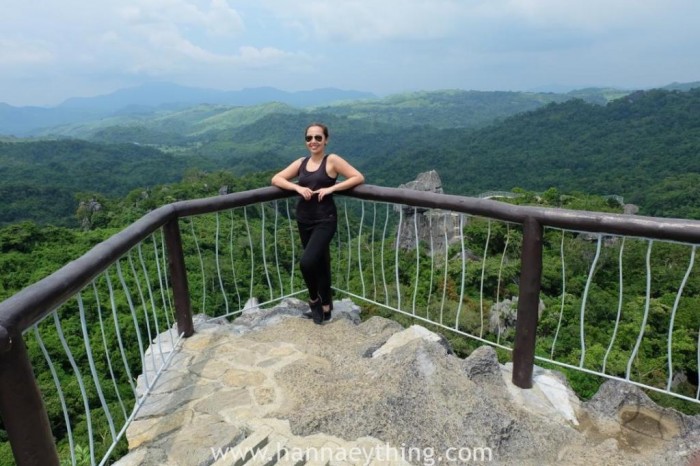 At the highest peak of Masungi Georeserve. Topmost of Tatay.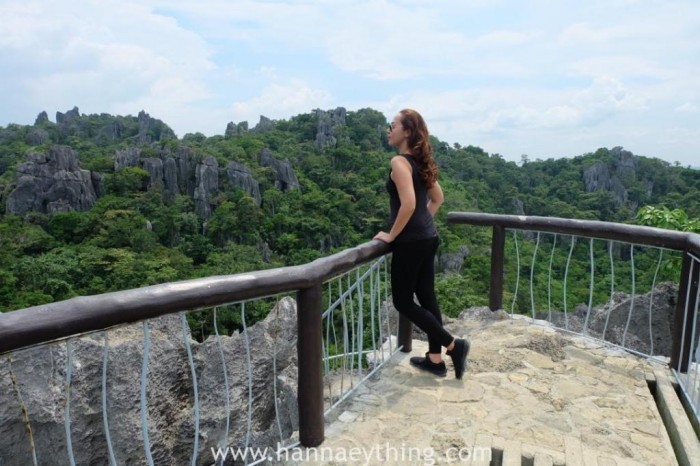 I can never get enough of the natural grandeur of mother nature!
Moving along, we walked again to see the beauty of Nanay which features five limestone rock peaks interconnected by bridges.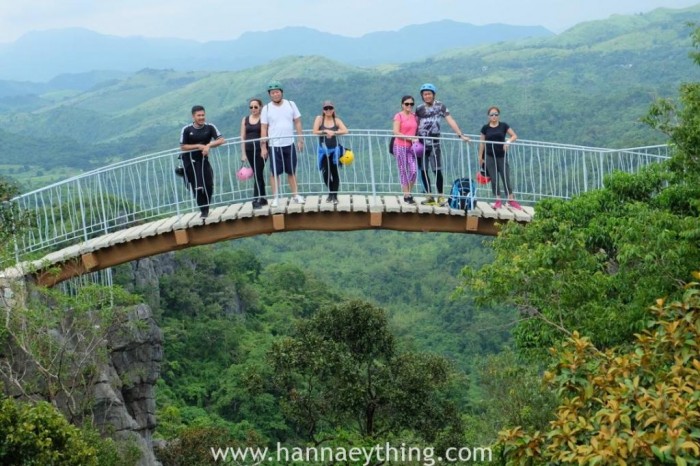 Walked for another 30 minutes and arrived at the last hanging bridge that we will pass.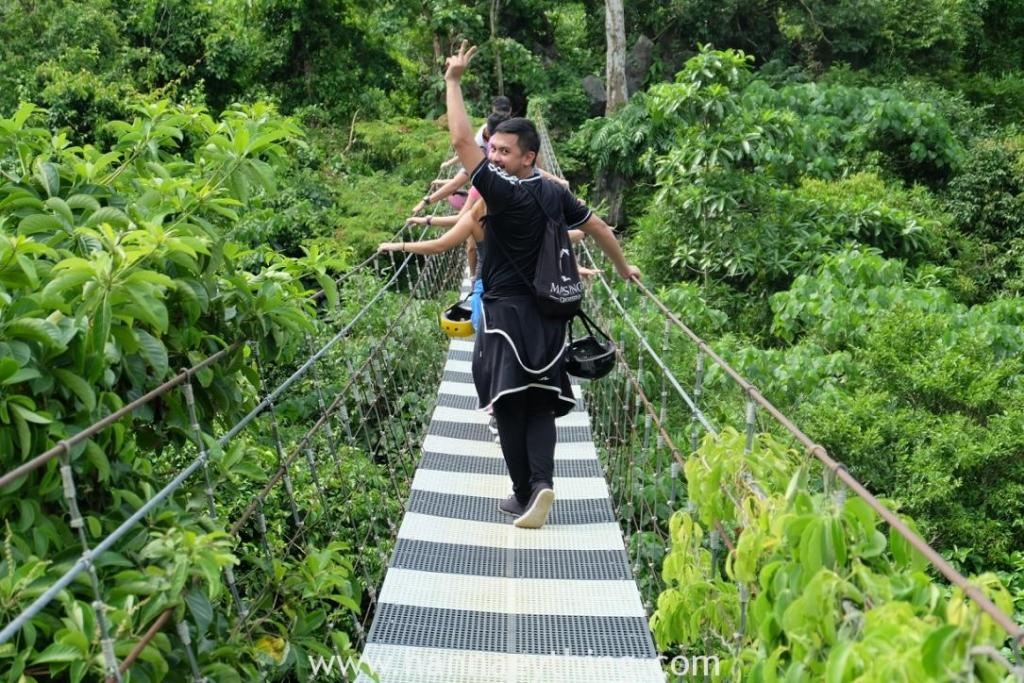 Continued to trek for another 45 minutes.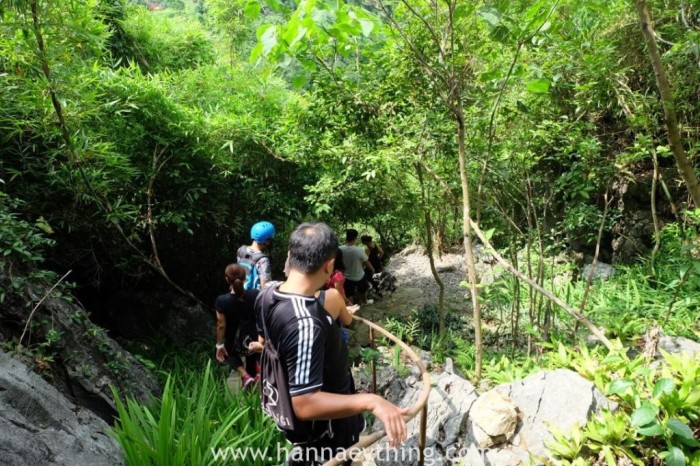 Finally, we reached the Liwasan and then the Visitor shed where our food awaits! Everybody was famished and tired. We were served with fresh calamansi juice, banana and chicken sandwich which we chose upon registration. The food was part of the package.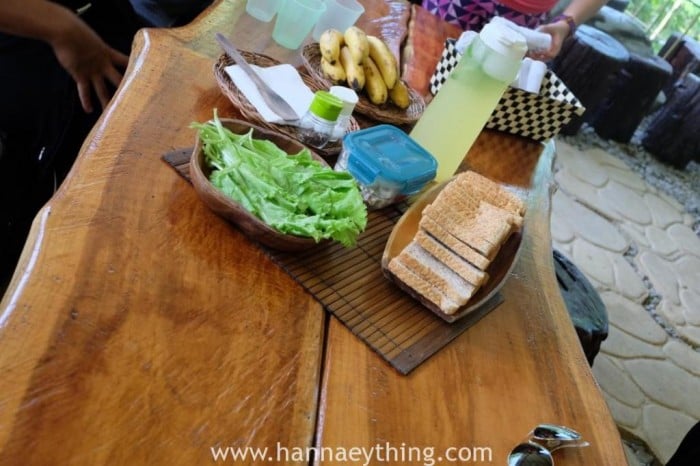 It was truly an exhilarating adventure. Something that I will forever cherish. I am lucky to have friends who embrace the same passion as mine to explore new places. This activity further strengthened our friendship. It was also very educational and informative as our park ranger shares his knowledge about the rocks, wild plants and animals found inside the conservation area.
It has been said that "Life is either a daring adventure or nothing at all." and I could not agree more. Trek while you still have fresh legs to walk and strength to move up and down. Take into once in a lifetime adventures while you still can! Up until now, I still could not believe that I was able to complete the trek. That I was able to brave through all the obstacles and the long walking. Immersing myself with all the wild animals, rock formations and wild plants and trees made me appreciate the Philippines more. We are abundantly blessed with rich natural resources and each one of us should partake on taking care of it.
Also read: Top 10 Mountains in the Philippines With the Most Incredible Views
Here are a few tips for those who would want to book a Masungi Georeserve Trail:
Book ahead of time. They require you to book five days ahead of your preferred schedule. They are getting really popular so the schedule is really tight especially on weekends. They also require 50% down payment paid through bank and they will send confirmation of your schedule. Be on time because some were not accepted or rescheduled because they arrived past their schedule.
Wear comfortable clothes and walking shoes.
Bring more water, they will only give you 2 500ml bottled water for the entire duration of the trek.
Eat a really heavy, big and hearty breakfast before embarking on this journey. You really need energy to walk and go through the challenging terrain.
Bring and apply sunblock for your skin protection.
Bring crackers, candies, bananas or chocolates to keep you going. Just remember to keep all your trash inside your respective bags.
You may opt to bring your own head gear as the ones they gave us were smelly or better yet bring alcohol to spray on it before using.
Observe silence and follow the instructions of the park ranger at all times.
The park ranger who was assigned to us, Sidney, was really a good photographer and he knows how to operate a camera or go-pro that explains our fantastic pictures.
Bring light towels because you will definitely be drenched with sweat during the activity.
Bring extra shirts as well.
Bring your adventurous soul and fearless self and enjoy what Masungi Georeserve has to offer!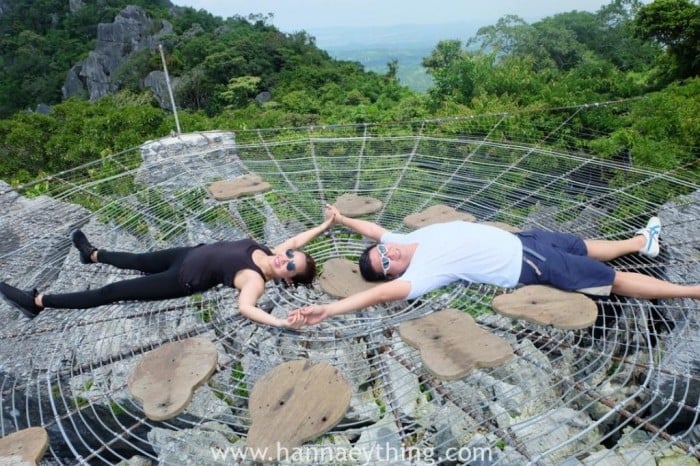 Perfect weather, exhilarating adventure and great company, it was a memorable Masungi Georeserve experience!
Also read: 8 Relaxing Places Near Manila to Escape the City Life