While a comfortable table and ergonomic chair can do a lot to create a conducive set-up, desk accessories and organisers are must-have workspace items. From practical home decor to useful tech accents, you're sure to set yourself up for increased productivity, creativity, and inspiration.
Not only that, you won't have to constantly declutter your workstation if everything is in its proper place. That being said, we've curated a list of practical and atypical must-have workspace items that you can easily snag online!
Also read:  Work-Life Balance Tips for Remote Workers to Ease Work-From-Home Woes
Must-have workspace items for your office desk
1. This monitor riser and workspace organiser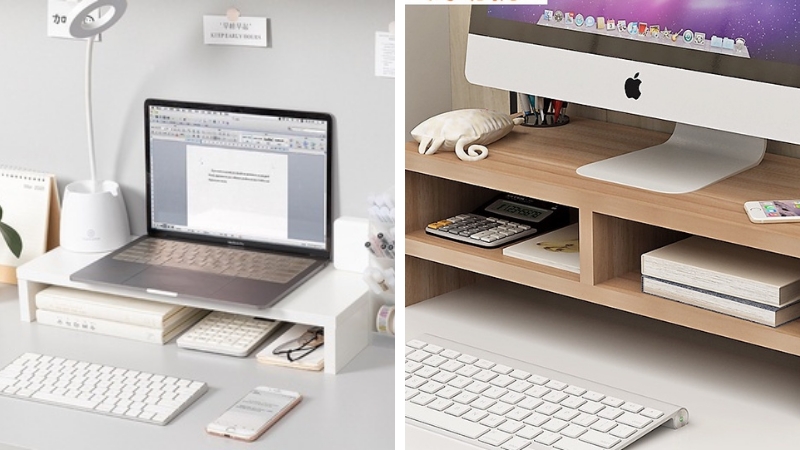 Whether you're a desktop computer user or a laptop user, monitor risers are the ultimate workspace accessory. If you want a more elevated and ergonomic way to work at home, this allows you to raise your screen for improved viewing. This way, you can work for hours on end without straining your neck. Plus, it's a great space-saving add-on to your table! 
Available on Shopee for as low as ₱155.
Also read: 8 Useful Organiser & Where to Buy Them at Affordable Prices
2. This laptop stand that doubles as a holder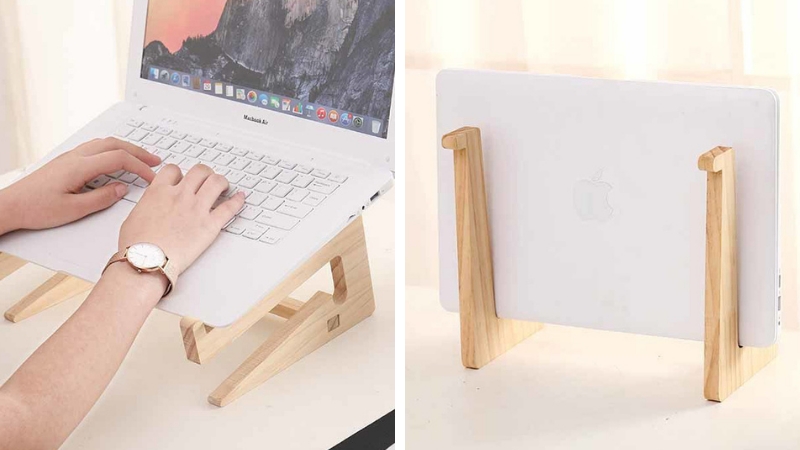 Like a monitor riser, a laptop stand allows you to look at your screen on a more natural eye level. This must-have workspace item also doubles as a laptop holder, which allows for more desk space. It's also designed to keep the bottom of your laptop from overheating, especially when you're working for prolonged hours.
Laptop stands come in a variety of designs and are made with different materials, but we've found that this wooden one is quite charming. It's also easy to assemble and dismantle, so if you're using your laptop elsewhere, it's absolutely portable! 
Available on Shopee for ₱155.
3. This mini desk fan for better ventilation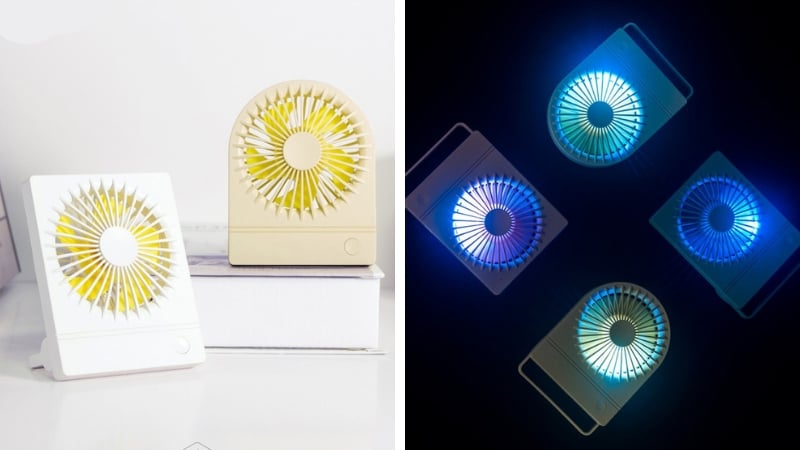 Keep it cool with a portable desk fan! Depending on your workspace situation, these will definitely come in handy for office spaces that don't have the best airflow. You'll be surprised to find that having a well ventilated space allows for better concentration and focus — essentials for increased productivity. This way, you won't have to use too much electricity or desk space, since it's quite compact and cost-effective! 
Additionally, being on your computer for an extended period of time can cause overheating due to insufficient cooling. Having a portable desk fan in your workspace could also help your devices keep cool while you get some work done. This square desk lamp also lights up in the dark, which can be a fun addition to any space! 
Available on Shopee for ₱94.
Also read: 8 Aesthetic Electric Fans That Scream #HomeGoals
4. This cable organiser for a less cluttered workspace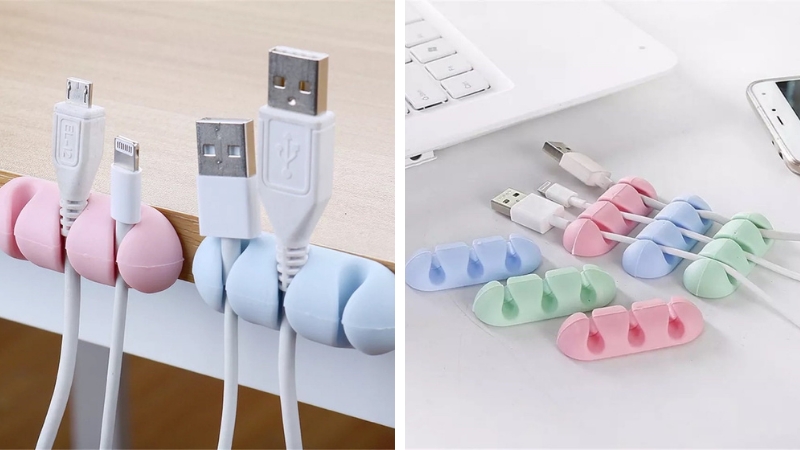 Tired of messy cables and knotted wires? Modern problems require modern solutions, and these silicon cable wire organisers might just do the trick!
You won't have to worry about misplacing your phone charger, fraying earphones, or tripping on computer wires anymore. Simply stick these little lifesavers on the edge of your desk or any surface, and voila! A less cluttered workspace. 
Available on Shopee for ₱28.
5. This self-adhesive multipurpose wall organiser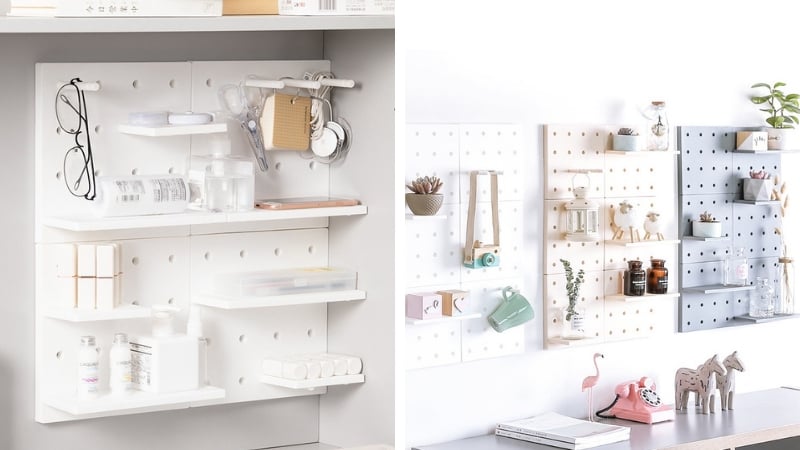 These are absolutely perfect for people looking to maximise their bare walls. It's another excellent way to keep your things organised when you're short of drawer or cabinet space. 
This particular storage solution allows you to customise its shelves according to your liking. To make installation easier for you, this multipurpose wall organiser comes with a strong adhesive, so you can easily mount the unit to your wall. Pretty cool, huh? 
Available on Shopee for ₱138.
6. This eight-piece drawer container set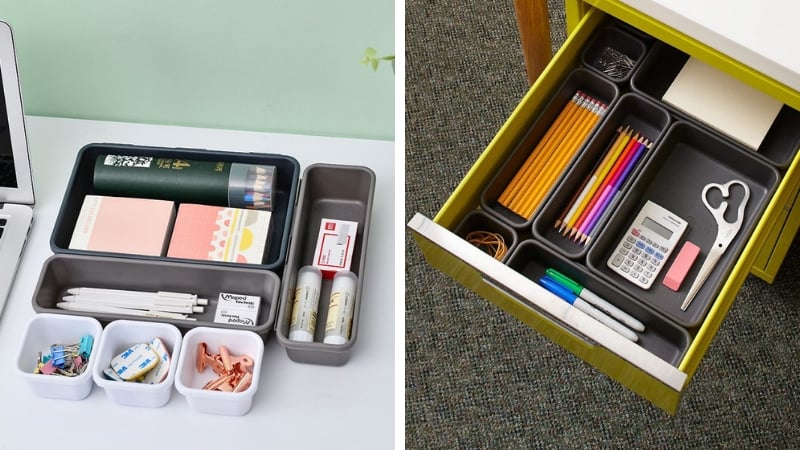 Drawer organisers do a pretty great job at keeping your pens, highlighters, and other stationery items sorted out. These dividers can easily turn any chaotic drawer into an efficient and functional one. Not to mention, reaching for items at the far end of your drawers won't be a problem, either!
These box trays make it easier for you to find exactly what you need whenever you need it, making it one of the best must-have workspace items to own. 
Available on Shopee for ₱107.
7. This affordable DIY stick-on drawer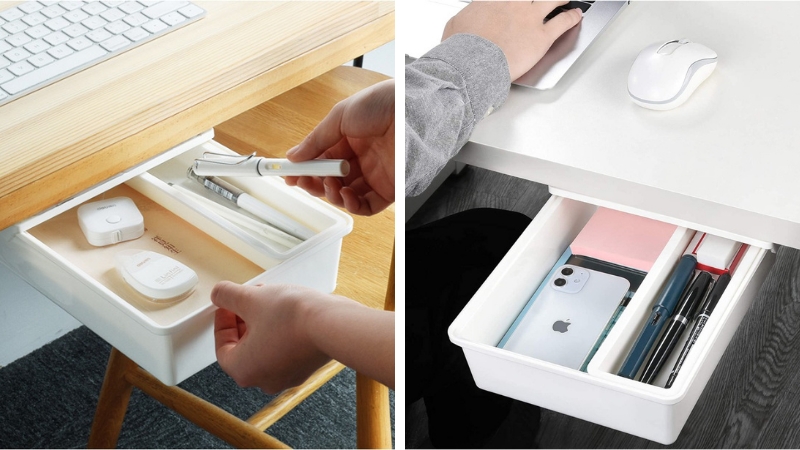 No drawer? No problem! Not all office desks come with drawers or cabinets for extra storage space. Just in case yours doesn't have one already, you'll be thrilled to find out stick-on desk drawers exist.
Yep, you heard that right! You can easily incorporate a drawer or two under your desk without getting extra shelving units for your space. With a stick-on desk drawer like this, you can keep small office items organised and say farewell to messy tabletops! 
Available on Shopee for ₱289.
8. This practical desk lamp with adjustable reading light options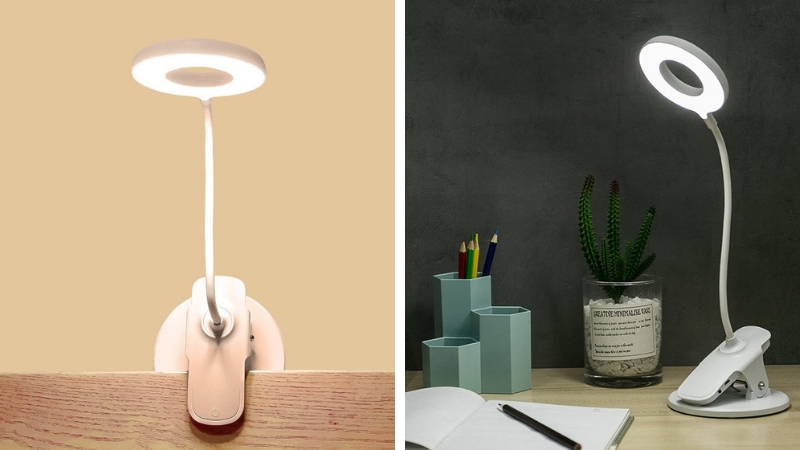 It goes without saying that good lighting is a must-have for a conducive workspace. A great desk lamp should provide adequate light for you to be able to perform tasks without straining your eyes.
If you're in the search for a practical lamp, this one doubles as a great clip-on reading light, too. It's perfect for when you're chilling in bed and winding down with a good book. That being said, we couldn't recommend it enough!
Available on Shopee for ₱233.
Also read: 8 Mood Lamps and Galaxy Projectors You Can Buy Online
Quirky and fun items for your workspace
9. This fun retro typewriter keyboard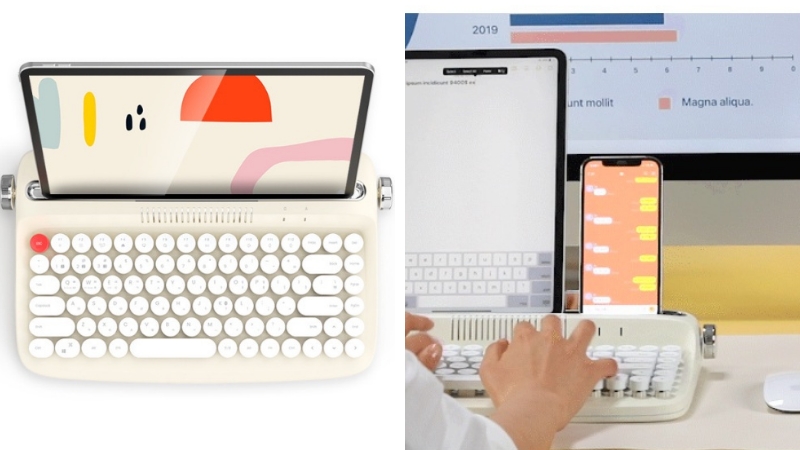 Mechanical keyboards have been the latest tech trend ever since working from home became part of our new normal. Besides being able to customise switches and key caps, it makes typing more precise and accurate. If you're one to spend lots of time typing for work, retro keyboards like this one add a lot more flare to a bleak office desk. 
This adorable Bluetooth keyboard adds that vintage feel to your workstation. It's designed just like a typical typewriter —minus the paper and ribbon, of course. It also comes with a slot for your tablet or phone, so you have a better view of the screen while typing. Not only that, but it's a great tabletop addition to make working more fun and exciting, don't you think? 
Available on Shopee for as low as ₱2,850. 
Also read: Best Mechanical Keyboards in the Philippines for Work & Gaming 
10. This five-in-one wall-mounted CD player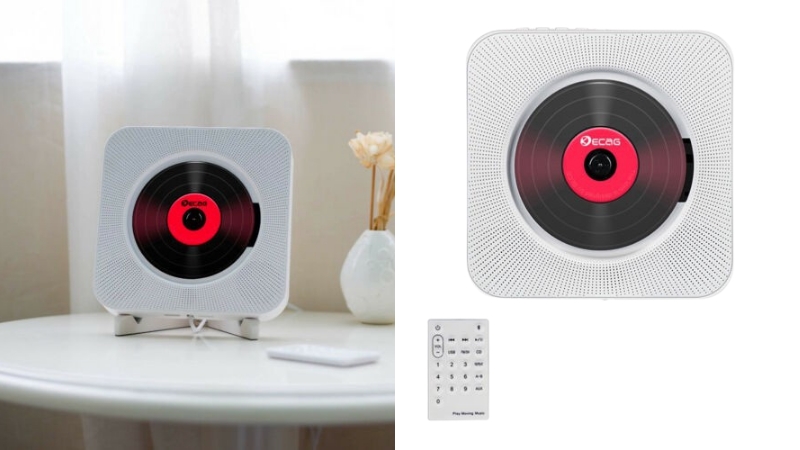 In line with all things retro, this multifunctional CD player lets you play and listen to music just like in the '90s. It's not just any CD player, though; you can connect it to your devices and play music via Bluetooth, plug it into an auxiliary cord, or use its built-in FM radio. Its portable design allows you to play your favourite albums anytime and anywhere you'd like.

Who knew CD players could be the perfect wall and desk accessory? Choose to mount the device on your wall or prop it on your desk using the stand it comes with. Either way, this addition to your space will make working from home more exciting and uplifting. After all, music has the power to set the right mood and motivate you to get some work done! 
Available on Shopee for as low as ₱1,370.
11. This quirky and fun Divoom Ditoo Speaker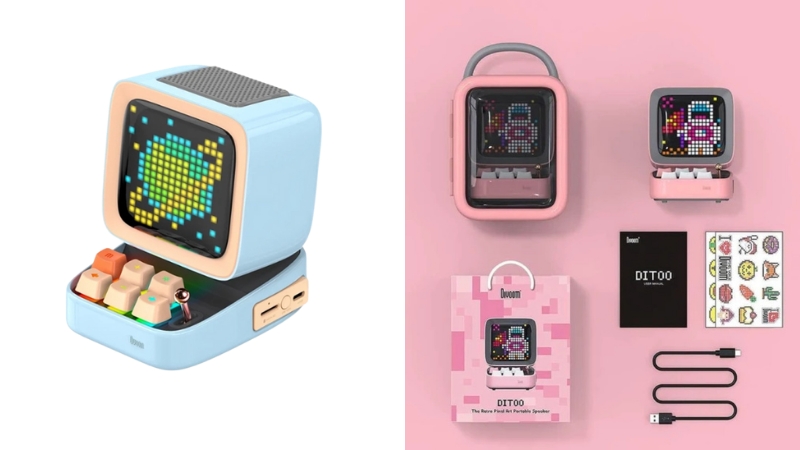 This Divoom Ditoo Speaker is probably the most adorable and interesting must-have workspace item on our list! Modelled after a desktop computer, this bluetooth speaker features an old-school monitor that displays fully customisable pixel art designs. It also comes with little keys to help you navigate the device and play retro pixel art games.
Yep, you heard that right! Take your desktop space to the next level, or consider gifting a friend with this irresistibly cute and quirky find. 
Available on Shopee for ₱4,185.
12. This sweet candle warmer for a relaxed work-from-home vibe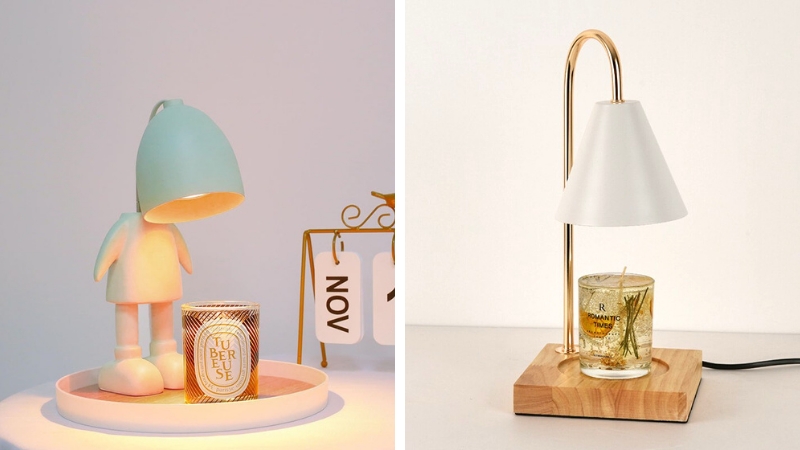 Scented candles are a delight to the senses and are proof that something so simple can be quite useful. It can easily change the ambience of your environment, ultimately creating an atmosphere that is more relaxing and less stressful. More importantly, enjoy your favourite scents without having to worry about the risks of an open flame. 
Candle warmers like these are easily one of the best must-have workspace items! Choose from a variety of designs to fit your personal aesthetic and appreciate a safer way to use your candles. 
Available on Shopee for as low as ₱399.
13. These aesthetic marble design coasters for your iced coffee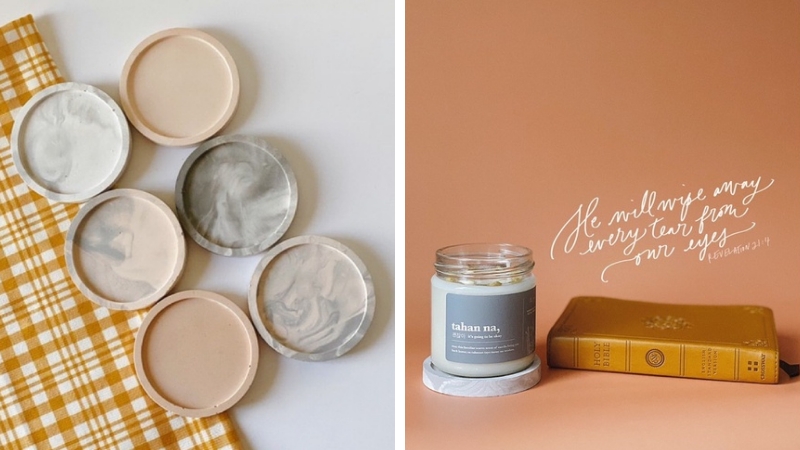 Inevitably, working from home calls for endless cups of coffee to kickstart your mornings or lazy afternoons. These marble inspired coasters are perfect for any hot or cold beverage you may be sipping on while working. 
These nifty pieces help protect your tabletop, furniture, or any other surface you may be placing drinks on. Additionally, it makes a great catch-all for miscellaneous items and knick-knacks!

Available on Shopee for as low as ₱45.
Also read: 11 Pre-Loved and Thrifted Furniture Shops on Instagram
Must-have workspace items and desk accessories abound on the Internet, and finding which ones to get might be a bit overwhelming. We hope this list helps you figure out exactly what you need for your space to welcome a productive workflow.
What do you have in your workspace to keep you organised and productive? Spot anything on our roundup of must-have workspace items you wish to incorporate on your tabletop? Share your work-from-home setup or essentials with us on our official Facebook page!
---
This article contains affiliate links. When you make purchases through these links, we may earn a small commission at no additional cost to you.