With more than 7,000 islands in the Philippines, it can be quite a challenge to describe this culturally laden archipelago. Depending on where you land, you could either go back in time to the Spanish era, be transported to a tropical paradise, or get lost in a bustling city that has giant malls scattered all over. A common goal of today's young travellers is to scout picture-perfect locations — or should I say, Instagram-worthy places? 
This isn't always a bad thing, especially when you're in the Philippines. After all, there's a diverse culture to uncover in each island region. Words may sometimes not be enough; so as travellers, we compensate by taking lots of (Instagram) photos. But where do you start? We've listed down the many places in the Philippines that will inspire you to take your best Instagram photos yet!
Also read: 16 na Magagandang Tanawin sa Pilipinas — Mga Litratong Travel Inspiration!
1. Intramuros in Metro Manila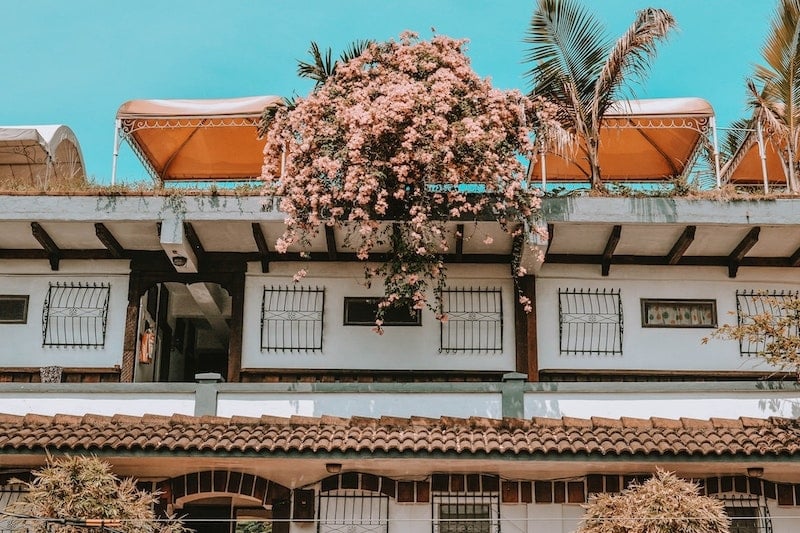 Intramuros is Manila's old town and is also called the "Walled City." It's steeped in the Philippines' Spanish history, as you'll see reflected in the colonial houses and Fort Santiago — the most popular stone fortress that was built during the Philippines' Spanish era.
This was also where the national hero Jose Rizal was imprisoned before his execution. In case you're a history buff, you might be interested in following his footsteps and see his last clothes and a display of his farewell poem inside the fortress.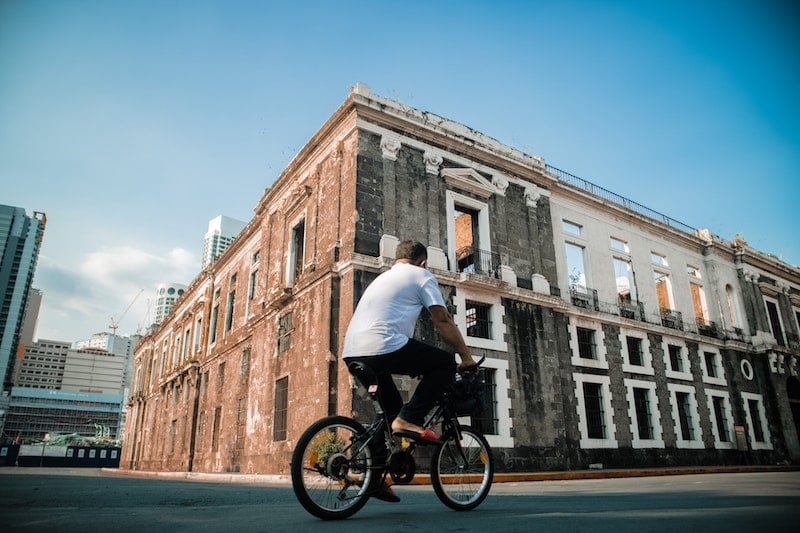 To have a more fun educational experience, you can go on kalesa rides or drive bamboo bikes on ecotours while exploring Intramuros. Check out its other attractions like Casa Manila, Manila Cathedral, Silahis Center, and Barbara's Heritage Restaurant. Most of all, don't forget to post this walk down memory lane on your Instagram!
2. Fortune Island in Batangas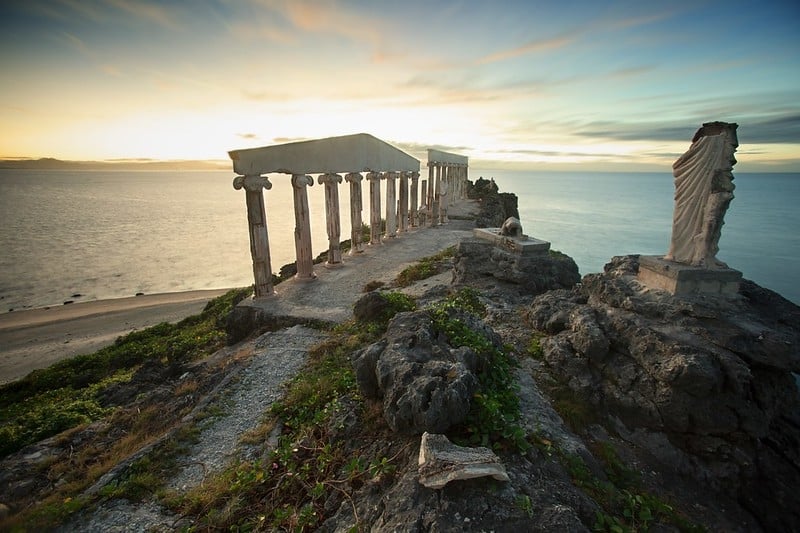 You probably weren't expecting to encounter a resemblance of the Greek Acropolis in the Philippines, but there it is — remnants of an abandoned island resort that sits on top of a limestone cliff. The exclusive island resort was built in the '80s to attract affluent travellers, hence the Parthenon-like columns. The area is quite a sight to behold, as it's a hybrid of both ancient Greece and Philippine nature. Now completely abandoned due to the site's susceptibility to typhoons, the old resort in Fortune Island is still frequented for photo ops by tourists and engaged couples. 
If that's not enough for your Instagram grid, you can also enjoy Fortune Island's various sites like its beach, cliff jumping, snorkelling, camping, and sunset spots. Fortune Island is just three hours away from Manila too, so it's a great weekend escape if you're based in the capital of the Philippines. 
3. Palawan's limestone cliffs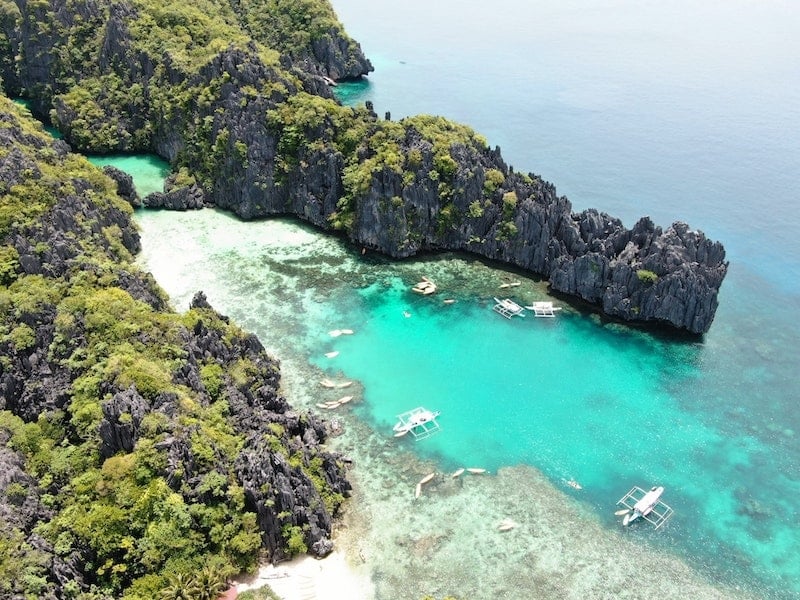 Among the biggest tourist attractions in the Philippines are the limestone cliffs in Palawan. Sure, Palawan is famous for its turquoise waters and diving sites, but the island region wouldn't look half as otherworldly if it weren't for the unique limestone formations scattered throughout its archipelago.
While island-hopping in Palawan, travellers often sit at the edge of their boat and take a photo against the sea and limestone cliffs to encapsulate the whole Palawan experience in one shot. A photo like this in the Philippines usually ensures a lot of positive feedback on Instagram!  
Also read: 20 Fun Things to Do All Around Palawan, Philippines!
4. The Ruins in Negros Occidental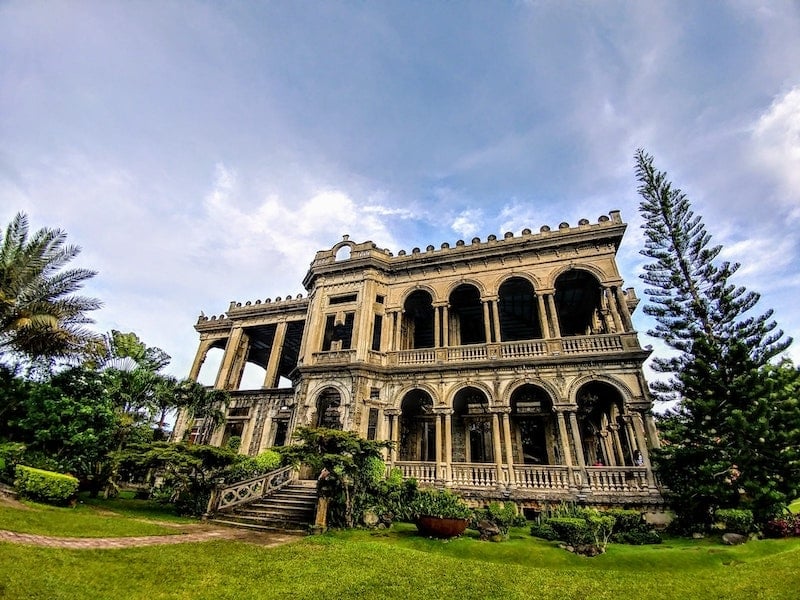 Before WWII, this Italian-themed ancestral mansion located at what was once a sugar plantation was owned by baron Don Mariano Ledesma Lacson. During the struggle against the Japanese occupation, the US Armed Forces ordered a band of Filipino guerillas to set the mansion on fire to prevent the Japanese army from using the mansion as a base. Despite the fire that engulfed the mansion for three days, the foundations of the building remained intact.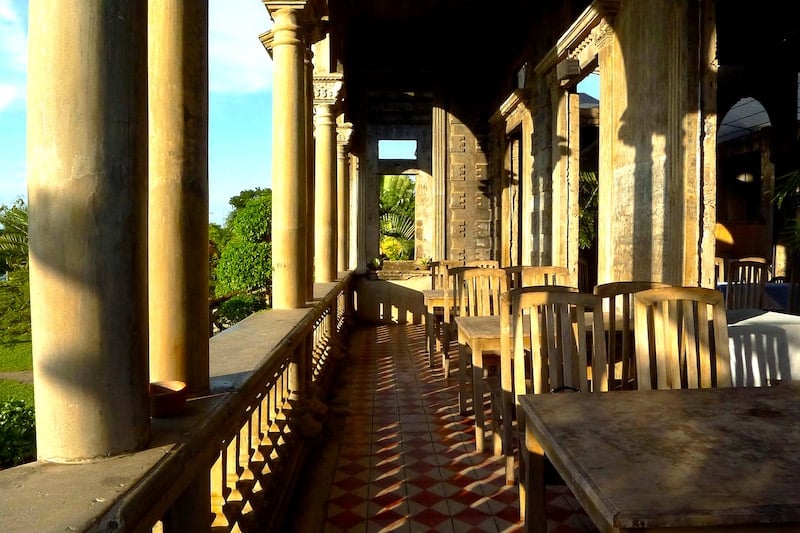 Now, tourists call it The Ruins and can even book the location for social events. After all, the foundations have been restored with rustic furniture added inside the mansion. Not only does the site trigger a sense of nostalgia, but it also highlights a verdant meadow and an iconic fountain that make the exterior of the mansion a perfect place to take photos. Once that's done, you can grab a bite in the nearby restaurant. 
Also read: Bacolod Tourist Spots: 10 Things to Do for Foodies & History Buffs
5. Calle Crisologo in Ilocos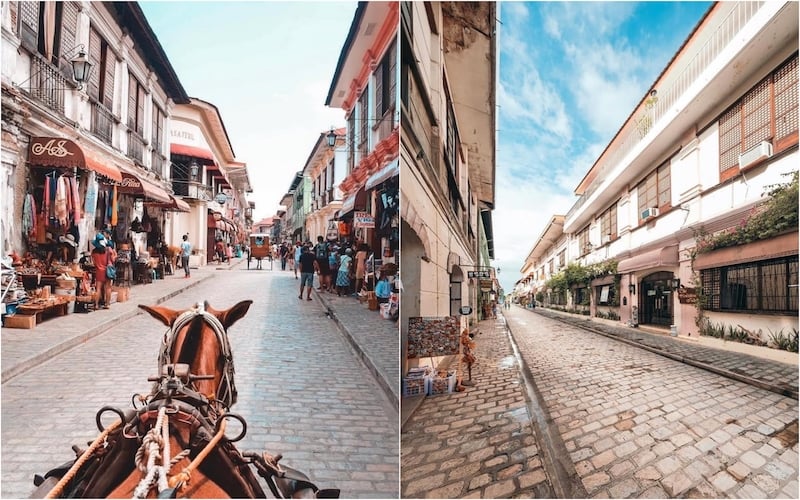 The second most popular place in the Philippines to revisit the Spanish era is Vigan City in Ilocos Sur. Vigan's best tourist attraction is Calle Crisologo, which was once a prosperous trading centre for Manila and Acapulco. Here, tourists will discover heritage colonial houses on cobblestone streets where they can also ride a kalesa to tour the whole area. 
All the houses are still owned by families who work hard to preserve them; some homes have also been transformed into museums, inns, and stores. It takes a few hours to tour four blocks of Calle Crisologo, and that's more than enough time to learn about Vigan's history and take all the picture-perfect Instagram photos you need while waiting for the sun to go down. Trust us, you haven't seen anything yet until you've seen Calle Crisologo's lamp-lit streets at night. 
6. Boracay's White Beach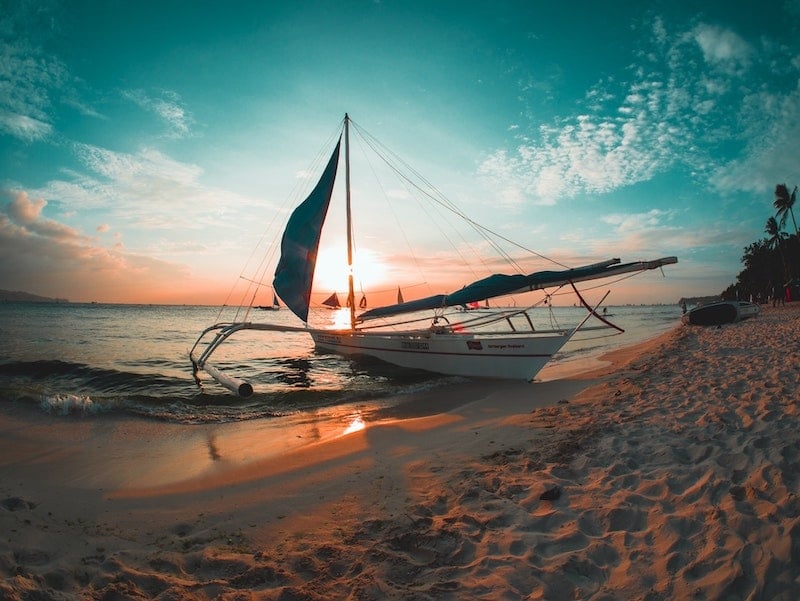 There is no exaggeration when it comes to Boracay's White Beach. Once you lay eyes on Boracay's pristine white sand, finding a beach that rivals it will prove a difficult feat.
Ever since Boracay was rehabilitated with new rules in place, such as the ban on beach parties and dining on the beach, the long stretch of white sand from the shore to the sea looks even more vast than before. There's a lot of space to sunbathe, get a tan, and take several Instagram photos before diving into the Philippines' clean and fresh ocean water. Want to know everything else you can do in Boracay? Click here.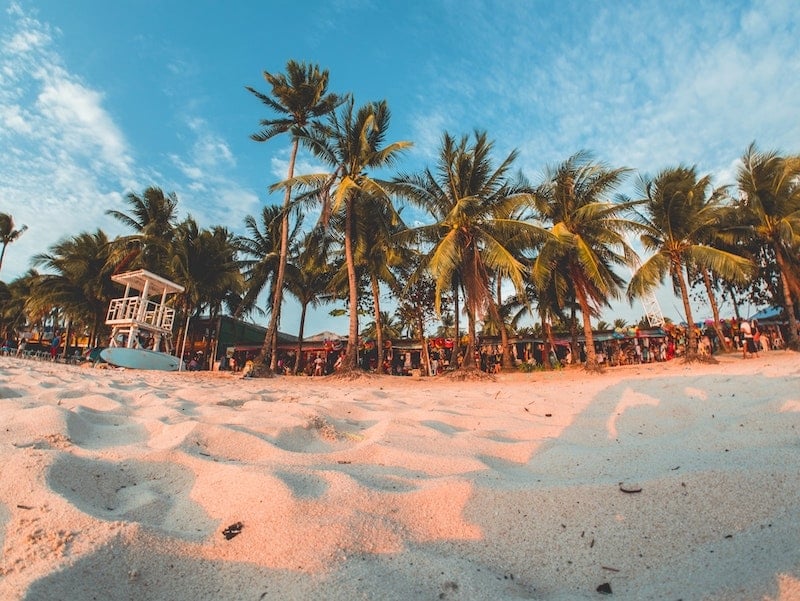 7. Vayang Rolling Hills in Batanes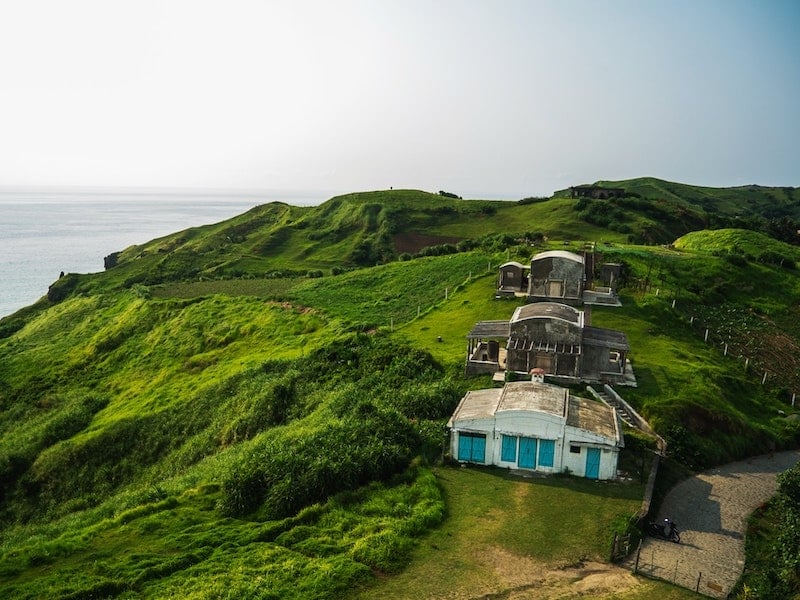 Batanes is often dubbed the New Zealand of the Philippines because of Vayang's jaw-dropping landscape. Its verdant hills are a sanctuary for many living things such as cows, goats, and water buffalos that all live together in prosperity. There's plenty of space for a photo-friendly nature escape in Vayang. From here, visitors have a generous view of the West Philippine Sea and can spot landmarks such as the Basco Lighthouse, and of course, the boulder beach of Chadpidan.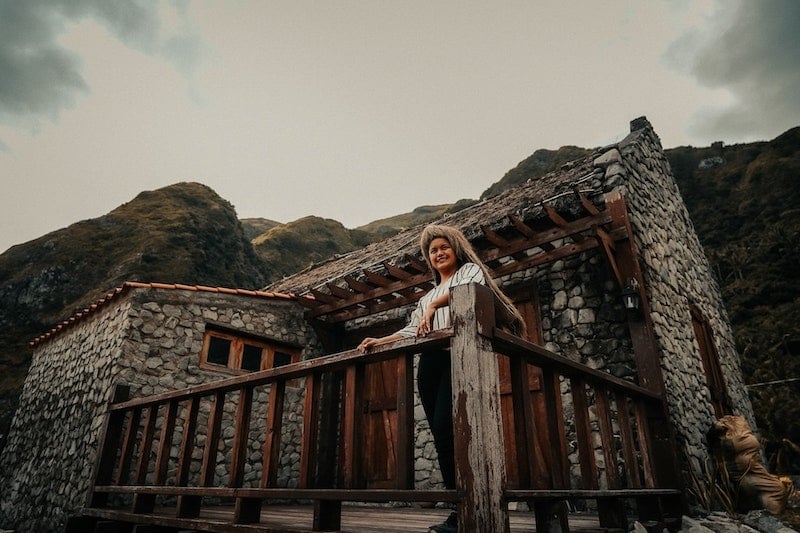 Finish your trip to Batanes by stopping by the Ivatan stone houses, which were traditional homes of the Ivatan people and built to withstand turbulent weather. Take as many photos as you want; although locally popular, this destination in the Philippines definitely deserves more attention on Instagram!
8. Pinto Art Museum in Antipolo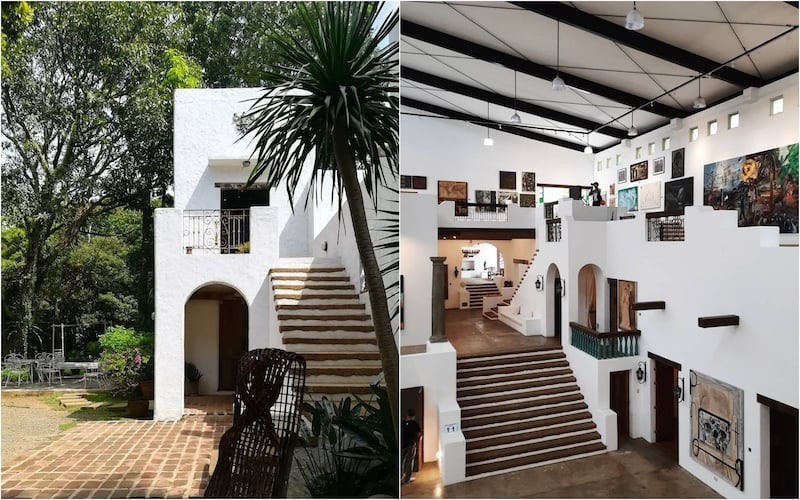 Just an hour-long drive from Quezon City, the Pinto Museum in Antipolo is both an indoor and outdoor museum that houses contemporary and emerging Filipino artworks, from paintings and sculptures to mixed media. The creations that visitors will encounter reflect various aspects of Philippine culture like religion, historical events, and modernist movements. 
Besides all the interesting pieces inside the museum, a strong selling point is its white-themed structures surrounded by perfectly manicured botanical gardens. With its paradisiacal environment, Pinto Museum is designed to make everyone feel comfortable and stress-free while appreciating art in all its forms. That's probably why it's the most Instagrammed museum in the Philippines!
9. Bonifacio Global City in Metro Manila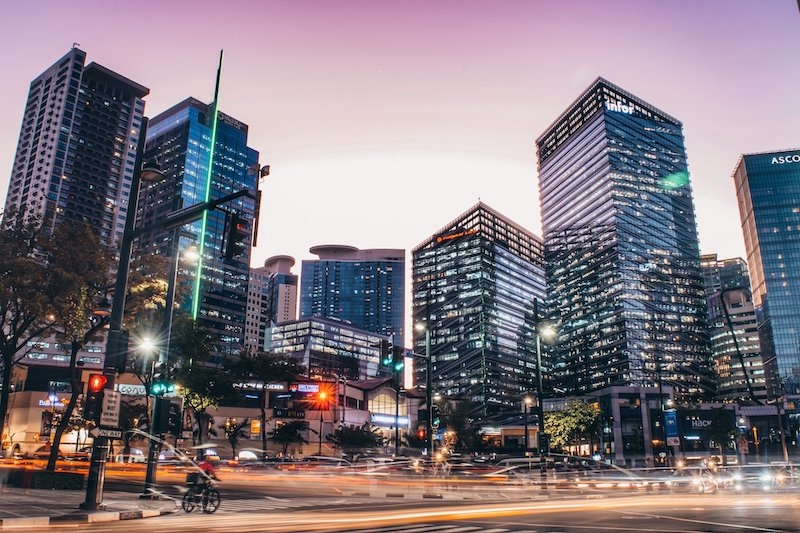 Bonifacio Global City, aka BGC, is the richest and cleanest business district in Metro Manila. It also has its fair share of creative outlets such as museums, art galleries, street art, and installations. On top of that, it's very convenient to have a photo op in BGC's wide sidewalks and uncrowded streets. 
Make the many street murals into your background and you'll have quite the head-turning Instagram photo. Not only that, but BGC's peculiar installations add extra spice to the district's unique urban culture. If you'd like to check out every single mural and installation BGC has to offer, read this.
10. Ifugao's Banaue Rice Terraces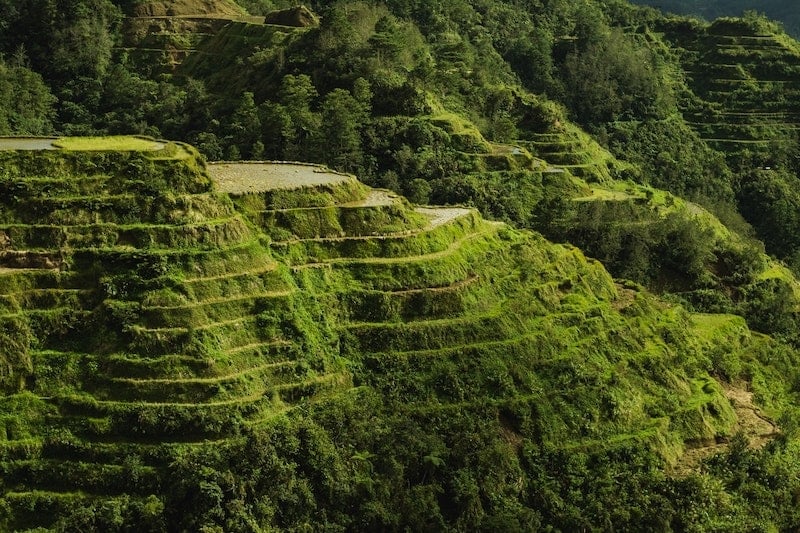 The Philippines' rice terraces in the Cordillera region have been around since time immemorial. The Ifugao rice terraces don't just depict a piece of the country's cultural landscape; they are also considered to be the priceless contribution of Philippine ancestors to mankind. One can only guess how this impressive man-made landscape was formed. It was created before the introduction of modern technology after all.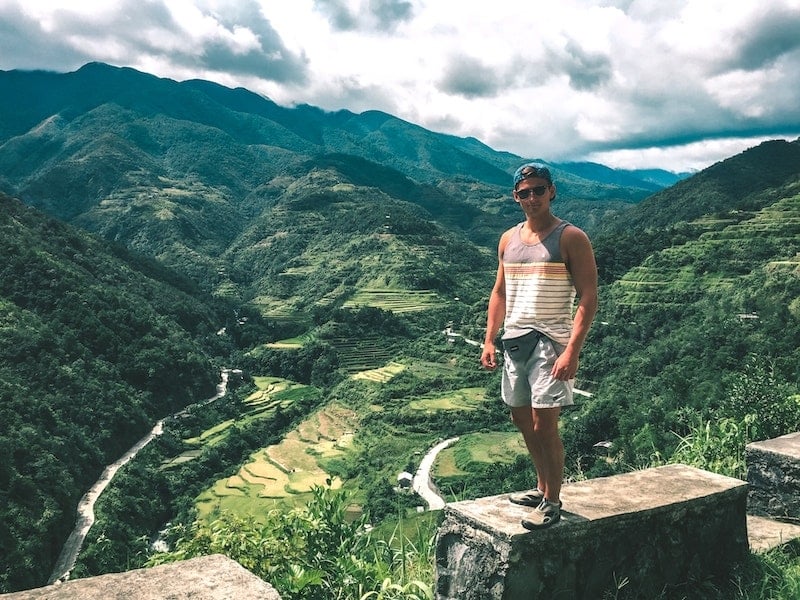 This remnant of ancient civilization has withstood the influences of colonialism and is maintained through traditional techniques. Stretching more than a thousand feet high, Ifugao's evergreen rice fields create a remarkable view of a richly cultivated land. How could you not take a photo of this UNESCO World Heritage Site?
11. Las Casas Filipinas de Acuzar in Bataan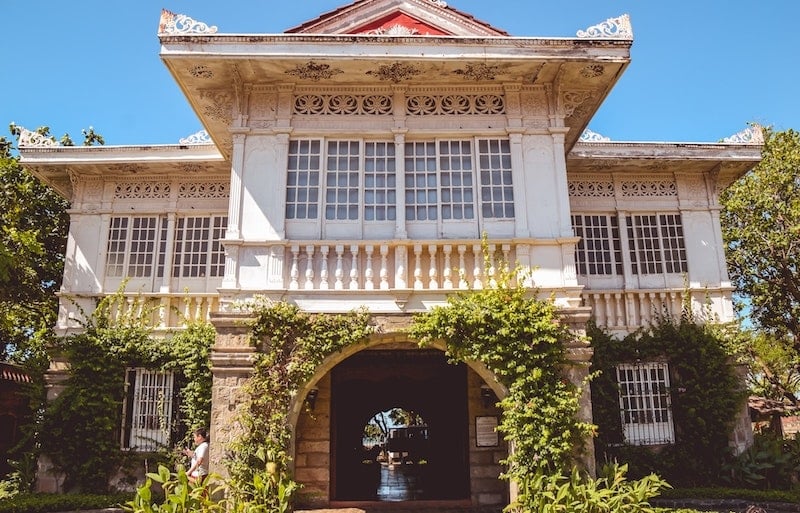 Looking for another colonial blast from the past? Las Casas Filipinas de Acuzar is a nostalgic resort that features a collection of restored Spanish-Filipino houses. Not only does it feature classic architecture but also Filipino craftsmanship and waterworks that make every nook and cranny in the resort picture-perfect. 
Tourists can opt to stay in Las Casas Filipinas for a luxurious historical holiday or simply take a day tour around the premises. River cruises, kalesa rides, walking tours, art tours, and even hotel tours are all readily available with knowledgeable guides that can entertain you with information and storytelling. Trust us, this glimpse of Old Manila in the Philippines is one for the books…and Instagram!
12. Siargao Island in Surigao del Norte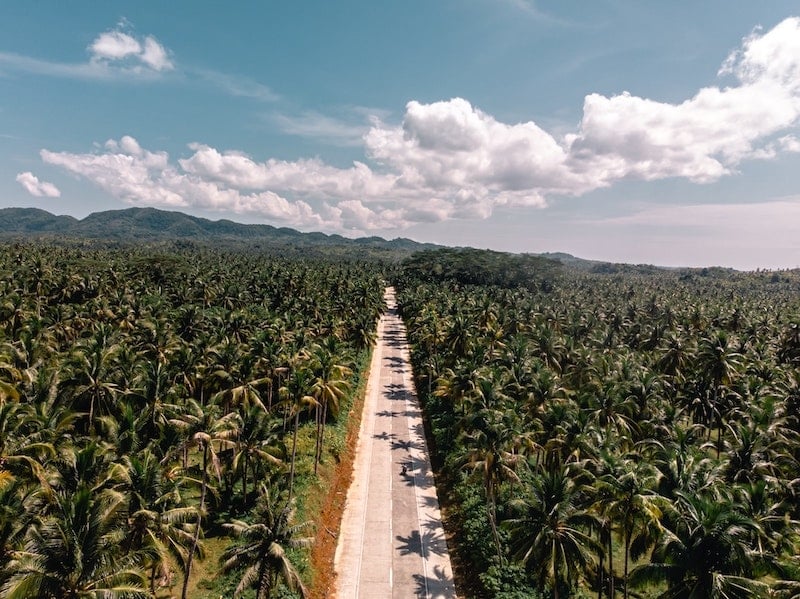 In case you've been looking for a picturesque surfing spot in the Philippines, look no further than Siargao Island. The island's ultimate surfing destination is called Cloud 9 where many surfers around the world flock to catch some summer waves. But aside from Siargao's white beaches, waterfalls, and lagoons, what really takes everyone's breath away is the army of coconut palm trees spread across the island. 
Tourists will see a magnificent view of this at Coconut Mountain View and the famous coconut street where social media influencers take their photos. Can't blame them, this sight of palm trees in the Philippines is definitely made for Instagram!
13. Cebu's Sirao Pictorial Garden and Camping Site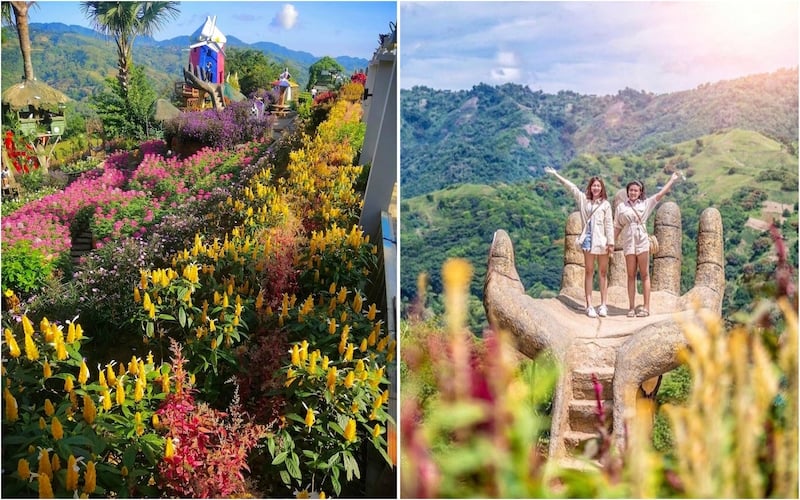 In Cebu City, there are two Sirao gardens: The first is the original Sirao Flower Garden and the second is the Sirao Pictorial Garden, where there are more than just colourful flowers. In the Pictorial Garden, visitors can enjoy the scent of shrubs and fresh flowers while admiring the view of the mountains up ahead. 
Even better, there are interactive backgrounds such as swings, selfie corners, and native tree houses to take creative pictures with. On a perfect sunny day, there really isn't a better way to get a whiff of fresh air than at this postcard-worthy destination in Cebu!
Also read: Street Art in the Philippines: 10 Spots That Tell Stories and Expressions
The Philippines brims with natural and man-made beauty, all of which are more than worthy to add to your Instagram grid. That means you really have to know where to look and this list will definitely help you achieve that. But more than taking photos, we hope you take the time to immerse yourself in the culture and history of the Pearl of the Orient Seas. There's truly no place like the Philippines!
---
This article was originally published on TripZilla.