A beach trip is always a good idea. But sometimes, you don't exactly have the time or budget to go very far. Luckily, Batangas sits two to three hours away from the metro — a pretty quick road trip to the sun, sand, and sea. 
When you want a stress-free vacation just south of Metro Manila, Pico de Loro is the way to go. Not only is the resort community in Nasugbu a relatively easy drive from the city, but it also has everything travellers need for a weekend getaway: restaurants, a country club with a pool and bowling alley, an exclusive beach on the Hamilo Coast, hiking and biking trails, and a walking path around the lagoon. Best of all, even non-members enjoy access to all of these when you rent a Pico de Loro Airbnb!
Don't worry; there are plenty of wonderful accommodations to choose from. We've even rounded up the most stylish ones below. Whether you're escaping the city by yourself or taking the barkada on a group vacay, these Pico de Loro Airbnbs will give you the weekend break you absolutely deserve.  
Also read: 18 Airbnb & Vacation Rentals in Batangas for Quick Escapes 
Best Pico de Loro Airbnb homes for a stress-free beach escape
1. This magical escape overlooking the lagoon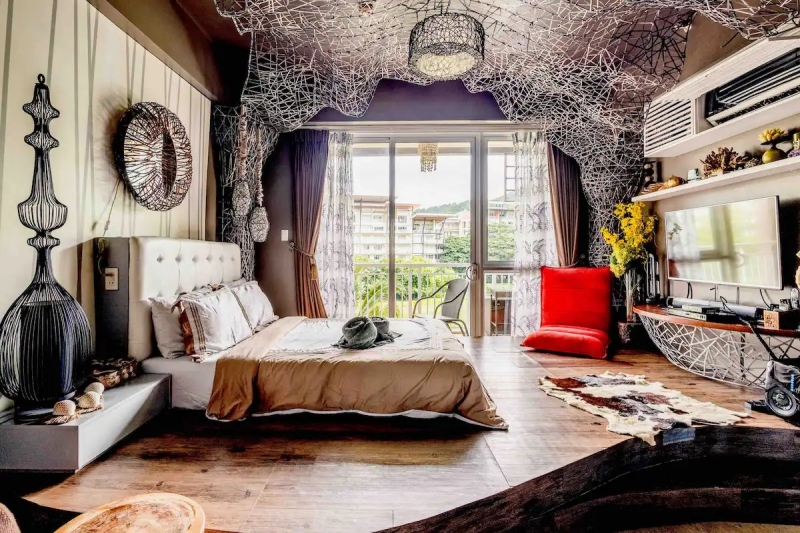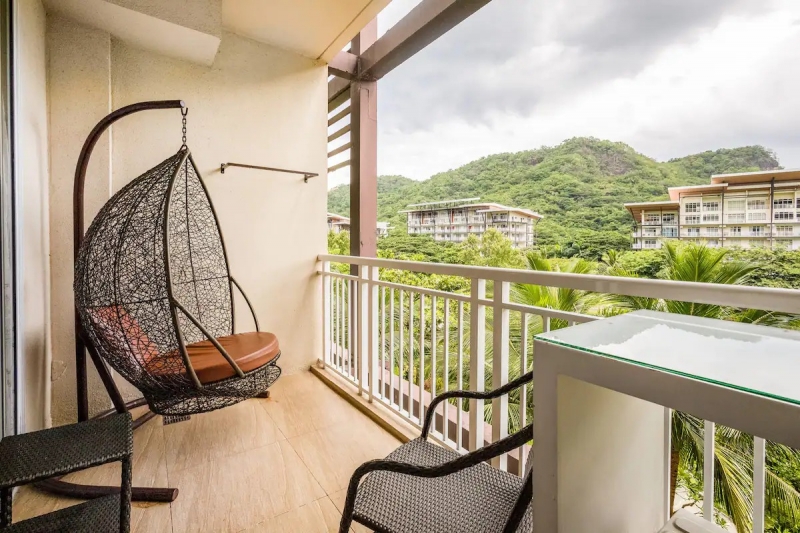 Listing name: Pico de Loro Lagoon View with WIFI 200MBPS
Listing type: Entire condominium
Max. no. of guests: 6
No. of bedrooms: 1
Fairytale interiors and scenic views of the lagoon make this Instagram-worthy condo a fantastical abode for a quick getaway. Nature-inspired decor creates an enchanting Maleficent-esque vibe, so it feels like you're much further from the metro than you actually are! At night, one could almost believe that you're tucked inside a treehouse instead of staying in a contemporary flat by the beach. 
That said, modern touches are provided, too: There's a fully equipped kitchen, plus a plush bed, a pristine bathroom, and complete dining ware. Additional air and floor mattresses will be available for bigger groups.
2. This breezy Santorini-inspired hideaway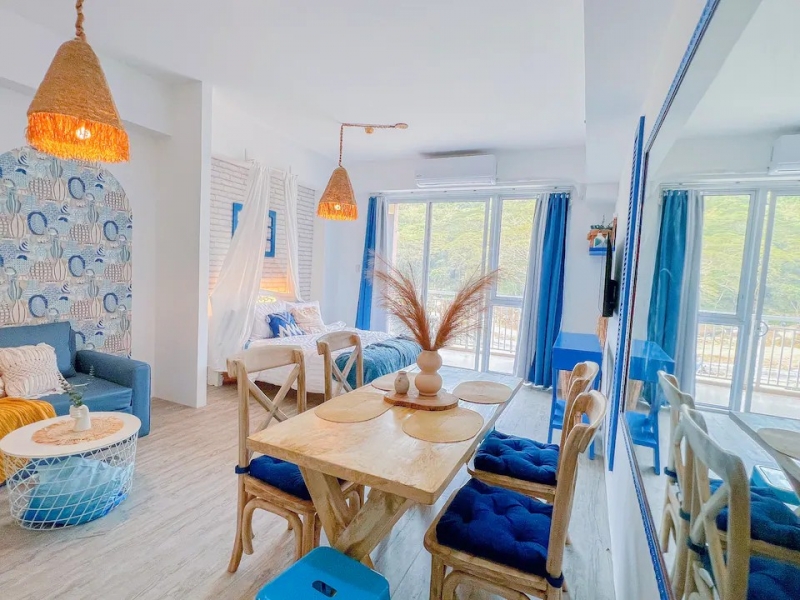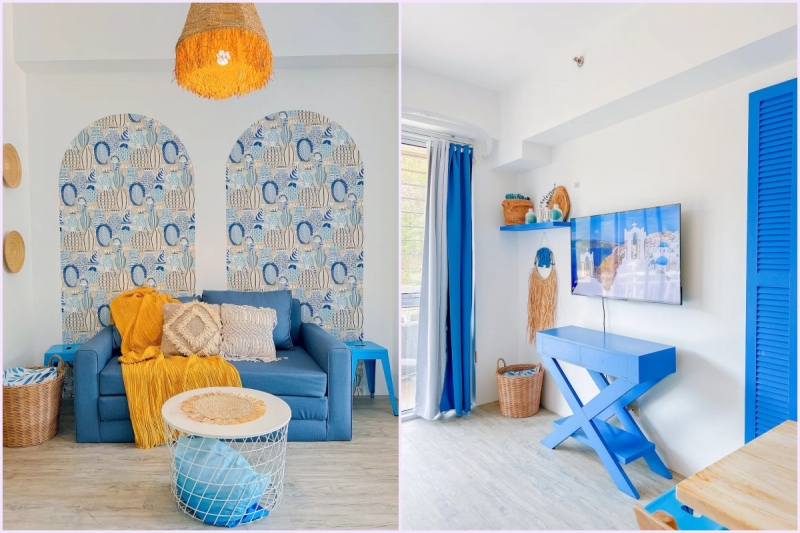 Listing name: PICO DE LORO ( Santorini Vibe)WIFI 200mbps
Listing type: Entire apartment
Max. no. of guests: 6
No. of bedrooms: Studio
Santorini may be on our bucket list, but for now, we're happy with sunny Batangas. If you're like us, then you'll fall in love at first sight with this beachy Santorini-inspired haven. The light-filled Pico de Loro Airbnb features beautiful blue accents, stark white walls, pops of warmer yellow, and wood furnishings. A coastal home perfect for the family, definitely! And yes, fur babies are invited, too. Although, keep in mind that pets are not allowed at the country club, the pool, or the beach. 
3. This spacious Pico de Loro Airbnb for families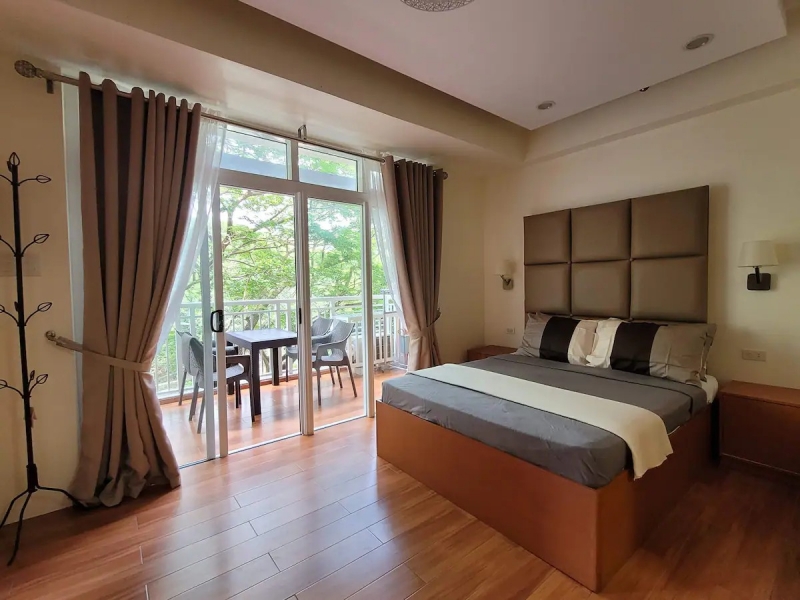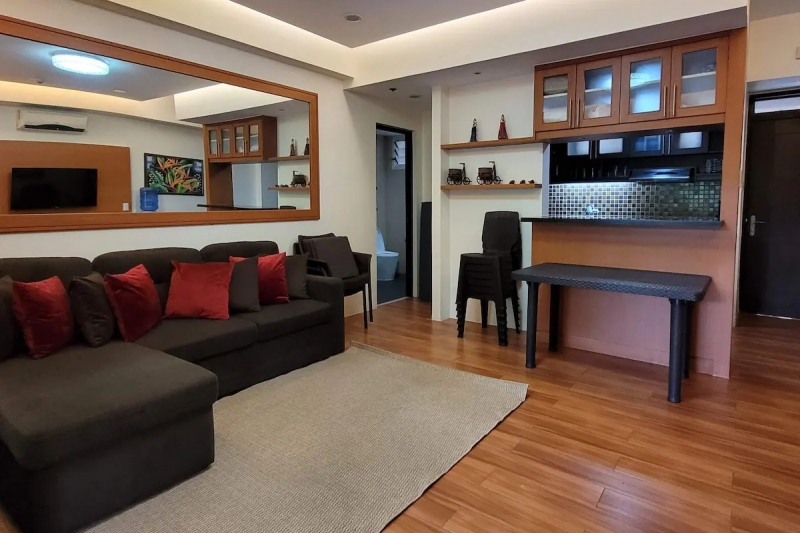 Listing name: 1 bedroom unit in Pico de Loro – Spacious and Cozy
Listing type: Entire condominium
Max. no. of guests: 5
No. of bedrooms: 1
Looking out onto the lush Nasugbu mountains, this large modern sanctuary comes ready for a relaxing family getaway. It may not be as flashy as other Pico de Loro Airbnb homes on this list, but it's easy to feel at home in this vacation rental. The spacious unit features all the essentials, including a full kitchen, comfortable bedding, a TV with cable and Chromecast, and free WiFi. Serve breakfast on the balcony to enjoy the early morning sun and fresh mountain air. 
4. This luxe apartment that's newly decorated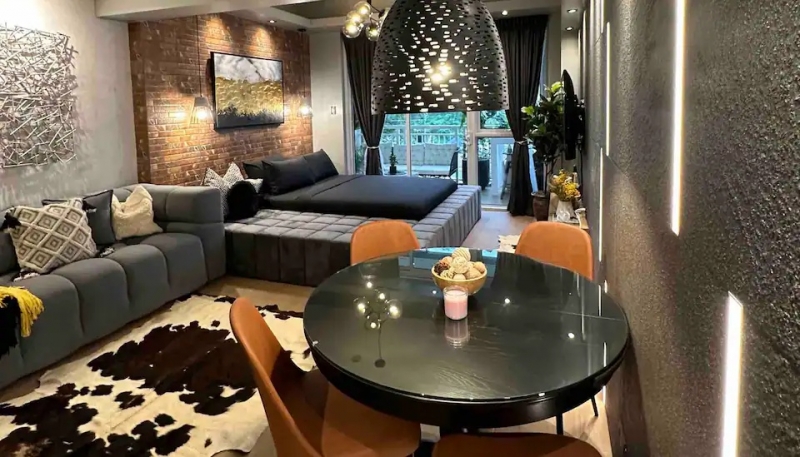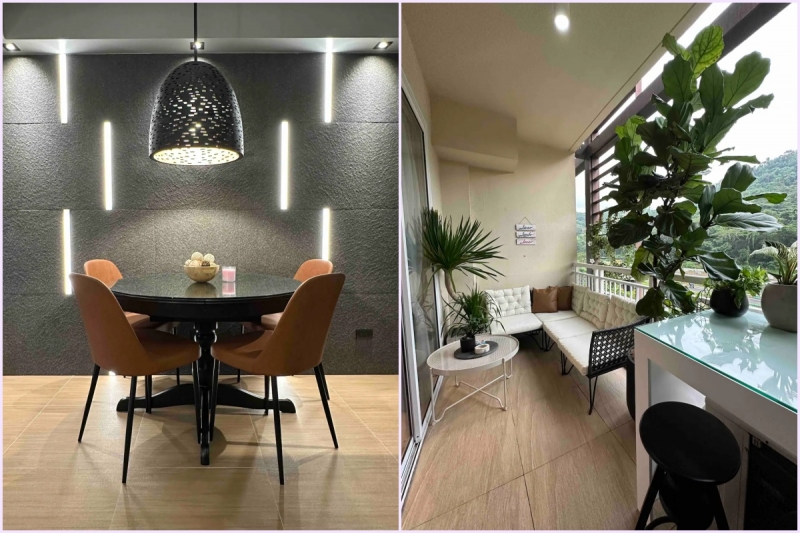 Listing name: Pico de Loro Luxurious Unit w/200MBPS & Balcony
Listing type: Entire condominium
Max. no. of guests: 5
No. of bedrooms: 1
We know you're in Pico de Loro to escape the city, but how do you feel about staying in an urban-chic Airbnb? This impeccably appointed pad feels like an elegant BGC condo, with bold dark colours, sleek modern decor, and a brick accent wall. Premium furnishings promise a cosy stay, while the speedy WiFi guarantees seamless connection for digital nomads and Netflix warriors. 
5. This hotel-style abode with mountain views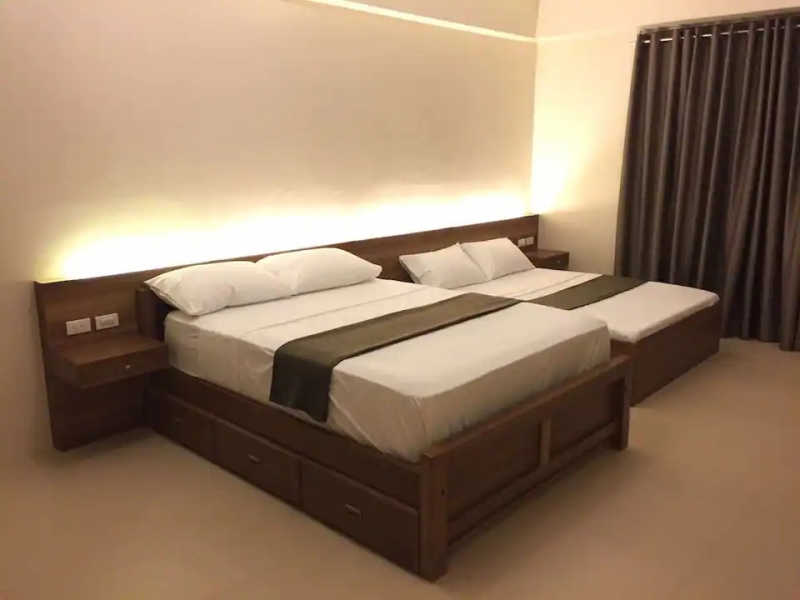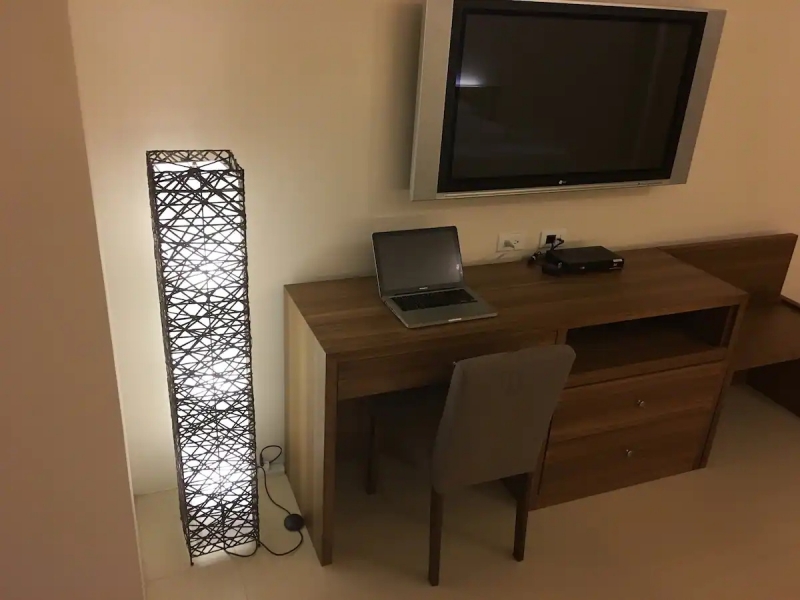 Listing name: Pico De Loro Hamilo Coast Jacana A 410
Listing type: Entire apartment
Max. no. of guests: 6
No. of bedrooms: Studio
Although we love home-style stays, there's also something about hotels that just makes us feel completely relaxed and pampered. For a good compromise between the two, check out this hotel-inspired studio that's as clean, cosy, and tastefully designed as any hotel room. At the same time, it's furnished with extra amenities offering home-like comforts, such as the sleek kitchen.
6. This tropical haven for beachy vibes 24/7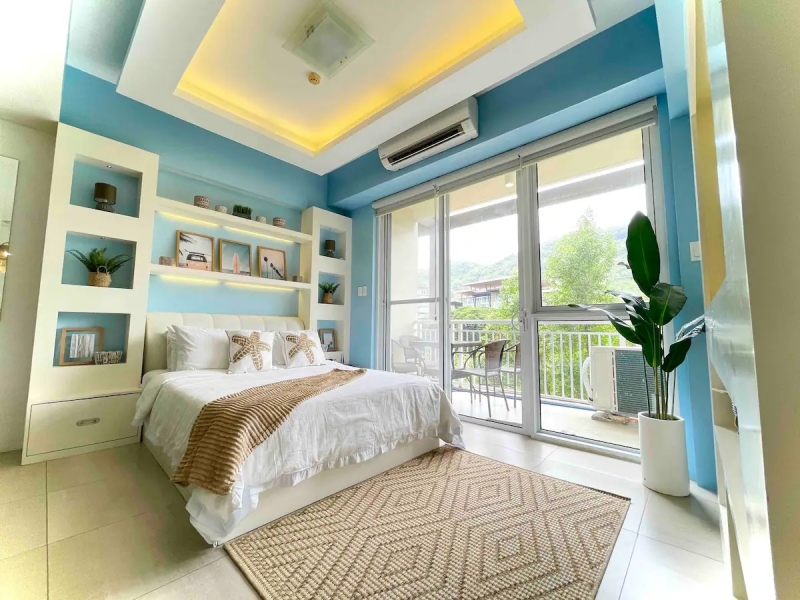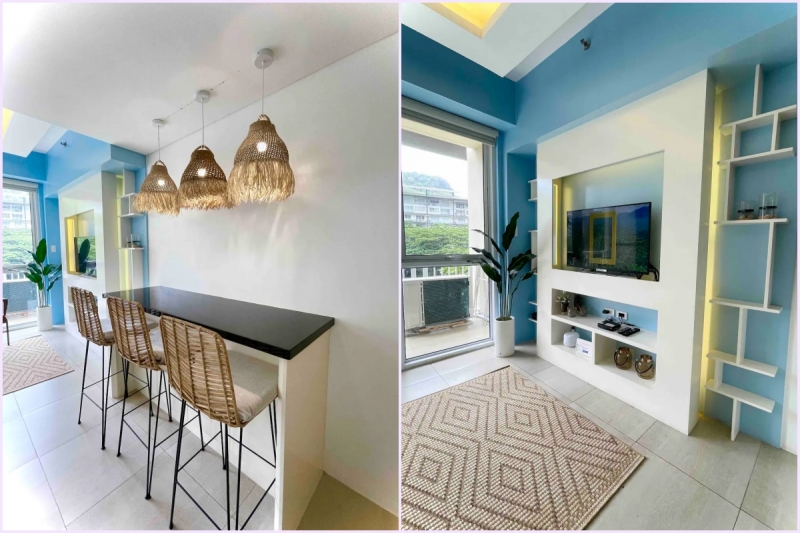 Listing name: 🏝Stylish 1BR LAGOON SUITE in Pico de Loro
Listing type: Entire condominium
Max. no. of guests: 6
No. of bedrooms: 1
Not enough to be a five-minute stroll away from the beach? Bask in the tropical vibes from day to night at this beachy suite in Pico de Loro you can book on Airbnb. It's definitely our pick for sun-soaked vacations with pals — the bright colours, rattan touches, and sea-inspired knick-knacks look as good on our social media feed as they do in person. You'll be happy to note the balcony in the unit, so you can savour meals with fresh air and lagoon views. 
7. This elegant stay for VIPs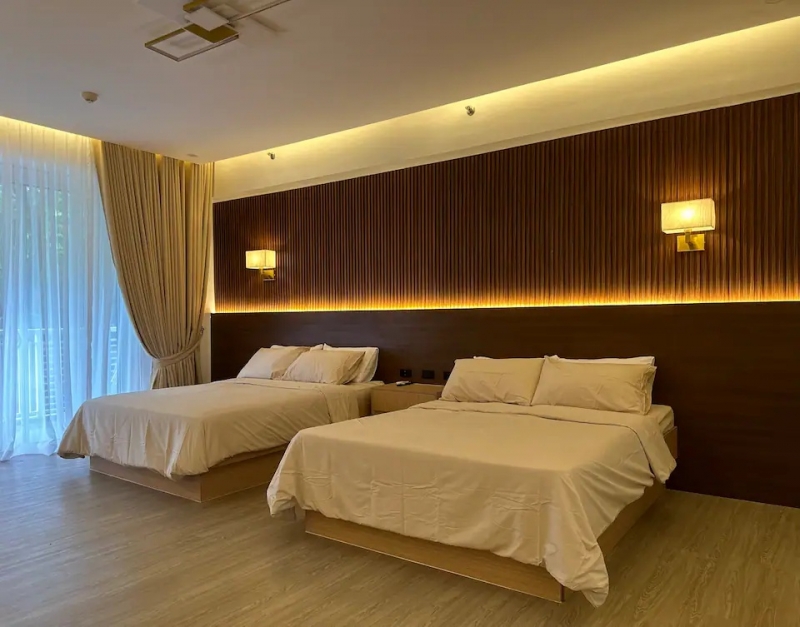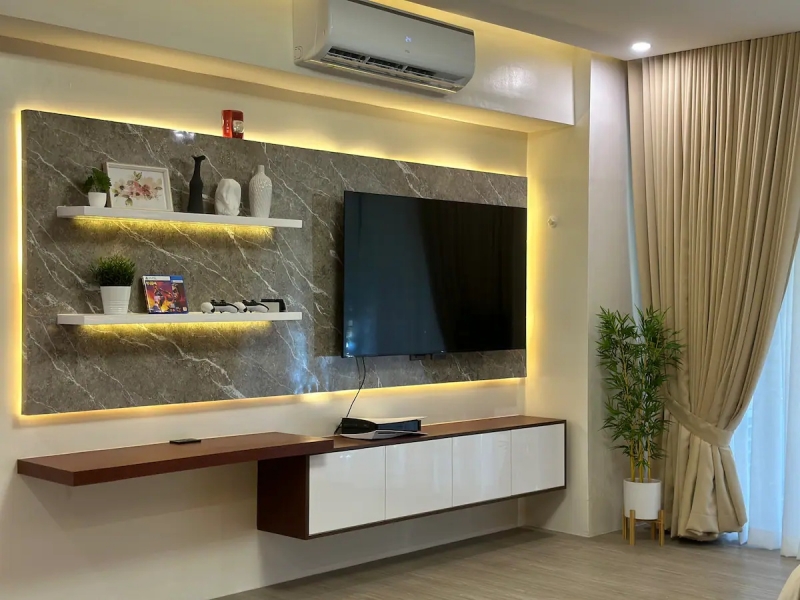 Listing name: Hotel-like condo at Pico De Loro
Listing type: Entire condominium
Max. no. of guests: 6
No. of bedrooms: 1
Wake up like a VIP on vacation in this gleaming five-star condominium, a sophisticated suite that spares no expense for a luxurious beach getaway. Each corner is thoughtfully designed, from the elegant lighting to the mirrors that make the spacious suite appear bigger. Even the industrial-inspired bathroom is exceptional — we certainly can see ourselves taking our time in the shower, that's for sure!
8. This pristine penthouse overlooking the mountains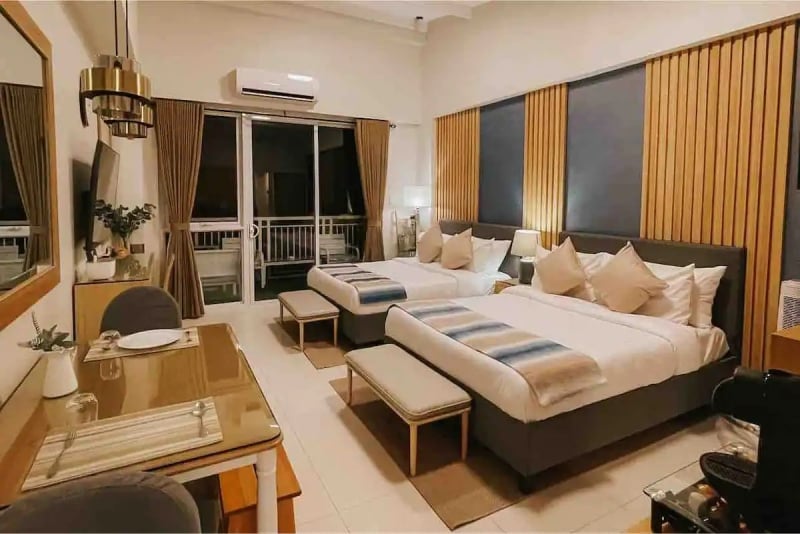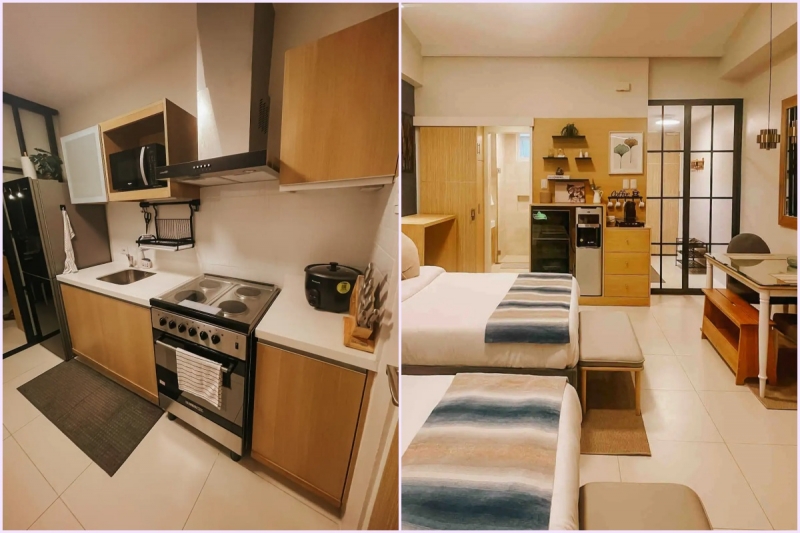 Listing name: 1BD/1BA 2x Queen Penthouse in Pico de Loro
Listing type: Entire rental unit
Max. no. of guests: 4
No. of bedrooms: 1
Penthouse living, anyone? This lovely penthouse is one of Pico de Loro's best. It comes with everything you need for a relaxing escape: a well-appointed kitchen, Netflix, WiFi, and even a Nespresso machine for your morning brew. More than that, two Emma queen beds with memory foam pillows promise a restful night's sleep for every guest — no need to worry about floor mattresses and pull-out sofas here! 
Also read: 20 Airbnbs Glasshouses in the Philippines With Spectacular Views
Have you picked your next vacation home from these Pico de Loro Airbnb stays yet? Time to pack your flip-flops and swimsuits — Batangas awaits! No time for a road trip? Take a look at our list of Metro Manila Airbnbs with pools, instead. 
Got a property you'd like TripZilla to feature? Inquire with us here.
---
This article contains affiliate links. When you book through these links, we may earn a small commission at no additional cost to you. All images courtesy of the respective property listings.