Contributed by The Wknd Travel
Several months ago, I went on a weekend trip to Port Barton, Palawan. This remote place is still unknown to the local tourism scene but is starting to gain attention from foreign travellers and backpackers. Let me share with you how my three days and three nights in Port Barton went.
Disclaimer: My goal when I went to Port Barton was to relax from the busy city life. I got lazy most of the time and I didn't go around much to explore.
Where is Port Barton?
When I first mentioned Port Barton to my friends, they were like, "In what country is that?". They didn't believe me when I told them it is located here in the Philippines. Well, yes it is.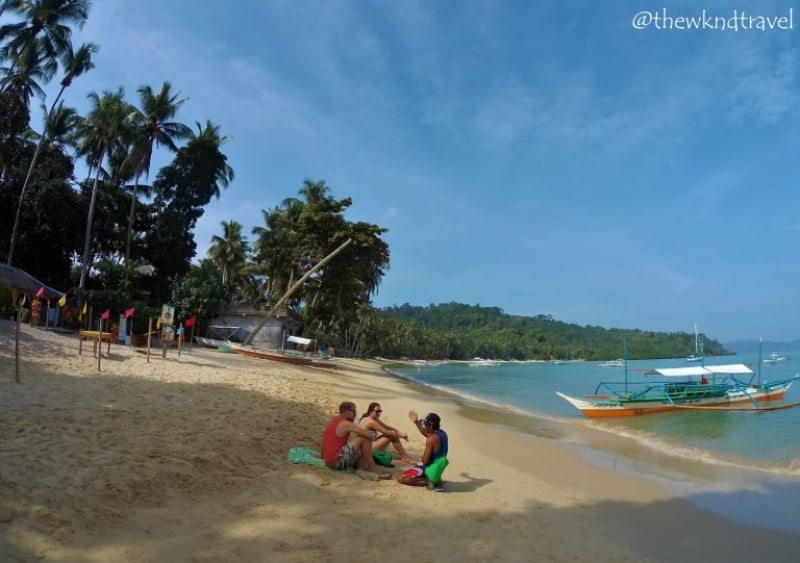 Port Barton is a small coastal village in San Vicente, Province of Palawan. It is 23 kilometres away from the town of Roxas, about three hours of land trip from Puerto Princesa City and about four and a half to five land trip hours from El Nido. The peaceful village is characterised by simple lives of the locals, beautiful beaches and unspoiled nature.
Also read: My Wife and I Travelled 5 Days to Puerto Princesa and El Nido on a Budget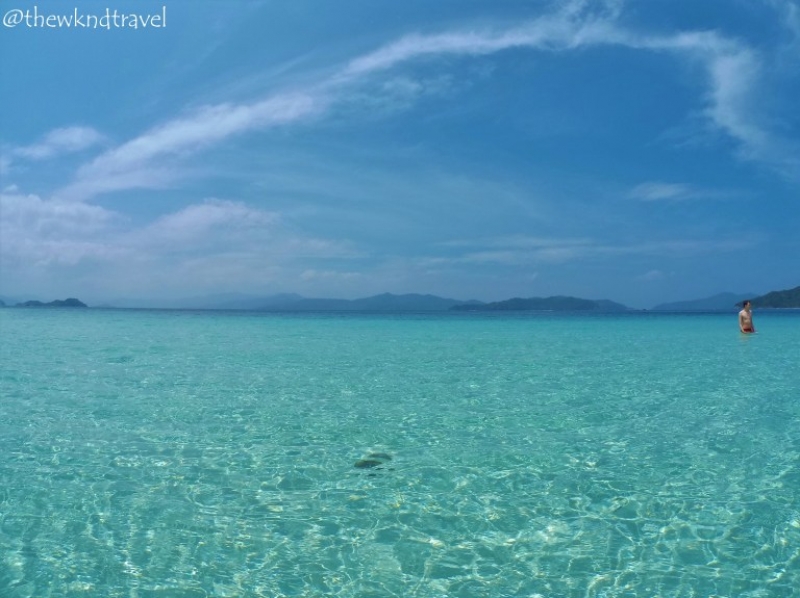 How to go to Port Barton
The nearest airport to Port Barton is Puerto Princesa International Airport. From Puerto Princesa City, one needs to take a van to Port Barton. There are several van companies operating between the two places, with a few scheduled trips leaving every day. The first trip from PPC leaves at 7 in the morning and the last trip is at 5 in the afternoon. A cheaper option is to take the local bus from San Jose Terminal.
I did not make it to the last van trip because my flight arrived a little past 5pm. I decided to stay in the city for a night and got a bed in Sheebang Hostel. The hostel is located a little bit far from the centre, but it has everything you need. There is an on-site restaurant and a 24-hour bar (yes, the bar operates 24/7). I spent hours eating and drinking in the bar with newfound friends from some parts of the world.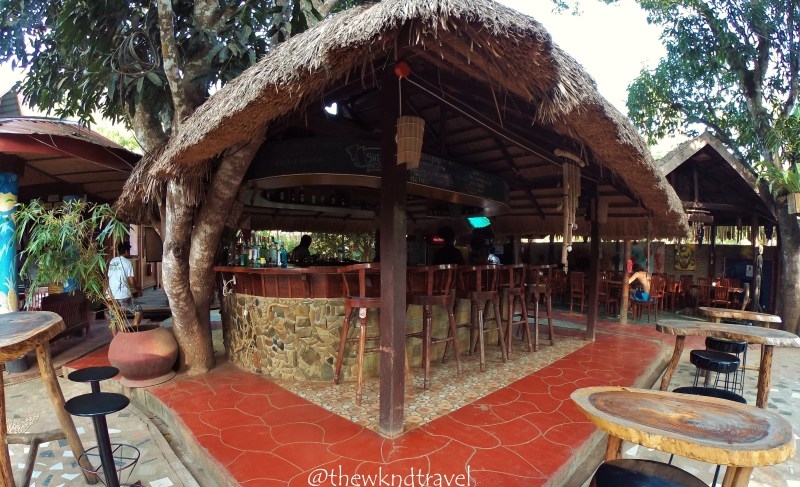 The following day, the van picked me up at the hostel at 8.30 in the morning. We dropped by for a while in San Jose Terminal to pick up more passengers then headed straight to Port Barton. The first two hours of the trip were normal, but the last hour was through rough, unpaved roads.
Environmental Fee
Upon arrival in Port Barton, the van dropped us off at the tourism centre. All guests are required to register and pay the ₱50 environmental fee. The local staff gave me an environmental card which is needed every island hopping or boat trip. The card is valid for 10 days.
Accommodation
Port Barton has a limited number of accommodation choices. Most of these hostels, inns and homestays are not available online and can only be booked via text message, phone call or most of the time, upon arrival.
I've read some online reviews and blogs about possible accommodations and found out that Princesa Michaella Guesthouse is the best place to stay. The hostel is a two-minute walk from the beach but is centrally located. A private room with toilet costs ₱600-800 while a bed in a four-bed dormitory room costs ₱300. Since I was on a "vacation mode", I got myself a private room for three nights.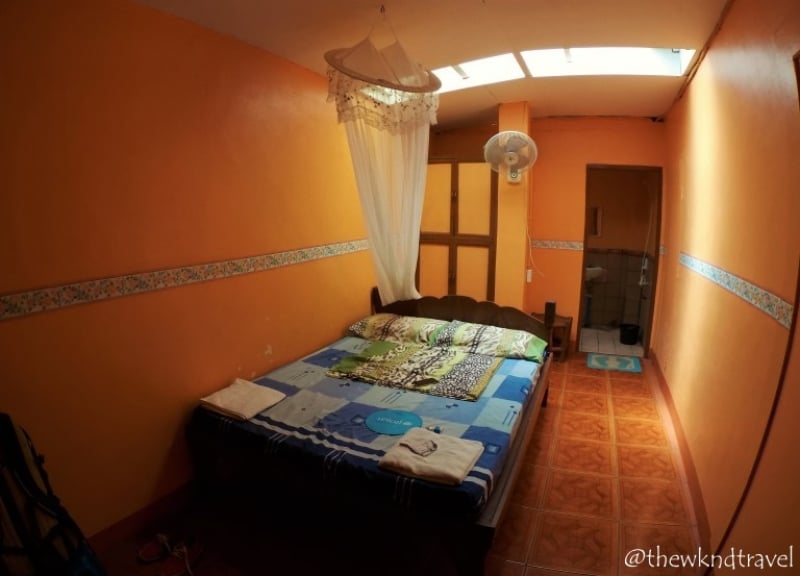 The guesthouse has a spacious communal area where you can meet and talk with the other guests. What's nice is almost all guests know each other. People also drink almost every night (or literally every night) in the common area. I've met a lot of amazing people during my stay. I definitely had good times with awesome people.
The guesthouse also has free WiFi, but don't expect it to be that fast. They only rely on a broadband and the area's mobile data network isn't as fast as Puerto Princesa's or El Nido's. The staff were super nice and accommodating. I also met Mama Lucy, the super duper nice owner of Princesa Michaella Guesthouse. She makes sure that all guests have a great stay in Port Barton. She greets everyone in the morning and even shares food to everyone. I personally met her during my first day. The planned brief encounter became three hours of non-stop storytelling.
I definitely loved my stay in Princesa Michaella and Mama Lucy played a big part in it. I recommend everyone going to Port Barton to stay in this amazing guesthouse. Make sure to send my regards to Mama Lucy for me!
Contact details: Princesa Michaella Guesthouse – 0948 236 1099 (Mama Lucy)
What to do and where to go in Port Barton
Port Barton may be a small village, but it still offers a lot of things to do and places to visit. Here are a few things you can do or places where you can go while in Port Barton:
Village Beach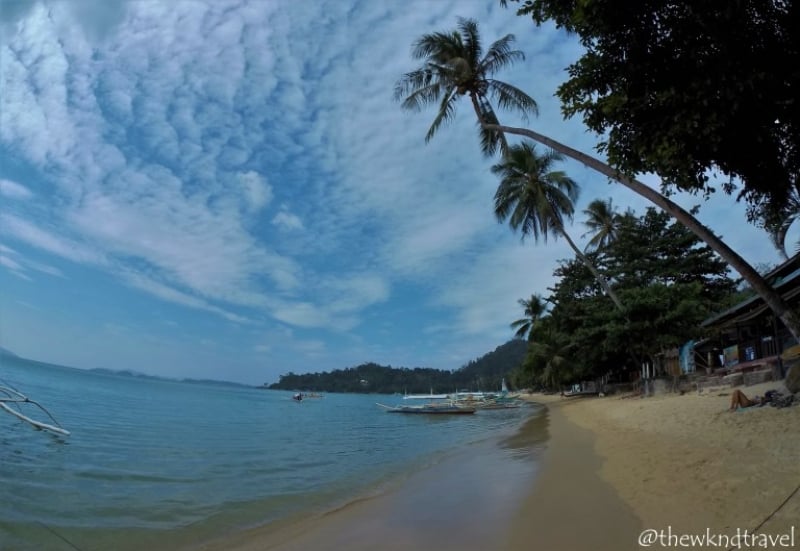 The village is located by the beach. If you are into just relaxing and sunbathing, this area is perfect for you. The beachfront isn't that busy with very few establishments and people around.
Island Hopping
Just like El Nido, Port Barton also offers island hopping day tours but with a cheaper rate. The boatmen offer Tours A to D visiting various beaches, islands and reefs. Mama Lucy from Princesa Michaella helped me book my island tour which costs ₱700. The rate includes a picnic lunch and all other fees. The tour started at 9am and ended at 5pm. We went to the following islands and reefs:
Twin Reef

Exotic Island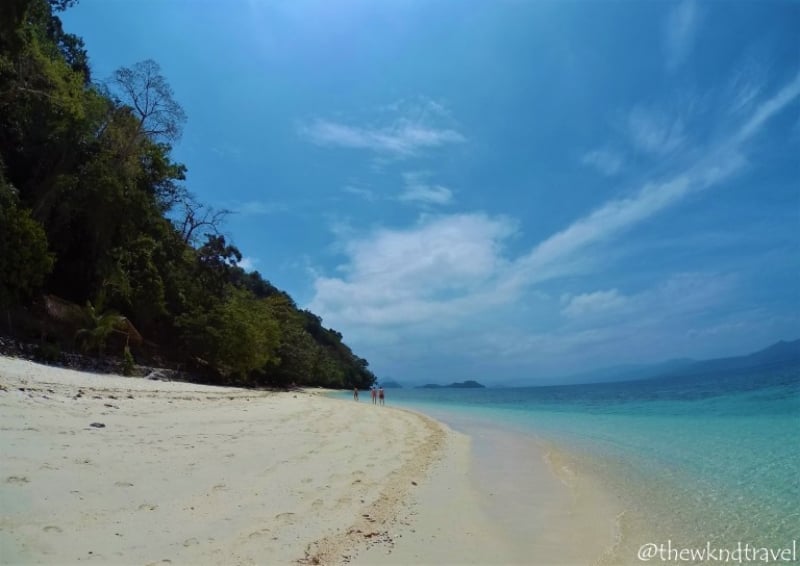 Maxima Island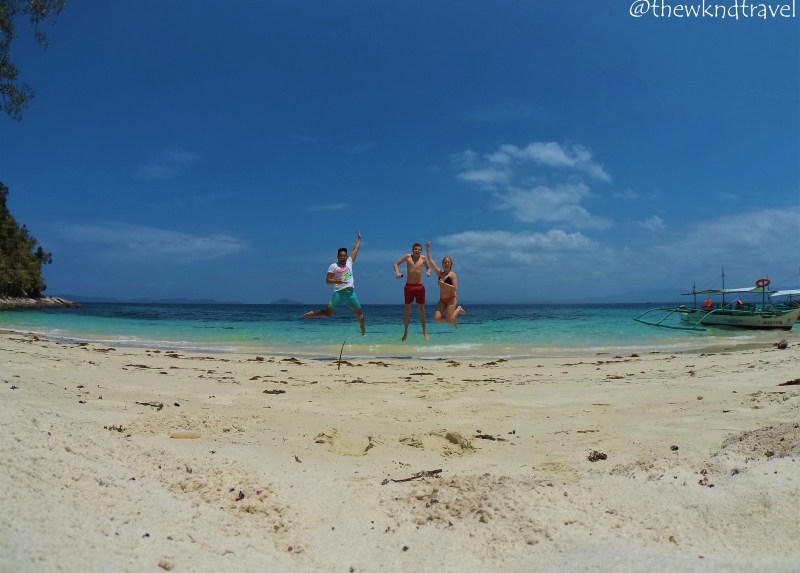 German Island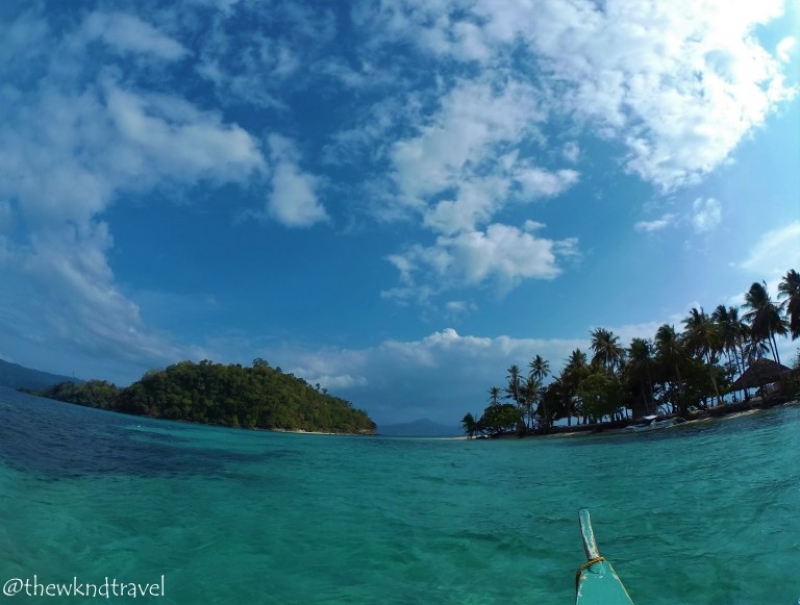 Luli Island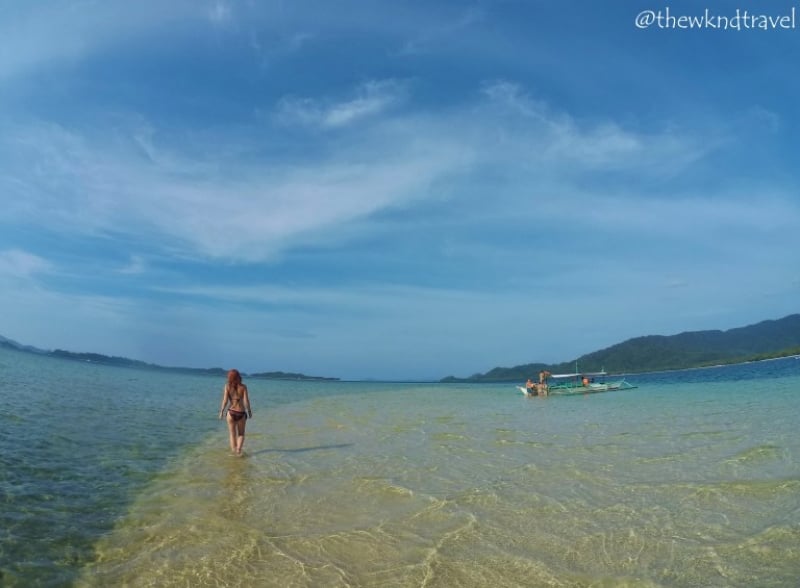 I really enjoyed the island hopping tour. The islands and reefs were beautiful! It was also my first time to swim with a turtle!
Sunset watching
Port Barton sunset is something one should not miss whilst there. It is one of the most dramatic sunsets I've ever seen. The combination of the sky colours makes it so beautiful to watch. Make sure to stay for a few minutes after the 'official' sunset time to witness its full glory.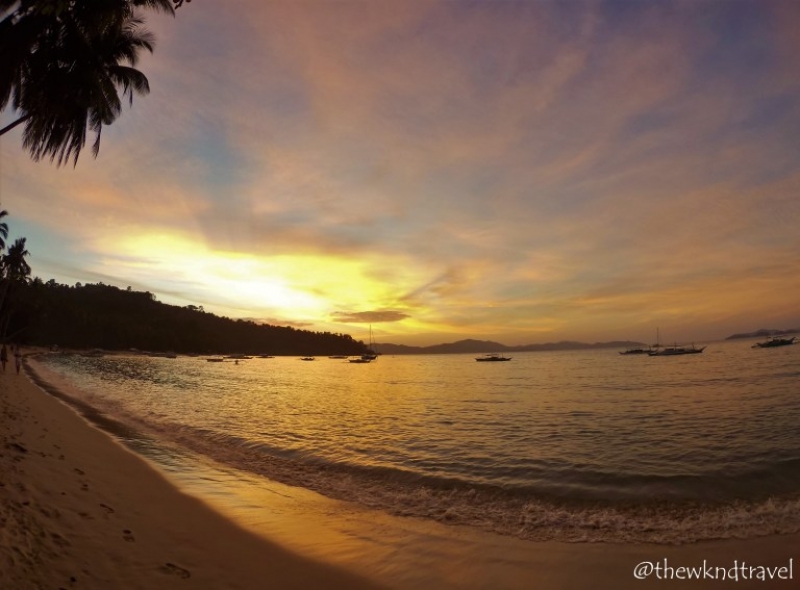 Jungle Bar
All roads to the Jungle Bar are closed every Wednesday and Saturday night. It is a bar situated on top of a hill, about 30 minutes away from the village centre. Around 8 in the evening, you will hear van drivers looking for tourists or visitors who want to go to the Jungle Bar. All you have to do is pay ₱150 (round-trip fare). What's also good is the van driver will wait for you up to what time you want to go back. The bar has reasonably priced food and drinks. The live music is a plus!
I went to the Jungle Bar with a friend from the guesthouse. We met four French people in the van and decided to spend good times in the bar. The initial plan was to go home at 11pm or 12am but we ended up going home at 3am.
Long Beach day tour
Long Beach is a 14.1-kilometre undeveloped white beach in San Vicente. A day trip to here costs ₱2,500 for three to four people (exclusive of food.) The trip takes about two hours per way. I was not able to go to this place because I couldn't find anyone to share the boat with. I will probably go back to Palawan soon and will stay near Long Beach before this becomes a busy tourist destination.
White Beach and Pamuayan Falls
This is the famous land trip taken by almost every visitor in Port Barton. The white beach is about 30 minutes of walk from the village beach. There is an entrance fee of ₱25 when going to the White Beach. On the other hand, the falls is about four kilometres walk from the centre. An easier way to visit these two places is by motorbike. It's best to ask the people from your hostel or guesthouse for motorbike rentals.
Unfortunately, I missed visiting these two places. I planned to visit them during my last day in Port Barton but the rain started to fall and I also got lazy to go there.
There are still few more beaches, falls and islands to visit if you have the luxury of time. I believe three or four full days in Port Barton would be enough.
Facts about Port Barton
There are a few things about Port Barton that you need to know before going there.
Daily power supply only runs from a little past 5 in the afternoon to around 1 in the morning. That is the only time when you can charge your phones, laptops and cameras. Make sure to bring power banks to help extend your gadgets' lives during the day. Extension cords would also help charge many gadgets at the same time.
There are no ATMs or banks in the area. Make sure to withdraw enough cash in Puerto Princesa, San Vicente, Roxas or El Nido before going to Port Barton. Also, do not have high hopes of using your credit card. I haven't heard of any establishment accepting card payments. It may also be hard to exchange foreign currency to Philippine Peso so make sure to do that before going there.
There are no doctors or hospitals in the village. The nearest can be found in Roxas which is about an hour away. Be very careful in everything that you do. Bringing a small pouch of medicines would be good.
The village has access to limited internet speed. Yes, both Smart Communications and Globe Telecoms have networks, but the mobile data coverage is not that fast. For Globe subscribers, you can have fast (not like the metro speed though, but bearable) internet if you are by the beach.
Restaurant choices are also limited. If you are heading out for dinner, make sure to go to Gacayan Restaurant early as it is always full. The price of a meal is really affordable but note that food orders take a while to be served. You can also check out the famous Jambalaya Cafe and the other restaurants nearby.
I fell in love with Port Barton up to the point that I want to go back there as soon as possible. It has one of the most relaxing beachfronts I've been to, one of the clearest waters I've seen and one of the quietest islands I've visited. I suggest that you go to this place as soon as you can. I have a strong feeling this will be developed in two to three years time.
Also read: Exploring Coron, Palawan in 4 Days for Less Than ₱8,000 All-In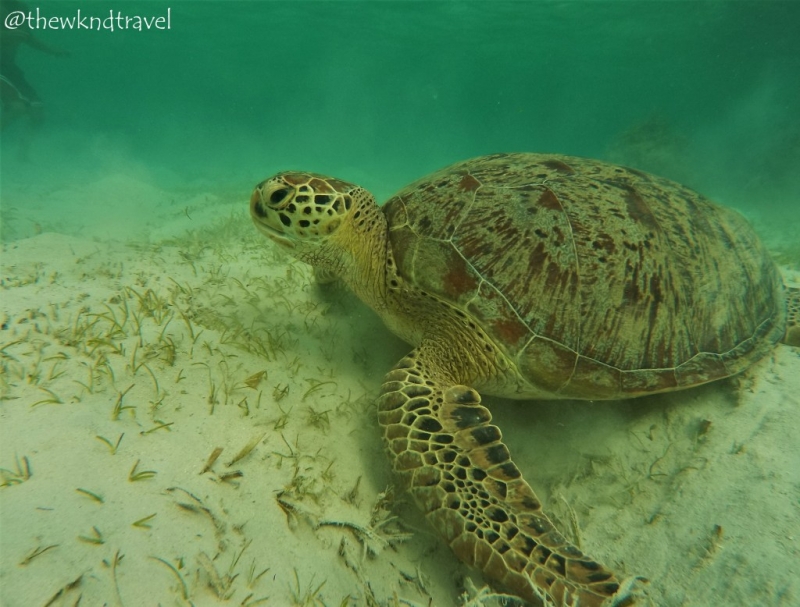 Do you have any questions about Port Barton? Is there anything you want to know about the place? Feel free to comment below or send me an email to [email protected]. You can also send me a message on Facebook, drop a comment on Instagram or send me a tweet on Twitter. Suggestions for future topics are also welcome.
P.S. All photos above were shot using my HTC Re.