Great views, relaxing interiors, and delicious drinks — the prettiest Starbucks branches in the Philippines have it all. With more outlets than we can count sprouting all over the country, Starbucks has established itself as an essential part of Filipino coffee culture. Chalk it up to the rich and aromatic brews, the friendly baristas, the sleek and industrial design touches, or even the soothing chill of the aircon. No matter what draws you into a Starbucks, this coffee shop's appeal can be described in one word: reliable.
From Metro Manila to Cebu, we've narrowed down the best Starbucks branches in the Philippines to level up your cafe-hopping adventures. Each of these Starbucks locations proudly reflects the unique character of its neighbourhood, where coffee is more than a quick stop to power up — it's an experience to savour. 
Also read: Outdoor Dining in Manila: 20 Restaurants with the Best Al Fresco Areas 
Note: Due to COVID-19 restrictions and changing policies on dining in, some of the establishments below may be temporarily closed or only open for take-out or drive-thru. 
Best Starbucks branches in the Philippines
1. The Ridge in Antipolo
Dreaming about sipping your iced latte with a view? Between the cool breeze and the stunning views overlooking Antipolo, we can't decide what we love more about this soon-to-open coffee shop. Located on The Ridge along Sumulong Highway, this scenic Starbucks branch caught the eye of several bikers who spotted its tall and imposing facade. 
Though this branch has yet to open to the public, it already looks like it could be a popular spot for anyone hoping to escape the frantic pace of the city. And we'll take any excuse to check out the area and explore Antipolo to the fullest. 
Address: 23 Sumulong Hwy, Sta. Cruz, Antipolo, Rizal
Also read: 12 Relaxing Cafes in Antipolo to Escape Manila's Busy City Life
2. Twin Lakes Tagaytay in Tagaytay
Planning a road trip to Tagaytay? Nothing beats enjoying your coffee with the lush greenery and the gentle breeze of Tagaytay competing for your attention. 
Luckily, the Starbucks branch in Twin Lakes Tagaytay along Tagaytay-Nasugbu Highway provides breathtaking views of nature from every angle. It helps that you can get a table outside and breathe in the fresh air, too. 
Whether you prefer a cold brew or a frappuccino, you'll find a serene ambience at this two-storey cafe that's perfect for chilling or getting lost in a book. 
Address: Twin Lakes, Tagaytay-Nasugbu Highway, Barangay Dayap-Itaas, Laurel, Batangas
Also read: 10 Coffee Shops in Tagaytay for Your Next Road Trip
3. Domicillo Design Hotel in Tagaytay
Prepare to be blown away by the spectacular lookouts at this store! With an unbeatable view of Taal Lake and its iconic volcano, the Starbucks branch inside the Domicillo Design Hotel gives you two options to enjoy its unique ambience. You can pull up a chair inside the store and marvel at the views through the floor-to-ceiling glass walls. 
Or, you can opt to enjoy your food and drinks — the same as any typical Starbucks branch's menu — in the al fresco dining area. Outside, you can also enjoy the backdrop of Tagaytay's famous lake and bask in the soothing atmosphere you came all this way for. 
Address: Km 58, Emilio Aguinaldo Highway Maharlika East, Tagaytay-Nasugbu Highway, Tagaytay, Cavite  
4. Camp John Hay in Baguio City
Hot coffee is best enjoyed in cold weather, don't you think? Picturesque scenery is what customers love most about the Starbucks branch in Camp John Hay, which resembles a humble American-style bungalow. 
Surrounded by tall trees, this Starbucks branch in Baguio combines the beauty of nature with the aroma of freshly brewed coffee. Besides its cosy interiors, it offers an al fresco dining area where customers can sip their drinks with the crisp mountain air. 
Address: Sheridan Drive, Camp John Hay, Baguio, Benguet
5. S Maison in Pasay City
Take your coffee crawl in Pasay City to the next level by dropping by the Starbucks Reserve branch at S Maison. As soon as you see the wooden boxes on the ceiling, you know this store is a cut above the rest. 
For the innovative design of the S Maison Reserve branch, Starbucks Philippines tapped visual artist Ella Hipolito to create a beautiful landscape painting on one of the store's walls, which portrays the story of coffee farmers in the Philippines. Her art, which uses coffee grounds on canvas, shows how Filipino farmers harvest the coffee cherries and perform the hard work that brings the rich, frothy drink to our cups today. 
Address: G/F, S Maison, Coral Way Mall of Asia Complex, Pasay City, Metro Manila  
6. Three E-Com Center in Pasay City
When the interiors are this beautiful, it's hard to resist entering for coffee or a light snack. Located at the Three E-Com Center in the Mall of Asia Complex (MOA), this Starbucks Reserve branch stands out for its elegant ambience and honeycomb patterns on the ceiling. Like most Reserve branches, it's also a great place to taste unique drinks and affogato, which consists of two shots of espresso and a generous scoop of vanilla ice cream. 
Address: Three E-com Center, Seaside Blvd. corner Ocean Drive, Mall of Asia Complex, Pasay City, Metro Manila
7. Ayala Malls Manila Bay in Parañaque City
Far from your typical Starbucks, the Reserve branch at Ayala Malls Manila Bay boasts eye-catching interiors while dazzling customers with exclusive beverages, carefully prepared and brewed to perfection. 
Here's a fun fact about this branch: The ceiling's design was inspired by Hacienda Alsacia, which is Starbucks' first coffee farm in Costa Rica. But that's not the only cool feature of this location; anytime you feel like taking a leisurely stroll outside, you can easily head out and admire the glorious sunsets over Manila Bay. 
Address: G/F, Diosdado Macapagal Blvd, cor Aseana Ave, Paranaque City, Metro Manila
8. Macapagal Boulevard in Parañaque City
Of course, your quest to hunt down the best Starbucks branches in the Philippines wouldn't be complete without a visit to the biggest store in the country. 
Located along Macapagal Boulevard in Parañaque City, this two-storey coffee shop's seating area is large enough to fit 222 customers. Meanwhile, the interiors of the store feature creative touches, such as the colourful installation of a world map on the wall. 
Looking for a caffeine rush but you don't have enough time to step inside? For go-getters and coffee lovers on the move, there's always the drive-thru option at this branch. 
Address: 9 Macapagal Boulevard, cor. Bradco Avenue, Parañaque City, Metro Manila  
9. Assembly Grounds at The Rise in Makati City
Need a caffeine boost and a jolt of inspiration? Many coffee shops in Makati City will try to lure you in, but the Starbucks Reserve branch at the Assembly Grounds is a haven for those who want an art-filled experience to go with their coffee. 
Bold visuals and candy-coloured design are the distinctive features of this store, thanks to two murals from the Filipino artist JP Pining, a Fine Arts graduate from the University of Santo Tomas. One of his murals depicts the iconic skyline of Makati, reflecting the creative energy and vibrant appeal of the city. 
Address: Unit 121 – 122 G/F, Assembly Grounds at The Rise, 7248, 1203 Malugay, Makati, Metro Manila  
10. Powerplant Mall in Makati City
When Starbucks Philippines celebrated its 20th anniversary in 2018, the coffee chain marked the milestone with a bang. It opened a new Starbucks Reserve branch inside Powerplant Mall — a fitting addition to the sophisticated ambience of Rockwell Center. 
Notice the rippling effect on the ceiling? This unique design was inspired by the slopes in Northern Luzon, where the high elevation and altitude is conducive for cultivating high-quality coffee. 
So, how about retreating to this branch for a coffee break between shopping sprees? You can also check out the Reserve Bar and sate your coffee cravings with their speciality drinks! 
Address: Level 1 Powerplant Mall, Rockwell Center, Makati City, Metro Manila

20. Estancia Mall in Pasig City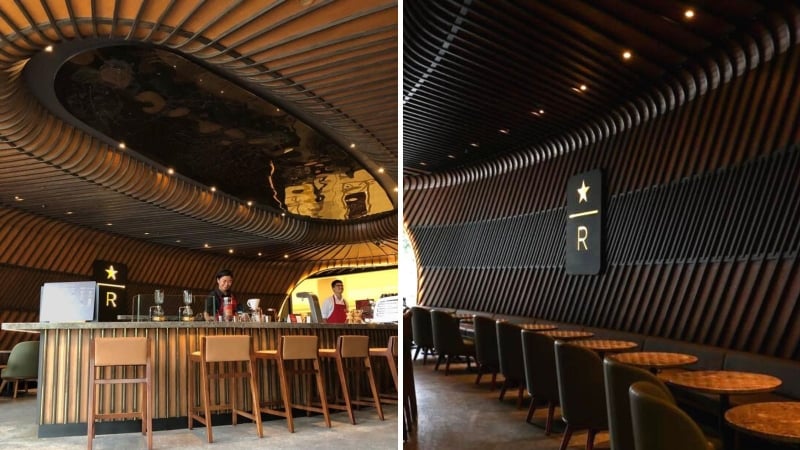 Besides boasting affluent shopping, dining, and entertainment options, Estancia Mall in Capitol Commons is home to Starbucks' 400th store in the Philippines. This branch houses a regular bar and an exclusive Reserve bar, where customers can witness the theatre behind brewing coffee. 
As for its interiors, it sports a more sophisticated and darker style compared to most Starbucks branches in the Philippines featuring walnut and green hues. Here, customers can settle down among its comfy lounge seating and keep conversations going over a Starbuck handcrafted beverage! 
Address: G/F Estancia Mall Expansion, Capitol Commons, Pasig City
17. The Grove in Pasig City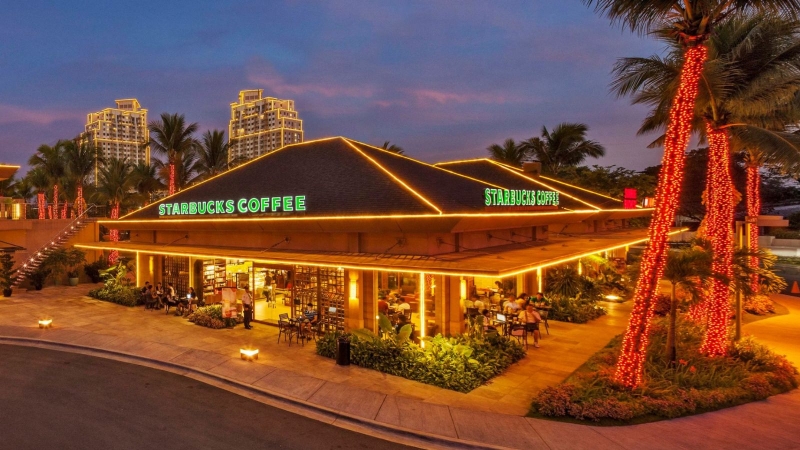 Stuck in C-5 traffic? Don't let it get the best of you! Stop by Starbucks The Grove by Rockwell, just across Tiendesitas and C-5 Road. If you're looking for some fresh air while satisfying your coffee cravings, this Starbucks branch is worthy of your attention. 
While this branch makes for a great morning coffee spot, it's even more picturesque at sundown with its dazzling lights. Interior-wise, this Starbuck branch boasts lush foliage and wooden furnishings, which nature-lovers might find easily amusing. Overall, its unique space offers a refreshing spot for some much-needed downtime!

Address: The Grove Rockwell, Eulogio Rodriguez Jr. Ave, Pasig City 
11. The Podium Mall in Mandaluyong City
Want to cool down for a few hours? Take a break from shopping to chill inside the Starbucks Reserve branch at The Podium Mall, where you can enjoy handcrafted espresso beverages such as the Vanilla Bean Latte, Hazelnut Bianco, Americano Con Crema, and Mocha. 
Another standout feature of this branch is the upscale interior design, which comes with a three-dimensional brass sculpture made by Manila-based artists Joy Mauricio and Chris Capili. 
Address: G/F, The Podium Mall, ADB Avenue cor. Julia Vargas, Mandaluyong City, Metro Manila 
12. St. Charbel Mindanao Avenue in Quezon City
Loyal customers know that Starbucks likes to shine a spotlight on coffee farmers and coffee-growing regions around the world. But did you know that this coffee giant can be environmentally friendly as well? 
In 2015, the Starbucks branch in St. Charbel Executive Village on Mindanao Avenue became the first Starbucks in Asia to use solar energy, with a 20.5-kilowatts peak solar installation on the rooftop. 
Keep an eye out for the giant coffee cup in front of the store; interestingly, it's one of the few Starbucks branches in the Philippines to have one of these! There's also a drive-thru for when you want to enjoy your delicious cuppa to go. 
Address: St. Charbel Executive Village, Mindanao Avenue, Quezon City, Metro Manila  
13. Robinsons Magnolia in Quezon City
One of the most gorgeous Starbucks Reserve branches in the Philippines can be found at Robinsons Magnolia. Exceptional coffee meets striking interior design at this store, thanks to its sleek and stylish coffee bar with an undulating ceiling. Since it happens to be a well-frequented gathering place for students and employees, it can get quite busy or noisy at this branch. But of course, that's just a sign of its enduring popularity. 
Address: 3/F, Robinsons Magnolia, Aurora Blvd, corner Doña Hemady St., Quezon City, Metro Manila
Also read: 10 Coffee Shops in Quezon City That You Have to Visit 
19. Starbucks Reserve Visayas Avenue in Quezon City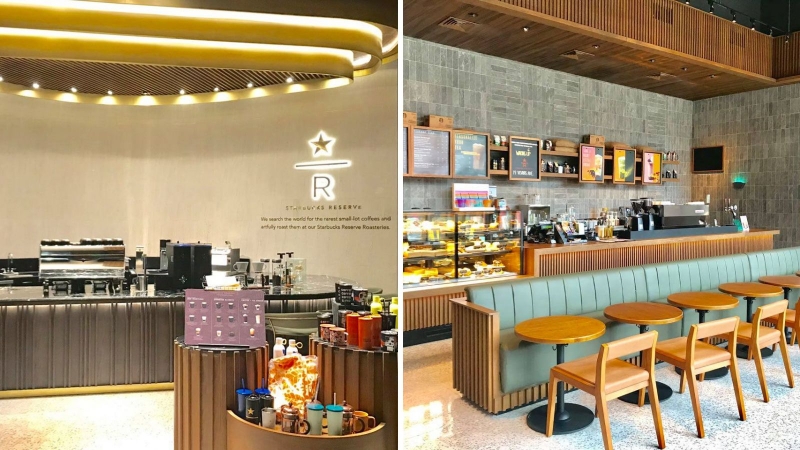 Often frequented for its full Reserve menu, Starbucks on Visayas Avenue treats you to an exciting coffee experience like no other! Here, you'll find your favourite caffeinated and non-caffeinated Starbucks beverages, as well as customisable and unique drinks like the Shakerato and Smoked Butterscotch Latte. Menu aside, like most Starbucks Reserve Roasteries, this branch also features an upscale coffee bar where you can get a closer look into the craft behind coffee! 
Address: 19 Visayas avenue corner Road 10, Quezon City
14. Pandiman Building Intramuros in Manila
How about visiting a Starbucks branch with an ambience like no other? Treat yourself to this Starbucks branch in the Pandiman Building on General Luna Street in Manila. You won't have much trouble spotting this store in Intramuros, as the arches of the building and the Starbucks logo are a dead giveaway. From the store's arched entrance to the polished wood interiors, it is certainly one of the most unique coffee shops we've ever seen.
History buffs, design aficionados, and coffee lovers will find common ground in this elegantly designed space with art on the walls and patterned tiles. What's more, this Starbucks branch embraces the historic charm and the old-world atmosphere that brings anyone to Intramuros. 
Address: Pandiman Building, General Luna Street, Intramuros, Manila

16. Evia Lifestyle Center in Las Piñas City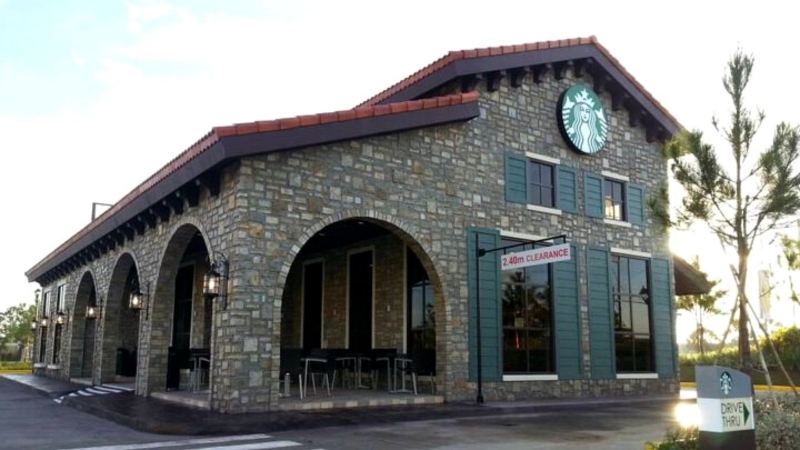 Dubbed the "Crown Jewel of the South" for its vibrant atmosphere and picturesque architecture, Evia Lifestyle Center makes for the ultimate shopping and lifestyle experience. This uber-cosy Starbucks branch is best loved for its extensive selection of dining options, boutiques, and coffee shops. Designed with rustic-style exteriors tinted with hues of brown and grey, it's definitely far different from most Starbuck branches in the Philippines. 
If you need a place to relax after a day of retail therapy, step into Starbucks Evia's doors and sink into its plush seats while sipping on your favourite Starbucks cuppa!

Address: Evia Lifestyle Center, Almanza Dos, Las Piñas
15. Ayala Malls Central Bloc in Cebu City
For the first-ever Starbucks Reserve branch outside Metro Manila, Starbucks Philippines partnered with Filipino artist Hannah Sol Hortelano-Obcial for the new store in Cebu City. Here, the murals are modelled after the seaside landscapes and beaches of Cebu — all shown in vibrant colours. Soft curves and waves feature heavily in the interiors, depicting the graceful scales and intricate patterns of a mermaid's tail. 
Found on the ground floor of Ayala Malls Central Bloc in Cebu IT Park, this Starbucks Reserve branch is a modern haven for students, young professionals, and corporate folk alike. Customers get front-row seats to a "coffee theatre," as the baristas prepare handcrafted beverages and showcase different brewing techniques. 
Address: G/F Ayala Malls Central Bloc, Cebu IT Park, Cebu City

Also read: Coffee Shops with Free WiFi: 10 Metro Manila Cafes to Work or Study
18. Matina IT Park in Davao City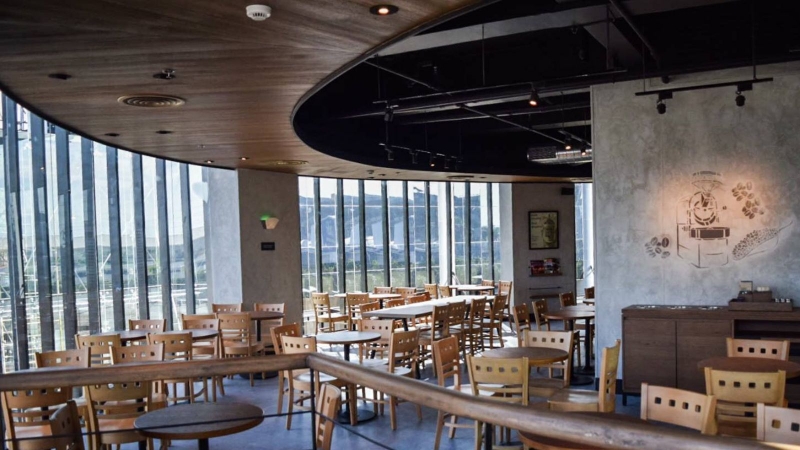 Admittedly, Starbucks' second stand-alone coffee shop in Davao City remains to be the most attractive out of all branches in the city. This two-storey branch features floor-to-ceiling glass walls, treating you to natural lighting that's perfect for reading or working. Here, students and freelancers can expect to work for hours with its comfortable seating and quiet atmosphere. Of course, you can expect your favourite handcrafted Starbucks beverages and snacks available by the bar! 
Address: Matina IT Park, MacArthur Highway, Matina, Davao City
Also read: 15 Beautiful Starbucks Branches for Coffee Lovers Around the World 
So, there you have it: The most beautiful Starbucks branches around the Philippines. How many on the list have you visited so far?