Love is in the air! One of the most romantic things you can do to make your partner feel special is to whisk them away on an intimate vacation. And Tagaytay is always a great option for couples itching for a change of scenery. It's also close enough to the metro for spontaneous getaways! From hidden little cottages to luxe villas, here are the most romantic Airbnb homes in Tagaytay for a swoon-worthy vacation worthy of your love life. 
Also read: 10 Cosy Airbnbs & Vacation Rentals in Tagaytay for Your Next Out-of-Town Trip
Most romantic Airbnb homes in Tagaytay for your next out-of-town date
1. This secluded garden cottage with pretty nature views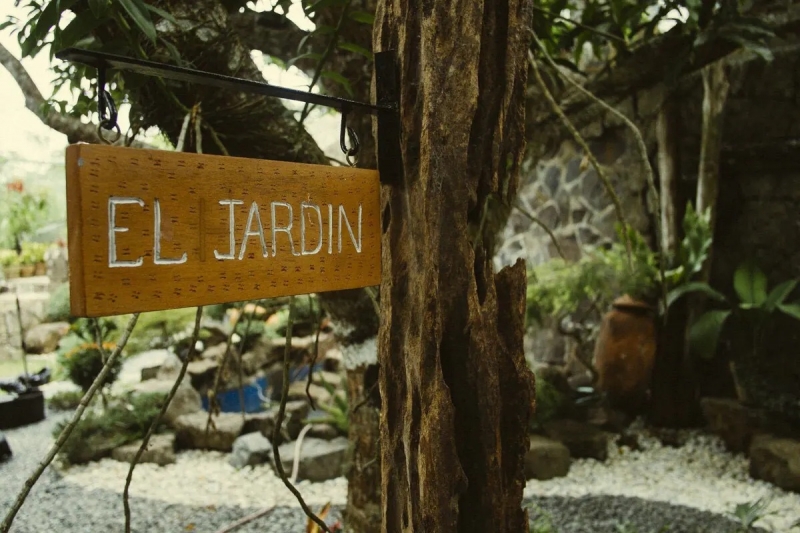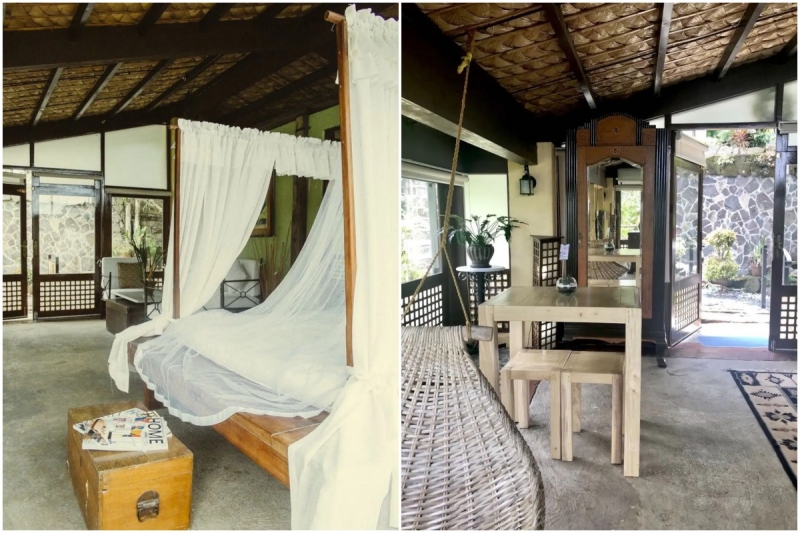 Listing name: Romantic Suite with Garden and Mountainscape Views
Listing type: Entire guesthouse
Max. no. of guests: 4
No. of bedrooms: 1
For quality time away from the rest of the world, this beautifully appointed Filipino-inspired suite is the perfect couple hideout. Large picture windows in the Airbnb frame pretty views of the garden, while a private deck overlooks the great Tagaytay mountain ridge. Guests of the property also enjoy access to shared spaces like a cafe and exercise room. 
Located inside a guarded subdivision, this rustic Airbnb is less than two kilometres from tourist attractions like Museo Orlina, Tagaytay City Market, and Tagaytay Picnic Grove.
2. This light-filled retreat with boho touches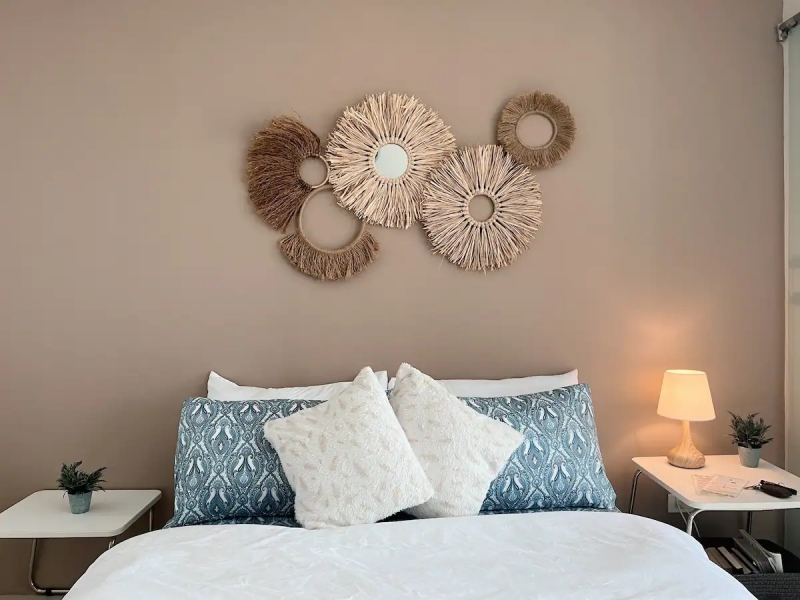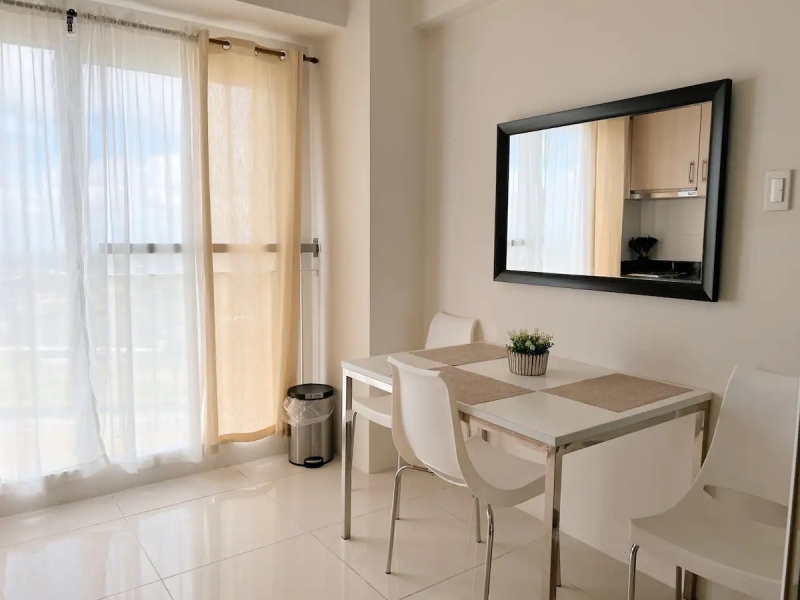 Listing name: Romantic Getaway in Tagaytay w/ Karaoke & Netflix!
Listing type: Entire condominium
Max. no. of guests: 2
No. of bedrooms: 1
Reignite the spark in your relationship with a weekend break at this cosy Airbnb in Tagaytay. No need to pack much for your couple's trip; the apartment comes with everything you need, including a pristine kitchenette for whipping up Instagrammable meals with your partner. Moreover, you won't have to worry about finding entertainment, because there's free karaoke, unlimited Netflix, and speedy WiFi. 
The condo is on the 16th floor of SMDC Wind Residences. For a small fee, guests can also use the shared pools in the building.
3. This modern villa with a Jacuzzi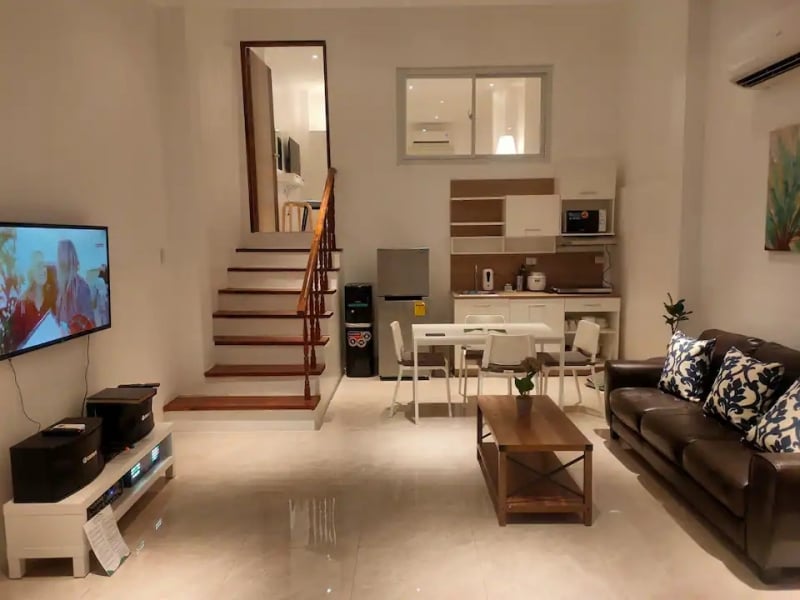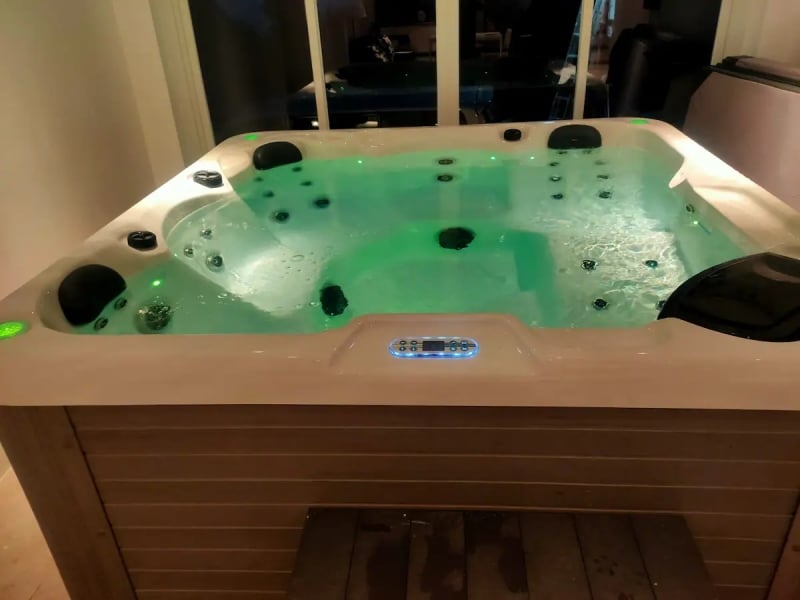 Listing name: Frontera Prive Villa
Listing type: Entire villa
Max. no. of guests: 4
No. of bedrooms: 1
There's a lot to love about this one-bedroom villa in Tagaytay. First, the space. Big enough to host four guests, this Airbnb guarantees more space than your usual hotel room — and so, it feels like a true home away from home rather than a rented space. Quality amenities and comfortable beddings make relaxation easy, while a small kitchen has all the essentials to prepare quick meals. There's also a Jacuzzi for evening soaks in the cool Tagaytay breeze. Plus, you can bring your fur babies! 
4. This serene studio with carefully curated decor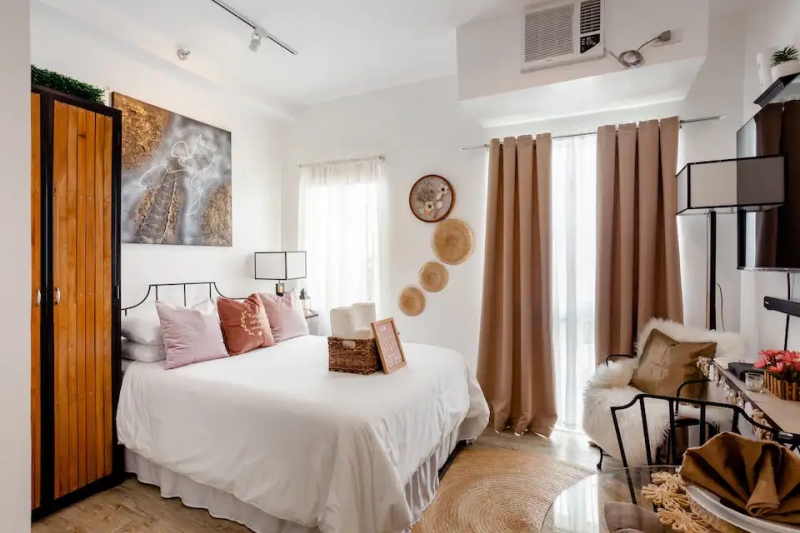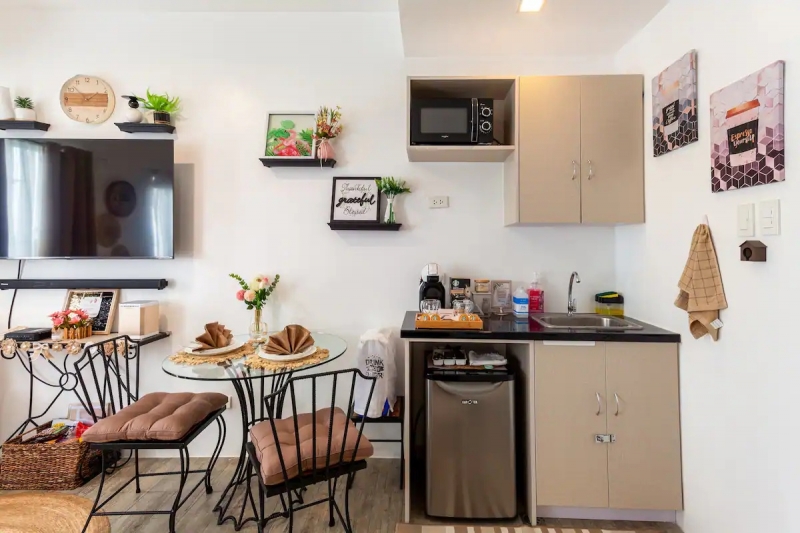 Listing name: Hidden Paradise 55″+Netflix+Wifi+NDG coffeemachine
Listing type: Entire condominium
Max. no. of guests: 2
No. of bedrooms: 1
Oh, this one's a beauty. This brand-new studio was carefully designed and feels tailor-made to host romantic staycations. As soon as you walk through the door, you'll instantly notice the dreamy interiors. Comfort is prioritised, too, with a memory foam topper and down alternative pillows that also promise an excellent night's sleep. 
In addition, previous guests say the actual Airbnb is just as stunning in reality as it looks in photos — maybe even more. Don't believe us? Look at the reviews: It's one of the rare Tagaytay rentals with perfect five-star reviews on Airbnb. 
5. This enchanting chalet perched on the mountainside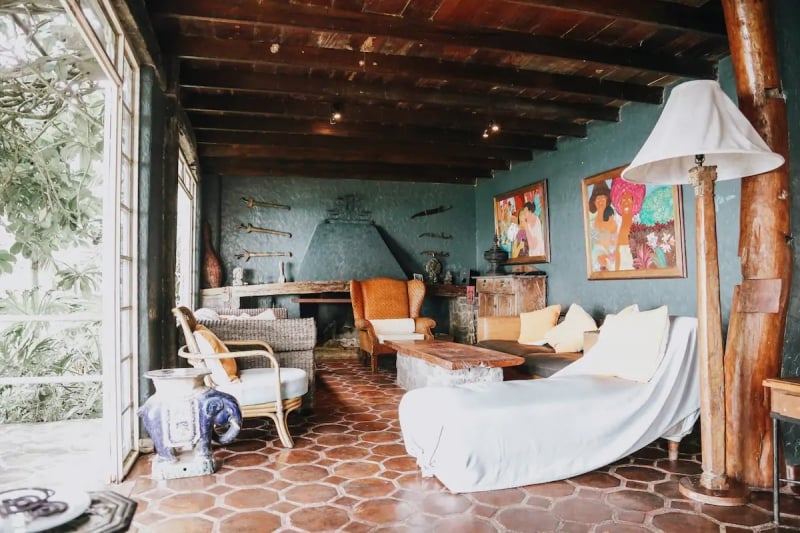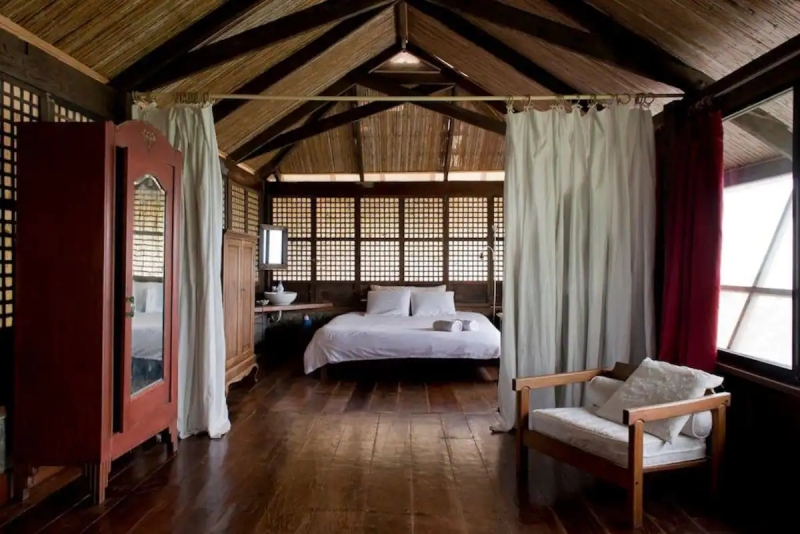 Listing name: Chalet de Tagaytay
Listing type: Entire chalet
Max. no. of guests: 10
No. of bedrooms: 1
We can't imagine a more enchanting place to spend a weekend with our favourite person than this rustic art-filled chalet. Perched on the mountainside surrounded by lush greenery, the Airbnb feels like a blissful bubble created for you and your special someone. The massive windows allow for awe-inspiring views of Taal Lake, while the balcony is ideal for enjoying Tagaytay's pleasantly cool weather.
6. This pretty tropical-inspired hideout over Taal Lake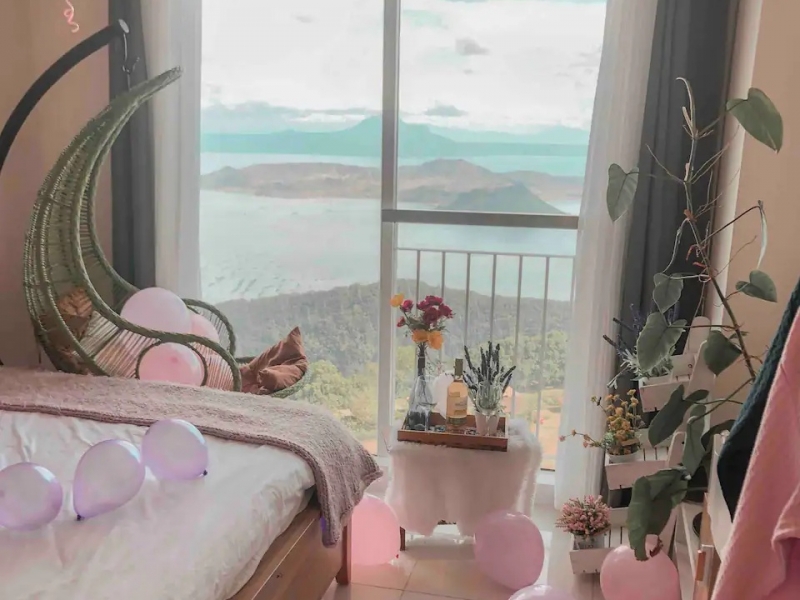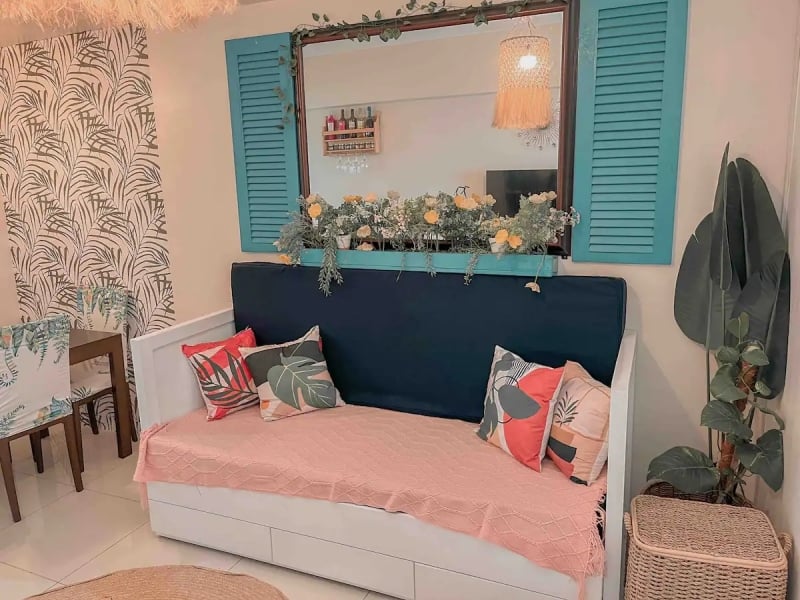 Listing name: Lake-view Comfy Tropical Inspired Tagaytay 1BrUnit
Listing type: Entire condominium
Max. no. of guests: 4
No. of bedrooms: 1
Wake up to spectacular lake scenery every day at this tropics-inspired home overlooking Taal. Bright interiors and flourishing indoor plants create a warm, homey atmosphere — and an Insta-worthy backdrop for photo ops. Whether you're in Tagaytay to celebrate a special occasion or just to take a break from the hustle with your boo, this spacious Airbnb is well-appointed for a comfortable stay.
7. This modern escape for a hotel-like experience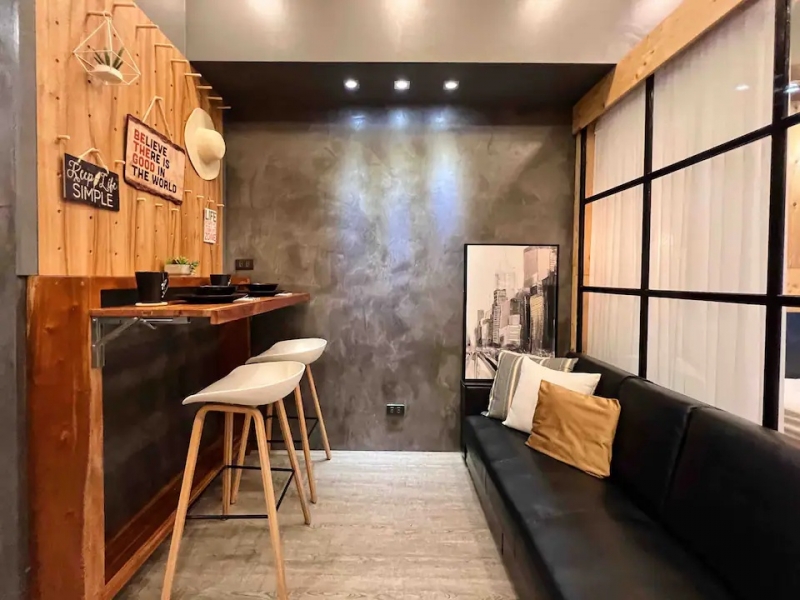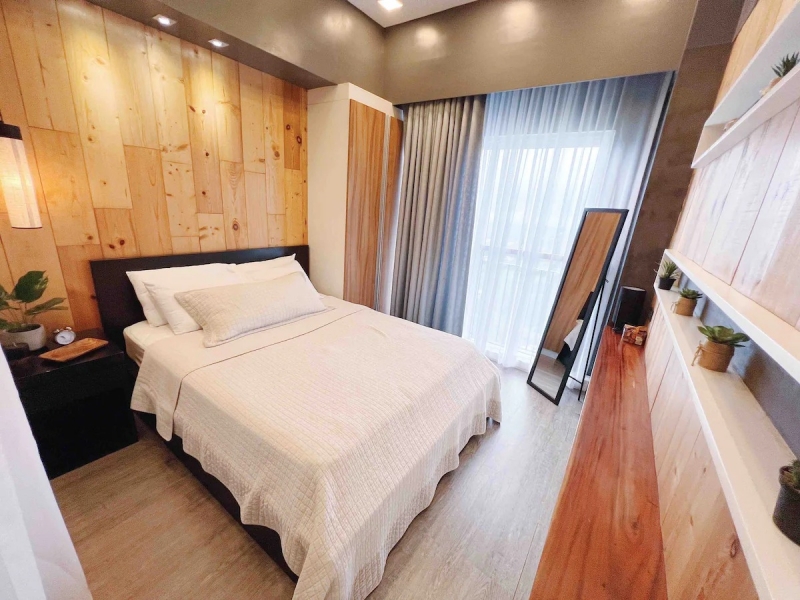 Listing name: Rastique Suite – An Ultra Modern Rustic Experience
Listing type: Entire condominium
Max. no. of guests: 3
No. of bedrooms: 1
Looks-wise, this chic condo in Tagaytay has much more character and style than your typical hotel room. But when it comes to comfort and amenities, guests can expect hotel-style service. Super-comfy queen bed? Check. Fast WiFi and Smart TV? Check, check. Building facilities like a sky lounge, an outdoor pool, an indoor heated pool, a jogging path, and other sports facilities? Amazingly, this Airbnb has them too. 
8. This lakehouse cabin for a quiet vacation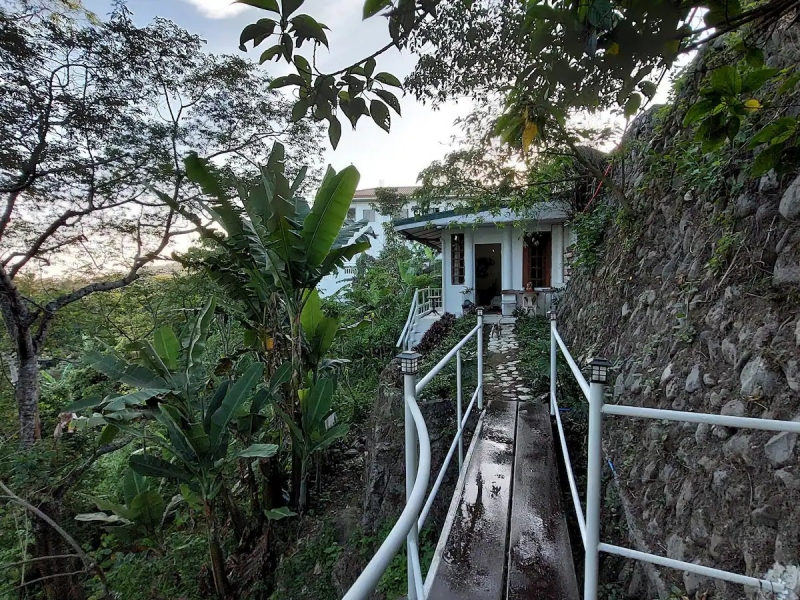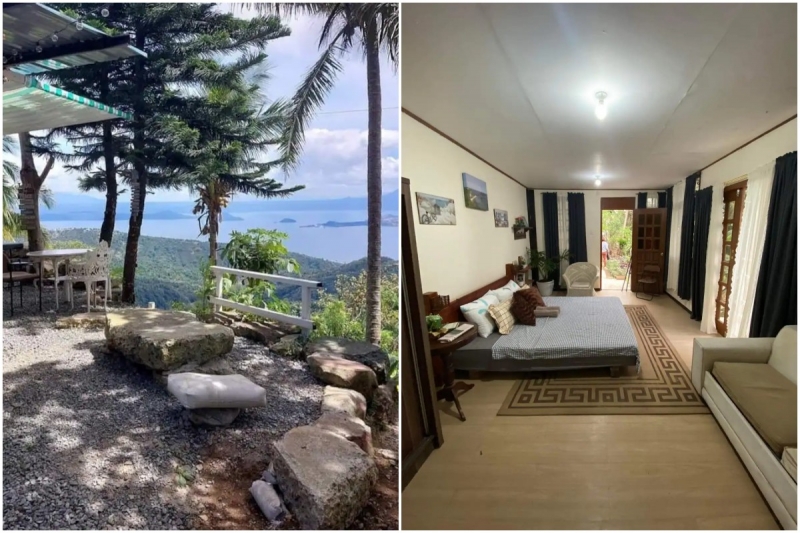 Listing name: The Lakehouse Studio1 with Taal view and BBQ area
Listing type: Entire cabin
Max. no. of guests: 4
No. of bedrooms: 1
Looking for a house with a view where you can romance your partner this weekend? The Lakehouse may just be the right retreat for your couple's getaway. Nestled in a lush private enclave with a picturesque view of Taal Volcano, this studio certainly makes it easy to relax and unwind in nature. There's also a small cafe for guests of this listing and other Airbnb units that share the property. 
9. This colourful space with Bali-inspired aesthetics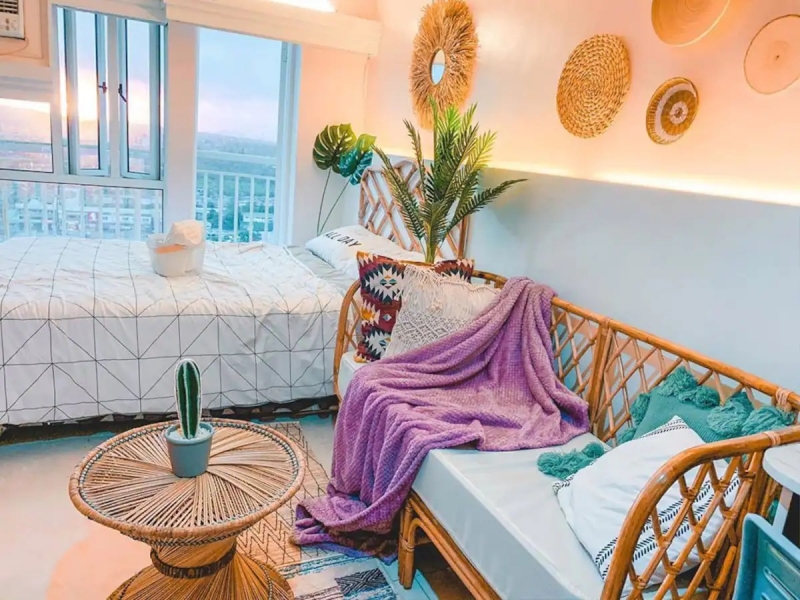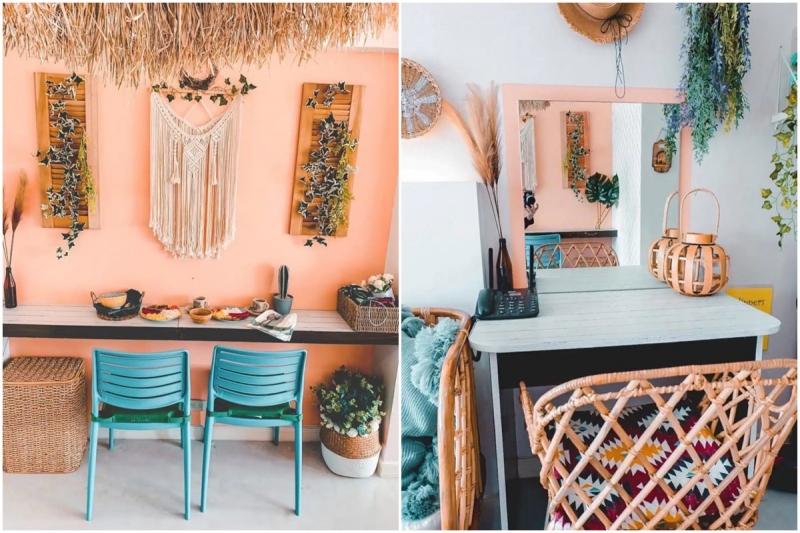 Listing name: Bali Inspired Peripheral Taal View 21st flr
Listing type: Entire condominium
Max. no. of guests: 4
No. of bedrooms: Studio
When you're dreaming of flying to a tropical paradise, book this Airbnb in Tagaytay instead for the Bali beach vibes. Take it easy with your partner in this beachy and colourful abode, where you can relax away from the stress of regular life. In addition to hotel-quality beds, the apartment also features a well-appointed kitchenette and a bathroom with toiletries. Guests may also use the pool and viewing deck for free.
10. This remote mountain sanctuary with premium amenities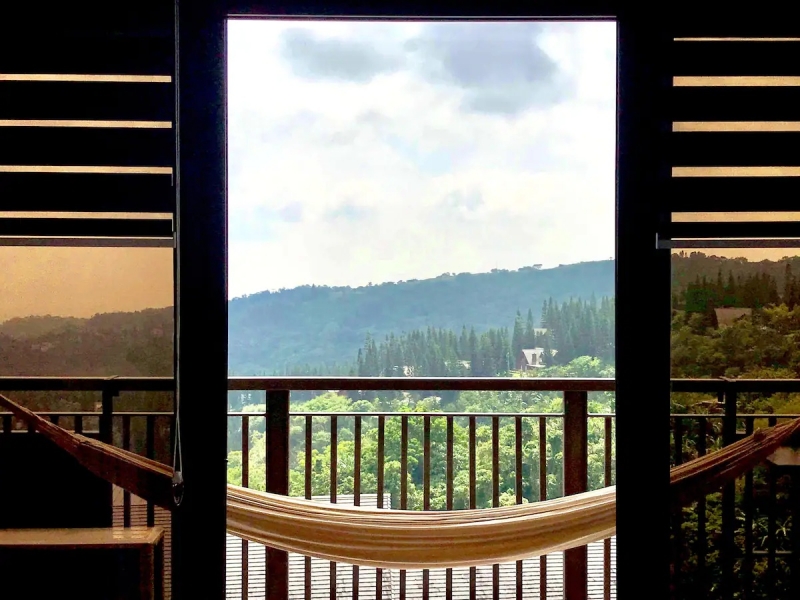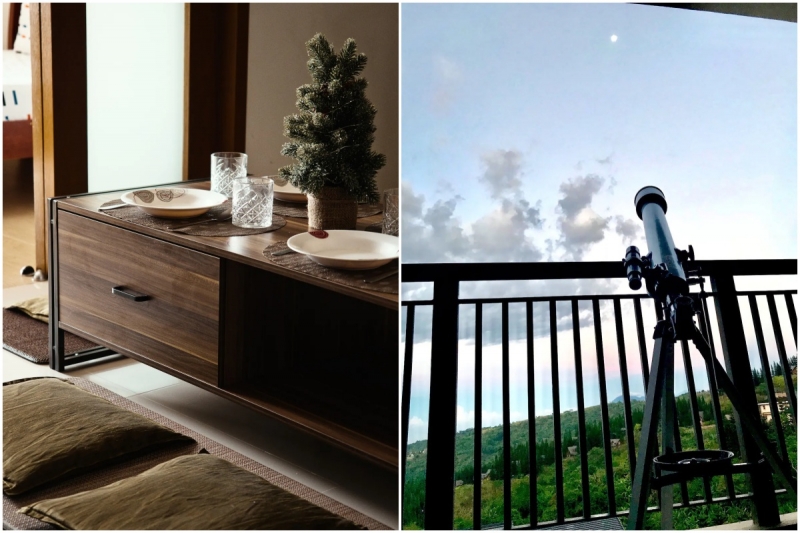 Listing name: A Quiet Place in Tagaytay
Listing type: Entire condominium
Max. no. of guests: 9
No. of bedrooms: 1
Snuggle up in this one-bedroom hideaway dubbed the Quiet Place. As its moniker suggests, the home promises a silent and serene getaway with your loved one up in the secluded mountains of Tagaytay. Although it's a condominium, this well-designed abode serves up log cabin vibes, with a hammock on the balcony, unspoiled natural vistas, and a telescope for stargazing on clear nights. 
Also read: 15 Coffee Shops in Tagaytay That You Have to Visit
We're sure you're already planning your next romantic escape with the love of your life. So, which one of our Airbnb picks in Tagaytay is your favourite? 
Got a property you'd like TripZilla to feature? Inquire with us here.
---
This article contains affiliate links. When you book through these links, we may earn a small commission at no additional cost to you. All images courtesy of the respective property listings.