Climbing enthusiasts scale mountains for different reasons. They do it for fun, breathtaking views, and exercise, to name a few. For some rookie climbers, however, merely hearing the word "climbing" instils intimidation or fear. Well, looking for a perfect peak to climb is the only way to get rid of that fear. Don't worry; there are many rookie-friendly mountains in the Philippines for you to start with. Here are a few easy peaks to kick off your trekking adventures. 
Also read: 12 Mountains in the Philippines to Add to Your Bucket List
Rookie-friendly mountains in the Philippines to begin trekking
1. Mt. Batulao – Nasugbu, Batangas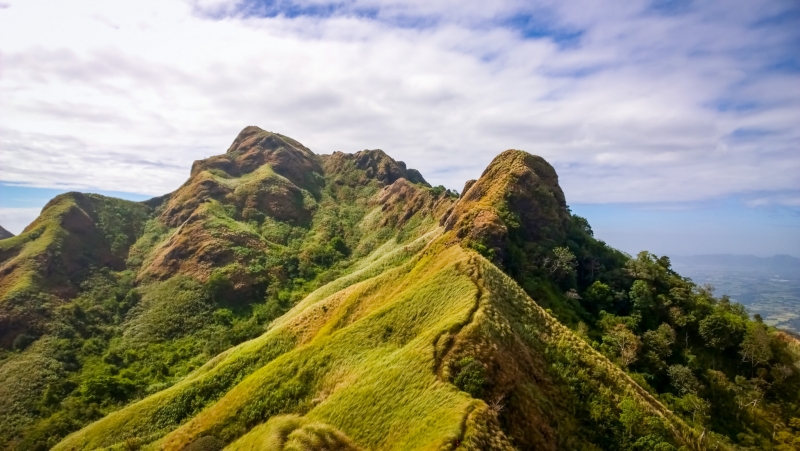 Mt. Batulao, aside from its proximity to Metro Manila, is one of the best rookie-friendly mountains in the Philippines. It is notable for its gently rolling mountainside and scenic landscapes on the way to the summit.
For first-time hikers, veterans would recommend taking the new trail or a combination of new-to-old trails. Although some parts of the trail are steep, they are not considered very difficult. Rest assured, your efforts will be rewarded with a jaw-dropping view of the surrounding Nasugbu and Tagaytay ridges.
Mt. Batulao can be chilly starting in November, with the most noticeable temperature drop happening in February. On the other hand, the mountain climate grows hot starting in March up to October. When you plan to climb the mountain, don't forget to bring the necessary protective gear for the season to have a memorable first climb experience. Water and sunscreen are also a must!
Also read: 9 Best Introvert-Friendly Places in the Philippines
2. Mt. Palay-Palay (Pico de Loro) – Maragondon, Cavite/Nasugbu, Batangas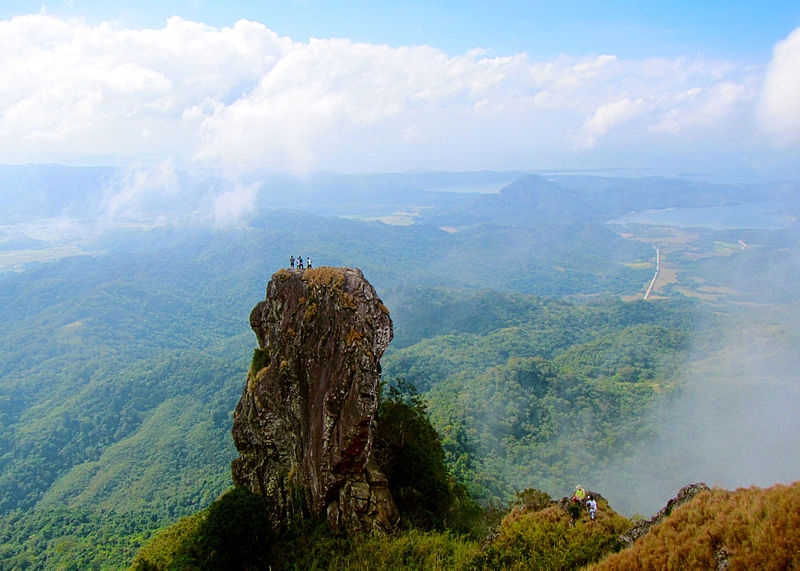 Located in Batangas and Cavite, Mt. Palay-Palay, popularly known as Pico de Loro, is a thrilling climb. At just over 660 metres above sea level, it's no wonder that it's a favourite of weekend hikers and rookie climbers alike. What makes Pico de Loro an easy climb is the canopy covering most of the trail to the summit. Expect to make a few friends, since Pico de Loro is one of the most popular rookie-friendly mountains in the Philippines to trek!
The first part of the trail to the base camp is a walk in the park, thanks to its gradual ascent. Although climbing to the summit is a bit steeper, it isn't as difficult as other mountains. Upon reaching the summit, a monolith resembling a parrot's beak from afar will give you an awe-inspiring view. The monolith would have been an additional peak to conquer had it not been for the DENR's decision to close it to the public for safety and conservation purposes. Regardless, standing face to face with the iconic beak is rewarding enough, not just for rookies but for seasoned climbers as well.
After six years of rehabilitation, Pico de Loro opened again to climbers on 12 January 2023. It is an exciting time to begin trekking!
Also read: 14 Mountains in the Philippines With the Most Incredible Views
3. Mt. Manabu – Sto. Tomas, Batangas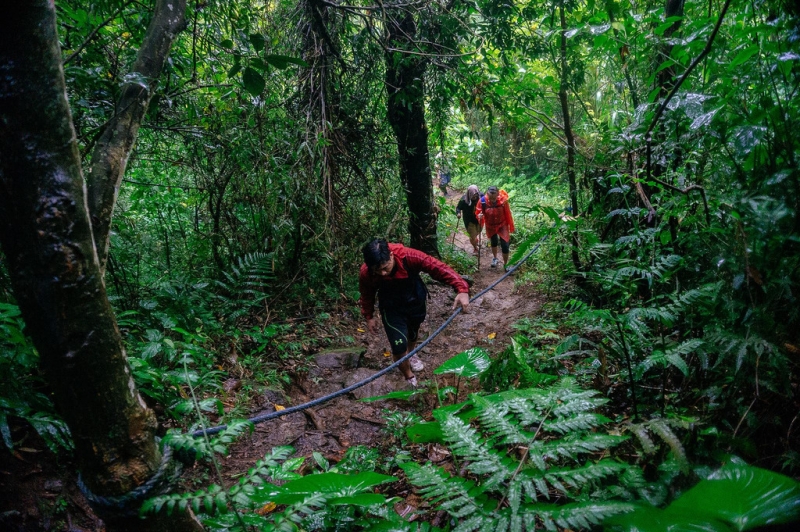 Mt. Manabu is a part of the Malarayat Mountain Range in Sto. Tomas, Batangas. It is one of the best rookie-friendly mountains in the Philippines because of its short and straightforward trail. From the base to the summit, anybody can easily scale it within two to three hours. Going to the top, you will encounter a mix of gradual and not-so-steep ascents. You'll know that you've already reached the summit because of the large white cross marking the spot.
If you plan on pitching a tent, the wide, inviting campsite offers a great place to sleep under the stars with its garden-like surroundings. Aside from its easy trail, your Mt. Manabu experience will become more exciting because of fellow hikers you'll meet on site, many of whom are seasoned climbers already.
Also read: 10 Pristine Beaches in Batangas for a Relaxing Tropical Break
4. Mt. Manalmon – San Miguel, Bulacan
Although considered more like a hill than a mountain, Mt. Manalmon located in San Miguel, Bulacan is nothing short of amazing. A two-hour trek will already bring you to the summit, yet the journey going up is a real adventure. The trail starts by passing Madlum or Manalmon Cave, which is too enticing not to be explored first. Crossing the Madlum River makes this hike extra fun.
Since this is just a short hike, you can spend a little more time at the summit. Set up camp at the peak and enjoy the majestic view of both the Sierra Madre Mountain Ranges and the imposing Mount Arayat.
5. Mt. Balaan (Balaan Bukid) – Jordan, Guimaras
This is one of the easiest climbs in Western Visayas. Located in the town of Jordan in Guimaras, Balaan Bukid (Holy Mountain) is a pilgrimage site during the Lenten season. The trail leading to the white cross and the chapel at the top is a sight to behold. The trail is flanked on both sides with lush greenery, making it easier to reach the peak even if you're a novice at climbing.
The summit offers a scenic view of the sea dividing the island of Guimaras and the city of Iloilo. Moreover, you can climb this trail virtually any time of year due to its accessibility from the town proper of Jordan (pronounced with the letter "H" instead of "J").
6. Mt. Napulak – Igbaras, Iloilo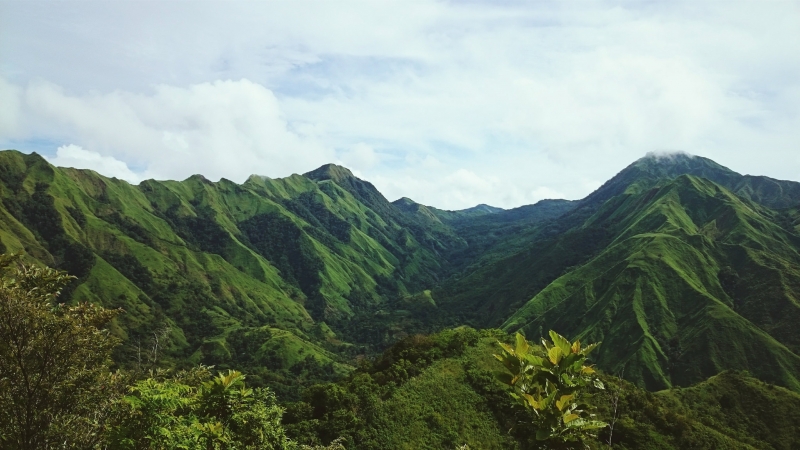 Mt. Napulak is part of Panay Island's southern mountain ranges. Aside from being the oldest hiking trail in the province, it is also the friendliest to first-time hikers. Mt. Napulak was named after a rounded rock sitting on top of its summit which resembles a woman's nipple.
A four-hour trek will bring you straight up the mountain's summit. Along the base, you will be greeted with a wooded trail which eventually changes into a garden-like flora. Even if you cannot conquer the famous rock at the mountain's summit due to its relative difficulty, the view you will see on top of the summit is a reward in itself.
7. Mt. Mayapay – Butuan, Agusan del Norte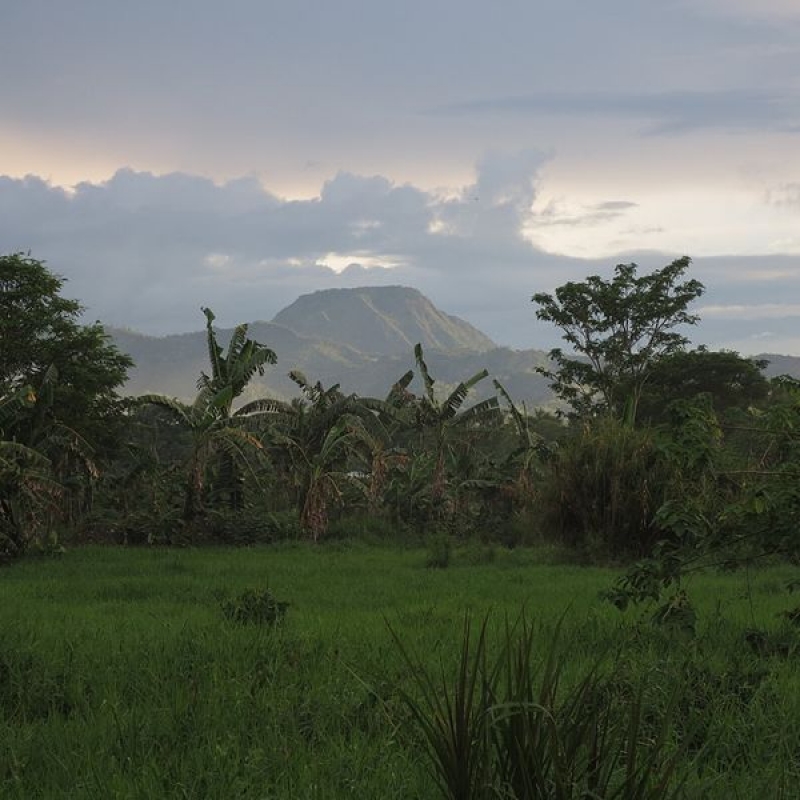 Mt. Mayapay is one of the more famous rookie-friendly mountains in the Philippines. This prominent mountain in Butuan, Agusan del Norte has a distinctly remarkable flat top. This very feature served as Butuan's landmark for over a millennium. At just 675 metres above sea level, you can reach the iconic flat-top summit of Mt. Mayapay after around three to four hours of hiking.
The first part of the hike is relatively easy, owing to its gradual ascent. On the other hand, the second stretch is a bit more challenging due to the steeper slopes. But don't let this deter you from climbing the mountain. You won't want to miss getting a rare view of Butuan City from that vantage point. Also, the summit will give you a chance to see the mighty Agusan River's water flow down Butuan Bay.
8. Mt. Gulugod Baboy – Mabini, Batangas
Possibly one of the easiest rookie-friendly mountains in the Philippines is Mt. Gulugod Baboy in Mabini, Batangas. Its slopes come in gradual, smooth progressions and it only takes a maximum of two hours to hike. There isn't a lot of technical skill needed when climbing Mt. Gulugod Baboy, but it always helps to wear protective gear! Upon conquering this mountain's peak, trekkers can indulge in a breathtaking and panoramic view of Batangas Bay.
9. Mt. Talamitam – Nasugbu, Batangas
Batangas is home to many rookie-friendly mountains in the Philippines that are quite near each other. Another easy mountain in the province is Mt. Talamitam, which features gradual slopes and no steep drops along the trail. And oh, the trail! Compared to most mountains, this trail clearly doesn't need advanced navigational skills to walk through. It only takes two hours to climb, maybe even less. The only hazard to take note of when going through Mt. Talamitam is the lack of shade, so the heat may be a problem.
10. Mt. Apo – Davao & North Cotabato
We know what you're thinking; how could the highest peak in the Philippines be considered an easy climb? But hear us out. With all of Mt. Apo's landmass, it's bound to have an easy path, at least to practise on for the main climb! Fortunately, Kidapawan-Kapatagan Trail has low inclinations when it comes to ascents. Hiking through the trail will take two to three days, but its campsites are relatively easy to reach. Make sure to get plenty of rest before hiking throughout the day.
Also read: Hills View Mountain Villa in Davao Offers a Taste of the Swiss Alps
Hike these rookie-friendly mountains across the Philippines anytime, but don't say I didn't warn you. Reaching the top of these awe-inspiring peaks is addicting. Nevertheless, don't forget to prepare before attempting any climb. Most importantly, don't ever do it alone. Treat every peak you climb with respect. Take nothing but photos. Kill nothing but time. And ultimately, leave nothing but footprints.