You can learn a lot about a destination by the street food you'll find. From the prevailing local culture, to the story behind each dish or snack, it's practically a feast for your taste buds with a side of fun facts and even quick history lessons. And just like with most Asian countries, this definitely rings true in the Philippines. 
To experience street food in the Philippines is to also immerse yourself in the story of its people. Apart from observing the general Filipino palate and preferences, you can also learn a thing or two about their sheer ingenuity that led to the invention (and eventual popularity) of these gastronomic delights. If anything, it's as much a testament to a country's perseverance as it is an exciting food trip. 
That said, we've listed down some of the best Filipino street food that you definitely have to try! We've also narrowed it down to the ones you can eat while on the go; most of these are served on skewers, while some are in cups that you can easily carry around. Fair warning: immense cravings may occur after reading this piece. 
Also read: Filipino Food Is the 10th Most Popular Cuisine on Instagram Right Now
1. Isaw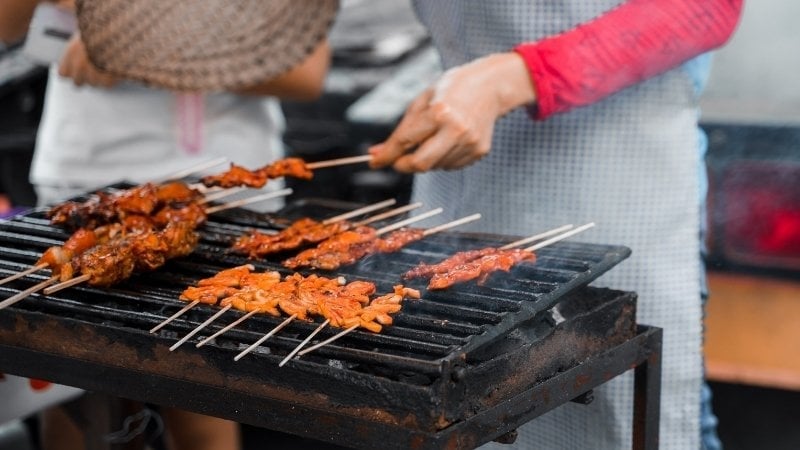 Let's start with what's arguably the most popular (and best-loved) street food in the Philippines: isaw. It's basically chicken or pork intestines that are cleaned thoroughly before being deep-fried or grilled. For the latter method, vendors would often apply basting sauce first.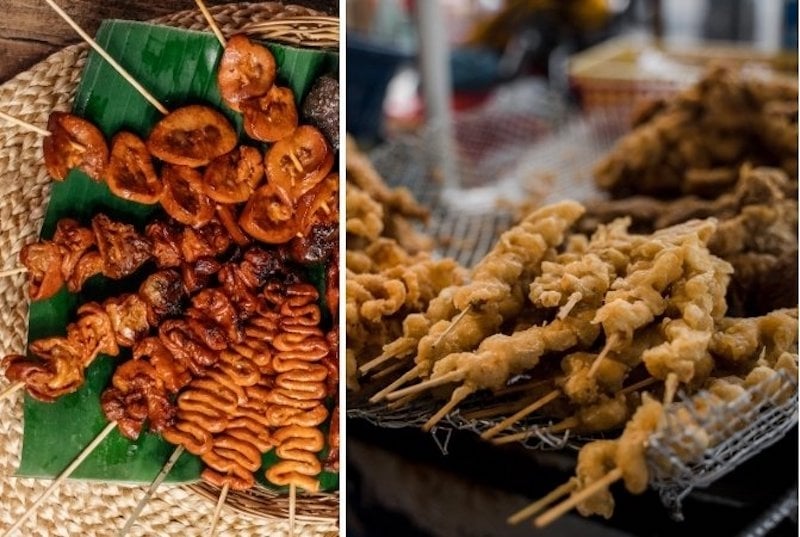 The chicken version is more often preferred by locals; it has a lighter taste and looks somewhat like mini tube sausages. Meanwhile, the pork one is circular, slightly chewier and fattier, and more flavourful. 
Fun fact: This Filipino street food first emerged in the 1970s, when an economic crisis hit the country and even the scrap parts of pork and chicken eventually became valuable.
2. Sorbetes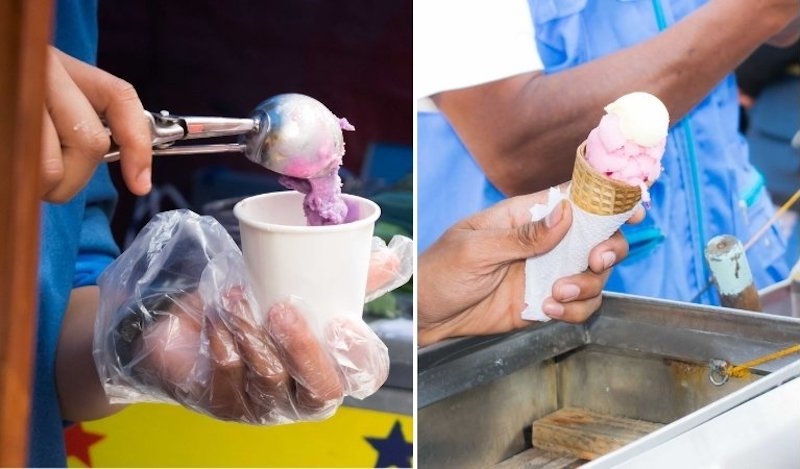 Otherwise called 'dirty ice cream' (which it really isn't), sorbetes is a childhood favourite for many Filipinos. So, what exactly sets it apart from regular branded ice cream, you ask? Well, it all comes down to the taste and texture! It's usually made from carabao milk and served on sugar or wafer cones. But if you want a truly local twist, you can put the sorbetes scoops in between a bun, like how some vendors do it! 
3. Taho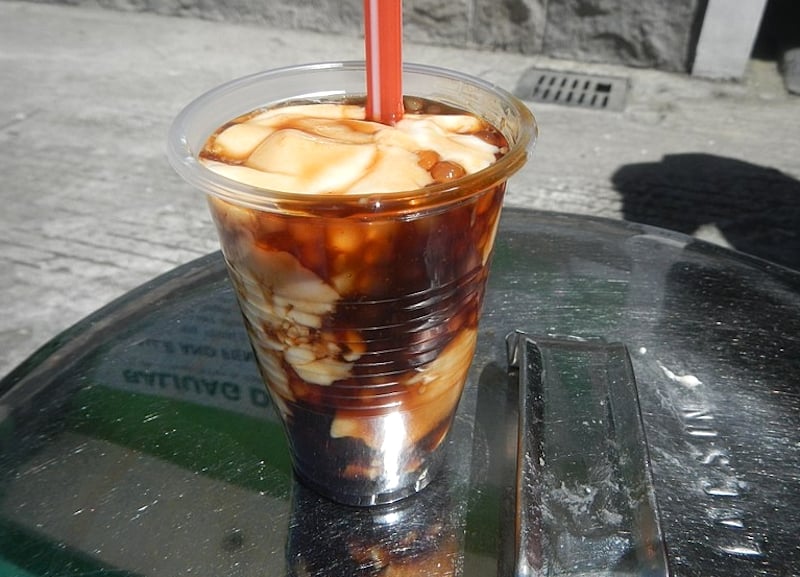 Ask any Pinoy around the world, and they'll probably agree that you can't talk about Filipino street food without mentioning taho. For most locals, this is your best bet for breakfast while on the go, but hey — nobody said you can't have it at other times of the day either! Typically served hot, it features the actual taho (silken tofu), arnibal (brown sugar syrup), and sago (tiny tapioca pearls). You can eat this either with a spoon, a straw, or simply drink straight from the cup. 
Fun fact: In some provinces outside Metro Manila, you can find other exciting taho versions. In Baguio, for example, there are vendors who offer strawberry taho. Yum! 
4. Cheese sticks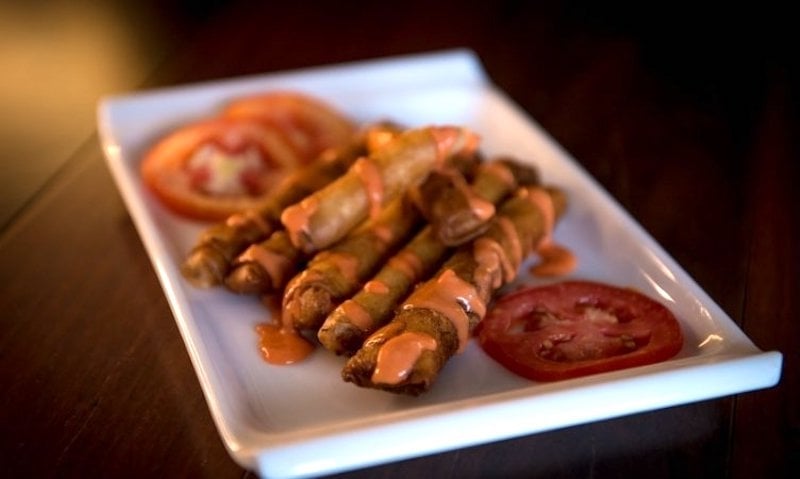 Think of cheese sticks (or cheese lumpia) as the Filipino street food version of mozzarella sticks; except this one features cheddar cheese stuffed in egg roll wrappers. And just like the French counterpart, it's deep-fried to crisp, golden perfection! You can either have these as is, or pair 'em with a combo of ketchup and mayonnaise. 
5. Fishballs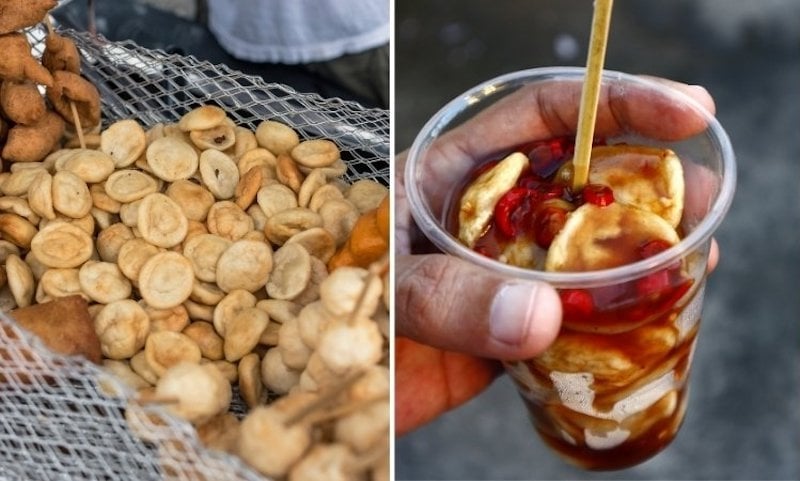 Street food in the Philippines is cheap enough as it is but fishballs are especially low-priced. It's usually a flat, round patty made of flour and pulverised fish that are then deep-fried. This is served in a thick pile in front of customers, where they can pick some out on their own. In fact, there's even a local gag that goes, "Let's make tusok-tusok the fishballs," which refers to the way you poke the fishballs out of the fryer with a skewer, then dip in vinegar with chilli and onions. 
6. Squid balls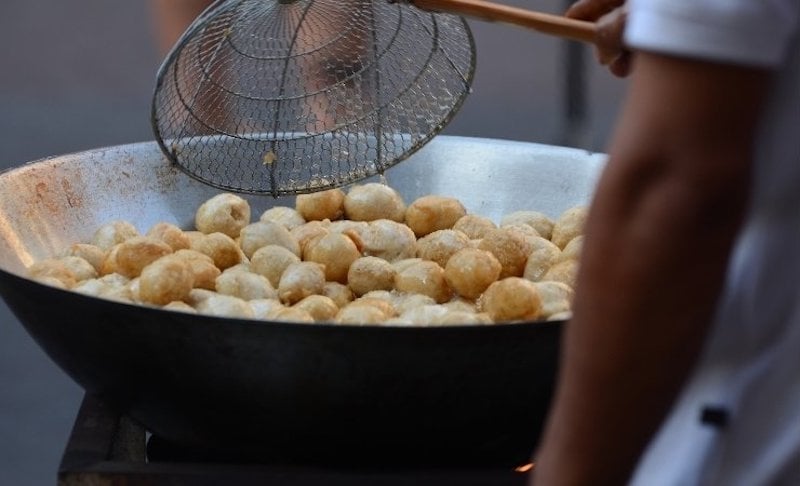 Squid balls are a lot like fishballs, except these ones are fluffy and not at all flattened. Aside from this difference in appearances, they're pretty much prepared and served the same way, and even come as a skewer combo at times! 
7. Kikiam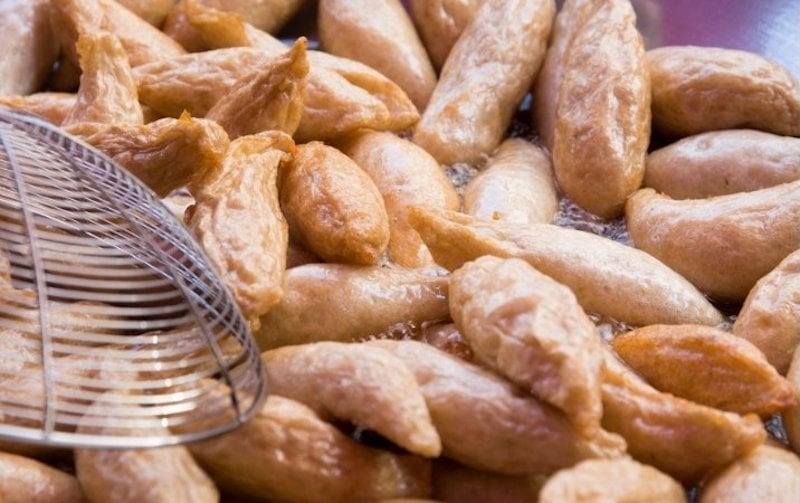 Completing the trifecta of tusok-tusok [to poke] street food in the Philippines is kikiam. And in case you're wondering why it looks familiar, that's because it's the Filipino version of the Chinese ngo hiang. It primarily consists of seasoned ground pork and minced shrimp wrapped in starchy beancurd roll, then deep-fried until crispy. Kikiam is also sometimes added as a topping for certain noodle dishes! 
8. Ice scramble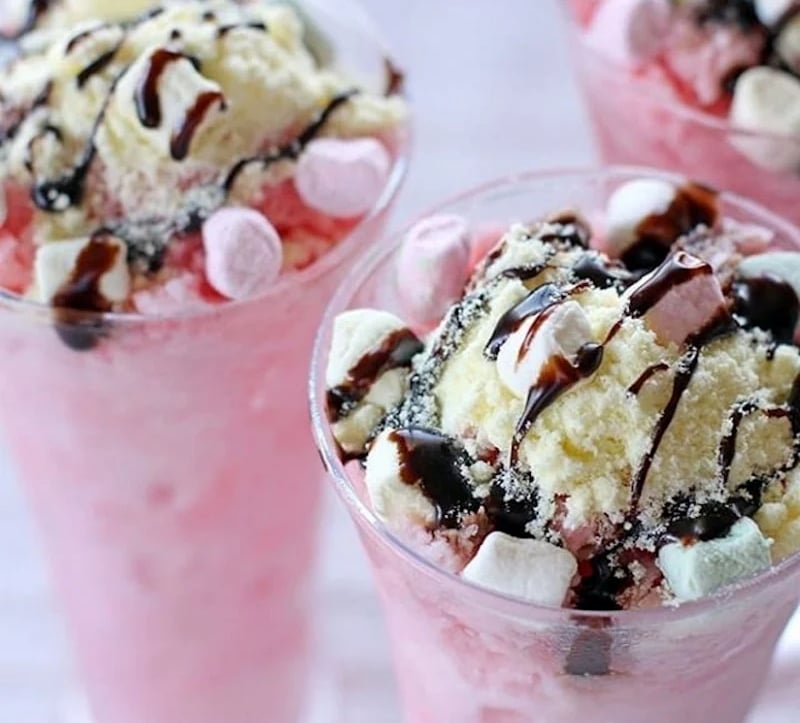 When it gets especially hot outside, we recommend cooling down with some ice scramble — or  'iskrambol,' as some locals endearingly call it. It features milk, shaved ice, sugar, banana or vanilla extract, and various toppings. These toppings often include powdered milk, marshmallows, strawberry and chocolate syrup, pinipig (pounded rice flakes), sago, and sprinkles. You then mix 'em all together — hence the name. 
Also read: Coconut Leaves as Food Packaging Is a Thing, and This Bicolana Shows How It's Done
9. Green mango with bagoong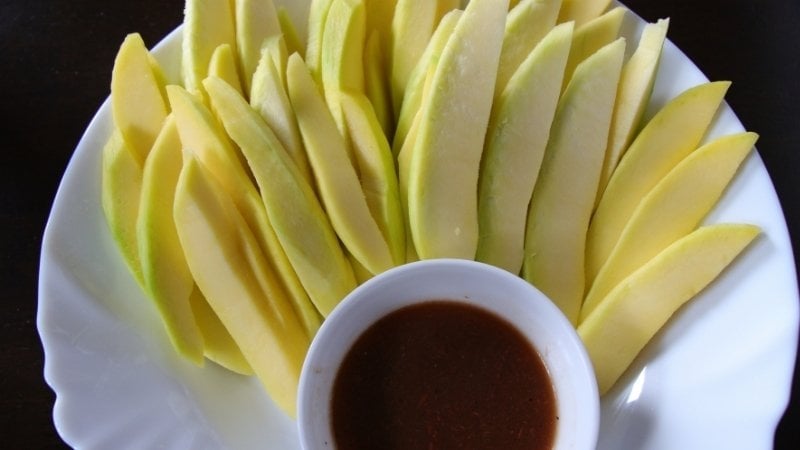 You'll find an abundance of green mangoes in the Philippines during summer (March to May) when these are in season. Rule of thumb: the sourer the mangoes are, the better! The most common variants for this are Indian mangoes and carabao mangoes. 
Street vendors typically cut these mangoes off the seed and then poke onto skewers. Make sure to pair 'em with some bagoong, A.K.A. shrimp paste that's both sweet and spicy!
10. Bananacue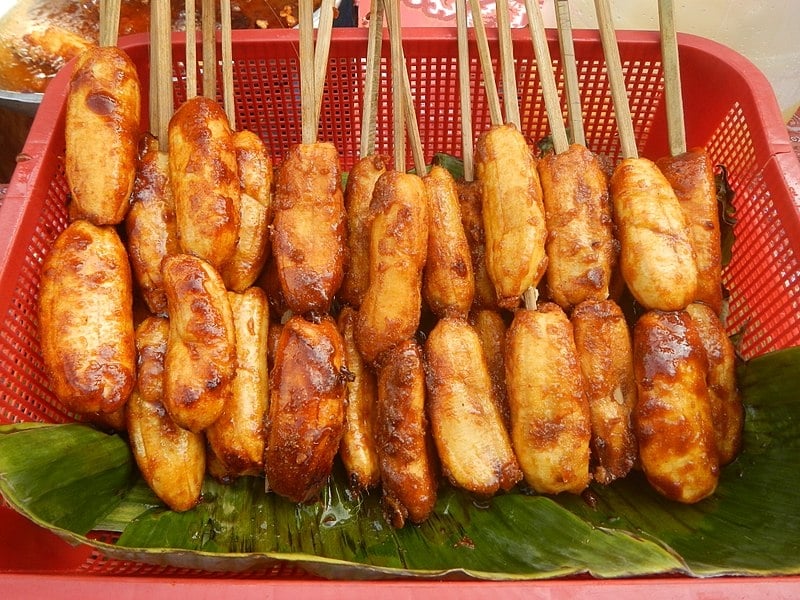 Want fruits on skewers that are on the sweeter side? Then bananacue is definitely a must-try! For this one, vendors often go for the Saba banana, a variant that is already quite sweet on its own. But given that Filipinos are known for their all-out sweet tooth, it shouldn't be a surprise that they caramelise these bananas for a tasty afternoon snack! 
Also, there's really no consensus on how it's supposed to be spelt: bananacue, banana-Q, or banana-kyu. This Filipino street food also has a sweet potato version that's called kamotecue. 
11. Balut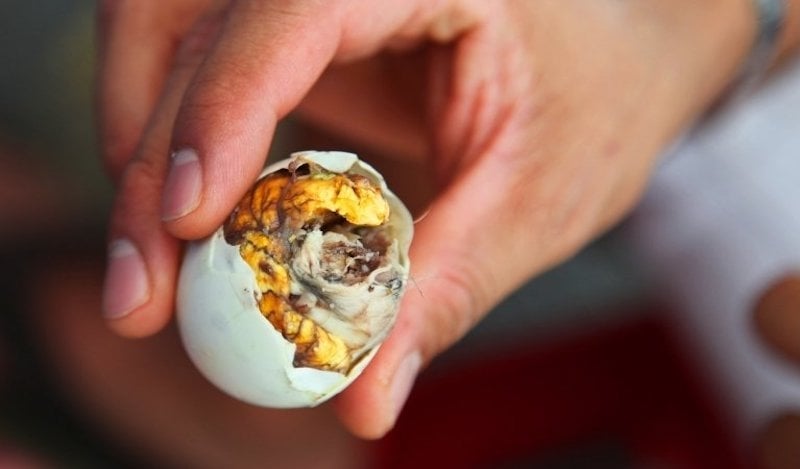 Even if you're from a different country, you might have already heard of balut. After all, it's probably the most talked-about street food in the Philippines. But for the benefit of those who haven't, here's what to expect: a hardboiled duck egg that contains yolk and… semi-developed embryo! You see, the eggs used for this delicacy have been fertilised for two to three weeks. TBH — it takes a while to get used to, and we can't promise that you'll actually love it. Nonetheless, it's still worth a try (even just once). 
So, what's the right way to eat balut? First, you crack the top of the shell to make a tiny hole. From here, drink out the 'soup' inside the egg and then peel the rest to eat the embryo and yolk. For optimal experience, season with salt and/or vinegar, just like how the locals do! 
12. Kwek-kwek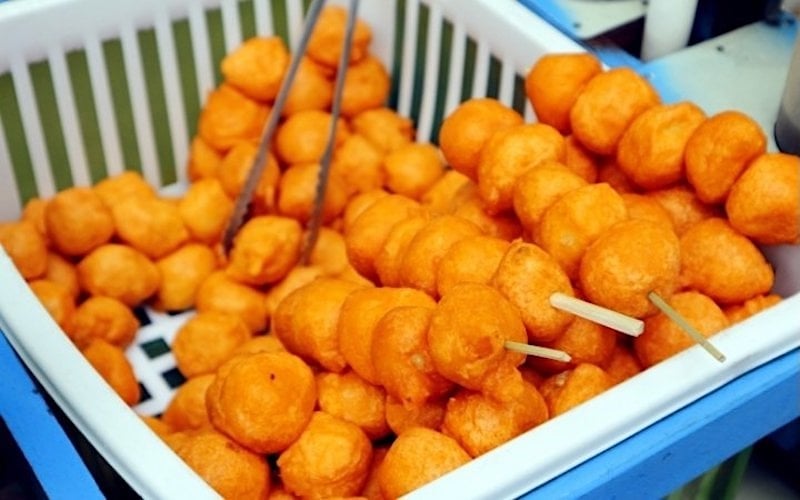 Think of kwek-kwek as the toned-down (or at least relatively conventional) version of balut. Though, instead of duck eggs, this one comprises of boiled quail eggs with a deep-fried orange batter! Given the bright colour, you can easily spot these in street carts or stalls; just look for the ones that slightly resemble ping-pong balls. And while it's already scrumptious on its own, we recommend dipping it in vinegar with chilli and onions. 
13. Proben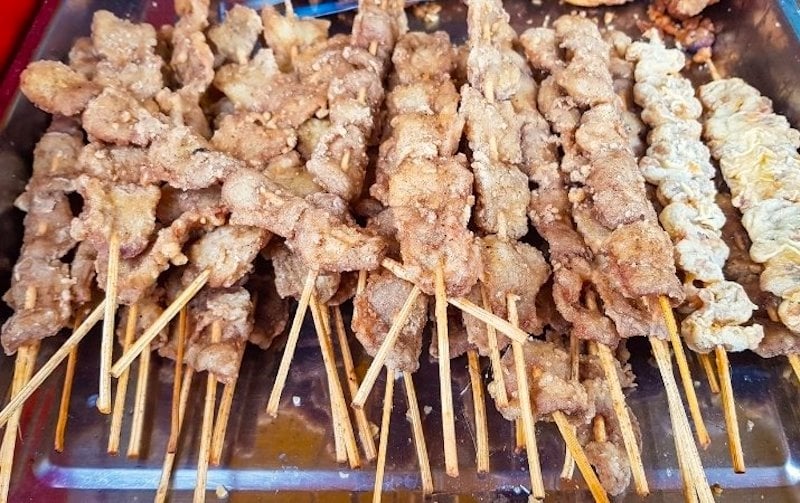 For context, proben (sometimes spelt proven) tastes a bit like isaw and good ol' chicken skin combined. But instead of the intestine, this one is the proventriculus: the 'true stomach' of the chicken that's close to the gizzard. As for the preparation, the proventriculus is cleaned thoroughly, dipped in flour, and then deep-fried until it's golden brown. 
Proben is served like those chicken bites you'd find in most malls: in a bag or small cup with a skewer. And just like with other street food in the Philippines, this is best drenched in vinegar with chilli and onions. 
14. Betamax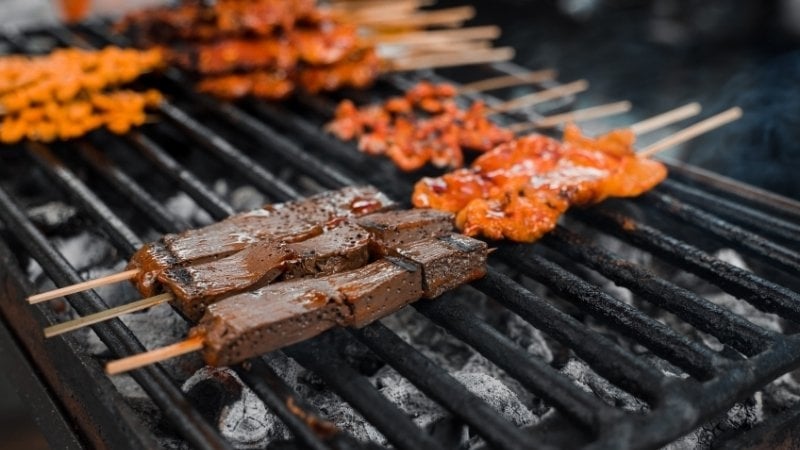 Often found alongside chicken and pork isaw on street grillers, betamax is easily spotted with its dark hue and its box-like shape. And yes, it's named after the actual video cassette tape that was a staple during the '70s and '80s! So, you're probably wondering, what is this edible betamax? 
Well, it's basically dried blood — either from a chicken or pig — formed into cubes before grilling. Fortunately, betamax doesn't (or shouldn't) have a foul smell or taste. Rather, you'll find it to be a bit chewy and 'airy' with a subtly bitter flavour. (Think of it as a mellowed version of liver!) The best way to compliment the taste and texture? Yep, spicy vinegar! 
15. Sweet cheese corn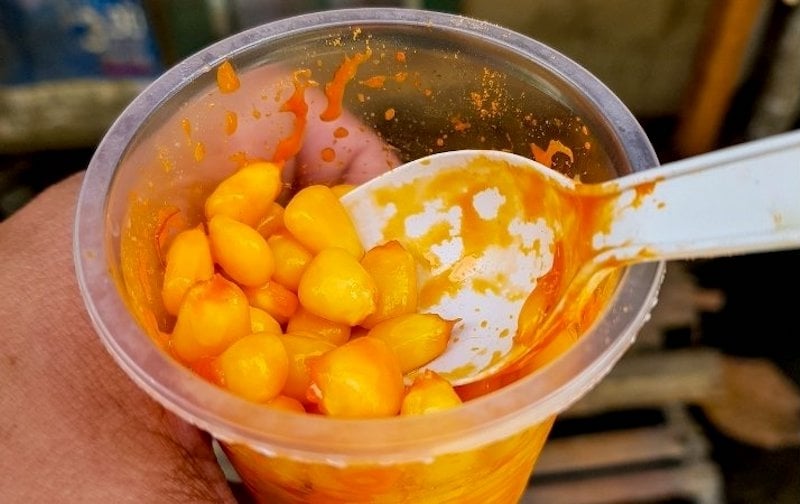 Just upon hearing or reading the name, sweet cheese corn seems like absolute comfort food — which it is, indeed! In a nutshell, it features boiled corn kernels with cheese powder, sugar, and butter or margarine. For more flavour, you can also add grated cheese. You can typically find these street carts in local markets, where they're stationed close to the fruits and veggies stalls. 
Also read: Cebuano Street Food That Deserves Netflix Screen Time
So, which street food in the Philippines are you most curious to try? Whichever it is, we definitely hope you give all these a try whenever you get the chance. Yes, even the ones that might not tickle your fancy at first. Come on now, you know what they say — don't knock it until you've tried it!
---
This article was originally published on TripZilla.