The Philippines is known for its beaches and friendly people. No matter where visitors come from, Filipinos welcome them with open arms. This may be the reason behind foreigners' undying appreciation of the Philippines.
Ask questions like "Where to go if I visit Luzon?" or "Where are the nearby places I can go to escape Manila?", and each Filipino is bound to have a list of his or her own. Many of the better-known places are swarmed by tourists and locals alike, but there are other hidden gems that are underrated but definitely worth the road trip.
Also read: 20 Underrated Provinces in the Philippines Totally Worth Visiting
Ilocos Norte
Kabigan Falls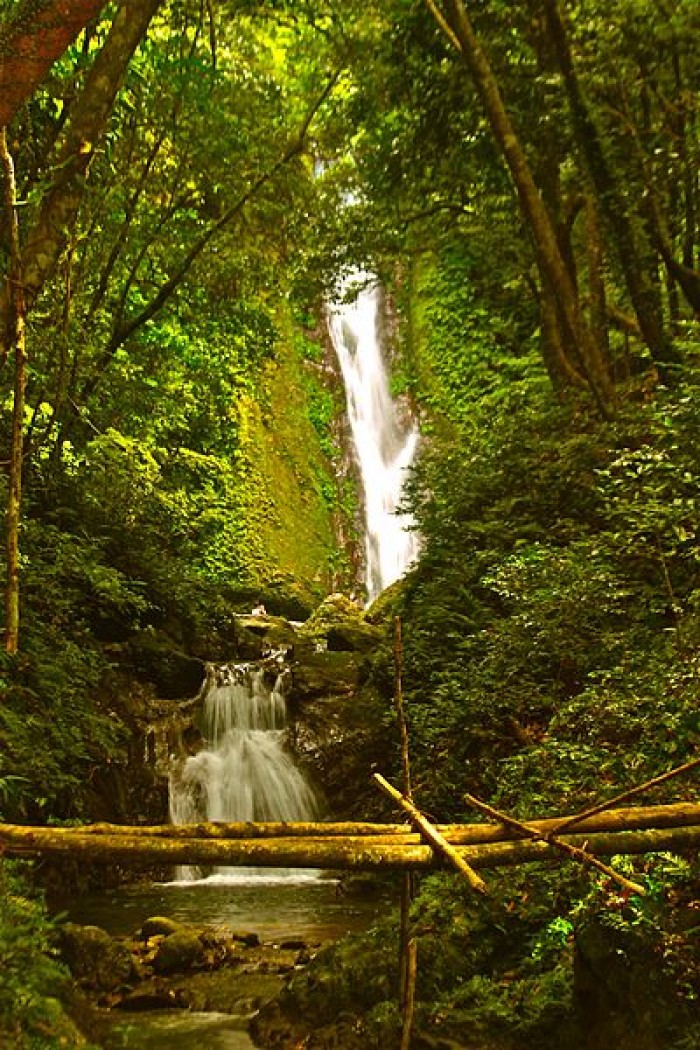 Image credit: Perry A. Dominguez
This enchanting waterfall's name literally means "friend" in English. The name is derived from the belief that the 120-foot-drop falls and the river it flows onto are "friends."
The waterfall is located just a 10-minute drive from Pagudpud, a place known for its white sand beaches. The drive is just the start of the journey. To get to the falls, visitors must trek a kilometre-long stretch from the entrance for about 30 minutes. The trek is never boring, especially for anyone who loves to be one with nature. Visitors are treated to a great view of the woodlands, terrains, boulders, streams, and various wooden bridges.
Also read: 13 Awe-Inspiring Waterfalls in the Philippines You Must Visit
Do not worry for there is already an established path to follow to reach the majestic falls. It is still highly encouraged to have a local guide with you to avoid any incidents of getting lost. There is also a conclave basin where, after trekking, visitors can take a dip and enjoy the cold water.
Kapurpurawan Rock Formation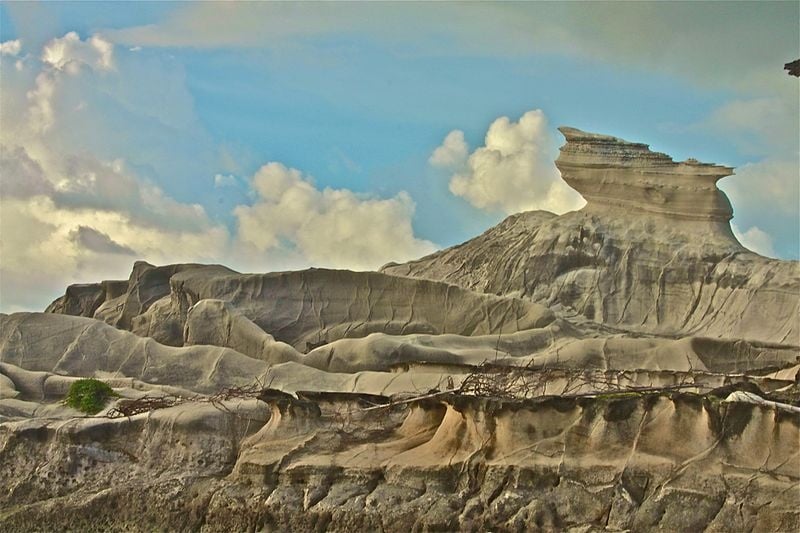 Image credit: Perry A. Dominguez
Rock formations are created as time passes, but these beautiful formations give an unearthly vibe. In Burgos, Ilocos Norte, a rock formation, majestic and white, called Kapurpurawan Rock Formation can be found.
The beautiful rock formation is located on the coast of Burgos, fronting Bangui Bay. Anyone who visits this place will be mesmerised both by Kapurpurawan and the surrounding view of the sea. This natural sculpture got its name from the Ilocano word "puraw," which means white. This is especially seen in broad daylight, when the sun kisses the rocks.
To reach the rock formation, one has to either go through a three-kilometre trek or ride a horse to get up close for a minimal fee.
Cagayan
Callao Cave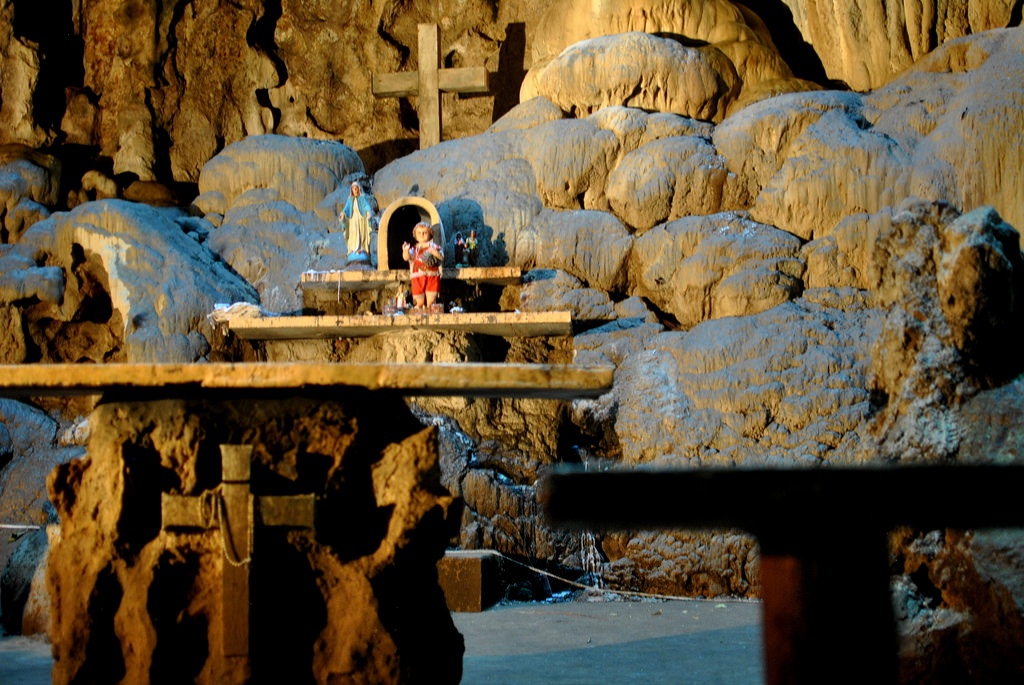 Image credit: Tessa Pagdanganan
This cave is jaw-droppingly beautiful. Many who visit this place have no words for how much they were in awe of what they've seen and experienced. This beautiful cave can be found in the wishlist of many brides to be. It is located in the municipality of Peñablanca, northeast of Tuguegarao City, in Cagayan province.
This huge cave is known for the natural lighting that filters in from naturally made crevices and holes. The interior of this cave is not made of stalagmites or stalactites; instead, a small church can be found. When sun rays strike the crevices of the cave, they illuminate the altar, as well as the rows of pews, giving the place a golden and holy glow. The ceiling of the cave is dotted with natural holes, giving the chamber such a beautiful skylight.
Not only is this cave something to behold, it is also rich in history. Callao Cave is where the oldest remains of a fossilised Homo Sapiens, said to be about 67,000 years old was found.
As some say, before you get a reward, you have to work hard. This holds true, and the cave does not disappoint. To reach the cave, it's an hour drive from Tuguegarao City. Once in Callao Cave Resort, a long wooden boat awaits visitors, who have to sail through Pinacanauan River. The short ride is very serene. To get to the mouth of the cave, you have to go through an uphill battle. To reach the top, it will take about 184 steps. Do come prepared.
Then again, after the arduous journey, the golden-lit chambers of the cave await.
Palaui Island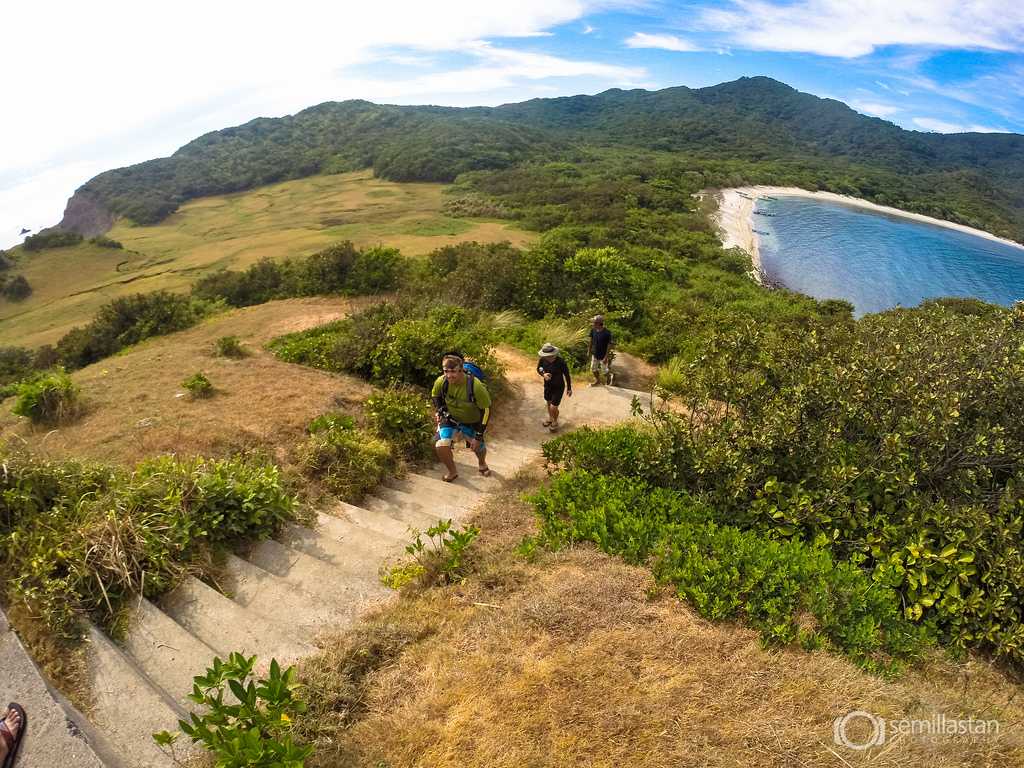 Image credit: Stanley Semilla
This National Marine Reserve is located in Sta. Ana, Cagayan. This beautiful island is often overlooked. This may be due to the fact that the island has no resorts or hotels because of its status as a marine reserve. There is no glamping here, just plain old camping. Another option is to have a home stay with the locals, which is as enriching as it is fun.
The island is only about 10km long and 5km wide.Visitors are able to take in breathtaking views of the Pacific Ocean, forests and hills. This island is truly an escape from the hustle and bustle of the big city. The rawness of the beauty is something worth experiencing.
Calayan Island
Off the Strait of Luzon, in Cagayan province, sits a small island gem. Requiring 18 hours of total travel by land and sea, to see this island is one hell of a commitment. Travelling to Calayan Island would mean souvenirs of more than pictures but of the thrilling experience of trekking and climbing.
The island has some accommodations, and most of them are cabins by the sea. If one is attached to technology and the comforts of air-conditioned rooms, there is still time to back out from the trip, as the island only has electricity from 12 noon until midnight. There is no internet (except for mobile phone data) or TV to watch. This is a great opportunity to be one with the island.
Bangaan Hills and Malansing Falls
There are plenty of places where visitors can enjoy Calayan Island. First off is the stretch of land where Bangaan Hills is located. Trek to the top and enjoy the view of the vast ocean and the horizon. Don't forget to visit Malansing Falls, where a beautiful rainbow forms over the dripping water. This is a natural phenomenon that clearly is mesmerising
Sibang and Caniwara Coves
Sibang Cove is tucked away to offer a place where visitors can experience being one with nature. Once there, worries are forgotten and replaced by the adrenaline rush that comes with discovering the wonders of nature. Just beside Sibang is Caniwara Cove, which is also a spotless paradise. It has a rugged coastline, so visitors should note the danger of going and traversing the shoreline alone.
Life is beach in this part of the Philippines. The coves present the possibility of enjoying the beach without the noise and bustle of many tourists scrambling to get a great spot.
Pangasinan
Hundred Islands National Park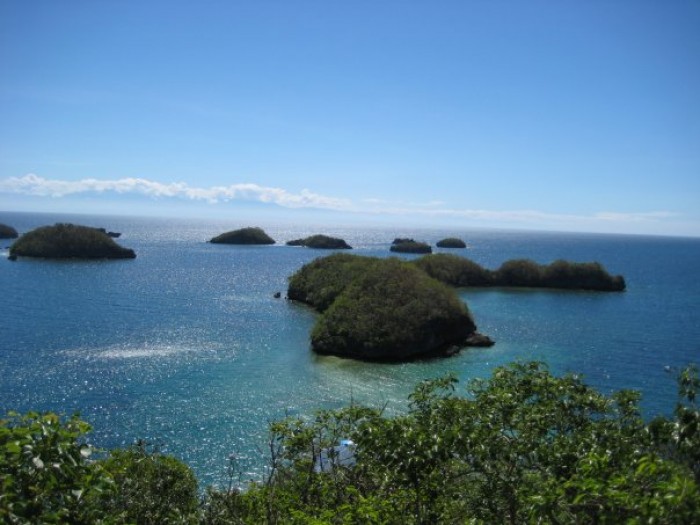 Image credit: Miguel raul
Within Pangasinan lies a protected area in Alaminos that is gaining traction in the travel sphere. Featured in many videos promoting the Philippines, this group of islands is yet to be conquered by wanderlusts.
Hundred Islands is a cluster of 124 islands during low tide and 123 during high tide. There are many spots to explore, like the secret lagoon at Shell Beach, Camantiles Island, or the caves that pepper the clusters. Visitors can go bird watching or snorkel the day away.
The islands are believed to be about 2 million years old. This part of an ancient sea bed became a national park under President Manuel L. Quezon in 1940. With the lush flora and fauna, the five-hour drive from Manila is definitely worth it.
Nueva Vizcaya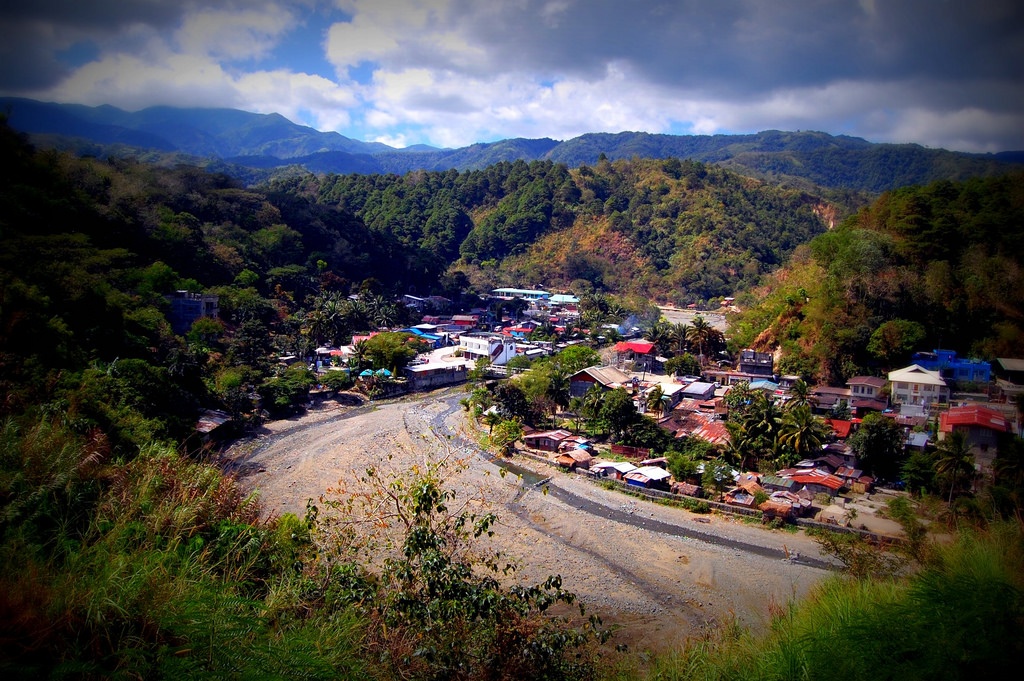 Image credit: Shubert Ciencia
Situated 268 kilometres north of Manila, Nueva Vizcaya is not only the "Citrus Capital of the Philippines" where one can pick out fresh oranges and honey dews, but it is also dubbed as the new place to be for outdoor enthusiasts and environmentalists. It is 70% forestland, strategically bounded by three different mountain ranges, namely, Sierra Madre, Cordillera, and Caraballo.
This place may be too sleepy for some, but it is rich in history that many have already forgotten.
Also read: 7 Farm Experiences Near Manila for Your Next Weekend Escape
Capisaan Cave System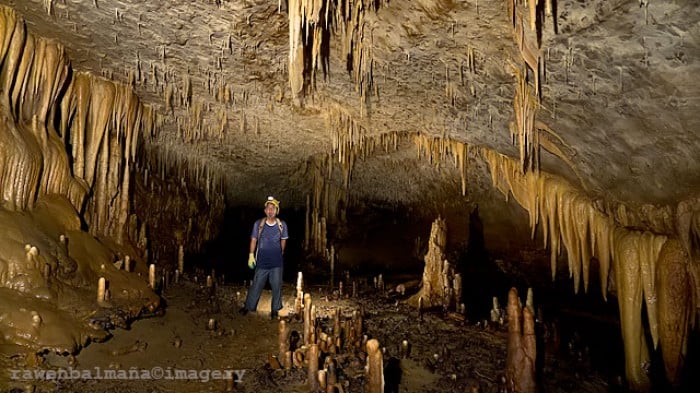 Image credit: Rawen Balmaña
At 4.2 kilometres long, this cave in Malabing Valley in Kasibu, Nueva Vizcaya, is vast and has some rare calcite formations. Just like the famous new wonder of the modern world in Palawan, it also has a subterranean river that serves as a passageway for visitors. The cave exits to different cave systems called Lion-Alayan Cave, which is a great site for spelunking and a place to experience the intriguing species that inhabit the area.
Church of San Vicente Ferrer and St. Dominic Cathedral
These picture-perfect churches date back to 17th and 18th centuries. San Vicente Ferrer was built by the Dominicans in the latter half of the 18th century and was declared a National Cultural Treasure for its well-preserved complex. Photography enthusiasts will have a feast day in this place, for it is not only the buildings that are old, but also the acacia trees surrounding them, which were actually planted in the 1880s.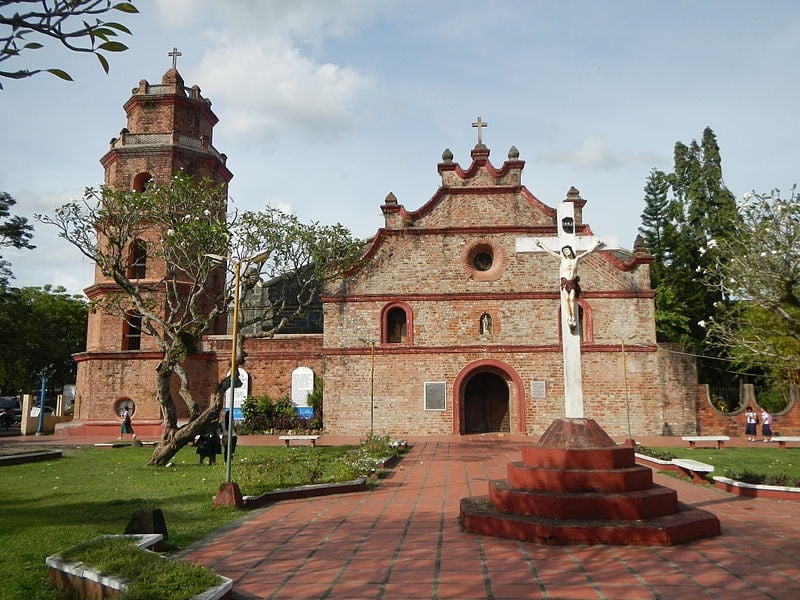 Saint Saint Dominic Cathedral of Bayombon | Image credit: Ramon FVelasquez
The red brick St. Dominic Cathedral is truly a gem of the old town. Built in the 17th century, it was twice razed by fire. It was rebuilt, and the beautiful facade was preserved.
Also read: 15 Totally Underrated Destinations in the Philippines
That's it! Now, grab your friends and start your unforgettable getaway to these underrated yet stunning destinations in the northern part of the Philippines. Happy trip!