Picture free-roaming animals, breezy huts with riverside views, and green hills as far as the eye can see. Doesn't that sound like the antidote for a stressful week at work? We can't help but long for some rest and recreation, especially after being cooped up indoors.  
It's never too early to start planning your next getaway, so we've narrowed down the best farm stays in the Philippines and the experiences you can have at each retreat. Far from your average accommodations, these cottages and resorts will let you embrace the slow life, trading the concrete jungle of the city for plenty of space to roam around. 
From Batangas to Puerto Princesa, let these farm resorts help you go back to the basics. Prepare to leave with your heart full — and your camera roll even fuller with memories — at these gorgeous farm stays in the Philippines!
Also read: These Airbnbs in the Philippines Will Inspire You to Travel Local
Best farm stays in the Philippines
1. This farm stay with breathtaking views of Taal Lake
Listing name: Fabulous Taal Lake Views – Ataalaya Farmhouse
Listing type: Entire bed and breakfast
Max. no. of guests: 8
No. of bedrooms: 3
Let's say you can soak up more than just stunning views at Ataalaya Farmhouse, whose lush surroundings are rivalled only by its most eye-catching feature: an outdoor Jacuzzi. While soaking the stress away in your very own hot tub, you can bask in impressive lookouts of Taal Volcano and Taal Lake. Indeed, the vistas at this Batangas farmhouse can give hotels a run for their money.
With the ambience of an elegant country house, the private balconies and dining areas of the farm create an unforgettable experience for any visitor. Guests can relive the atmosphere of Old Batangas at this three-bedroom farm stay, which can accommodate up to eight people.
Also read: 14 Airbnbs Near Manila with Private Pools and Breathtaking Views
2. This heritage farmhouse where foodies can indulge in Batangueño cuisine
Listing name: Plantacion Isabelle
Listing type: Private room in farm stay
Max. no. of guests: 2–6
No. of bedrooms: 1
Planning a staycation on a tight budget? For a farm stay in the Philippines that won't break the bank, Plantacion Isabelle is your best bet. Designed like a house in the Spanish era, this heritage home in Batangas features an airy living room, traditional wood furniture, sliding doors, and plenty of windows to let the breeze roll in. Just like that, you're transported to a sanctuary for pure relaxation, only two and a half hours away from Metro Manila.
Don't miss out on Batangueño dishes such as longganisang Taal and tapang Taal for breakfast. Or why not drink their famous kapeng barako, a must-try for any coffeeholic in Batangas? Outside your room, there's a swimming pool and a private garden waiting to be discovered at the farm — your very own private paradise from the city. 
Also read: 18 Airbnb Homes in Batangas for When You Need a Quick Escape
3. This chill lakeside farm resort in Cavinti, Laguna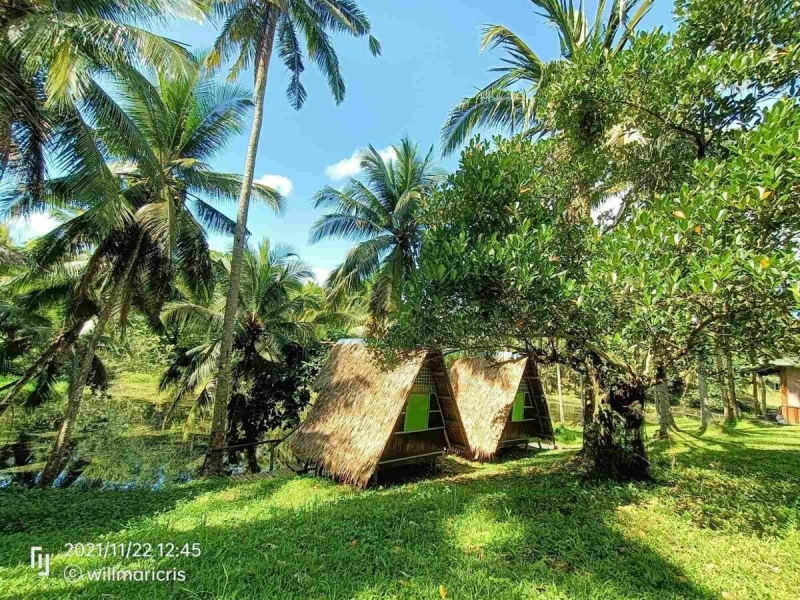 Listing name: Lakefront Teepee House #2 in Caliraya Ecoville
Listing type: Hut
Max. no. of guests: 2
No. of bedrooms: 1
Sometimes what you need is some fresh air to clear your head. Find your ideal spot under the swaying palm trees at the Caliraya Ecoville Recreation Farm & Resort, approximately a three-hour drive from Metro Manila.
Easily one of the best farm resorts in Laguna, it offers spacious green areas for visitors seeking peace and solitude. You can choose between the lakeside teepees, cottages, and tents available. At any of these accommodations, you're only a short walk away to Lake Caliraya. Moreover, you'll find plenty of recreational activities at Caliraya Ecoville Recreation Farm & Resort, from boating on the lake to swinging lazily on the hammock under the trees. 
Also read: This Stunning Lakeside Airbnb in Laguna Is Perfect for Your Next Staycation
4. This organic farm stay for wining and dining in Palawan
Listing name: Authentic Farmstay at a working organic farm
Listing type: Private room in a farm stay
Max. no. of guests: 2
No. of bedrooms: 1
Ever wondered what it's like to live on a working farm? The next time you're in Palawan, don't miss a chance to stay at Paul and Beth's 7.5-hectare organic farm in Puerto Princesa.
At once romantic and comfortable, this farm stay comes with hammocks for relaxation, a gazebo, a fruit orchard, a vegetable garden, a cabin with air conditioning, and two lovely hosts who will help you create lasting memories during your stay here.
Up for an authentic farm-to-table experience? If you're ready to unleash your cooking skills, the owners will be more than happy to let you harvest some of the produce on the farm. This way, you can indulge in fruit shakes and desserts that were taken directly from the orchard. Or, prepare your own garden salad with lettuce, avocados, basil, tomatoes, or other vegetables freshly picked from the garden. Afterwards, you can enjoy the fruits of your labour in an intimate dining area — fit for a wedding reception, almost.
Every day looks a little different at this farm stay in Palawan. But of course, nothing beats settling in for a campfire and enjoying the starry night sky. 
5. This farm resort in Bataan's great outdoors
Listing name: The Duyan House at Sinagtala Resort
Listing type: Resort
Max. no. of guests: 2–9
No. of bedrooms: 1
Seeking to recharge in nature? Kick back and relax at The Duyan House at Sinagtala Farm Resort, which is located in a sprawling 60-hectare estate in Bataan with breathtaking views of the mountains and the rainforest.
Like a cosy bed and breakfast, the Duyan House offers well-appointed rooms and all the modern amenities needed for a comfortable stay — and yes, that includes free WiFi. 
Whether you're basking in the natural beauty of the surroundings from your bedroom's balcony or taking in views from the outdoor pool, this farm resort offers a lush escape to recharge and go back to the basics. 
From the Sinagtala Farm Resort, you can also enjoy access to nearby hiking trails and the Sinagtala Adventure Park. There, you can participate in the thrilling activities around the park, where zip-lines and suspended bridges await the most adventurous travellers.
Also read: 12 Airbnb Homes in Bataan for a Road Trip Near Manila
6. This rustic farm retreat in Calatagan, Batangas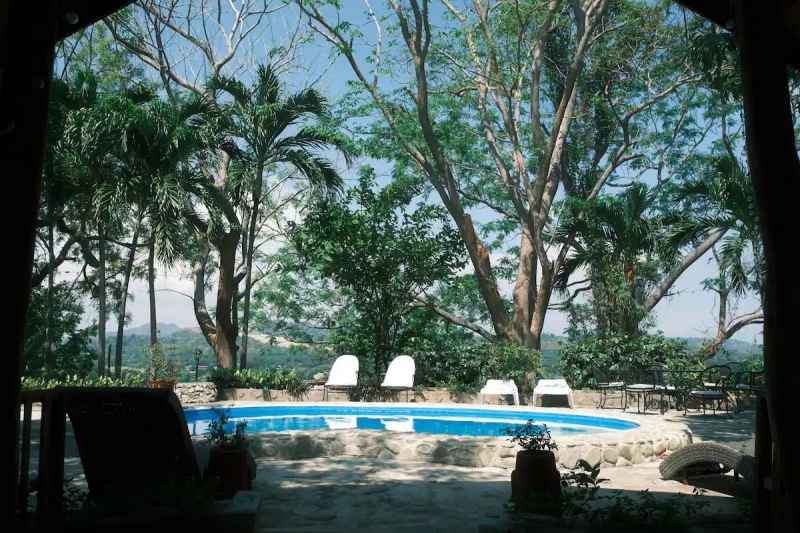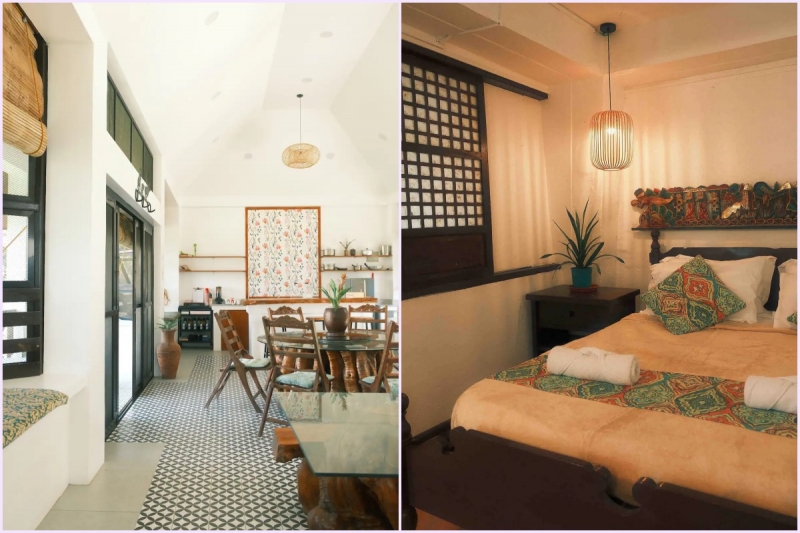 Listing name: BougainVillas – Rustic Retreat
Listing type: Farm stay
Max. no. of guests: 16+
No. of bedrooms: 3
Roughly a three-hour drive from Metro Manila, BougainVillas is the perfect place to catch your breath. The rustic retreat is tucked away in the hills of Calatagan, promising peace, quiet, and outstanding views of the verdant rice fields and mountains in the distance. 
Take in the bright and airy residence that's designed with the Filipino family in mind: capiz windows, traditional wooden furnishings, a nipa hut-style gazebo, and tropical patterns dotting the house. Plus, with ample room for up to 22 guests, this farm stay in the Philippines is perfectly suited for big family vacations or reunions. Your pack will get exclusive access to the entire property, including the swimming pool and fire pit!
Visiting with a smaller group? Superhost Sabrina also offers the one-bedroom BougainVillas Main House as a separate Airbnb listing.
7. This charming cottage in Amadeo, Cavite
Listing name: Idyllic farmstay (Duplex Cottage)
Listing type: Room in a farm stay
Max. no. of guests: 4
No. of bedrooms: 2
If Tagaytay feels too busy for you these days, Arca Country Farm in Amadeo, Cavite presents a secluded escape without the tourist crowds. The farm is only open on weekends and holidays, but it's the ideal option for weekenders who want a tranquil escape from city life.
Try your hand at the slow-paced country lifestyle at this gated farm, where sunshine, fresh air, and sprawling open grounds guarantee a rejuvenating vacation for all ages.  Feeding the roaming chickens, relaxing in the gazebo, and playing sungka are just some of the activities you can do at this farm stay. For a reasonable price, you can also try your hand at harvesting the lettuce and other fresh produce at the farm. 
Also read: 10 Charming Airbnbs in Cavite for the Staycation You Deserve
8. This farm cabin for a digital detox in Alitagtag, Batangas
Listing name: Exclusive All Access Stay – The Den Vacation House
Listing type: Farm stay
Max. no. of guests: 10
No. of bedrooms: 2
Make your remote getaway from Metro Manila extra magical at this woodsy farm stay — straight out of our cottagecore fantasies! Known as The Den, this cosy farm cottage with a garden in Alitagtag, Batangas delivers on that storybook vibe without depriving you of well-maintained amenities, such as a fully equipped kitchen and air conditioning.  
Inside, you'll find well-decorated rooms with plenty of sunlight pouring into the living room. Outside, you can practise yoga, take a nap inside the garden tent, lounge around the gazebo, or splash into the swimming pool with a view of Mt. Maculot in the distance. 
What if you feel like checking your emails during your stay? Well, say goodbye to those notifications for a while, because thanks to the lack of WiFi and mobile phone signal on this farm, you can totally disconnect from the hustle and bustle of the city. Indeed, the seclusion is part of what makes this retreat so appealing! 
9. This elegant casita in Lucban, Quezon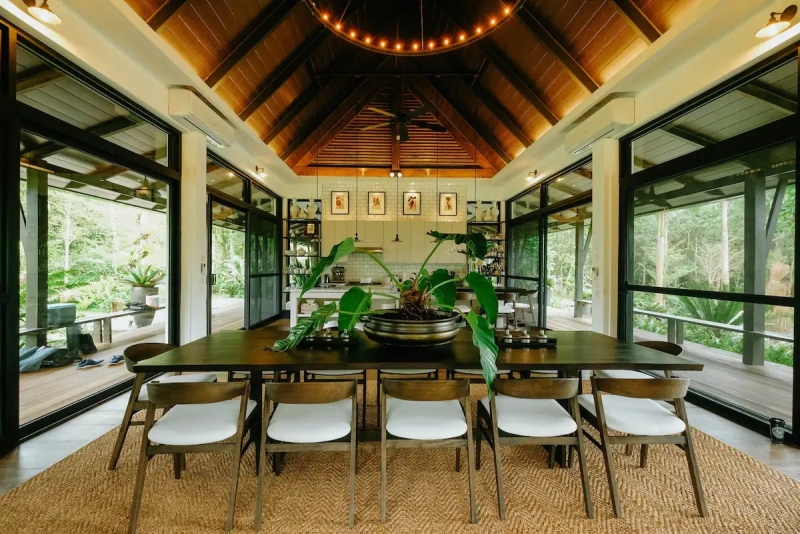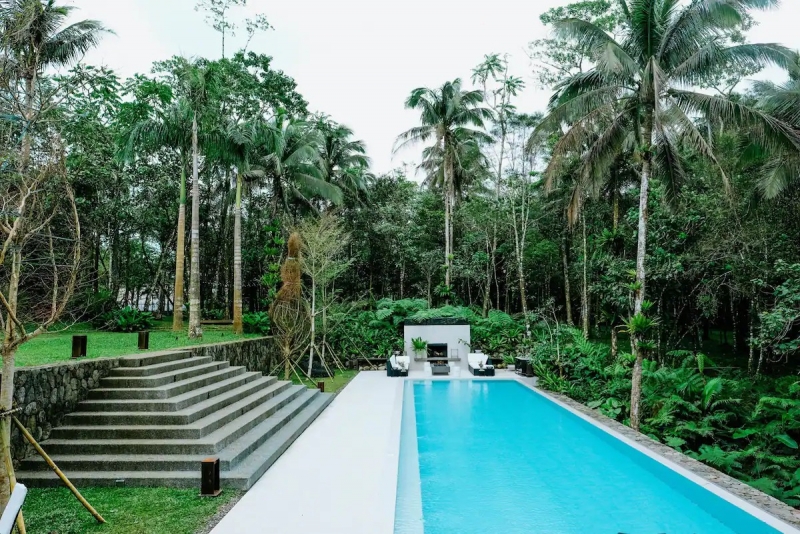 Listing name: Casa Esperanza Farm Stay – Casita 1 – Pool View
Listing type: Place to stay in a farm stay
Max. no. of guests: 4
No. of bedrooms: 1
If you have a heart for nature and secluded getaways, then you'll feel right at home at Casa Esperanza in Lucban, Quezon. Once you've settled into the casita, you can enjoy a modern spin on the traditional Filipino home that comes with air conditioning, an industrial kitchen, an airy pavilion with a dining area, and a shared outdoor pool perfect for morning laps. 
Farm stays in the Philippines typically lean on laidback and rustic aesthetics, but the elegant interiors and thoughtfully curated decor of this Airbnb make it more akin to an upscale boutique hotel. And more than the five-star design, it's the unspoiled natural environment that's easy to fall in love with. Former guests rave about Casa Esperanza's serenity — one even called it among the best farm stays in the Philippines!
Also read: 8 Things to Do in Bulacan for All Kinds of Travellers
10. This farmhouse in Tanay, Rizal that's close to the mountains
Listing name: Balay Talahib Nature Escape
Listing type: Farm stay
Max. no. of guests: 16+
No. of bedrooms: 4
Looking for restful escapes in Rizal? You won't find a better retreat than Balai Talahib, a solar-powered farm with picturesque surroundings in Barangay Cayabu, Tanay. As its name suggests, the house uses talahib or wild sugarcane to adorn the walls and the ceiling. Boasting mountain and riverside views, this farm is filled with the sounds of birdsong and flowing water — a true nature retreat if we ever saw one.
While internet and mobile phone services are limited, this won't hamper your enjoyment at all. You can open the windows of your bedroom to let in the breeze from the rice fields nearby. Better yet, head outside for a refreshing nature walk or make your way down to the peaceful river.  
Also read: 12 Airbnbs in Tanay That Are Perfect for a Weekend Getaway
11. This hidden farm escape in Carmen, Cebu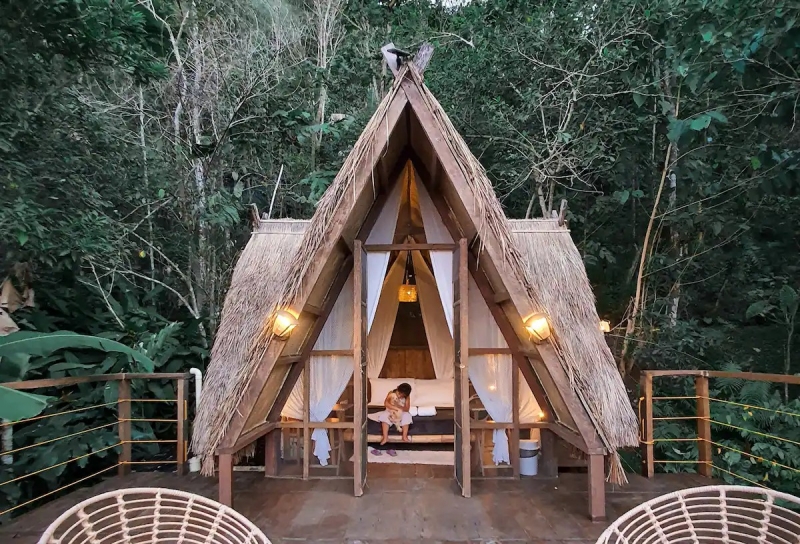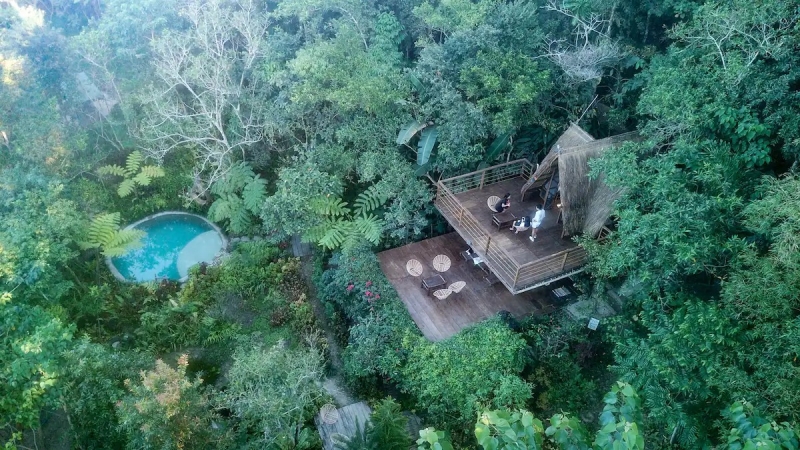 Listing name: Alhibé Farm Exclusive Homestay Accommodation
Listing type: Farm stay
Max. no. of guests: 6
No. of bedrooms: 1
For your next trip to Cebu, we recommend Alhibe Farm, a tropical paradise waiting to be discovered! This boutique mountain getaway preserves the natural beauty of its surroundings, from the native fruit trees to the scenic walking paths around the property. A spring-fed swimming pool blends in with its verdant environment. Meanwhile, a picture-perfect nipa hut — the house you'll be staying in — ensures that you'll never want to leave.
From the Bali-style bird's nests around the property to the spring water that flows from the mountains, this hidden gem of farm stays in the Philippines offers a serene respite from city living. It's almost like finding your very own fairytale treehouse in the woods, really!
Also read: 15 Dreamy Treehouse Hotels in the Philippines for a Magical Vacay
12. This serene pool house in Negros Occidental
Listing name: Entire Private Villa : Kwartitos
Listing type: Farm stay
Max. no. of guests: 14
No. of bedrooms: 4
If trekking toward Bago River and exploring Malatan-og Falls sound like great ideas for your trip to Negros Occidental, then Kwartitos is one of the farm stays in the Philippines worth considering. 
Located in Don Salvador Benedicto, this 3,600sqm villa features a spacious living area and four bedrooms that can fit as many as 12 guests. Outside, the private pool and Jacuzzi offer the ideal spots to admire the sweeping views of the mountains. From the uninterrupted views of the terrain to the scenic areas for al fresco dining and picnics in the garden, outdoorsy types are going to love this home away from home.
13. This earth house with nature views in Laguna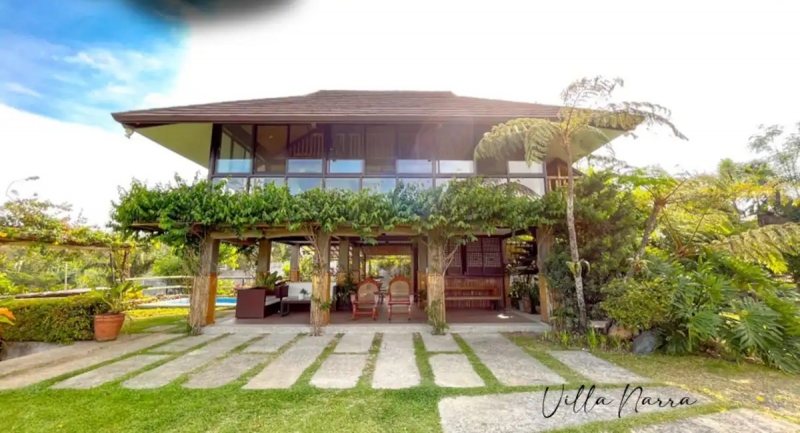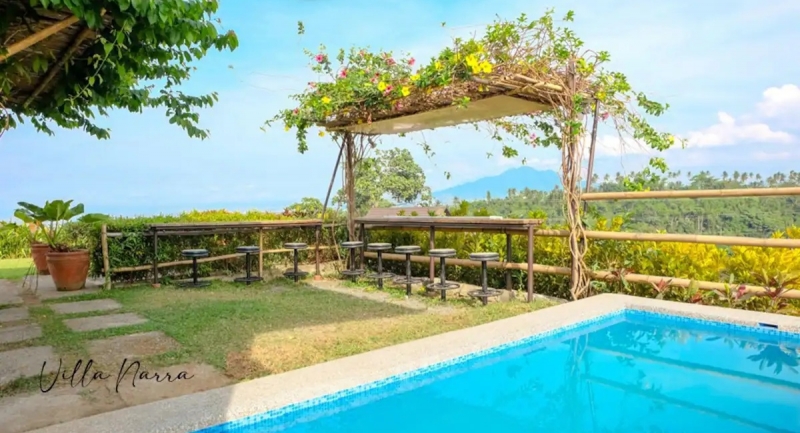 Listing name: Gabby's Farm- Villa Narra
Listing type: Farm stay
Max. no. of guests: 8
No. of bedrooms: 3
For a breezy stay that brings the cool and rejuvenating air to your doorstep, consider Gabby's Farm in Cabuyao, Laguna. Nestled in one of the upland villages of the province, the farm promises an endlessly pleasant environment for relaxing getaways. Think, cool Tagaytay weather, lush gardens, and a nearby trail through cacao trees for a taste of rugged exploration. On clear days, you'll have no trouble enjoying the views of Mount Makiling, Laguna de Bay, Tagaytay Ridge, and the Calamba cityscape from this unique farm stay in the Philippines. 
Modelled after a traditional bahay kubo, the three-bedroom Villa Narra on elevated ground was built using bamboo and anahaw. The ground floor is a fan favourite: The sprawling open space invites kids to run around and play, while the adults can hang out and eat in the huge dining area. Other accommodations in Gabby's Farm include Villa Antipolo and Villa Yambo.
14. This riverfront farm stay in Zambales for big get-togethers
Listing name: The Farmhouse at Iba Botanicals (5br, 30+ guests)
Listing type: Farm stay
Max. no. of guests: 16+
No. of bedrooms: 5
Nature lovers, this 24-hectare farm in Zambales is for you. No matter what you choose to do, The Farmhouse at Iba Botanicals, a five-bedroom home, provides a home base for your sightseeing and outdoor adventures: kayaking, mountain hiking, going horseback riding, swimming in a waterfall, trading stories with friends by the campfire, and more. 
Indulge in fresh farm-to-table food at The Farmhouse, where you can choose between the dinner table inside the house or the outdoor dining area. Indeed, the common areas are perfect for carefree bonding sessions with family. Alternatively, digital nomads can take advantage of high-speed internet for work — although it's so tempting to ditch the job for lounging around the property. Outside, there are hammocks and rocking chairs for guests who want to linger near the garden for hours on end. 
This Airbnb in the Philippines is one of the biggest farm stays on our list, with space for up to 40 people. And you won't have to worry about cleaning up after everyone, either; the house comes with a housekeeper. Free breakfast is included, but groups can pay extra for a chef to whip up other meals, too.
Also read: 10 Airbnb Homes in Zambales That You'll Never Want to Leave
15. This picturesque refuge in Tagaytay
Listing name: Private Guest House at Nana's Farm – 2F Suite
Listing type: Room in a bed and breakfast
Max. no. of guests: 4
No. of bedrooms: 1
If you're looking for a tranquil place to unwind for the weekend, then you're in luck. Tired city dweller, rest your weary soul at Nana's Farm. Just around two hours from Metro Manila, this one-hectare farm stay offers a rejuvenating place to seek refuge amid lush surroundings — a fresh break and reset from city life, essentially. As soon as you step outside of your private balcony, you can enjoy a view of the backyard and fruit trees in the garden.
Care for a picnic on the grass or a leisurely stroll through the farm? Between the mountain air and the sense of calm that comes from living away from the city, you can undoubtedly experience total serenity at this farmhouse in Tagaytay.
Also read: 12 Cosy Airbnbs in Tagaytay for Your Next Out-of-Town Trip
16. This cosy chalet in Banaue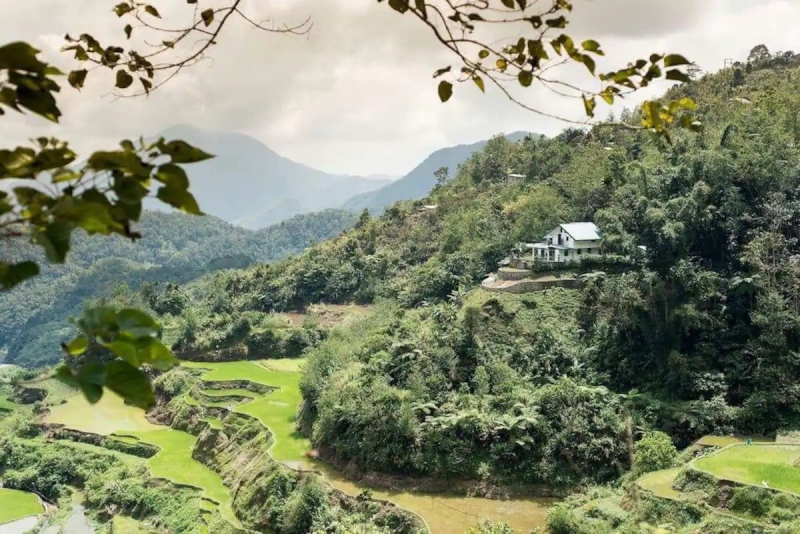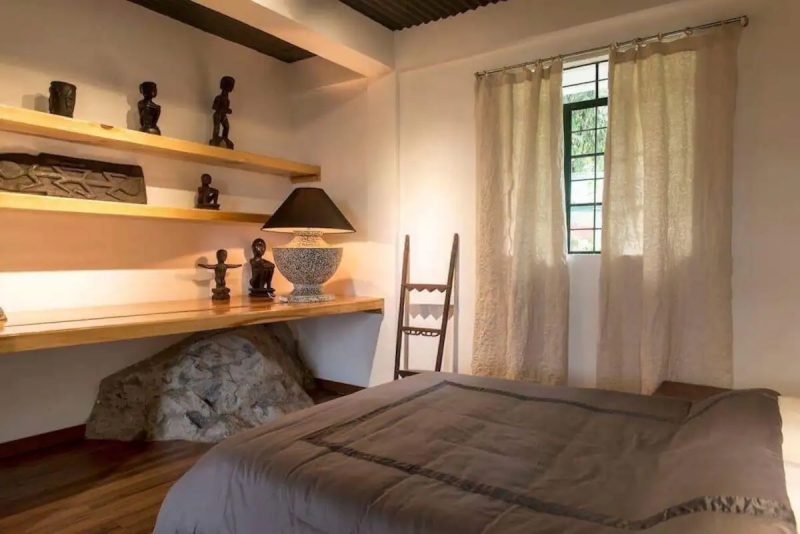 Listing name: Banaue Chalet (Downstairs Level)
Listing type: Place to stay in a chalet
Max. no. of guests: 5
No. of bedrooms: 1
Looking for something unique? Well, rest assured that this charm-filled chalet isn't one of the regular farm stays of the Philippines. For one, it sits right in the heart of the rice terraces in legendary Banaue. You'll have to trek down 60 steps to the house, but it's well worth the effort — trust us when we say there's nothing like waking up to the sight of the millennia-old terraces!
The renovated interiors of the Banaue chalet promises a super comfortable experience in the rugged mountains of Cordillera, with all the essentials: a full kitchen, bluetooth speakers, and WiFi. Additionally, this vacation rental is only two kilometres from the bustling town centre.
Note: The Upstairs Level of the chalet is also available on Airbnb. Book both if you're part of a bigger group!
17. This dreamy sanctuary on Tablas Island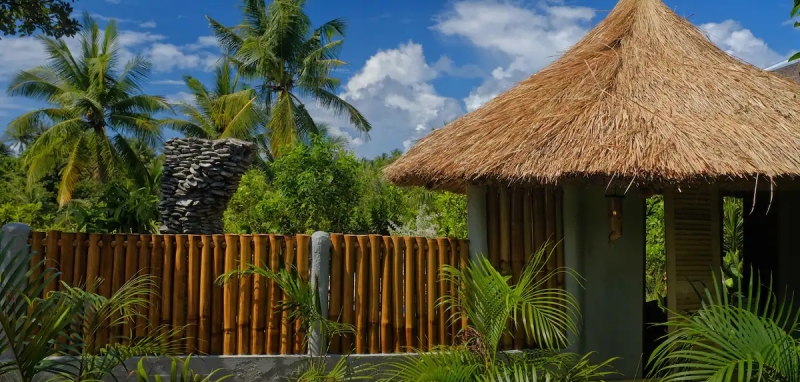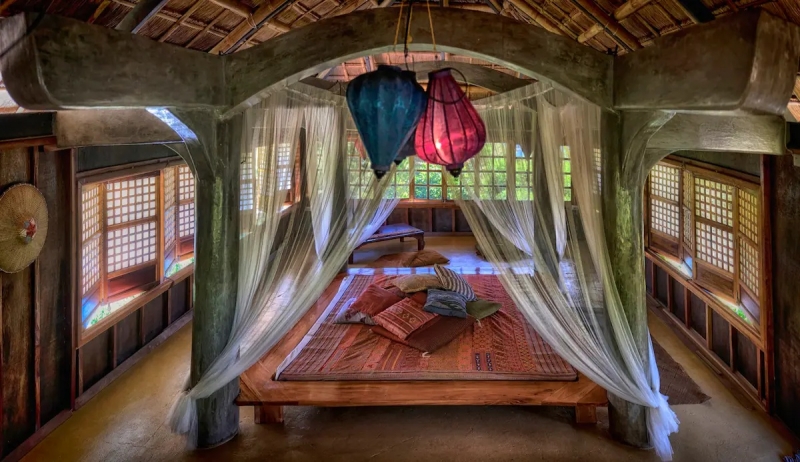 Listing name: Oasis of Luxury in the Real Philippines
Listing type: Entire chalet
Max. no. of guests: 4
No. of bedrooms: 1
One of the reasons why we love booking farm stays is because it lets us take a peek into the "real" Philippines. If you're eager to meet the country beyond the glitz of five-star hotels and the glossy perfection of the most popular tourist spots, then it may be time to sail beyond the usual destinations. Tablas Island — a neighbour of the more popular Boracay — is one worth considering. 
And we've even got the perfect Airbnb for you: this blissful sanctuary that blends traditional Pinoy elements and international inspiration (like the Japanese-style canopy bedroom). Plus the Airbnb's location is phenomenal; it's just a two-minute walk from a pristine white sand beach. 
18. This tranquil hacienda in Bacolod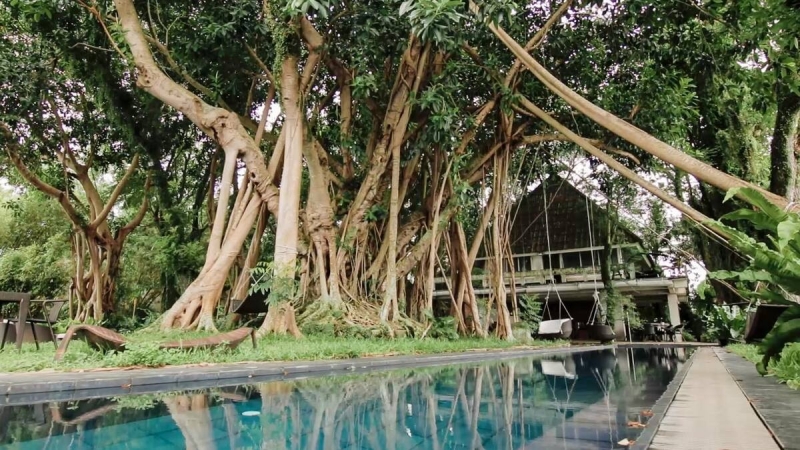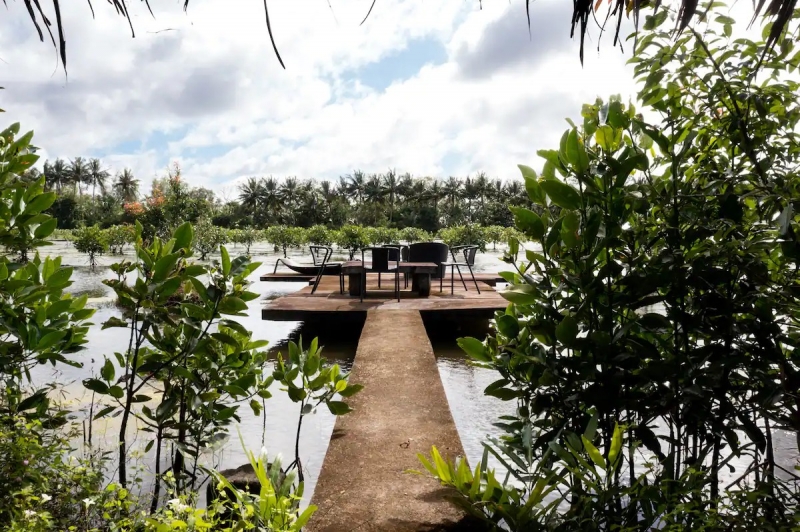 Listing name: Lia's Casita In A Hacienda
Listing type: Place to stay in a farm stay
Max. no. of guests: 6
No. of bedrooms: 1
Follow the winding road through a canopy of ancient trees to get to Gary's Place in Silay City, Metro Bacolod. A postcard-pretty 95-hectare hacienda of age-old mangroves and fish ponds (plus a 70-hectare sugar plantation), Gary's Place is a haven for travellers looking to disconnect. A butler welcomes travellers with refreshments and a guided tour; here, there's more than enough space to get lost in, so come to the farm ready to plug into nature.
Modern interiors blend seamlessly into the natural surroundings here, with Lia's Casita perched by water with a private deck for enjoying the views. The other casitas are just as pretty: Clara's Casita, Len's Casita, Vicky's Casita, and Liz's Casita. No matter which one you pick, expect signature Negrense warmth. Travellers also get access to common facilities, including the restaurant (with WiFi), an infinity pool, and the mango grove for strolling or cycling. 
Also read: 10 Bacolod Airbnb Homes With Swimming Pools for a Relaxing Getaway
More than hideaways for weary travellers, these farm stays in the Philippines promise something rarely found in big cities: an opportunity to slow down and immerse oneself back into nature. 
Be sure to bookmark these farm resorts in the Philippines for the future! When the time is right, all you have to do is pack your bags and head straight for the great outdoors. For more getaways near Metro Manila, check out our best picks for Laguna, Antipolo, and other homes near the city as well. 
Got a property you'd like TripZilla to feature? Inquire with us here.
---
This article contains affiliate links. When you book through these links, we may earn a small commission at no additional cost to you. All images courtesy of the respective property listings.