Just because the Philippines only gets two seasons — wet and dry — doesn't mean we can't indulge in a bit of fall foliage exploring. Autumn promises the prettiest landscapes of the year, with golden trees framing tranquil lakes and lush forests of red and orange marking the end of summer around the world. It's a sight Pinoy travellers deserve to witness, even if hopping on a plane is the only way to see it.
Luckily, you won't have to go far to appreciate autumn's changing of leaves. Here are the most beautiful visa-free destinations to take in the visual spectacle this season! 
Also read: 10 Underrated Visa-Free Countries Every Pinoy Must Visit
Best places to see fall foliage visa-free
1. Taichung, Taiwan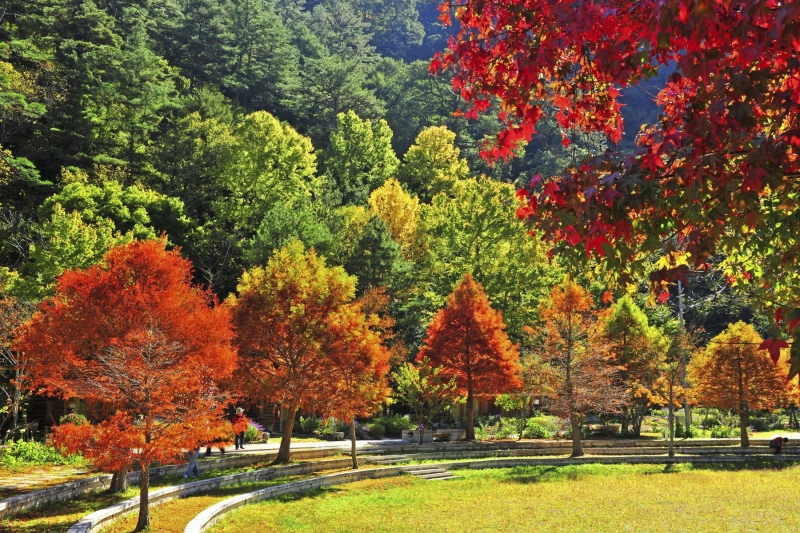 One of the best places in Asia to watch the colours turn is Taiwan, where multiple autumn spots await camera-toting travellers. Head to Wuling Farm in Taichung for golden maple trees that will take your breath away. Tourists typically swarm the farm during cherry blossom season in spring, but it's just as captivating with fall foliage transforming the landscape into a pretty mix of oranges and greens. 
Willing to chase the leaves across Taiwan? In the Nantou Region, Aowanda National Park is another great place for leaf-peeping. Teeming with age-old maple trees in all shades of red and gold, the recreational area promises a beautiful backdrop for your fall-themed snaps. Other great autumn spots in Taiwan include Alishan National Scenic Area, Yangmingshan National Park, and Taipingshan National Forest Recreation Area. 
Best time to see fall foliage in Taiwan: October – December
2. Hong Kong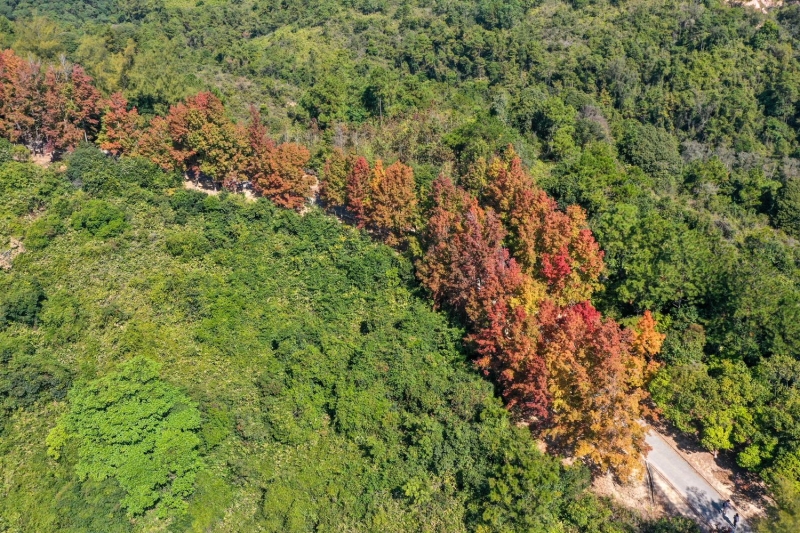 If you've only ever explored the urban jungle of Hong Kong, then you're missing out on some incredible natural gems. For instance, the scenic Sweet Gum Woods in Tai Tong's Tai Lam Country Park shows off its prettiest side in autumn, with the sweet gum trees bursting into flaming hues. Lau Shui Heung Reservoir in Pat Sin Leng Country Park is also a popular place in Hong Kong for witnessing fall foliage. 
Best time to experience fall foliage in Hong Kong: November – January
Also read: Solo Travel Guide: 16 Travel Tips You Should Know Before Travelling to Hong Kong
3. Hanoi, Vietnam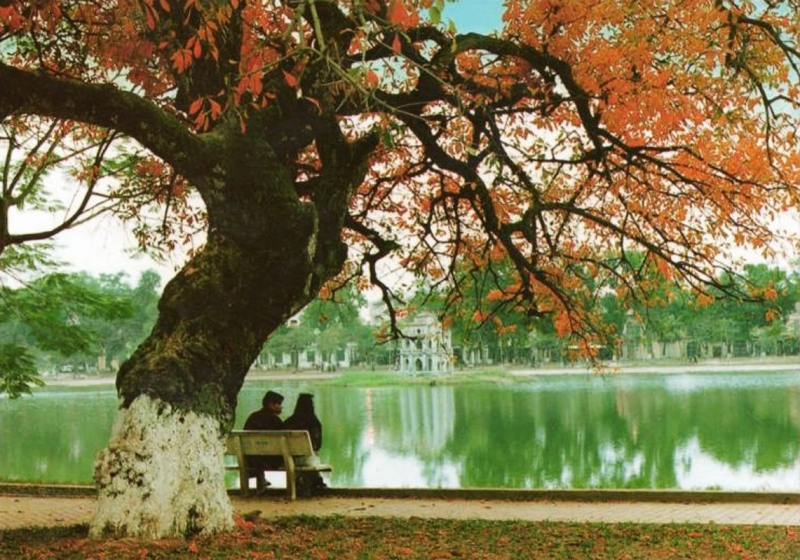 Visiting Vietnam is always a good idea, but it's extra special in autumn! Few places in the country are as picturesque as Hanoi during this season, with trees along the busy roads turning into eye-catching hues of red, yellow, and brown. Take a stroll around Hoan Kiem Lake, where fiery autumn leaves add a burst of colour to the serene landscape. With the burnt-coloured leaves falling and the calm waters of the lake, you'll find it easy to fall in love with the City of Peace. 
Best time to experience fall foliage in Vietnam: September – November
Also read: 10 Airbnbs in Hanoi That Are Both Gorgeous and Affordable
4. Mongolia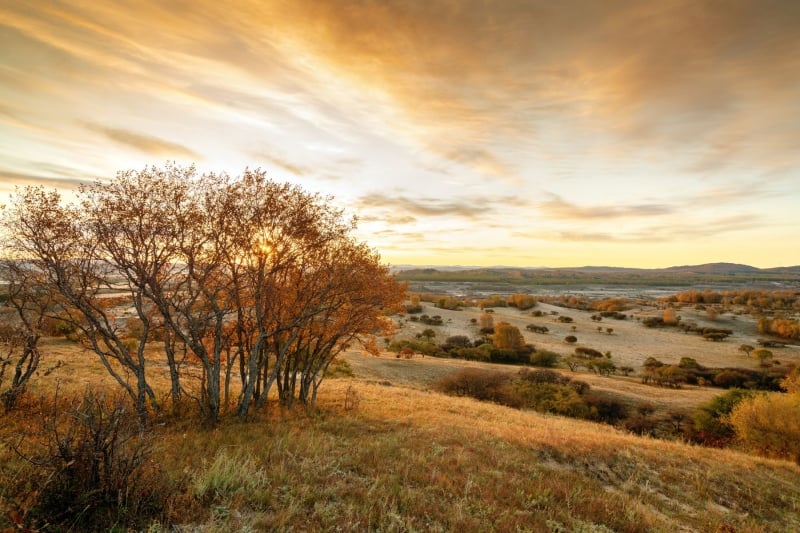 Looking for underrated fall foliage destinations? Mongolia comes to mind! And yes, it's visa-free, too. Although it's a place of natural beauty all year round, the country is particularly inviting in autumn with golden grasslands, clear blue skies, and crisp weather. Birches, larches, and poplars change colours, painting the magnificent Mongolian landscape in shades of gold. 
Catch the changing of the seasons across the captivating nomadic land, with fall foliage particularly stunning in the Bogd Khan area and Gorkhi-Terelj National Park. Autumn in Mongolia arrives a little earlier than the other places on this list. So, if your September is relatively free, why not fly to one of the most under-the-radar autumn spots in Asia?
Best time to experience fall foliage in Mongolia: August – September
5. Jeju Island, South Korea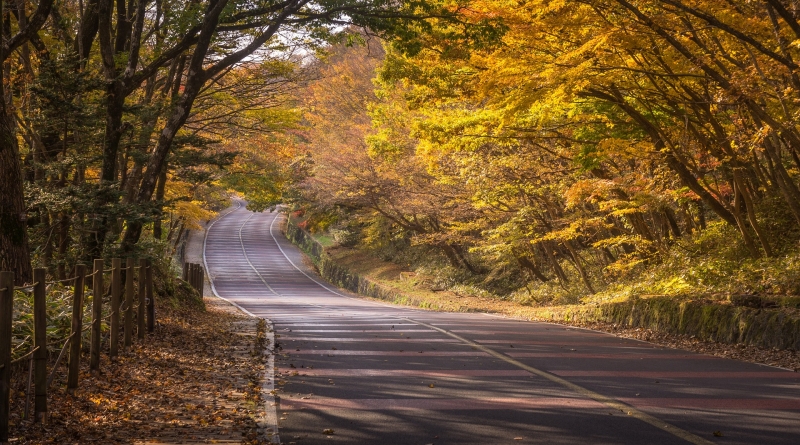 For now, we still need a visa to travel to most parts of South Korea. But there are a couple of visa-free Korean destinations where Filipinos can frolic amidst fiery autumn leaves — Jeju Island is one! Beautiful sandy beaches and the pretty countryside make it a long-time domestic favourite for summer, but the island is also the postcard image of fall! 
Kick through rust-coloured leaves and snap photos of the golden countryside. Popular autumn spots on Jeju Island include Hallasan Mountain, Cheona Valley and Cheona Forest Path, and the 1100 Altitude Wetland. 
Best time to experience fall foliage on Jeju Island: October – November
Also read: How Filipinos Can Visit Jeju Island & Gangwon Province Visa-Free
6. Jeolla-do, South Korea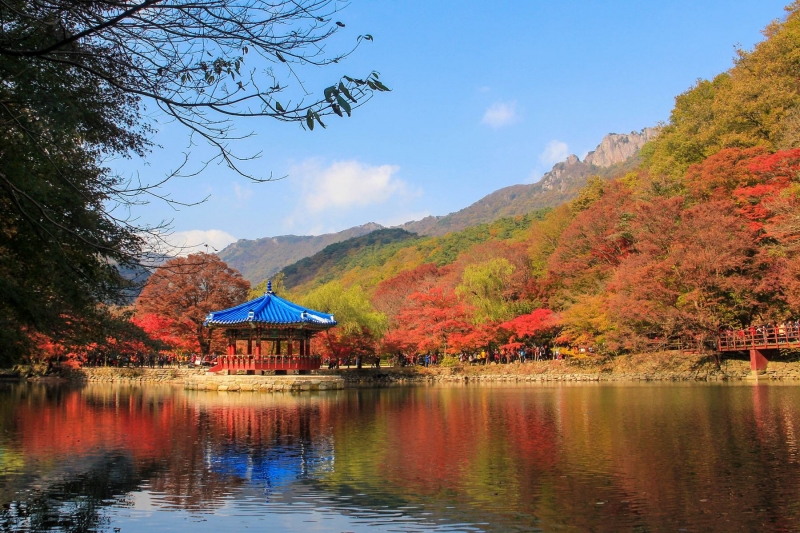 Naejangsan National Park in Jeolla-do is beautiful all year round, but never more so than in autumn. Blazing red leaves, mountains coated in golden trees, and stunning waterfalls create a striking vision that makes the park one of the most famous, if not the most famous, fall foliage spots in the country. Even better, Filipinos travelling in groups can visit this gem quite easily; Jeolla-do is one of the few visa-free destinations in South Korea.
Best time to experience fall foliage in Jeolla-do: September – November
Also read: Jeolla-do, South Korea Visa-Free Entry: Qualifications & Requirements
7. Canada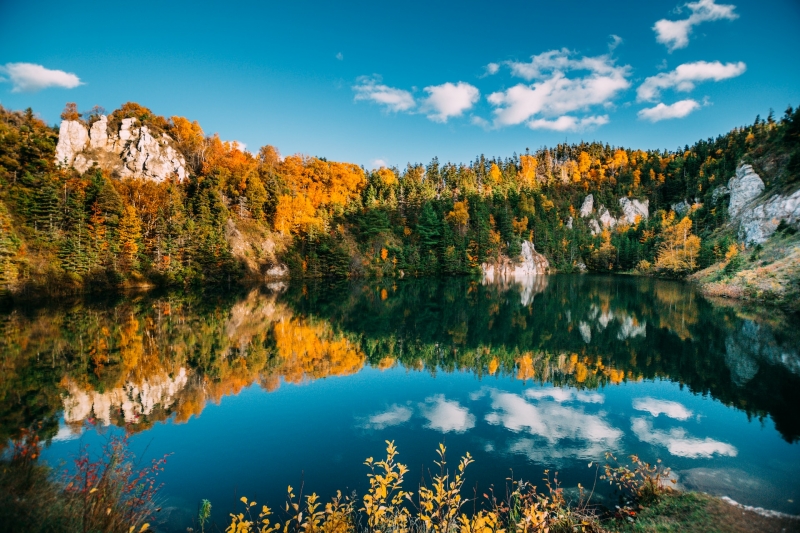 Go north if you're willing to venture further than Asia. Travellers itching to experience the gorgeous colours of autumn can fly to Canada and witness some of the most stunning natural vistas in North America explode into fiery hues. On top of our hit list? Cape Breton Island in Nova Scotia, Algonquin National Park and Niagara Falls in Ontario, Mont Tremblant in Quebec, and Jasper National Park and Banff National Park in Alberta.
When it comes to fall foliage destinations, this is easily one of the best autumn spots Filipinos can enjoy visa-free. Just keep in mind that not every Filipino can skip the visa when going to Canada. But if you're eligible, don't skip this one on your leaf-peeping tour. 
Best time to experience fall foliage in Canada: September – October
Also read: FYI, Canada Is Now Visa-Free to Eligible Pinoys
Whether you're planning this year's fall foliage trip or next year's, we suggest you start with this list of visa-free destinations. Trust us: Your Instagram feed will thank you!