Contributed by Abby Almagro
If you've been to Thailand more than once, you've probably already done a couple of temple tours, city tours or adventure tours. The first time you visit, the fast-paced way of tourist-ing is the best way to get your money and time's worth.
When you're a frequent traveller, however, you start to look into what a place has to offer beyond traditional tourist attractions, whether it's to meet and simply hang out with locals, volunteer and teach at local schools, or pick up a new skill you otherwise wouldn't have learned in your home country.
Also read: This is What It's Like to Ride a Sleeper Train to Chiang Mai
One of my favourite activities whenever I travel is joining classes and workshops. While there can be tons to choose from, I usually go for ones that are not easily accessible or just too expensive back in Manila.
Here are three alternative activities you can do while in Chiang Mai. These are classes I have tried myself and highly recommend.
1. Fruit carving at Boom's Fruit Carving Class
If you think binge-watching food videos before you sleep is a type of lullaby, you would have already come across at least one of the hundreds fruit carving videos out there. Watching patterns being carved onto fruits has its hypnotising effects! Why not learn to do it yourself?
I came across Boom's Fruit Carving Class online and a lot of people said it's great no matter the experience level. As someone who usually cannot be trusted with kitchen knives, I came out of this proudly with no injuries.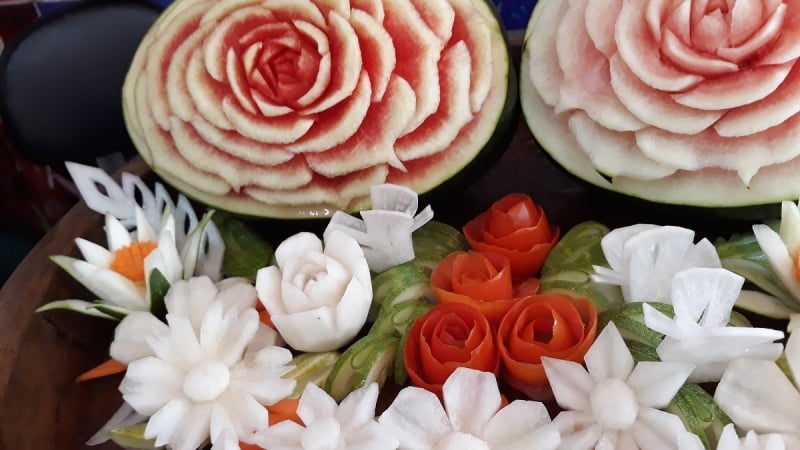 Boom was a fantastic teacher and she patiently taught me how to carve a watermelon, carrots, cucumbers, radishes, and tomatoes into roses, flowers, leaves and butterflies — all in just three hours.
The classes are private and can accommodate up to three participants, with morning and afternoon classes on each day of the week.
A three-hour class session costs ฿1,500 (₱2,400) and includes free pickup from your hotel in a private car, the required materials, and refreshments.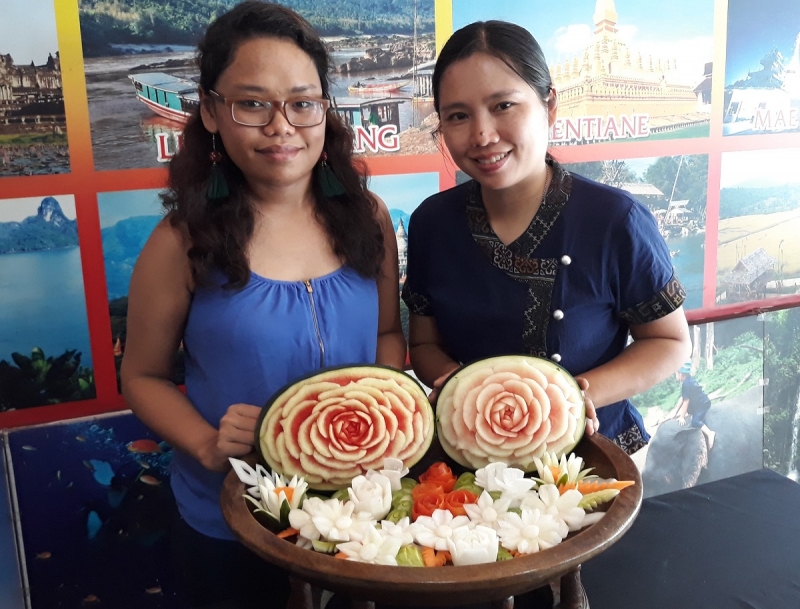 If you want a longer class, two consecutive sessions are offered for ฿2,200 (₱3,500) with at least two participants. If you're taking the full-day class alone, the rate is ฿3,000 (₱4,800).
For reservations, just email Boom directly at [email protected]. Advanced payment is not required.
Address: Boom Travel Agency, 314 Chang Moi Road, Muang Chiang Mai
2. Painting at Noina's Art Studio
This is one of the cheapest painting classes I've attended at only ฿500 (₱800) for a three-hour session.
The art studio doubles as a gallery and has paintings lined up all over the walls. The open-air studio is spacious and can hold a class size of 15 participants comfortably with tons of leg room.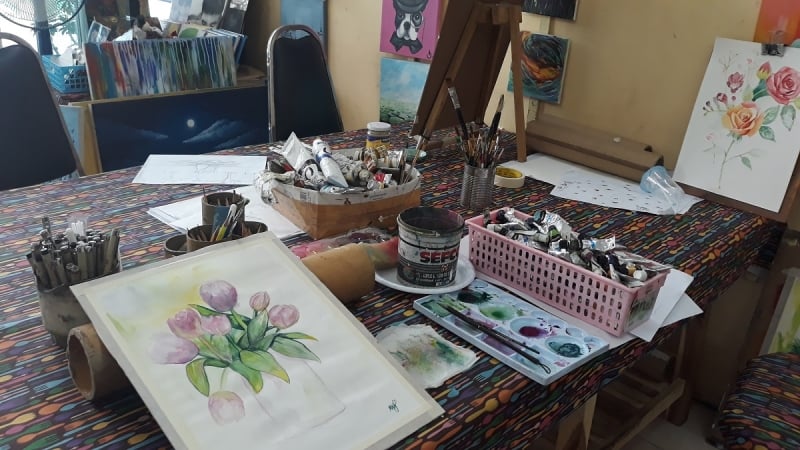 Noina herself is a good instructor. It was my first try at watercolour painting and I was pretty happy about my work. Noina gave me enough guidance whenever I felt stuck but also gave me space to experiment on my own. She teaches basic sketching, portrait drawing with charcoal powder, watercolour painting, oil painting, acrylic painting, mixed media, and more.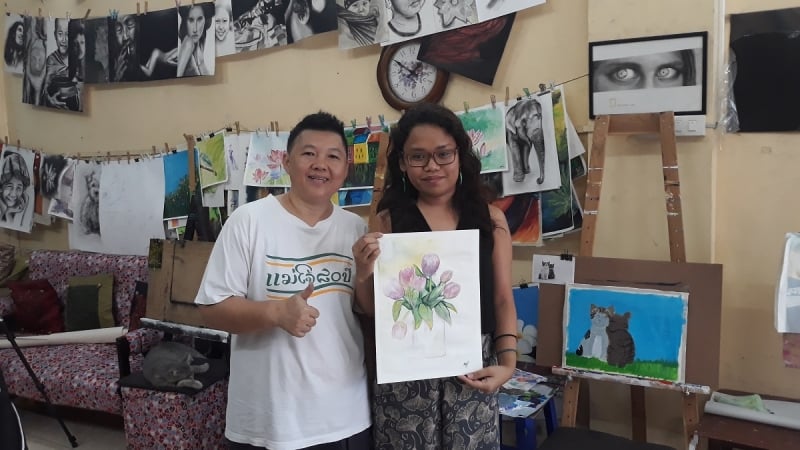 The class rates range from ฿400 (₱650) for two hours to ฿6,000 (₱9,600) for 40 hours. If you want to reserve a spot, send Noina Art Studio a message on her Facebook page.
Noina's Art Studio is open from Monday to Saturday at 9am to 5pm. Paypal and on-site payments are accepted. Beginners are also welcome to participate.
Address: 315 Moon Muang Road, Lane 9 T. Sripoom A. Muang Chiang Mai
3. Weaving at Thai Tribal Crafts Fair Trade
I was most excited about this class because I've always wanted to learn how to weave. Learning the traditional weaving methods of the Lau tribe from a tribal instructor was just the cherry on top!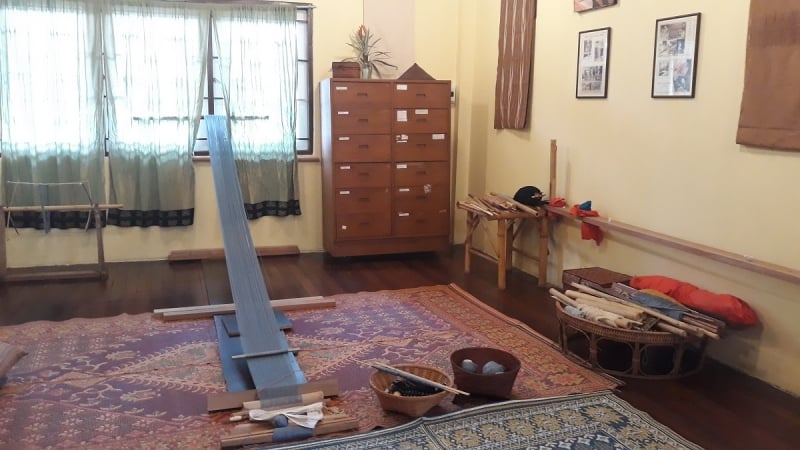 During the three-hour course, you'll learn each step of back-strap weaving. A translator is present during all classes so you don't have to worry about the language barrier.
Thai Tribal Crafts Fair Trade organises these classes every Tuesdays and Thursdays. Since they limit the class size to three students per session, it's mandatory to make a reservation beforehand.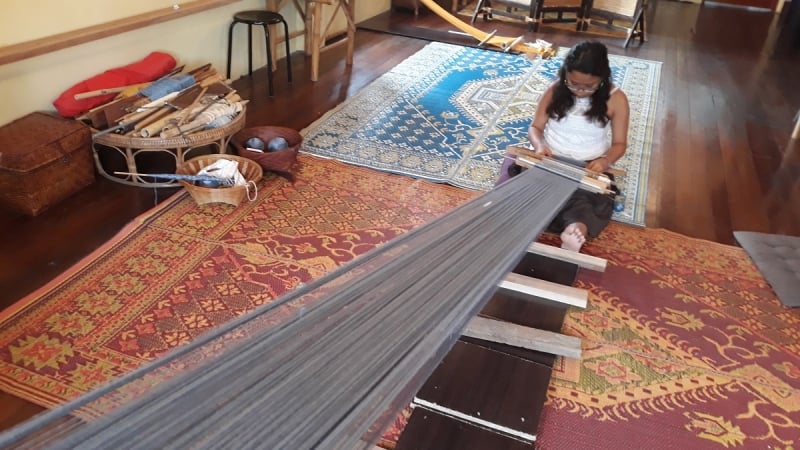 Each session costs ฿1,200 (₱1,900) inclusive of refreshments and a free gift. For a full-day class, you can book two consecutive sessions for ฿2,200 (₱3,500).
For reservations, you can send a message on their Facebook page. Advanced payment is required and not refundable.
Address: 208 Bamrungrat Rd., Chiang Mai
Also read: Our Experience Inside the Elephant Jungle Sanctuary in Chiang Mai
Try looking for workshop-friendly websites that have information on classes available in any area. Afterwards, google your chosen class and search for contact information. Booking the classes directly with their providers is usually cheaper than booking through third-party sites.