Contributed by Just Go Abby
I remember during my first ever trip, which was a solo overseas travel in Bangkok, Thailand, I did a lot of impractical mistakes. I was alone, amateur and scared so I booked my hotel near the airport which is far from the city centre and tourist sites. I got on taxis that overcharged me. I didn't invest in mobile data and just relied on people for directions which was unsuccessful since English is not that widely spoken. I didn't do much research that resulted in disappointment. I didn't see a lot of tourist sites and I didn't learn much about the country's culture.
As time passed, I learned more practical ways to enjoy travelling without breaking the bank but still being engaged in the culture of the place I am travelling in. Travelling for three years now and having lived overseas for six months, I learned that there are places that are meant for beginners and places for experienced travellers. Countries wherein English is widely spoken and that have organised transportation system can be very convenient to travel. However, these countries can also be more expensive. So, when my friend and I did our backpacking in Southeast Asia starting in Ho Chi Minh City in Vietnam, I found out that this city can also be a good option for first-time travellers.
Ho Chi Minh, formerly known as Saigon, is a city in the southern part of Vietnam. It is named after the late Prime Minister and National Hero of Vietnam, General Ho Chi Minh. This bustling city doesn't only offer skyscrapers that light up the city at night, but it is also rich in historical and cultural sites and is home to flavourful Vietnamese delicacies.
Also read: 3 Countries, 4 Girls, 5 Days with Less Than ₱10k Budget Each
During our stay here, I noticed how convenient it is to travel around the city. Although English is not widely spoken, the people are helpful when it comes to giving directions. Bus routes on the GPS are accurate and updated. So if you are a beginner in travelling who's looking for a mix of traditional and modern environment, then Ho Chi Minh is for you.
The airport is luckily near the city and has a well-organised taxi system. You can approach any of the booths offering taxi services to your hotel with a fixed price of ₫210, 000 (around ₱500). If you have an Uber or Grab application on your smartphone, there's also no problem because Uber and Grab vehicles are just around.
Where to stay
I suggest you stay in Bui Vien, District 1 where most of the backpackers are. It is 30 minutes away from the airport by taxi. One advantage of staying here is that it is near the tourist sites, has lots of cheap restaurants, street food, and lively bars and clubs. There are also a lot of budget accommodations, tour agencies, money changers in this area. We spotted a cellphone shop here that sells sim cards and where you can register your sim for a mobile data plan that only costs ₫110,000 (₱220), unlike other stores that sell them for ₫200,000-450,000 (₱400- 900).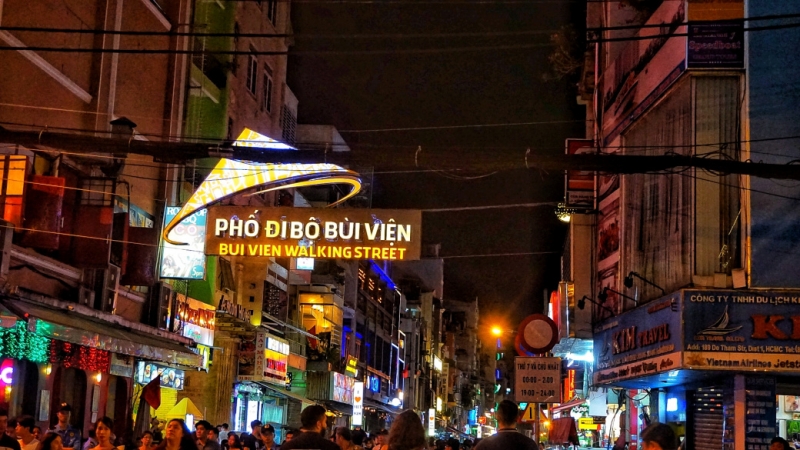 Tip: Get a MobiFone sim card for ₫40,000 (₱80) and load it with ₫70,000 (₱140). Register for a 1.6GB data plan for one month by typing M70 and send it to 999.
Places to visit
We started our trip by doing a historical tour of the city. Equipped with a GPS, we left our hostel and walked to Notre Dame Cathedral Basilica of Saigon, Ho Chi Minh Central Post Office, Ho Chi Minh City Hall and Independence Palace. We visited them consecutively since they are next to each other.
Notre Dame Cathedral Basilica of Saigon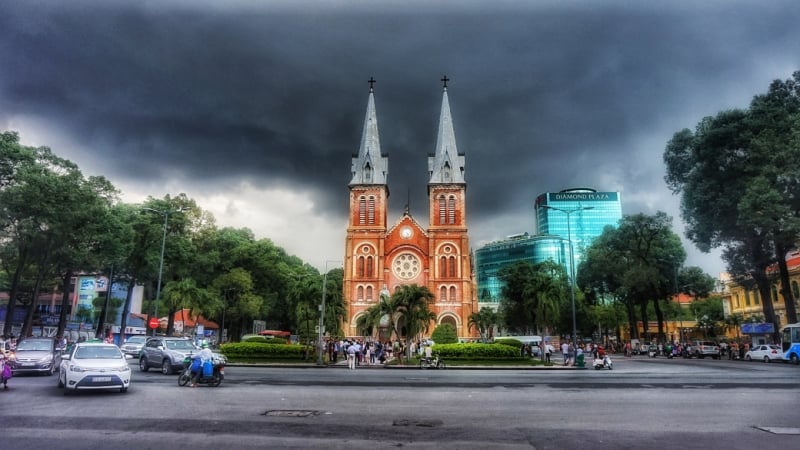 This iconic landmark of the city built by the French colonisers is located in downtown Saigon. The orange-coloured cathedral is open daily from 5.30am to 5pm. However, with an ongoing renovation that will last until 2019, visitors are not allowed to enter for safety purposes.
Ho Chi Minh Central Post Office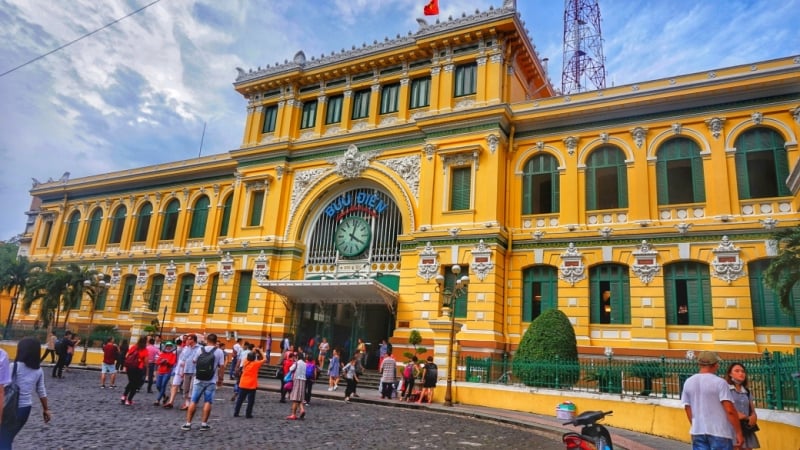 Another French-built structure just beside the Notre Dame Cathedral Basilica of Saigon is the Central Post Office. Although it is a functioning office with busy workers stamping and sorting loads of mails, we were still able to stroll around the building and admire the architecture. On either side of the entrance, there are stores selling souvenir items, postcards and lacquerware.
Ho Chi Minh City Hall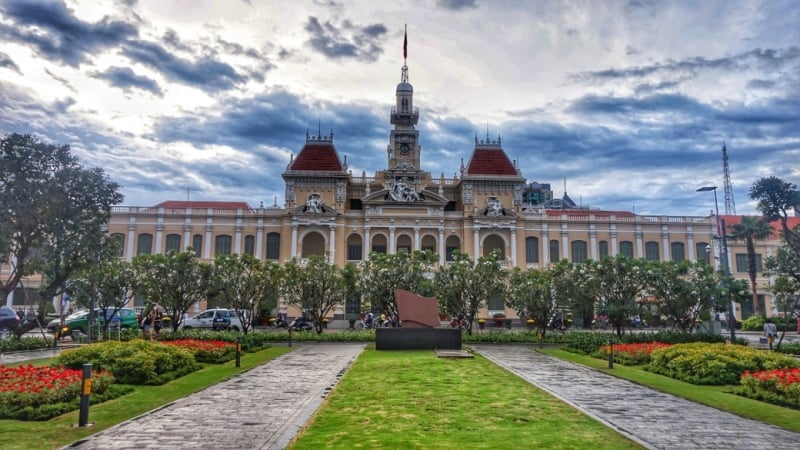 Just a few feet from the Notre Dame Cathedral Basilica of Saigon, we found the Ho Chi Minh City Hall. Built between 1902 and 1908, this European-inspired building is covered with cream and yellowish hues. It was formerly known as Hotel de Ville. But when the communists took over, it was changed to its present name. This place is stunning whether during the day or night, because of the lights surrounding the building. Unfortunately, since it is a government office, it is closed to the public.
Independent Palace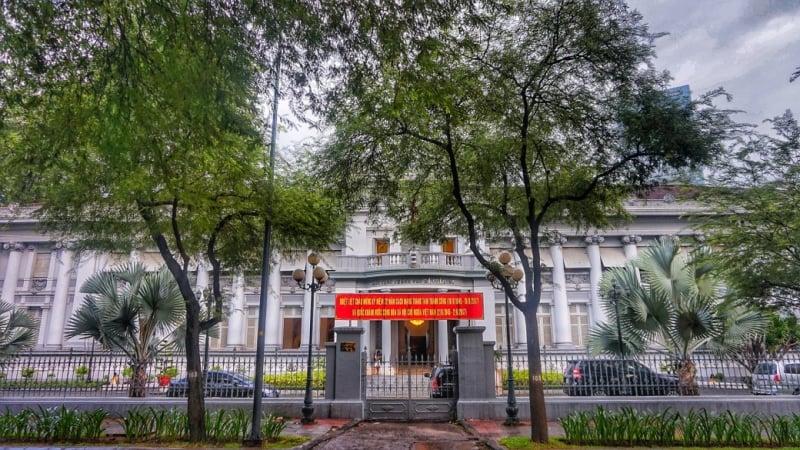 This is originally the home and command centre of the Government General. In 1954, the Saigon government took over the place and renamed it. The palace witnessed a series of historical events involving the political lives of previous presidents. It also underwent massive renovations due to a bombing incident in 1962 and an army tank crashing with its gate in 1975. Now, it is functioning as a museum that features a combination of Western and Eastern architecture.
Entrance fee: ₫30, 000 (₱60)
War Remnants Museum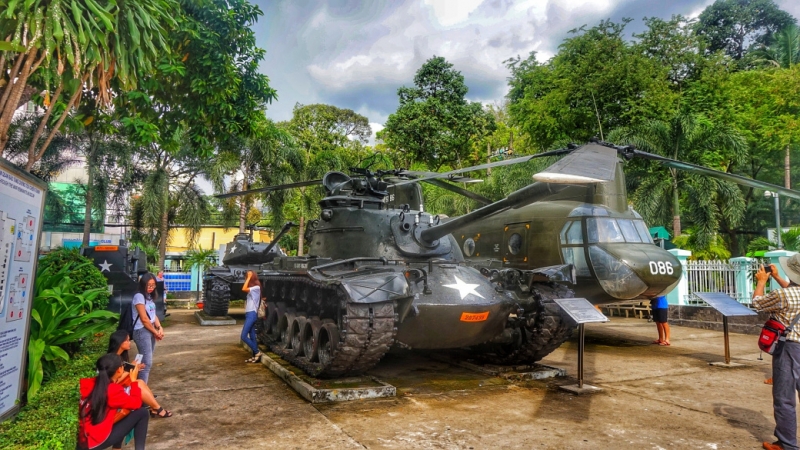 Before I stepped inside this museum, I thought it was just another museum showing the colourful history of Vietnam. However, as I looked around and read the captions in every picture I came across, I learned that this place is dedicated to the saddest part of Vietnam's history, the Vietnam War. Photographs and military equipment are on display in this museum. Documentary videos are played to show what happened during the long and bloody war and its results. Outside the museum, military tanks, helicopters, aircraft fighters and rocket launchers are preserved. One thing that I found very heartbreaking is the part of the museum where they showed photos and videos of the people, especially children, who suffered from "Agent Orange". It's a chemical attack done by the Americans during the war.
Entrance fee: ₫15,000 (₱30)
Turtle Lake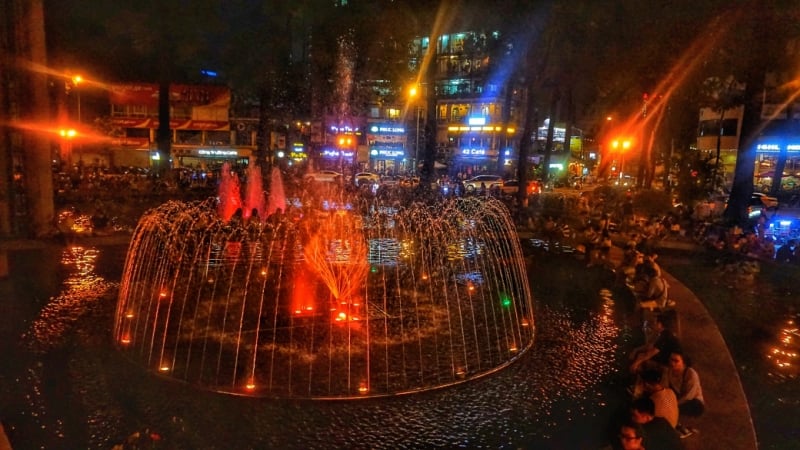 Although there are no live turtles present in this park, people call it Turtle Lake because there used to be a turtle statue in this man-made lake. However, when a group of people bombed this area, the turtle statue was destroyed. At night, this park lights up with a colourful fountain and street food vendors pop up everywhere. I would say this place is popular among locals enjoying the view of the fountain and eating street food after a long day at work or school. It wasn't crowded with tourists when we were there. In fact, I only saw two foreigners beside us trying out some street food.
Binh Tay Market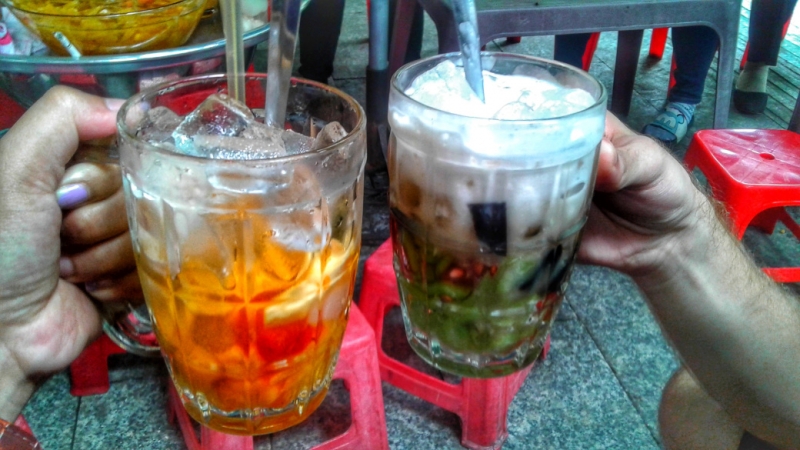 More local food? Head over to District 5 where Binh Tay Market is located. It is in the heart of Chinatown where you can find cheap goods. Recently, the French architecture building started to undergo repairs for its preservation. The stalls are extended outside the building where visitors can still buy souvenirs and taste unique Vietnamese delicacies.
Jade Emperor Pagoda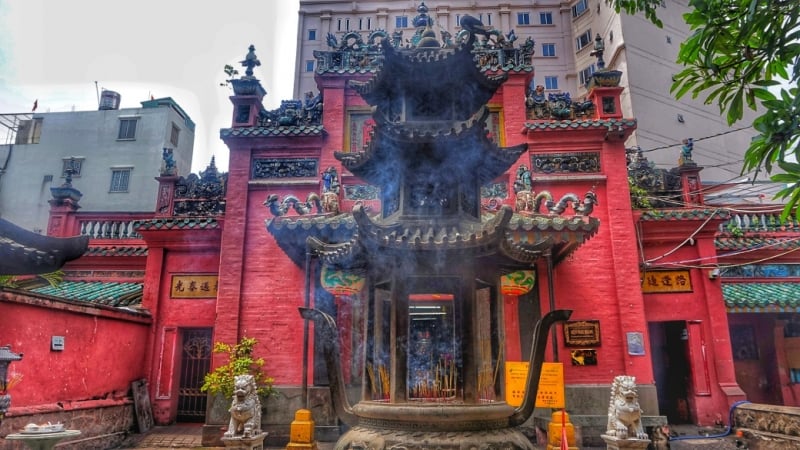 This is the only temple that we visited in this city. Locals visit here to say their prayers. There are not many foreigners visiting this temple and there is no entrance fee. The dress code is not that strict here but I suggest you dress modestly since you are entering a sacred place.
Mekong River Day Tour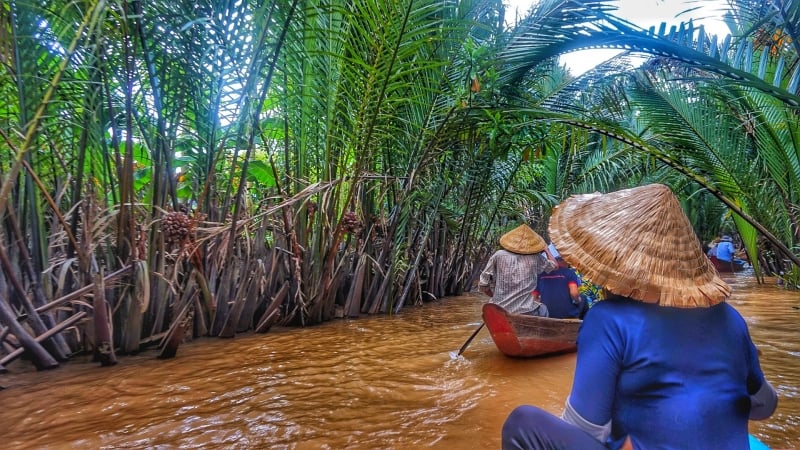 Mekong River is considered the lifeblood of Southeast Asia passing through six countries—China, Laos, Myanmar, Thailand, Cambodia and Vietnam. The mud-brown river also played a big role in the trading history among these countries and continues to be a part of their diverse cultures.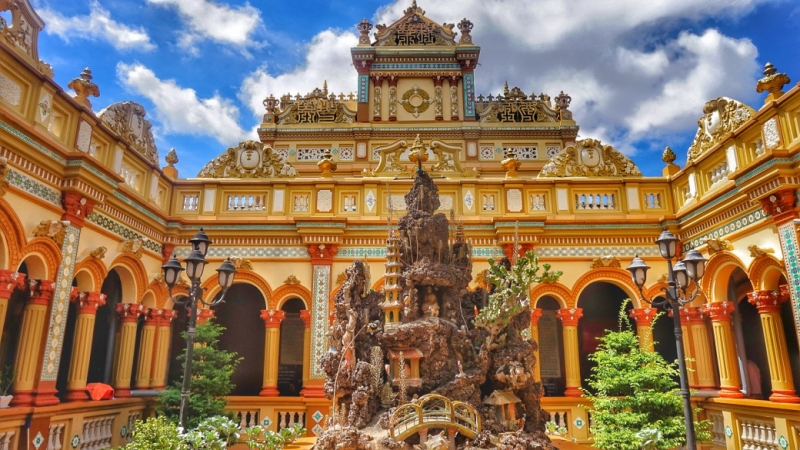 We booked our day tour through an agency near our hotel in District 1. Different agencies vary in the prices they offer, and they normally cost around ₫205,000-800,000 per person. We were lucky to get a deal worth about ₫250,000 which includes free lunch. The tour started at 8.30am when we were picked up from our hotel. We then travelled for an hour and a half going to My Tho, the gateway to Mekong Delta. We had a glimpse of Vinh Trang Temple then we took a boat going to different villages where we tried pure honey, ate tropical fruits, paddled boats and rode horses. We also went to this coconut village where we learned the process of extracting coconut oil and how locals make different products from it.
Also read: My 10-Day Southern Vietnam Backpacking Trip for Less Than ₱15k
Expenses per person
Transportation
Taxi from airport to hotel: ₫210,000 (₱440)
Motorbike from Turtle Lake to hotel: ₫50,000 (₱100)
Bus from Bui Vien District 1 to Binh Tay Market: ₫5,000 (₱10)
Bus from Binh Tay Market to Jade Emperor Pagoda: ₫5,000 (₱10)
Bus from Jade Emperor Pagoda to Bui Vien District 1: ₫6,000 (₱12)
Accommodation
Giang Hotel: ₫450,000 (₱900)
Food
Vietnamese food sold in the street stalls, eateries and convenient stores: ₫1,000,000 (₱2,000)
Entrance and tour fees
Independence Palace: ₫30, 000 (₱60)
War Remnant Museum: ₫15,000 (₱30)
Mekong River Day Tour: $11 (₱550)
Total: ₱4,112
Note: The plane tickets are not included since we returned to the Philippines from Bali, Indonesia. However, we flew to Ho Chi Minh from Manila via Cebu Pacific for ₱2,599 with no check-in baggage.