Last August, I stopped by in New York City (NYC) for a few days during a family trip to America. The main reason we travelled to the United States was to drop my sister off at her dorm to attend university in Connecticut. But we knew the trip wouldn't have been worthwhile if we didn't head to NYC right after. NYC is only a three to four-hour bus ride from Connecticut. You could take a train or plane from Connecticut to New York, but if you don't mind riding a bus for longer hours, it's a cheaper alternative.
I know that four days in NYC isn't a lot, but I didn't mind since this was my third time in the Big Apple already, so I just made it a point to visit the locations and attractions I hadn't been able to before. Here's what I did with four days in NYC.
Day 1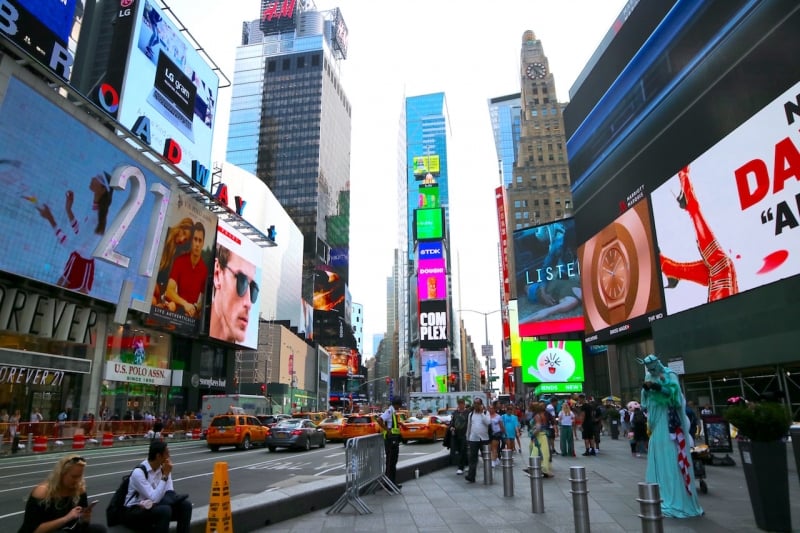 We took the Greyhound bus from New Haven to NYC and arrived early in the afternoon. We used the rest of the day to walk around Times Square before dinner. Our hotel was only a stone's throw away from Times Square, so it was very easy to get there on foot.
12nn – 2pm: Arrive in NYC and check in at

The Hotel at Times Square

The Hotel at Times Square: Queen Room non-smoking, three nights; US$615

2pm onwards: Walk and shop at

Times Square

Stores visited: M&M store and NBA store

7pm: Dinner

We bought food from a convenience store near our hotel and ate them there since we weren't very hungry.
Day 2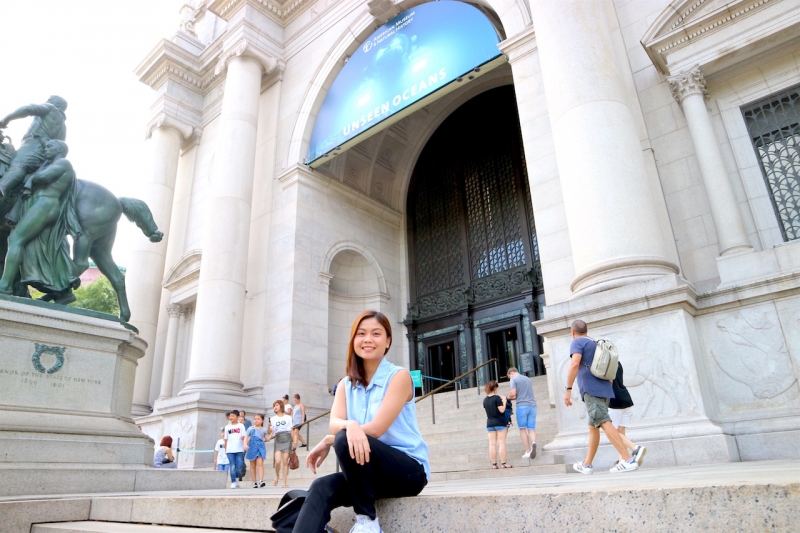 Our second day was dedicated to museums! I was never able to explore the museums in NYC on my previous trips there, so I didn't want to let the third opportunity pass. I had yearned to see Vincent Van Gogh's The Starry Night in the Museum of Modern Art (MoMa), but of course, it was also a privilege to see Claude Monet's Water Lilies and Jackson Pollock art collections. The American Museum of Natural History (AMNH), one of the largest museums in the world that features scientific discoveries, reminded me of my childhood when I would watch Jurassic Park on our VHS (for the zillennials out there, Video Home System is the machine that plays cassette tapes). Seeing all those prehistoric dinosaur relics and fossils made me want to watch the classic film all over again!
8am – 9am: Breakfast at the hotel

11am – 1pm:

Museum of Modern Art

(

11 West 53 Street, New York, NY 10019)

US$25 per adult; buy tickets in advance

here

 

1pm: Ride a Lyft to

Rockefeller Center

1pm – 2pm: Lunch at the

Rock Center Cafe

2pm – 3pm: Ride a Lyft to the

American Museum of Natural History

(Central Park West at 79th Street New York, NY 10024-5192)

US$23 per adult; buy tickets in advance

here

3pm – 5pm: American Museum of Natural History

5pm – 6pm: Ride Lyft back to Times Square

6pm onwards: Dinner and return to the hotel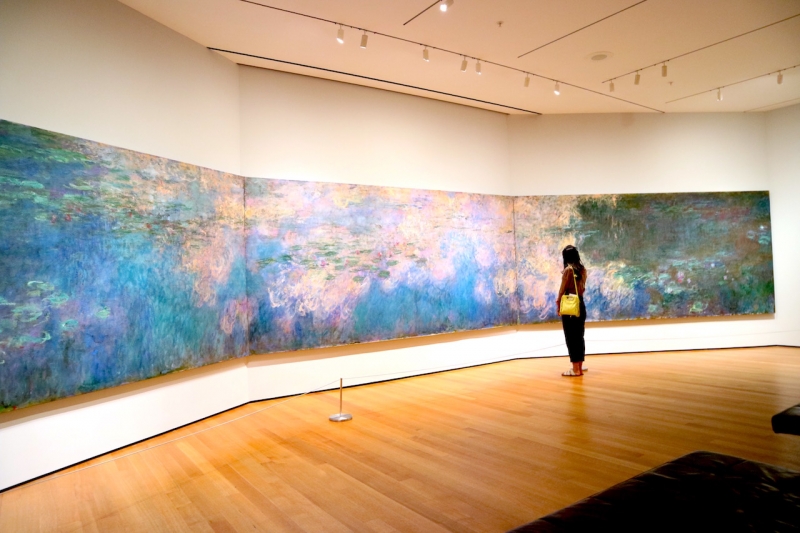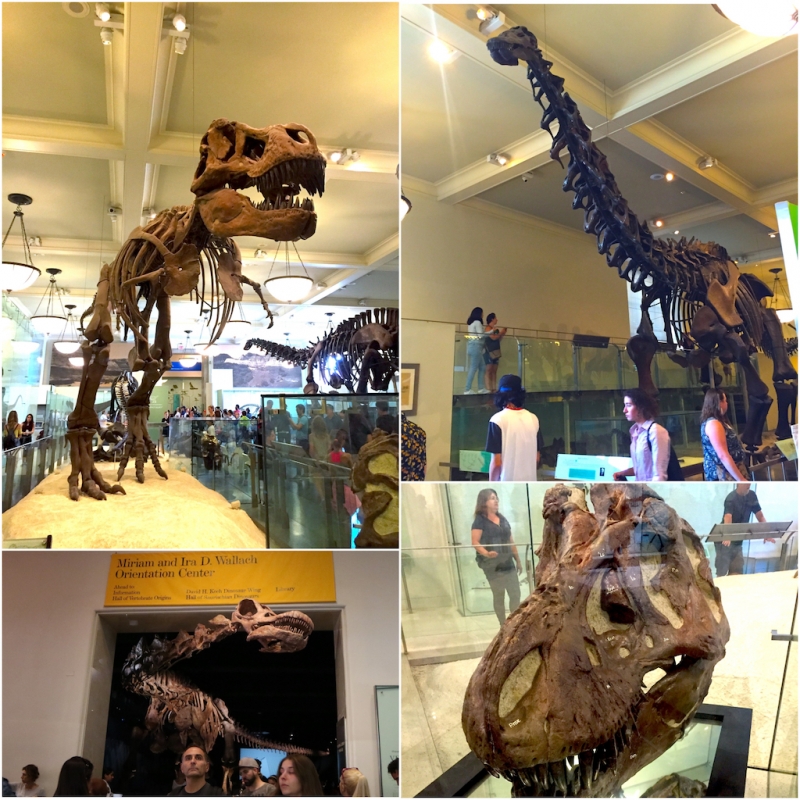 Tip: Download the Lyft app on your smartphones when you're visiting the USA. It's another version of GrabCar and Uber, but presumed to be cheaper than Uber rides. MoMa is open daily from 10.30am – 5.30pm. AMNH is open daily from 10am to 5.45pm.
Day 3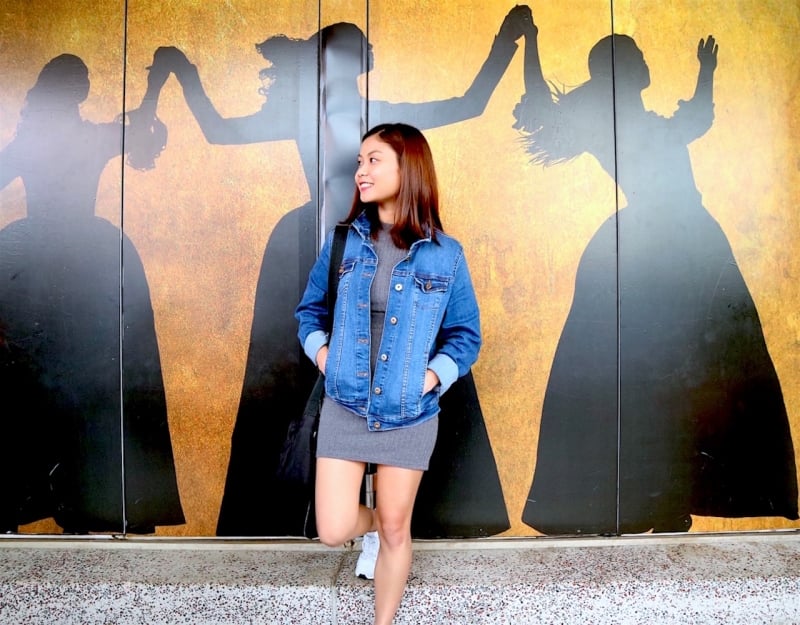 When in NYC, watch a Broadway play. In fact, watch the best Broadway play in existence today. Alright, I may sound biased, but Hamilton is the best musicale created ever since Les Miserables. You'll understand me once you listen to the whole soundtrack. It's such a craze that seats get sold out several months to a year early. We bought our tickets approximately four months prior to our trip. Fortunately or unfortunately, we were still able to bag some tickets, but had no choice but to purchase the few available seats left which were in orchestra. Ergo, they were indeed expensive.
But what else does a girl have to visit in the city that never sleeps? Ah yes, Sephora. I wasn't able to take photos in Sephora though. I was too preoccupied checking out all the makeup brands!
9am-11am: Breakfast at

Barnes & Noble's Starbucks

(

555 5th Ave, New York)

11am -12nn:

Sephora

 (580 5th Ave #1, New York)

12nn – 1pm: Walk back to the hotel and eat lunch

1pm – 2pm: Walk to the Richard Rogers Theater and wait in line to enter

Our hotel was only a six-minute walk to the theatre

Viewers usually stand in line an hour early even with reserved tickets

2pm – 4.30pm –

Hamilton An American Musical

(Richard Rogers Theater)

6pm onwards – Dinner at Ipanema Restaurant (

43 W 46th St, New York)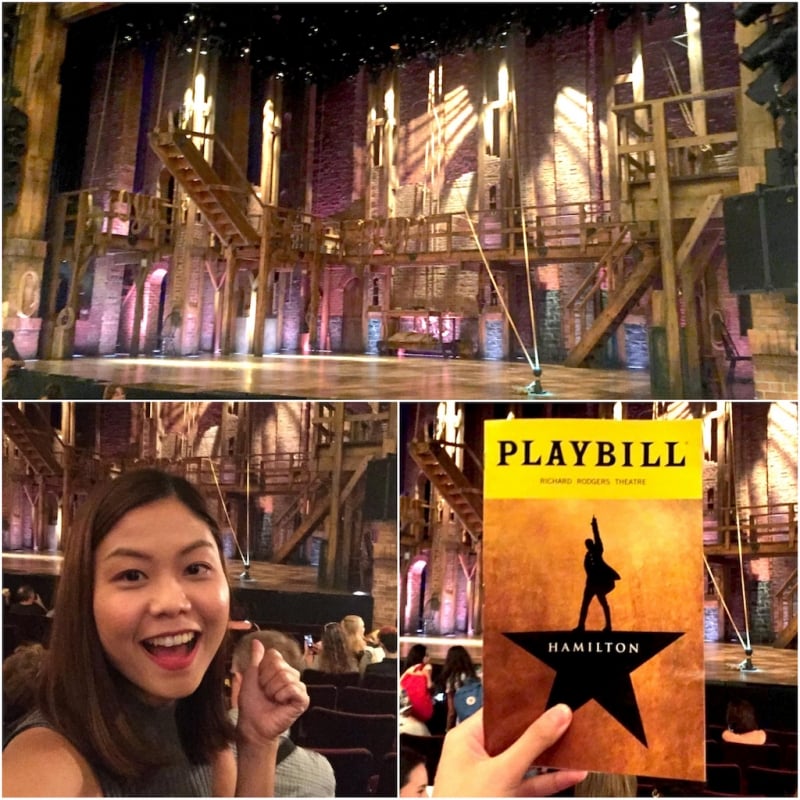 Tip: Book Broadway tickets months ahead, and preferably a year ahead if you're watching a relatively new musical like Hamilton, Anastasia, and Frozen, so that you won't run out of cheaper yet good seats.
Also read: 7 Must-Watch Broadway Musicals in New York City Today
Day 4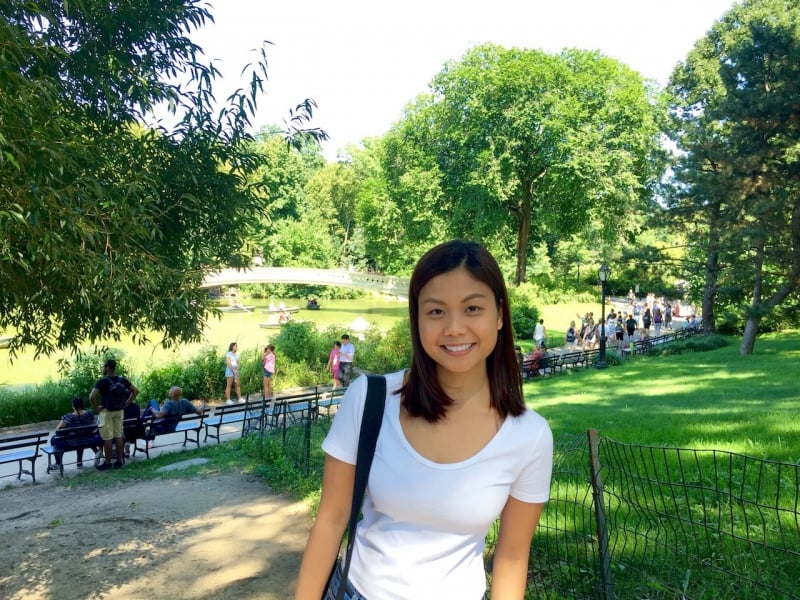 We flew out on the fourth day, but we still had time to stroll around since our flight was late at night. We didn't follow a schedule because we had free time for the rest of the day. We went back to Sephora for the last time, ate in the Rock Center Cafe again, then took a pedicab tour in Central Park in the afternoon.
am – Breakfast and shop at Sephora

nn – Lunch at Rockefeller Center and return to the hotel to check out

pm –

Central Park

pedicab tour

pm – Stay in the hotel lobby to kill time before flight

9pm – Ride a Lyft to JFK

1.35am (next day) – Flight to Hong Kong connecting to Manila
I've been to NYC three times now but you can never run out of things to do. From the long list of Broadway plays, the panoramic view from the Empire State Building at different times of the day, the wax figures in Madame Tussauds, the various stores in Times Square, all the Central Park tours, to the hop-on-hop-off buses among other notable attractions, you would understand why people call this the City that Never Sleeps.
Also read: What to Expect When Travelling to New York: Expectations vs Reality
To add a bit of realism though, NYC is a busy city. It's a fast-paced city. And it's a crowded city. Not all tourists would be keen on such a destination. But in all honesty, the towering buildings and bright city lights are enough for you to have fond memories of NYC until the time you come back. As Alicia Keys sings in Empire State of Mind, "Concrete jungle where dreams are made of. There's nothin' you can't do."