When the stress from work and the monotony of daily life gets to us, we can't help but wish for a getaway. We daydream about hitting the beach, witnessing an epic sunrise atop a mountain, going on thrilling backpacking adventures, and savouring gastronomic experiences in a foreign city. But a road trip is not always feasible on a tight schedule — much less a trip out of the country.
Fortunately, you don't have to travel far to take a much-needed break; a staycation is always a great option. Whether you're up for a shopping escapade, restaurant- or bar-hopping, exploring heritage sites in the metro, or you just want to chill in a different environment, these Airbnb homes in Manila can turn your mundane weekend into a special one. 
Also read: 10 Airbnbs in the Philippines That Will Make You Fall in Love
Staycation-worthy Airbnb homes around Manila
1. This modern studio with a sweeping view of Manila Bay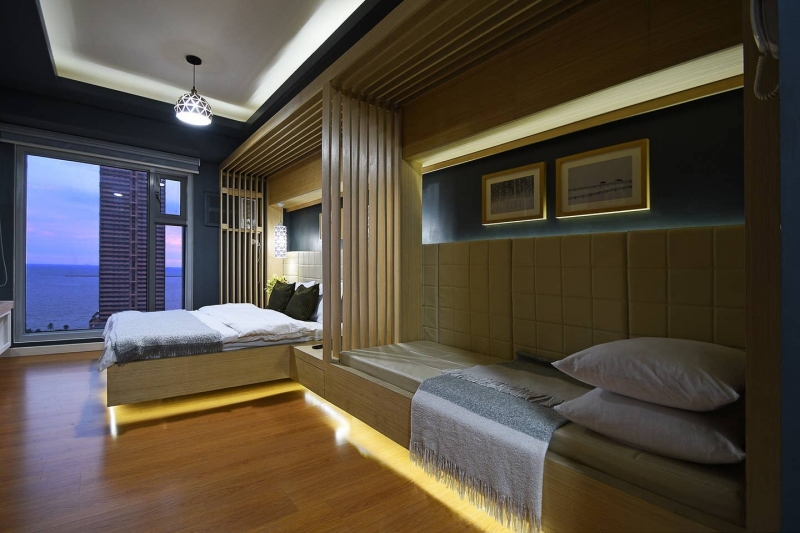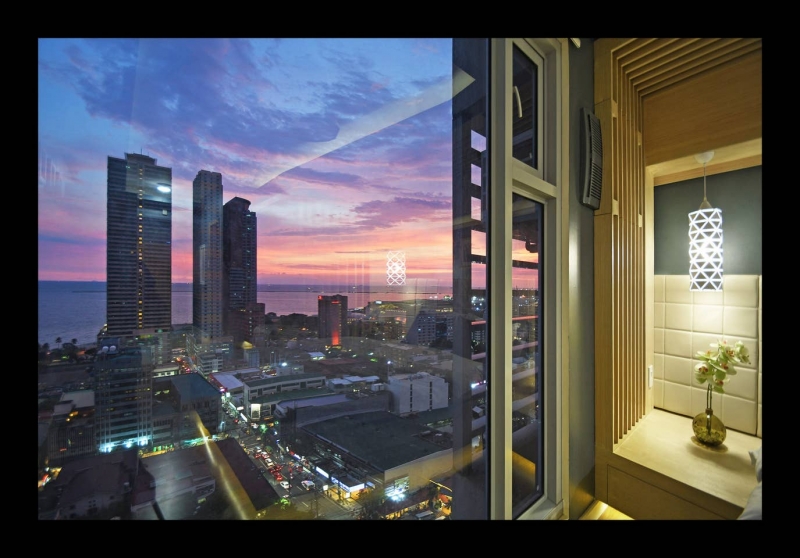 Listing name: Beautiful Manila Bay View near US Embassy Clean 26
Listing type: Entire condominium
Max. no. of guests: 3
No. of bedrooms: 1
Few things are as calming as sunsets, and this Airbnb in Manila provides that perfect spot for a peaceful break. Situated on the 26th floor of a newly built condominium in Malate, this studio apartment is near historical attractions like Rizal Park, the National Museum of the Philippines, and the Walled City of Intramuros. Cap off a day of exploration by taking in the beautiful Manila skyline, just before you hit the comfy queen-sized bed!
Besides being in close proximity to popular sites and a shopping mall, the studio is also equipped with basic amenities, Wi-Fi, a laptop-friendly workspace, and basic cookware and kitchen essentials. Guests can access the condominium's gym and pool, too! Learn more about this Airbnb here.
2. This mid-20th century wooden home in a quiet Manila neighbourhood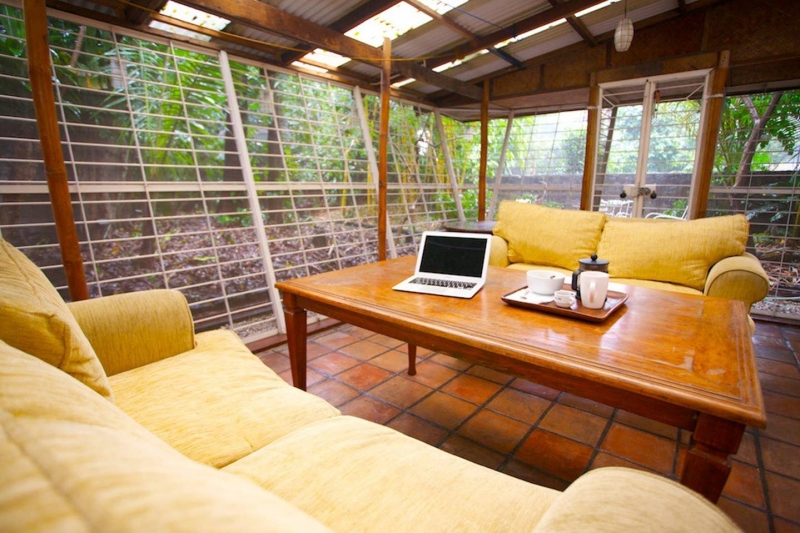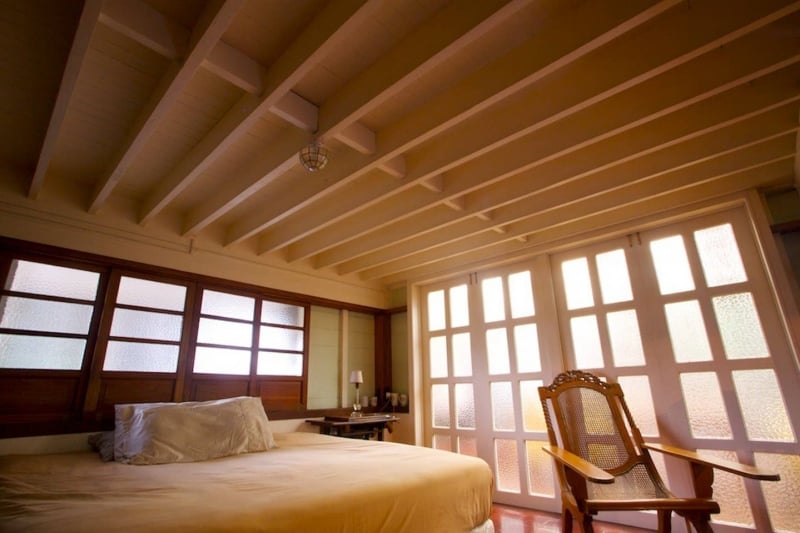 Listing name: Coco's Garden Guest Room Manila
Listing type: Private room in house
Max. no. of guests: 3
No. of bedrooms: 1
If a quiet escape is what you need, this hidden gem straight out of a history book is for you. Furnished with Filipino and American antique furniture like the Ilocano butaka chair (rocking chair), narra hardwood desk, native field hats, and a vintage stove, this American colonial-style wooden home will make you feel like you've travelled back in time.
Snuggle up with a book in the king-sized bed, or enjoy a serene afternoon in the covered patio just beside the guest room. History nerds can also visit the nearby Plaza Dilao, San Agustin Church, or the Metropolitan Museum of Manila. Be sure to catch a free live classical music show at Paco Park if you happen to visit on a Friday! Learn more about this Airbnb here.
Also read: 20 Fun Things to Do in Manila on Your Very First Trip
3. This Instagram-worthy urban loft in the heart of Makati CBD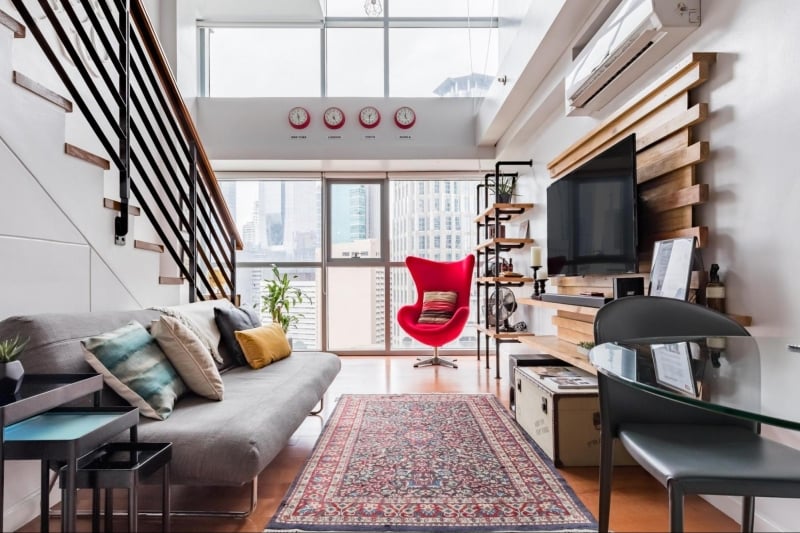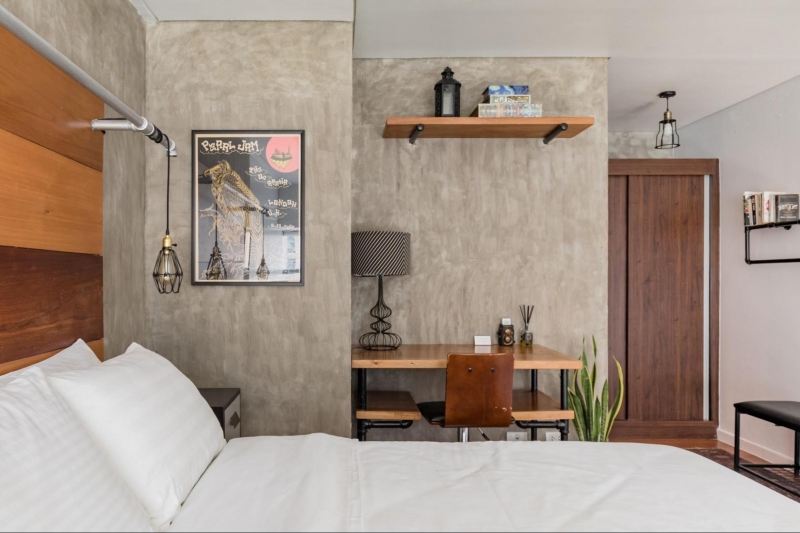 Listing name: Alto Retro: New York Inspired Urban Loft Greenbelt Makati
Listing type: Entire loft
Max. no. of guests: 3
No. of bedrooms: 1
An Instagram-friendly loft that'll transport you to New York? Sign us up, please!
Industrial meets retro in this urban Airbnb in Manila. The living room, which features custom wood furniture, Turkish carpets, '60s pop art accents, and plenty of natural light looks like something out of an interior design magazine. Stream Netflix via the smart TV, or open the complimentary wine and dance the night away with music playing through the Harman Kardan speakers.
A large bed, fluffy pillows, and complimentary pillow mist promise great sleep. In the morning, you can fix yourself some coffee via the espresso machine or the French press. Covered or open pool areas are available if you're up for a swim — plus, there's also a gym if you don't want to miss your daily workout! Learn more about this Airbnb here.
Also read: 10 Coolest Airbnbs in Makati for Your Next Staycation
4. This charming home in Makati's oldest neighbourhood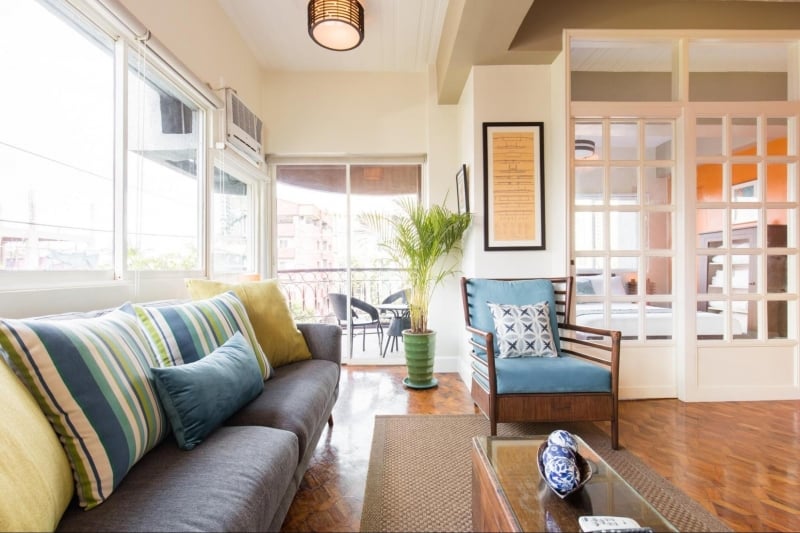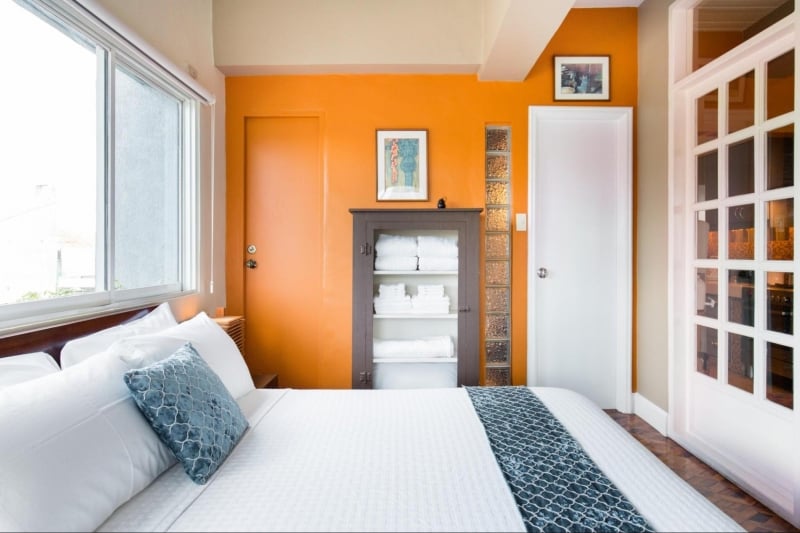 Listing name: Light-Filled Zen Sanctuary in Historic Neighborhood Balcony
Listing type: Entire apartment
Max. no. of guests: 2
No. of bedrooms: 1
With an active food scene and an even more active nightlife, it's hard to imagine a quiet break in the trendy neighbourhood of Poblacion, Makati. But this Airbnb promises just that! French doors lead to the bedroom, where a queen sized bed and room darkening shades assure comfortable sleep. Meanwhile, zen lamps, vintage and contemporary furnishings in natural colours, and large glass windows make this homey apartment a well-lit space.
The Fisher & Paykel designer fridge stands out in the kitchen. Coffee beans, a coffee grinder, and a coffee maker are available — so you can sip your freshly brewed coffee as you take in panoramic city views on the patio! Learn more about this Airbnb here.
5. This luxurious and spacious apartment in BGC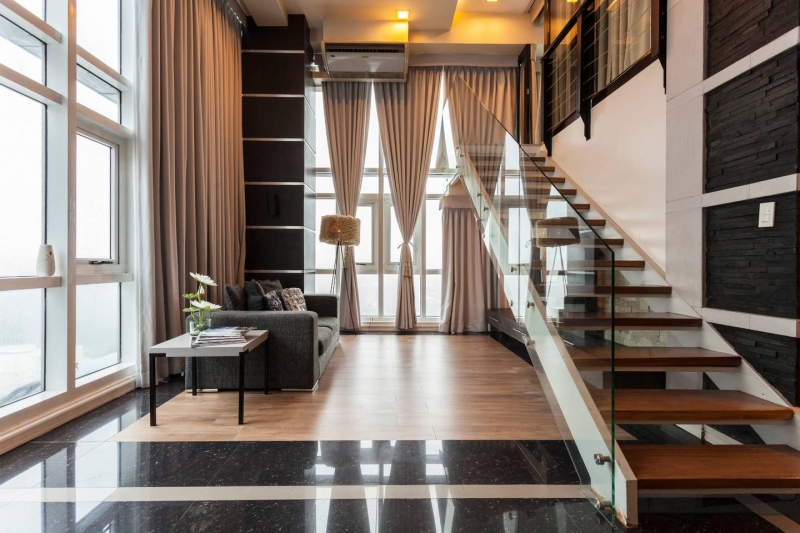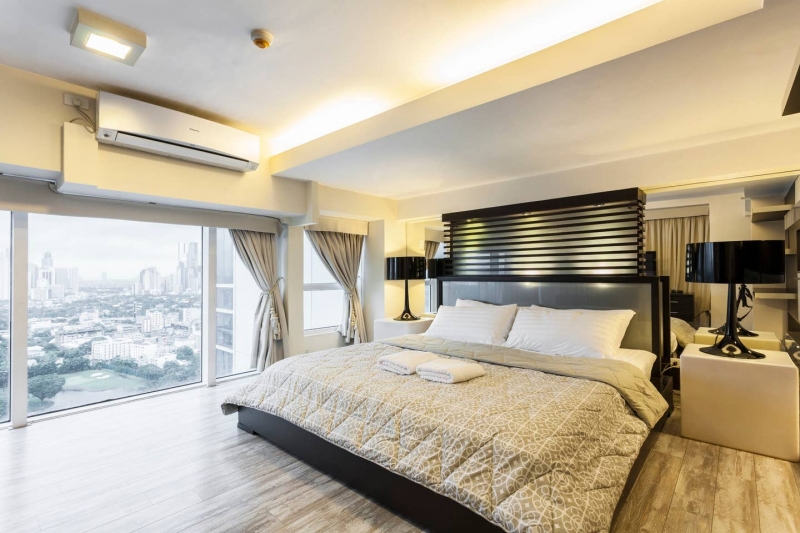 Listing name: 158sqm Amazing View BGC Loft+wifi, SmartTV,cable TV
Listing type: Entire loft
Max. no. of guests: 6
No. of bedrooms: 2
Ready to splurge? Gather the family and spend a fab weekend at this designer loft that will make you feel like you're staying in a five-star hotel. High ceilings, a grand living room, accents in neutral colours, and a spacious walk-in closet lend this Airbnb in Manila its luxurious vibe. Its large glass windows give you amazing views of the city, too!
This home also has a modern entertainment system and high-speed Internet, so you can catch up on your favourite shows. To add to all that, restaurants, shopping malls, and bars are a short walk away — although it's doubtful that you'd want to leave this space once you're inside! Learn more about this Airbnb here.
6. This homey loft with golf club and Laguna Lake views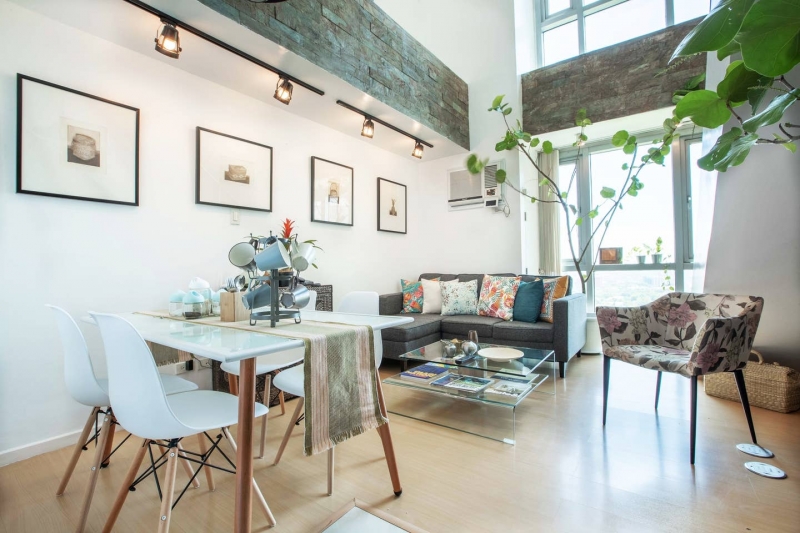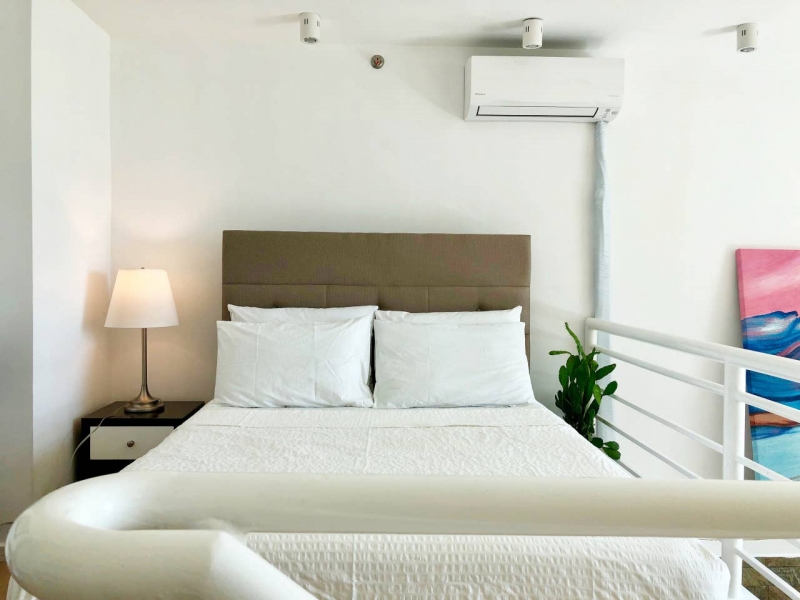 Listing name: Picturesque Loft in BGC w/ Golf Club View
Listing type: Entire loft
Max. no. of guests: 4
No. of bedrooms: 1
A peaceful respite in the fast-paced, bustling district of BGC? At this tropical-designed loft, it's possible. A light-filled, cosy space, this Airbnb has large windows that offer gorgeous views of the Manila Golf and Country Club and Manila Polo Club in the southwest, and the view of Laguna Lake in the east.
The charming living room is adorned with a comfy sofa, artworks by a local artist, a smart TV, and tall and leafy plants that give the place more pleasant vibes. Relax in the queen-sized bed upstairs after a long day, or fix yourself a hearty meal at the fully equipped kitchen. Guests describe the loft as neat and comfy, and host Luigene is known for being accommodating and helpful! Learn more about this Airbnb here.
7. This contemporary condo unit in the heart of the metro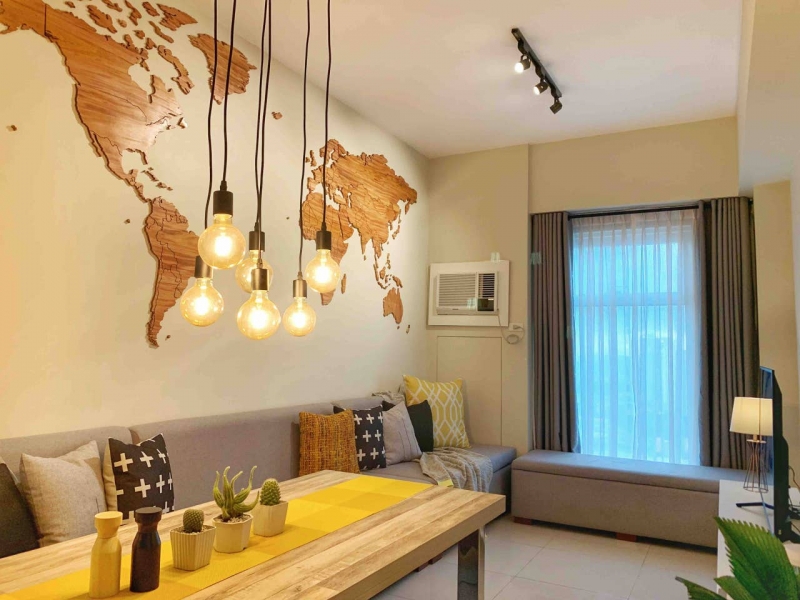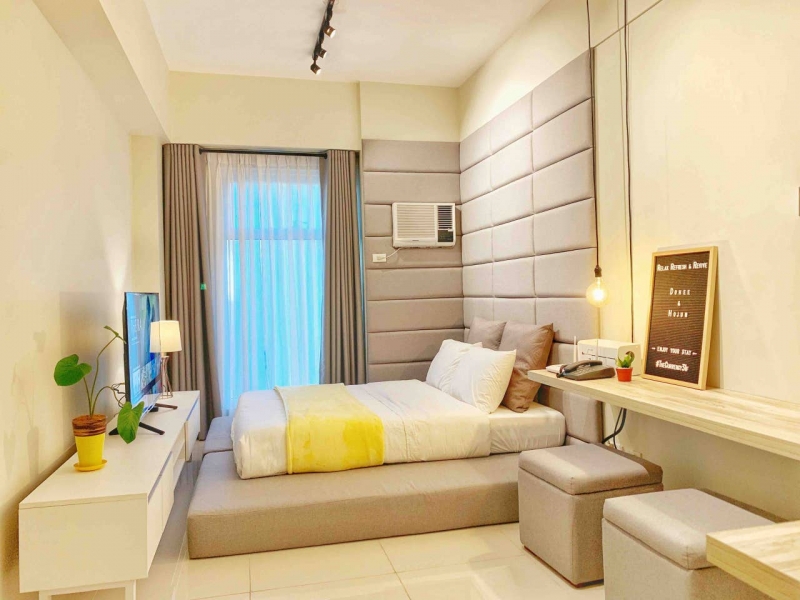 Listing name: Modern & Spacious 1 bedroom 50sqm-unit in Ortigas
Listing type: Entire condominium
Max. no. of guests: 4
No. of bedrooms: 1
The central location of Ortigas makes it a strategic starting point if visiting different cities of Metro Manila. If that's your plan, this one-bedroom Airbnb can be your perfect home away from home.
 Easily our favourite feature, the custom wooden world map brightens up the living room. The bedroom, on the other hand, features a layered bed mattress that can be set up as a queen bed for two with additional double mattresses. Two 50-inch smart TVs (one in the living room and one in the bedroom) are also available at your disposal. The condo's custom interiors and modern amenities certainly make for a comfortable stay! Learn more about this Airbnb here.
8. This bright, tropical home in Quezon City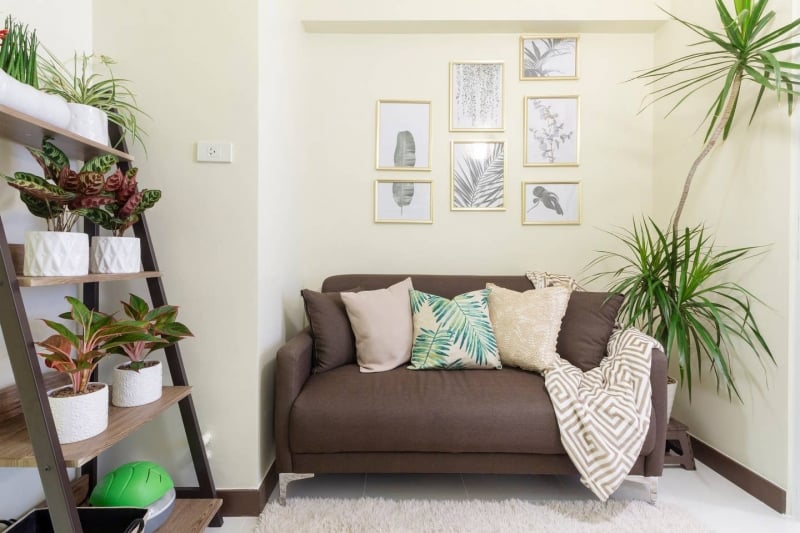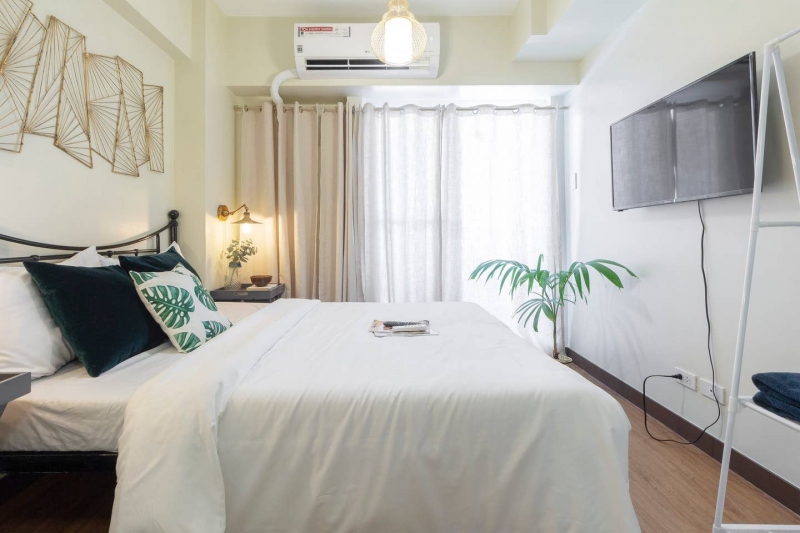 Listing name: Fiber-powered Tropical Oasis
Listing type: Entire condominium
Max. no. of guests: 2
No. of bedrooms: 1
Positive vibes abound in this tropical oasis in Quezon City. The space is peppered with air-purifying indoor plants like the dragon tree and the royal palm tree, as well as lamps and accents in natural hues that give a serene ambience to the space. You'll feel like you're at your own private resort!
De-stress and cosy up on the comfy brown sofa while streaming a movie or series on Netflix. Or, get some well-deserved shut-eye in the inviting bed that's got complete beddings, duvet, fluffy pillows, and velvet throw pillows.
Fancy a home-cooked meal? The minimalist kitchen features complete dining essentials and modern stainless range hood above a single induction stove. The condo is also near Tomas Morato, so you can easily swing by a restaurant if you wish! Learn more about this Airbnb here.
Also read: 7 Metro Manila Restaurants That Will Take You Around the World
9. This cosy studio for gamers and movie lovers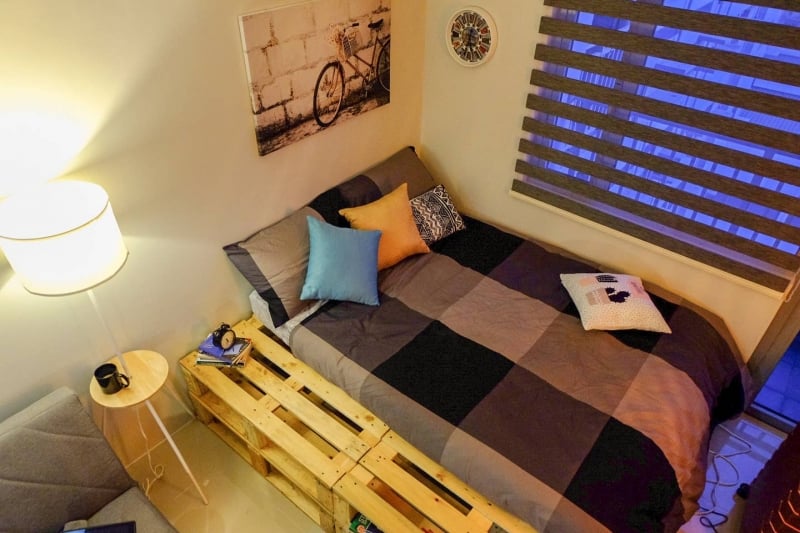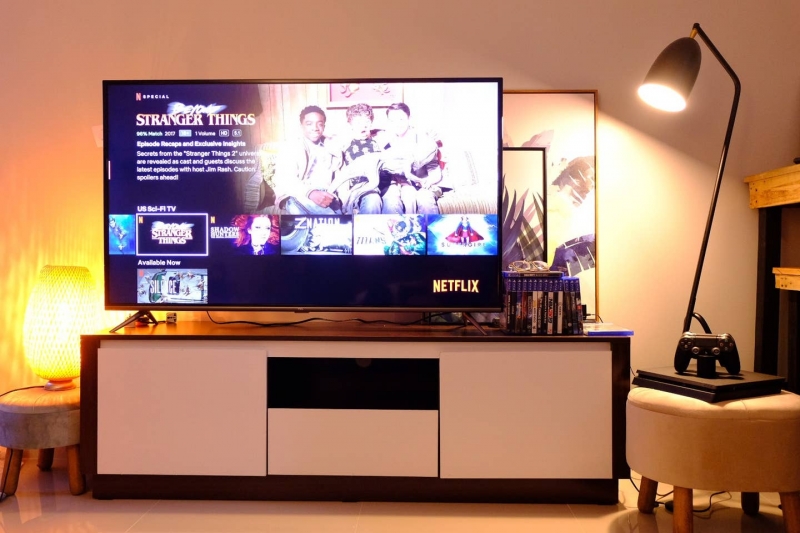 Listing name: BACKPACKERS HUB: Staycation, Movies & Games Hangout
Listing type: Entire condominium
Max. no. of guests: 4
No. of bedrooms: 1
Whether you're a gamer, movie lover, or bookworm, this small but smartly designed Airbnb in Quezon City is the perfect spot to keep yourself entertained.
Enjoy an all-night PS4 battle with friends; games are provided, but you can also bring your own. What's more, you can also binge watch your favourite Netflix shows on the smart TV while having a relaxing foot and calf massage. Plenty of books are available for bibliophiles, too. Care for a swim? Guests may access the Olympic sized pool for a fee! Learn more about this Airbnb here.
Also read: 12 Beautiful Libraries & Bookstores Around Asia
10. This stylish luxury suite down south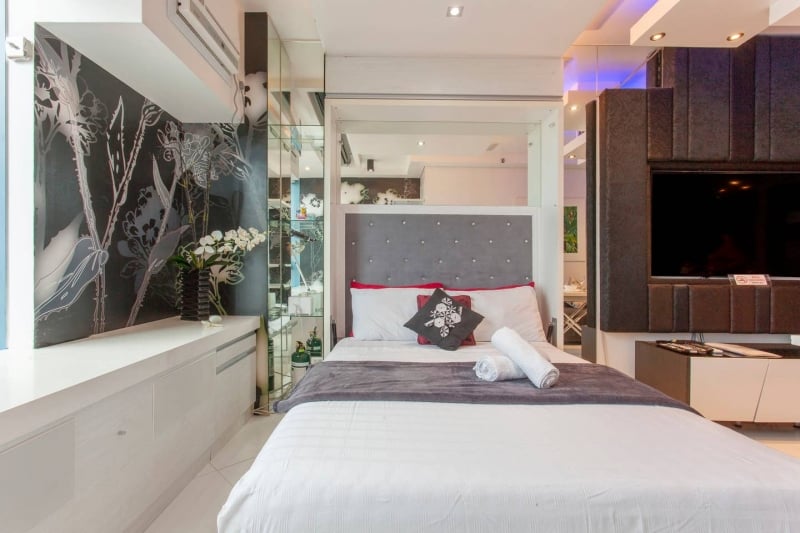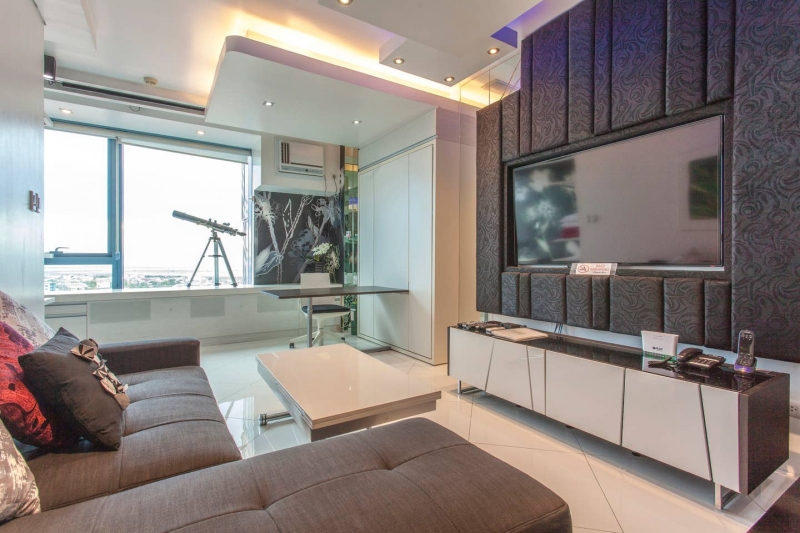 Listing name: Star Suites @Entrata Filinvest Alabang
Listing type: Entire condominium
Max. no. of guests: 2
No. of bedrooms: 1
Function and luxury collide at this smart suite. Furnished with contemporary amenities, the space ensures a stress-free staycation.
This Airbnb's star is the built-in home cinema, which consists of a 100-inch projector screen, HD projector, surround sound speakers, and smart TV. You will no doubt be glued to the sofa bed during your stay! On top of that, we're sure you'll love spending time in the Jacuzzi just before you curl up in the queen-sized bed — which can also be converted into an office table if you absolutely can't resist pulling out your laptop.
Festival Mall is a short walk away, and the condominium is just an hour's drive away from Tagaytay and other day trip destinations down south! Learn more about this Airbnb here.
Also read: 10 Airbnbs for Your Next Barkada Staycation Near Manila
No need to go far to recharge. Detach yourself from the hustle and bustle by taking a staycation at these Airbnb homes in Manila instead. These escape options are just a click away!