As soon as you can travel again, where do you plan to go? We've got our hearts set on the underrated paradise that is Siquijor. With its unpopulated white sand beaches, breathtaking waterfalls, and intriguing stories of witchcraft and mysticism, how could we possibly resist? What's more, the gorgeous and affordable Airbnb homes in Siquijor make it an even more tempting choice!
We can already picture it: saltwater in our hair, sand in our toes, and unending sea views for us to gaze at all day long… Maybe you can't travel right now, but it definitely won't hurt to start planning your itinerary and find the perfect Airbnb in Siquijor. Just bookmark it until you're ready — and once you get the green light, all you'll need to do is book it!
10 must-book Airbnb homes in Siquijor
1. This rustic home set in the middle of nature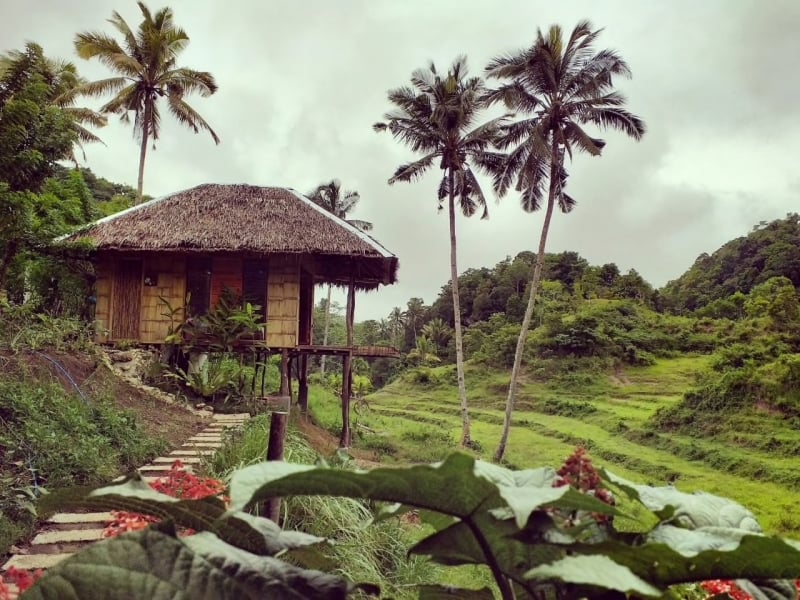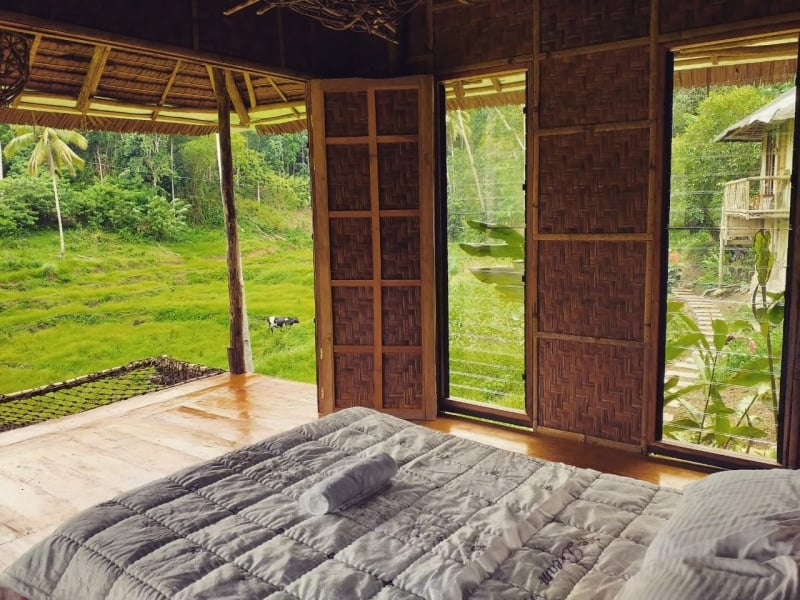 Listing name: mountain views
Listing type: Entire home
Max. no. of guests: 3 
No. of bedrooms: 1
Ever thought you'd love to get away from it all? Perhaps fantasised about escaping to the middle of nowhere and just allowing yourself to relax and recharge? Well, this Airbnb in Siquijor perfectly qualifies as the place to do just that.
A nipa hut set in a field of greens, this home allows you to find peace in the midst of nature. Wake up to enchanting mountain views and fall asleep to sights of fireflies dancing at night — now, doesn't this sound like the epitome of bliss? Learn more about this Airbnb here.
Note: As this home is situated away from the city centre, we recommend renting a scooter and coming equipped with snacks!
2. This Instagrammable beachfront glampsite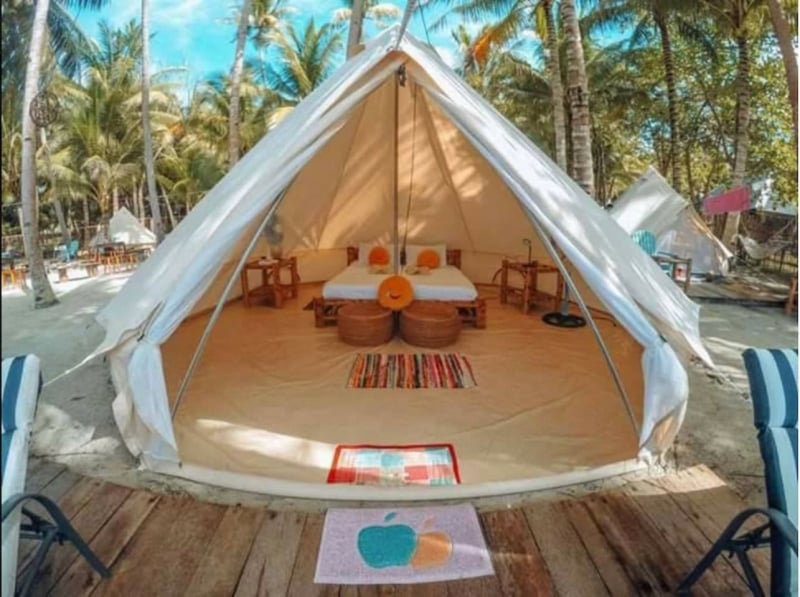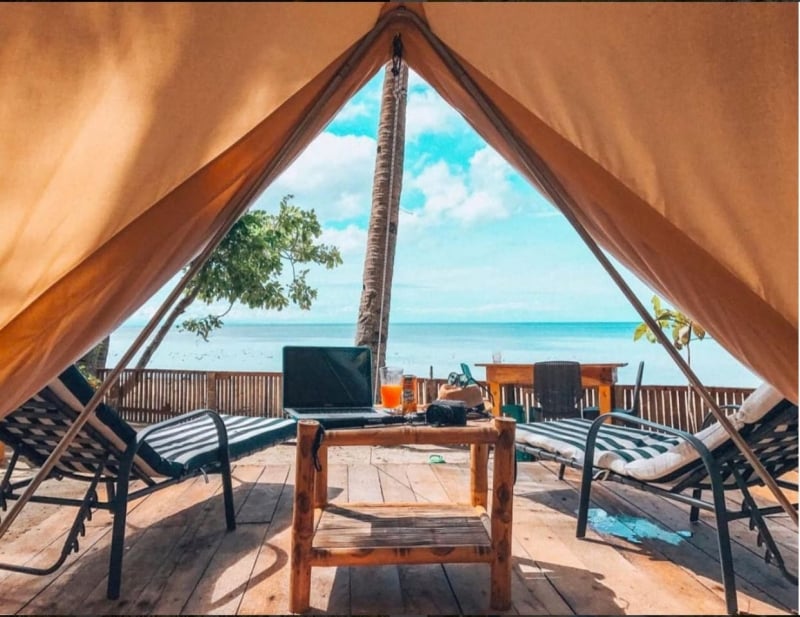 Listing name: Glamping Siquijor Luxury beachfront Camping
Listing type: Entire home
Max. no. of guests: 12
No. of bedrooms: 1
Planning your next barkada trip? Glamping on the beach is a pretty great idea; and given that Glamping Siquijor is one of the best-loved glampsites around the country, how could you possibly go wrong with booking a stay here?
Designed to fit up to 12 people, the tents are decked in cute interiors, comfy beds, and luxury linens. Guests are also treated to complimentary coffee and doughnuts to start their mornings, and are invited to wind down by the campfire with fellow travellers at night! To top it all off, the glampsite is located close to some of Siquijor's top restaurants, which include Monkey Business, Dagsa Bar, and Dolce Amore!  Learn more about this Airbnb here.
Also read: 10 Glamping Sites in the Philippines for Your Next Trip with Friends
3. This casita that offers the best of island living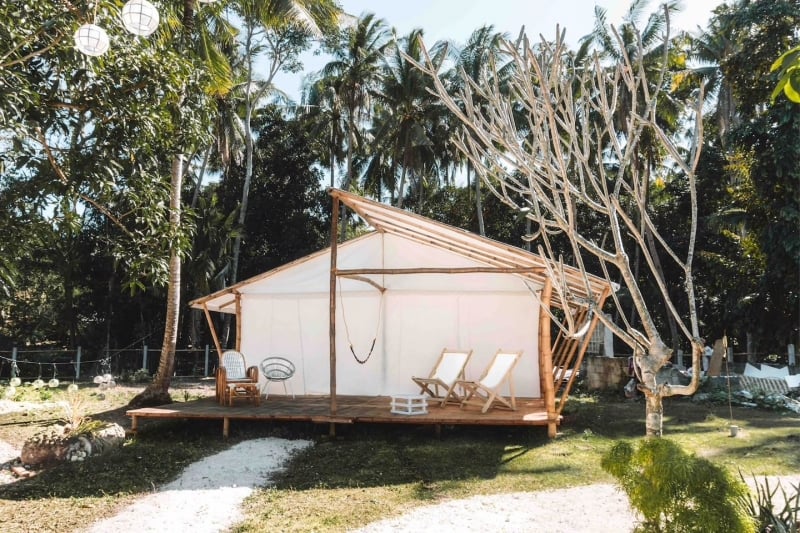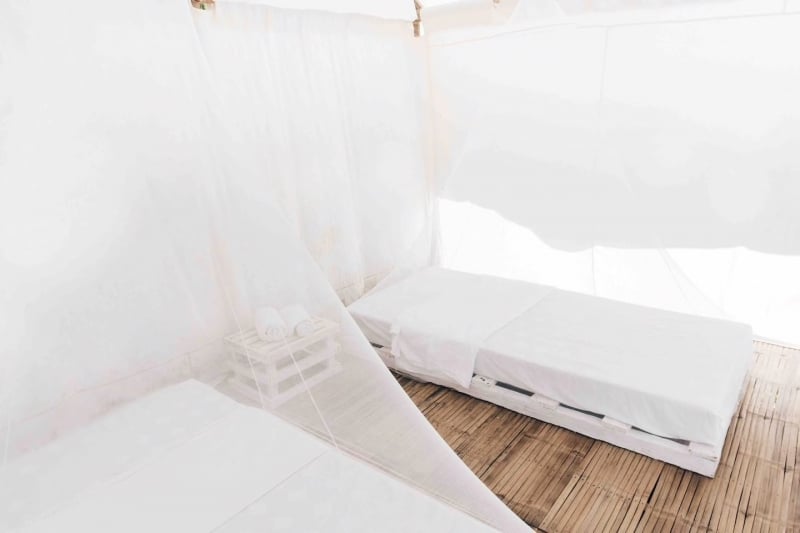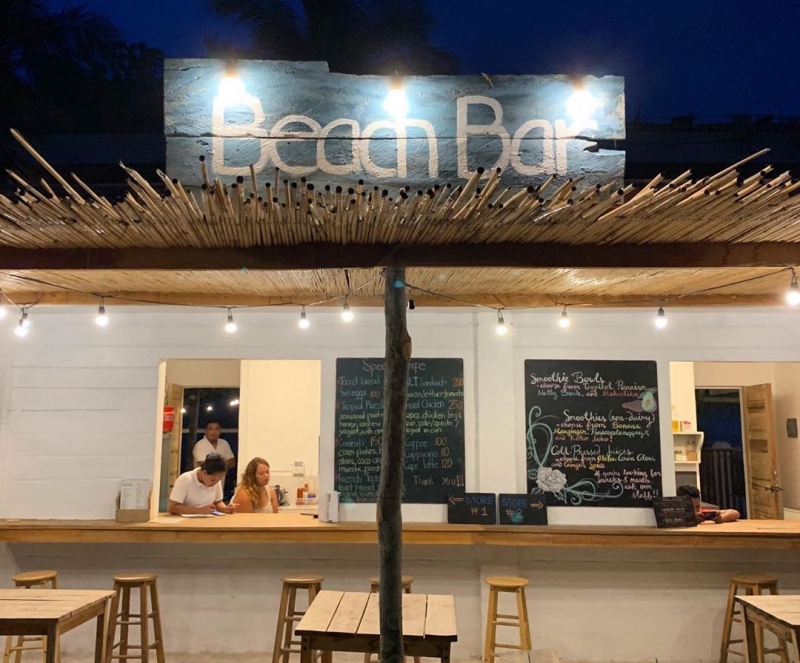 Listing name: Beautiful casitas site with a beach lounge
Listing type: Private room in tent
Max. no. of guests: 2
No. of bedrooms: 1
Here's what the best of island life is really like: being just steps from the beach, living with the barest of necessities, and getting to fall asleep under the stars. At this Airbnb in Siquijor, you get all that — plus a little extra! 
This budget-friendly accommodation places you close to the island's popular tourist spots, as well as some of the best restaurants in town. However, despite its ideal location, this casita offers utmost peace and quiet. The best part? The Beach Bar, which serves brunch, coffee, ice-cold beers, and fruity cocktails — the piña coladas come highly recommended! Learn more about this Airbnb here.
4. This hidden gem with a private cliff diving and snorkelling area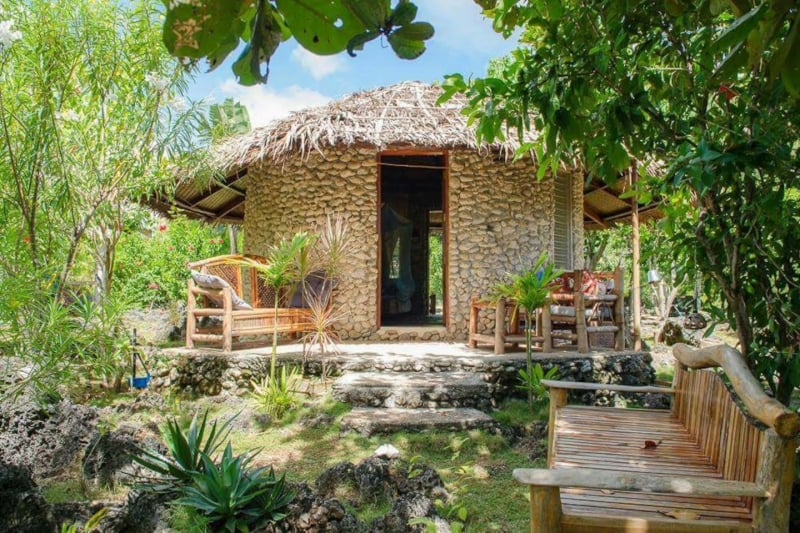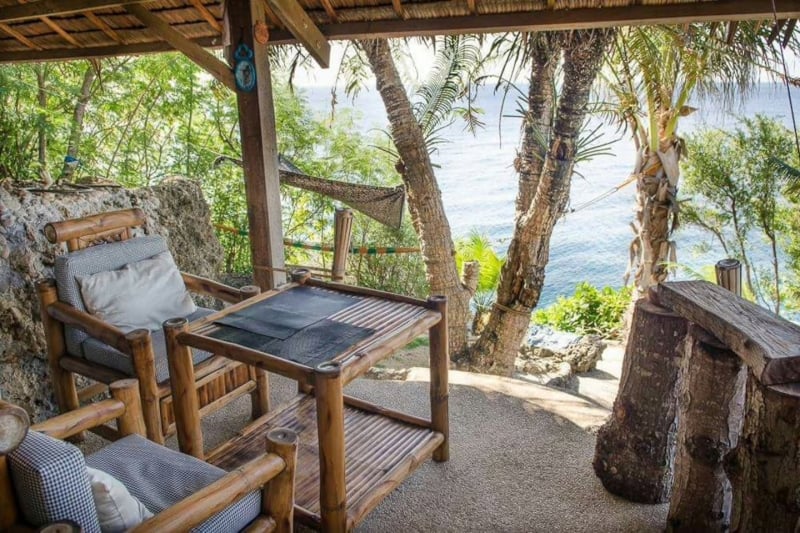 Listing name: Natural stone house for rent
Listing type: Entire home
Max. no. of guests: 2
No. of bedrooms: 1
Besides waterfalls, white sand beaches, and beautiful old churches, Siquijor is also known to be a great place for diving, snorkelling, and other water sports activities. If these things make up the majority of your itinerary, then this Airbnb in Siquijor is a gem you certainly won't want to miss out on!
From the entrance, this home just seems like a simple cottage. But what lies on the other side is a private area for cliff diving, snorkelling and paddleboarding — and if you book a stay here, you can have it all to yourselves! Can you say vacation goals? Learn more about this Airbnb here.
5. This family-friendly home by the beach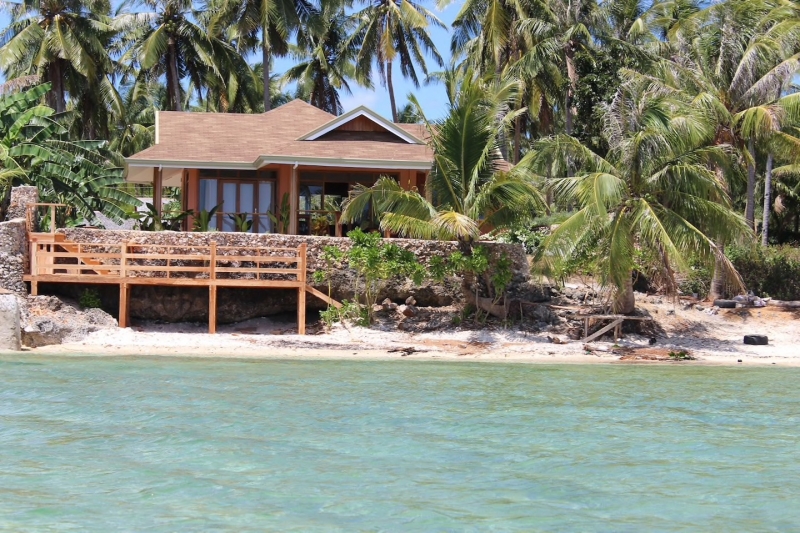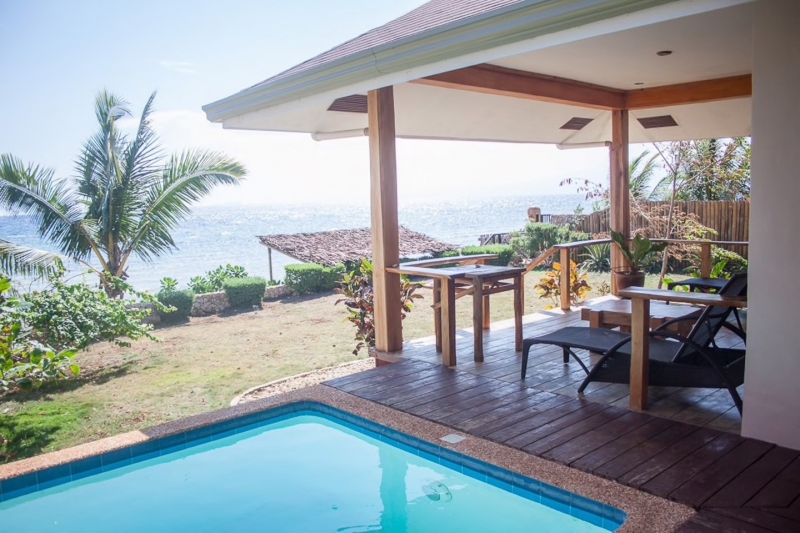 Listing name: Rhumbutan Beach House, San Juan – Ocean Front
Listing type: Entire home
Max. no. of guests: 7
No. of bedrooms: 1
How about a beach vacay with the whole family? Whether it's with kids or a grown-ups-only trip, this Airbnb in Siquijor makes for an excellent choice! Big groups will particularly love that it's got a private pool, direct beach access, and is a quick ride away from restaurants, bars, and even more beaches!
Lounge at the patio and enjoy breathtaking scenes of the sunset, take a relaxing dip in the pool, or simply walk over to the beach and dig your toes in the sand. All this (and more) awaits you at this dreamy vacation home! Learn more about this Airbnb here.
6. This farm stay that invites you to live like locals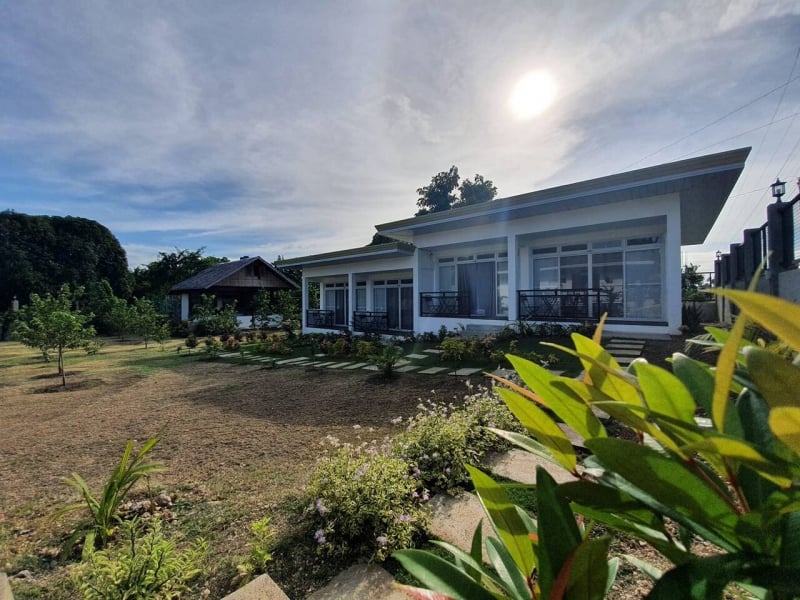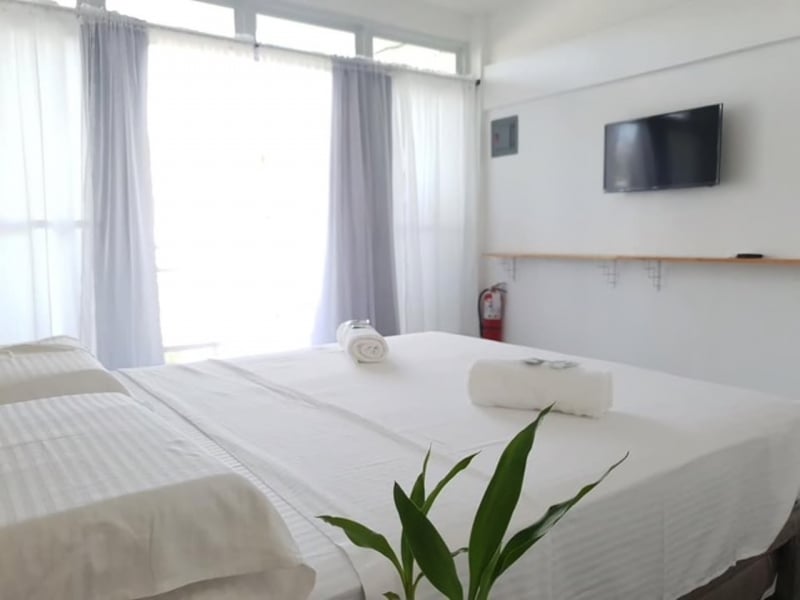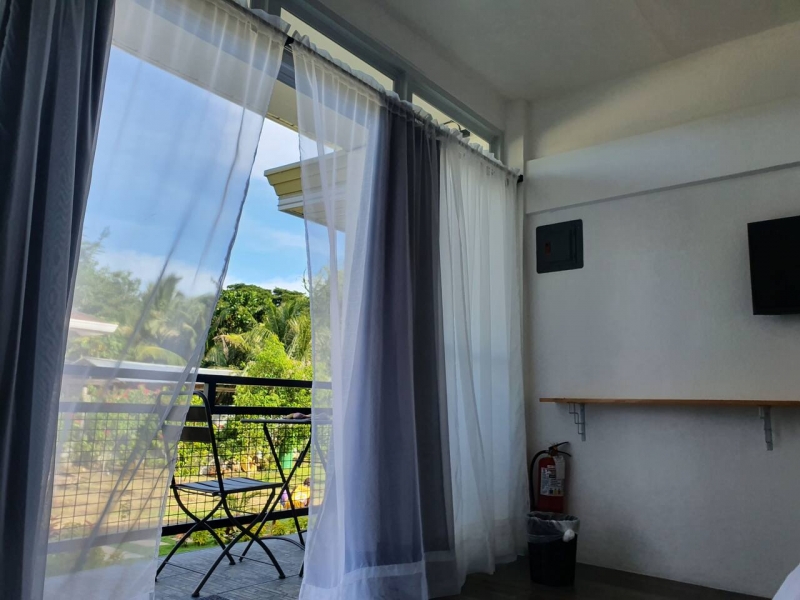 Listing name: The Flying Pen Suites Hatch Room: Free Breakfast
Listing type: Private room in farm stay
Max. no. of guests: 4
No. of bedrooms: 1
To this day, Siquijor remains to be one of the Philippines' more untouched, underrated tourist sites. Because of this, it remains to be an affordable and slow-paced destination — and that's something we really love about it! At this Airbnb, you're invited to take part in the locals' chill, laid-back living.
Located between Siquijor's busy town proper and the popular town of San Juan, this farm stay places you within easy reach of the island's tourist attractions. The farm itself is a great place to unwind, too; you'll certainly love starting your days with their (free!) Pinoy-style breakfasts and spending relaxed afternoons at your private porch! Learn more about this Airbnb here.
7. This quaint bungalow in a quiet neighbourhood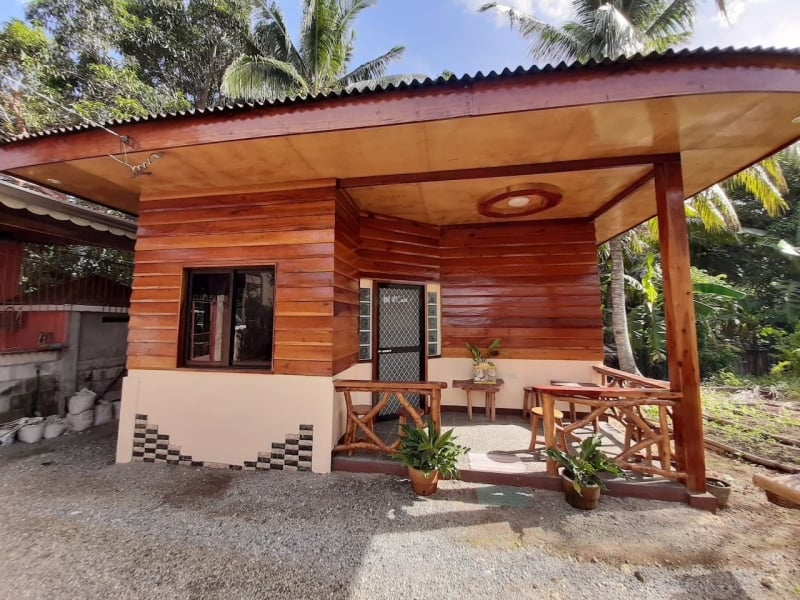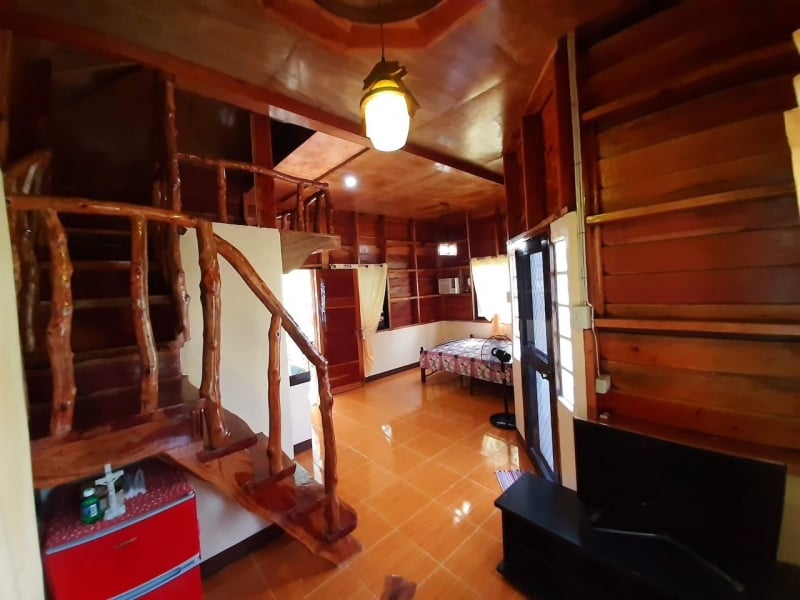 Listing name: Ana's Bungalow
Listing type: Entire home
Max. no. of guests: 2
No. of bedrooms: Studio
Perfect for minimalist travellers, this simple bungalow is located close to two ferry ports and the local airport. It's also located in a quiet neighbourhood close to the city centre, making it easy to get around from here! 
Its beautiful wooden furnishings and the palm trees that surround the home promise the best of probinsya life. Pack only the essentials — your fave coffee beans or tea leaves included. You'll want to enjoy slow mornings over coffee or tea at the porch as you bask in the fresh air and the peace and quiet. Learn more about this Airbnb here.
8. This treehouse with breathtaking sea views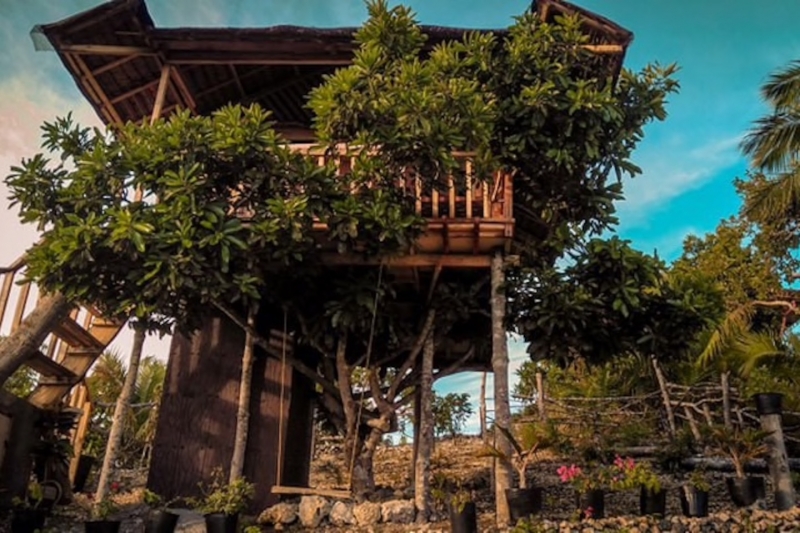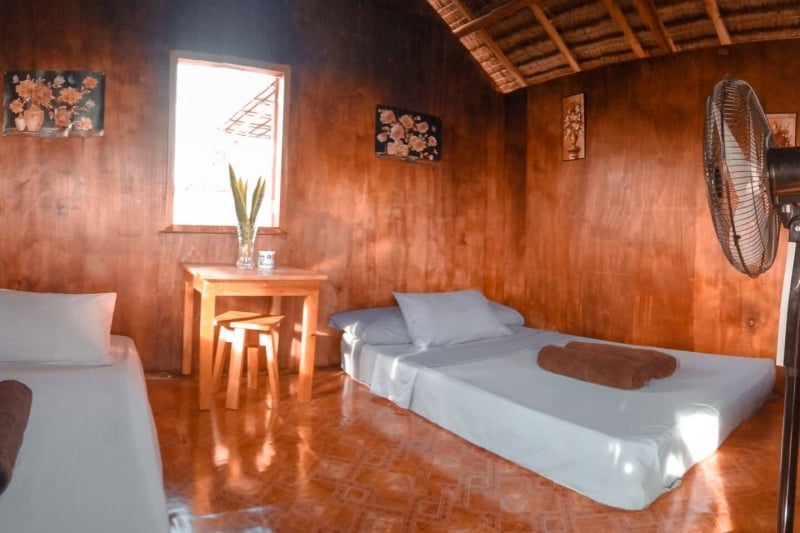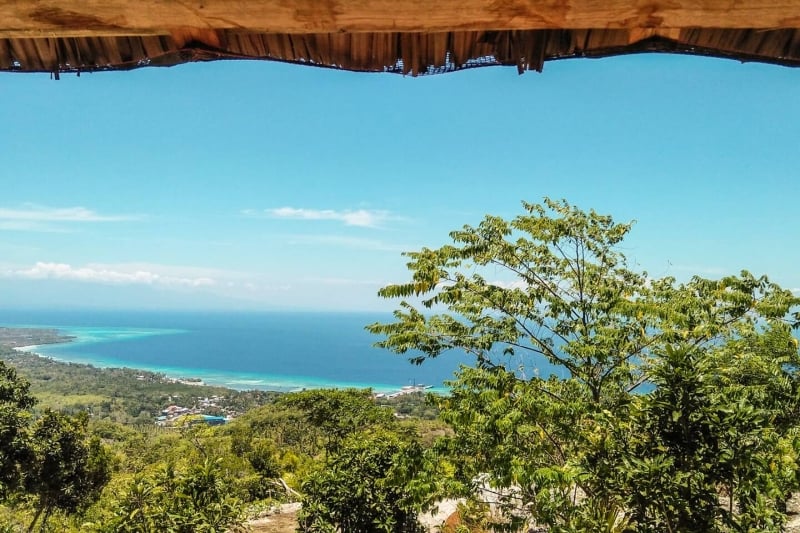 Listing name: Siquijor Tree House at Kamp Aninipot 
Listing type: Entire home
Max. no. of guests: 4
No. of bedrooms: 2
We are absolutely loving the #throwback vibes at this charming treehouse! Grab three of your dearest friends and make it a sleepover; and yes, a little nostalgia for the good ol' days is pretty inevitable. Simple as it may be, previous guests swear that a stay at this Airbnb in Siquijor will go beyond your expectations  — so make sure not to miss out!
First of all, the views are to die for: from your very own little balcony, you can take in panoramic views of Siquijor Bay and Bohol Sea. Second, guests are welcome to make use of the kitchen at the nearby campground area, or may avail of delicious dishes at the in-house restaurant. Third (but definitely not the least), those who arrive at Siquijor Port may enjoy free pickup and drop-off services! Learn more about this Airbnb here.
Also read: Treehouse Airbnbs: Fall in Love with These Listings from Around the World
9. This charming eco-friendly escape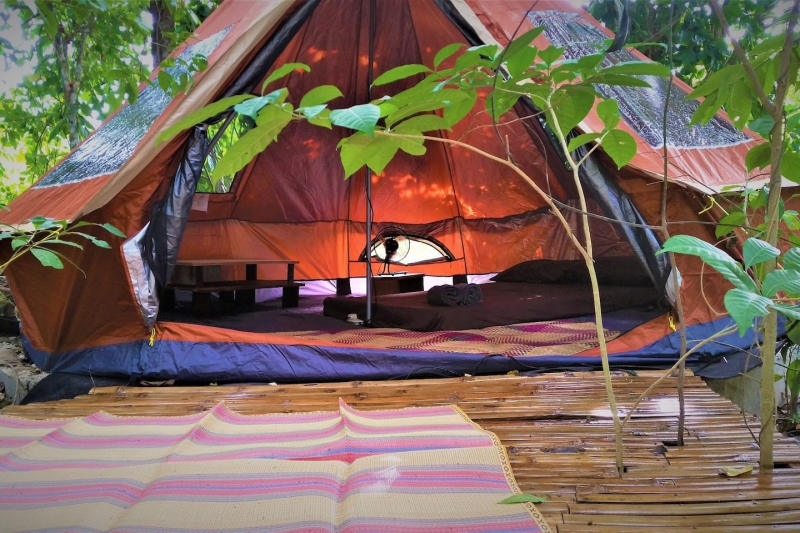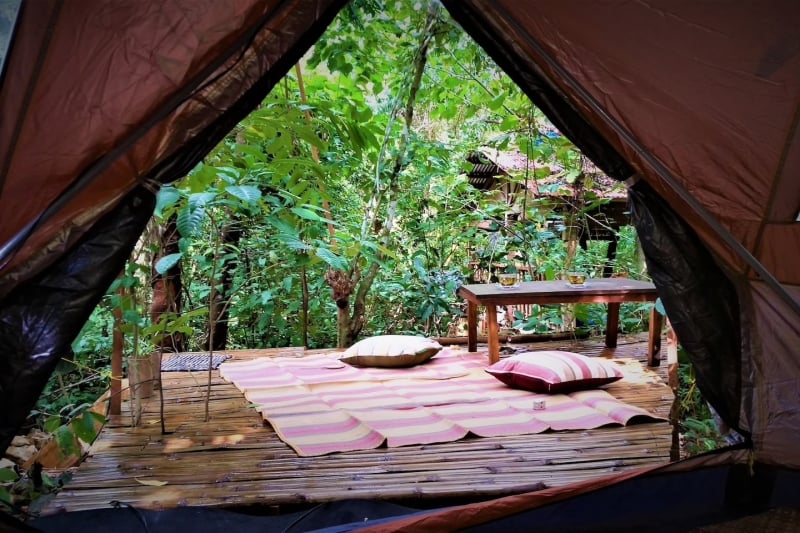 Listing name: Eco-friendly Glamping in Mini-Forest
Listing type: Entire home
Max. no. of guests: 2
No. of bedrooms: 1
Few are accommodations that provide their guests with truly life-changing stays; this Airbnb in Siquijor is one of them. Airbnb host Julia has lovingly put together an eco-friendly glamping experience — one that has a minimal impact on the environment, but doesn't come short in providing guests with utmost comfort and enjoyment.
Tents are spacious, and open out onto bamboo balconies complete with tables and floor cushions that practically call you to chill out with a cup of coffee. Each guest gets a yoga mat, complimentary drinking water, locally made (and plastic-free) shampoo and soap samples, plus reusable bags in case of any purchases. There's also an open-air pavilion where you're invited to meditate or practise yoga; occasional movie nights and educational events are hosted here, too! Learn more about this Airbnb here.
10. This cosy cottage with dreamy beach views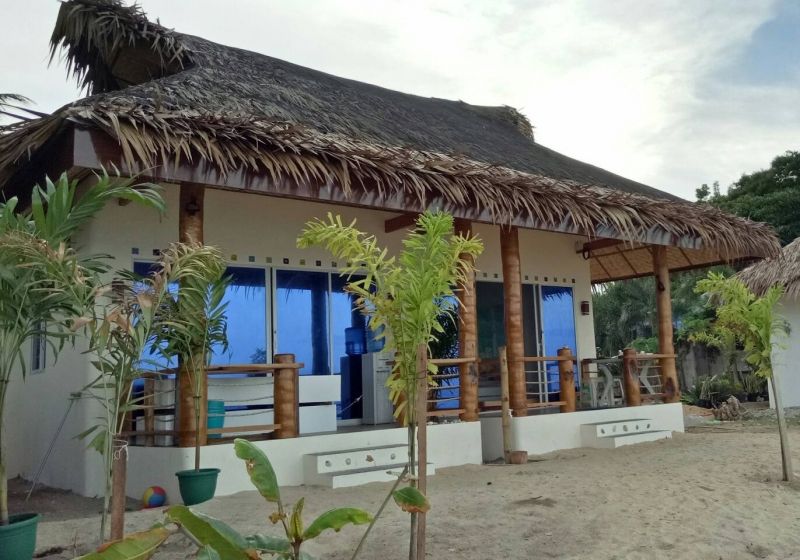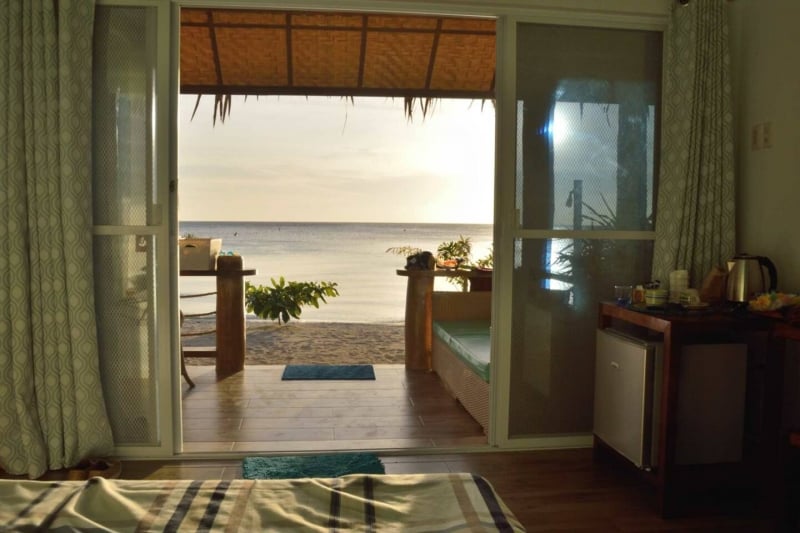 Listing name: Beach-front Casa Juan del Bario, entire place
Listing type: Entire home
Max. no. of guests: 8
No. of bedrooms: 4
Big groups will go crazy over this spacious beachfront home! Located in the marine sanctuary of Maite in San Juan, this Airbnb places you just a few steps from the beach. You can easily spend your days sunbathing, having your fill of sports activities, and taking refreshing dips in clear blue seas. At night, we recommend grabbing a beach blanket and lying down under the stars.
The home itself is quite a gem, too. It's equipped with four bedrooms, a smart TV, and a minibar; beach blankets and umbrellas are provided for guests as well! There's a common kitchen where you're welcome to cook meals, however previous guests swear you have to eat at Luca Loko just across the street — the smoothie bowls and fresh yoghurt are must-try menu items! Learn more about this Airbnb here.
Also read: 10 Airbnbs in the Philippines That Will Make You Fall in Love
If these Airbnb homes in Siquijor aren't enough to tempt you to plan your next trip, we don't know what else will!