We know how it is scrambling for somewhere to eat at the last minute. Well, have you ever tried exploring Banawe restaurants? This foodie-friendly street hides an array of mouthwatering Asian cuisine right under our noses. It has even been called the Chinatown of Quezon City! Sure, it's nowhere near as big as Binondo, but Banawe is a treasure trove for well-established yet underrated restaurants, whether you're craving classic Chinese food, tasty hawker favourites, or even delicious vegan fare. Here, we share some of the best Banawe restaurants for your hunger-fuelled food trip.
Also read: 10 Restaurants in Binondo for Your Next Food Crawl
1. King Chef Dimsum Kitchen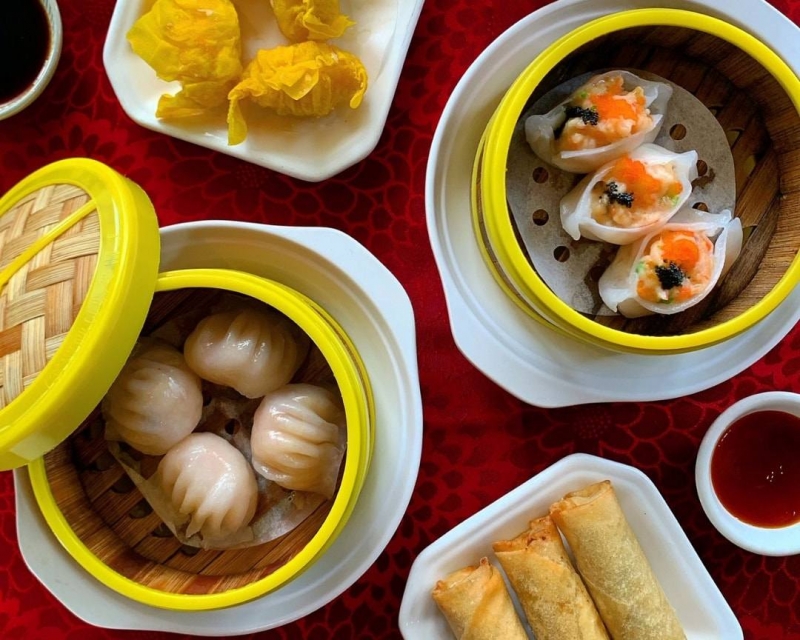 Dine like royalty at King Chef, one of the most beloved Chinese restaurants on this food-centric street. It's a landmark Banawe restaurant, serving traditional Chinese fare and tasty dim sum. Don't miss Dimsum Happy Hours at 8–10am, 2–5pm, and 8.30–10pm every day. Let's be honest, when is it not a good time for some dim sum? And if you're looking for something more filling, we recommend fan-favourite spareribs with 8 spices. 
Not headed to Banawe Street anytime soon? Lucky for you, King Chef has a few other branches: SM City North, SM Cherry – Shaw Boulevard, Ayala Malls Manila Bay, and Lucky Chinatown Mall in Binondo.
Address: 238 Banawe Center, Banawe corner Panalturan Street, Quezon City
2. Bugis Singapore Street Food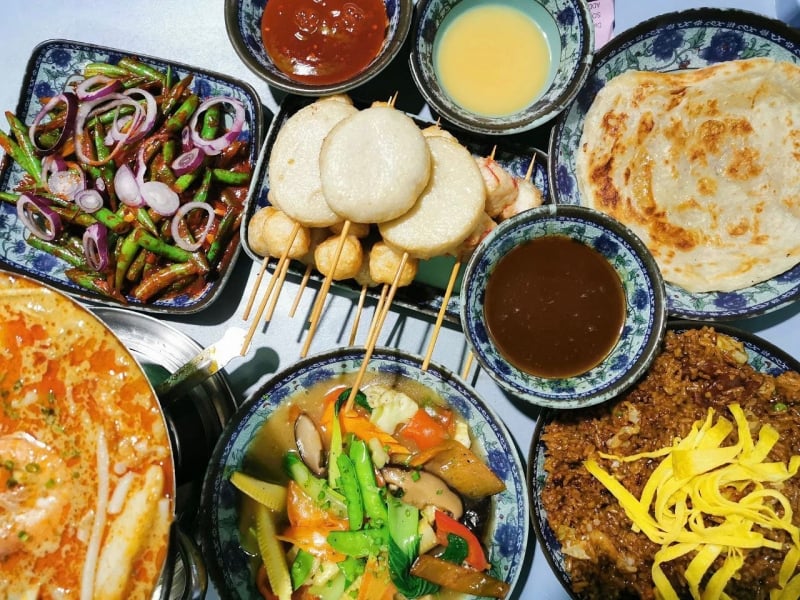 If you're missing Singapore's famous hawker eats, satisfy your cravings at Bugis Singapore Street Food. Tuck into your favourite comfort food, like Hainanese chicken, cereal shrimp, and char kuey teow. The restaurant's signature laksa will transport your taste buds to the vibrant hawker centres — and we think it's the perfect rainy-day pick-me-up! You won't go wrong with any menu item. Best of all, you can pig out without making a dent in your wallet. From skewers to seafood, everything in Bugis Singapore Street Food is priced affordably.
Address: 78 Nicanor Reyes Street, Quezon City
3. Shiok Shiok Singapore Famous Hawker Food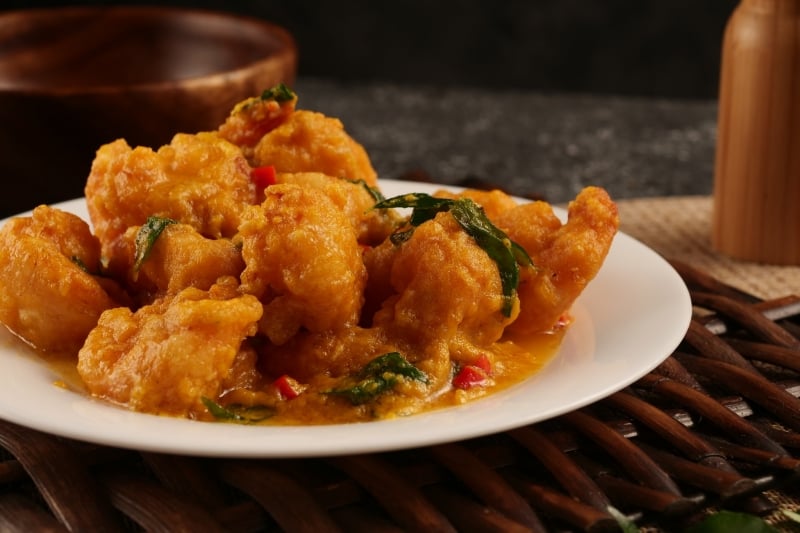 Another must-try restaurant in Banawe for the hawker fans among us! The Singaporean word shiok means tasty, and this cosy dining spot definitely delivers on the taste and flavours. Shiok Shiok's menu is filled with delightful street food finds, with standouts that include laksa, char kwey teow, and salted egg prawns. It also looks the part, with rustic interiors that will almost make you believe you're actually dining in a decades-old eatery in Singapore. 
Address: 81 Nicanor Reyes Street, Brgy. Sto. Domingo, Quezon City
4. Eat Fresh Hong Kong Famous Street Food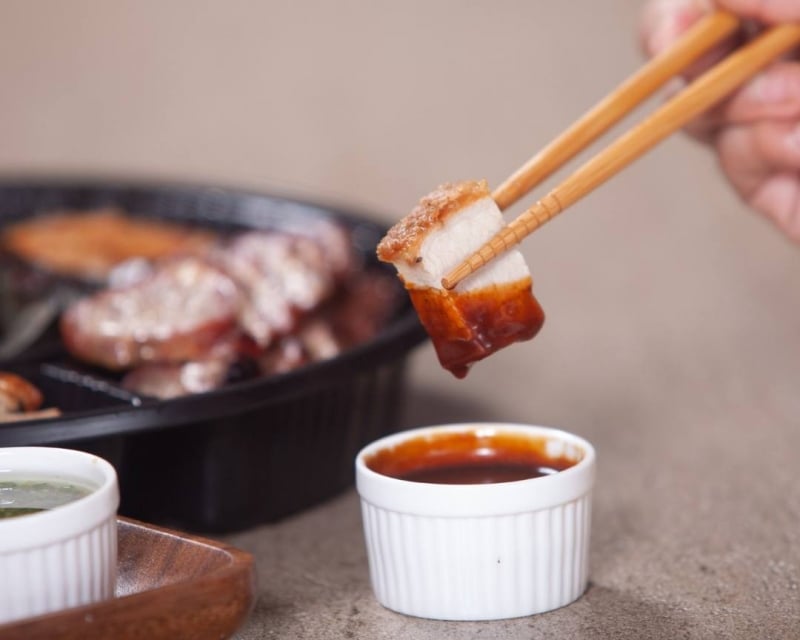 What can we say, the Banawe area is all about Asian street food — and honestly, we wouldn't have it any other way. Eat Fresh Hong Kong Famous Street Food is easy to love, whether you're a big fan of Hong Kong-style cooking or not. Indulge in savoury goodies like lechon Macau and stir-fried noodles. Buns are big in Hong Kong, too, and this restaurant has a wide selection that includes Milo buns, salted egg custard buns, and asado buns.
Address: 100-A Maria Clara Street, Quezon City
5. Tuen Mun Roasts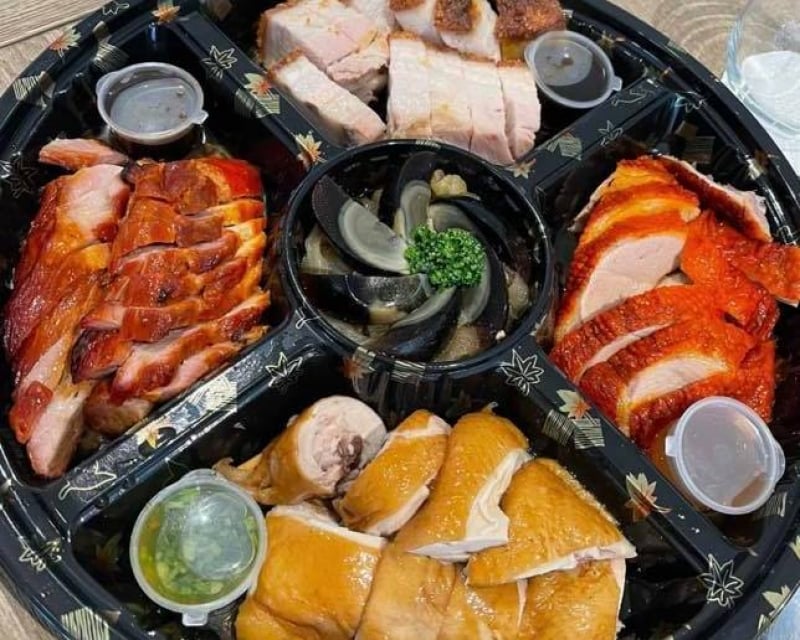 Anyone who loves Hong Kong-style roasts should know that the place to be is Tuen Mun Roasts. The cosy diner is well-known for serving top-notch roasted meat, including lechon Macau, roasted duck, and soy chicken. Expect tender, flavourful, and freshly prepared meat. Get a side of dumplings and a heaping of yang chow fried rice, and you're all set for a hearty meal that's worth coming back for again and again. 
Address: 81-A Nicanor Street, Sto. Domingo, Quezon City
Also read: 10 Maginhawa Restaurants for Your Budget-Friendly Food Crawl
6. Megawatt Pizza & Steak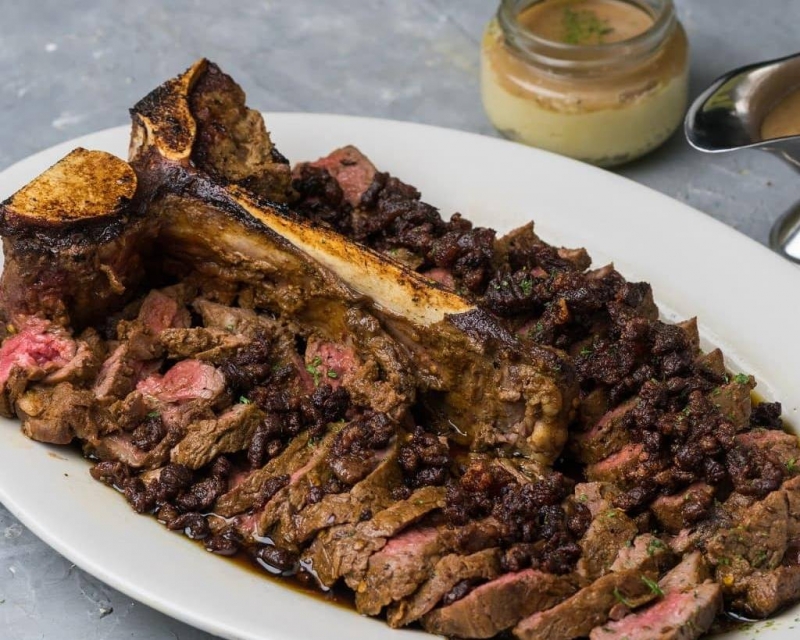 When you're choosing where to eat in Banawe, a Tex-Mex dining spot may not be the first thing that comes to mind. But Megawatt Pizza & Steak carved out a place for itself in this mini-Chinatown, even located inside BuildPlus+. Nowadays, it's one of the must-try Banawe restaurants, especially for anyone who loves Tex-Mex favourites like burritos, ribs, and burgers.
It's nearly impossible to pick a highlight from their extensive menu, but the aged porterhouse steak is always a crowd pleaser. The Megawatt house fried chicken also gets rave reviews. Generous servings guarantee value for money and make this one of the Banawe restaurants perfect for the hangry.
Address: 686 Banawe Street, Brgy. Siena, Quezon City
7. Oedo Japanese Restaurant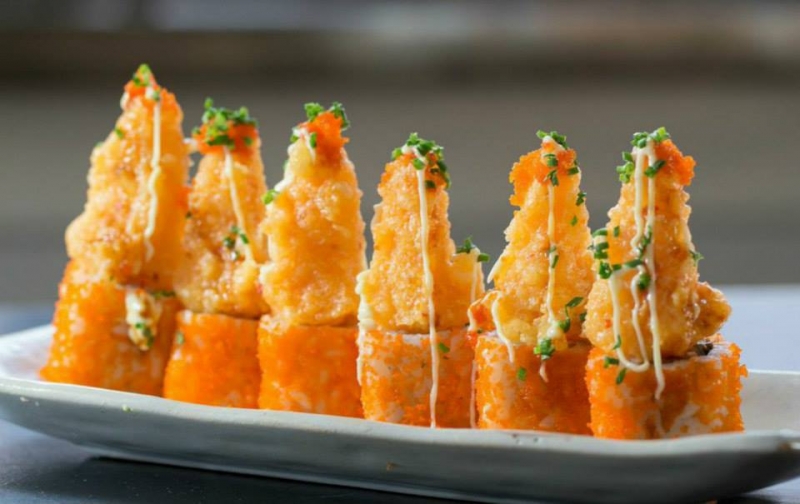 Step through the red torii gate and bask in the Japanese-themed dining space, complete with Japanese lanterns and even a zen garden. Guests can dine indoors or enjoy their meals al fresco. Either way, the décor sets the stage. But Oedo Japanese Restaurant delivers a memorable foodie experience, too. 
Dig in all your Japanese favourites: sushi, sukiyaki, okonomiyaki, gyudon, takoyaki, and the list goes on and on. Each dish is fresh-tasting and meticulously prepared. Even if there's no shortage of Japanese dining establishments in the metro, Oedo is worth a trip to Banawe — a fact apparent from all the cars parked outside.
Address: 105 Sto. Domingo Ave. corner Sgt. Alcaraz, Quezon City
8. Tra Vinh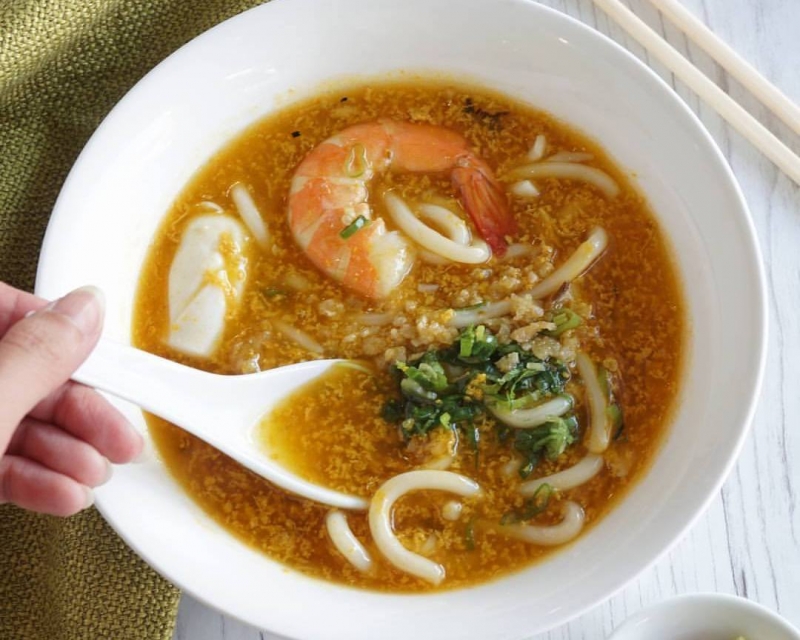 Don't sleep on Vietnamese restaurant Tra Vinh, which is definitely one of the best Banawe restaurants. Actually, this is probably one of the best places to get authentic Vietnamese food in Manila. Charming interiors add even more appeal to this must-visit dining spot. Look for delightful details, like traditional Vietnamese leaf hats framing the light fixtures. 
Noodles are the undisputed superstars of Ta Vinh's menu, whether you're in the mood for delicious seafood or beef broth. Both are best-sellers; it all comes down to preference. Other Vietnamese mainstays are also available, like spring rolls and fresh salads. 
Address: Unit 3, 109 NS Amorento corner Cordillera, Brgy. Maharlika, Quezon City
Also read: 10 Must-Try Food in Vietnam Fit for the Filipino Palate
9. Meat Depot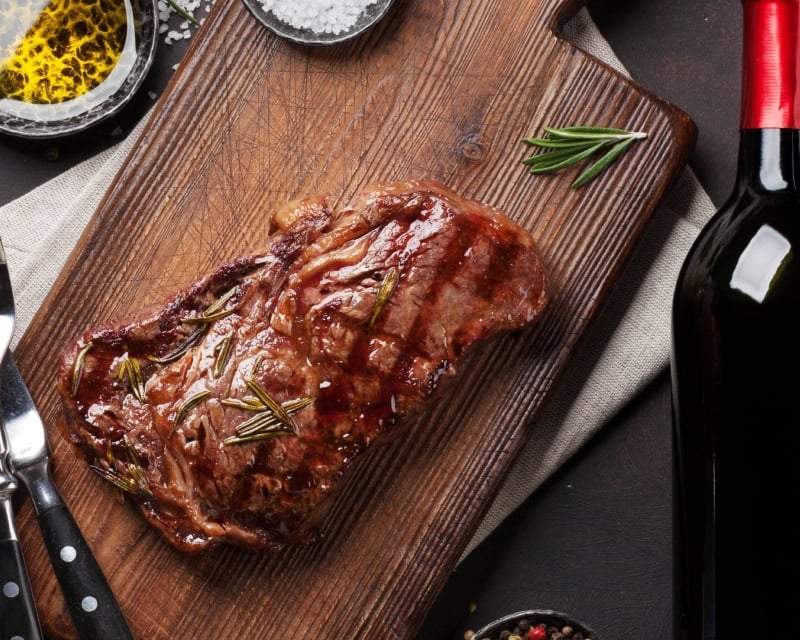 Meat lovers, unite! This is the Banawe restaurant for you if you're crazed for steaks. Meat Depot offers all kinds of meat in different ways of cooking with a variety of sides. Wagyu beef? Sure. Lamb? No problem. Lechon kawali? They got that Filipino speciality, too. Plus, burgers, sausages, and many, many more. Meat Depot even serves salmon and other seafood — although we really recommend embracing your red meat cravings here.
Address: 815 Banawe Street, Quezon City
10. Harvesters Vegetarian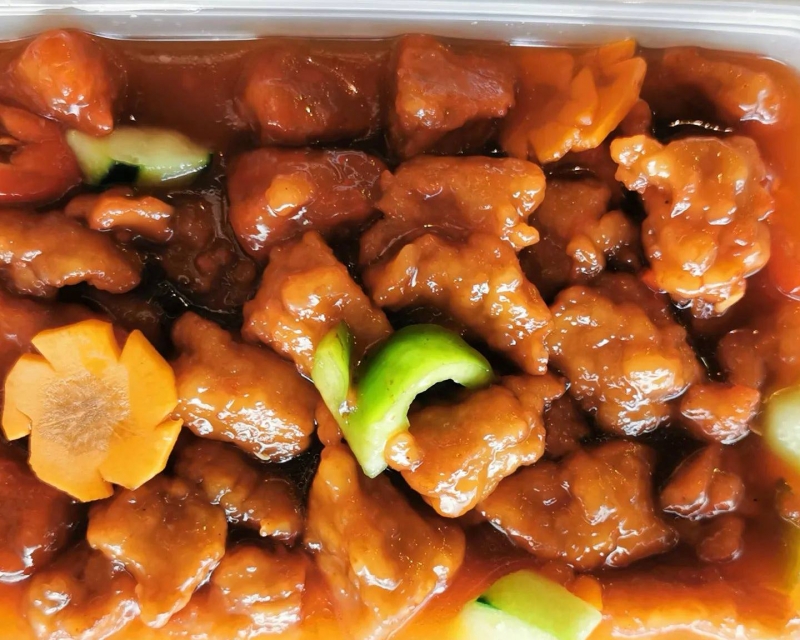 There are so many amazing Banawe restaurants that sometimes it's difficult to know which one to plump for. But if you're a vegetarian, it's a no-brainer: Harvesters Vegetarian is your stop. The restaurant specialises in Filipino and Chinese comfort food with a vegetarian twist, giving our meat-free friends a place where they won't be missing out. Diners keep coming back for the sweet and sour "unpork," but there's a lot to love here, including the adobo, fresh and fried lumpia, and vegan asado.
Not all of the dishes are vegan, but there's a great selection for vegans, too! It's best to ask the servers to make sure your pick is egg-free, though.
Address: 880 Banawe Street, Quezon City
Also read: Vegetarian and Vegan Travel Tips From 6 Plant-Based Pinoys
There you go, now you're locked and loaded for your food trip with some of the best Banawe restaurants to try. Which one are you in the mood for?
---
Featured image credit: Shiok Shiok Singapore Famous Hawker Food | Official Facebook Page