"Hello. Can everyone hear me?" Choppy audio, microphone issues, and random background noises during a high-stakes meeting are every teleworker's nightmare. Nothing is more frustrating than a gadget that won't perform its job correctly. If you rely on earphones to do your home workouts or attend video conferences for your remote job, then it's time to level up with the best wireless earphones that your budget can buy. 
These are what we are looking for in true wireless earphones: top-notch audio; stable Bluetooth connectivity; long-lasting battery life; a secure and comfortable fit; and above all, a reasonable price. To help you save time in your online shopping, we've narrowed down the best budget wireless earbuds in the Philippines — ones that you can buy online for less than ₱2,000. 
What are you waiting for? Score these wireless earphones and kiss those tangled cords goodbye! 
Also read: 8 Work from Home Essentials to Finally Build Your Home Office
Best budget wireless earphones in the Philippines in 2021
1. These durable wireless earbuds that are water-resistant
Model: SoundPEATS Mac 
Where to buy: Lazada, Shopee 
Price: ~₱850 to ₱1,290
Need a pair of wireless earphones to keep you going from morning until noon? Lasting up to nine hours of continuous playback on a single charge, the ever-reliable SoundPEATS Mac True Wireless Earbuds offer great value for money. You get the complete package with this model: decent sound quality, long battery life, smart touch control, and water resistance for sweaty workouts. 
Simple yet durable, these earbuds also come with three different sizes for ear tips. This way, you won't have any trouble finding the right fit. But don't just take our word for it — check out the many positive reviews from happy customers. 
2. These noise-cancelling earphones for a relaxing listening experience
Model: Haylou GT1
Where to buy: Lazada, Shopee
Price: ~₱599 to ₱1,069
Anyone who enjoys jamming to music or working in absolute concentration is going to fall head over heels for this stylish pair. Lightweight and easy to wear, the Haylou GT-1 earbuds have superior audio quality, a mic that brings out your voice loud and clear, and amazing noise cancellation that will help you tune out the world around you. Pair these true wireless earphones with your device, and you can enjoy up to 12 hours of battery life without skipping a beat! 
Another cool feature these popcorn-sized earbuds have is touch control. Simply touch either one to pause or resume listening, or touch twice to skip to the next track in a playlist. 
3. These wireless earphones with long battery life
Model: Harmoni High Definition InteliTouch TWS Earphone 
Where to buy: Promate official website, Lazada, Shopee 
Price: ~₱889 to ~₱1,695 
Lose yourself in the music with Harmoni's true wireless earphones, which have been fine-tuned to provide crisp sound for an ideal listening experience. Thanks to their secure fit and ergonomic design, you can wear them for hours and they won't slip out of your ears as you're doing errands. Not to mention that it's simple and easy to use — always an advantage in our books. 
Enjoy a playback time of up to five hours, and 15 hours after using the charging case. Anytime you need to join a video call, Harmoni's earphones offer effective noise-cancellation, stable Bluetooth connectivity, and built-in microphones in both earbuds to keep your conversations undisturbed. 
Also read: Promate Philippines: The Best Electronic Gadgets to Invest In
4. These sturdy earbuds for calls with clear audio
Model: Lenovo LP11
Where to buy: Lazada, Shopee
Price: ~₱598 to ₱1,298
Do you ever see people who shout at full volume while talking into their earphones? Luckily, you won't have to be that person with the Lenovo LP11 model, which delivers crisp audio and reduces the environmental noise during your calls, so that your voice can come through without much interference. 
Besides the noise reduction technology, Lenovo's wireless earbuds also offer a snug and comfortable fit. You can get them in black, pink, or white. 
5. These affordable wireless earbuds with low latency for gamers
Model: Lenovo XT92 
Where to buy: Lazada, Shopee 
Price: ~₱617 to ~₱1,269
Even a few seconds of delay in audio can affect gaming performance. For this reason, investing in high-quality tech that reduces the possibility of lag is crucial, especially if you want to take your playing skills to the next level. 
One of the best wireless gaming earbuds to buy without breaking the bank is the Lenovo XT92. It features smooth audio quality, built-in microphones, touch controls, noise-cancelling technology, and low latency to help you excel in games involving quick responses. Besides the lag-free play, Lenovo's wireless earbuds sport a sleek design that looks both casual and cool. 
6. These versatile wireless earphones for any occasion
Model: Xiaomi Air2 SE
Where to buy: Lazada, Shopee
Price: ~₱1,250 to ~₱1,990
Looking for an economical pair of earbuds that won't compromise sound quality? Among the best wireless earphones for budget shoppers are the Xiaomi Air2 SE earbuds, which come with stable audio and high-sensitivity microphones. 
A popular choice for remote workers in the Philippines, Xiaomi's wireless earphones use beamforming technology to suppress any background noise during a call. Whenever you need to make a phone call, your voice will sound loud and clear to your listeners. It helps that they're lightweight and effortless to wear, too. 
Another alternative for those looking for budget wireless earbuds is the Xiaomi Redmi AirDots model, which you can score for approximately ₱899 at a discounted price. 
Also read: The Best Xiaomi Products You Can Buy in the Philippines
7. These bright yellow earbuds that bring the bass
Model: realme Buds Q
Where to buy: Lazada, Shopee
Price: ~₱840 to ~₱1,490
Calling all music enthusiasts: If you enjoy listening to bass-heavy tracks, these could be the best wireless earbuds for you. The realme Buds Q model offers a superb listening experience with rich and dynamic audio, allowing you to hear the clear vocals and head-thumping bass of your favourite tracks. Factor in its compact and vibrant yellow design, and this model will surely make an eye-catching addition to your gadget collection. 
8. These sweat-proof earphones that can keep up with your workouts
Model: Edifier TWS1
Where to buy: Lazada, Shopee
Price: ~₱1,525 to ~₱1,759
Is your workout playlist missing the right earphones to get you in the mood? Or maybe your last pair of earbuds kept falling off your ears mid-cardio and you're in dire need of an upgrade? Say hello to the Edifier TWS1, affordable wireless earbuds that manage to be sweat-proof and water-resistant for high-intensity workouts. 
With clear audio and a battery life of up to 12 hours, Edifier's wireless earbuds are a good choice for fitness buffs, sports enthusiasts, or anyone who looks for endurance and stability in their tech. They are available in black, white, green, pink, and dark blue. 
9. These cute and vibrant earbuds in mood-lifting colours
Model: Nokia E3100
Where to buy: Lazada, Shopee 
Price: ~₱1,152 to ~₱1,440 
If there's any brand known for sturdiness and durability, it's Nokia. We're pleased to discover that the same holds true for their wireless earphones, which boast an ultra-lightweight design and comfortable in-ear fit made for all-day use. Moreover, it enjoys added protection against sweat and water, a must-have perk for multitaskers who are constantly on the move. 
Put on the Nokia E3100 earphones to experience crisp, dynamic, and well-balanced sound — made even better by the effortless Bluetooth 5.0 connection. To top it all off, the varied colour combinations look incredibly pleasing to the eyes!
10. These adorable wireless earbuds for a pop of colour
Model: Momax Pills 
Where to buy: Lazada, Shopee
Price: ~₱1,290 to ~₱1,990
Do you prefer to own a colourful pair of wireless earphones? The Momax Pills Mini True Wireless Earbuds might be the one for you. Not only do they provide high-quality audio and stable connection for calls, but a single charge of these true wireless earphones can grant up to four hours of use. Meanwhile, the charging case — which comes in a cute and compact design — can add up to 16 hours to your playback time. 
Minimalists will likely opt for the black or white versions of these earbuds. But if style and colour are what you're pursuing with this product, then you'll want to get your hands on the purple and pink ones for sure. 
11. These high-performing earphones perfect for day-to-day use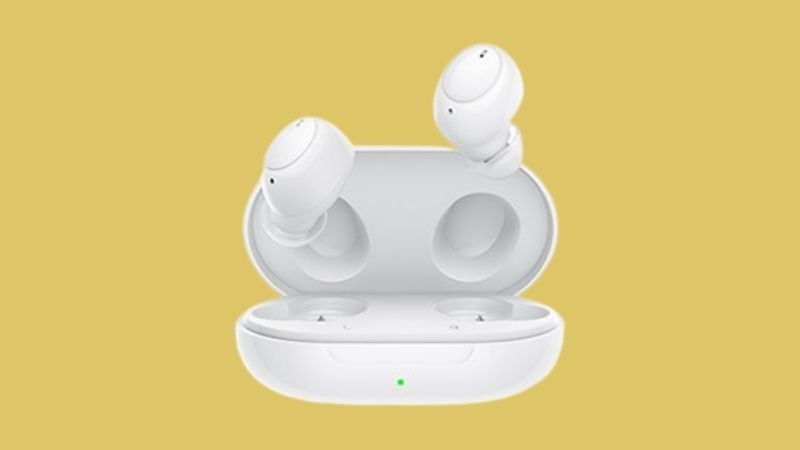 Model: OPPO Enco Buds
Where to buy: Lazada, Shopee
Price: ~₱1,399
With its promising features and budget-friendly price point, OPPO's Enco Buds are a standout among other wireless earphones on the market. They connect easily with both Android and iOS devices, and produce quite a fair sound output for music and work use. Their intelligent noise-suppressing technology also acknowledges human voices and blurs out unnecessary noises. 
The impressive 24-hour battery life is also one of the highlights that make the Enco Buds worth checking out. If you consider design as a major factor when choosing wireless earphones, this unit definitely won't disappoint. Their uncomplicated style and comfortable fit make this pair a great pick, too!
12. These bang-for-your-buck earphones with thousands of stellar reviews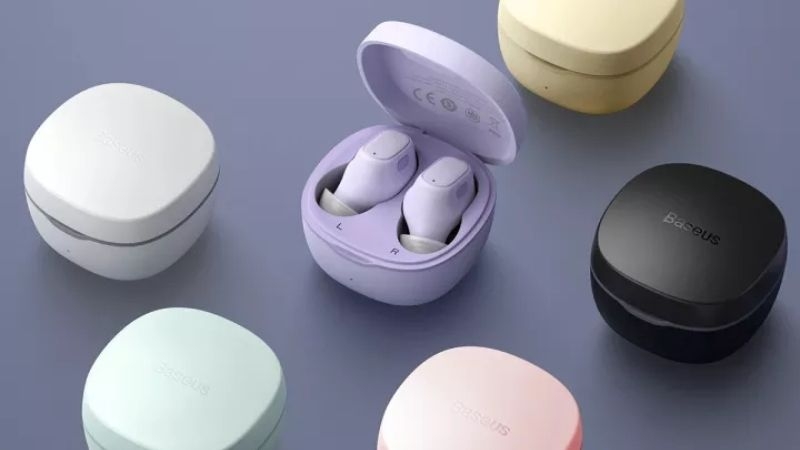 Model: Baseus WM01
Where to buy: Lazada, Shopee
Price: ~₱636 to ₱649
For a pair of wireless earphones at this price bracket, you'll find that the Baseus WM01 offers much more than what you're paying for. They're small, lightweight at only 32.5g, and boast a very ergonomic design. On top of that, these earphones only need 1.5 hours of charging time, making it a favourite among those who are always on the go. 
The Baseus WM01 earbuds also deserve plus points, given their overall loud and clear sterling audio quality. People are especially happy with their experience using these for phone calls, watching videos, and listening to audiobooks. These earphones are easy to use, with direct touch controls to adjust the volume and to activate voice assistance. 
Other than black and white, they also come in cute pastel colours like pink, green, yellow, and purple. There are over 40,000 five-star ratings for these budget-friendly wireless earphones, and the excitement to try them is certainly building up!
13. These wireless earphones favoured by gamers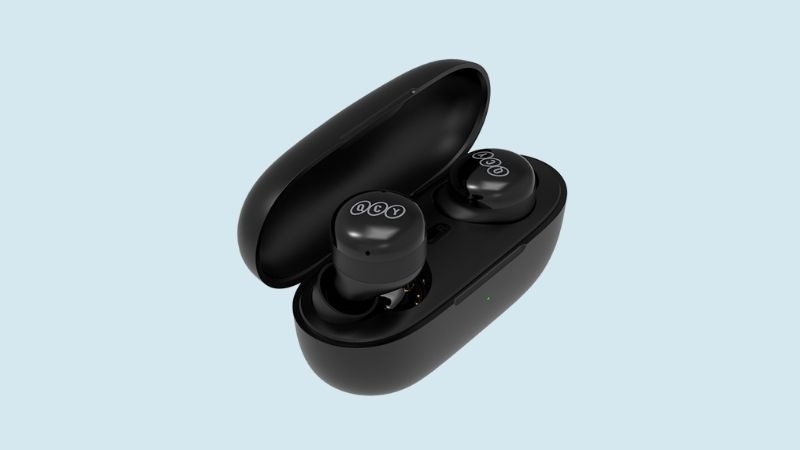 Model: QCY T17
Where to buy: Lazada, Shopee
Price: ~₱799 to ~₱829
QCY's T17 wireless earphones are among the cheapest and best options for gaming. In particular, users will enjoy being able to activate the earphones' low-latency gaming mode for an incredible gameplay experience. Moreover, they boast great connectivity even with a distance of 9 to 10 metres. To add to all that, you can enjoy using this pair for hours on end, thanks to their snug and comfortable fit!. 
As compared with the brand's other models, the T17 offers a lot more when it comes to battery life and design. Although not as mainstream as the others, this particular brand continues to impress with its competitive pricing and quality!
14. These highly rated wireless earphones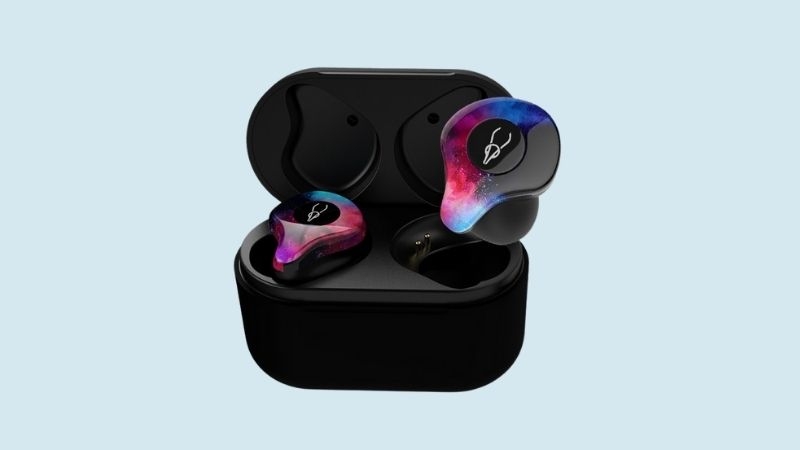 Model: Sabbat X12 Pro
Where to buy: Lazada, Shopee
Price: ~₱1,789 to ~₱1,990
The Sabbat X12 Pro hits the home run for design and uniqueness. This model offers excellent resonance, treating its listeners to a one-of-a-kind, concert-like experience. Users will be able to bask in six hours of music and get carried away watching their favourite movies with the realistic sound output of this gem. 
This pair also makes for the best budget-friendly wireless earphones specifically for calls, with the help of clear voice capture (CVC) technology. To add to all that, Sabbat's X12 Pro earbuds come in several exciting colours that befit pretty much every personality!
15. These waterproof, sweat-proof earphones that'll take you from work to your regular workout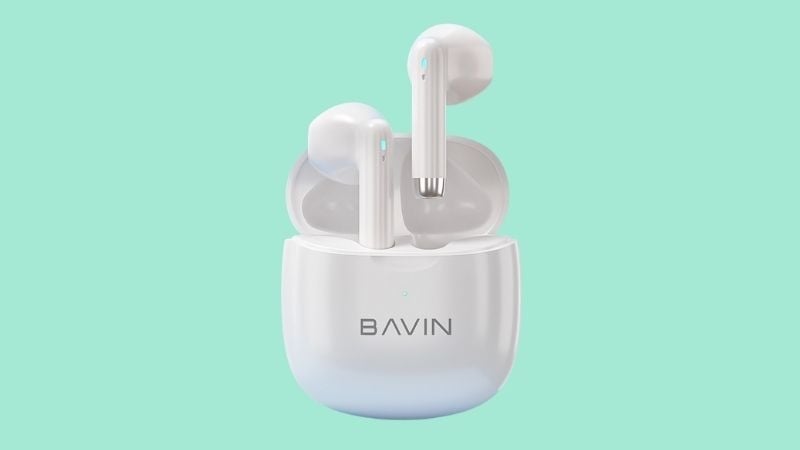 Model: Bavin BA19
Where to buy: Lazada, Shopee
Price: ~₱587 to ₱599
A brand recognised for manufacturing quality power banks, Bavin continues to pleasantly surprise us with similarly superior wireless earphones. The Bavin BA19 wireless earbuds are IPX5 Level, making them both waterproof and sweatproof. They're great for workouts, outdoor sports, and work purposes because of their single and dual earphone modes. 
This particular pair operates on a touch command for the play and pause functions, skipping to the next or previous track, as well as the voice assistant activation. The BA19 earphones are foolproof, simple to use, and can connect to Android, iOS, and Windows devices. With their modest price and great functionalities, these budget-friendly wireless earphones are more than just a stepping stone to more sophisticated models!
Also read: 10 Tools That Will Make Your Digital Nomad Life a Whole Lot Easier
How about giving these affordable wireless earbuds and earphones a try? If you haven't found what you're looking for, check out our other picks for keyboards, sanitation equipment, and other must-have gadgets as well.