Although the second-smallest province in the Philippines, Camiguin packs a punch with its crystalline waters, volcanic landscapes, and historical gems. What this pearl-shaped island province lacks in size, it makes up for in fun-filled experiences and marvellous wonders for every traveller! On your next trip to Northern Mindanao, hit up these Camiguin tourist spots for a trip worth remembering. 
Also read: 10 Airbnbs in Camiguin for Your Dream Island Getaway
Must-visit Camiguin tourist spots for an unforgettable trip
1. Katibawasan Falls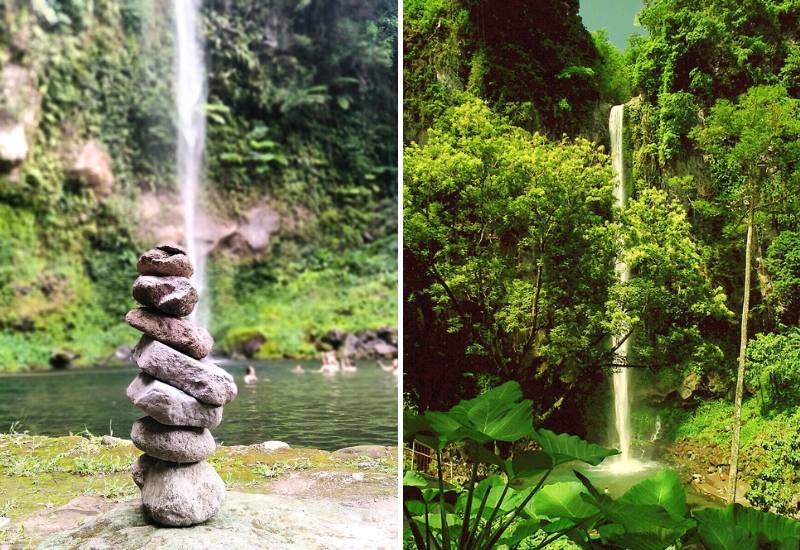 First up on your fun-filled adventure in the island province is Katibawasan Falls. Standing at a whopping 70 metres (250 feet), this single-drop waterfall remains the tallest in the Camiguin. That fact alone already makes it a wonder worth visiting, but it's also a must-visit for those seeking a cool and refreshing dip. Tucked away inside a dense forest blessed with sprawling greenery, its secluded location offers visitors a quiet respite in Mother Nature. 
2. Tuasan Falls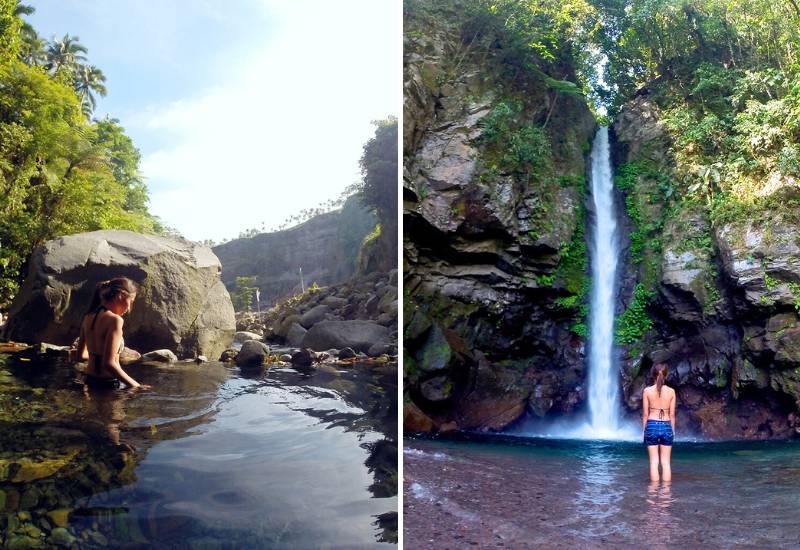 When it comes to waterfalls in Camiguin, Katibawasan Falls usually comes to mind first. However, many are unaware that the island boasts other equally majestic waterfalls. One of at least six other waterfalls that adorn the island is Tuasan Falls. Located along the slopes of Mount Tres Marias, it is characterised by a single-layer cascade of fresh spring water with a small yet deep swimming hole. 
3. Sto. Niño Cold Spring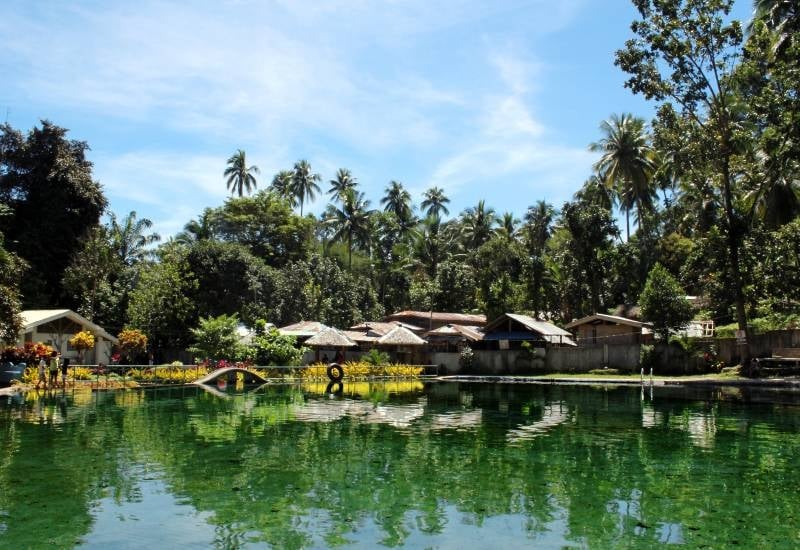 Camiguin abounds in picturesque natural springs, powered by the island's volcanic activity underground. Notably, among the top springs on the island are the Ardent Hot Springs and Sto. Niño Cold Springs. The latter, located in the town of Sagay, features an artificial pool fed by clear spring water flowing from the nearby mountains. Here, the water is cool and a vivid turquoise colour that's nothing short of inviting. 
4. Old Spanish Church Ruins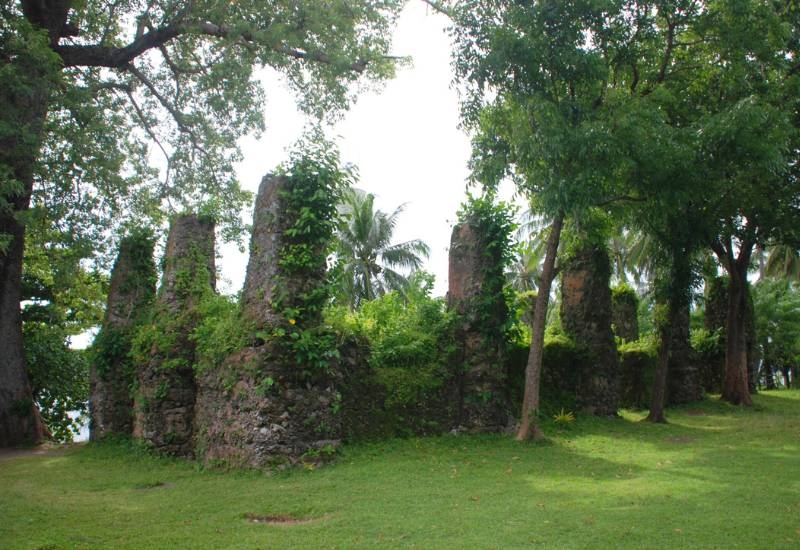 Situated in Catarman, the oldest town in Camiguin, the Old Spanish Church Ruins stand as hauntingly beautiful traces of the island's colonial past. It features ancient stone walls from the Guiob Church built in the early 16th century. The remains we see today have withstood the test of time and are all that's left after the eruption of Mount Vulcan and Mount Hibok-Hibok. For history buffs and sightseers, this is one of the Camiguin tourist spots worthy of your attention. 
5. Sunken Cemetery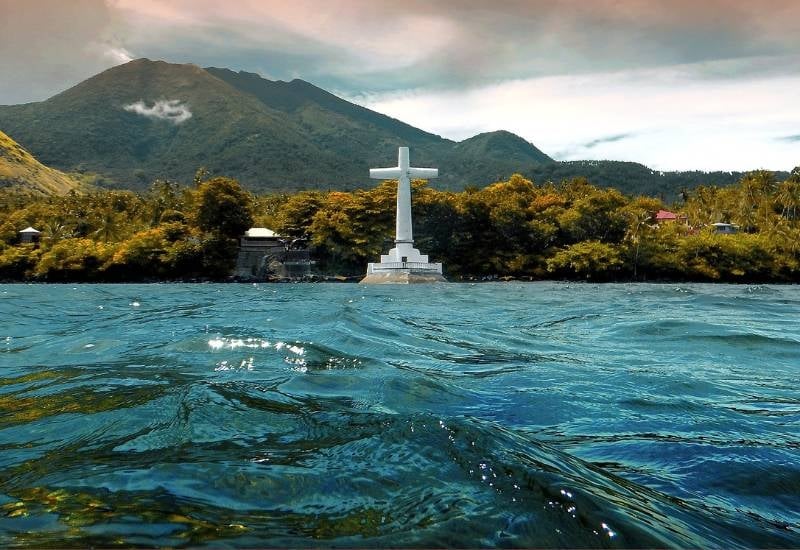 As its name suggests, Sunken Cemetery is a grave site located under the waters of the province's northwestern coast. It's arguably the most popular Camiguin tourist spot not to be missed, thanks to its eerie yet captivating underwater landscape. The attraction as it appears now is a result of the dramatic eruption of Mount Vulcan, which caused the cemetery to sink below sea level. 
The best way to explore and appreciate the Sunken Cemetery? Snorkelling, no doubt! Here, you'll spot centuries-old tombstones and crosses surrounded by vibrant marine life and colourful corals. 
Also read: 10 Must-Visit Snorkelling Spots in the Philippines
6. Old Volcano Trail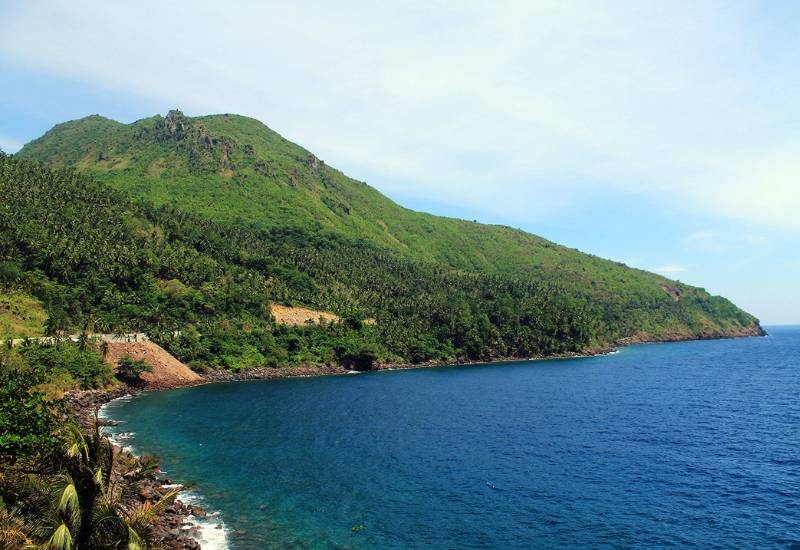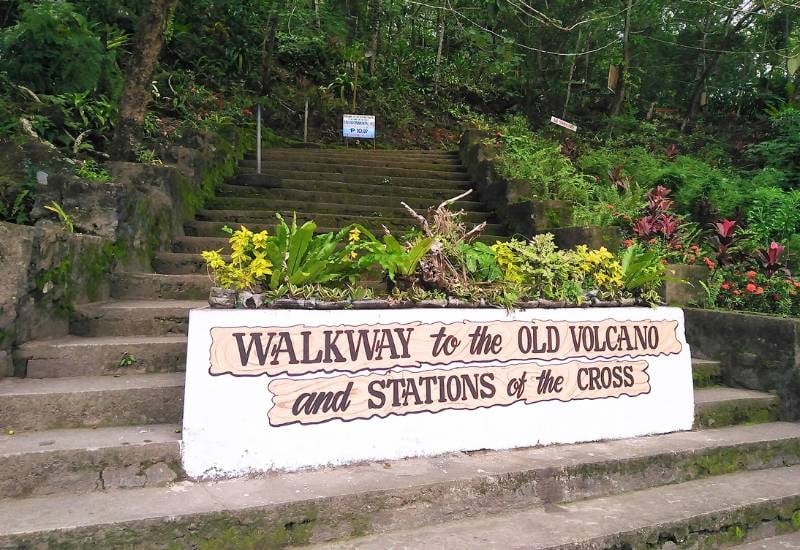 The pathway up to Old Volcano aka Mount Vulcan is a steep climb on a concrete stairway lined with life-sized statues of the Stations of the Cross. During the Lenten season, the site becomes one of the most sought-after Camiguin tourist spots, especially among devout Christians. But no matter what time of year, it remains a wonderful destination for those who want a worthwhile encounter in nature. 
Also read: 10 Lenten Food in the Philippines to Eat During the Holy Week
7. Mount Hibok-Hibok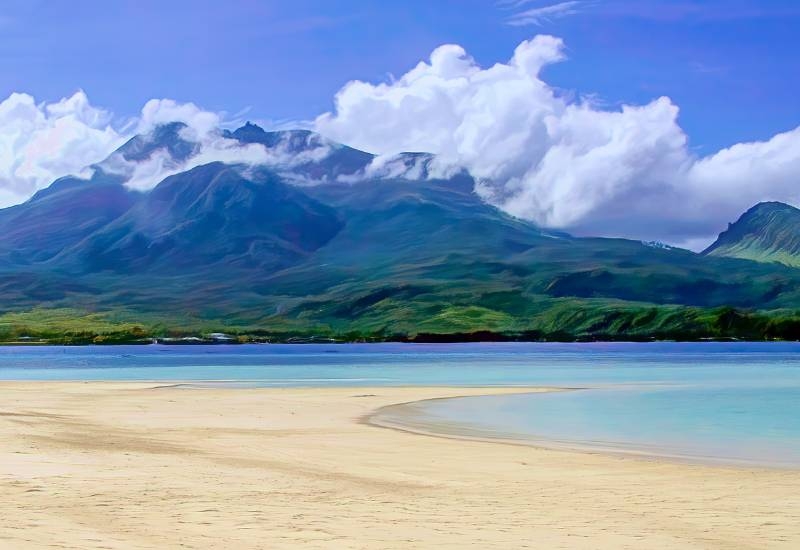 Aside from Mount Vulcan, another peak that deserves a spot on every hiker's bucket list is Mount Hibok-Hibok. Whether you're a newbie or a seasoned hiker, Mount Hibok-Hibok strikes the perfect balance between challenging and beginner-friendly. What's more? The unspoiled woodland enveloping this peak holds the prestigious title of being an ASEAN heritage park. Rightfully so, as it plays a huge role in the country's ecological diversity. 
8. Taguines Lagoon Aqua Sports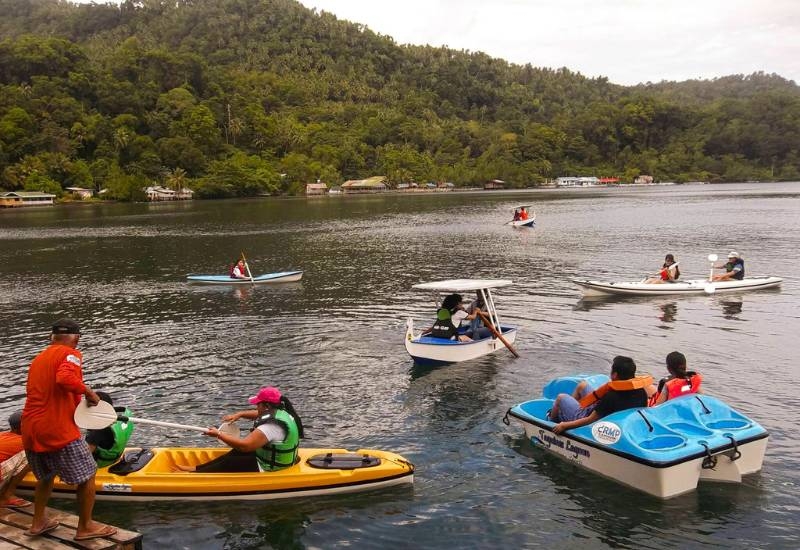 Now, who's ready to make a splash with thrilling water sports? Located in Mahinog, Taguines Lagoon Aqua Sports lets you do just that while enjoying the surrounding natural scenery! This artificial lagoon was primarily made for fish breeding purposes by the Bureau of Fisheries. However, it is now a buzzing recreational facility that offers a range of water sports and activities like riding pedal boats, kayaking, paddle boarding, and more.
9. Ardent Hot Springs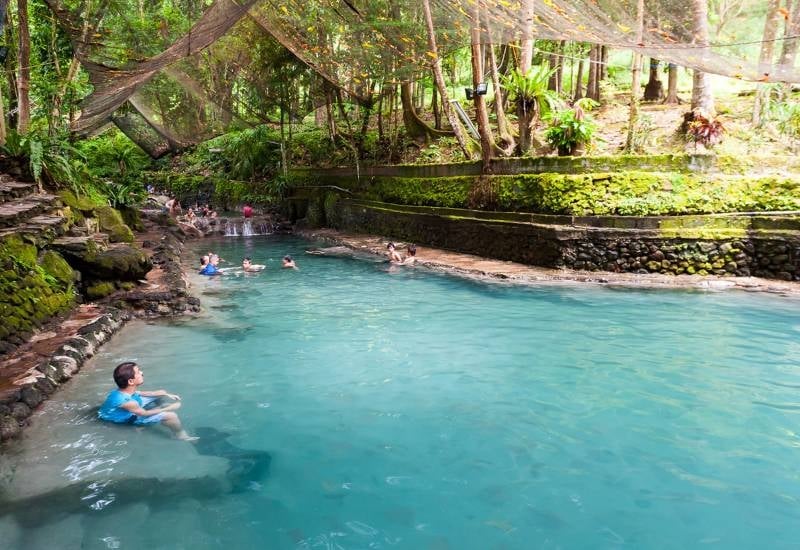 After hitting up the adrenaline-pumping Camiguin tourist spots, you also deserve some time for relaxation and rejuvenation! Nestled at the base of Mount Hibok-Hibok is Ardent Hot Springs, one of the most popular hot springs in the province. True to its name, its 40° Celsius waters provide a warm and soothing soak. And although it has gained popularity over the years, Ardent Hot Springs remains clear and beckons visitors. 
10. White Island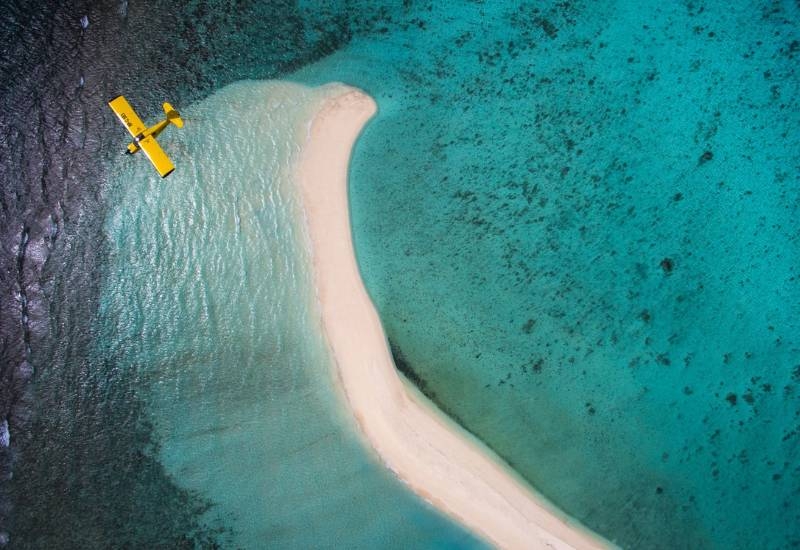 Finally, your trip wouldn't be complete without exploring White Island! Laying just off the coast of Mambajao, this crescent-shaped sandbar features a strip of fine, white sand surrounded by a crystal-clear blue sea.
For a one-of-a-kind sightseeing experience of this picturesque sandbar and other Camiguin tourist spots, join Camiguin Aviation's aerobatic flight tours! As you take flight, you'll witness a totally different perspective of the island province's volcanic landscape and seascape. Ready to take your adventure in Camiguin to greater heights? 
Also read: The Ultimate Camiguin Travel Guide: Must-Sees, Itinerary & Insider Tips!

Our list of Camiguin tourist spots barely scratches the surface of the spectacular marvels this province holds. Whether you're looking for majestic peaks to conquer or underwater havens to uncover, the Island Born of Fire gives adventurous folks all the right reasons to travel here. You best believe you'll Camiguin for more! 
---
Facebook image credit (R): Levi Vaagenes via Canva Pro