No matter how many beaches we've been to, a long stretch of pure white sand never fails to leave us in awe. Powdery white shores, crystal-clear turquoise waters, and not much else to spoil the natural scenery; for sun chasers and beach lovers, nothing compares to sandbars in the Philippines. 
Blessed with 7,000-plus islands, the country comes teeming with pristine sandbar gems — some that disappear come high tide. (Truthfully, the ticking clock only makes the island hopping experience even more appealing.) If you're eager to see the sandbars the Philippines has to offer, then you better get started ASAP because there are a lot. Here, we've rounded up the very best. 
Also read: 10 Best Beach Airbnbs in the Philippines, From Luzon to Mindanao
Most beautiful sandbars in the Philippines
1. Manjuyod Sandbar – Negros Oriental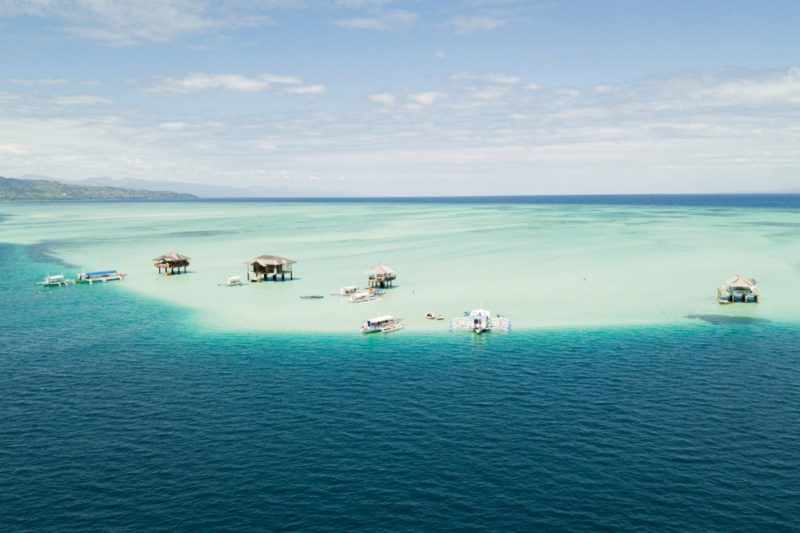 When you're sailing in search of beautiful sandbars, don't miss one of the most popular ones in the Philippines: Manjuyod Sandbar. A 15-minute boat ride off the coast of Bais City in Negros Oriental, it's a pristine white oasis floating in the sparkling blue waters of North Bais Bay. Many refer to this seven-kilometre beach as the Maldives of the Philippines, thanks to the stilt cottages for rent perched over the sea. But come on, who needs the Maldives when we have Manjuyod Sandbar? 
Besides the stunning sandbar, tourists exploring the area can also go dolphin watching in these waters. Just keep in mind that Manjuyod Sandbar is about two hours by boat if you're coming from Dumaguete City — a bit further away, but definitely still worth the trip!
2. Mansalangan Sandbar – Palawan
Palawan is so filled to the brim with idyllic isles and pretty little sandbars that it's impossible to pick just a single one to visit. But allow us to train the spotlight on one that's less frequented by tourists: Mansalangan Sandbar in Balabac. Swim, sun, and frolic along the narrow strip of white sand. A natural gem in southern Palawan, Mansalangan is a highlight of tours around the Balabac group of islands.  
Also read: 17 Secluded Hotels & Resorts in Palawan That Are Off the Tourist Radar
3. Kalanggaman – Leyte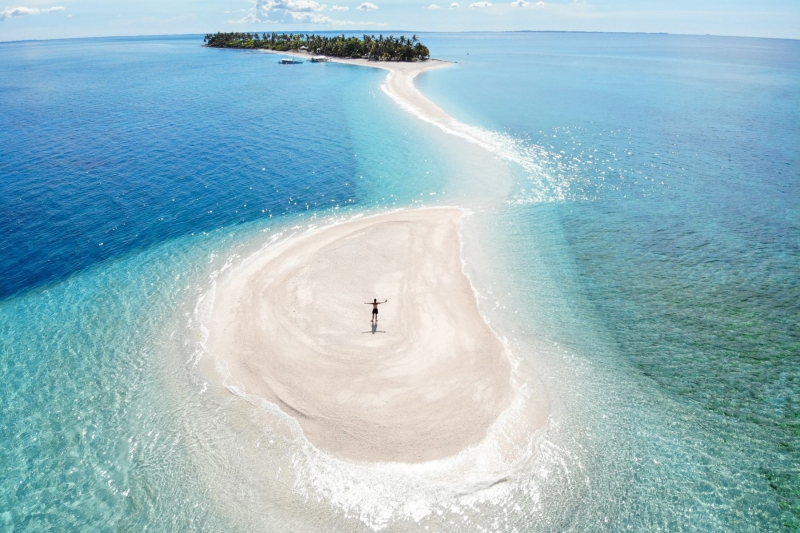 Don't skip Kalanggaman Island on your next tropical vacation in Visayas. After all, there's a reason why this 795-metre natural gem in Palompon, Leyte is one of the most famous sandbars in the Philippines. Fine white sands that shift with the tides and crystalline sea as far as the eye can see — what's not to love? Kalanggaman sits about an hour off the coast of Palompon, but tourists can also hop on an island-hopping tour in Cebu to get here. 
Also read: Island Hopping in the Philippines: Top Destinations and Tips for Planning Your Trip
4.  Naked Island – Siargao
After conquering the waves in the Surfing Capital of the Philippines, a chill day in one of the Siargao sandbars offers a more relaxing daytime activity. Meet Naked Island, named for its blissfully empty — or rather, naked — shores. So, keep your clothes on for this one; the name isn't an invitation for skinny dipping! The sandbar is enchanting enough on its own, with extra-fine white sand and shallow turquoise waters perfect for a refreshing dip. 
During an island-hopping tour in Siargao, you'll also stop by the pristine islands of Dako and Guyam.
Also read: 15 Beautiful Airbnbs in Siargao to Complete Your Island Experience
5. Cresta de Gallo – Romblon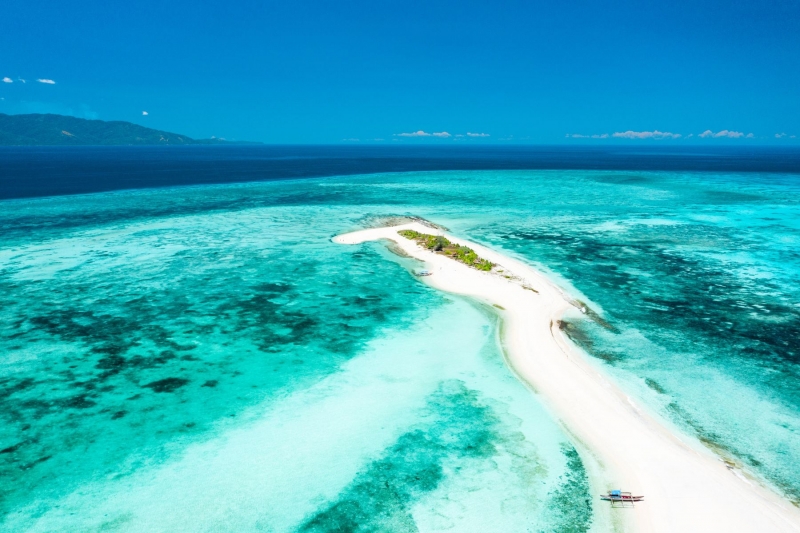 Boracay is beautiful, but it's far from the only gorgeous beach in the Philippines. In fact, its own neighbouring province, Romblon, is a captivating tropical paradise, too — minus the crowds! The underrated destination is home to many stunning beaches, but we're pretty enamoured with Cresto de Gallo Island. 
Here, a winding white sandbar connects two tiny islets, while another one sits on the farther side of the larger islet. Both are postcard-pretty, the idyllic picture of a remote island made for castaways looking for an off-the-beaten-path adventure by sea. 
6. White Island – Camiguin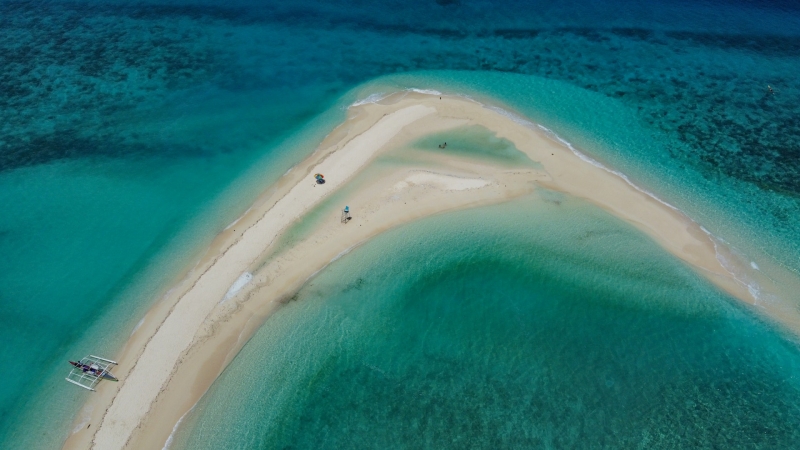 Another beach bum's favourite: White Island in Camiguin. A unique horseshoe-shaped sandbar rising from azure blue waters, it's the most famous attraction of the tiny island province. And it's easy to see why this is the centrepiece of a Camiguin trip. Like many sandbars in the Philippines, White Island is completely uninhabited, with nothing to spoil the pure white stretch of sand and tropical scenery. 
Also read: 10 Airbnbs in Camiguin for Your Dream Island Getaway
7. Panampangan Sandbar – Tawi-Tawi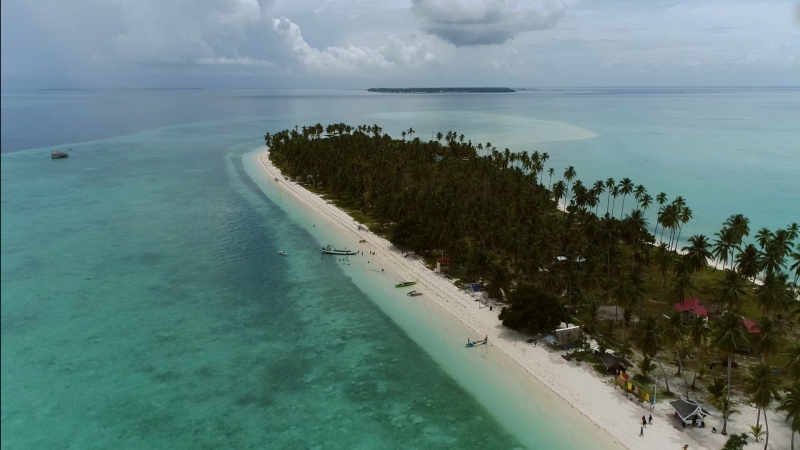 Looking to visit the longest sandbar in the Philippines? Tucked in the Mindanao province of Tawi-Tawi, Panampangan Island's three-kilometre strip of powder-soft sand, verdant trees, and dazzling turquoise seas guarantee the haven of every beach lover's dreams. And unlike many sandbars in the Philippines, this castaway island can play host to overnight tourists. If you've travelled far to get to Panampangan Island, then you might as well stay the night, right? 
Also read: 20 Unspoilt Beaches in Mindanao You've Probably Never Heard Of
8. Manlawi Sandbar – Camarines Sur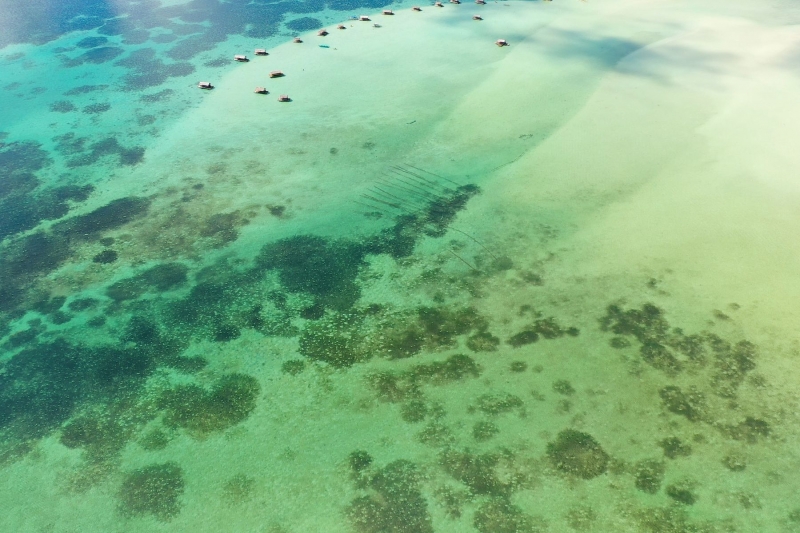 Famous Survivor destination Caramoan in Camarines Sur stands out as a beach locale, so it's not surprising that it boasts a gorgeous sandbar of its own: Manlawi Sandbar. Although there are plenty of beautiful beaches in the Bicol Region, this one is among the most picturesque with strikingly white sand and aquamarine waters. Manlawi Sandbar lies beneath the waves during high tide, but come low tide, the heart-shaped sandy idyll emerges. 
9. Pungtud Island – Bohol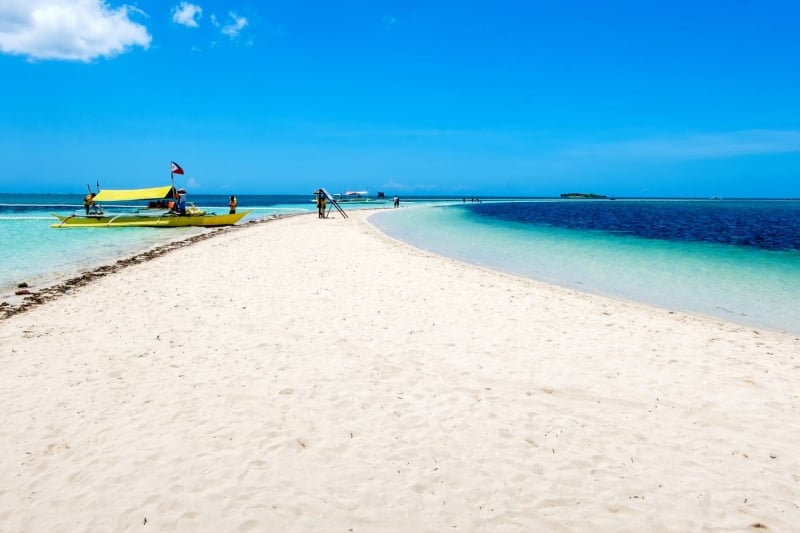 Travellers exploring Bohol will typically embark on an island hopping tour, and one of the highlights is a stop at the beautiful Pungtud Island, popularly known as Virgin Island. The long white sandbar that winds into the glittering sea remains loved among photographers and sun-chasers. Starfish and the occasional sea urchin lie on the sandy shores, while vendors sell delicious seafood, buko juice, and little trinkets in a bustling floating market. Busier than most sandbars in the Philippines, Pungtud Island is a unique experience. 
TripZilla Tip: Adventurous foodies can sample sea urchins here. Although they taste good grilled, sea urchins are best eaten raw! 
Also read: 8 Bohol Airbnb Rentals to Book for a Vacation in Central Visayas
10. Sumilon Island – Cebu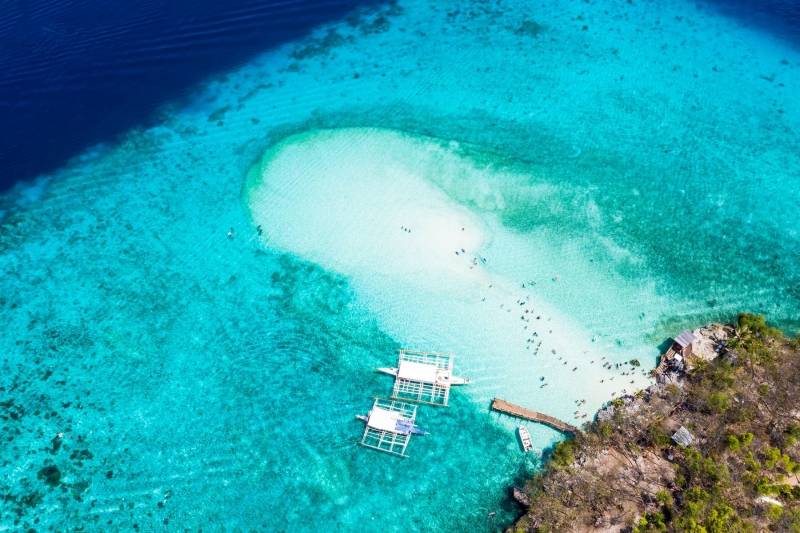 Finally, head to Sumilon Island off the southern coast of Cebu. A short boat ride from Oslob, the island is home to a gorgeous sandbar with shifting sands that make it a different shape each time it appears during low tide. Additionally, there's more to do here than snap photos of a white beach. Surrounded by vibrant coral gardens, Sumilon is a favourite among snorkelling enthusiasts and scuba divers, an island hideout where travellers can swim among tropical fish and colourful reefs. 
Also read: Cebu Off the Beaten Path: 10 Hidden Gems to Explore
On a tropical vacation in the Philippine archipelago, going to a sandbar or two is a must. What are you waiting for? Best to visit these sandbars in the Philippines before they disappear during high tide.