Cebu is easily one of the best places to spend time in the Philippines. If Luzon has Metro Manila, then Visayas has Cebu; the province welcomes visitors with open arms while offering endless adventures to explore. Everything is here, may it be picturesque beaches, rich cultural heritage, and delectable food. And every time we go back, there only seems to be more things to do, see, and eat. Learn the essentials before you fly out with our ultimate Cebu travel guide.
Also read: Palawan Travel Guide 2023: Best Things to See, Eat, and Do
Getting there
Boarding a plane is by far the best way to get to Cebu. Fly into Mactan-Cebu International Airport (MCIA), a gorgeous airport that is both a gateway to the province and a sightseeing opportunity. The airport's sleek modern design, spacious interiors, and efficient communications systems make it a pleasure to fly into the province, whether you're on a domestic or international flight.
Going by sea is also an option. Numerous ferries have routes from ports all over the country that go to Cebu. While this is a much more affordable option, travel times can potentially take days compared to flying by plane, depending on the port of origin. So, consider both the budget and the convenience when visiting Cebu.
Where to stay in Cebu
More often than not, where you are in Cebu will determine your activities. So, pick accommodations carefully. Fortunately, there is an abundance of hotels and rentals in this tourist-favourite destination. This Cebu travel guide will list down a few of the key places you'll want to consider when visiting the province.
Cebu City Centre
Expect a busy scene along the streets and roads of Cebu City. It's always full of life with plenty of shopping and dining opportunities, and a thriving nightlife scene that emerges after sunset. Sure, there's considerable traffic on the roads and sidewalks — but as it is with anywhere else, timing your itinerary around the rush hour can help you miss the worst of the traffic jams.
The city centre is also where you'll find some of the best restaurants in Cebu. If food is in your itinerary, booking a stay in the city will give you a head start to that gastronomic journey.
Luckily, plenty of fantastic accommodations are available for booking in Cebu City for travellers. Hotels like Radisson Blu, Waterfront Hotel, and the 88th provide comfortable nights in the middle of the hustle and bustle of Cebu City. 
Mactan Island
On your upcoming Cebu holiday, treat yourself and splurge on a stay at Mactan Island's many luxury hotels and resorts! Aside from the convenience of being near Cebu's airport, it's also close to many beautiful beaches. For the ultimate pampering extravaganza, Mactan Island definitely delivers with five-star hotels like Shangri-La Mactan and Crimson Resort. And if you want to indulge in delicious food, Cebu City Centre is just 30 minutes away, so long as you avoid the rush hour! 
Beach bums on a budget who don't want to be far from commercial areas and city delights may want to consider staying on Mactan Island. Lapu-Lapu City has many options for inexpensive rentals, most of which are near the city centre. Some are just minutes away from Mactan's beaches!
For specific suggestions on Airbnbs in Cebu, read this.
Moalboal and Oslob – Southern Cebu
Moalboal is one of the fastest-rising destinations in Southwest Cebu and for good reason. This coastal gem is a true tropical paradise. Beach waters shine like an assortment of sapphire and turquoise against immaculate fine sand. Naturally, most accommodations in this beach town take advantage of its tropical gifts. Fortunately, there are many to choose from at varying price points. Some have hefty tag prices, like dive resorts, but there are also transient houses and rentals that are much lighter on the wallet.
Oslob is popular for many of the same reasons. This beach town is a haven not just for tourists, but also for marine life, most famous for its pristine waters teeming with friendly whale sharks. Take note of Oslob's peak seasons: Dry weather and little rain from December to May attracts many tourists to these shores, thanks to the pleasant climate. Accommodations may drive their prices higher during the peak season, but looking hard enough might score you a bargain in rentals.
Bantayan Islands and Malapascua Island – Northern Cebu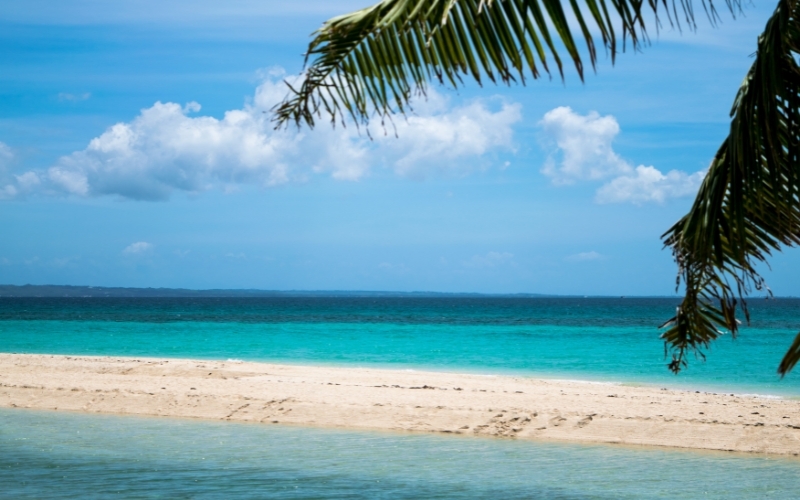 The islands north of Cebu also possess unrivalled natural beauty. Small as it is, Malapascua's waters teem with life, making it a popular destination for divers around the world. While there are a handful of dive resorts delivering a luxury experience, hostels and rentals remain very affordable. 
Meanwhile, island-hopping opportunities abound around Bantayan Island and its surrounding islets. Fortunately, there is a wide range of accommodations suited for every budget. Luxury apartments, beach resorts, and beachside inns are well-equipped to keep guests comfortable as they have fun under the sun! 
For our specific suggestions on accommodations on Bantayan Island, read this. 
Getting around
Like many metro cities in the Philippines, jeepneys are the main public transport option in Cebu City. Taxis and ride-hailing apps also see extensive use in the Queen City of the South. If budget isn't an issue, these are the best ways to travel around Cebu. For inner or hidden community streets around Cebu, tricycles are still viable options for transport.
In Moalboal, Oslob, Malapascua, and Bantayan, not all roads are wide enough to accommodate jeepneys. Instead, many tourists hop on tricycles and motorcycle taxis to get around these beach towns. Private cars or vans can be rented, but expect higher prices for these. If you're looking for a sense of adventure, let your own two feet take you around these thriving beach towns!
Where to eat in Cebu
Oh, Cebu is such a gastronomic haven! It seems almost everything that Cebuanos cook and serve tastes divine, with every corner of the province boasting its own speciality.
Cebu and Carcar lechon
Every Cebu travel guide will tell one thing when it comes to food in Cebu: Do not miss Cebu lechon. Compared to lechon in other places, its flavours are much more defined and sophisticated because of the various herbs and spices roasted inside the pig. Naturally, plenty of restaurants in Cebu City serve this delectable piece of heaven, with House of Lechon and CnT Lechon as some of the most sinful!
Equally delicious is Carcar lechon, named after a southern municipality in Cebu. Their flavours are different from the more famous Cebu lechon, but they are just as tasty. The most famous characteristic of Carcar lechon is its tangier flavour profile. Sample this revered plate of pork in restaurants like Oca Paraz or the ever-reliable Carcar Lechon Baboy.
Also read: Best Places to Buy Lechon in the Philippines for Your Grand Feasts
Su-Tu-Kil
Another staple that any Cebu travel guide will recommend is the sutukil. This word is a combination of three cooking techniques popular among Cebuanos. Su comes from sugba, or grilling. Tu is tuwa, the Cebuano term for broth-based dishes. Finally, kil for kilaw, or seafood ceviche techniques. Thus, sutukil restaurants showcase the best seafood dishes using these traditional Cebuano techniques. 
Most of these dining spots can be found anywhere in the city, but we recommend trying Lantaw Floating Market in Mactan and STK Ta Bay right at the heart of Cebu City.
Street food
Finally, street food in Cebu is also a major contender when it comes to finding the best gastronomic offerings. With an abundance of affordable options and places to explore, travellers with a shoestring budget will thrive in Cebu.
Most of these offerings take inspiration from Chinese cuisine, such as ngohiong and siomai sa tisa. There is also the pungko-pungko, where a heaping pile of fried food is usually paired with puso, or hanging rice. Places like Larsian and Pungko-Pungko sa Fuente serve a dizzying array of fried fare, including fried chicken, fried lumpia, longganisa, and more assorted ulam. Oftentimes, you won't need to bring more than a hundred-peso bill for a sumptuous meal!
Also read: Best Street Food Spots in the Philippines For Your Next Food Crawl
Best things to do in Cebu
1. Learn about the rich local history in Cebu City
As one of the Philippines' oldest cities, Cebu City has a rich and revered history. The city bore witness to many pivotal and formative events for the country. This is where Ferdinand Magellan established Roman Catholicism in the country, after all. In Cebu City, tourists can visit the most important relic birthed by the event, Magellan's Cross. It's located in the Basilica Minore del Santo Niño, which also houses the original image of the Santo Niño.
Another important historical site in Cebu is Fort San Pedro, a famous landmark that was once used as a prolific garrison for the Spaniards during their occupation. Travellers can also get a peek at Cebu's rich and diverse heritage with a visit to the Taoist Temple.
Also read: 20 Must-Visit Historical Buildings & Heritage Houses in the Philippines
2. Take photos of the city's picturesque attractions
Luckily for photographers and Instagram enthusiasts, there are truly breathtaking places to visit around Cebu. Easily one of the most impressive structures to fawn over is the Temple of Leah. This extravagant recreation of a neoclassical temple inspired by Roman and Greek architecture was a gesture of love between two members of a prominent family in Cebu. True enough, the centre of the structure enshrines a statue that bears a striking resemblance to the family matriarch. 
Sirao Flower Farm is another picturesque attraction that's just outside the city. Dubbed Cebu's Little Amsterdam, the vibrant colours and hues of flowers present an overwhelming sight. 
Tip: Bringing a jacket when visiting Sirao Flower Farm is a good idea since the farm is quite elevated, with cooler temperatures throughout the day.
3. Get a taste of adrenaline with thrilling activities
Itching for an adrenaline rush? This Cebu travel guide has got you covered. In Cebu, you never have to look far for thrills and spills! 
For thrills in Metro Cebu, we suggest heading to Crown Regency Hotel to get your heart racing. On the 37th floor is the world-famous Edge Coaster, a thrilling ride offering a very different view of Metro Cebu. In the same building, there's also the Skywalk, where you get to walk on glass floors more than a hundred metres above the ground. 
It's also exciting to explore Cebu's abundance of natural wonders. Canyoneering trails to Kawasan Falls alone are enough to challenge anyone's wits and physical strength. After all the trekking and rappelling, a relaxing plunge in Kawasan's fresh waters will reinvigorate the body and spirit. Do remember to exercise caution when taking the plunge!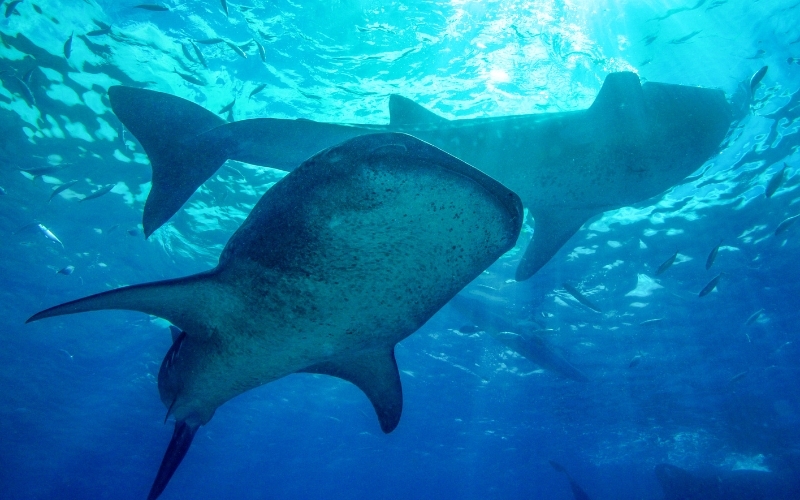 Diving and snorkelling sites in Cebu offer more thrills underwater. Beach towns like  Moalboal and Malapascua thrive with underwater landscapes that draw divers to the province from around the world. And of course, Oslob is home to the famously gentle giants, the whale sharks. Yes, it's possible to swim alongside them! Just don't get too close — they are still wild animals, after all.
4. Relax at beautiful beaches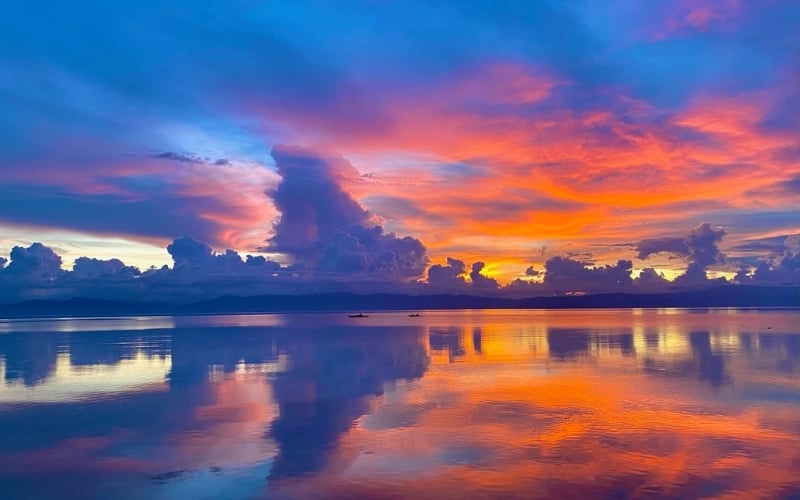 Cebu's surrounding islands are beach bum havens, promising a blissful escape with their inherent beauty. Staying at the beach towns of Mactan, Bantayan, Oslob, or Moalboal puts you amidst a tropical paradise with peaceful vistas and an infectiously laidback culture. The views are so dreamy, you'll never want to leave!
When you're in Mactan, Marigondon Public Beach is a pretty solid choice. It's a well-maintained public beach that locals say can rival world-famous Boracay. Matutinao Beach is an excellent beach in Badian with breathtaking sunsets. Plus, it's only a few minutes away from Kawasan Falls should the call to adventure arise. In the north, Bantayan's Paradise Island is the perfect picture of a pristine idyll with fine white sand and crystalline blue waters.
Also read: 10 Must-Visit Snorkelling Spots in the Philippines
We hope this Cebu travel guide will convince you to consider the province as your next destination. It's a destination that is constantly growing, with more surprises in store the moment you land. Even after leaving, we're sure that returning soon to the city isn't far off!