Back when I was in school and was starting to date my first (and current!) boyfriend, even the most mundane things we did together instantly became special. From grocery shopping to running to the bookstore for school supplies, the simplest activities already felt like little adventures. In a very similar way, we outside world-deprived travellers have learned to appreciate just about any reason to leave our homes — whether it's to replenish our essentials or to have a quick meal at a café.
Suddenly, a trip to a coffee shop has never looked so good. As overnight trips or visits to tourist sites are now out of the question for many of us, dropping by a neighbourhood café has never been so exciting; and all the more so when it's a drive away! Between local residents and visitors from other cities, coffee shops in Pampanga have become the places to visit in recent months. If you're into #aesthetic interiors and excellent coffee, then you'll definitely want to bookmark the following list for the next time you crave a little outside-world adventure!
Also read: 10 Coffee Shops in Quezon City That You Have to Visit
Must-visit coffee shops in Pampanga
Angeles, Pampanga
1. Moon Café
First up on our list of must-visit coffee shops in Pampanga? Moon Café, a Korean-inspired café that has quickly become a go-to in Angeles.
"But first, coffee" is basically every coffee addict's mantra — and the moment you step inside this coffee shop, you'll spot an Instagrammable neon sign declaring just that. Now, how could any of us not fall in love at first sight? The great news: Moon Café doesn't only offer pretty backdrops for your photos. They serve delicious lattes and pastries, too! Drop by for brunch sometime, and we promise you'll be coming back for more.
For more information, visit Moon Café's official Facebook or Instagram pages.
2. Urban Garden Cafe & Bistro
Despite having only been around for a few months, Urban Garden Cafe & Bistro has already become one of the coffee shops to try out in Pampanga. Offering a refreshing change of scenery, this café — true to its name — is home to a stunning urban garden that any plantito or plantita would surely love. It's also nestled right under WA Architects, the very firm responsible for its picture-perfect furniture and design.
Must-try menu items include their cro-ffles (croissant waffles! How cute, right?) and lattes. And if you happen to be staying until late? Make sure not to miss out on their coffee cocktails — happy hour has never been this tempting!
For more information, visit Urban Garden Cafe & Bistro's official Facebook or Instagram pages.
3. Kalidad Coffee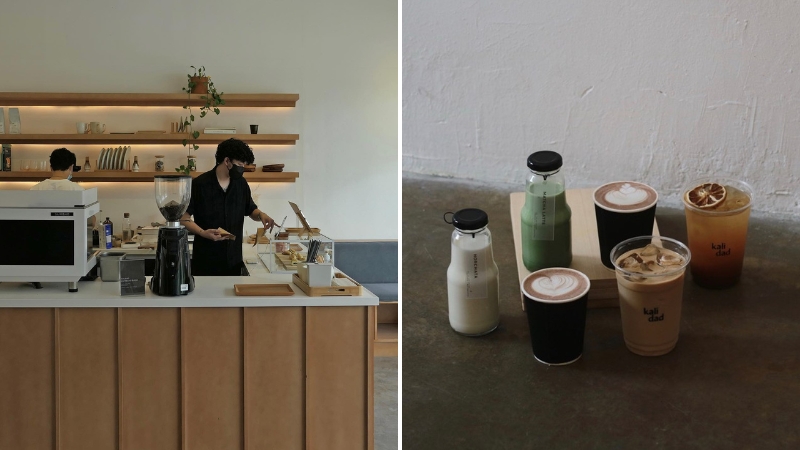 No doubt one of the most popular coffee shops in Pampanga today, Kalidad Coffee is favoured for its visually satisfying aesthetic. With its clean, minimalist vibe, it will instantly remind you of your favourite Japanese café. We just love how a quick trip to this café is already enough to temporarily feed our wanderlust!
Their menu offers a generous range of beverages that cater to different tastes, from standard espresso-based drinks to their well-loved dirty horchata, to non-coffee drinks like their chocolate chai and watermelon Assam. Pair your drink of choice with one of their mouth-watering merienda offerings like Spanish bread and pan de coco — or you know, why not both?
For more information, visit Kalidad Coffee's official Facebook or Instagram pages.
Also read: This Former Sari-Sari Store in Rizal Is Now a Japanese-Inspired Coffee Shop
4. Amand
We know what you're thinking: Who knew there were so many amazing coffee shops in Pampanga? It's almost impossible to decide where to start! Sleek and stylish yet homey, Amand looks like something straight out of a design magazine — and serves delectable pastries and thoughtfully crafted coffee to match! 
Of the many things this café has to offer, its dedicated pastry table just might be the highlight of your dining experience. Here are a few desserts that just might tickle your fancy: a banana cake and fudge brownie combo (a match made in heaven!), quezo de bola ensaymada, and Amand's signature tiramisu. It's a sweet tooth's dream come true!
Note: Amand is temporarily closed until further notice. Keep checking out their social media pages for updates.
For more information, visit Amand's official Facebook or Instagram pages.
5. Cafe Ana
If pretty, feminine interiors are your kind of thing, then Cafe Ana most definitely deserves a spot on your list of Pampanga coffee shops to visit. We don't doubt you'll love their many scrumptious offerings, too —  they've got a menu extensive enough to feed you from breakfast to dinner (and dessert after each and every meal). What's more, their plating is as Instagram-worthy as the café's interiors, perfect for flat lays and drool-worthy #foodporn photos!
Apart from your usual coffee shop menu items, Cafe Ana's fruit shakes are particularly worth trying out. Their strawberry-mango shake is one of their bestsellers and makes for a refreshing choice for cooling down on hot summer days. Another tempting flavour? Strawberry avocado — yum!
For more information, visit Cafe Ana's official Facebook or Instagram pages.
6. MC Cafe
Our favourite thing about 2D cafés: they make us feel as though we've transported right into the pages of a comic book! These types of cafés are particularly popular in travel destinations like Japan, Taiwan, and Korea — so we absolutely love that we can enjoy this trend right within Angeles, Pampanga, thanks to MC Cafe (a.k.a. Mind Control Cafe).
Come by for their wide array of offerings, which range from coffee, tea, frappes, milk tea, fresh fruit shakes, and more. We're certain you'll have fun taking snaps of your orders (and yourselves!) all around the café while you're at it!
For more information, visit MC Cafe's official Facebook or Instagram pages.
7. Infusions Quarters
At Infusions Quarters, every hour is happy hour — for big fans of caffeine, that is! This café is, undoubtedly, run by and for true blue coffee lovers. The entire bean-to-brew experience is something they take very seriously, and you'll be able to tell from the moment you take your first sip of their speciality coffee!
Not only do they serve expertly crafted coffee; they're more than happy to share their passion and skills with all of us, too. Yes, you understood that correctly — they offer barista workshops, which are open to anyone interested in learning the craft. We don't know about you, but we love baristas who know their stuff and make us mere mortals feel welcome instead of intimidated!
For more information, visit Infusions Quarters' official Facebook or Instagram pages.
Apalit, Pampanga
8. Pink Planter
First of all, how cute is this café's name? A play on "Pink Panther", Pink Planter is a one-stop shop for coffee, plants, and cute plant-themed merchandise.
This café in Pampanga intentionally doesn't offer Wi-Fi, so guests can enjoy quality conversations with their fellow diners (while social distancing, of course), as well as all the features the store has to offer. Pink Planter was specifically designed to be photo-op worthy, so you'll want to take as many snaps as possible! Not only that, they even have a lineup of books for guests to enjoy over coffee or tea; plus, they have a mini garden right beside the store, which all you plant enthusiasts are welcome to check out.
For more information, visit Pink Planter's official Facebook or Instagram pages.
9. 92 Parameters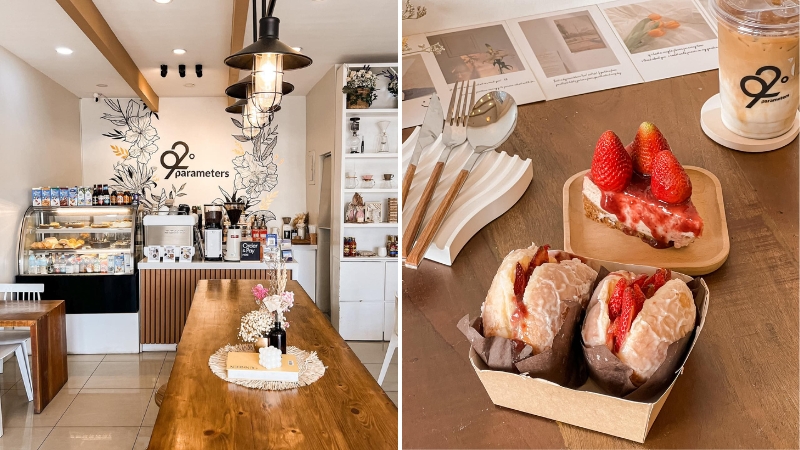 At 92 Parameters, there's no such thing as a bad brew! This cafe in Pampanga is constantly in pursuit of the best speciality coffee: one that brings out classic and natural flavours. Apart from their thoughtfully crafted coffee creations, they also offer a seasonal selection of yummy fare — from hearty rice meals to finger food to delectable pastry options. On top of that, their space provides the perfect ambience for chilling with friends. 
For more information, visit 92 Parameters' official Facebook and Instagram pages. 
Mabalacat, Pampanga
10. KAPE'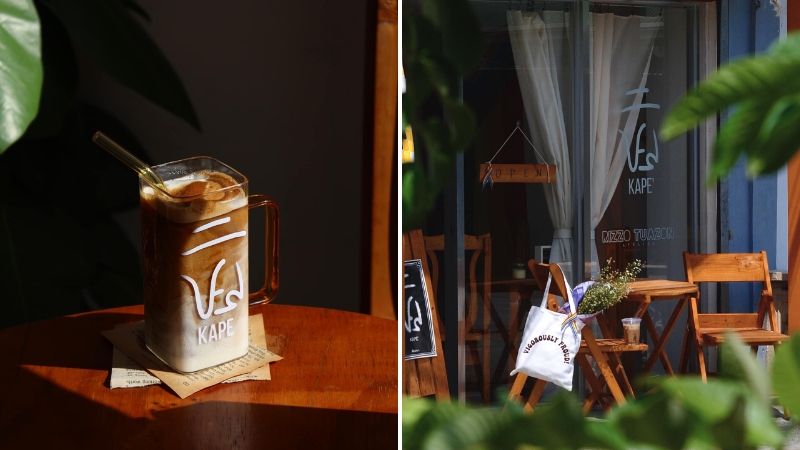 Tucked away in the city of Mabalacat is a quaint queer-owned cafe called KAPE'. A relatively new coffee shop in Pampanga, this cafe serves artisan espresso-based and caffeine-free drinks. Here, you can savour fresh brews, including their bestseller Kape' Tres Leches or signature beverages like Kape' Con Leche and Kape Caramelo Salado. Beyond its delicious beverages, KAPE' serves as an inclusive, safe space for everyone, just as fashion designer and coffee connoisseur Rizzo Tuazon has always envisioned. 
For more information, visit KAPE''s official Facebook and Instagram pages. 
Also read: LOOK: Greenhouse Café Tagaytay Is THE Café of 2020
Who ever said you had to go far (read: out of the country) to scratch your travel itch? For the time being, a trip to these coffee shops in Pampanga is enough to do the trick. We hope a visit to even just one of them helps satisfy your wanderlust and your caffeine cravings!