These days, a thin line exists between Filipinos' love of social media and that of travelling. Last year's digital report by We Are Social revealed that the Philippines tops all other countries in social media usage. Two years earlier, we placed fourth as the most internationally travelled nationality in the Asia-Pacific region. It was only a matter of time when the world's biggest social networking site became our most popular source of travel information, especially with its 'groups' feature.
As of writing, there are about thousands of these communities available on Facebook. From those that encourage sharing travel itineraries and travel photos to ones that go the extra mile of organising community outreach activities — here are the top Facebook groups Filipino travellers can join in 2019!
Also read: Top 20 Travel Blogs in the Philippines to Inspire Your Wanderlust
DIY Travel Philippines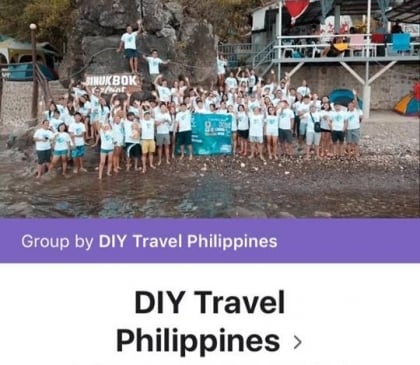 Members: 863,000+
After realising a lack of available travel information on a trip to Bicol and joining a group that prohibited sharing travel invites, balikbayan Michelle Enriquez felt it was necessary to create a group like DIY Travel Philippines. "I envisioned the group to provide a platform where travellers (local and international) can effectively connect with one another, as well as connect with the best travel service providers (travel agencies, tour/boat/van operators)", she shares. Now with nearly a million members, this all-inclusive community continues to promote sustainable tourism in the local scene while nurturing its community through annual gatherings.
Travel Philippines (Byaheng Budgetarian – Project 81)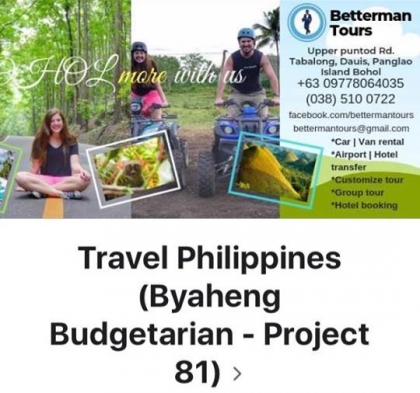 Members: 334,000+
As its name suggests, this particular group focuses on budget travels throughout all 81 provinces of the Philippines. If you have questions to ask or information to share about accommodations and organised tours, you can post them here. What's more, the Travel Philippines (Byaheng Budgetarian – Project 81) group can be publicly accessed. This means that you can quickly gain access to travel itineraries, tips and news posted by members without having to go through screenings.
SOLO Traveler BUDGETARIAN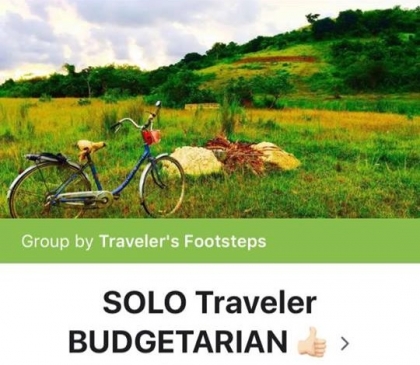 Members: 271,000+
SOLO Traveler BUDGETARIAN is handled by a small Facebook page called Traveler's Footsteps. Since its foundation on Oct 2016, the group has gained quite a number of following of local travellers. However, there are a few completely reasonable things that you cannot do by being one of its members. These include personally selling airline tickets, promoting van service rentals and of course, posting updates insensitive to the rest of the members. You can, however, take advantage of posts promoting a certain destination and invitations to group trips.
Backpackers of the Philippines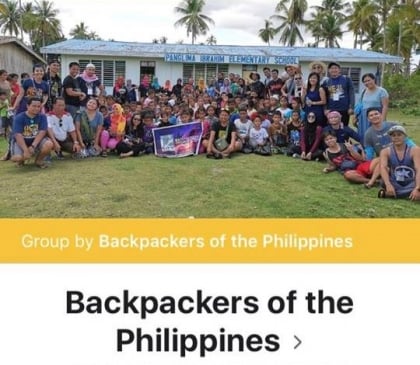 Members: 145,000+
Managed by a Facebook page of the same name, Backpackers of the Philippines is different from most Facebook travel groups in that its administrators regularly organise non-profit events such as community outreach programmes. You can also use the discussions page to buy and sell pre-loved travel items like backpacks and tents. On the other hand, if you're a tour operator, travel agent, climb organiser or seller of irrelevant items, this page may not be for you.
Budgetarian Travellers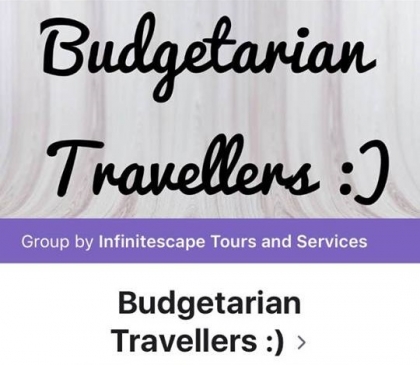 Members: 122,000+
Budgetarian Travellers has connections with a local travel agency called Infinitescape Tours and Services. The group is owned by a Filipina named Theresa Robert and the agency by her fellow administrator, Michael John Lopez. The group started with only Theresa and her own friends as the members. Over time, it evolved into something much bigger, gaining an average of 2,600+ users per month since 2016. According to Theresa, the group continues to grow because members constantly search for "quality yet budget-friendly tours". Sharing travel tips, photos, budget travel events and itineraries mostly on local destinations are more than welcome here. Meanwhile, selling of unused airline tickets and non-travel merchandise is prohibited.
DIY Travel and Organized Tours Philippines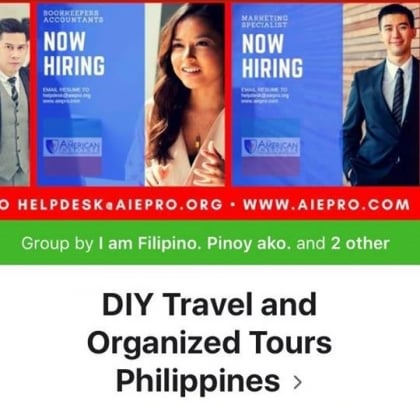 Members: 117,000+
One of the older travel groups on Facebook, DIY Travel and Organized Tours Philippines heavily promotes travelling the Philippines by offering transportation services and accommodation options. Members also actively advertise seat sales and different travel activities. Interestingly, it was created by Christopher Delacruz, co-founder of the American Institute for English Proficiency, initially as a way to encourage his students to practise their English proficiency by exploring the Philippines. Eventually, non-students had started to request for membership in the group. Christopher and the other administrators then decided to simply open it to anyone who's interested in travelling.
These groups are but a small fraction of available Facebook groups for Filipino travellers. If you have more specific travel-related interests, here are several more you can consider joining:
DIY and Travel Adventures Philippines
LAKWATSERO TRAVEL.PH
PH Cheap Travel Packages (DIY, Tours, Events, Vans)
Filipino Travel Group
Travel Buddies: | DIY and Budget | Beaches and Mountains | Philippines |
PHILIPPINES Backpacker / Traveler
Travel Buddies – Friendly, Budgetary & Amazing Tour Events
TRAVEL ADVENTURE CLUB (budget/diy traveller)
Backpackers DIY Budgetarian Events, Travel and Tours
Backpackers DIY Budgetarian Events, Travel and Tours
Travelers of the Philippines (TOP)
Pinoy Solo Travelers
DIY KKB ASTIG (non Profit Climb Events)
Solo and Group Travel Philippines (Byaheng Budgetarian)
Backpacking PHILIPPINES
Travel Thoughts PH Community
Also read: Travel Essentials of Famous Filipino Travellers
For the purposes of this article, I've only listed Facebook groups with the most number of members as of Jan 2019. But they should be enough to let you know that you are not (and will never be) alone in your journeys as a Filipino traveller, may it be local or abroad. Like in finding accommodations and attractions, you'll just have to find the right one for your personal travel needs.