It doesn't take a genius to know why Japan is on nearly every Filipino's bucket list. I mean — it has food, technology, martial arts, nature, lights, winter, summer, people who are genuinely concerned about their code of ethics, so on and so forth. As for Japan travel requirements, did you know that a Japan tourist visa is one of the easiest to obtain for Filipinos? If you don't believe everything that I just said, then come to the Japan Fiesta 2019, a travel fair in Metro Manila dedicated to all things Japan. Here are five things you need to know about it!
Also read: How I Spent 11 Days in Japan With ₱30,000 Pocket Money
1. It's the first of its kind
It's not every day you get to visit a travel fair exclusively for a specific destination. And it's not just any destination, we're talking about Japan — the Land of the Rising Sun! The Japan Fiesta 2019 is the first of its kind in Metro Manila and is co-organised by the Embassy of Japan in the Philippines, Japan National Tourism Organization Manila Office, the Japan Foundation, Manila, the Japanese Association, Manila, Inc., and Primer Media, Inc. Get a taste of Japan's vibrant and unique culture through various exhibitor booths this coming 9 and 10 Nov 2019!
2. More than one Japan destination is covered
If you're a true Japan lover, you'd know by now that the country is made up of 47 prefectures or districts. It will take months (even years) for you to explore them one by one! That said, Japan Fiesta 2019 will make it easier for you to prioritise specific places in Japan as it will feature booths by local tourism associations. Know more about your favourite destinations, whether it's capital Tokyo, modern Osaka, scenic Hokkaido, or tropical Okinawa!
3. There are celebrity appearances
As if the booth activities aren't exciting enough, the Japan Fiesta 2019 will also be inviting celebrities to help set the mood for the weekend. Don't be surprised when you suddenly bump into iconic Japanese character Pikachu or even Filipino VJ, host and actor Robi Domingo, who are just two of the fair's celebrity guests. Multi-talented superstar Sarah Geronimo and all-girl group MNL48 will also be delivering fiery performances. Meanwhile, Japan e-sport players will go around to challenge visitors to a game of Tekken 7, Puyo Puyo Champions and Winning Eleven 2019. Better bring your a-game to the fair, too!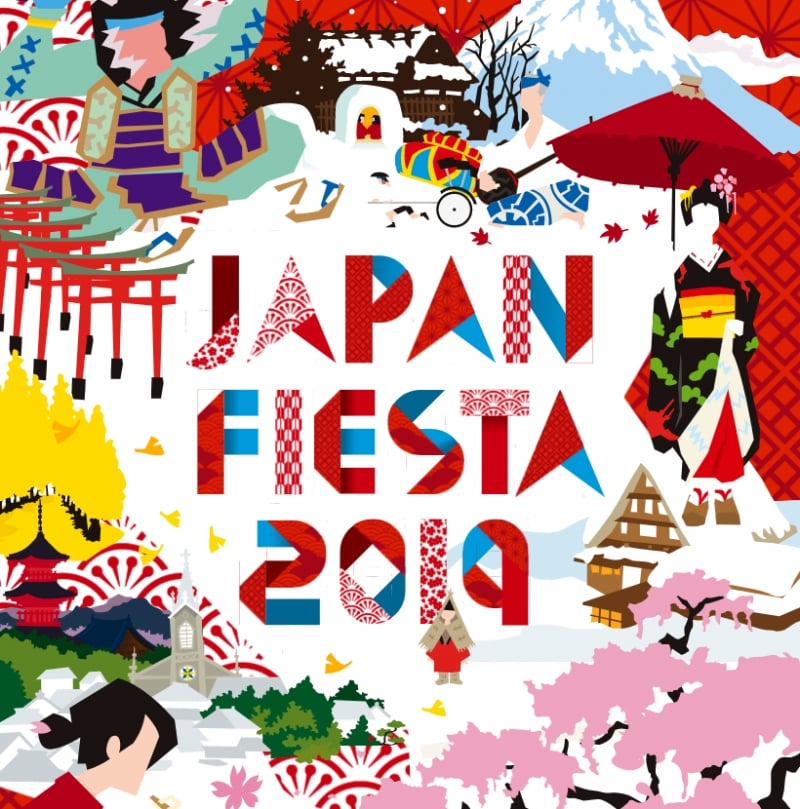 4. Sample Japanese food on-site!
It's not a Japan travel fair without people selling or at least letting you try popular Japanese dishes like sushi or ramen. Some of the participating food exhibitors to watch out for include Tomochan Ramen, Pocky, House Foods, Kirin, Nippon Premium Bakery, Ikomai and Tochi Desserts, and Yakult. That said, it's the perfect time to go loco over Japanese food without going to expensive international restaurants, or flying to Japan just yet!
5. Travel offers galore
Of course, expect to be surrounded by loads of travel agencies offering their best Japan tour packages or travel services! If you're truly set on travelling to Japan in the coming months, you can even buy your discounted tickets to tourist attractions such as Universal Studios Japan and railway companies like JR East. In addition, if you want to get your hands on affordable Japan merchandise, then don't leave the fair without visiting the booth by Don Quijote, Japan's largest discount store!
Also read: 15 Japanese Customs & Don'ts You Should Know While Visiting Japan!
Happening at the SMX Convention Center in SM Aura, Japan Fiesta 2019 will purge whatever doubts you still have about travelling to Japan, or give you more reasons to be hyped up about this magnificent island nation. And did I mention, admission is completely free of charge! Drop by the Japan Fiesta Travel Fair from 12pm to 10pm on 9 Nov and from 10am to 9pm on 10 Nov.
---
Information extracted from a press release issued by Primer Media, Inc. on behalf of the Japan Fiesta Council.