Okinawa is known for its tropical climate, vast beautiful beaches as well as exciting water activities. Unlike cosmopolitan and urban cities such as Tokyo, Okinawa offers you a refreshing and comforting break away from the hustle and bustle of city life!
In Okinawa you find an eclectic combination of Japanese and Chinese cultures due to its geographical location – it's definitely a special place to immerse yourself in local culture and cuisine. Just follow this itinerary, and I guarantee that you will have the best time of your life in Japan's southern island paradise!
Day 1: Naha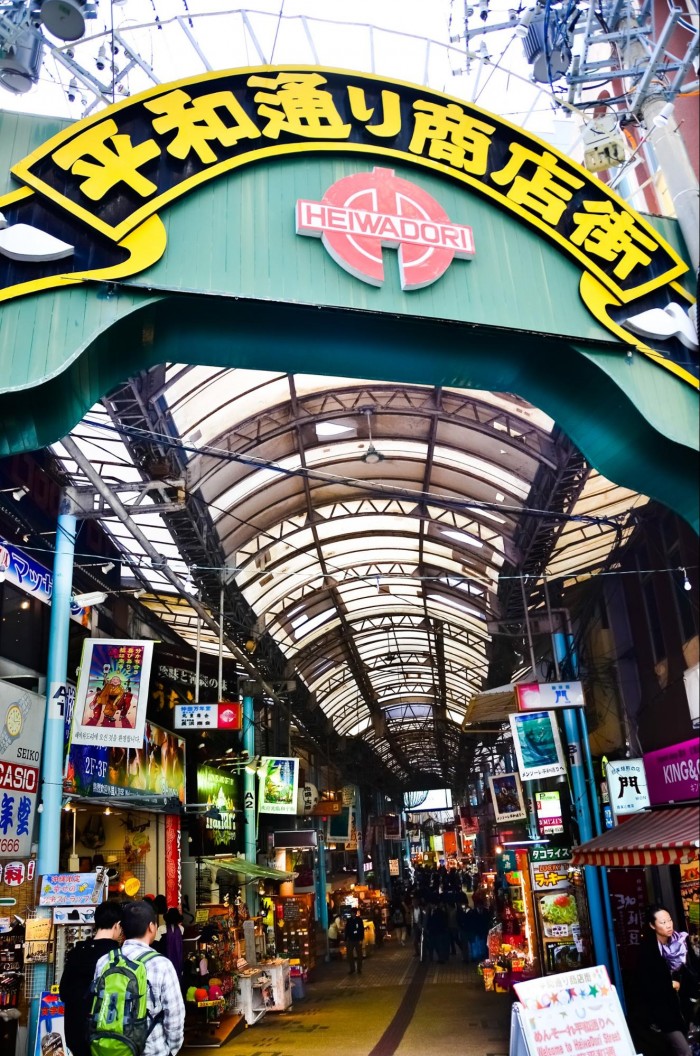 Start your day off by exploring Naha, the capital city of Okinawa. Embrace Okinawa's local food culture by strolling along the stalls of Makishi Kosetsu Ichiba Market, just off the main street of Kokusai-dori.
Amidst the enthusiasm of customers and local vendors hawking their products, you will find many interesting food items here, such as colourful tropical fish, raw pig's head, goat meat and even dried sea snake! Even better, you can buy fresh local produce on the first floor of the market and have it cooked for you to eat on the second floor. Your meal is practically prepared for you on the spot – what better way to enjoy Okinawa's local cuisine?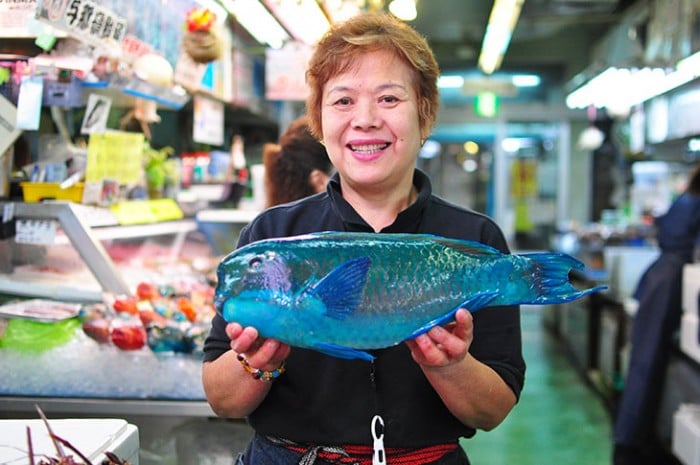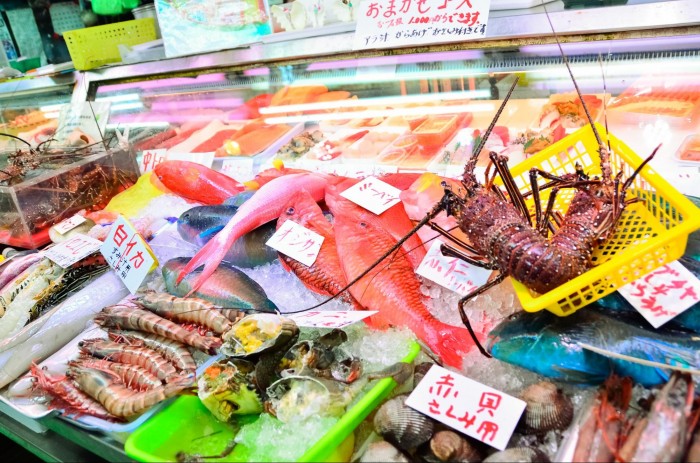 Next, head over to Kokusai-dori (International Street), for some casual strolling and shopping! It is filled with numerous places to drink and dine, immerse yourself in Okinawan culture, or buy some souvenirs. On Sundays, you even get to see Okinawan dancers, fire-eaters and street performers creating a lively and bustling atmosphere!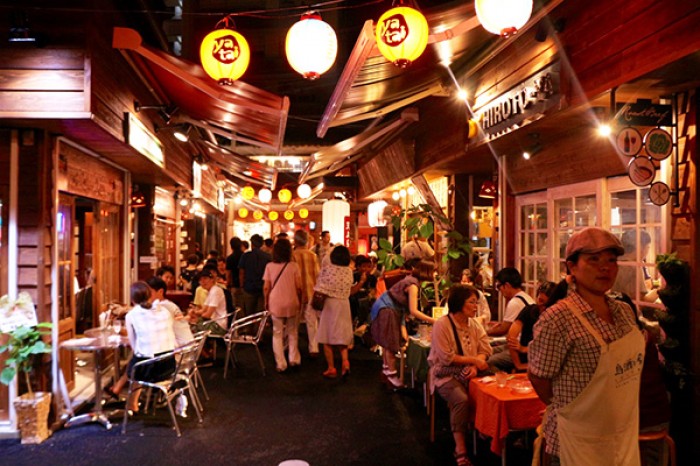 Hungry after your fruitful shopping? Yatai-Mura is the perfect place to satisfy your hunger pangs! It is a collection of 20 concessions offering you a wide variety of Japanese foods, you'll be spoilt for choice. Enjoy foods such as sushi, deep-fried skewers, Okinawan soba, and even goat meat speciality dishes!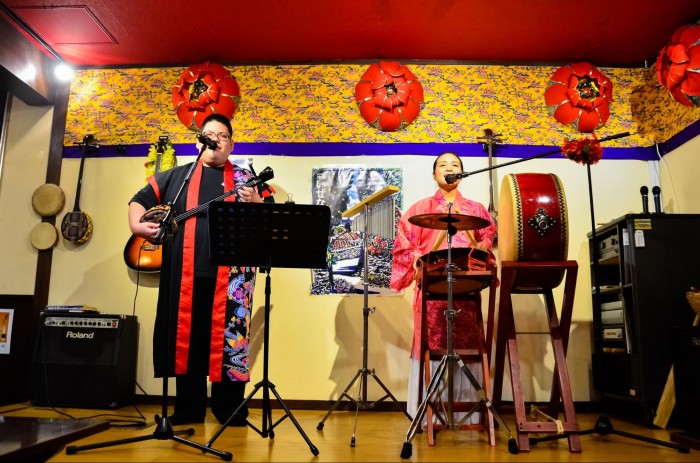 In addition, visit a folk song bar for an authentic, immersive experience with melodious Okinawan music. Performers don colourful native costumes and engage the audience with witty banter, captivating everyone with their raw talent. This is definitely a cultural activity not to be missed!
Also Read: 11 Scenic National Parks in Japan You Wish You Could Teleport To Right Now
Day 2: Naha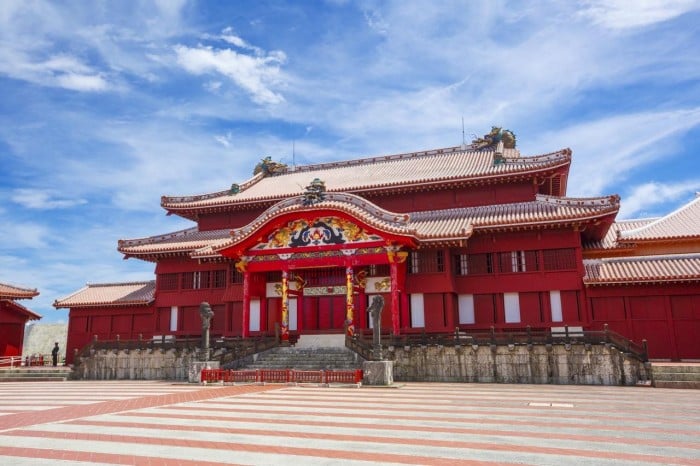 Designated as the 11th UNESCO World Heritage Site due to its unique architecture which combines both Japanese and Chinese styles, the Shuri Castle is a MUST-visit for all history lovers. It served as the political, economic and cultural heart of the Ryukyu Kingdom as an administrative centre for foreign trade. Go back in time and learn more about the Ryukyu culture right here!
After visiting the castle, it's time for lunch! Head over to Ashibi-una nearby, and lunch at a traditional Ryukyu-style house. Try out delicious Okinawan soba and curry in a beautiful and cosy environment.
Once your stomachs are full and satisfied, you can go to Shuri Ryusen and try your hand at Bingata painting or Coral Dyeing! These two activities are said to bring good luck and happiness. Grab this opportunity to let out your inner artistic self and make beautiful, coloured coral prints on t-shirts or tote bags that you get to bring home after! How awesome is that?!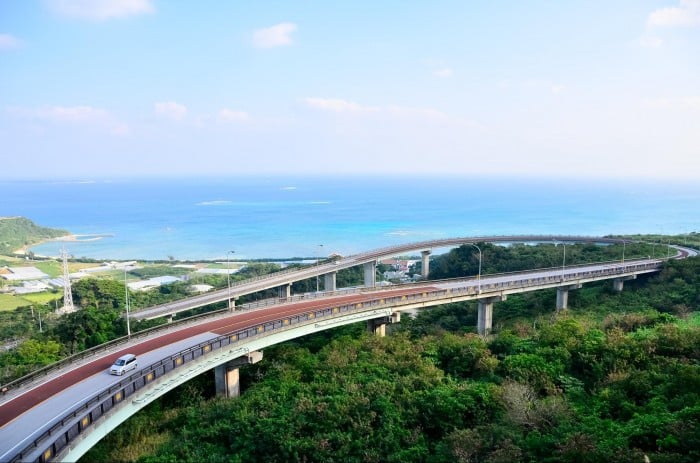 After a fulfilling arts and crafts session, drive down south to Nirai Kanai Bridge and enjoy spectacular views of the ocean!
For spiritual lovers, you can choose to explore the Sefa-Utaki sacred site. Also a UNESCO Heritage Site, it was seen as the most sacred site in the Ryukyu Kingdom, and men were banned from entering it. Fun fact: most religious leaders in Okinawa were women, whereas conventionally in Japan, men were the ones who dominated.
Alternatively, for history lovers, you can visit the Peace Memorial Park, a memorial to those who died in the Battle of Okinawa. You will definitely have a meaningful and impactful experience, and gain the message of spreading peace in the world through this visit.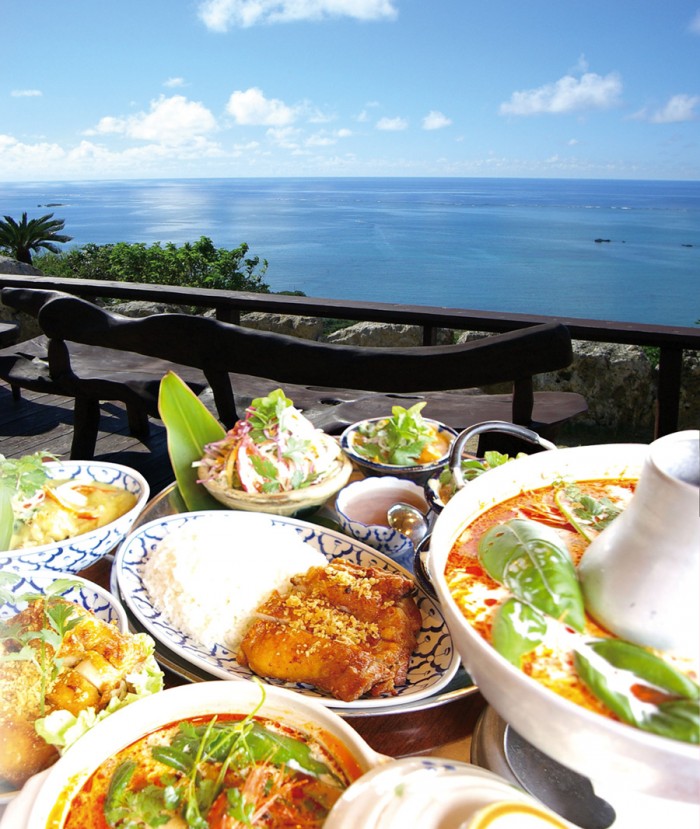 Last but not least, explore cafes such as the Hamabe Teahouse or the Kurukuma Cafe for a perfect Okinawan dining experience with spectacular views! It will definitely be a feast for your eyes AND your stomach.
Day 3: Naha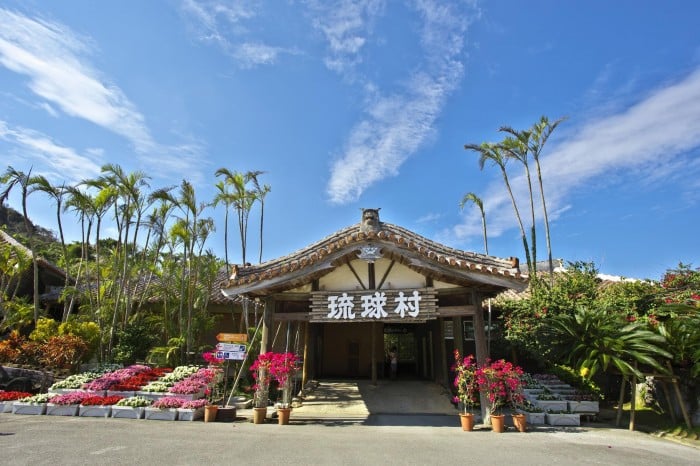 Start your day at Ryukyu Mura, a theme park filled with 101 different types of DIY activities that allow you to truly experience the culture, entertainment, and nature of Okinawa. Go crazy with the wide array of activities to choose from, ranging from earthenware painting to pottery and SUP yoga – the park has something for everyone!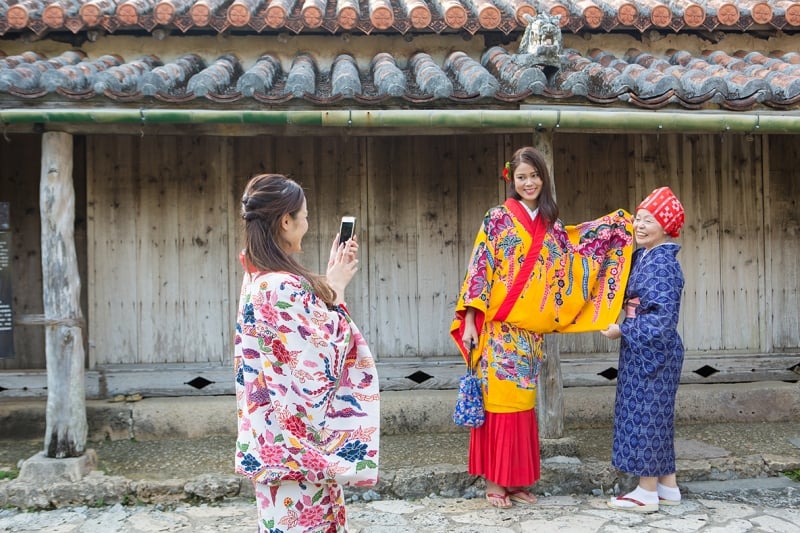 You also get the chance to take photos in the colourful, traditional Ryukyu costumes as well! When your stomach starts grumbling, head over to Service Station Kyoda for lunch. They sell many local delicacies and also have a market where you can buy fresh local produce or souvenirs.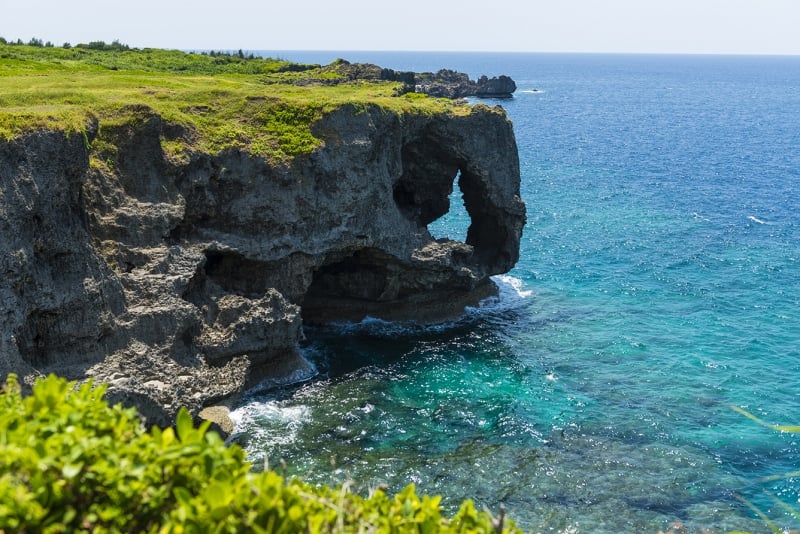 Drive up west to Cape Manzamo, where you can enjoy unparalleled views of the ombre blue-green sparkling sea, and bask in the cooling sea breeze. Also, the shape of the cliff is unique because it looks like an elephant's trunk! Do you see it?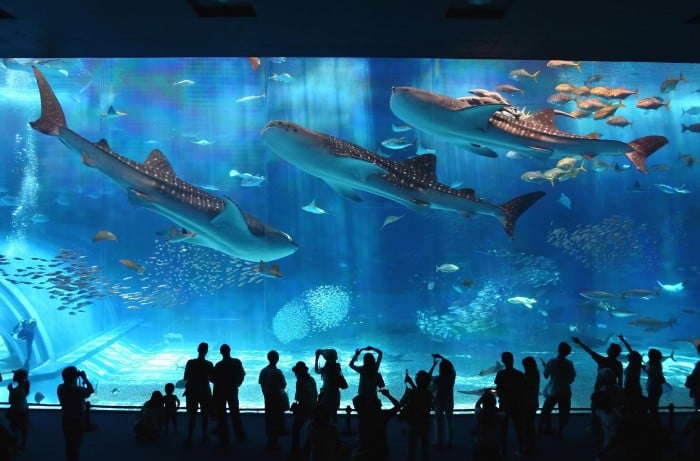 Next, head over to the world's second largest aquarium, Churaumi Aquarium, to admire the beauty of Okinawa's marine life. Get the rare opportunity to have your lunch or dinner right next to gigantic whale sharks for a once-in-a-lifetime dining experience!
The aquarium is an incredibly enormous complex with a floor to ceiling glass panel viewing, so we recommend going early to beat the crowds and ensure a fantastic viewing experience.
In addition, check out the Kuroshio Adventure, which allows you to walk ON TOP of the gigantic tank via a bridge with glass floors. Definitely not for the weak-hearted, but it will give you a really unique perspective!
Day 4: Kouri Island
Start your day at Kouri Island, an isolated but beautiful island where you can experience the simplicity of nature at its best! If you are interested in diving, there is a famous diving spot right here – the wreckage of the USS Emmons, a WWII ship. At low tide, explore the tidal pools, caves, and rock formations and encounter sea creatures such as starfish! You should also visit the Kouri Ocean Tower for a picturesque view of the white sand beach and the glittering sea.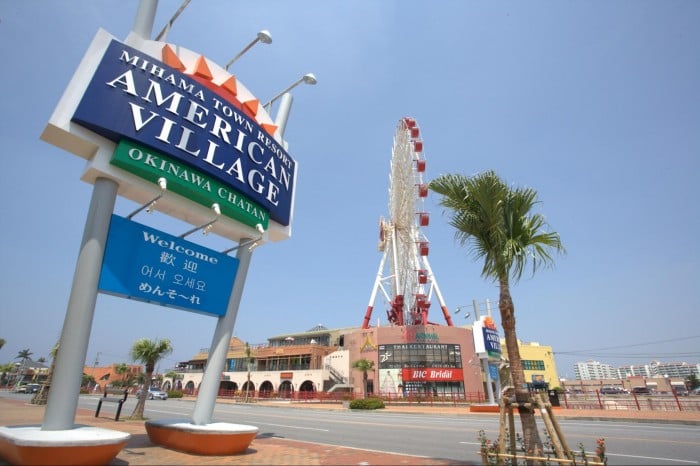 After a relaxing time at the beach, head to the Mihama American Village in Chatan Town! Due to the many American military bases located in that area, the American Village resembles a huge area filled with many American-themed restaurants, cafes, and shops.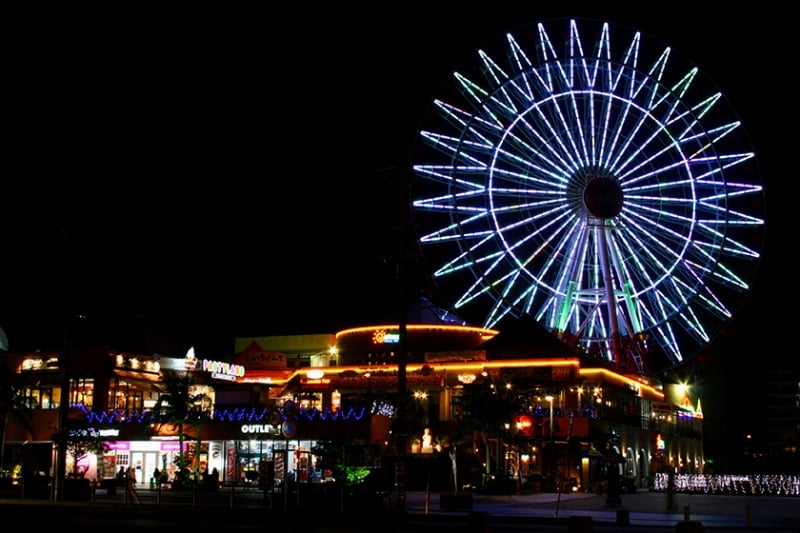 Take a ride on their iconic ferris wheel, or catch an American or Japanese movie showing at the theatre. If you are craving for a taste of American food, you can grab a bite at any of the American diners that serve up delectable hamburgers, tacos and hot dogs.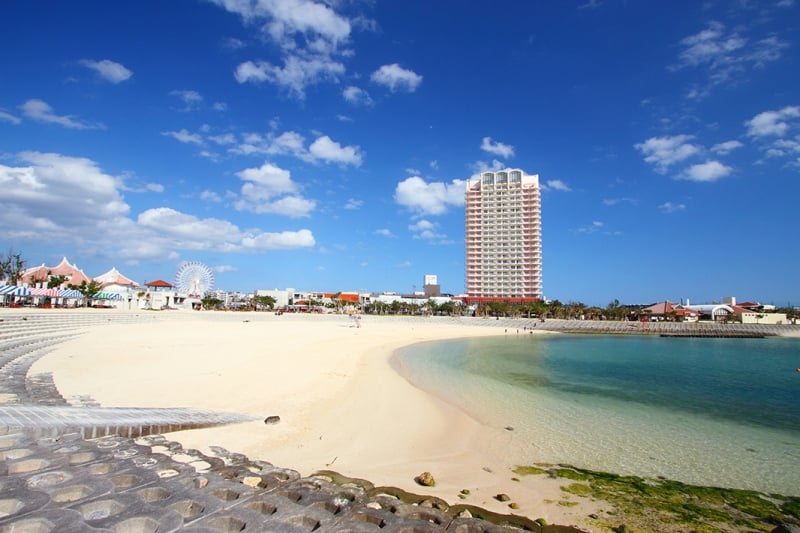 Once you've shopped enough, walk to Sunset Beach that is located just a stone throw's away. As its name suggests, the beach is famous for its breathtaking sunsets – a perfect way to end your evening.
End your day at the Terma Villa Onsen Chatan, and soak away all your tiredness and worries before heading back to Naha.
Day 5: Kerama Islands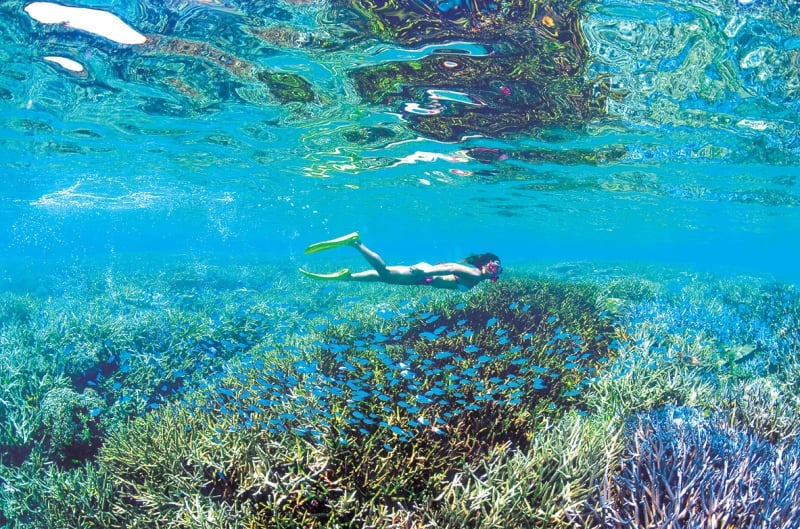 Now that you've had a relatively relaxing trip exploring Naha, it's time to get your adrenaline pumping with exhilarating water activities! That's right… The Kerama Islands will reward you with breathtaking views of blue skies and the mesmerising coral reef.
Consisting of 20 islands of which only 5 are inhabited, you can go snorkelling or diving in the clear blue waters and be fascinated by the schools of colourful tropical fishes! Many diving shops have English or Mandarin speaking instructors as well so you don't have to worry AT ALL.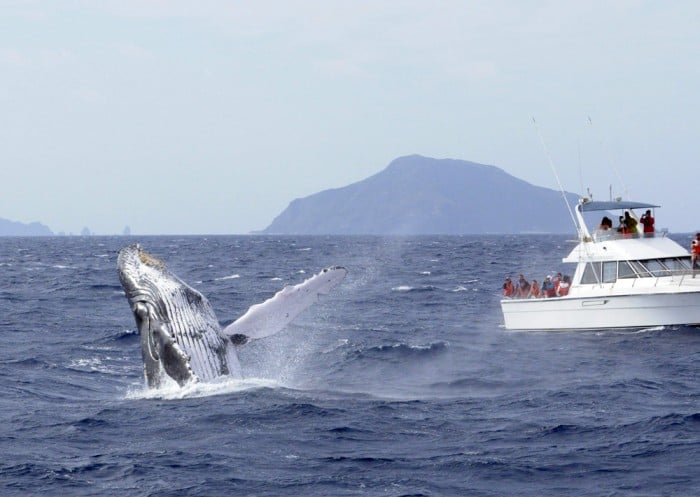 Also, grab this amazing opportunity to go whale-watching as well and catch these majestic animals in action! If you would like some physical exercise, you can train your biceps while kayaking in the ocean.
Day 6: Naha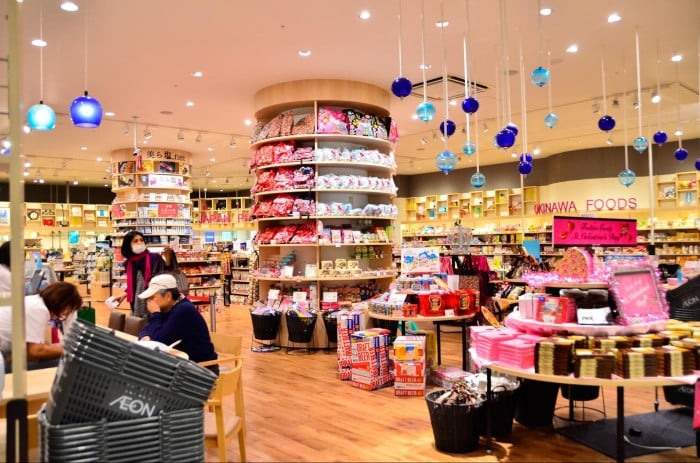 It's shopping time again! Check out the Aeon Rycom Mall, the biggest and latest addition to Okinawa's shopping scene. They have a total of 219 tenants, including renowned international brands such as Uniqlo, Godiva, American Eagle Outfitters and others, leaving you happily spoilt for choice.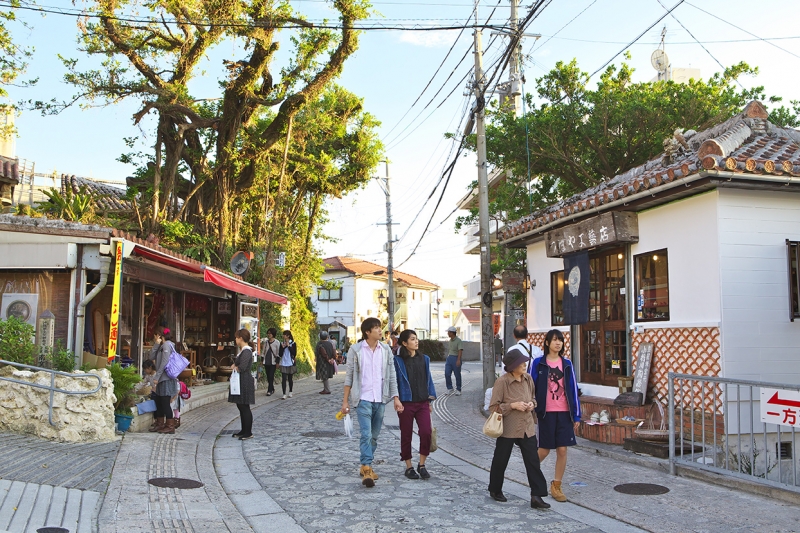 Head over to Tsuboya Pottery Street, a single, quaint, gently winding street filled with shops, cafes and a small museum. Get the chance to even make your own pottery at a pottery lesson and have an enjoyable experience learning about Okinawa's traditional craft.
You can also check out the SAN-A Shopping Mall in the stylish Omoromachi street and explore the city on monorail if you have time to spare!
Also Read: Nature Detour: 7 Natural Sights to Check Out in Japan
Day 7: Naha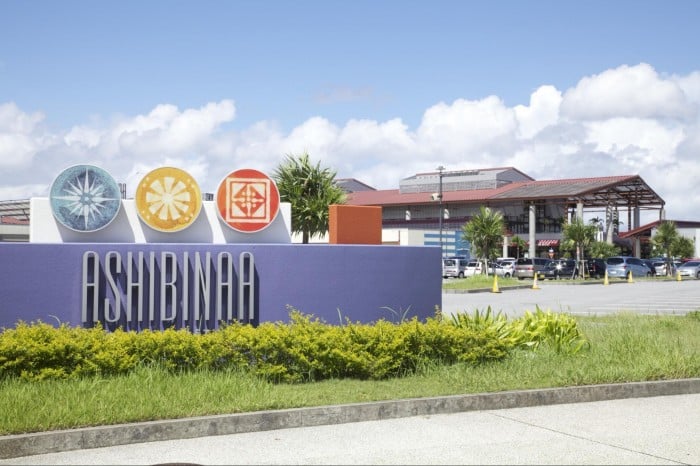 Doesn't time just fly by so quickly? It's down to the last day in Okinawa! If you need to do some last minute shopping for souvenirs, you can go to Kokusai-dori.
Alternatively, head to Ashibina Outlet Mall to search for great bargains! Feel as if you've been transported to another country when you shop at Ashibina Outlet Mall, especially as it resembles a holiday resort. Just look at it!

For the finale, catch one last look of the beautiful Okinawan scenery at the Umikaji Terrace on Senaga Island, right next to the airport.
Designed with the concept of a small town by the sea resembling that of Greece or Italy, the pristine white buildings are juxtaposed against the blue skies and emerald green sea. Creating a relaxing ambience with good food and a picturesque sunset view, it leaves you with unforgettable memories and a definite reluctance to leave Okinawa.
SO THERE YOU GO! The best of Okinawa in 7 days, with a combination of local culture, water activities at beautiful beaches, and delicious food. What are you waiting for? Book your flights to Okinawa RIGHT NOW!
---
Brought to you by Okinawa Prefectural Government Singapore Rep Office.