We all know Metro Manila has a thriving cafe scene. Every city features a collection of hip roasters, themed coffee shops, and gorgeously designed spaces — a new spot seems to go viral almost weekly! But if you and your friends are willing to go on a road trip out of town for tasty food, incredible coffee, and swoon-worthy interiors, then there are many more coffee shops to explore beyond the metro — if only to get that perfect snap for the 'Gram! Read on for our roundup of the Insta-worthy cafes outside Manila that are undoubtedly worth the drive. 
Also read: 15 Most Adorable Pet Cafes and Restaurants in and Near Manila
Tagaytay
1. Cafe Voi La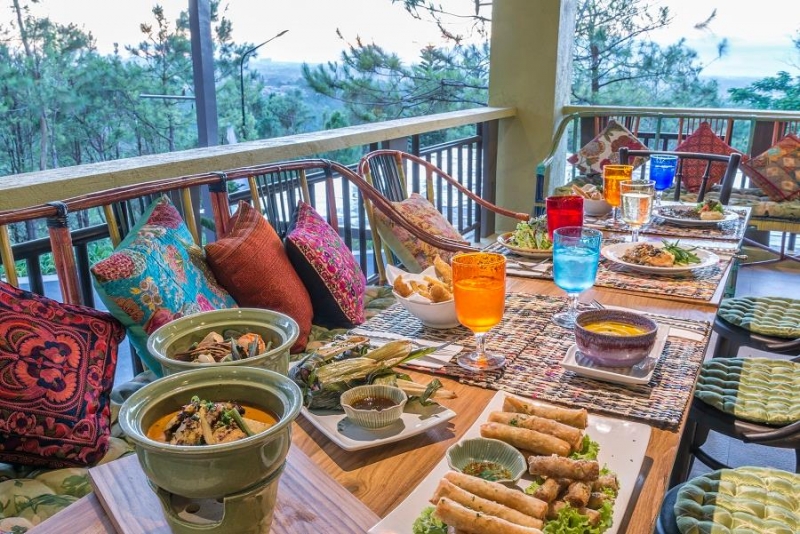 Located inside the Crosswinds Leisure Resort, Cafe Voi La is full of art and souvenirs from the owner's travels around the world. Vibrant colours, eclectic ornaments, and rustic-yet-elegant boho decor create a beautiful setting for a meal, whether you're coming in for a quick cup of coffee in the morning or a hearty dinner at the end of the day. The Asian-style restaurant comes complete with alfresco seating — all the better to enjoy the cool Tagaytay climes!
Address: Iruhin Crosswinds, Tagaytay City
Also read: 12 Tagaytay Airbnb Rentals for a Chilly Weekend Vacation
2. The Purple Owl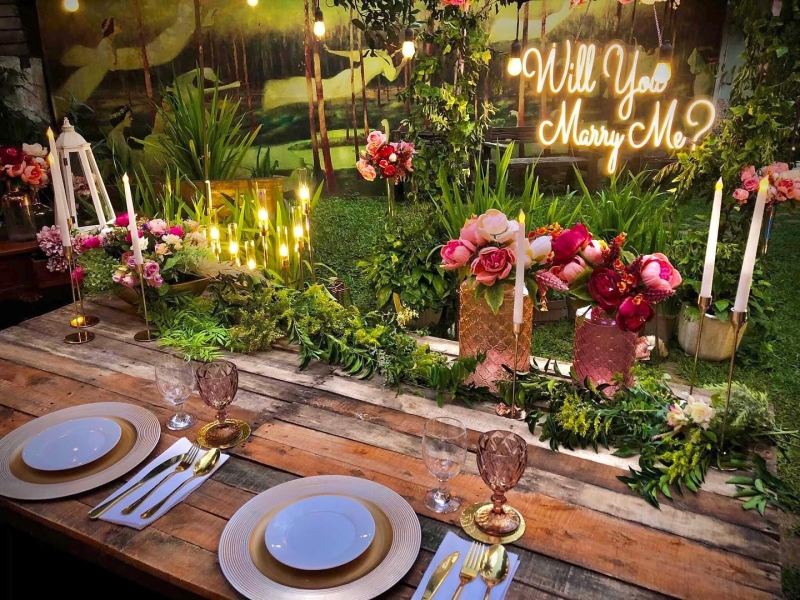 Planning to give your date the most romantic dinner setup? The Purple Owl may be the right pick for you. Countless wedding proposals have been staged in this Tagaytay event venue! If a special occasion is coming up, then this is the perfect place for date nights, movie nights, and even intimate weddings. They even have a live band that could play for your celebration. Reservations are required, so be sure to call and plan ahead before you go.
Address: Gardenia Loop, Villa Pura, Tagaytay City
Also read: 10 Romantic Airbnbs in Tagaytay for Couples
3. Hillbarn Cafe & Restaurant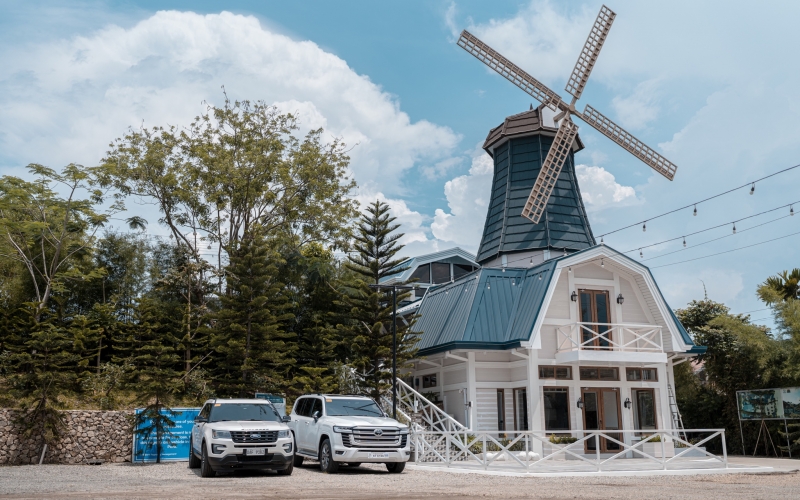 Dreaming of a Euro trip? When it comes to cafes outside Manila, nothing comes closer to a holiday in Holland than the Dutch-inspired Hillbarn Cafe & Restaurant. The coffee shop delivers an irresistible mix of pristine European vibes, chilly Tagaytay breeze, and cosy barnyard charms. Great coffee is a given, but Hillbarn Cafe also has an excellent selection of yummy food. A few of our recommendations include extra-crispy chicken fingers, tasty burgers, and — if you're really hungry — the best-selling ribeye steak.  
Address: Daang Luma Road,Kaybagal North, Tagaytay City
Also read: 16 Stunning Places in the Philippines That Look Like Foreign Destinations
4. Greenhouse Cafe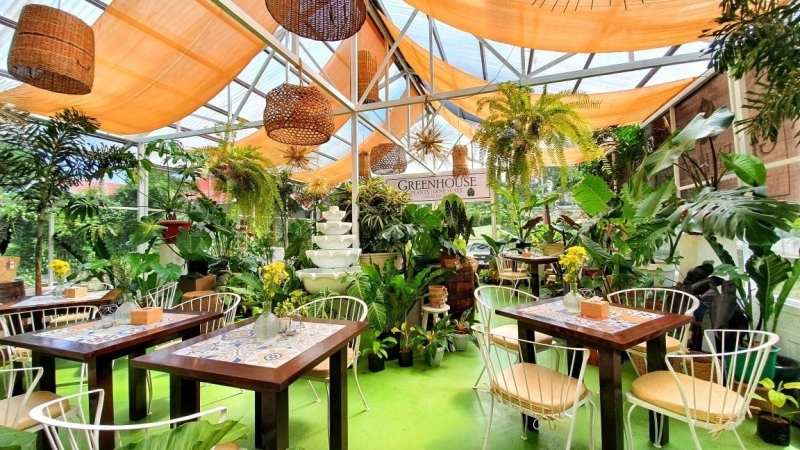 As the name suggests, Greenhouse Cafe Tagaytay sits within a spectacularly pretty plant nursery. Natural light and flourishing greenery promise a gorgeous backdrop for your Insta-pics. Here you can fill up with pasta, salads, soups, and even Tagaytay classics such as tawilis and bulalo. Plantitos and plantitas can even purchase a few new plants to take home! Keep an eye out for rare varieties, too. 
Address: Enrile Street, Tagaytay City
5. Hello Cafe
Love Muji? We do, too! And we're happy to report that one of the relatively new cafes outside Manila captures the Muji aesthetic exceptionally well. Meet Hello Cafe, a minimalist gem in Tagaytay that's a must-visit for Instagrammers and coffee addicts. 
Whether you're sitting alfresco under the fairy lights or relaxing indoors with the baristas, the cosy ambience is a soothing escape from the nonstop buzz of the metro. Expect good coffee and quality Arabica coffee beans, while comfort food like silog meals and chilli dogs are also on hand.
Address: Lot 2F-8, Polivel Subdivision, Maitim Second East, Tagaytay City
Also read: 15 Coffee Shops in Tagaytay That You Have to Visit
Batangas
6. Bag of Beans Twin Lakes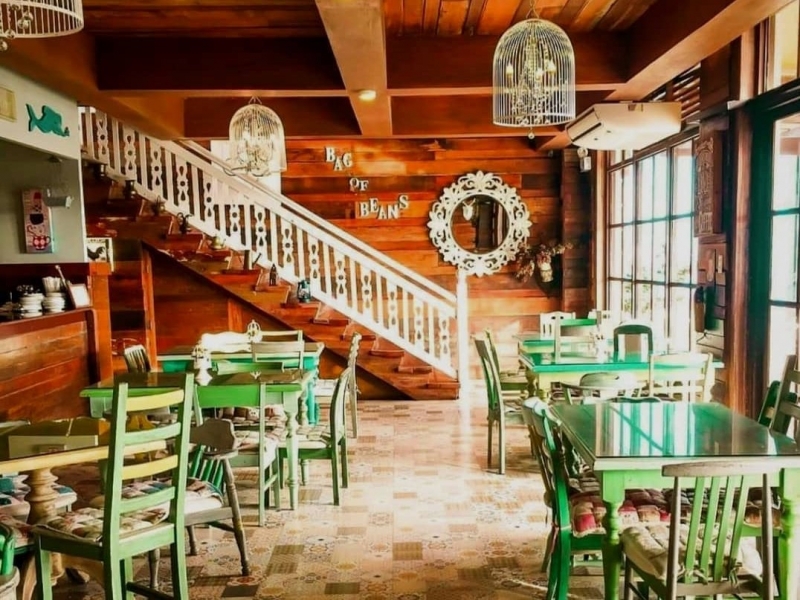 Furnished with Bag of Beans' signature countryside elegance that earned it a loyal following in Tagaytay, Bag of Beans Twin Lakes is a picturesque haven for coffee drinkers in Laurel, Batangas. It's a great spot for a hearty home-style meal with friends. Plus, Bag of Beans serves a mean cup of brew that will have you lingering in the restaurant until way past lunchtime.
Address: Twin Lakes Shopping Village, Dayap Itaas Laurel, Batangas
7. Purple Beetle Cafe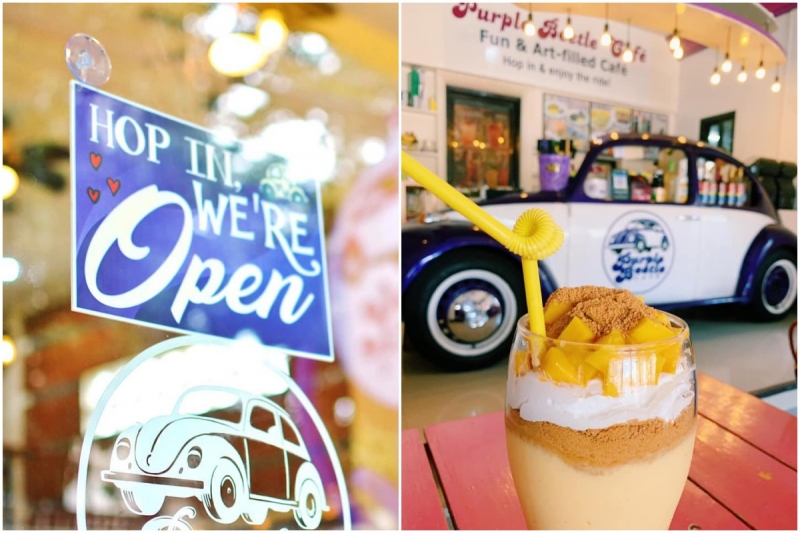 Is there anything cuter than a Volkswagen Beetle? Well, Purple Beetle Cafe in Lipa, Batangas pays tribute to this iconic little car with a purple beetle bar counter and charming Volkswagen-inspired touches throughout the intimate space. Beetle lovers will have to keep themselves from playing with the toy beetles lying on the bookshelf! Not stopping by Lipa anytime soon? Purple Beetle also has branches in Bauan, Tagaytay, SM City Dasmariñas, and Galleria South.
Address: Ayala Highway, Lipa City, Batangas
Also read: 18 Airbnbs & Vacation Rentals in Batangas for Quick Escapes
8. Dear Charlie Specialty Coffee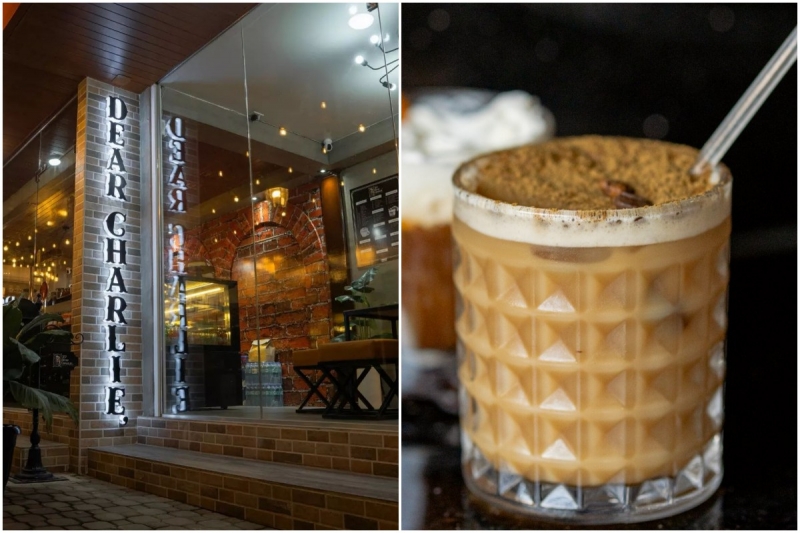 From the rustic interiors to the latte art, Dear Charlie Specialty Coffee awaits metro folks on the hunt for eye-catching cafes outside Manila. Plus, the drinks alone are worth the travel time to get here. There's a wide selection of delicious brews, but if you're willing to sample something new, try the alcohol-laced One Night Stand.
Here with the barkada? Board games and card games are available for a minimum charge. All of the proceeds from the rentals go directly to Dear Charlie employees. 
Address: Concha Pastor Road, Pallocan West, Batangas City
9. Rob's Kitchen & Cafe by La Evangs Beach Resort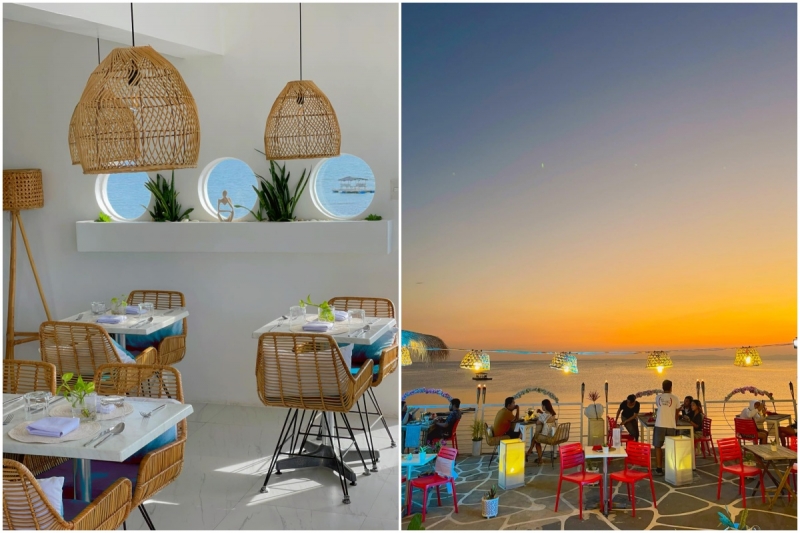 Coffee by the beach always looks good on the Instagram feed, don't you think? Rob's Kitchen & Cafe is definitely the right stop if you're looking for breezy tropical vibes to brighten up your grid. Set inside La Evangs Beach Resort in Taal, Batangas, this restaurant-cafe puts you right by the beach with sweeping views of the dazzling sea. 
Stunning sunsets make it the perfect wind-down dining spot at the end of the day. Just make sure to reserve a table before coming — limited space means walk-in guests won't always be accommodated. 
Address: Sitio Aroma, Brgy. Butong, Taal, Batangas
Also read: 10 Pristine Beaches in Batangas for a Relaxing Tropical Break
Pampanga
10. Teaspoon Cafe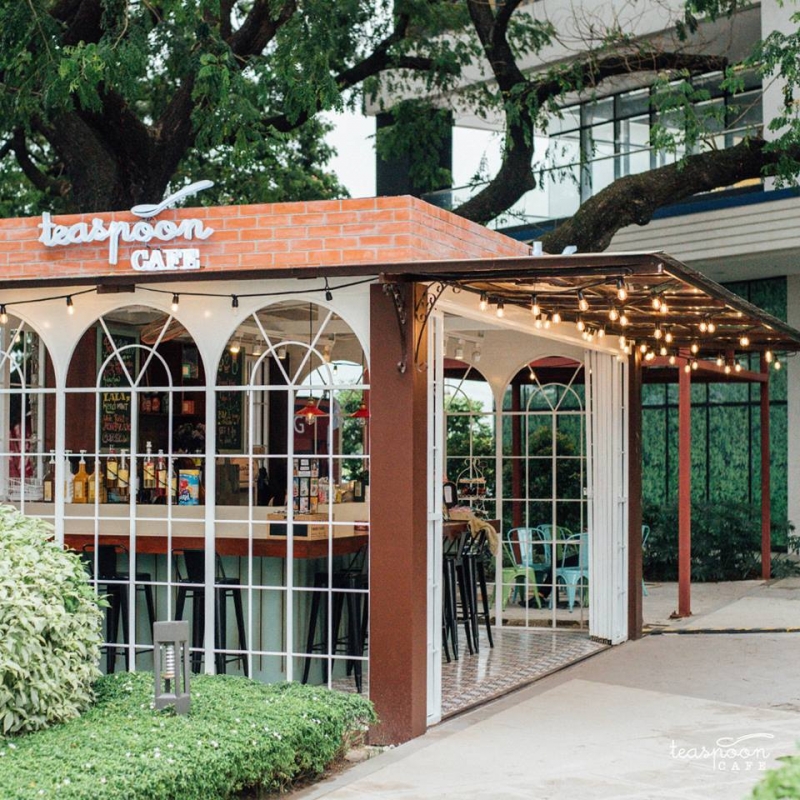 When you're travelling through Pampanga and need a coffee break after eating your weight in sisig and morcon, a quick detour to Teaspoon Cafe in Angeles City may be in order. Make sure you leave room for dessert, though! Besides whipping up a good cup of joe, this vintage-themed cafe prides itself as one of the best cake-makers in town. 
Address: Unit D T4 Bldg. Fil-Am Friendship Highway, Cutcut, Angeles City
Also read: 8 Angeles Airbnb Rentals for a Fun Getaway in Pampanga
11. Cafe B.O.M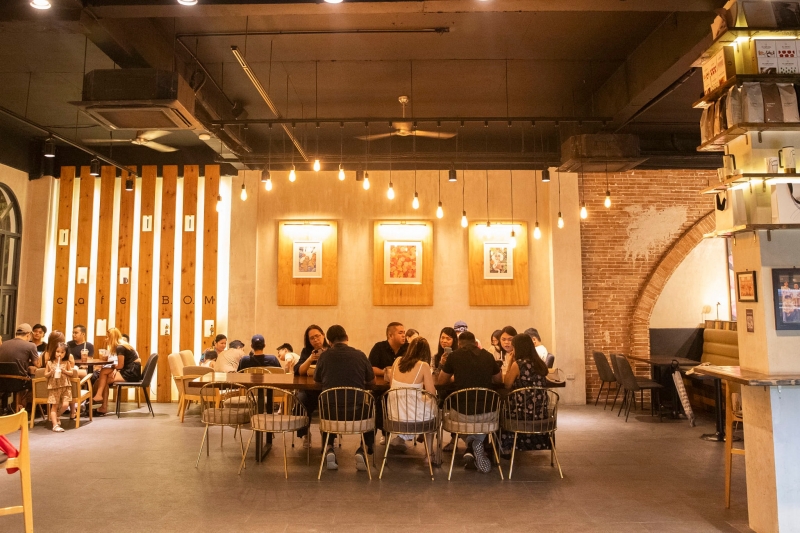 Live like your favourite K-drama star for a few hours in Cafe B.O.M, a Korean-inspired coffee shop in Clark. A lot of cafes outside Manila are cute, but this one's an Instagrammer's dream with beautiful artwork, refined furnishings, and arched windows. It even has an actual studio where patrons can enjoy a free photoshoot with their food and drinks! 
Address: Lot 18-1B, E Jacinto, Clark Freeport, Mabalacat
12. Coffee Jungle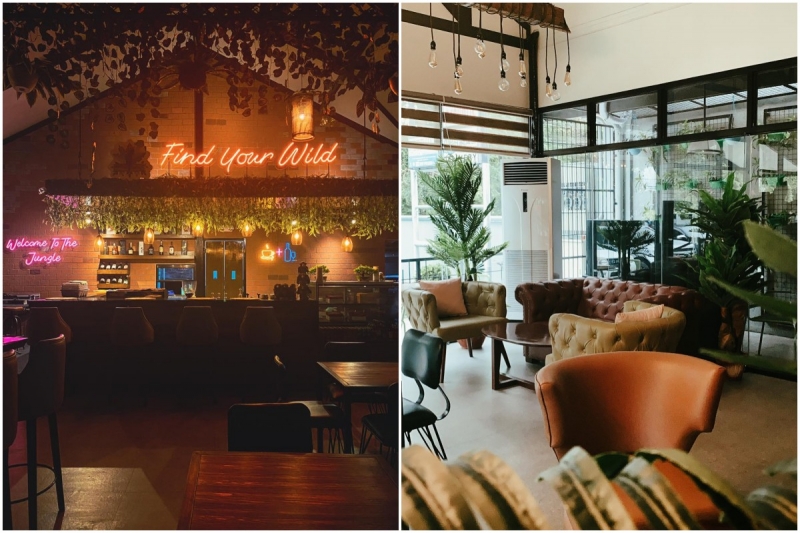 Coffee Jungle is not your ordinary cafe; with lush indoor plants, neon signs, and dark wood panels, it's designed to make the visitors feel a little bit closer to the wild. Even the menu keeps to the tropics-inspired theme with dishes like Amazon Flower (chicharon bulaklak), King of the Forest (ribeye steak), and Pulutan ni Tarzan (sizzling gizzard). From morning hangs to nighttime shenanigans, Coffee Jungle is a fun space to spend a few hours in San Fernando, Pampanga.
Address: Brewers Q Enoc Gas Station, Baliti, San Fernando, Pampanga
Also read: 10 Coffee Shops in Pampanga for a Change of Scenery
Baguio
13. Cafe by the Ruins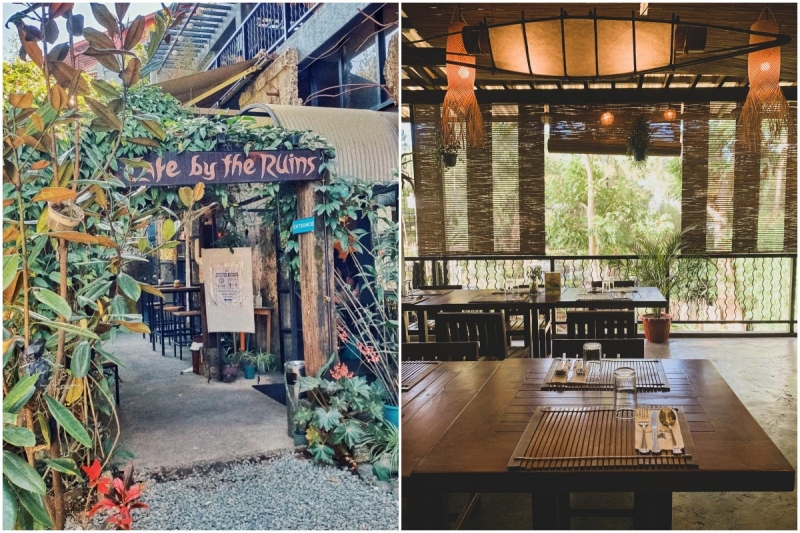 Baguio's a pretty long drive for a day trip, but travellers who are willing to go a bit further north for the best cafes outside Manila will be rewarded. Case in point: Cafe by the Ruins. A long-time favourite of tourists and locals, this proudly Baguio coffee shop serves a wide variety of food and drinks. 
Highlights include Baguio-style longganisa, bagnet, and the traditional Cordilleran pinikpikan. And of course, don't leave without trying the signature Ruins Coffee that's deliciously steeped with cardamom and topped with cinnamon. 
Address: 25 Shuntug Road, Baguio City
Also read: Where to Stay in Baguio: 25 Airbnbs for All Budgets
14. Hatch Coffee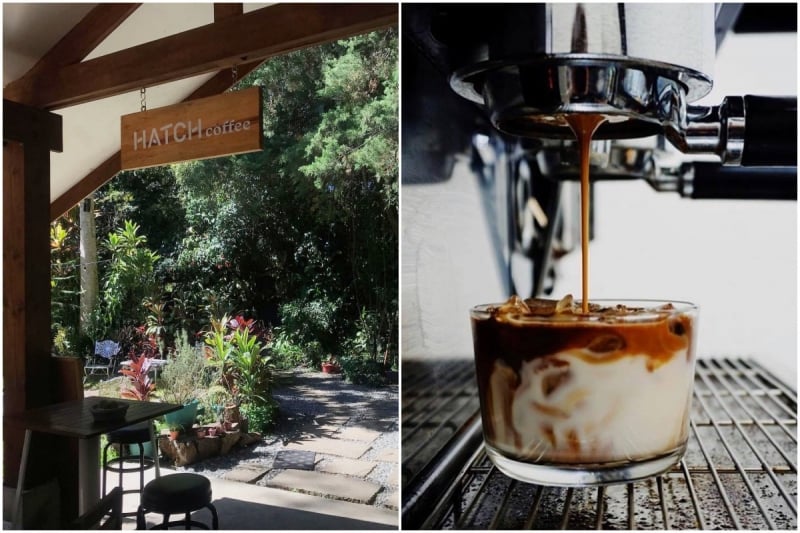 Drop by Hatch Coffee for some of the best cups of coffee in the city — and that's saying a lot because Baguio has a thriving coffee culture! A personal pick is the Dirty Hatchata, the cafe's take on the popular Dirty Horchata drink. But you really can't go wrong with any of the drinks. Food is superb, too; standouts include the classic Hatch Burger and the unique Ube Grilled Cheese sandwich. Plus, you'll get to eat in total comfort outdoors — even with the sun out, the cool Baguio breeze makes it pleasant to eat in this open-air cafe. 
Address: Ground Level, BenCab Museum, Km 6. Asin Road, Baguio, Benguet
15. Arca's Yard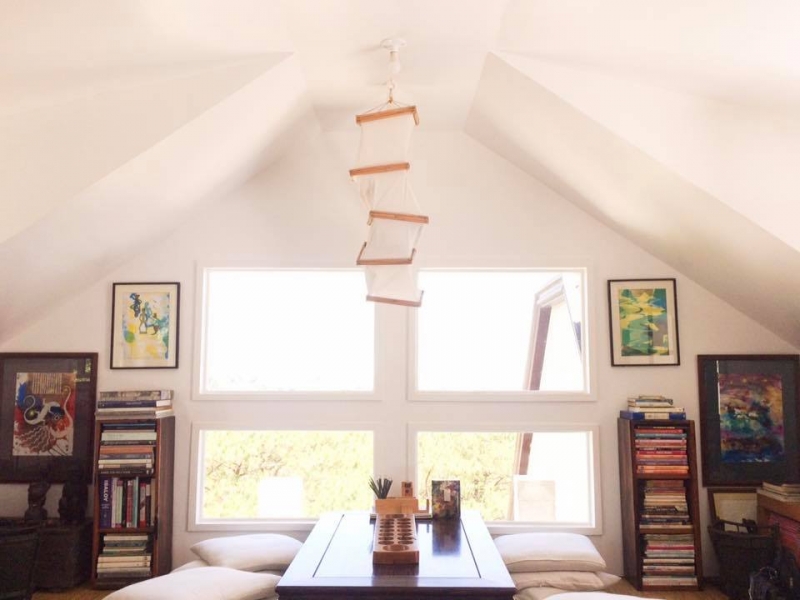 Sipping coffee in Arca's Yard feels a little bit like visiting an old friend. Tucked a short drive away from the Baguio city centre, the bed and breakfast features homey interiors, Filipino art pieces, and views of the pines outdoors. Additionally, the menu is very Filipino as well. Camote pie, anyone? A small library is also available upstairs for travellers who want a little time alone with a good book. 
Address: #777 Tip-Top City Limit, Ambuklao Road, Baguio City
Also read: Cafes in Baguio: Where to Get the Best Coffee and Hot Chocolate in the City of Pines
16. Cafe Dionysus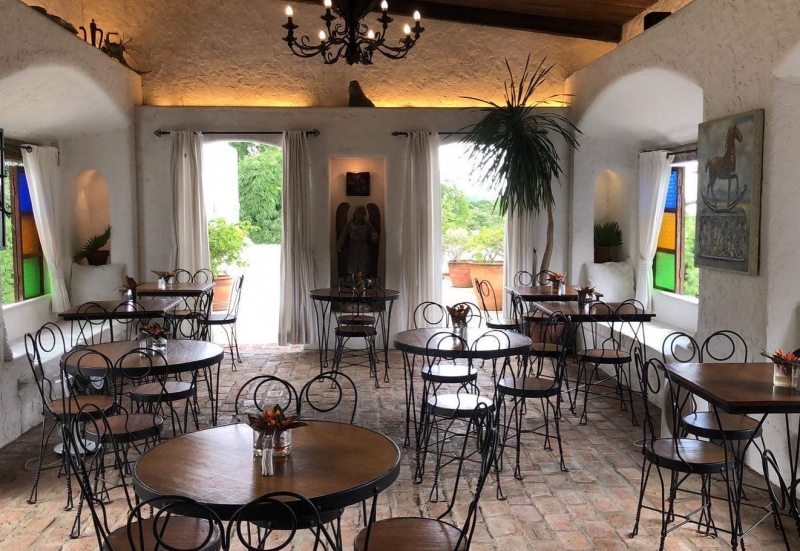 The in-house cafe of the renowned Pinto Art Museum, Cafe Dionysus is a postcard-pretty rooftop space for lunch with pals in Antipolo. It's Santorini-inspired with white-washed walls and stained glass windows — for a moment, you can almost believe you've been transported to a hole-in-the-wall haunt in the Greek Islands. One of the more famous cafes outside Manila, it can be hard to get a table here on weekends. So come early, then grab a bite before taking your camera to explore the rest of Pinto Art Museum. 
Address: Sierra Madre Street, Grand Heights Subdivision, Antipolo
Also read: 15 Must-Visit Museums in the Philippines to Celebrate Pinoy Heritage and History
17. Burrow Cafe at Antipolo Beehouse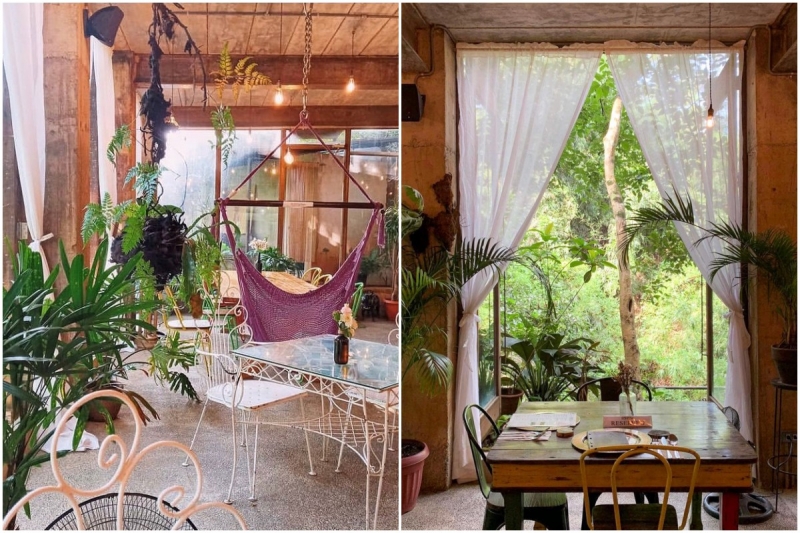 Another Antipolo dining spot that's popular among the Instagram crowd is Burrow Cafe. It's so well-loved that it can be a challenge getting a reservation unless you're making one a few weeks ahead of time! Trust us, though: Burrow Cafe is worth the wait. 
Large floor-to-ceiling windows open to the flourishing Antipolo forests. Inside, rustic furnishings, warm lighting, and touches like hammocks and indoor plants keep the dining space just as enchanting as the outdoors. Just keep in mind that it's nearly a hundred steps going down from the road to this underground haven; while youngsters won't mind, it can be difficult for some patrons. 
Address: Velada Estate, 21 Don Juan Street, Villa Cecilia Subdivision, Lower Antipolo, Rizal
18. Yellow Bird Cafe x Kitchen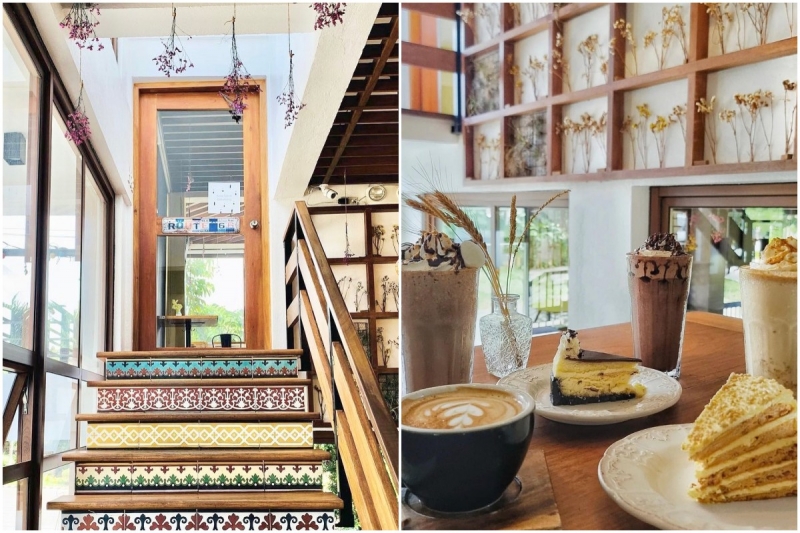 Sun-soaked Yellow Bird Cafe x Kitchen is a cosy spot that makes you feel at home with colourful interiors, floral knick-knacks, and a light-filled dining space. Additionally, it's relatively quiet here, so if you are planning an intimate date, a chill meal alone, or even a business meeting, this place is a great pick in Antipolo. However, Yellow Bird is located right next to a church; thus, it can get crowded on weekends as churchgoers flock in after celebrating Mass. 
Address: Lot 3 Blk 2, Mission Hills Blvd., Mission Hills Subd., San Roque, Antipolo
Also read: 10 Antipolo Restaurants With Beautiful Interiors & Breathtaking Views
Bulacan
19. Cafe Congreso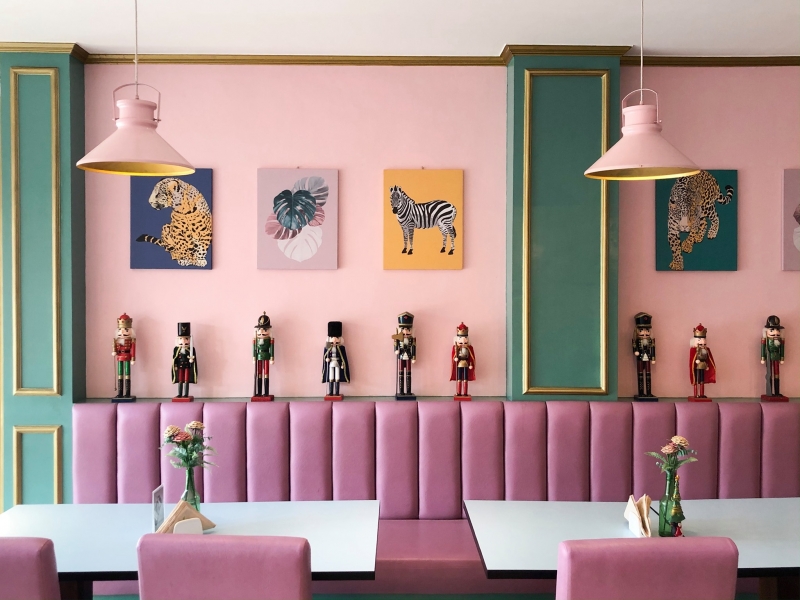 On the hunt for the cutest cafes outside Manila? Cafe Congreso is definitely in the running. Made for catching attention on your Instagram feed, this all-pink coffee shop in Malolos, Bulacan is a hit for everyone who loves pastel colours and playful decor. As for the menu, speciality coffee and all-day breakfast dishes promise a satisfying meal — after you've taken a snap of them, of course!
Address: Paseo del Congreso Street, Malolos, Bulacan
20. Cafe Beam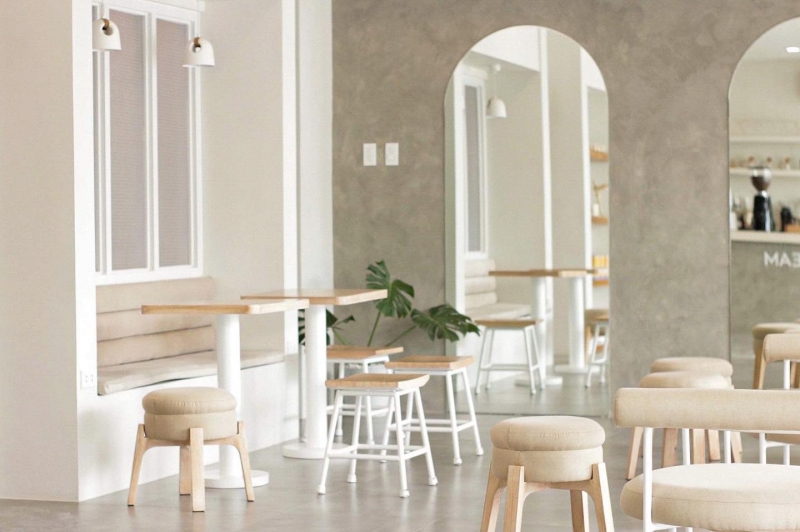 Minimalist yet elegant, Cafe Beam is easy on the eyes. There's no doubt you'll want to keep this one on your Instagram feed. Even their artisanal doughnuts are impeccable — almost a shame to devour! 
But more than just a place to photograph, Cafe Beam is designed to be a communal space for anyone who enjoys good coffee and conversation. Relaxing and spacious, this is one of the cafes outside Manila that you'll want to visit with friends! Mind you; Cafe Beam opens at 7am, so you can drop by as early as breakfast.
Address: Unit 1-2 Point A Building, DRT Hwy, Tarcan, Baliwag, Bulacan
Also read: 23 Best Cafes in Manila for Coffee, Brunch, and Dessert
That wraps up our picks of picturesque out-of-town coffee shops. Who knew that going for a cup of coffee outside Manila could be such a feast for the eyes? For sure, you are already planning your weekend in these places — and you absolutely deserve it!