Contributed by Shelly Viajera Travel
Nepal is home of the highest peak of the world, Mount Everest. To get there, you'd most probably land first in Kathmandu, the capital of Nepal.
Kathmandu is located in the centre region that has a population of 1.5 million. It's a very busy and bustling capital. With heavy traffic, pollution, roads in the works, and vehicles crossing in all directions, travelling in Kathmandu can get overwhelming when you first arrive.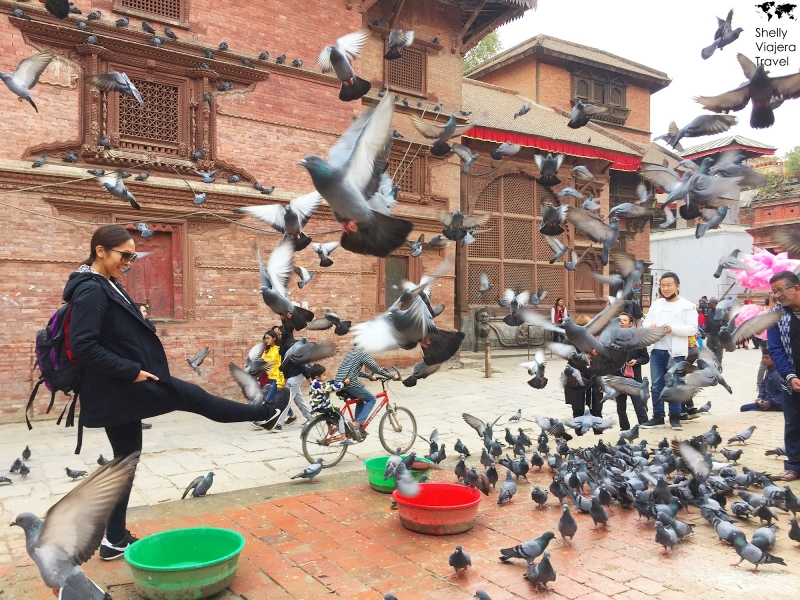 Also read: How Filipinos Can Get A Nepal Tourist Visa On Arrival
Despite these, seeing and exploring Kathmandu is part of the whole Nepal experience. Given a day or two, you'll see several interesting places to jump-start your journey on the country's amazing culture and history.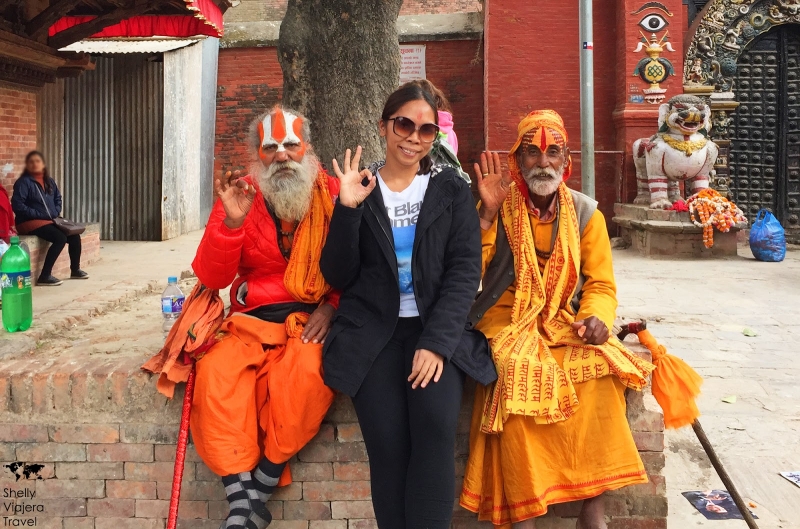 1. Boudha Stupa (Boudhanath)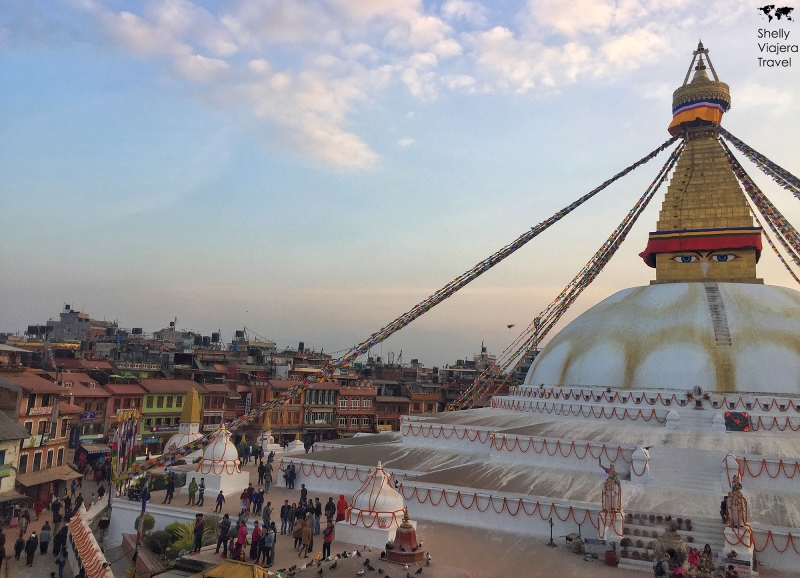 The Boudhanath is a Buddhist stupa. It's the largest religious structure in Kathmandu that stands 118 feet. This stupa was named a UNESCO World Heritage Site in 1979 for its cultural significance, making it one of the most visited sites in the capital.
Unlike other stupas I've seen before, Nepali stupas are distinctively characterized by having face-like paintings at the top portion of the structure. The paintings have different meanings and symbolism in Buddhism. For one, the pair of eyes on top represent Buddha's all-knowing nature, while the nose image is the Nepali character for number one that signifies one path to enlightenment.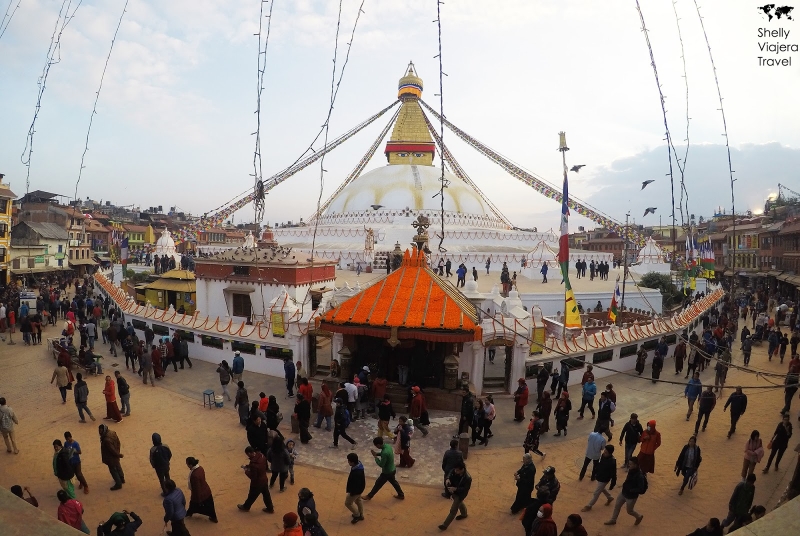 You will notice that people walk around the stupa in a clockwise direction. While doing so, they also spin (in clockwise motion too) what they call as the "prayer wheel." These are the cylindrical metal wheels found in a Buddhist stupa believed to provide wisdom and good karma.
The Boudhanath is a huge area, so give at least an hour or more to explore it. The place is considered a pilgrimage site, especially by those from Tibet, so it's important to pay respect and observe its solemnity.
Entrance: NPR 400
How to get there: From Thamel, you can get a taxi at NPR 450.
2. Swayambhu Stupa (Swayambhunath)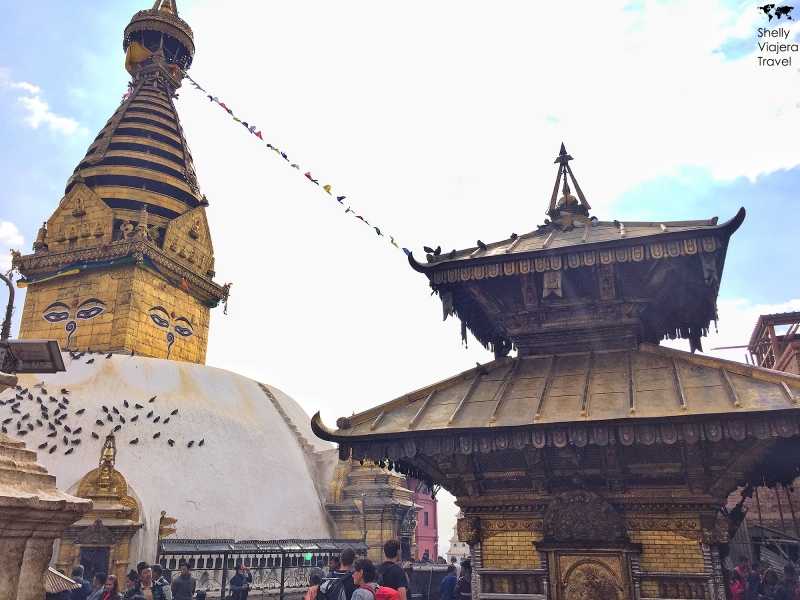 Another Buddhist stupa, the Swayambhunath is also a popular attraction in Kathmandu. Though not as big as the Boudhanath, this stupa is situated on top of a hill that gives an awesome 360-degree view of the city.
Climbing the Swayambhunath is a good outdoor activity. It requires 365 steps to get to the top, which can be done in 15-20 minutes, depending on your pace.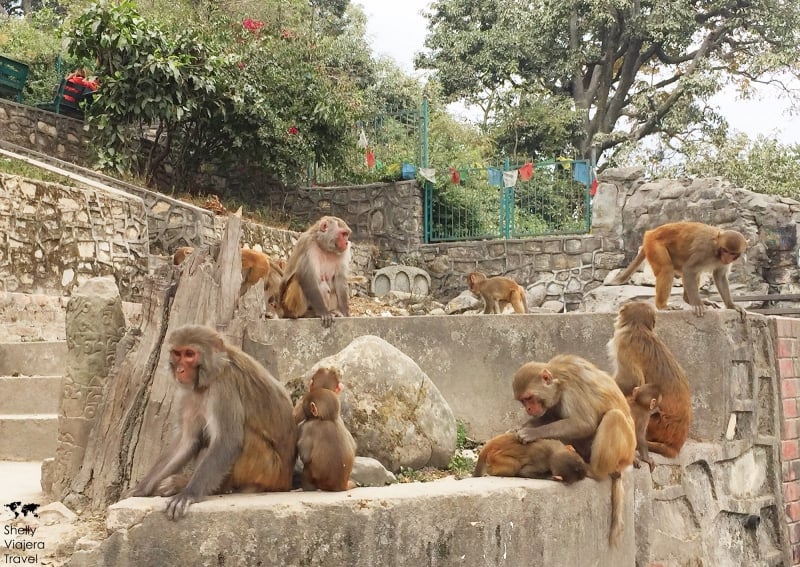 While walking around Swayambhunath, you won't miss out seeing monkeys. In fact, the Swayambhunath is also sometimes called the Monkey Temple not only for the monkeys but also for the legend that holy monkeys lived in the northwest part of the area.
Aside from the stupa, the complex consists of small temples, shrines, and a museum. There are also several shops that sell Buddhist items and souvenirs.
Entrance: NPR 200
How to get there: The Swayambhunath is located in Swayambhu district. The taxi rate from Thamel to Swayambunath is around NPR 250.
3. Thamel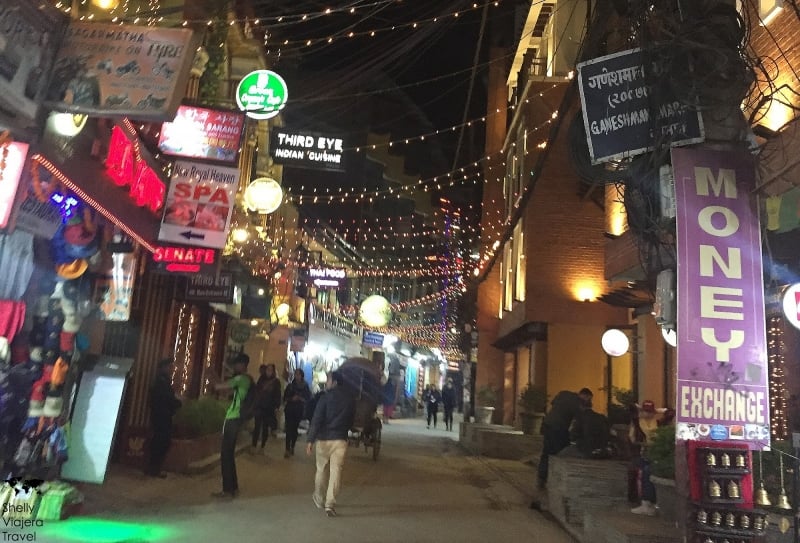 Thamel is a neighbourhood in Kathmandu that's known as the backpacker's district. Think of it as similar to Khao San Road in Bangkok or Pham Ngu Lao in Ho Chi Minh City. It's where you'd most probably get cheap accommodation as there are countless of them, from hostels to guesthouses.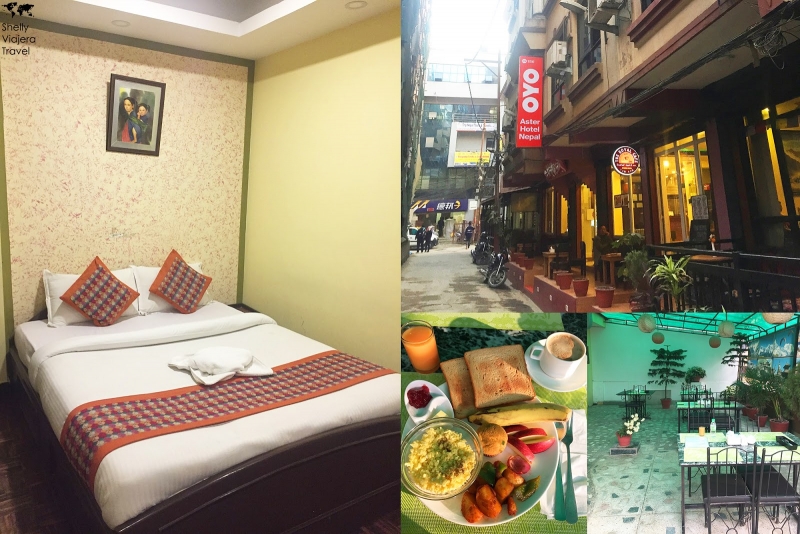 Actually, I stayed one night in Thamel where I was accommodated by OYO 153 Aster Hotel Nepal.
Thamel is also a good spot for nightlife in Kathmandu as it's really where most tourists are. With this, however, prices in shops and restaurants tend to get expensive.
The area is like a maze with streets that look very identical from each other. There are even narrower alleys that rickshaws, motorcycles, and taxis could unbelievably pass through. Thamel seems chaotic at first but it's an interesting place to experience the local scene.
How to get there: If you'll come from the airport (Tribhuvan International Airport), you can arrange a taxi to Thamel from NPR 600-700. Including traffic time, it's around 30 minutes away from the airport.
4. Kathmandu Durbar Square (Hanuman Dhoka)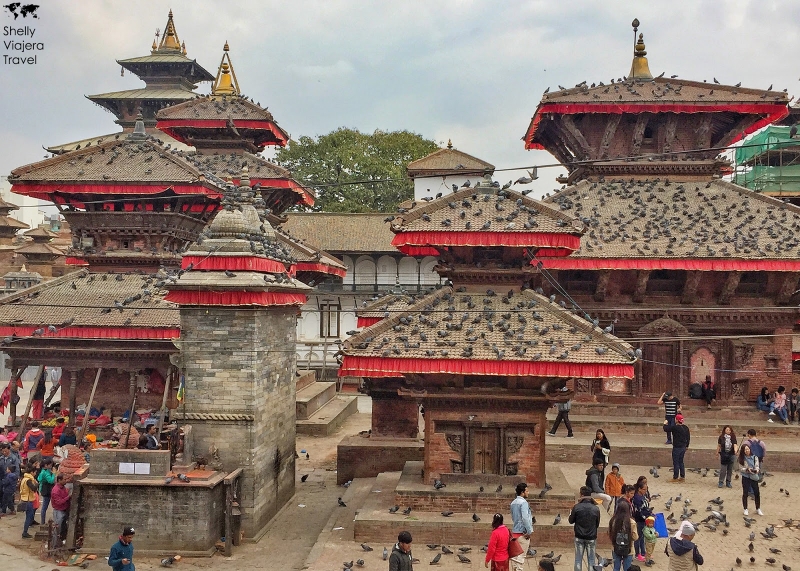 Also known as the Hanuman Dhoka, the Kathmandu Durbar Square was once an important place where kings got crowned between the 17th and 18th century. In fact, the term "durbar" means "palace" in English and so a Durbar Square is Nepal's version of a sophisticated palace and complex that consisted of temples, courtyards, and shrines.
Unfortunately though, Kathmandu Durbar Square was one of the massively damaged structures during the 2015 earthquake in Nepal. Rehabilitation is still in the works and it's evidently seen through the scaffolding mounted on most of the buildings.
While some travellers tell that visiting the Durbar Square isn't worth it anymore, just consider that the entrance fee you pay is a way of helping in the rehabilitation expenses.
Entrance: NPR 1,000
How to get there: If you're staying in Thamel area, Durbar Square is just 15 minutes on foot.
There's a total of three Durbar Squares located in Kathmandu Valley. The two others are in Bhaktapur located southeast and in Patan located south.
5. Pashupatinath Temple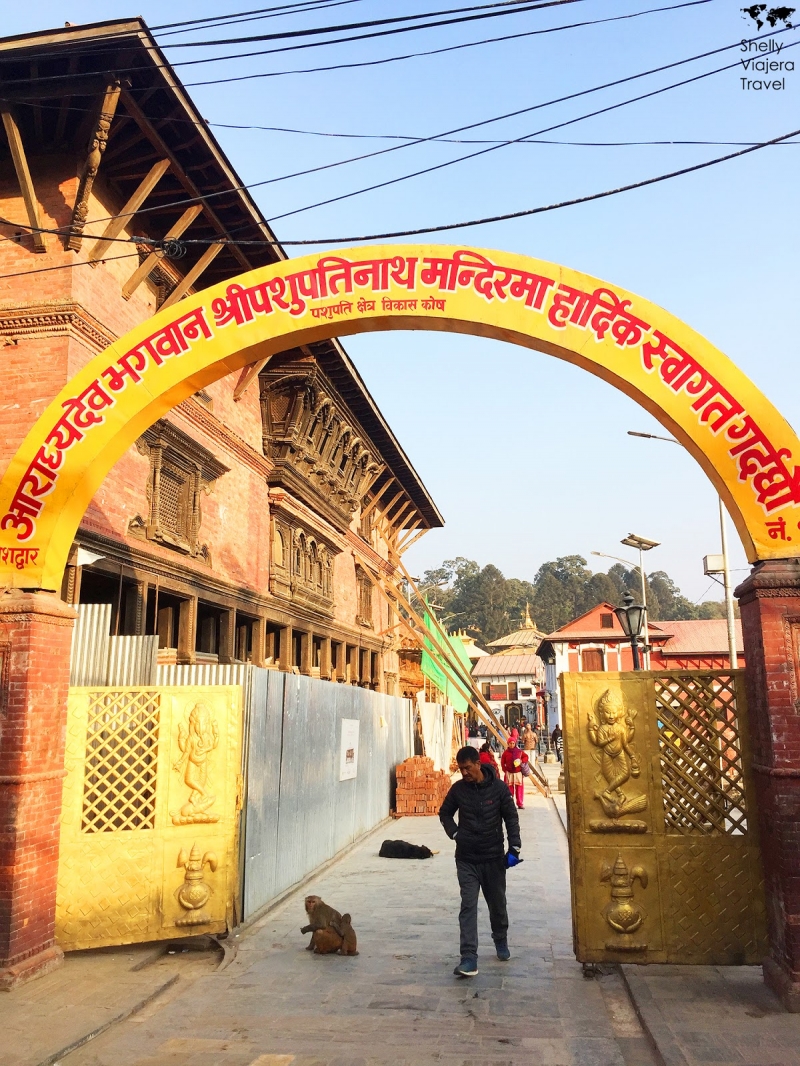 A World Heritage Site, the Pashupatinath Temple is the oldest Hindu temple in Kathmandu built in 400 B.C. and home of the national deity of Nepal, Lord Pashupatinath. It's dedicated to the Hindu god, Shiva. It's a huge 264-hectare complex that consists of different temples, monuments, and courtyards that serve as a sacred place for the Hindus and Nepalis.
But what brings more tourists to this place is the unique Hindu tradition of open-air cremation at the banks of the Bagmati River. While only Hindus can enter the main temples, non-Hindus can go to the river banks to see the cremation that's usually held afternoon to evening.
Witnessing it firsthand was both sad and overwhelming. As the dead were completely wrapped in orange cloth with only their faces exposed, they were carried by the men in the family to the stone platform with wooden logs surrounding it. Then, after the priest recited prayers, the dead were burned along with their most expensive possession.
After cremation, the ashes were washed to the river. This is a symbolism of the dead's journey to the next life. Also, they believe that from Bagmati River, the ashes will reach the Ganges River in India, which is a sacred river for the Hindus.
Entrance: NPR 1,000
How to get there: From Thamel to Pashupatinath Temple, the taxi rate is around NPR 500.
Note: At the entrance, expect local tour guides to offer their services. It's really up to you if you'll take it, but they usually over price it.  Also, there are several sadhus in the area who usually ask for money, especially when you take their photos.
Also read: How I Explored Nepal For 5 Days Like Kim Chiu Did
Helpful tips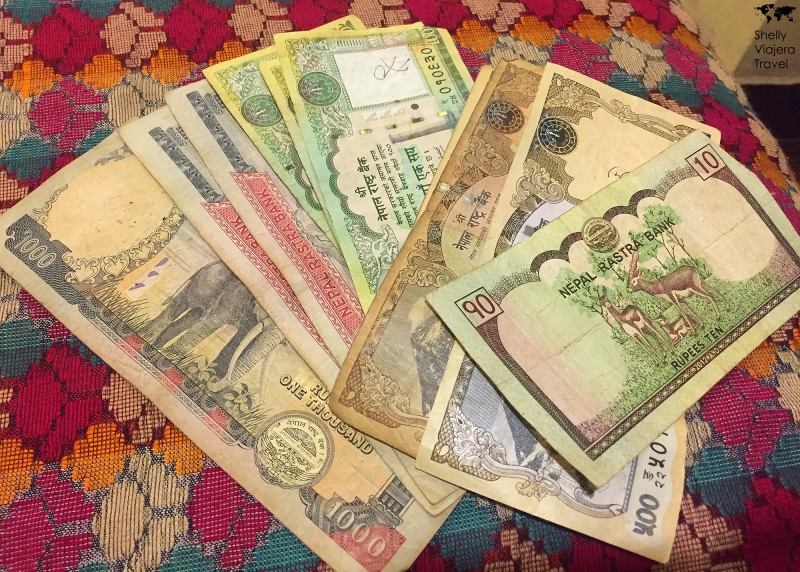 Nepali rupee (NPR) is the local currency in Nepal. In Kathmandu, it's widely accepted in restaurants, shops, and attractions. USD is also accepted, but only in hotels and global chains. It's better to buy NPRs especially if you plan to go outside the capital. For the best exchange rate, go to the airport's money changer. Based on experience, the rate was better there than in tourist areas like in Thamel and Durbar Square.
Sadly, air pollution is a major problem in Kathmandu that usually comes from dust and vehicles. Wear a face mask while walking around the city, especially if you're allergic to dust.
It's very rare to see metered taxis in Kathmandu (or there's none). Taxi rate is arranged with the driver. Make sure you agree on a price before you get in. As always, haggle for the price because the tendency is, if the driver sees you're a foreigner, he'll give a higher rate than the usual.