Starbucks has more than 30,000 stores around the world. Not all Starbucks branches, however, are created equal. Some never go beyond the perfunctory shades of walnut and green. Others take bolder strides when it comes to design and sustainability, rethinking the spaces in which we drink our coffee.
Boasting unique architecture and design, the best outlets from Starbucks have elevated the brand to new heights — where the drinks take centre stage and the interiors put on a show. From an eco-friendly installation in Taiwan to a lush greenhouse in Japan, these are the world's prettiest Starbucks locations that are worth travelling for.
Also read: 25 Starbucks Secret Menu Items to Try in the Philippines
1. This minimalist building made of recycled shipping containers in Taiwan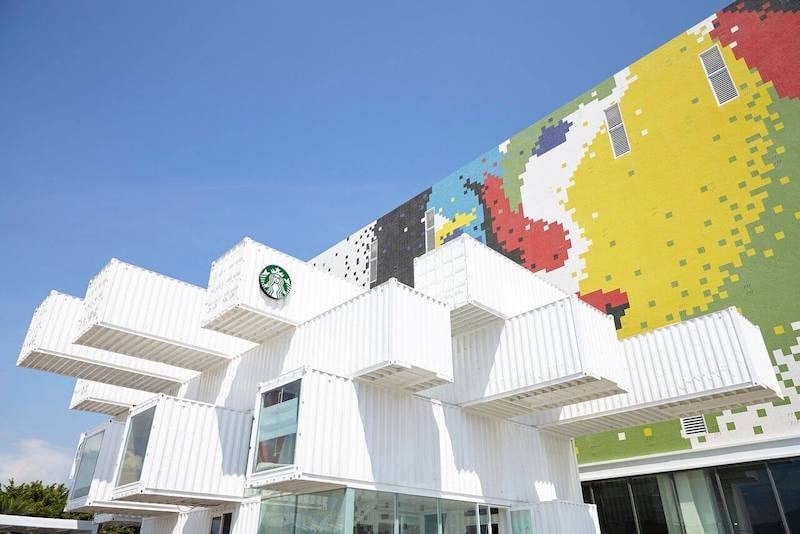 Calling this building "unique" would be quite an understatement! For this ambitious geometric structure in Hualien City, Taiwan, the Japanese architect Kengo Kuma drew inspiration from the sprawling appearance of coffee trees. What resulted was a drive-through Starbucks outlet made from 29 recycled shipping containers, stacked over each other with playful splashes of colour. 
Address: Hui-Lan Bay, Zhongshan Road, Hualien City, Hualien County, 970 Taiwan 
Also read: 13 Prettiest Starbucks Branches in Taiwan for The Travelling Caffeine Lover
2. This shop with a decorative ceiling inside a mall in Dubai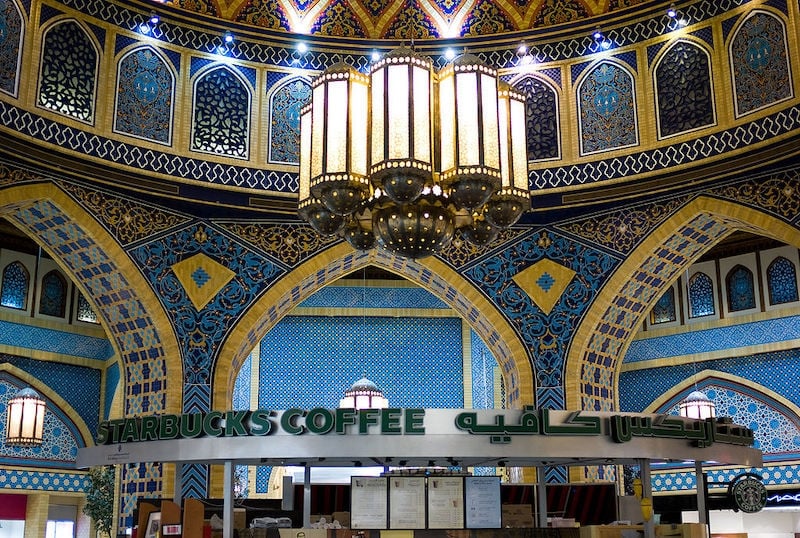 Monumental arches, ornate tilework, and a chandelier hanging from a domed ceiling give this jewel among Starbucks branches an elegant flair. As you casually sip your coffee, it's hard not to be gobsmacked by the mosaics of blue and yellow around you. You can find this outlet at Dubai's Ibn Battuta Mall, a large shopping centre with over 270 stores and 50 restaurants to explore. 
Address: Tunisia Court, Ibn Battuta Mall, Sheikh Zayed Road, 5th Interchange, Jebel Ali Village, Dubai, United Arab Emirates
3. This dreamy Starbucks branch with a stone terrace near Prague Castle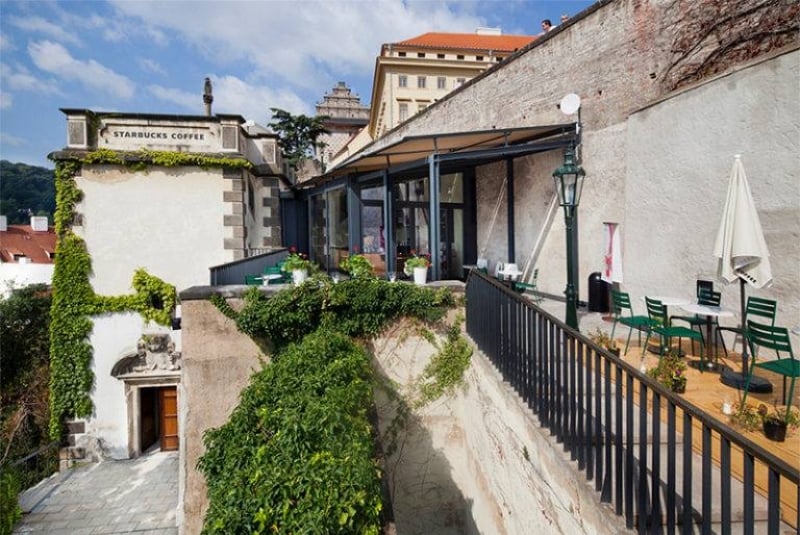 Let's just say that some Starbucks locations around the world have little to offer in terms of scenery, as you're usually surrounded by people looking down at their laptops, books, or phones. In other words, there's not much to inspire your creativity. 
But near the hill where Prague Castle stands, this cosy Starbucks branch in Prague enjoys a view like no other. Even better, it has an outdoor patio and a stone terrace, where you can enjoy a spectacular outlook of the Old Town, from the red rooftops of nearby houses to the Gothic spires of cathedrals. Perched near a historic castle in Europe, cradling a morning cup — why, it's every coffeeholic's dream come true! 
Address: Prague Castle, Prague 118 00, Czech Republic
4. This Spanish-style house in Prado Norte, Mexico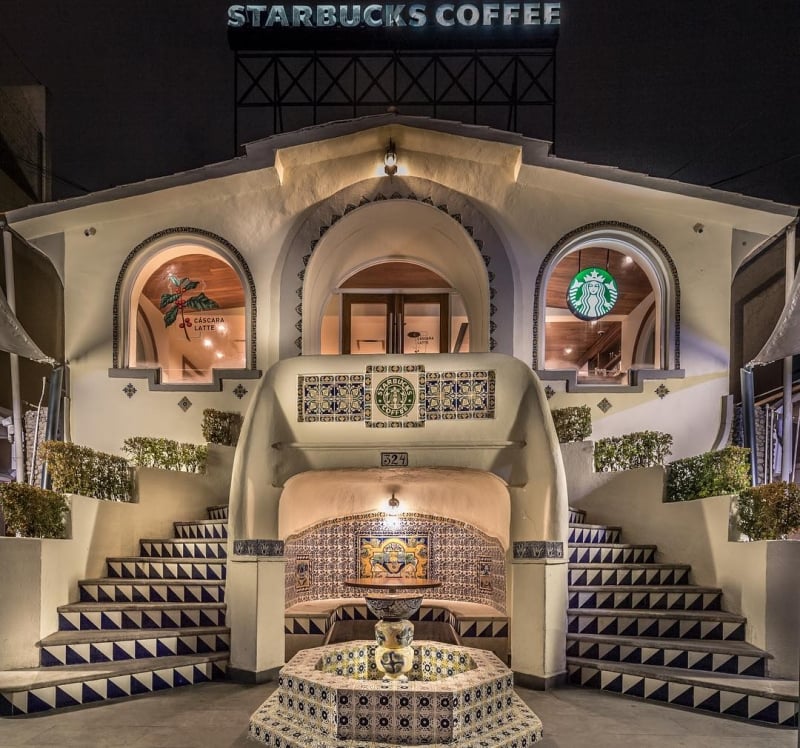 A fountain near the entrance? Check. A gorgeous staircase? Double checks! At this exquisite outpost in Mexico City, garden plants and intricate murals lead you toward a storefront that is absolutely swoon-worthy. You'll almost forget that this is the entryway of a Starbucks, not an exclusive party at a Spanish-style villa. 
Address: Prado Norte No. 324, Lomas de Chapultepec, 11000 Mexico City, Mexico
5. This 17th-century building with breathtaking décor in Paris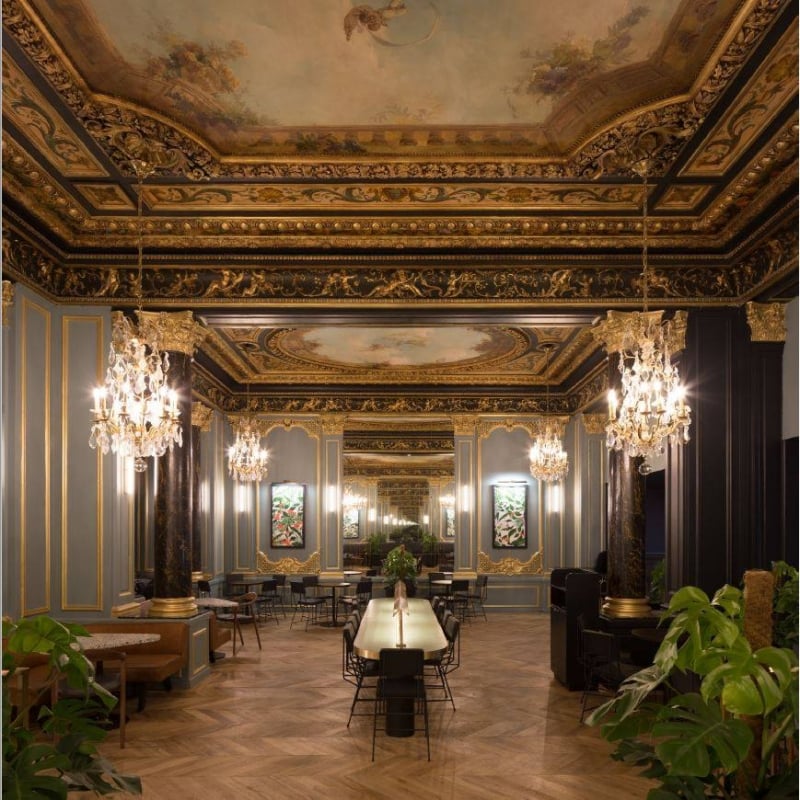 Set inside a restored 17th-century building near the Opéra Garnier, this Starbucks location in Paris exudes an old-world glamour that feels right at home in the City of Lights. Twinkling chandeliers, brass balustrades, ceiling frescoes, and bespoke furniture make the Starbucks Capucines branch an inviting retreat for any traveller. Certainly, it looks more like a grand ballroom than any coffee house or patisserie we've ever seen. 
Address: 3 Boulevard des Capucines, 75002 Paris, France
Also read: When In France: Paris For First-Time Travellers
6. This down-to-earth store that was once a bank vault in Amsterdam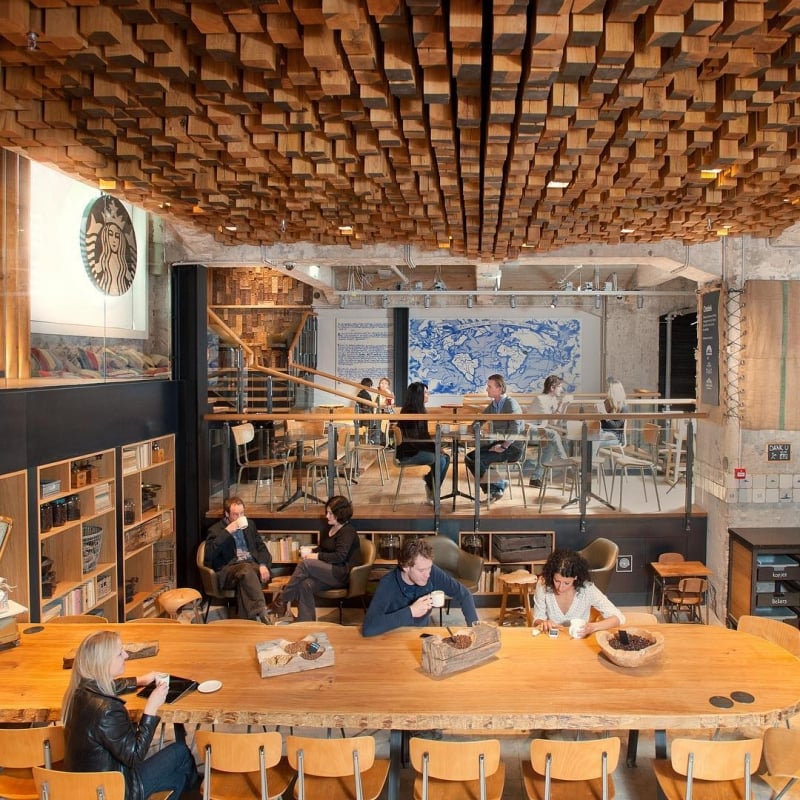 This European concept store is worth a visit, if only to see how a former bank vault on Rembrandt Square was transformed into a beautiful gathering spot in the middle of Amsterdam. Starbucks, together with local designers, filled this space with Dutch oak furnishings and recycled materials, all the while preserving the original concrete walls and 1920s marble floors. Now, it has all the ambience of your neighbourhood coffee shop, staging cultural events from live music performances to poetry readings. 
Address: The Bank Rembrandtplein, Utrechtsestraat 9, 1017 CV Amsterdam, Netherlands
7. This rose gold sanctuary for all things coffee and tea in Tokyo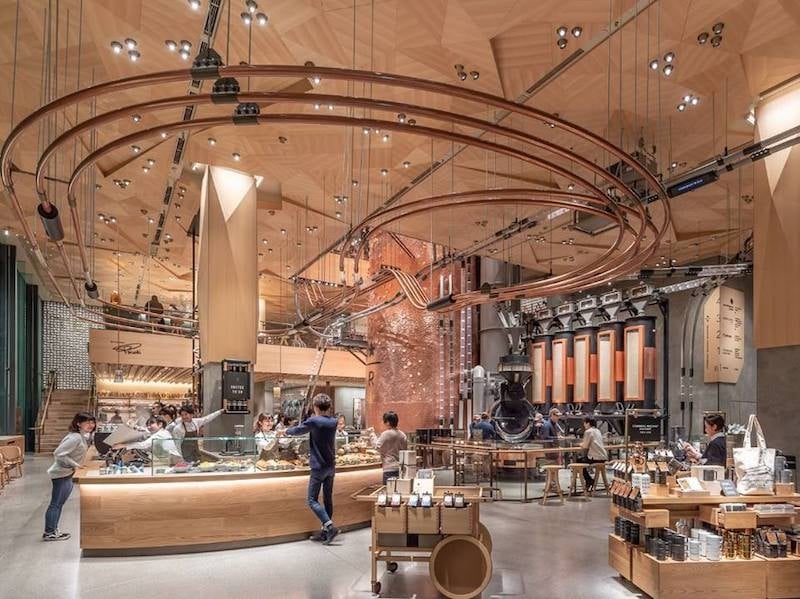 Out of all the stores in Japan, the Starbucks Reserve Roastery Tokyo is the ultimate show-stealer when it comes to design. Every detail involved in preparing coffee, tea, cocktails, and pastries is showcased in an artful way throughout the four floors of this immersive café. Here, customers can witness the full spectacle of the craft of coffee-making, from roasting the coffee beans to bringing out the flavours in top-quality brews. We can already picture ourselves humming with a soothing cup in our hands right now.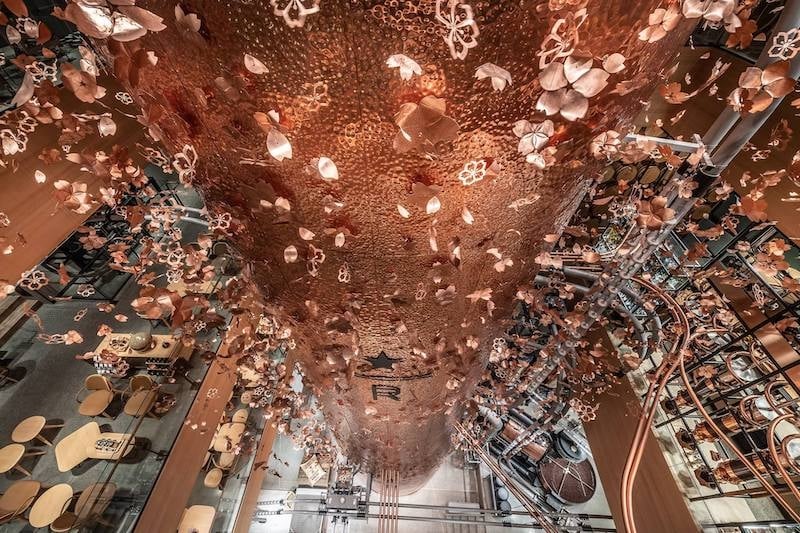 Another eye-catching feature of this Starbucks store is the 17-metre cask, whose copper cherry blossoms pay tribute to the picturesque trees in the Nakameguro neighbourhood. 
Address: 2 Chome-19-23 Aobadai, Meguro City, Tokyo 153-0042, Japan
8. This Starbucks branch housed in a wooden temple in Yangshuo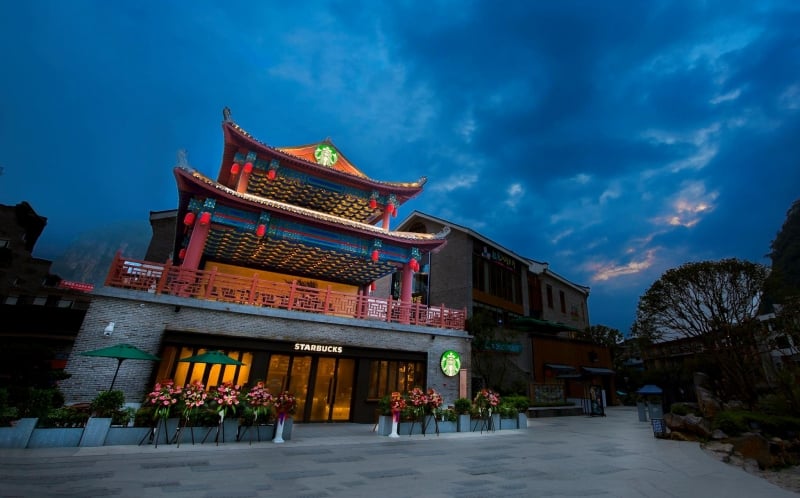 This three-storey coffee stop on Yangshuo West Street demonstrates how even the most creative Starbucks outlets know how to blend in with their surroundings. At this Starbucks branch, a vibrant facade echoes the traditional architecture of a Chinese garden pavilion: hip-and-gable roofs, supported by beams and festooned with bright red lanterns. More importantly, this café is a nod to the history of Yangshuo — a town that happens to be more than 1,400 years old.
Address: West Street Walking Street, Yangshuo County 541900, China
9. This former gas station that has starred in Hollywood movies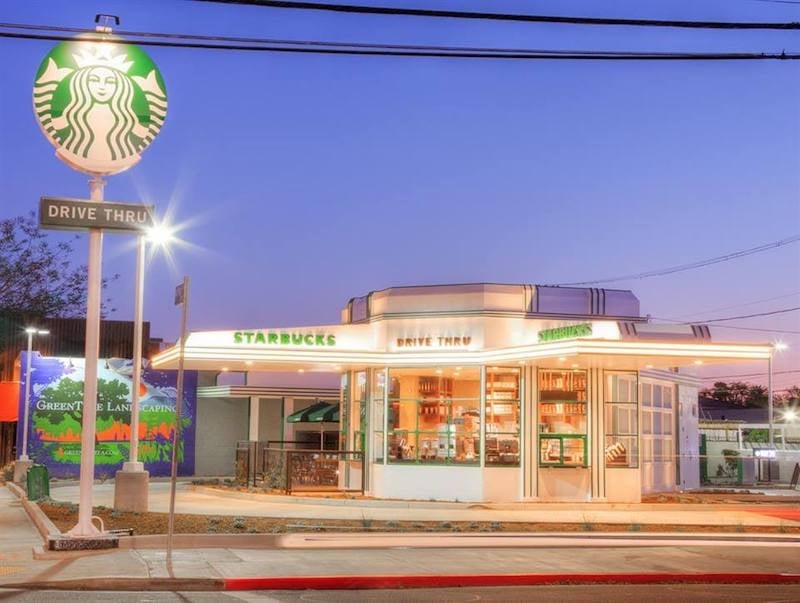 Before it became the polished and sleek vintage outpost that you see above, Gilmore Gas Station was a fuel service stop that appeared in movies such as L.A. Story and 48 Hours. But after the 1990s, it fell into ruin and needed major structural overhauls. And so, Starbucks refurbished the station and gave it a second life as a drive-through coffee shop. Today, this former service station still helps customers refuel, albeit in a much different way. 
Address: 859 N Highland Ave, Los Angeles, California 90038, United States
10. This upscale roastery with an ice cream station in Milan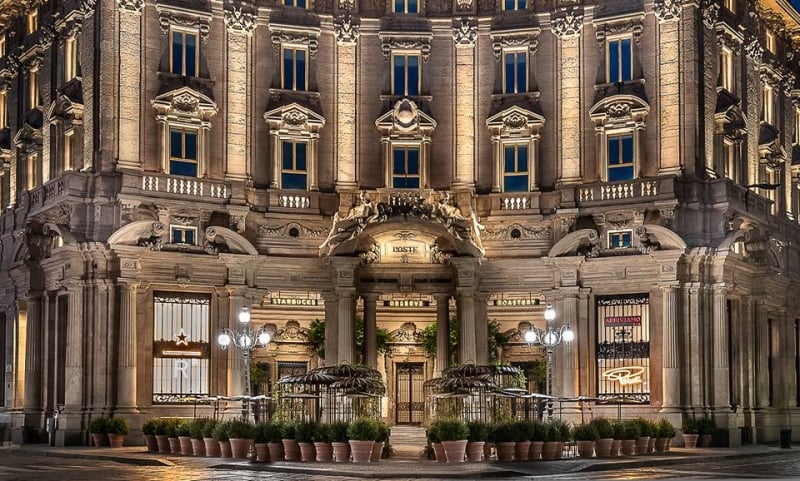 Italians can be a tough audience to reach. After all, their country is the birthplace of espresso, and they have enough cafés to dazzle visitors for days. With the Starbucks Reserve Roastery Milano, Starbucks had to create a one-of-a-kind concept that even the most discerning coffee connoisseurs would adore.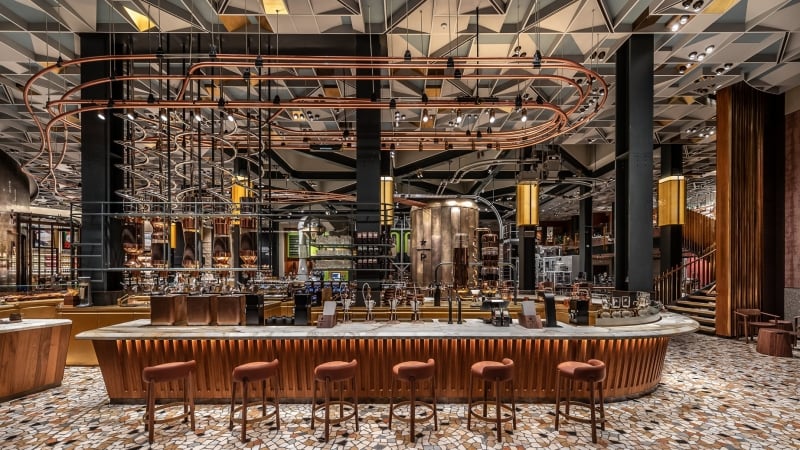 Situated in the Palazzo della Poste in Piazza Cordusio, this 2,300sqm café is fitted with Tuscan marble and top-of-the-line machinery. When it opened in Sep 2018, it was the first-ever Starbucks store in the world to have an affogato station, where customers can enjoy hand-crafted ice cream with their coffee. 
Address: Piazza Cordusio 3, Milan 21023, Italy
11. This traditional Japanese townhouse in Kyoto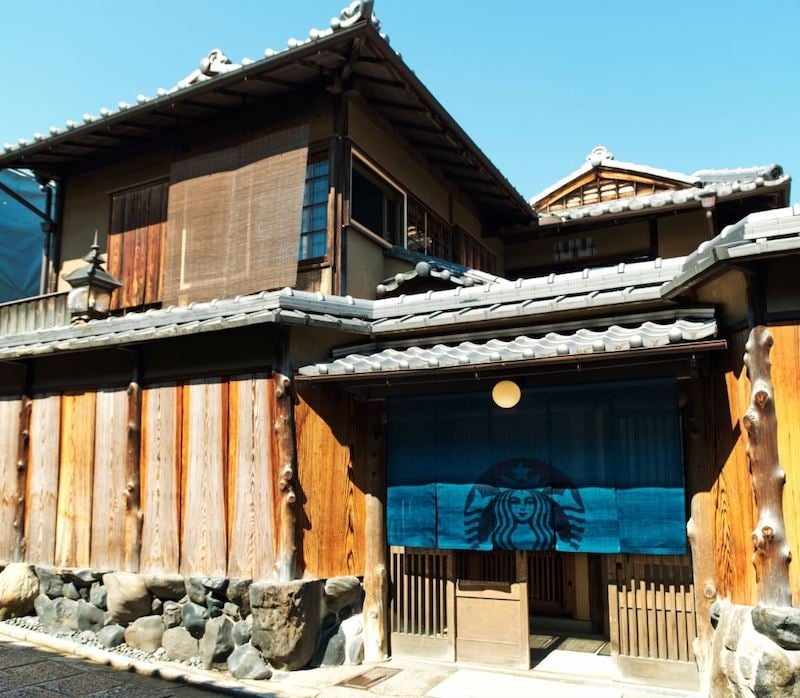 Located inside a 100-year-old Japanese townhouse or machiya, Starbucks Coffee Kyoto Ninenzaka Yasaka Chayaten is a coffee shop that can also function as a tourist attraction on its own. From the street, you can glimpse the noren curtains by the entrance and the tiled roof that make the shop look distinctly Japanese. Inside, there are three tatami rooms where customers can take off their shoes, sit on cushions made of silk fabric from the Tango region, and enjoy their coffee in the traditional Japanese fashion. 
You can find this Starbucks branch along the same path that leads to Kiyomizu Temple, a UNESCO World Heritage Site. Like the tea shops that line the street of Ninenzaka, this hidden gem evokes the serene atmosphere that Kyoto, the former imperial capital of Japan, is famous for. 
Address: 349 Masuya-chou, Higashiyama Ward, Kyoto 605-0826, Japan
Also read: 8 Stunning Places in the Philippines that Look Like Japan
12. This floating Starbucks outlet on the Han River in Seoul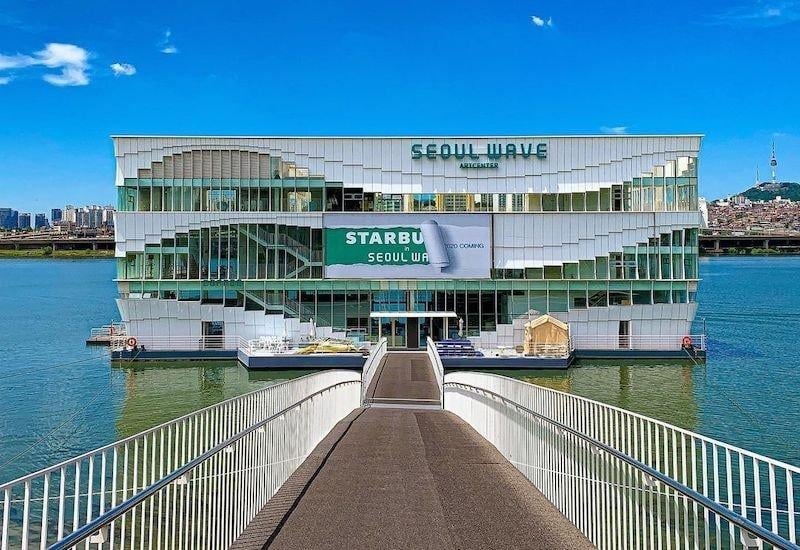 Easily one of the most stunning Starbucks locations to visit, the 300sqm Starbucks Wave branch at the Seoul Wave Art Center impressed many people with its unique concept: a sleek and modern café inside a cultural exhibition venue, floating on the Han River. 
Serving as both a casual gathering spot and a strategic lookout for admiring the views from glass windows, this coffee shop is popular among the youth in Seoul. At nighttime, you can watch the entire building light up like a cruise ship, reflecting illuminated views on the river. 
Address: 149-2 Jamwon-dong, Seocho-gu, Seoul, South Korea 
Also read: Starbucks in Korea: 7 of the Most Beautiful Branches You Have to Visit
13. This immersive oasis with an Arabica coffee farm in Bali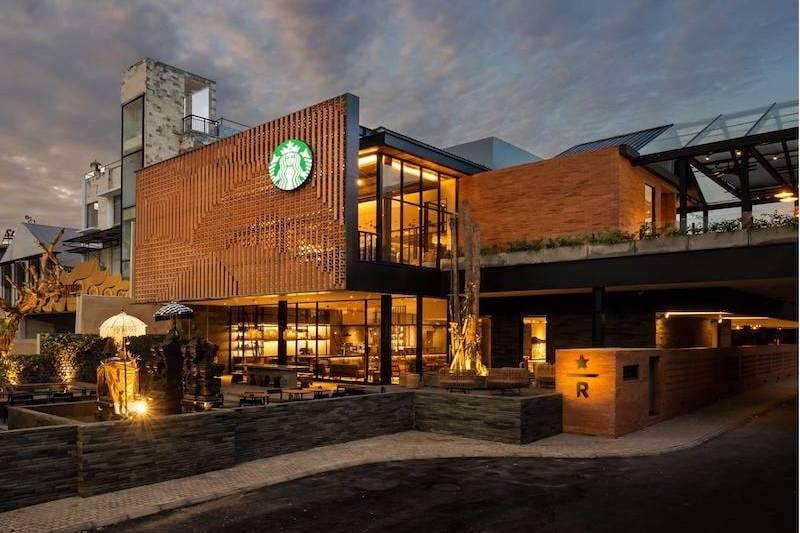 The next time you're in Bali, make sure to make a beeline for the Starbucks Dewata Coffee Sanctuary. It's the largest Starbucks Reserve branch located in Southeast Asia, as of writing, and its facade showcases the traditional pavilion style of Balinese architecture.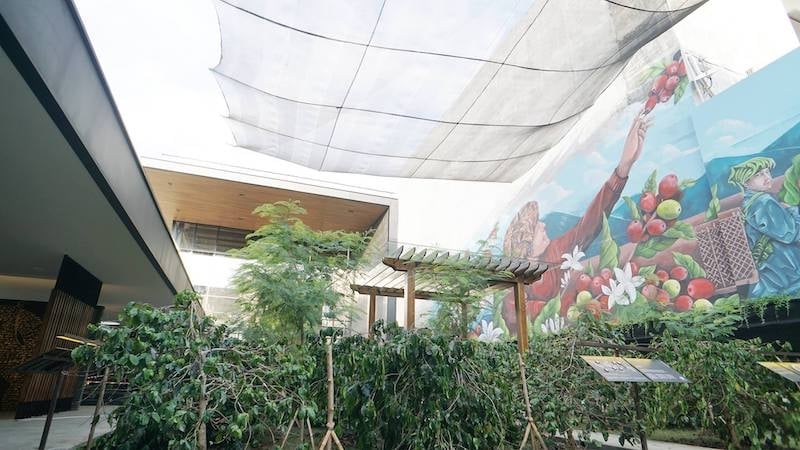 Meanwhile, the premises take you on a "seed-to-cup" journey with a working farm with Arabica coffee trees. This way, the store gives you a sneak peek of how your coffee is harvested, prepared, and brewed. Even more striking — a 30-foot-tall wooden mural depicts the rich history of coffee in Indonesia, which is the fourth largest Arabica coffee-growing region in the world. 
Address: Jl. Sunset Road No.77, Seminyak, Kuta, Kabupaten Badung, Bali 80361, Indonesia
14. This pretty-in-pink paradise in Turks and Caicos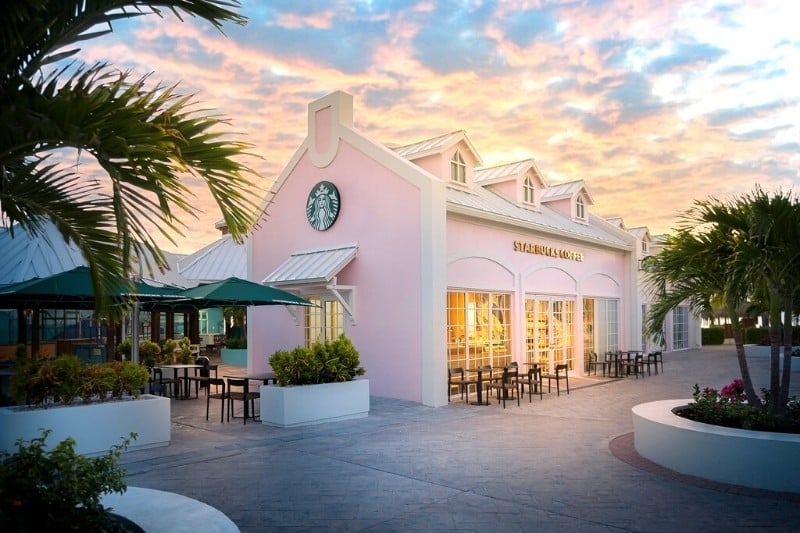 Fancy a trip to the pinkest café you've ever seen? Straight out of any Wes Anderson-themed bucket list, this Starbucks outlet embraces the breezy, laid-back, and tropical mood of the Turks and Caicos Islands, which are known for their stunning beaches and coral reefs. Inside, the coffee shop features a siren mural that was painted by the Colombian artist Maria Camila Bernal Toro. With a pastel pink exterior that calls to mind shades of cotton candy, this location is also an ideal spot for watching the sun go down.  
Address: Grand Turks Cruise Terminal, Cockburn Town, Grand Turk, TKCA 1ZZ, Turks and Caicos Islands
15. This Starbucks branch inside a botanical garden in Tokyo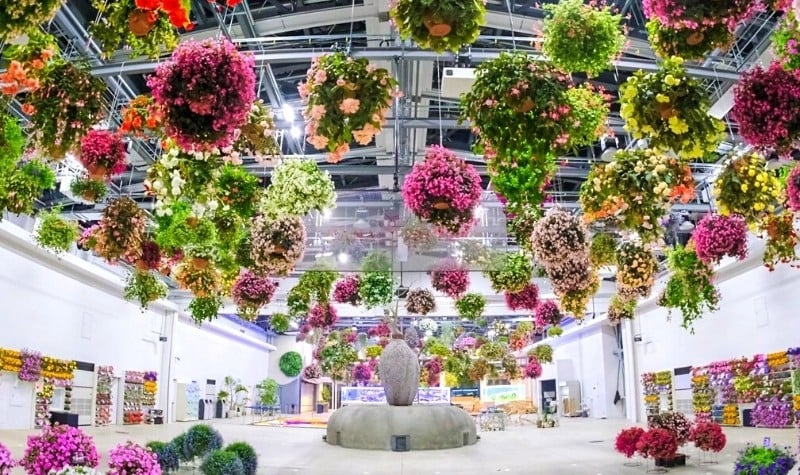 When it comes right down to it, delicious coffee and aesthetically pleasing interiors are all we look for in a coffee shop. Luckily, this flower-filled Starbucks outlet in Tokyo has plenty of both. For one, the Starbucks sign is designed with real plants. In addition, the hall comes to life with elaborate flower walls and hanging baskets abloom with petunias, geraniums, begonias, fuchsias, and bellflowers — an explosion of colour that will make you feel like you've entered a floral wonderland, rather than a Starbucks.
Also read: Café Kitsuné is Launching at The Podium This July
Head to this plant-filled oasis inside the Hana Biyori greenhouse, which is part of a popular Japanese amusement park called Yomiuriland. To top it all off, this botanical-themed café also has an 8m-long aquarium with tropical fish from Okinawa — a surprising feature that makes this Starbucks location a standout among other stores around the world. 
Address: Yomiuriland Hana Biyori, 015-1 Yanokuchi, Inagi, Tokyo 206-8725, Japan
16. This futuristic spaceship-like drive-thru near Bangkok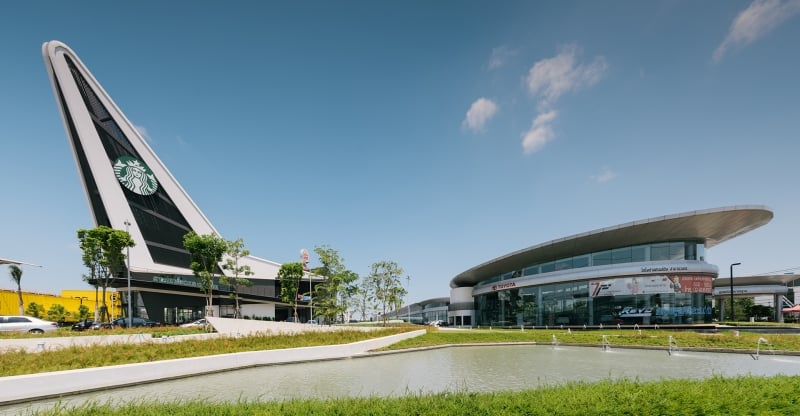 A49, an international architecture design firm based in Thailand, innovated a Starbucks drive-thru like no other along the Vibhavadi-Rangsit Highway. The big idea was to create a landmark that symbolises "dynamism and speed." This concept can be seen through its slender form, light fixtures, and choice of construction material: steel. Naturally, this Starbuck branch sporting a futuristic style easily attracts fans of all things sci-fi and coffee!
Address: 4J69+V4W ถนน พหลโยธิน Khlong Nueng, Khlong Luang District, Pathum Thani 12120, Thailand
17. This Tianfu Riverfront store in Chengdu, China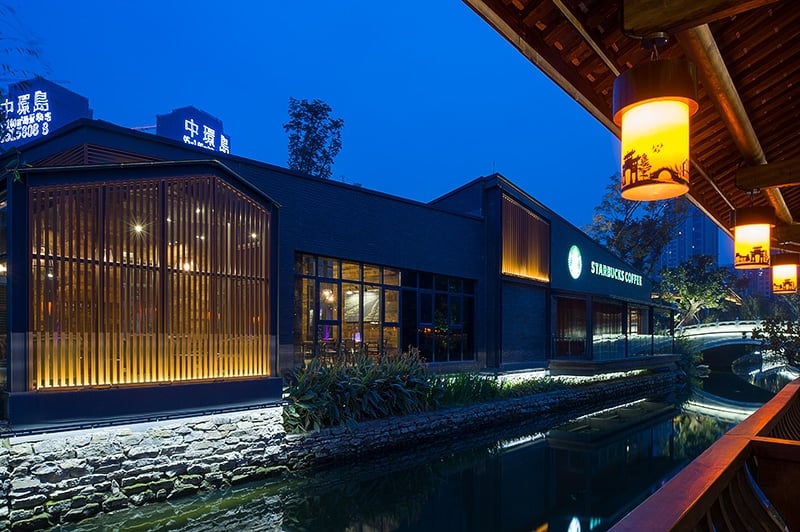 While cafes are often associated with urban landscapes, the Tianfu Riverfront Starbucks store in Chengdu defies all odds. This outlet comprises two freestanding structures facing the Jinjiang River which house sliding doors and folding windows for ventilation. Additionally, locally inspired and handcrafted decor was integrated into the space to help engage customers. Ultimately, the essence of this architectural design is to be able to connect people with nature and foster human connection. Now, that's design!

Address: Tianfu Riverfront, Jinjiang District 锦江区, 610000, Sichuan Province, China
18. This NYC roastery featuring an impressive mix of bars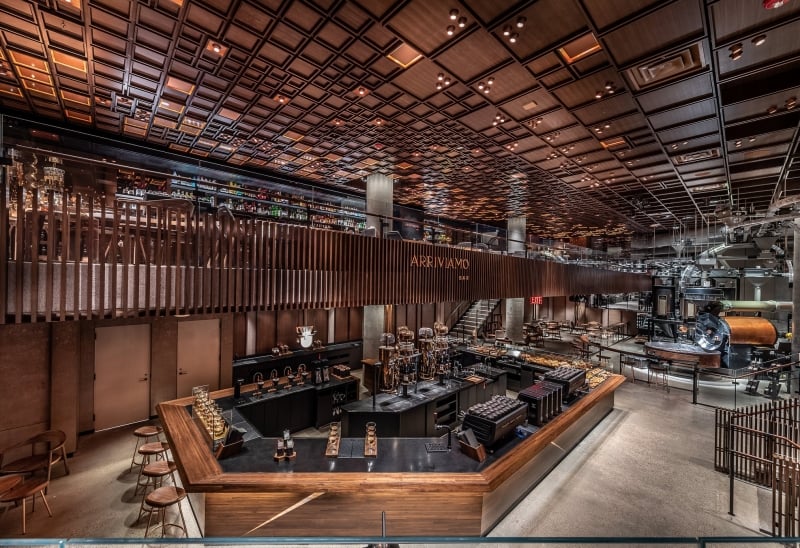 Undoubtedly, the Starbucks Roastery in New York City is every maximalist coffee connoisseur's dream! This branch takes inspiration from the city's "indomitable spirit and the hardworking ethos of the meatpacking district." It houses various spaces, bars, and custom details so customers can fully immerse themselves in the art, science, and theatre of coffee. As for its intricately and thoughtfully designed interiors, this branch boasts a blend of wood and copper finishings for that polished industrial look.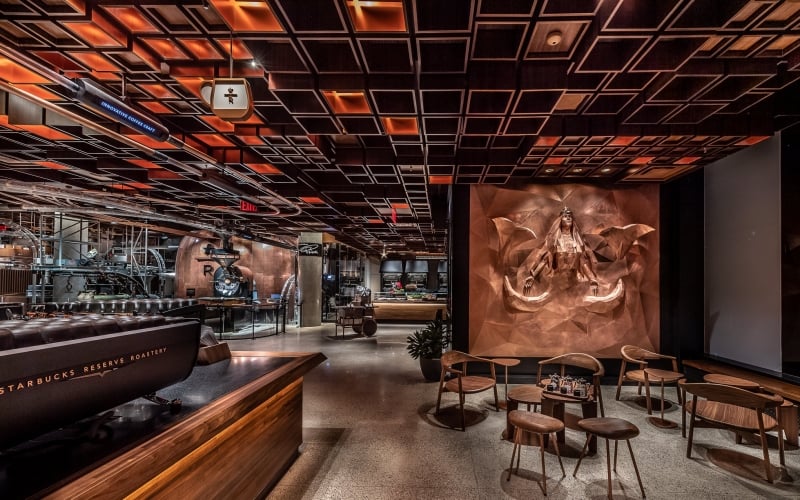 Address: 61 9th Ave, New York, NY 10011, United States
Also read: This Filipino Bakery in NYC Puts a Twist on Flavours Like Ube and Halo-Halo
19. This sophisticated coffee mecca in Chicago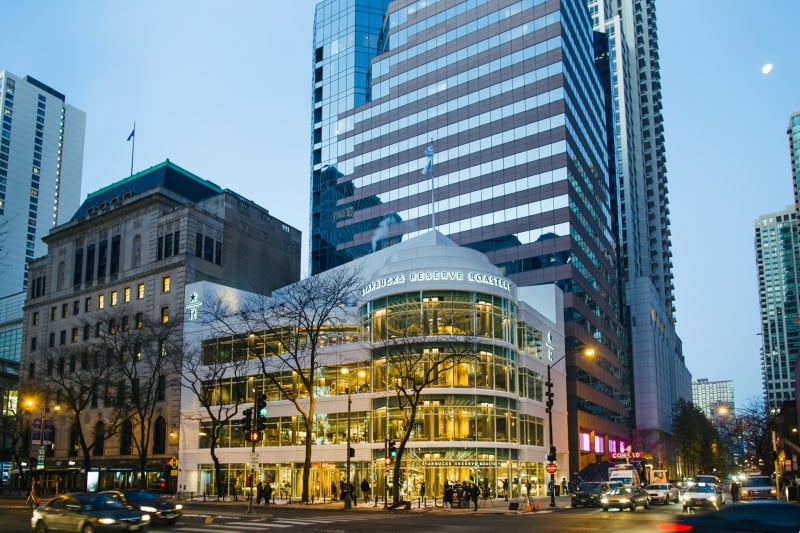 This Starbucks Reserve nestled in the bustling neighbourhood of Magnificent Mile in Chicago, Illinois remains to be the largest of its kind in the whole world. It is a five-story roastery occupying more than 35,000 square feet bearing the coffee giant's iconic green and white colour scheme. Much like New York's roastery, it is also home to various spaces — all of which can offer you different immersive coffee experiences.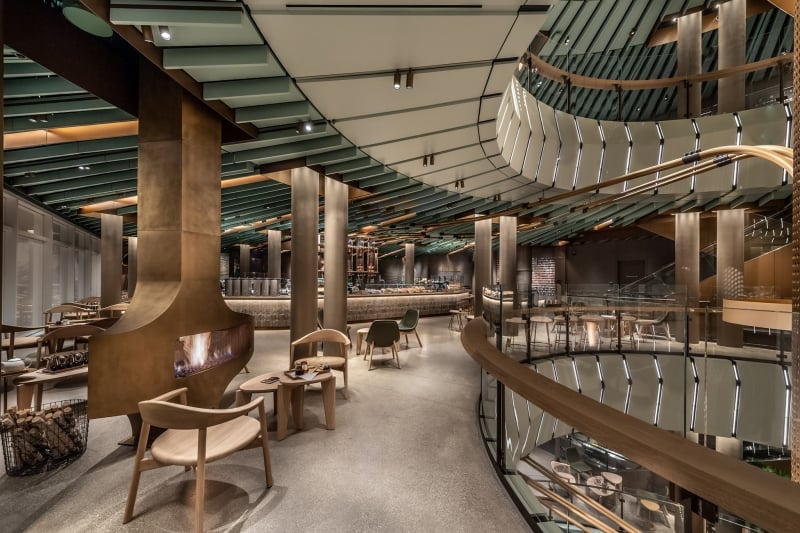 For your daily dose of caffeine, head to the Reserve Coffee Bar located on the first floor. And for more eats, step into the Princi Bakery & Cafe on the second floor. Right above, on the third floor, you'll find the Experiential Coffee Bar where rare brews are served. Feeling a bit frisky? This is only of the few Starbucks branches in the world that offer alcoholic beverages and traditional Italian booze. Indulge in coffee-and-tea-inspired cocktail creations at the Arriviamo Cocktail Bar on the fourth floor. Literally, what's not to love? 
Address: 646 Michigan Ave, Chicago, IL 60611, United States
20. This Shanghai roastery that offers a theatrical coffee experience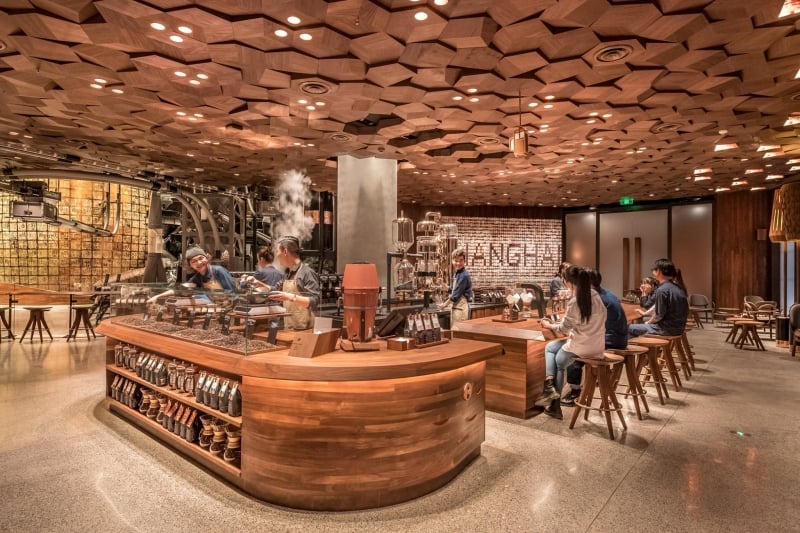 Indeed, Starbucks Reserve Shanghai's amusement park-esque atmosphere and packed crowds add to the immersive coffee experience. As the first Starbucks Reserve Roastery in Asia, it is home to three coffee experience bars, a 3D-printed tea bar, and a special Teavana tea bar. In fact, one of its coffee bars is 88 feet long — making it one of the longest Starbuck bars across the globe. Most importantly, its key design features were created exclusively in China for China. This means you'll never see Starbuck branches like this one anywhere else in the world. 
Address: China, Shang Hai Shi, Jing'An, 南京西路789号Unit 110 & 201 邮政编码: 200000
Also read: 15 Prettiest Starbucks Branches in the Philippines for Coffee Lovers
All of these Starbucks stores show just how far the franchise has travelled from its humble beginnings in Seattle. When we're thirsty and trudging along foreign streets, seeing that twin-tailed siren logo can be comforting: We already know exactly what we're going to order. 
And no matter where we are in the world, coffee is always a good idea.
---
Facebook image credit (left): A49| Official Website. This article was originally published on TripZilla.