I've heard it so many times before: "I need a break from Manila." When life in the city gets a little too hectic or mundane, it's perfectly normal to itch for a change of scenery. And once you're bitten by the travel bug? You know the drill: It's time to plan a barkada trip! For times when you feel the need to get away ASAP, a staycation near Manila is always a good idea.
Not all of us are blessed with rest houses we can escape to whenever we'd like (Ahh, the dream!). But thankfully, there are a whole lot of vacation homes near Manila that we can rent out on Airbnb — and trust me, they're the types you'll want to come back to again and again. The best part? We've found a whole bunch that are totally barkada-friendly!
So, what are you waiting for? Check out this list of Airbnbs, take your pick, and pack those bags! An exciting staycation near Manila awaits for you and your crew.
Also read: 7 Premium Buses in Manila and Where They Can Take You
Barkada-approved Airbnb & vacation homes near Manila
1. This Instagram-worthy condominium in Nasugbu, Batangas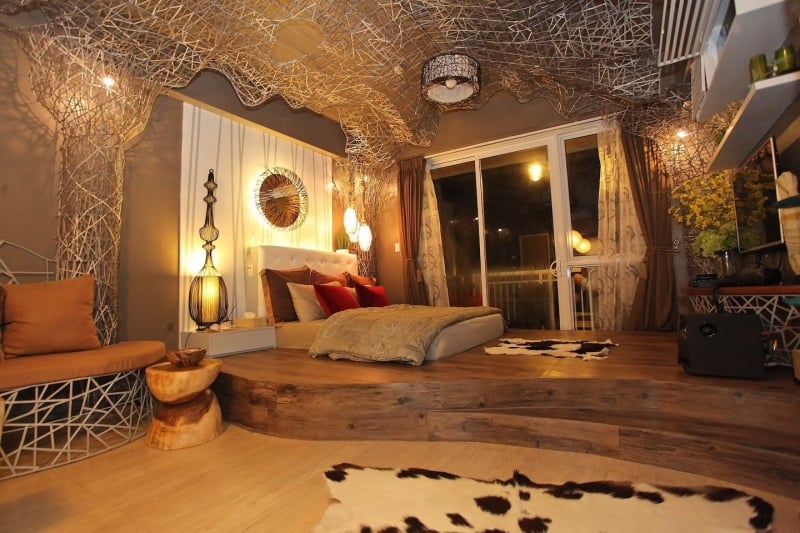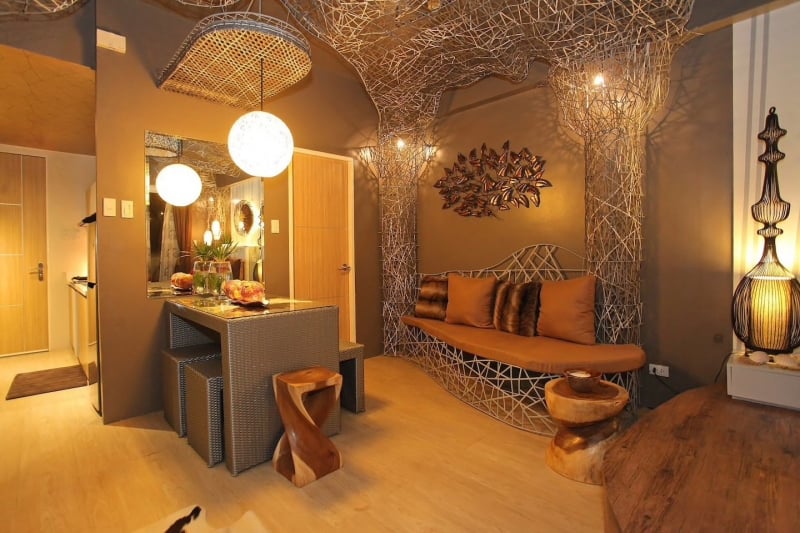 Listing name: Pico de Loro Lagoon View Prime-Luxurious Interior
Listing type: Entire condominium
Max. no. of guests: 6
No. of bedrooms: 1
This enchanting Airbnb in Batangas has all the makings of a memorable barkada trip: Beach and pool access, a fully equipped kitchen, and Instagrammable interiors. A condominium in Pico de Loro Beach Club, this home will place you just steps from the beach!
If tropical escapes aren't your thing, this Airbnb is still quite an attractive option. As cosy as it is stylish, it's the sort of place you won't mind leaving even after spending a few days indoors. Complete with a smart TV, a generous selection of DVDs, and a home theatre sound system, this home is no doubt staycation-worthy. It even has its own balcony with stunning views of the nearby lagoon!
Note: A one-time entrance fee of ₱1,200 per head must be settled upon arrival. (This isn't included in the Airbnb fees.) This will allow you to have access to the country club's facilities.
Also read: 18 Airbnb Homes in Batangas for When You Need a Quick Escape
2. This rustic seaside villa in Anilao, Batangas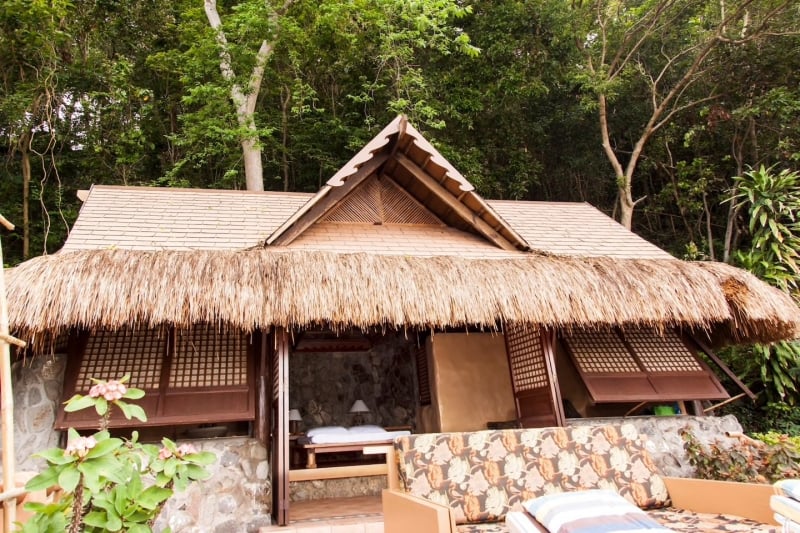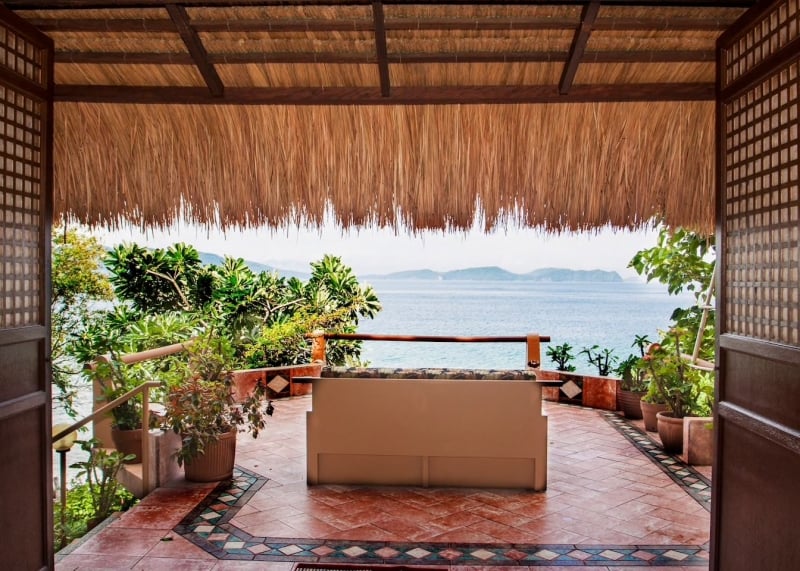 Listing name: Best Beach & Scuba Diving Manila
Listing type: Entire villa
Max. no. of guests: 6
No. of bedrooms: 3
Is scuba diving on your agenda? Anilao is perfect for an adventure-filled staycation near Manila! At this rustic villa, you and your barkada will feel almost as though you have an entire resort to yourselves. Water babies will love its location right by the water, where you'll be able to enjoy water sports and activities like island hopping, kayaking, snorkelling, windsurfing, and wakeboarding. 
With its laid-back ambience, this home offers a peaceful place to rest after a day of fun under the sun. Oh — and did we mention this Airbnb is pet-friendly, too? On a trip to this seaside villa, no one gets left behind. Consider this a go signal to let your furry friends tag along with you, especially if they love the water!
3. This solar-powered lake house in Cavinti, Laguna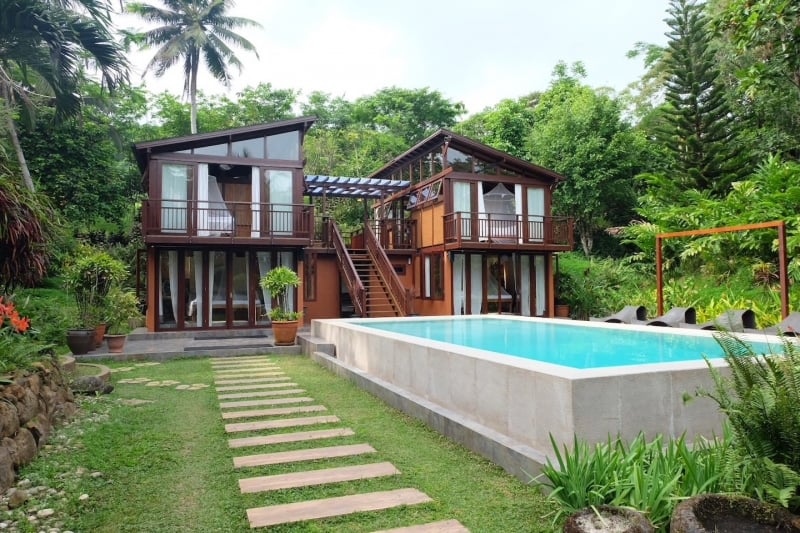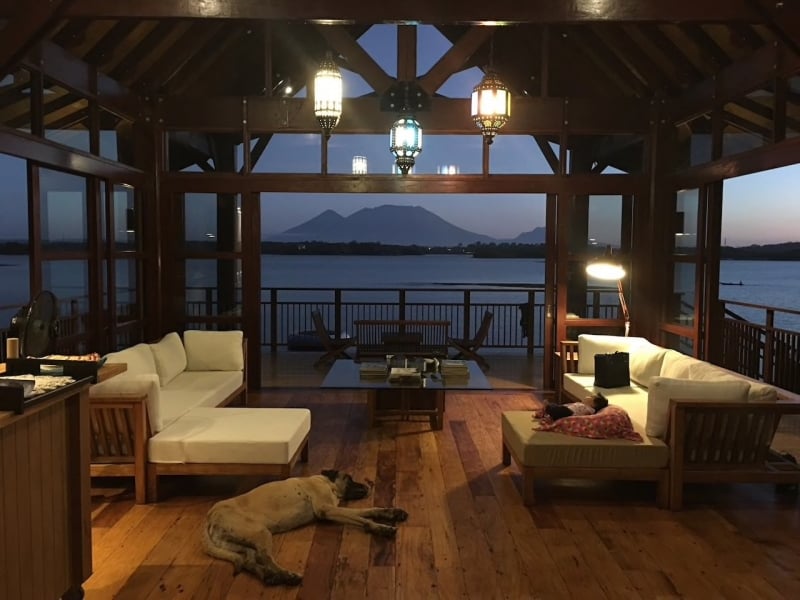 Listing name: The Lake House at Caliraya
Listing type: Entire cabin
Max. no. of guests: 12
No. of bedrooms: 6
The Lake House at Caliraya is a superb choice for a dreamy, eco-friendly staycation near Manila. Providing guests with a restful break from city life, this home is entirely solar-powered, and all bedrooms are fan-cooled. Consider this your chance to breathe in all the fresh air you can!
You and your barkada will certainly love the house's cool hangout spots like the pool and bonfire pit. But most of all, the outdoor lounge will probably be your favourite spot to hang out: It's nice and breezy, and overlooks the stunning Lake Caliraya and Mt. Banahaw. In addition, you can also enjoy fun water activities like kayaking, paddleboarding, and fishing! 
4. This luxe RV in scenic Tanay, Rizal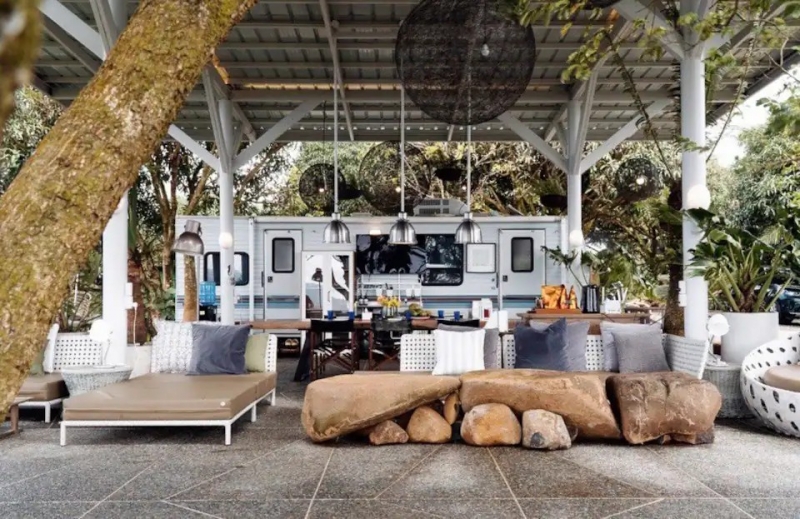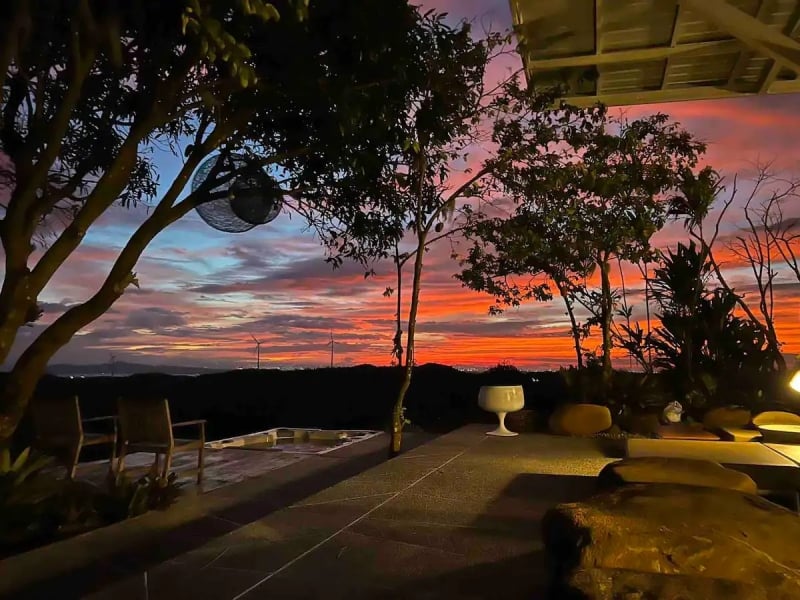 Listing name: Experience Luxury+Camping
Listing type: Camper/RV
Max. no. of guests: 6
No. of bedrooms: 2
If you and your barkada can't get enough of the outdoors, you're in luck: You can get this stunning camper all to yourselves! Perfect for groups who want to chill in their own exclusive slice of paradise, this staycation spot is on a 15-hectare property overlooking the Sierra Madre mountains, Laguna Lake, and the Pililia windmills.
And what's more, you'll also get to enjoy your fair share of activities onsite, such as trekking and birdwatching. There's even a Jacuzzi for blissful outdoor soaks while watching the spectacular sunset!
Also read: Campsites Near Manila: 10 Refreshing Spots for Your Next Getaway
5. This beachfront cottage in Cabangan, Zambales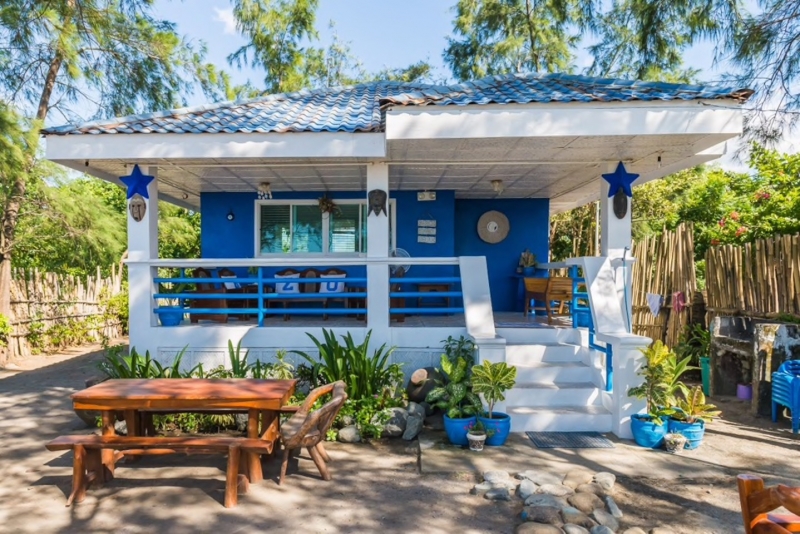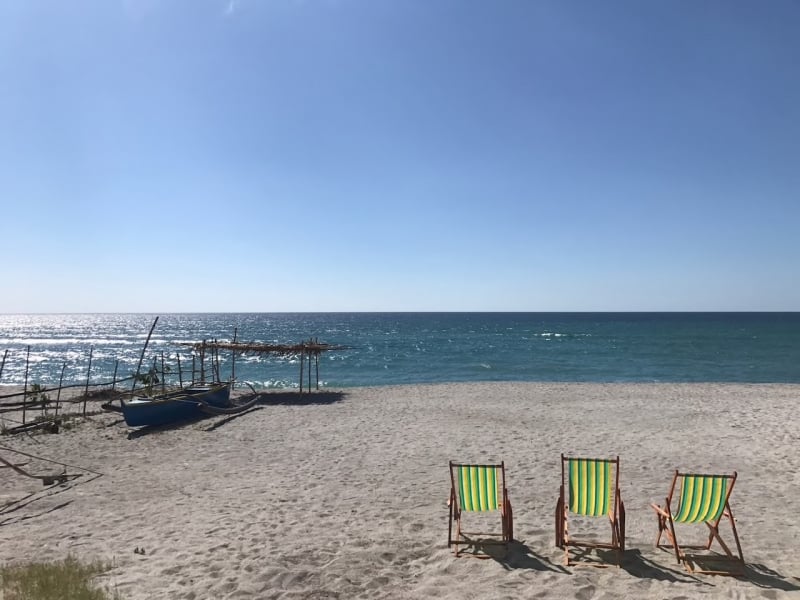 Listing name: @ZambalesBeachHouse Entire BeachFront Property
Listing type: Entire cottage 
Max. no. of guests: 16+
No. of bedrooms: 3
First of all, how could anyone say no to this charm-filled cottage's cute Santorini-inspired exteriors? And second, we don't think any beach-loving barkada could possibly resist this tropical escape! This Airbnb has enough space to allow up to 10 people to sleep on beds and mattresses, but bigger groups may be accommodated as well. Extra persons may use the daybed and couch in the spacious verandah, the beachfront hammocks, and are also welcome to pitch tents on the beach!
Amazingly, this Zambales home is located right in front of the West Philippine Sea; at the back, you'll find a river and stunning mountain views. Here, you can expect unobstructed views of the sea, as well as the most spectacular sunrises and sunsets. And as if all that wasn't enough, you'll also get to see a sky full of stars at night! What more could you possibly ask for? 
Also read: 15 Philippine Destinations for Stargazing and Milk Way Sightings
6. This dreamy tropical escape in Subic Bay, Zambales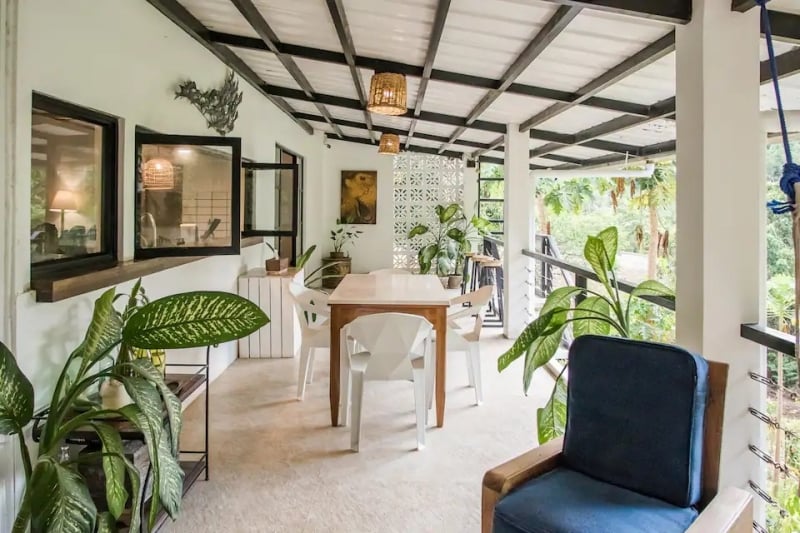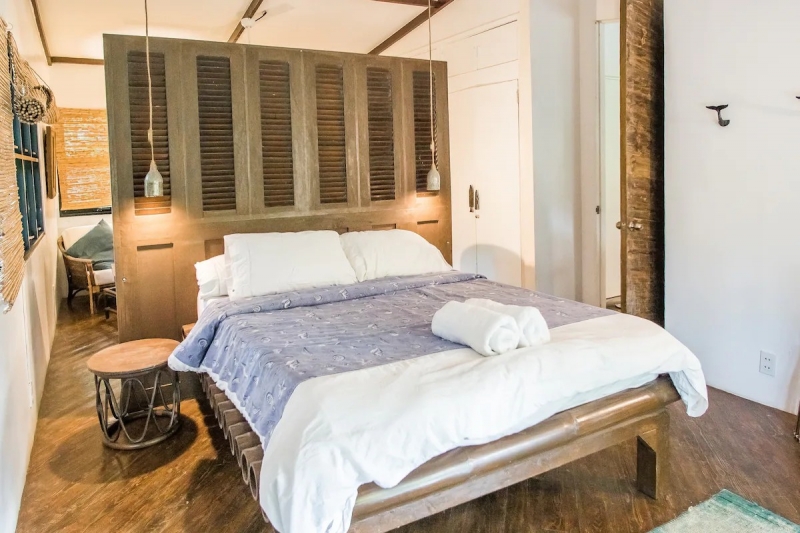 Listing name: Tuki Nest: Pet Friendly, Porch, Netflix, Monkeys!
Listing type: Entire home
Max. no. of guests: 5
No. of bedrooms: 1
Meet this Subic Bay haven that's your dream Insta-worthy home come to life! Set on the second floor of a renovated Navy house, the Tuki Nest is a great base for your Subic adventures, just an easy drive to popular spots like the Royal Duty Free, El Kabayo, and Camayan Beach.
Truly, this Airbnb has everything your barkada needs need for a comfortable staycation near Manila. It's easy to find and is clearly well-kept — reviews show that it's very clean and guests can't stop raving about the complimentary treats! (A big plus, if you ask us.) Another advantage? Tuki Nest is pet-friendly, so your four-legged pals can tag along the vacay!
7. This quiet bed and breakfast in Baler, Aurora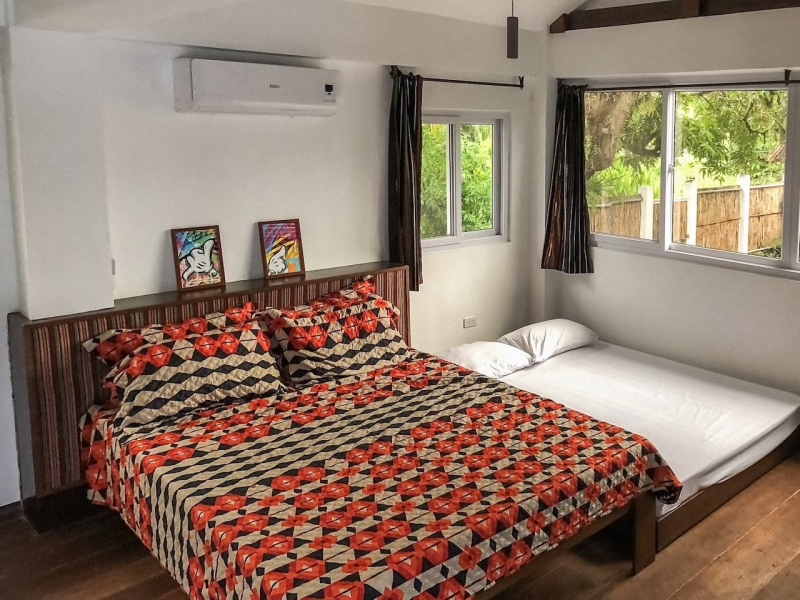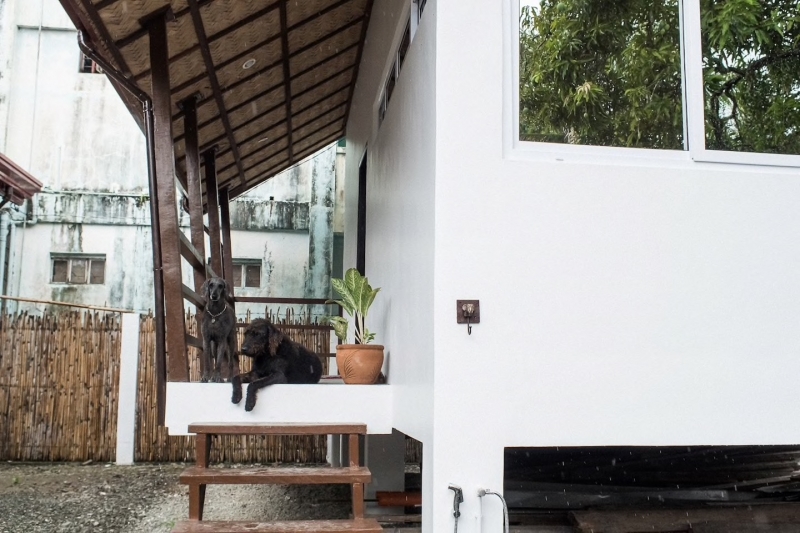 Listing name: Cowabungalows Kaliwa Bali Vibes Huge CR Ntflx WiFi
Listing type: Room in a bed and breakfast
Max. no. of guests: 4
No. of bedrooms: 1
How about a barkada trip filled with sun, sand, and surfing? Cowabungalows Baler is an easy 15-minute walk to the beach and Sabang boardwalk. Baler Museum, as well as the town's restaurants and shops, are also within a comfortable walking distance. Reviews show that previous guests actually think the location is perfect — it's close to the beach, but far enough to provide a quiet escape from Baler's crowds. Everyone loves the sweet resident dogs, too! 
Travelling with a bigger group of friends? There are several rooms at this bed and breakfast, so you can easily book multiple rooms, provided that they're available at the same time.
8. This modern treehouse in San Juan, La Union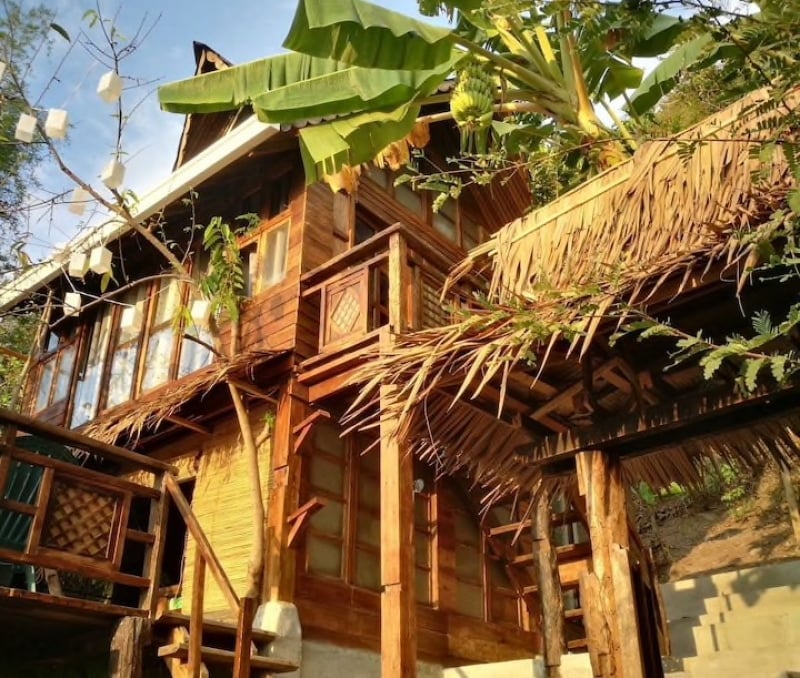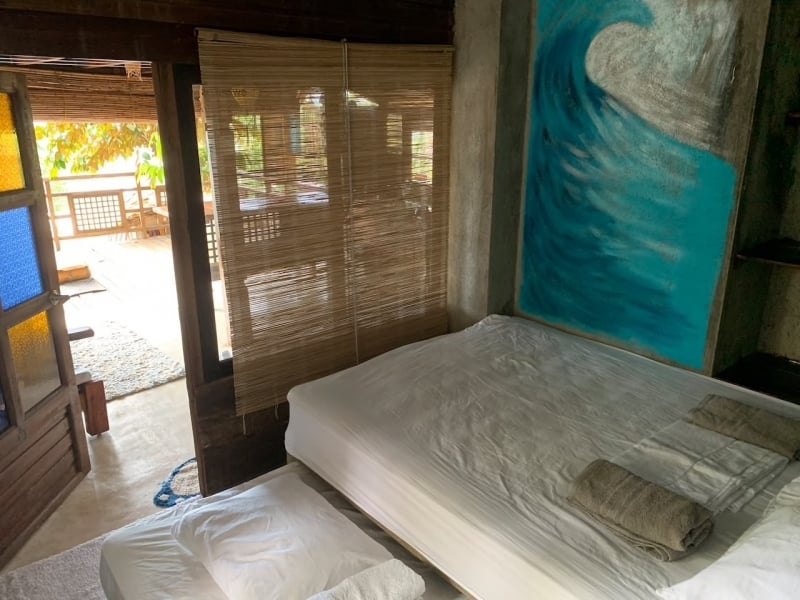 Listing name: Alon and Sandy room for small group
Listing type: Room in a tiny home
Max. no. of guests: 6
No. of bedrooms: 1
Besides Elyu's popular hostels and resorts, Alon & Sandy's Surf Shack is definitely a worthy candidate for your next barkada trip to the popular surf town. Nestled at the top of a hill, this modern treehouse is probably one of San Juan's hidden gems. While a climb up is inevitable, we promise you the views are worth it. From here, you're guaranteed to witness the most breathtaking sunrise, sunset, and ocean scenes. This being said, expect to spend a lot of time at your private verandah!
If you don't mind that it's on top of a hill, the treehouse actually has quite a perfect location. The beach is just five minutes away and many of Elyu's well-known restaurants are just a short walk from here, too! 
Also read: 13 Airbnb Homes in La Union for Your Next Elyu Trip
9. This relaxed kubo-style loft in Surftown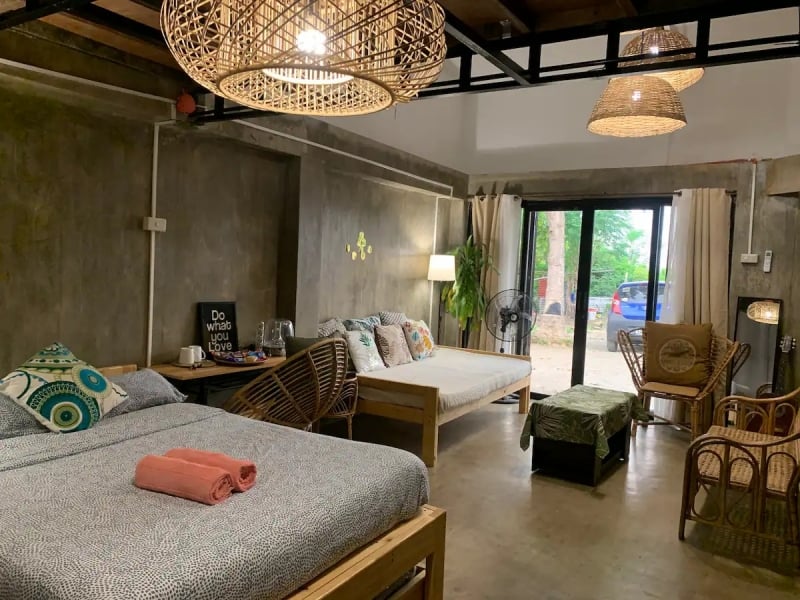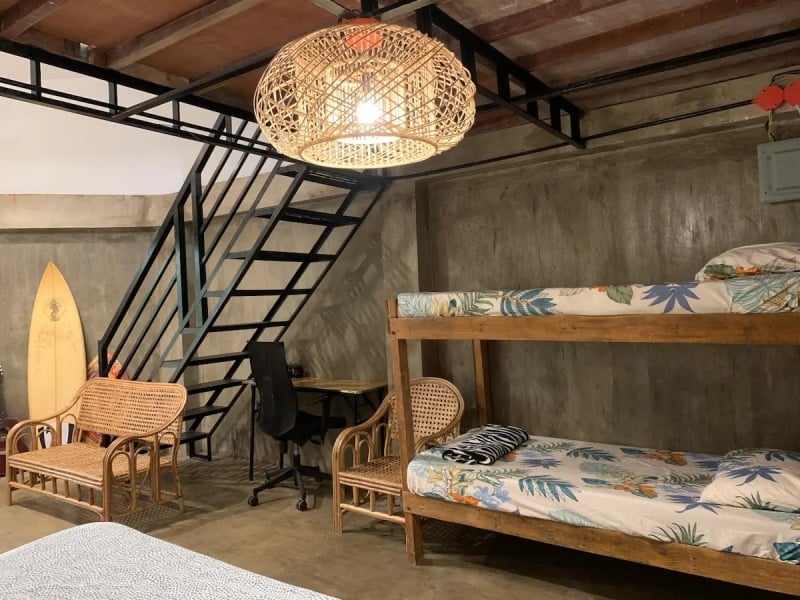 Listing name: Casa Ellyse Beach Villa Modern Industrial Loft
Listing type: Tiny home
Max. no. of guests: 16+
No. of bedrooms: 1
Taking the crew to Surftown? Hang out and bond with everyone in this loft-style villa in San Fernando, La Union. Thoughtfully designed yet refreshingly laidback, it's a fantastic spot in Elyu for a staycation with the barkada near Manila. Surfers will love how close this Airbnb puts them to the sea — it's only a few steps away! Plus, each rental at Casa Ellyse comes with free use of beach umbrellas and beach mats.
10. This cosy heritage home in Baguio, Benguet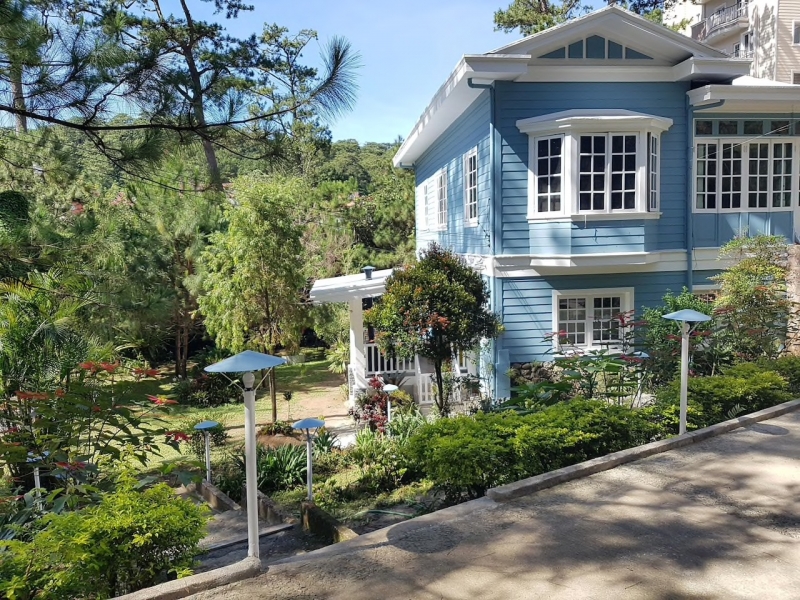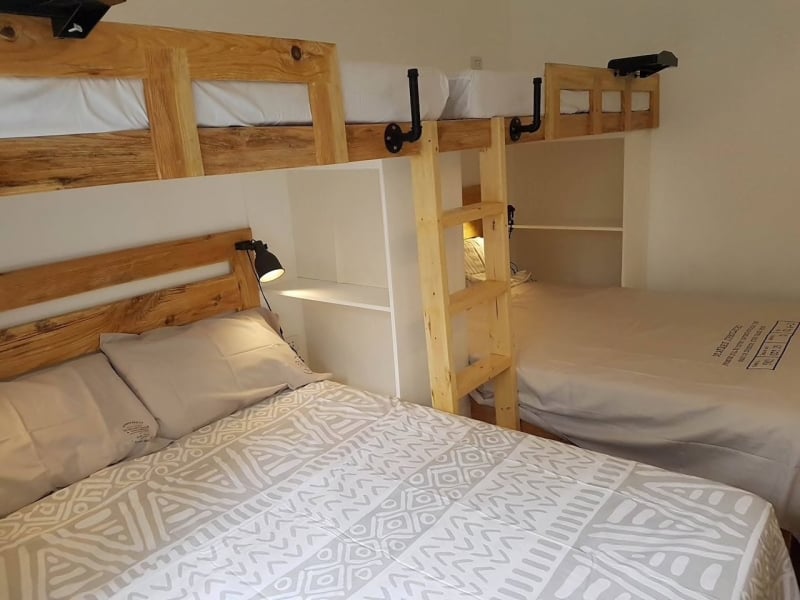 Listing name: American Heritage Baguio Home w/big Pine tree lawn
Listing type: Entire guest suite
Max. no. of guests: 8 
No. of bedrooms: 2
When you and your barkada don't just want to escape Manila, but the Manila heat along with it, Baguio offers the perfect solution. Tucked in a sea of pine tries, this country home is just within walking distance (or a quick jeep ride away) from Baguio's popular restaurants and bars. But trust us — you probably won't even want to leave! Prepare to fall in love with its cosy ambience, and each and every one of its cosy corners.
Want to hear something cool? This home was actually used as a location for local films like Honor Thy Father and Glorious. Yes, you read that right — you can spend the night in a home that's been graced by your celebrity crushes, John Lloyd Cruz and Tony Labrusca! It's a no-brainer, don't you think?
11. This private farm stay in San Fernando, Pampanga
Listing name: EntireXclusive PoolLakeFarm Boat Fishing Pets Wifi
Listing type: Entire cottage 
Max. no. of guests: 6
No. of bedrooms: 1
How about a nature escape with the whole barkada?  This vast farm stay is located around a man-made lake and comprises two villas, a pool, a spacious garden, and a stunning veranda. Book this Airbnb near Manila, and you and your friends will get the entire property to yourselves, regardless of whether your group will be occupying just one or both of its villas.
Situated just minutes from Pampanga's city centre, this Airbnb is an ideal choice for those who don't plan on cooking their meals, as food deliveries can be made straight to your doorstep! That being said, you can definitely get the best of both worlds at this farm stay — the peace and quiet of nature and the nearby buzz of the city! Sounds perfect, don't you think?
Also read: 15 Farm Stays in the Philippines for a Nature Escape
12. This hidden paradise in Bustos, Bulacan
Listing name: Darvin's Villa ( Ciada Private Resort & Pavilion)
Listing type: Entire home
Max. no. of guests: 16+
No. of bedrooms: 4
This little slice of paradise is just 40 minutes away from Metro Manila — can you believe it? We're pretty sure we just discovered one of Bulacan's best-kept secrets! Perfect for the ultimate barkada getaway, Ciada Farm and Private Pool can accommodate up to 15 guests (although it's actually got enough space for over a hundred people).
A stay here will get you access to four bedrooms, a pool, Jacuzzi, two pavilions, a fully equipped kitchen and grill, and a table tennis area — lots of spacious, open-air facilities! Board games are provided as well, along with a TV and sound system. Basically, it's got all you need for a social distancing-appropriate staycation near Manila!
Also read: 10 Airbnbs in the Philippines That Will Make You Fall in Love
Which one of these listings are you eyeing for your next staycation in Manila? (We love all of them equally.) We hope you and your barkada have the best time!
Got a property you'd like TripZilla to feature? Inquire with us here.
---
This article contains affiliate links. When you book through these links, we may earn a small commission at no additional cost to you. All images courtesy of the respective property listings unless otherwise mentioned.