When it comes to scoring cheap finds, the Philippines is one of the best destinations for bargain shopping in Southeast Asia. Whether you're interested in fashion trends or looking for souvenirs, Metro Manila and its outskirts boast plenty of street markets where your hard-earned money will go a long way. Wondering about the best ukay-ukay places in Metro Manila? We've got you covered with this guide!  
Thrift shopping may not be for everyone, especially if you're a tourist with an aversion to crowded places. But if you're willing to brave the jam-packed streets and dig deep through the flea markets (tiangge) scattered across the city, you can find some real bargains worth hunting for. Once you visit these shopping havens, you might never go back to being a big spender!  
Also read: 10 Online Thrift Stores and Vintage Shops in Manila That Support Sustainable Fashion
Tips for bargain shopping in the Philippines
Before we begin this guide to ukay-ukay shopping in Metro Manila, we'll let you in on some tips to help you get the shopping haul you deserve. 
Make sure to wear light and breathable clothing and comfortable shoes. You're going to walk a lot. Bring cash in coins and bills with smaller denominations, ranging from ₱20 to ₱500. 
Bring a simple bag that you can place in front of your body. More importantly, avoid bringing flashy jewellery or expensive watches. Wearing these will only give away your status as a tourist and spoil your chances of scoring bargains. 
Always take stock of your surroundings. Above all, show respect to the vendors even as you haggle for lower prices. 
Also read: 10 Best Ukay-Ukay Spots Around the Philippines
Top places for ukay-ukay shopping in and around Metro Manila
1. Divisoria Market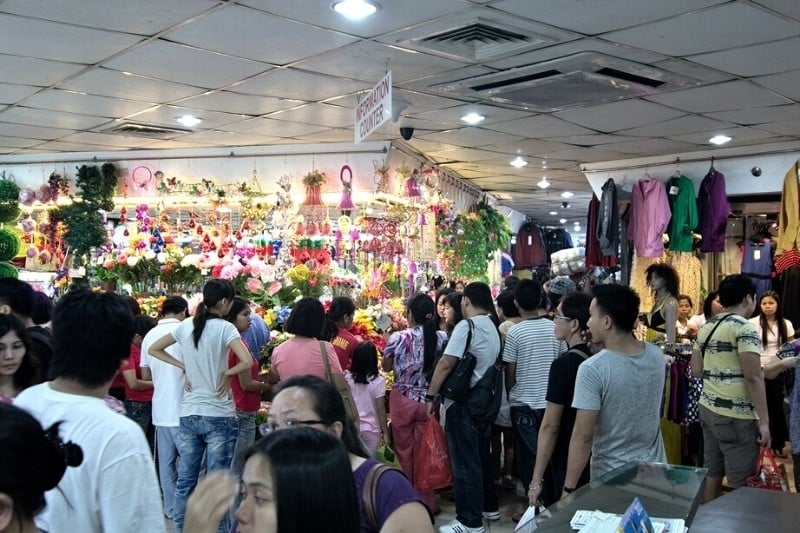 When it comes to bargains and thrifty finds in Manila, Divisoria Market in Binondo sells just about everything you can imagine: clothes, bags, shoes, electronic products, toys, hardware, textiles, office supplies, household items, and all kinds of gifts at low prices. For more options, you can also drop by 168 Shopping Mall, a three-storey shopping complex with great deals anywhere you turn. 
Expect the Divisoria area to be jam-packed with people, especially during weekends and the holidays. With this in mind, it helps to arrive early in the morning to get a headstart in your shopping while avoiding the crowds. 
Address: 918 Soler St, Binondo, Manila, Philippines
2. Greenhills Shopping Center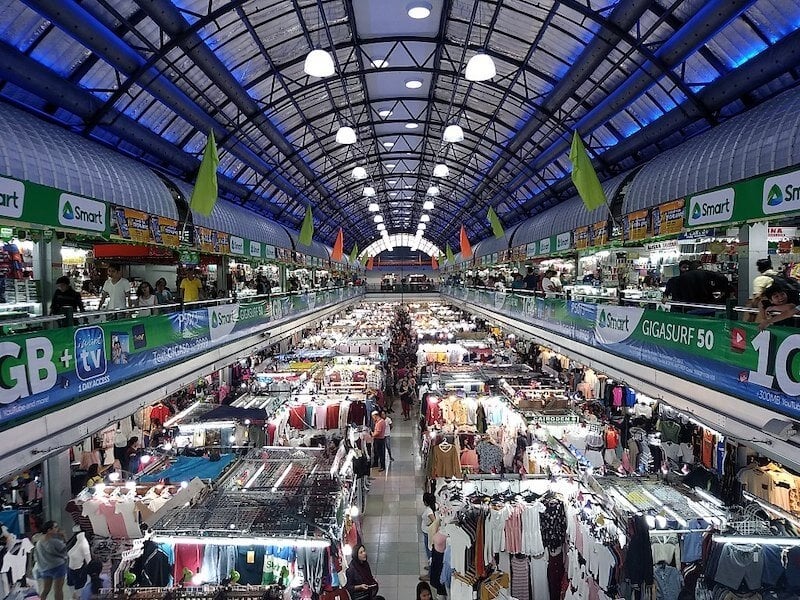 If you're a foreign visitor who's curious about where to budget shop in Manila, Greenhills Shopping Center is a pretty good place to start. Popular among locals and tourists, this indoor market is a must-visit for affordable clothes, gadgets, furniture, South Sea pearls, knock-off designer bags, and Philippine souvenirs or pasalubong. It's safe for foreign tourists and there are many eateries nearby too, anytime you feel like taking a snack break. 
Many vendors will be selling variations of the same thing, so don't buy the first item that catches your eye. Instead, take your time navigating the maze of stalls and looking for lower prices. You'll find great bargains for sure, whether you're looking for packaged delicacies like ube jam from Baguio or Philippine souvenirs for your loved ones back home. 
Address: Ortigas Avenue, San Juan, Metro Manila, Philippines
Also read: Philippine Souvenirs: 21 Trendy Gifts and Tokens to Take Home With You [UPDATED 2020]
3. Taytay Tiangge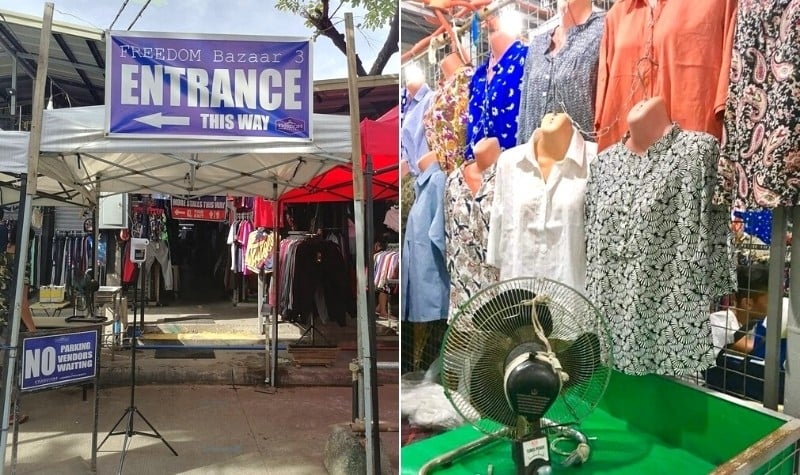 Looking for more places to go budget shopping outside Metro Manila? Check out Taytay Tiangge in Rizal Province, a shopper's paradise that's stocked with low-priced shirts, polos, shorts, socks, loungewear, and other clothing essentials. It's located on Manila East Road in Taytay, which is known as the "Garments Capital of the Philippines". Naturally, it's an ideal place for quality thrift shopping and where to shop on a budget outside Manila. 
Address: Manila East Road, Taytay, Rizal, Philippines 
4. Makati Cinema Square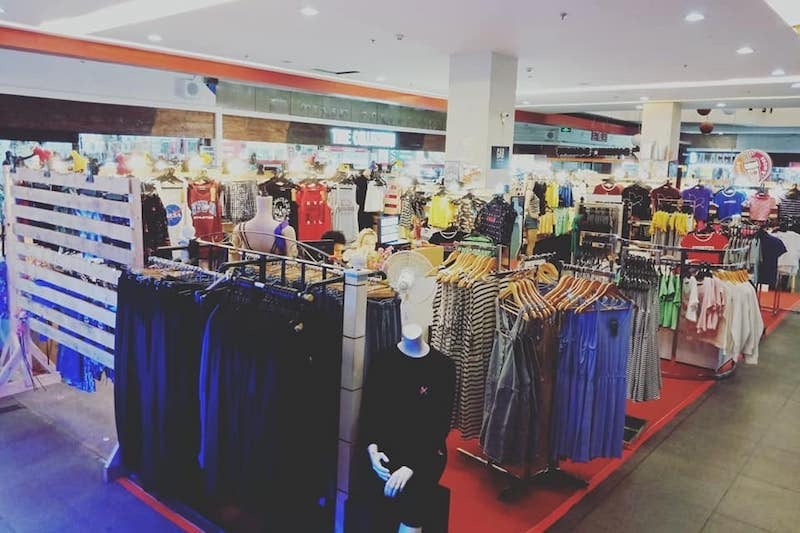 Cheap shopping in the urban jungle of Makati City might sound like a contradiction, but budget shopping is still possible in this city if you know where to look. Take, for example, Makati Cinema Square: a retro shopping mall that opened on Don Chino Roces Avenue in April 1982. 
Inside this mall are second-hand shops selling vintage clothes, antique furniture, gadgets, art supplies, watches, musical instruments, second-hand books, old issues of print magazines, and novelty items under one roof.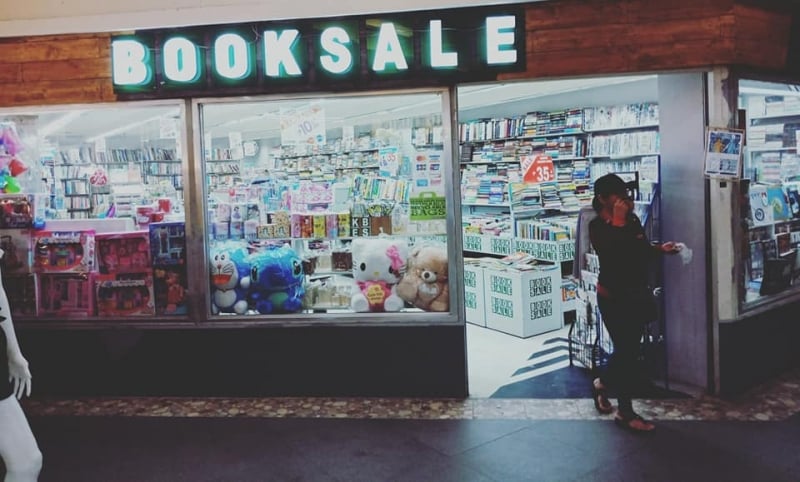 In its glory days, Makati Cinema Square was often frequented for its movie theatres and bowling alley. Today, this Filipino mall is a nostalgic shopping hub for hobbyists and collectors. 
Address: 1232 Chino Roces Ave, Legazpi Village, Makati, Metro Manila, Philippines 
5. Riverbanks Center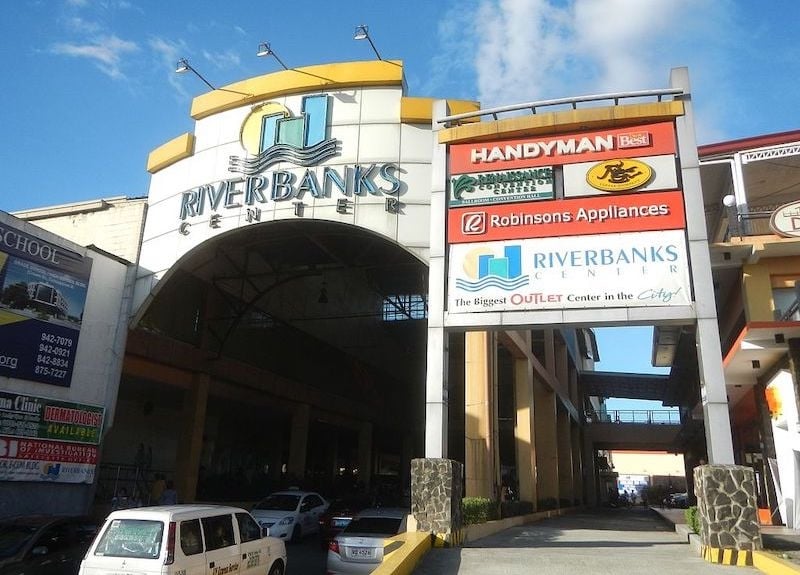 Often called the "Shoe Capital of the Philippines," Marikina is responsible for manufacturing many of the country's shoes. On top of its thriving shoe industry, the city is also home to various outlet stores of big-name brands; it has, for instance, the biggest outlet store of Adidas in the Philippines. 
Outlet shopping and bargain-hunting are popular activities at Riverbanks Center, a sprawling development complex in Marikina. Walk around the area, and you'll encounter many stalls offering heavily discounted garments, accessories, bags, home items, shoes, toys, and other miscellaneous items. 
Address: 300 Riverbanks Ave, Sto. Nino, Marikina, Metro Manila, Philippines 
6. Cartimar Market
What if you want to do your budget shopping all in one place? Many locals will tell you that Cartimar Market in Pasay City is the ultimate place to visit when you're searching for pet-related products, an actual pet, bicycles, fresh fruits and vegetables, kitchenware, second-hand clothes, home appliances, gardening tools, and delicious Japanese food for cheap. In other words, it's a one-stop shop catering to almost every interest. Even on a student's budget, you're bound to find something at the wet market, a shopping centre, or Japanese grocery stores at Cartimar Market. 
Address: Taft Avenue, Pasay City Metro Manila
7. Baclaran Market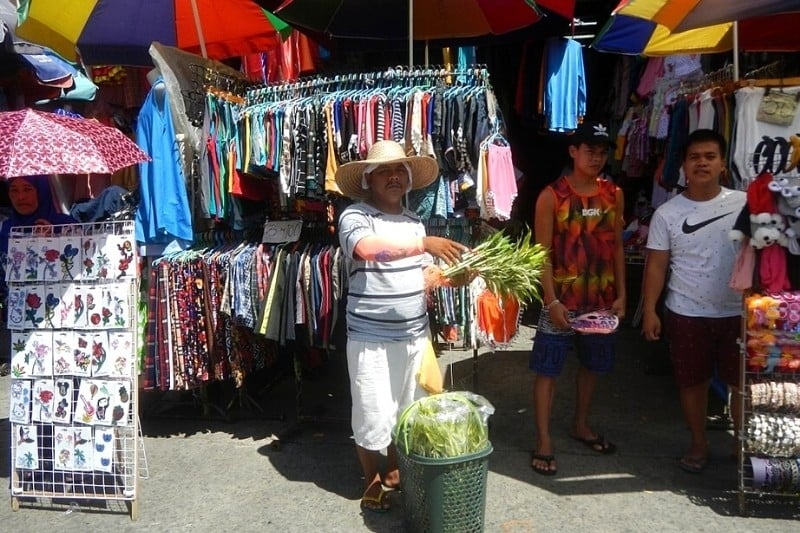 Ready to do some walking? Near Baclaran Church in Parañaque, the streets of Baclaran Market are filled with vendors selling affordable goods, clothes, electronics, shoes, bags, fresh produce, and home decorations at significantly lower prices than most markets. Just make sure to stay alert and watch your belongings, as this area can get crowded with pedestrians, cars, buses, and motorcycles. 
Address: Roxas Boulevard, Baclaran, Parañaque, Metro Manila
8. Ukay-Ukay Hub Tagaytay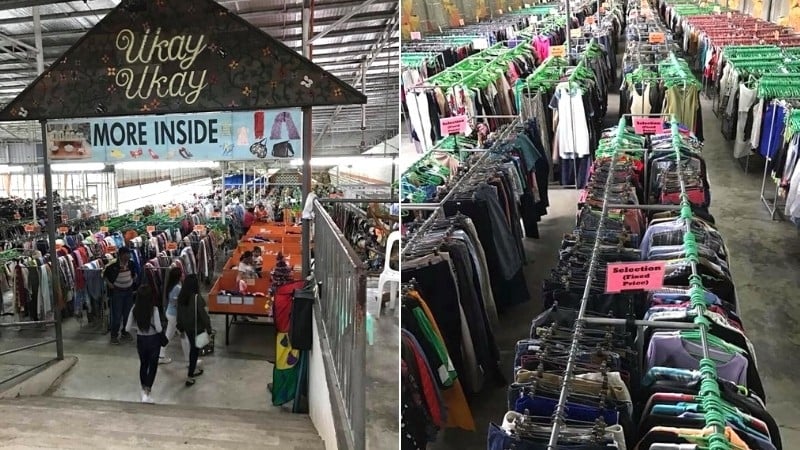 Tagaytay isn't just famous for its scenic views of Taal Lake. Rows upon rows of clothes await shopaholics at Ukay-Ukay Hub Tagaytay, a massive shopping centre with so many budget-friendly pieces — they're just begging to be mixed and matched and added to your wardrobe! 
If you're thinking of taking your bargain shopping outside Metro Manila, head to this clothing store located along Aguinaldo Highway, just in front of Fora Mall. Here, you can sift through the clothing racks for pre-loved shirts, blouses, shoes, bags, trousers, accessories, children's wear, and other garments with prices as low as ₱50 (S$1.39). Now, that's our definition of a steal! 
Address: Silang Junction North, Tagaytay, Cavite, Philippines 
9. Quiapo Market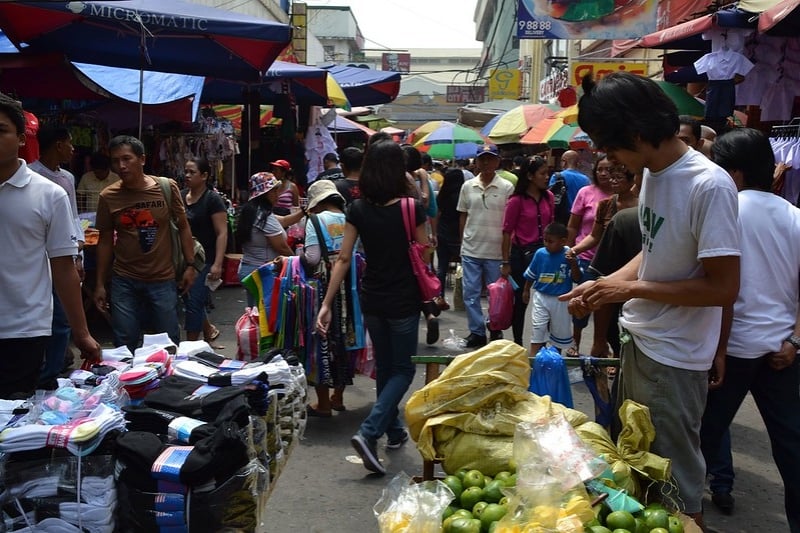 Situated behind Quiapo Church, the lively and colourful Quiapo Market offers a memorable thrift-shopping experience at the heart of Manila. Take your pick from clothes, kitchenware, home ornaments, electronic products, accessories, DVDs (yes, those still exist), fruits, traditional handicrafts, religious trinkets, and all kinds of knick-knacks on the street — all walking distance from each other. Don't be afraid to haggle with the vendors to score an even cheaper price for these items.
If you're a photographer or tech junkie who loves a good bargain, you can also find stores selling cheap vintage cameras and other photography-related equipment at slashed prices on Felix R. Hidalgo Street. 
Address: Plaza Miranda, R. Hidalgo Street, Quiapo, Metro Manila, Manila, Philippines 
10. Market! Market!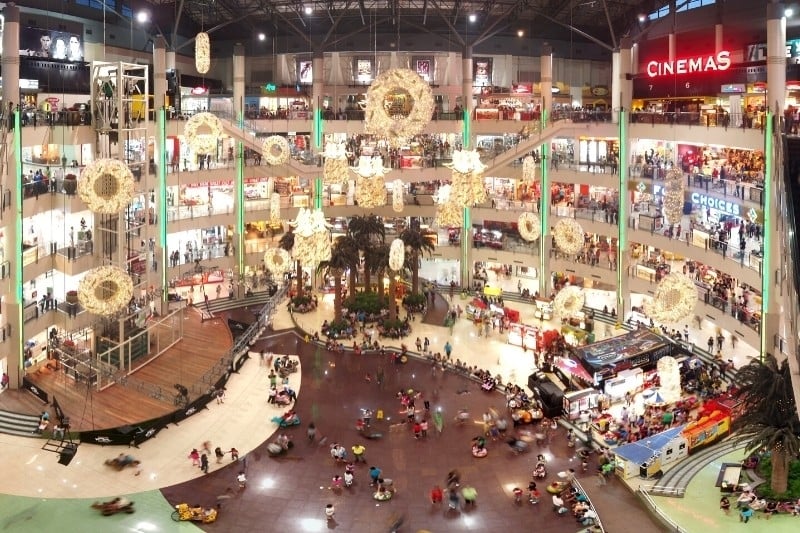 Last but not least, there's Market! Market! Generally, shopping malls are not the place you want to go to for genuinely cheap shopping in Manila because the stores have fixed prices. However, if you're reading this list as a foreigner touring the Philippines for the first time, and you just happen to be exploring Taguig already, this strategically located mall is a nice budget-friendly break from the astronomical prices around Bonifacio Global City.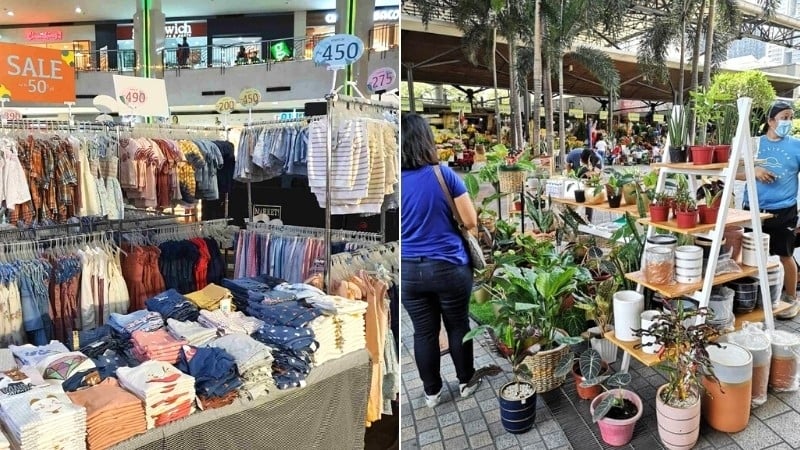 Both inside and outside the mall, you can find stalls displaying everything from low-priced clothes to potted plants. Just try not to pass by this mall on a Saturday or a Sunday, as the crowds can get overwhelming at times.   
Address: McKinley Parkway, Bonifacio Global City, Taguig 1634, Philippines
Also read: Where Bargain Hunters Can Shop for Winter Wear in Manila
Now that you have everything you need for cheap ukay-ukay shopping in Metro Manila and its outskirts, you're ready to hit the streets and hunt down amazing deals. Happy shopping!
---
This article was originally published on TripZilla.