Fresh air and nature views — doesn't this sound like paradise amidst all the troubling news? While it'd be nice to hop on a plane to escape from the city, not all of us can afford that luxury at the moment; which is why, for Metro Manila dwellers especially, a road trip makes for the perfect alternative. We've got you covered, too. Below, we've handpicked some of the best Airbnb homes and vacation rentals to book in Bataan, ranging from beachfront cottages to quiet homes surrounded by lush greenery.
Also read: 17 Airbnb Homes in Zambales That You'll Never Want to Leave
Best Airbnb & vacation rentals in Bataan
1. This peaceful cottage by the beach
Listing name: Lumiere Resorts Cottage 1
Listing type: Private room in hut
Max. no of guests: 3
No. of bedrooms: 1
Surround yourself with nature and enjoy a quiet retreat at Lumiere Beach Resort in Bataan. While it's situated away from the city centre, it sits just 10 minutes away from Bagac City and Las Casas Filipinas de Acuzar; the historic Bataan Death March is just half an hour away, too.
Whether you're interested in sightseeing or simply planning to stay put, this quaint hideaway is an exceptional choice. Just remember to pack your own food and drinks, as there are no residents in the immediate vicinity!
2. This three-storey home for the whole barkada
Listing name: Bale Aida Cozy 4BR hse in Camaya Coast
Listing type: Entire home
Max. no of guests: 14
No. of bedrooms: 4
We're certain you'll feel right at home in this three-storey house, a lovingly curated abode located in Menara Point South Residential Area. At Balê Aida, you'll get to enjoy the house's cosy ambience, the fresh Camaya sea breeze, and stunning panoramic views of the surrounding areas.
From the third-floor view deck, you'll be treated to scenes of the West Philippine Sea, Mt. Mariveles, and the Zambales mountain range — all in one place. It's the perfect spot for chilling out with the barkada! 
Also read: 12 Airbnbs for Your Next Barkada Staycation Near Manila
3. This Greek-inspired home that oozes Mamma Mia vibes
Listing name: Breathtaking 360° Views @ CASA PARAISO!!!
Listing type: Entire home
Max. no of guests: 16
No. of bedrooms: 4
With any plans of visiting Greece currently on hold, how about spending a few nights at this Greek-inspired Airbnb in Bataan instead? If you've been dying for a change of scenery, you'll love the stunning interiors and the outdoor area that overlooks both the beach and the mountains — instant Mamma Mia vibes!
What's more, at 3,500 square metres, this expansive property is perfect for groups of up to 16. The ultimate barkada trip awaits!
4. This beachfront house that furparents will love
Listing name: Private Beach House at beach front (with pool)
Listing type: Entire home
Max. no of guests: 16
No. of bedrooms: 4
If family trips can never be complete without your furbabies, then we recommend booking a staycation at this pet-friendly beach house. Ideal for up to 16 people, this Airbnb lets your entire travel group enjoy private use of the whole compound.
Besides lounging and swimming at the beach, you're also welcome to go island hopping, snorkelling, and enjoy a slew of other water sports activities. The Pawikan Conservation Center is right next door, too!
5. This private apartment just steps from the beach
Listing name: The Nook – Unit 2
Listing type: Entire rental unit
Max. no of guests: 8
No. of bedrooms: 1
Comfort meets luxury at The Nook, a stunning Airbnb in Morong, Bataan. On top of the well-appointed rental unit, you'll also get exclusive access to the beach. There's also a lovely gazebo area that you and your travel buddies will have all to yourselves — and we hear it's great for chilling out and enjoying the sunset! Guests are welcome to go snorkelling or fish feeding at the nearby reef as well.
6. This beautiful native home in the middle of nature
Listing name: Native House with beautiful pool
Listing type: Hut
Max. no of guests: 4
No. of bedrooms: 2
This beautiful native house in Bataan offers the perfect picture of a nature retreat. The property is surrounded by trees; and from the hilltop home, you'll be able to take in views of the West Philippine Sea and the nearby Mt. Tahib.
You need not step out of this Airbnb in Bataan to enjoy yourselves. However, if you're looking for a little more adventure, then you'll love that this house doubles as an excellent jumping-off point for day trips to the province's mountains and beaches!
Also read: 10 Airbnbs Near Manila With Private Pools and Breathtaking Views
7. This hideaway with some of the most stunning Bataan views
Listing name: Modern Room with beautiful Pool
Listing type: Private room in home
Max. no of guests: 2
No. of bedrooms: 1
Located on the same property as the previously mentioned native home, this modern room can be rented on its own; alternatively, you can also book both listings and enjoy the entire property to yourselves. When you book this particular stay, you'll also get access to a pool and a relaxing terrace, which we hear offers some of the most amazing views of the surrounding area!
8. This adorable tiny house that's close to the beach
Listing name: Cozy Tiny House in Bagac, Bataan near Las Casas
Listing type: Tiny home
Max. no of guests: 4
No. of bedrooms: 2
Ever dream of moving into your very own tiny house? While saving up for it, we recommend testing out the waters by booking a stay at this gorgeous tiny house in Bataan.
The loft-style A-frame cabin is situated right by the beach, with rice fields and a large garden also close by! Las Casas Filipinas de Acuzar is also close by, providing you with the perfect excuse to enjoy a walk down memory lane.
9. This hidden gem that offers you more bang for your buck
Listing name: Morong, Bataan Nature Hideaway
Listing type: Entire home
Max. no of guests: 14
No. of bedrooms: 4
When you book a stay at this spacious residence, you'll definitely be getting more than what you're paying for — especially if you decide to take 13 of your travel buddies with you. Perfect for some much-needed healing, a staycation at this quiet home will have you feeling refreshed by the time you have to head back to the city.
At this Airbnb, there's loads of fresh air, a nearby river, a pool, and a Jacuzzi; and for the duration of your stay, you'll have these amenities all to yourselves! Honestly, what more could any of us ask for? 
10. This spotless unit in Anvaya Cove
Listing name: Anvaya Cove Seabreeze Veranda 1 Bedroom – 211C
Listing type: Entire condo
Max. no of guests: 6
No. of bedrooms: 1
Not all of us can afford a membership at Bataan's popular Anvaya Cove; but thanks to this Airbnb, we can still enjoy a stay there, plus access to the club and its amenities. This one-bedroom unit gets a lot of love for being clean and spacious — plus, it's even got its very own sizable veranda!
While you'll have to pay additional fees to access the beach and nature club, your stay does include free use of the condo's pool and free parking.
11. This tropical-inspired villa steps from the beach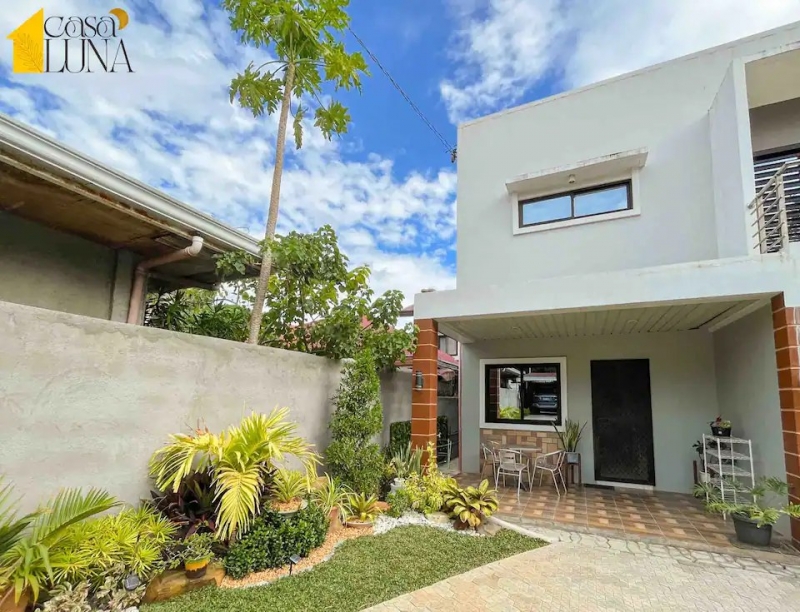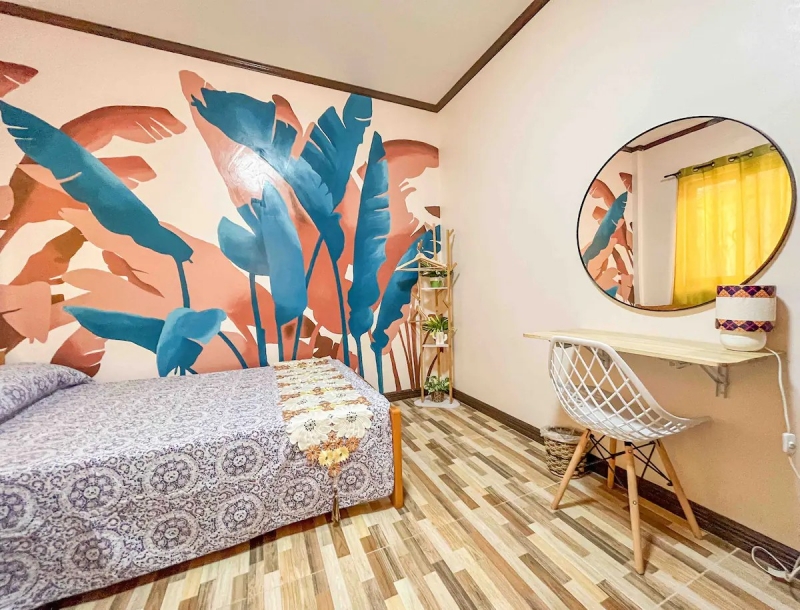 Listing name: Casa Luna • 1-Bedroom Villa
Listing type: Entire guest suite
Max. no of guests: 4
No. of bedrooms: 1
Live like a local at this spacious residence in downtown Morong. Laidback and comfortable, it's an ideal hideaway for small families and groups who want the comforts of home while they're on vacation. The owners live in the unit next door; previous guests say they're always on hand and ready to help with their needs and requests.
Best of all, the beach is a three-minute walk away. And if you're up for sightseeing provincial attractions, this Airbnb in Bataan is 45 minutes from Subic Bay and Olongapo and less than an hour and a half from Balanga City.
12. This contemporary villa in Samal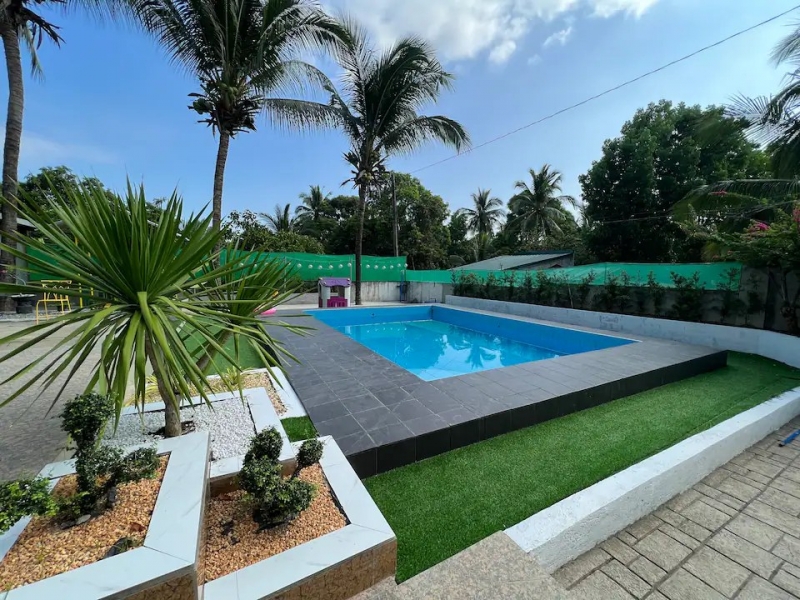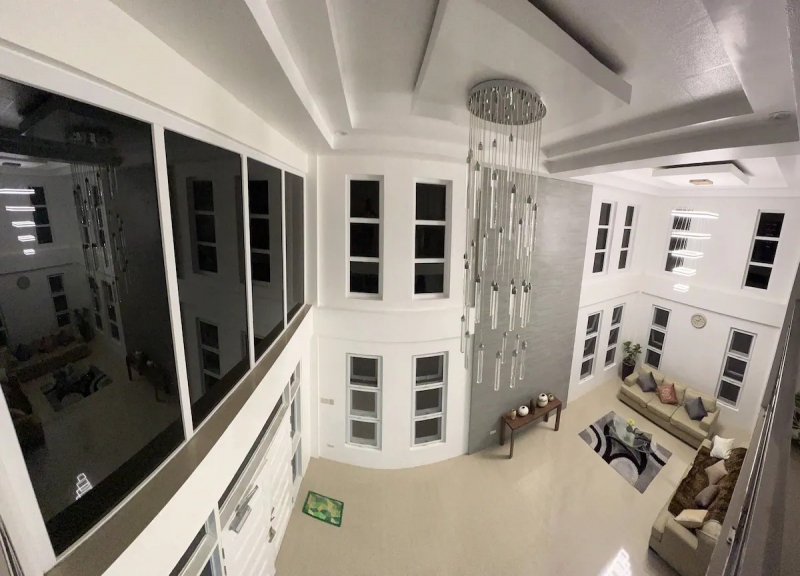 Listing name: The Casablanca – Cozy Hideaway with Pool
Listing type: Entire guest suite
Max. no of guests: 16
No. of bedrooms: 2
In this spacious home in Samal, Bataan, enjoy all the perks of an out-of-town vacation without the crowds in popular resorts and hotels. High ceilings and contemporary decor guarantee an elegant backdrop for your family photos. And if it's recreation you're after, splash around in the pool from sunrise to sunset. Dog and cat parents will be happy to learn that this Airbnb in Bataan welcomes pets as much as humans. 
Also read: 7 Airbnb Homes in Subic You'll Want to Move Right Into
Out of all these Airbnb and vacation rentals in Bataan, which one meets your vacation needs best? Before setting out on your road trip, be sure to double-check the latest travel protocols for Bataan visitors.
Got a property you'd like TripZilla to feature? Inquire with us here.
---
This article contains affiliate links. When you book through these links, we may earn a small commission at no additional cost to you. All images courtesy of the respective property listings.