The first time I ever found myself in Tanay, I was simply amazed by how this little slice of paradise was just a short drive away from Manila. And yet, in just a few hours, I was transported to a place where I could enjoy peace, quiet, and — best of all — fresh, clean air. If these are things you're also after, then we recommend checking out this list of Airbnb homes in Tanay. Each one is perfect for restful weekend getaways!
Also read: Rizal Travel Guide 2023: Where to Stay, What to Eat, Things to Do
Airbnb homes in Tanay for a relaxing escape in nature
1. This peaceful campsite perfect for going off the grid
Listing name: Kamp Maysawa
Listing type: Entire campsite
Max. no. of guests: 16
No. of bedrooms: 1
Disconnect to reconnect at this sprawling campsite located at the foot of Mt. Sapari and Mt. Binutasan. Ideal for your next barkada trip or family getaway, this Airbnb in Tanay has enough room for up to 16 people — and yes, your group will have the entire campsite all to yourselves! The space includes both a cabin and tents, plus a pool with fresh running spring water and a campfire area. In addition, they also provide board games and instruments for you and your travel buddies to enjoy!
As if all that wasn't enough, the campsite is also situated close to some of Tanay's popular waterfalls, as well as El Patio Razon, which is known for its Hobbiton-inspired attractions and kawa baths. Ready for an action-packed Tanay adventure? 
Also read: 10 Waterfalls Near Manila for Day Trips & Long Weekends
2. This bed and breakfast set on a secluded farm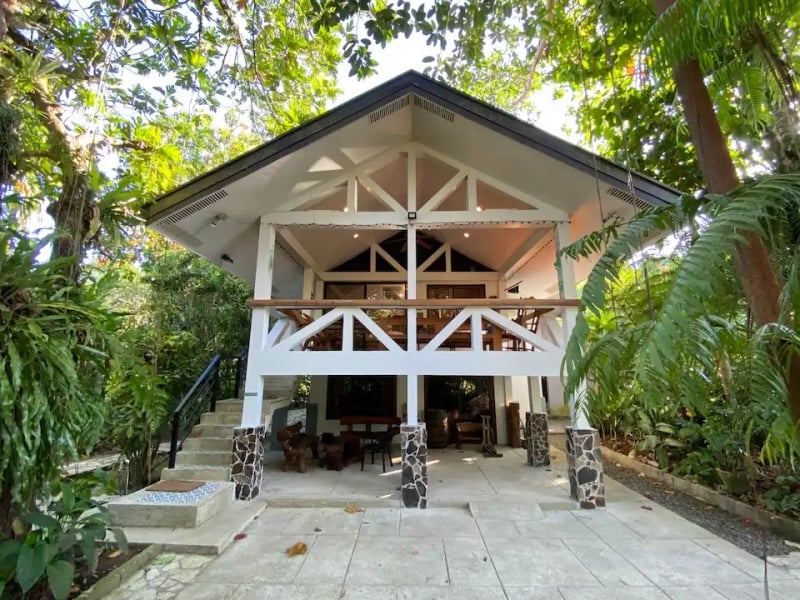 Listing name: Balai Tanay – Cottages in Sierra Madres
Listing type: Entire cabin
Max. no. of guests: 16
No. of bedrooms: 2
For some much-needed respite from the stress of everyday life, consider booking this secluded cabin set in the middle of nature. At this farm stay, treat yourself to lots of peace and quiet — and perhaps even a yoga class or two! Take your pick of classes, which include vinyasa, rocket, and gentle flow yoga.
Popular Tanay attractions such as Daraitan River, Daranak Falls, and Masungi Georeserve are also located close by — something you'll definitely want to take advantage of. A memorable nature escape awaits you! 
Also read: 10 Farm Stays in the Philippines for a Nature Escape
3. This mountainside bungalow with picture-perfect views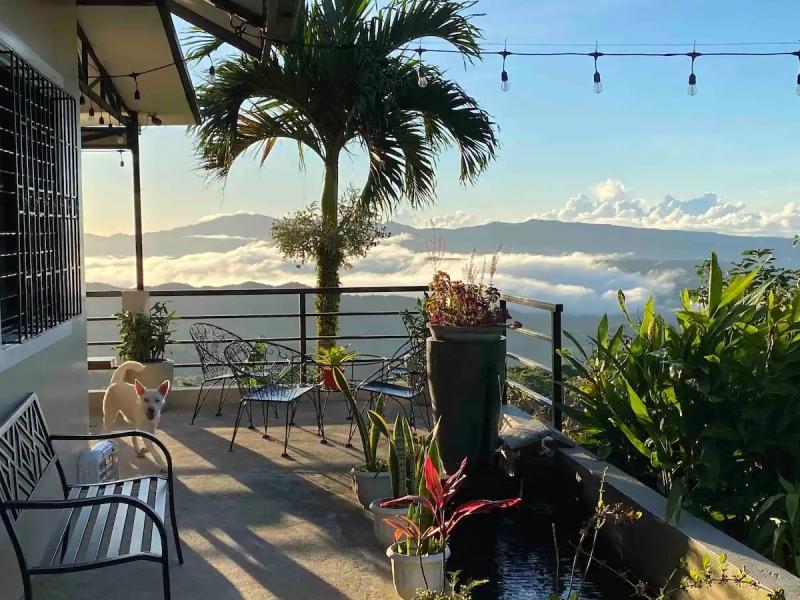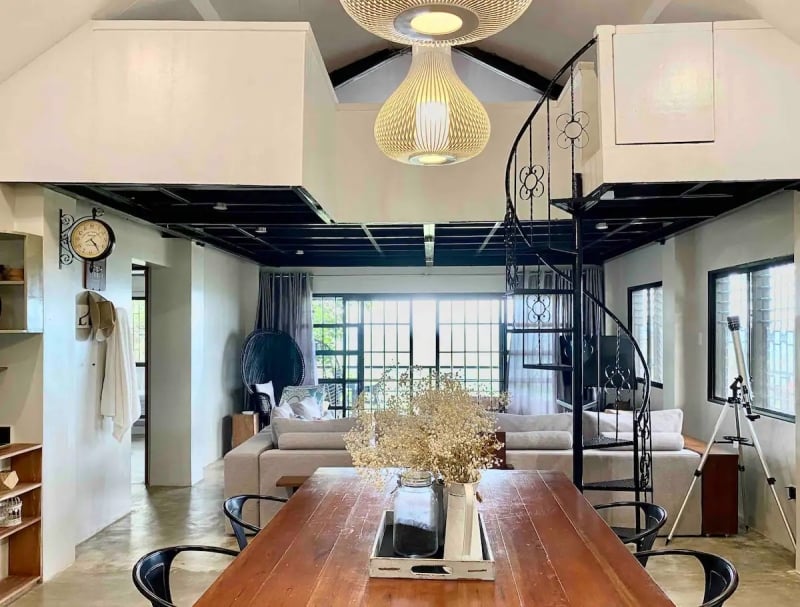 Listing name: Cabin in the Clouds (1-BR w/ Loft, Majestic View)
Listing type: Entire bungalow
Max. no. of guests: 13
No. of bedrooms: 2
If there's one thing you don't want to miss when in this part of Rizal, it's the breathtaking mountain views — particularly the majestic scenes of Sierra Madre. This homey bungalow, which is perched on a mountainside, offers just that. Whether you're planning to take a break or take your remote office to a new location, this Airbnb in Tanay makes for an excellent choice. It even comes with a small workspace and WiFi for those on workcations!
While you'll surely love the bungalow's veranda (a perfect spot to watch the sunrise and enjoy the cool breeze!), you might love the property's nearby bahay kubo even more! Previous guests have noted this as their favourite spot, especially because it comes with a hammock that overlooks the most stunning views! 
4. This mountain sanctuary where you can bask in the beauty of nature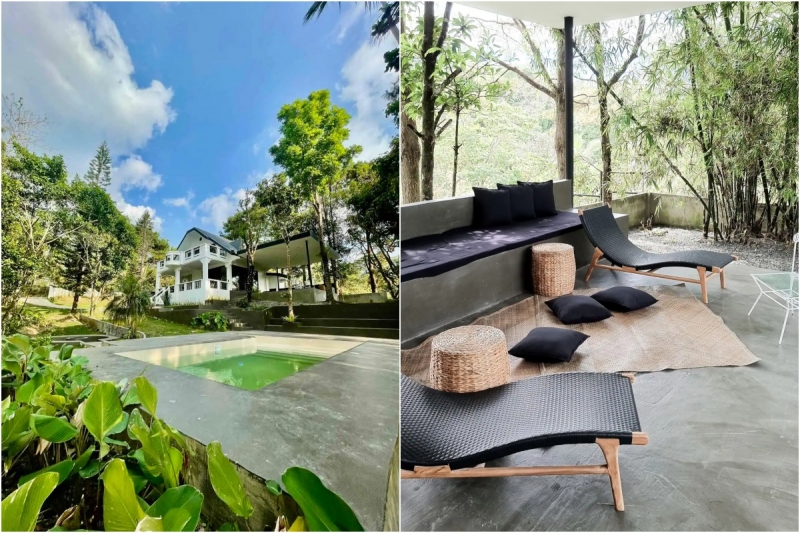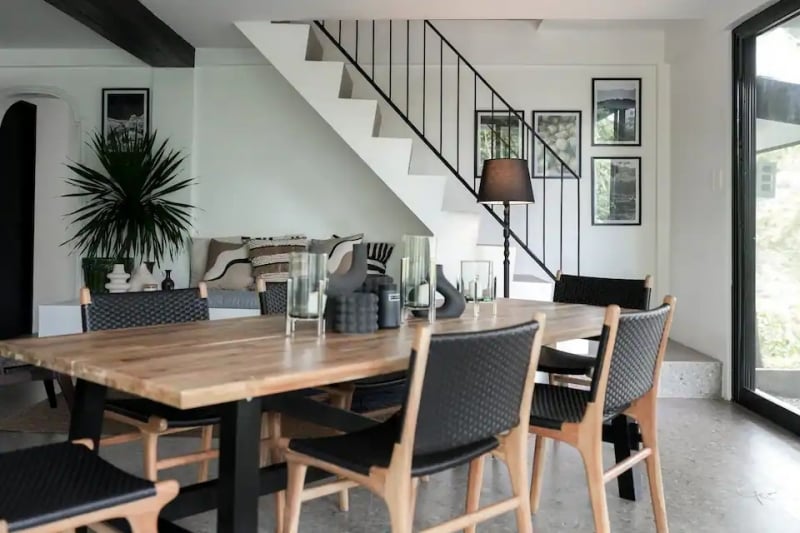 Listing name: The Cabin by Campwell River Valley
Listing type: Entire villa
Max. no. of guests: 10
No. of bedrooms: 3
Looking for a quiet place to unplug? Or, perhaps a sophisticated setting for your upcoming barkada hang? Either way, this Airbnb in Tanay is an ideal choice for your next weekend getaway! Meet Sierra Madre Gateway. While it certainly offers loads of peace and quiet, the house promises boredom won't be an issue; there's an outdoor pool, board games, and a fire pit for nighttime bonding. 
If you're partial to beautiful interiors, then you'll probably like this Airbnb. Modern minimalist furniture, chic decor, and thoughtfully placed photographs on the wall create a relaxed yet elegant atmosphere — definitely worthy of your Instagram feed!  
5. This jeepney-turned-Instagrammable accommodation
Listing name: Jeepney Camper – Glamping in Tanay, Rizal.
Listing type: Camper/RV
Max. no. of guests: 5
No. of bedrooms: 1
We love an Instagram-worthy accommodation, don't you? While all the Airbnbs on this list are picture-perfect, those who love an outside-of-the-box concept will love this particular stay. Set in the rainforests of Sierra Madre, this jeepney-hut was transformed into a living space that's both comfy and cute!
Guests will surely enjoy the chilly Tanay air in the early mornings, plus evenings gathered around the campfire. Here, you can certainly expect to get a full weekend of R&R — and lots of photos for the 'Gram while you're at it! 
Also read: 5 Airbnb Trailers in the Philippines for the #VanLife Experience
6. This solar-powered farm stay designed with native materials from across the country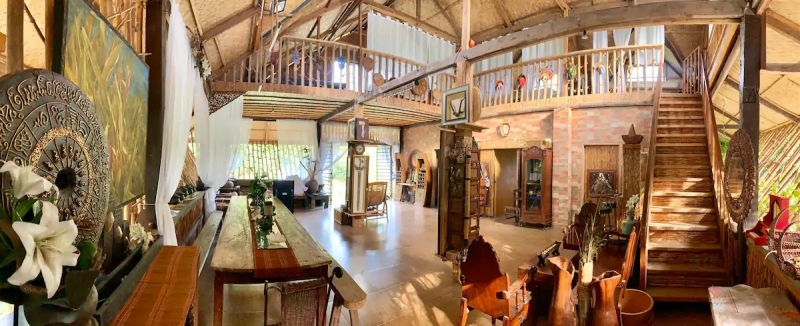 Listing name: Balai Talahib (Exclusive Rest House)
Listing type: Entire farm stay
Max. no. of guests: 16
No. of bedrooms: 3
With its stunning native elements, this beautiful Airbnb in Tanay oozes Pinoy pride. As it's proudly decked out in Philippine-made materials from various parts of the country, it's practically a work of art in itself! This exquisitely designed rental doubles as a rest house and an events place, making it ideal not only for group vacations but for intimate occasions as well. 
This Airbnb offers a wide range of amenities for exclusive guest use — so much so that your travel group probably won't even have to leave the property! Features include two solar-powered houses, two nipa huts, a pool, grotto, and direct access to Lanatin River. 
Also read: 10 Airbnb Wedding Venues for Your Intimate Celebration
7. This laid-back retreat just an hour's trek from Tinipak River
Listing name: Anahaw Rustic Hut 1 -Tinipak Lodge – Daraitan
Listing type: Private room in nature lodge
Max. no. of guests: 4
No. of bedrooms: 1
Have you been wanting to visit the famous Tinipak River? This nature lodge's location is actually the starting point for the one-hour trek to the popular tourist site. In addition, there's also another river just five minutes away from this accommodation — and it's open for swimming, too!
Besides the nature activities available at this Airbnb in Daraitan, they also offer forms of entertainment such as board games, badminton, karaoke, basketball, and biking. Plus, to make things even more exciting, previous guests rave about the delicious home-cooked meals offered here; because what's a vacation without great food, right? 
8. This modern take on the bahay kubo
Listing name: Rustic Tiny Home in Tanay, Rizal.
Listing type: Tiny home
Max. no. of guests: 8
No. of bedrooms: 2
Fact: There are some vacations that make you feel wistful the moment they end — and that's exactly the kind of experience you'll be getting at this Airbnb in Tanay. An eco-friendly tiny house designed like a modern bahay kubo, this unique place will provide you with the change of scenery you've long been searching for. The three-storey home is located just outside the busy main town, and guests will have access to a common campfire, gardens, and nearby creek. Oh, and did we mention there's a waterfall close by, too? All it takes to get there is a 20-minute trek!
Apart from the healing natural surroundings, the house itself will surely endear you. Not only does it boast a striking and unique design — it's also cosy and spacious enough to fit a group of six. Previous guests swear you'll get homesick once you have to go, so we recommend booking a stay for at least two nights! 
Also read: 10 Insta-Worthy Tiny Homes Near Manila
9. This private hideaway for the whole barkada
Listing name: Alitaptap Cottage
Listing type: Entire cottage
Max. no. of guests: 16+
No. of bedrooms: 2
For the ultimate bonding experience, this modern cottage makes for an excellent pick. With enough space for 16 guests, no one needs to get left behind; up to 10 people can even fit in one room — no FOMO necessary! Take note that there isn't any WiFi here, so you can truly get in the zone and enjoy each other's company. Just nearby, you can also explore some of Rizal's popular attractions, such as the Daraitan River, Daranak Falls, Tinipak River, and Masungi Georeserve.
Additionally, guests are encouraged to bring their own food, so they can take full advantage of the well-equipped kitchen. This sounds perfect to us too, because there's nothing quite like preparing a meal and enjoying it with your BFFs! 
Also read: 10 Waterfalls Near Manila for Day Trips & Long Weekends
10. This hilltop home with a dreamy gazebo
Listing name: Blackbird Hill (Stunning Mountain View)
Listing type: Entire house
Max. no. of guests: 16+
No. of bedrooms: 2
Meet our dream home in Tanay: this cosy hilltop home with views of some of the most gorgeous scenes in the area. From just about any spot in the house, you can enjoy vistas of the Sierra Madre mountains, Laguna Lake, and Pililla Windmills. Thanks to its elevated location, you'll even feel as though the house is situated within a sea of clouds. It seems almost too good to be true! 
When you book this Airbnb, you get two spacious fan-cooled bedrooms all to yourselves, along with a fully equipped kitchen and an inviting living area. Our favourite spot, however, would definitely have to be the gazebo. We can already imagine spending most of our stay here, enjoying the fresh air, breathtaking views, and the company of our loved ones all at the same time! 
Also read: 8 Airbnb Homes in Antipolo for Your Next Stargazing Trip
11. This Bali-inspired villa for a peaceful vacation
Listing name: Casa Balario-Exclusive Bali Inspired Vacation Home
Listing type: Entire villa
Max. no. of guests: 15
No. of bedrooms: 4
From its earthy furnishings to its tropical foliage, this Airbnb in Tanay balances a calm elegance with its aesthetic. This Bali-inspired hideout sits amid a lush environment, within walking distance of hiking trails and other nature trips. As for its amenities, it has a 20sqm pool, air conditioning units, bathrooms in every bedroom, and one common bathroom outside the house. And yes, its kitchen is fully-equipped, but your stay is already inclusive of free breakfast; household staff are also on-call in case you want to have Filipino dishes cooked for you.
Just a stone's throw away from Mt. Daraitan, the villa is quite distant and may be challenging to get to. Another downside is that its remote location makes for poor mobile signal and WiFi. But if you're all about unplugging, then this Airbnb might be perfect for you. 
12. This simple cabin in the sky
Listing name: Sky Cabin/ Entire Campsite in Tanay Rizal
Listing type: Campsite
Max. no. of guests: 3
No. of bedrooms: 1
Could you believe this tranquil campsite is only an hour's drive away from Katipunan? If you're craving nature and a little bit of adventure, consider booking this Airbnb in Tanay on your next vacation. Perched on a hilltop, it offers cool mountain breezes and overlooks majestic Sierra Madre views.
Although simple, the cabin is clean and can accommodate up to three people inside. But the entire campsite can hold up to five people, with a rentable tent available for two pax. The Airbnb also offers a kitchenette with basic utensils, butane, a bonfire setup (upon request), and grills for barbecue and samgyupsal. 
Also read: K-Drama Feels? It's Nature With a Side of Samgyupsal at This Glamping Spot in Binangonan
We think these Airbnb homes in Tanay are more than enough reason to head to this underrated vacation spot, don't you? Enjoy your stay!
Got a property you'd like TripZilla to feature? Inquire with us here.
---
This article contains affiliate links. When you book through these links, we may earn a small commission at no additional cost to you. All images courtesy of the respective property listings.