Hanoi has emerged as one of the most exciting coffee capitals for travellers, known for producing intensely brewed coffee that beckons with its bold flavours and powerful aroma. True to Hanoian tradition, a cup of coffee is best enjoyed with generous spoonfuls of condensed milk. After all, Vietnam is the world's second-largest exporter of coffee, where the climate and soil of the Central Highlands allow the region to specialise in cultivating Robusta, which accounts for around 97% of Vietnam's coffee beans. 
With so many flourishing coffee shops in Hanoi, we've done the scouting for you. From trendy streetside spots to must-try coffee shops that have been serving customers for decades, these are our picks for the best cafes in Hanoi. 
Also read: Coffee Culture in the Philippines & Where to Find the Best Brews
Unique cafes in Hanoi for meeting friends and enjoying a cup of coffee
1. Loading T Café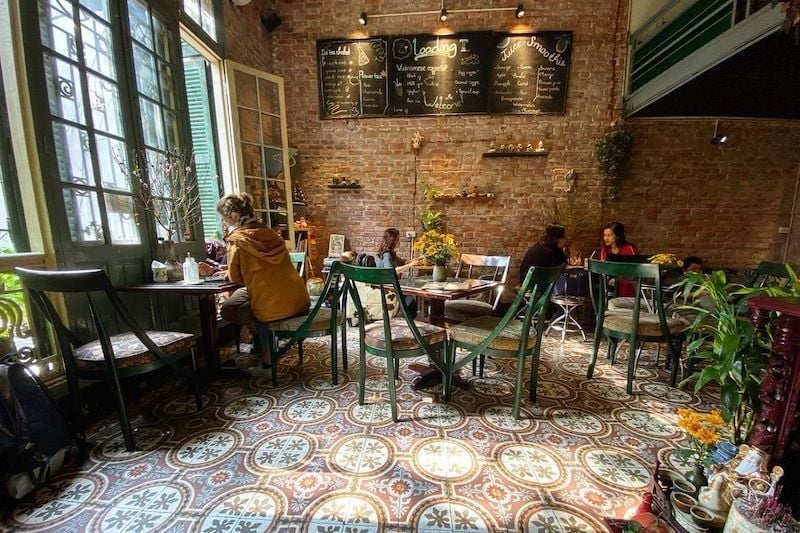 Situated in the heart of the Old Quarter of Hanoi, Loading T Café is a coffee shop hidden on the second floor of a French-colonial house, which only adds to the location's appeal and authenticity. From the patterned flooring and the vintage furniture to the plant-filled corners that bring freshness into the space, this cafe is brimming with old-world charm. 
Loading T's owners mix their authentic Hanoi coffee with cinnamon, adding a delicious and unique aftertaste. You must absolutely try their cà phê trứng or egg coffee, where the foamy sweetness of the egg white balances the coffee's strong flavour.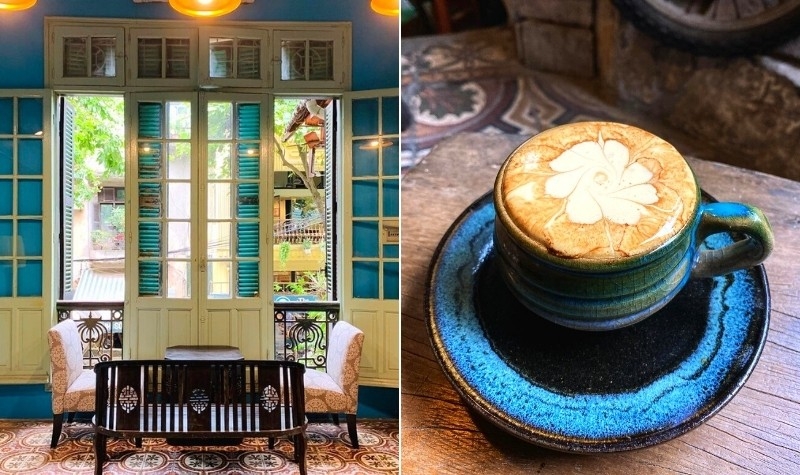 Customers also adore their white coffee, which is made with bold espresso and sweetened condensed milk for a refreshing drink on a warm day — a true Hanoi coffee blend. Are your mouths watering right now? Because ours are. 
Address: 8 Chan Cam Street, Hoan Kiem, Hanoi, Vietnam
2. An Café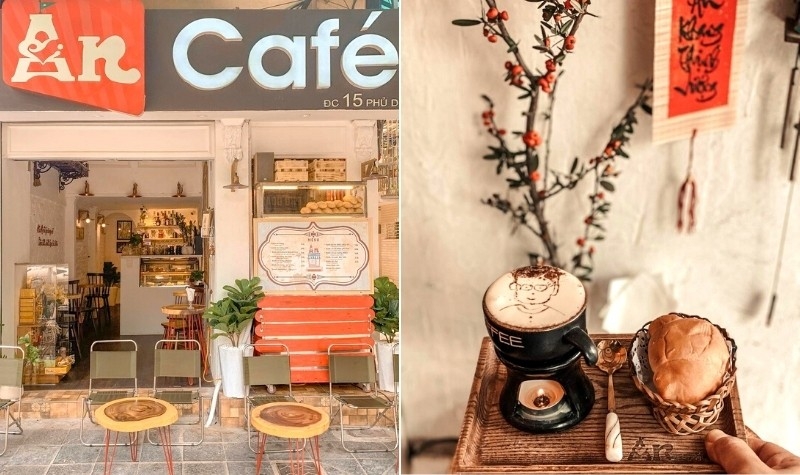 From our experience, coffee in Hanoi is best paired with a good meal. If you want to try authentic Vietnamese coffee with banh mi, then An Café is one of the best coffee shops in Hanoi for just that! A strong aroma of coffee greets you when you step inside this laid-back cafe, which has an outdoor seating area that lets you take in the atmosphere of Hanoi's Old Quarter. 
On top of that, the baristas will even outline a portrait for you in latte art on your egg coffee, which combines a smooth foam that blends with the coffee. Plus, the coffee tastes as good as it looks!
Address: 15 Phu Doan Street, Hoan Kiem District, Hanoi, Vietnam 
3. Xofa Café & Bistro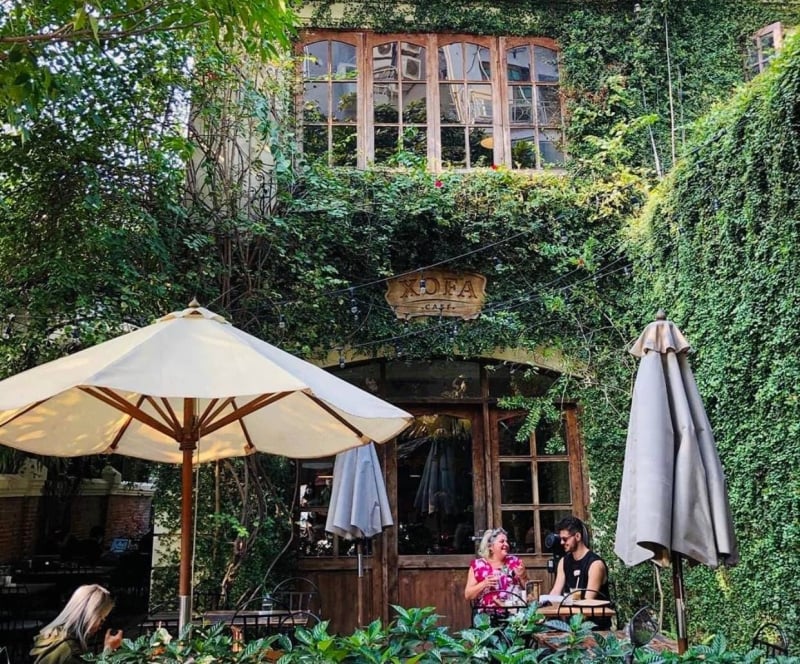 One of the experiences we miss dearly during this pandemic is getting to spend time with our friends over a cup of coffee. Xofa Café & Bistro gives customers exactly that, while offering a cosy environment with high ceilings, exposed brick, and hanging light bulbs.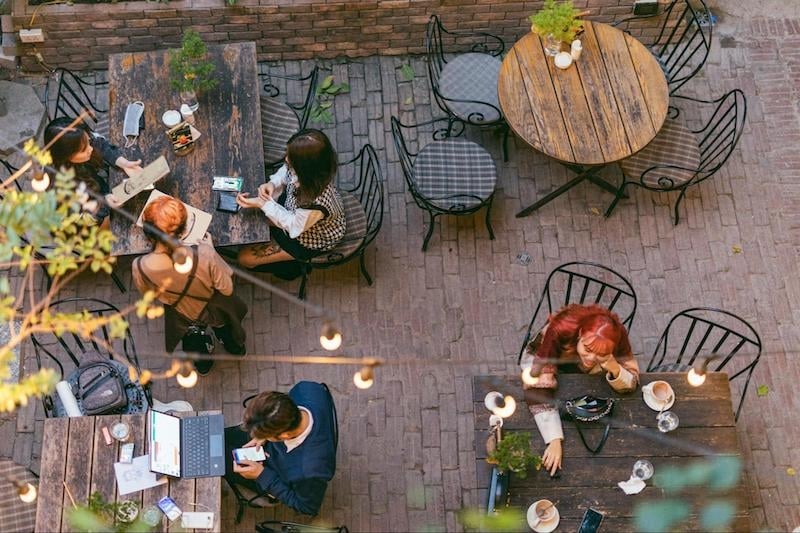 Like receiving a warm hug from a friend is the relaxing atmosphere at this coffee shop. Pro-tip: Head to the outdoor terrace for a peaceful and relaxing place to enjoy your drinks!
Address: 14 Tong Duy Tan Hoan Kiem, Hanoi, Vietnam 
4. Blackbird Coffee
Looking for a trendy coffee hang-out area in town? Streetside cafes are a beloved tradition in the city and are arguably one of the best coffee shops in Hanoi. Boasting a bright orange facade and a hidden skylight, Blackbird Coffee is a high-end coffee shop that serves single-origin coffee and mouth-watering food.
At Blackbird, the staff champions locally grown and roasted coffee beans. Moreover, they've perfected their ca phe sua da or Vietnamese iced coffee with a strong shot of espresso and condensed milk.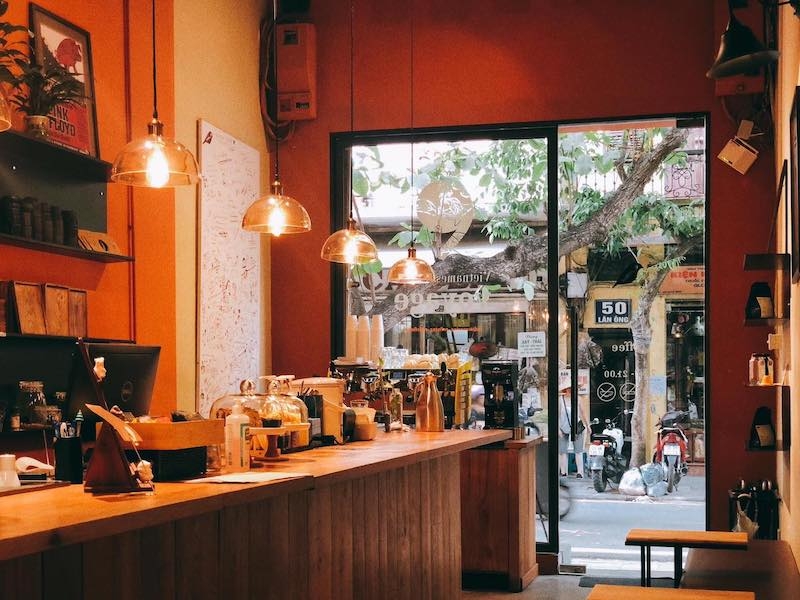 Expect local coffeeholics, yuppies, and the urban youth at any given time of the day when visiting this neighbourhood cafe. Truly, the sidewalk seating is perfect for people-watching and having a nice chat. Coffee and good conversation? Sign us up! 
Address: 5 Chan Cam Hang Trong, Hoan Kiem, Hanoi, Vietnam
5. Dream Beans Coffee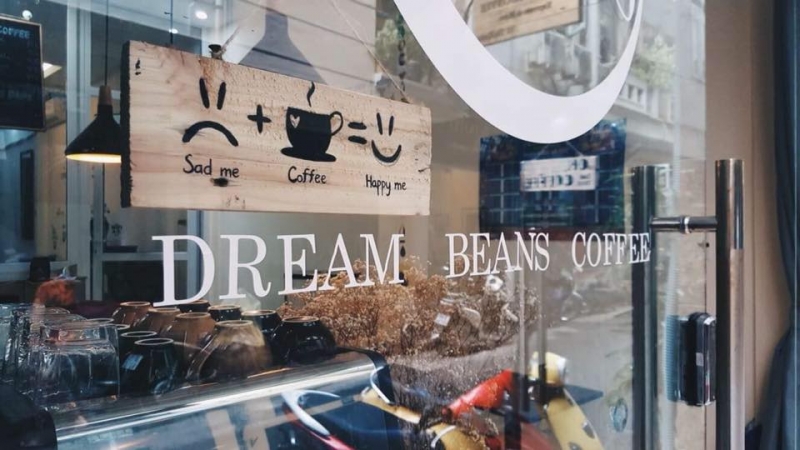 Coffee connoisseurs can drink to their hearts' content at Dream Beans Coffee, a coffee shop tucked away on a side street that combines a respect for Vietnamese coffee traditions and the third-wave coffee movement. Traditional drip coffee, a popular brewing method in Vietnam, is what steals the show at this cafe, where the passion for coffee shows in every step of the journey. In fact, their Arabica beans are grown in Son La, a province in Vietnam's Northwestern region with coffee plantations at an altitude of 1200m.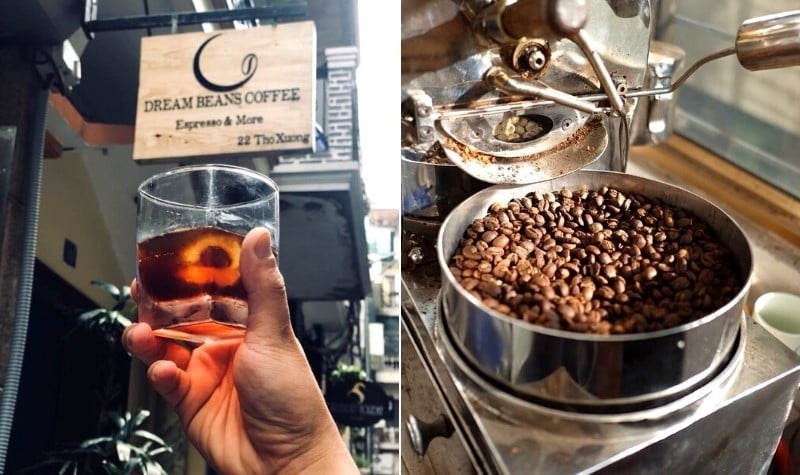 Seeking a quiet place with high-quality coffee? Dream Beans Coffee can whip up fantastic local favourites, including egg coffee and coconut coffee for affordable prices. Rest assured that the owner and baristas know their coffee pretty well, too. They roast their own beans in-house — and they're more than happy to chat with you or answer your questions about their brewing process. The best part? They go the extra mile to prepare the perfect cuppa every time. 
Address: 79 Ly Nam De Hoan Kiem, Hanoi, Vietnam 
6. Tranquil Books and Coffee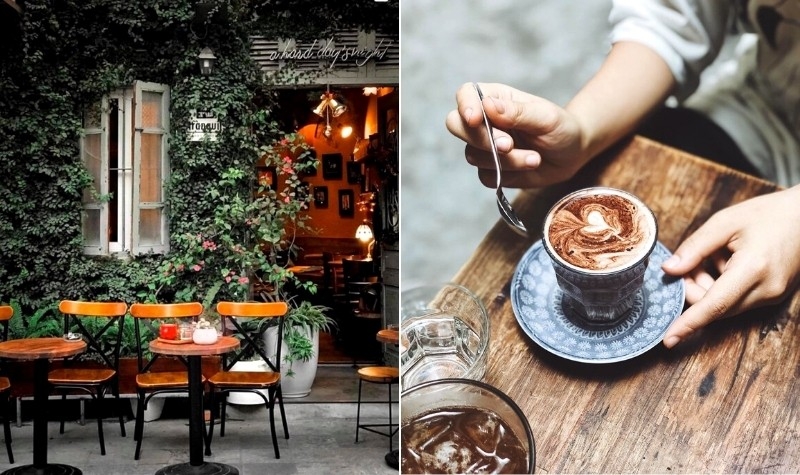 Looking for a place to unwind with a book? A hole-in-the-wall coffee shop in a back alley, Tranquil Books and Coffee is a rustic cafe that carries both Vietnamese and English books and will provide the ultimate sanctuary for literary-minded folk.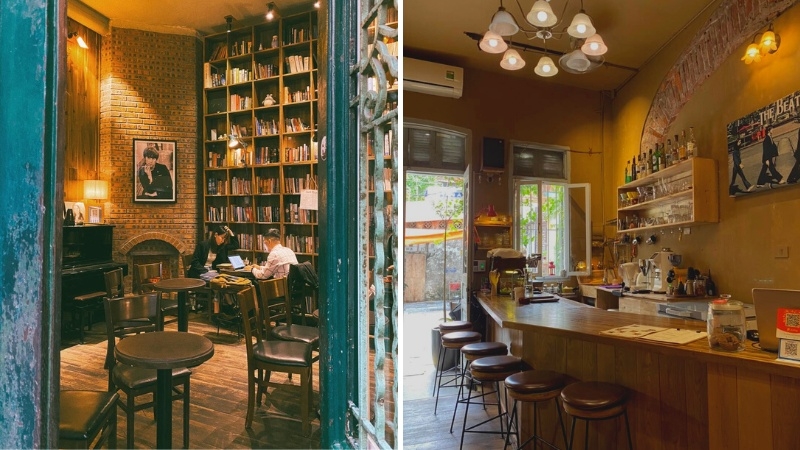 As you listen to relaxing music, feel free to order some banana bread to go with your iced latte or Vietnamese drip coffee with condensed milk. Moreover, the coffee shop has an outdoor seating area where we recommend that you grab a seat and chill. Inside, there are two storeys with air-conditioning to beat the summer heat. 
Address: 5 Nguyen Quang Bich, Hoan Kiem, Hanoi, Vietnam 
Also read: 12 Beautiful Libraries & Bookstores to Visit Around Asia
Must-try coffee shops in Hanoi that every tourist should visit
7. Café Pho Co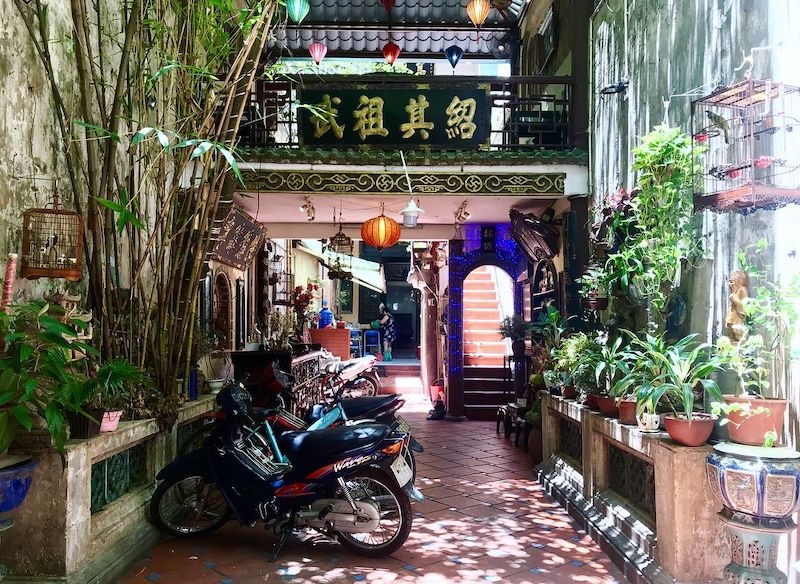 Up next on your coffee shops in Hanoi? One of the hidden gems in Hanoi, Café Pho Co is a rooftop spot that you can access by entering and passing through a silk clothing shop, walking across a courtyard, and ascending stairs to the top floor. There, you can pull up a chair at the cafe and enjoy beautiful views over Hoan Kiem Lake.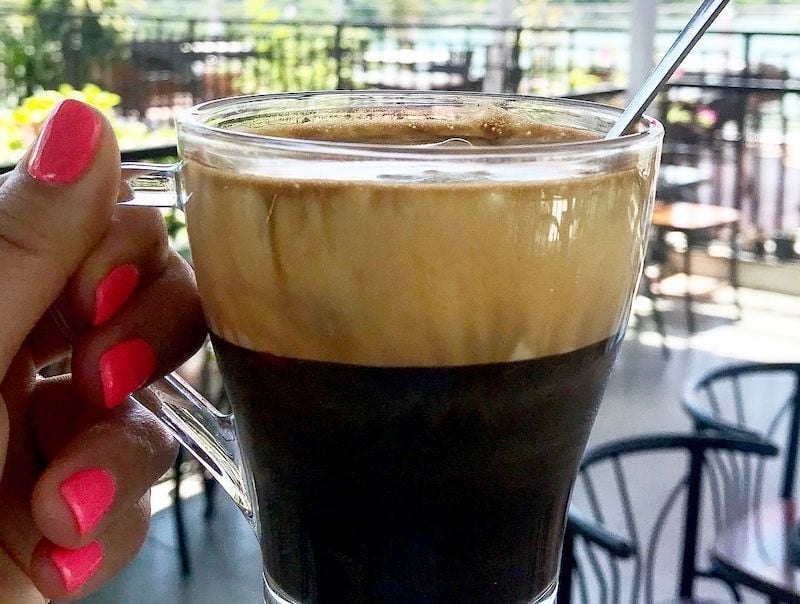 Try their silky-smooth egg coffee or their decadent egg hot chocolate, where the warm cocoa brings out the rich flavour of your drink. From refreshing beverages to lakeside views, finding this hidden gem among the best coffee shops in Hanoi is well worth the effort.
Address: 11 Hang Gai (4th floor), Hanoi 10000 Vietnam 
8. Café Duy Tri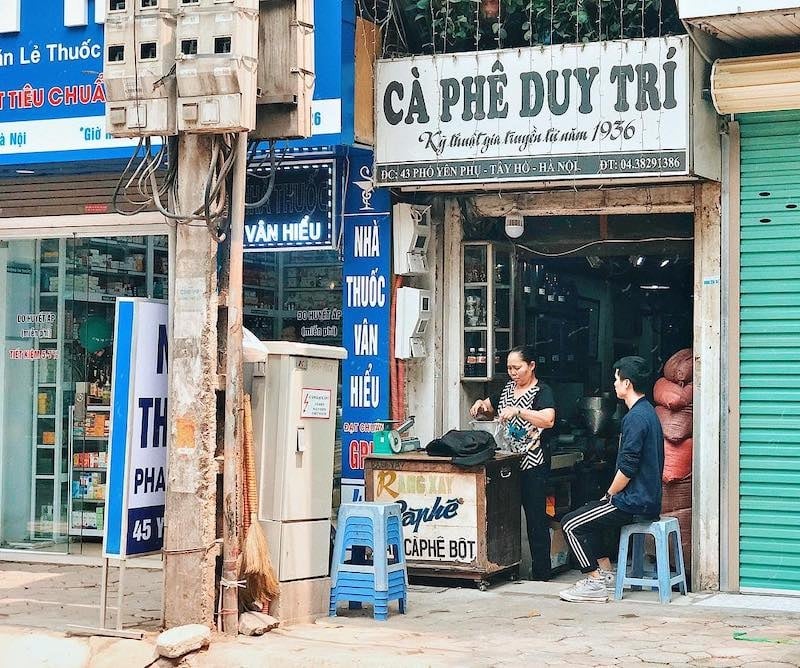 Never underestimate the power of word of mouth, especially when it comes from local coffee drinkers who know a thing or two about good brews. Considered to be one of the first few cafes in Hanoi to spread the word about unique Vietnamese brews, Café Duy Tri is famous for their sữa chua cà phê or iced yoghurt coffee, where the boldness of the coffee is balanced by the creaminess of the frozen yoghurt.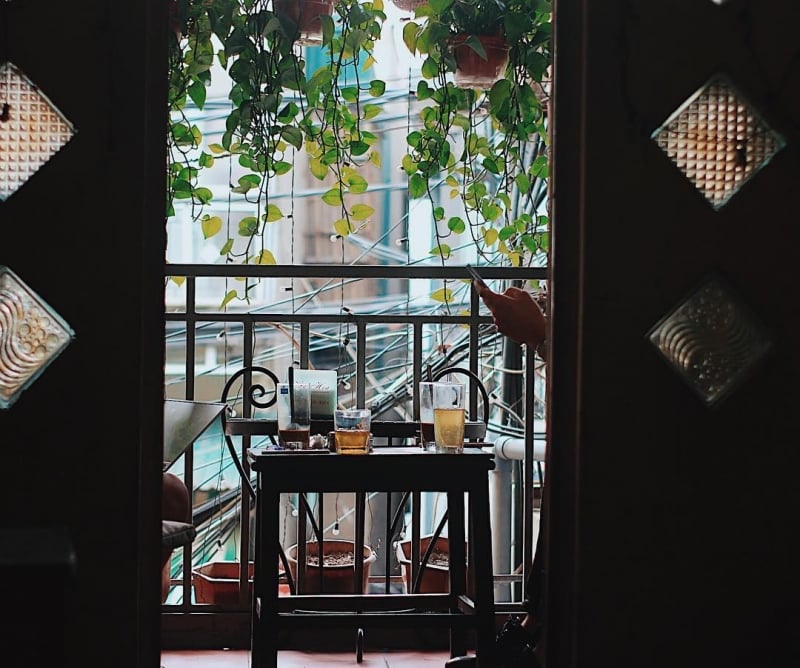 When Café Duy Tri first opened its doors in 1936, it was a family-run establishment that freshly roasted its own special coffee blends from Arabica and Robusta coffee beans. Today, this 85-year-old coffee shop cafe proudly stands in the same location in the Tay Ho District and continues to serve young Hanoians and tourists, without compromising on the quality of their coffee.
Address: 43 Yen Phu Ba Dinh, Tay Ho District, Hanoi, Vietnam
9. Đinh Café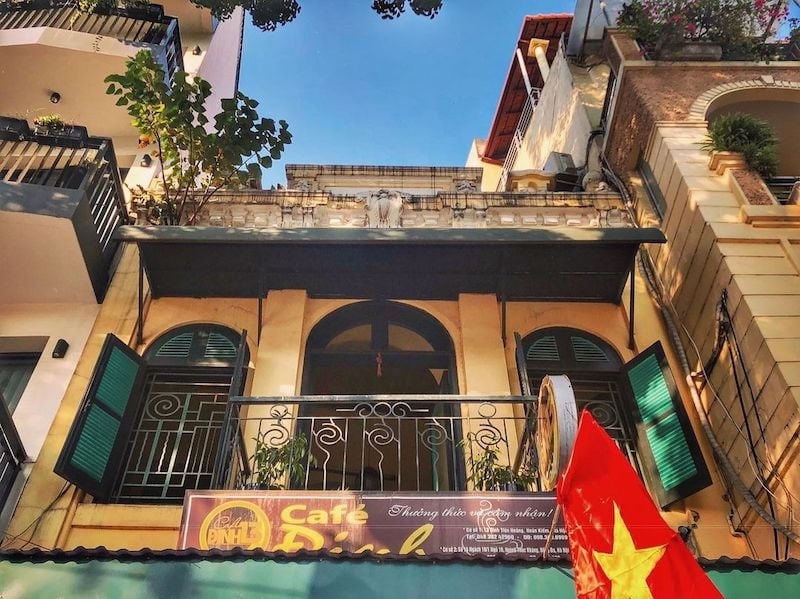 Just a two-minute walk from the Temple of the Jade Mountain is Đinh Café, which boasts of some of the best coffee in Hanoi. Welcoming visitors since the 1990s, this cafe is located on the second floor of an old house with French architecture, with a small balcony offering a view of Hoan Kiem Lake.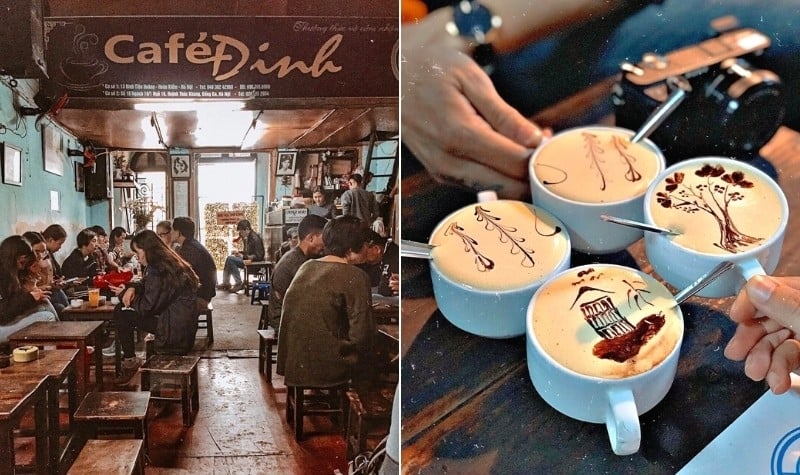 Aside from the nostalgic and charming ambience of this cafe, you can't miss out on their egg coffee, which is smooth and creamy. Generally speaking, you just can't miss out on egg coffee in Hanoi. Judging by its enduring popularity, Đinh Café is a coffee haunt you can't miss!
Address: 13 Dinh Tien Hoang Street, Hang Bac Ward, Hoan Kiem District 2nd Floor, Hanoi, Vietnam
10. Café Giảng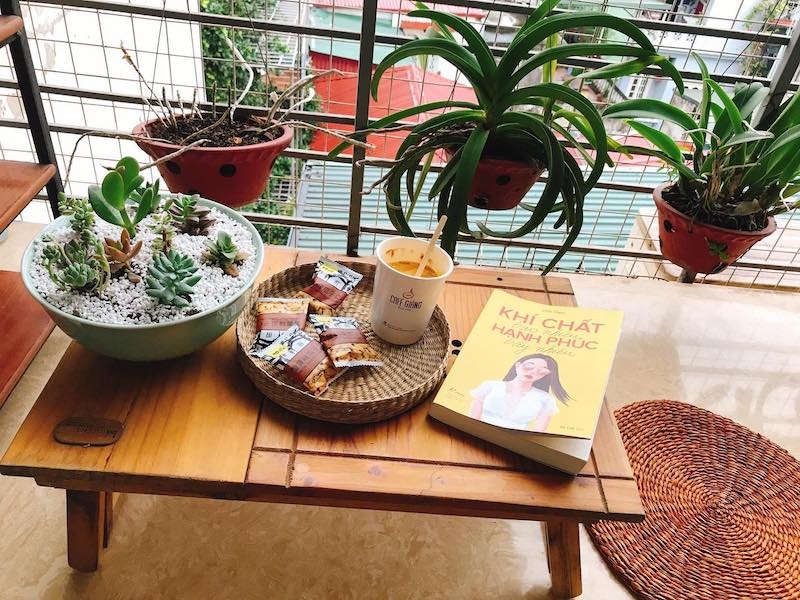 Of course, we have to pay a visit to the OG! Serving coffeeholics since 1946, Café Giảng is an old-school cafe that was founded by Nguyen Giang, who created the original recipe for egg coffee in Hanoi and turned it into the sensation it is today.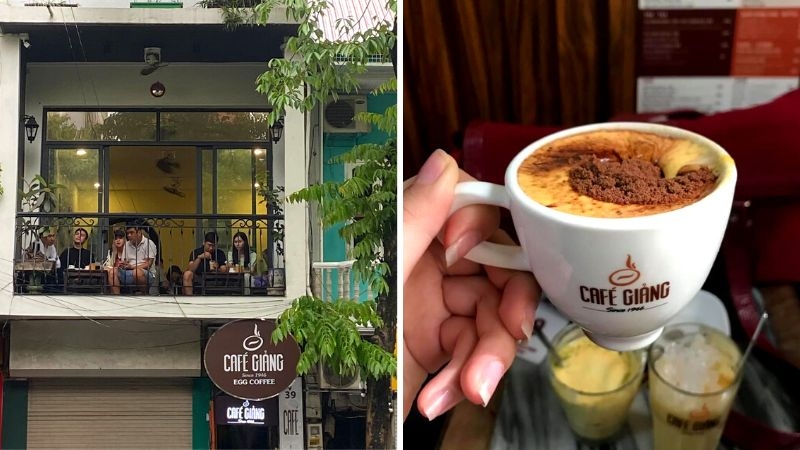 Situated on the first floor of a building on Nguyen Huu Huan Street, right in the heart of Hanoi's Old Quarter, Café Giảng serves egg coffee for a fraction of the cost at bigger coffee establishments. Once you find that you're surrounded almost entirely by locals at this popular café, that's how you know you've come to the right place.
Address: 39 Nguyễn Hữu Huân, Hoàn Kiếm, Hanoi, Vietnam 
Best aesthetic brunch spots in Hanoi for yummy brews and bites
11. Muối Tiêu (Salt N Pepper Kitchen)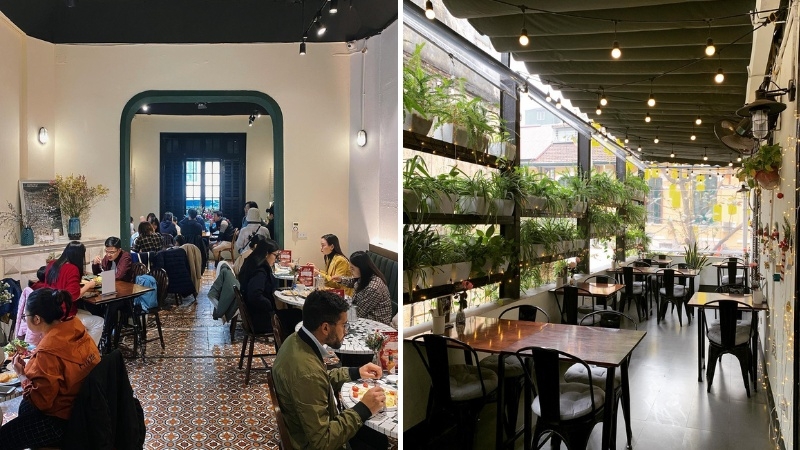 Up for a delectable Aussie brunch in the Old Quarter? Muối Tiêu or Salt N Pepper Kitchen should definitely be on your radar for the best brunch in Hanoi! This quaint cafe-and-eatery has an extensive selection of Australian-inspired all-day breakfast options; from soups and salads to quinoa bowls and classic avo toast. Of course, brunch is never complete without a cuppa! For your caffeine fix, choose among its selection of Vietnamese coffee, Italian coffee, and imported Twinning tea.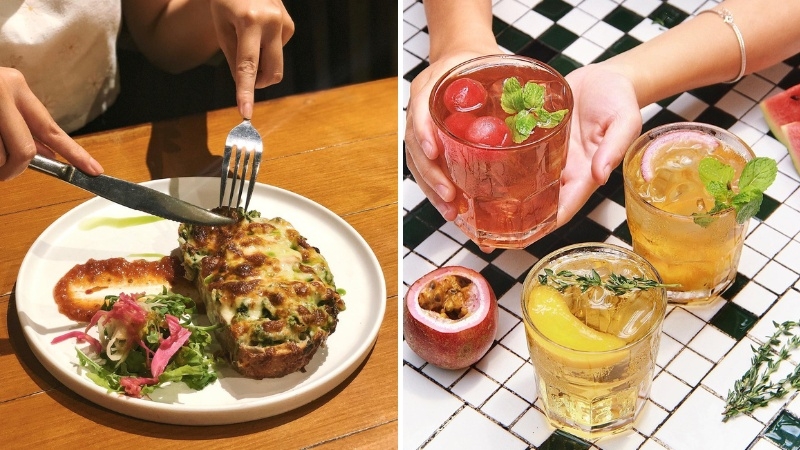 What's more? Muối Tiêu's cosy interiors and al fresco area make for a welcoming dining experience, perfect for small groups and even solo diners. While it has a limited seating capacity, this allows for a somewhat peaceful atmosphere throughout your visit. 
Address: 2nd Floor No. 28 Tống Duy Tân St., Hoàn Kiếm, Hà Nội 10000, Vietnam
12. Ma Xó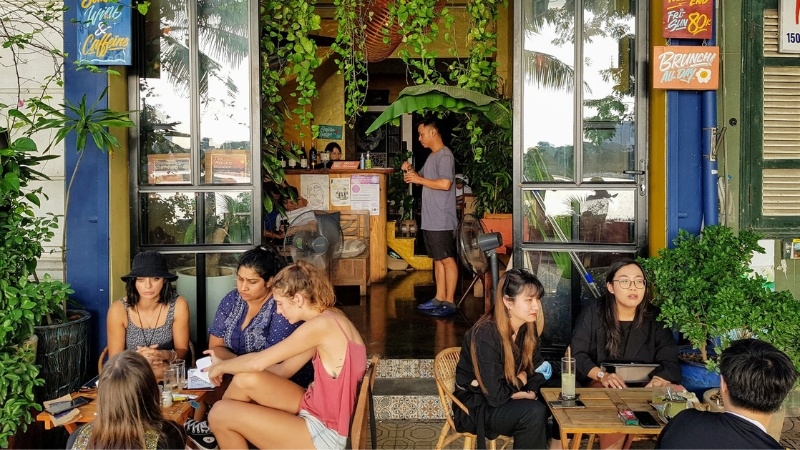 What's better than brunch? Brunch with a view, no doubt! Ma Xó not only treats you to delicious meals and pastries, but it also lets you in on a scenic view of Trúc Bạch Lake while dining. Some of its crowd-faves include the pumpkin rosti and shakshuka, best paired with its cà phê trứng or airy egg coffee. Additionally, it serves up other vegan and vegetarian dishes for all the plant-based foodies out there.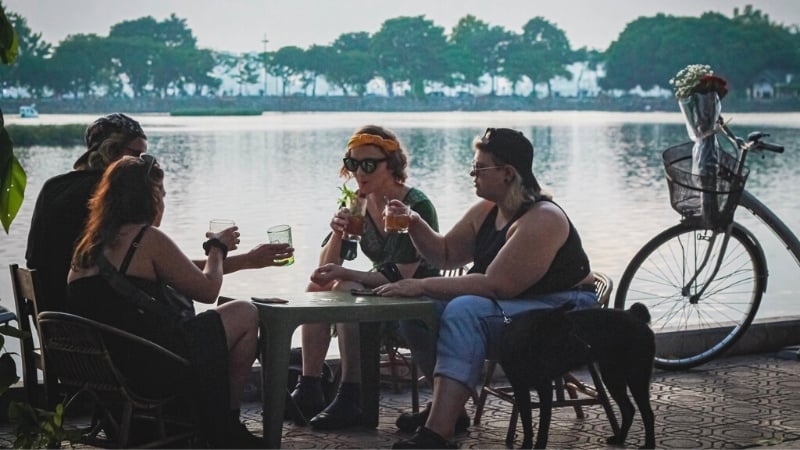 If you're feeling a bit frisky, Ma Xó has a curated wine and cocktail menu which features all sorts of boozy beverages. Sit back, relax, and enjoy watching sundown at this charming lakeside bar-and-cafe in Hanoi! Heads up though: This sweet hotspot gets very packed on the weekends, especially during peak hours, so be sure to plan your visit accordingly.

Address: 152 P. Trấn Vũ, Trúc Bạch, Ba Đình, Hà Nội 11117, Vietnam
13. Hanoi Social Club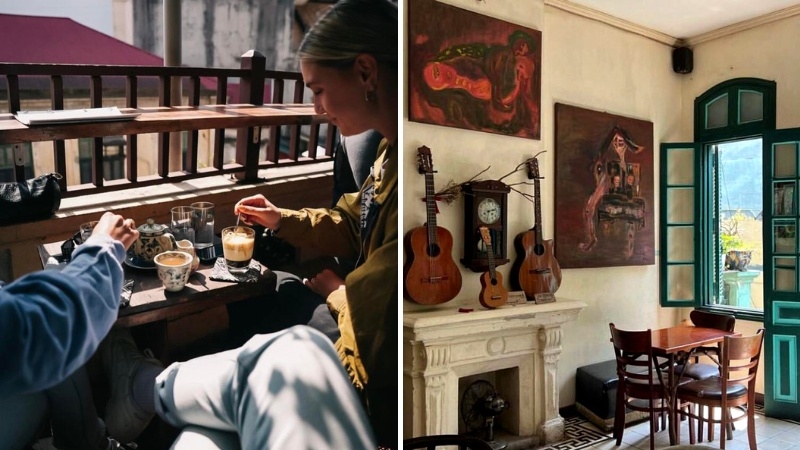 Another local Instagrammable cafe that's worthy of your attention is Hanoi Social Club. It's a multi-level coffee shop housed inside a 100-year-old villa situated right in the heart of Hanoi. Its humble beginnings can be traced back to 2011. Since then, it has grown into a stomping ground for the best brunch in Hanoi: A mix of delicious western and Vietnamese chows.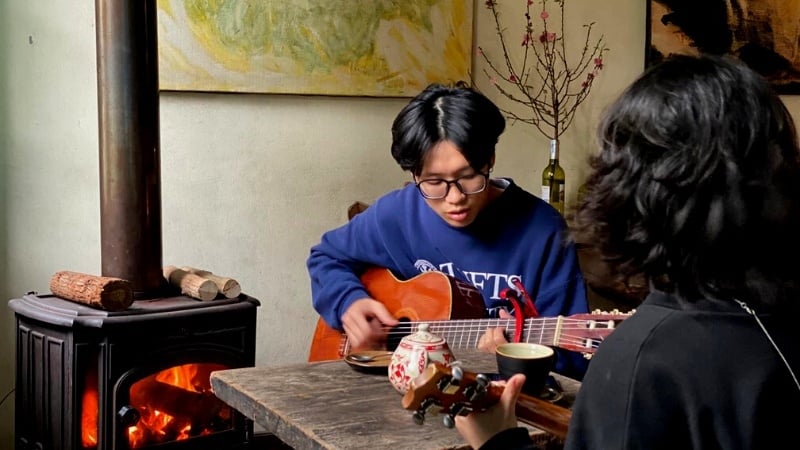 By sundown, the cafe transforms into a buzzing enclave for artists and creatives! Catch live music events where homegrown bands and artists come together for a night of fun and chill beats. Hanoi Social Club is definitely a unique cafe for immaculate vibes and the best coffee in Hanoi that you just can't miss. Seriously, what's not to love? 
Address: 6 Ng. Hội Vũ, Hàng Bông, Hoàn Kiếm, Hà Nội, Vietnam
14. Lifted Coffee & Brunch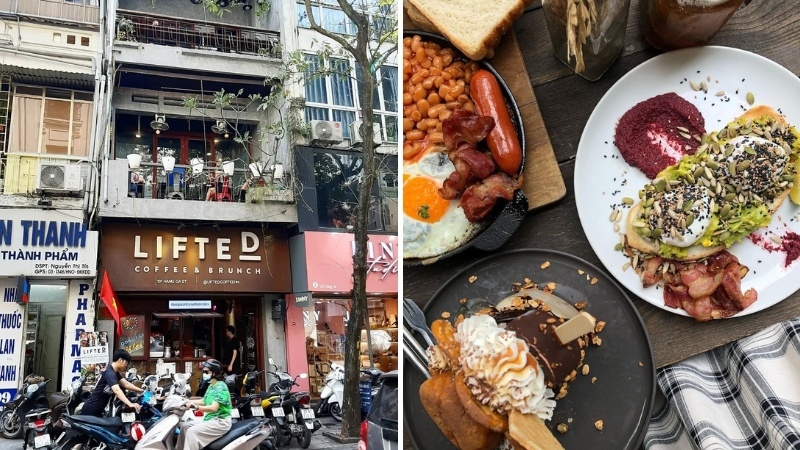 For your sweet and savoury Melbournian fare cravings, step into Lifted Coffee & Brunch! This cafe has grown into a popular brunch spot among locals and tourists alike — thanks to its extensive menu offerings and generous servings.  Much like the other brunch cafes in Hanoi, its menu comprises tartines, rice bowls, plant-based dishes, and even gluten-free options. 
Interiors-wise, Lifted Coffee & Brunch takes on a cool, neighbourhood cafe vibe with a relaxed ambience. If you're looking for a spot in the city to grab a quick bite, then this one's worth adding to your list of cafes in Hanoi!
Address: 101 P. Hàng Gà, Hàng Bồ, Hoàn Kiếm, Hà Nội, Vietnam
15. La Studio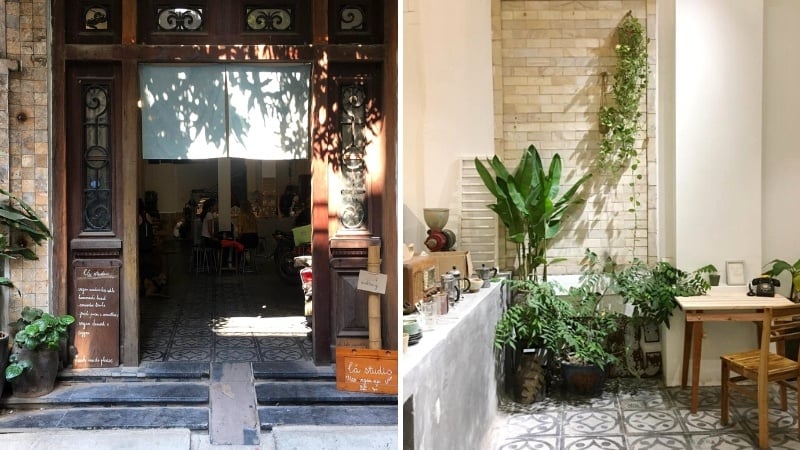 Walk into La Studio and you'll be greeted by the irresistible smell of freshly baked goods and the comforting aroma of roasted coffee. If you're craving a sweet treat or a hearty meal, this vegan bakery-slash-cafe awaits you! La Studio serves all sorts of classic brunch bites; from juicy burgers and sandwiches to refreshing smoothie bowls and daily pastries.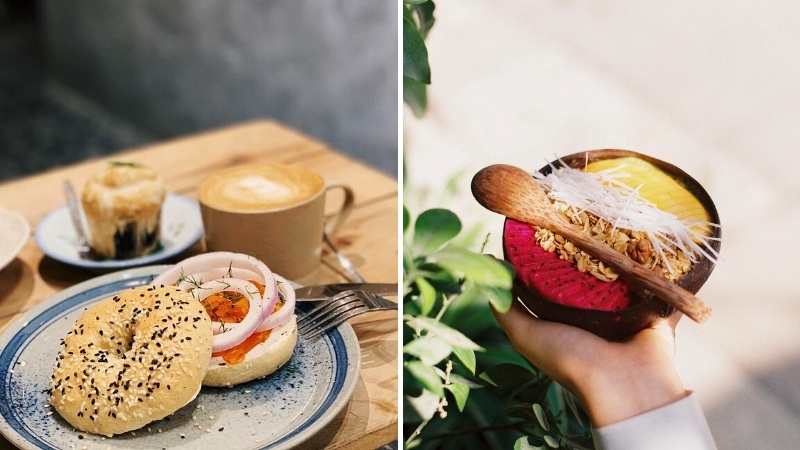 Beyond the food itself, La Studio is also hailed for its cosy and inviting dining atmosphere. It takes on a stripped-down and vintage aesthetic, which makes for an ideal background for your Instagram snapshots. Simply put, it's the perfect low-key hangout spot for relaxing and dining. 
Address: 44 Ng.31 Đ. Xuân Diệu, Quảng An, Tây Hồ, Hà Nội, Vietnam
Also read: Your Guide to Saigon's Coffee Scene: 15 Must-Visit Ho Chi Minh Cafés
Feel like checking off the world's best cafés from your bucket list after visiting these coffee shops in Hanoi? Check out our recommendations for your future coffee crawls in Cebu, Pampanga, Baguio, Tagaytay, and Metro Manila. Happy bookmarking! 
---
This article was originally published on TripZilla.