Ask any traveller about their bucket list, and Europe is probably somewhere on that list. The only thing holding most people back from exploring the continent is the budget (or lack of it). Hey, when is it not an issue, right? But there is a way to travel to the continent for backpackers. The key is choosing where to go. If you choose the cheapest places to visit in Europe, you can chip away at your bucket list without spending a fortune.
The best thing is that even the cheapest European countries to visit will give you the full Euro experience. Each country features history, culture, architecture, and nature — all at a fraction of the price of more mainstream destinations. Not convinced yet? Keep reading for our round-up of beautiful European destinations that won't drain your wallet.
A guide to the cheapest places to travel to in Europe
1. Bulgaria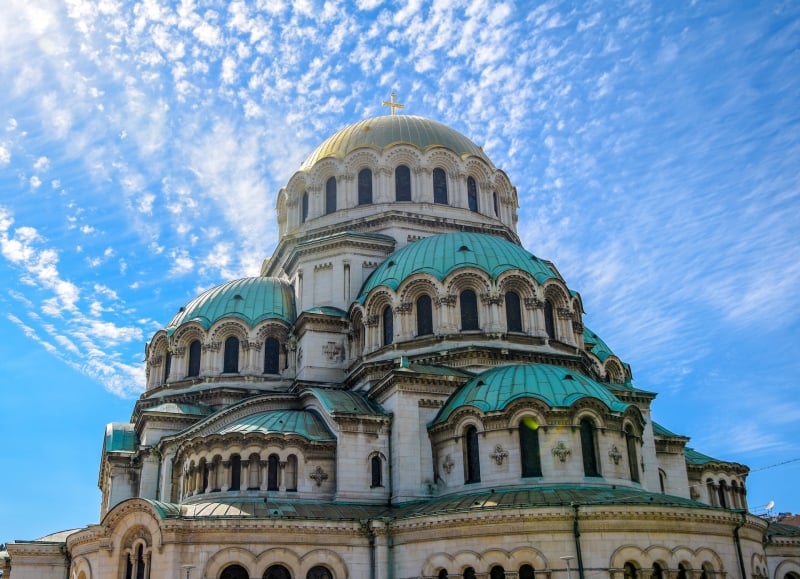 Backpackers looking for the cheapest European countries to visit should certainly have the Land of Roses on top of their list. Brimming with charming villages, historic castles, scenic hiking trails, and pristine Black Sea beaches, Bulgaria is as unforgettable as European countries come. 
Travellers troop to Sofia, the vibrant capital city chock full of cultural gems and ancient architecture owing to its extensive history of being occupied by the Greek, Roman, Byzantine, and Ottoman Empires. It's also among the most budget-friendly European cities. Many of the best attractions in Sofia are free, including the famous Aleksander Nevski Cathedral and the city's oldest park Borisova Gradina.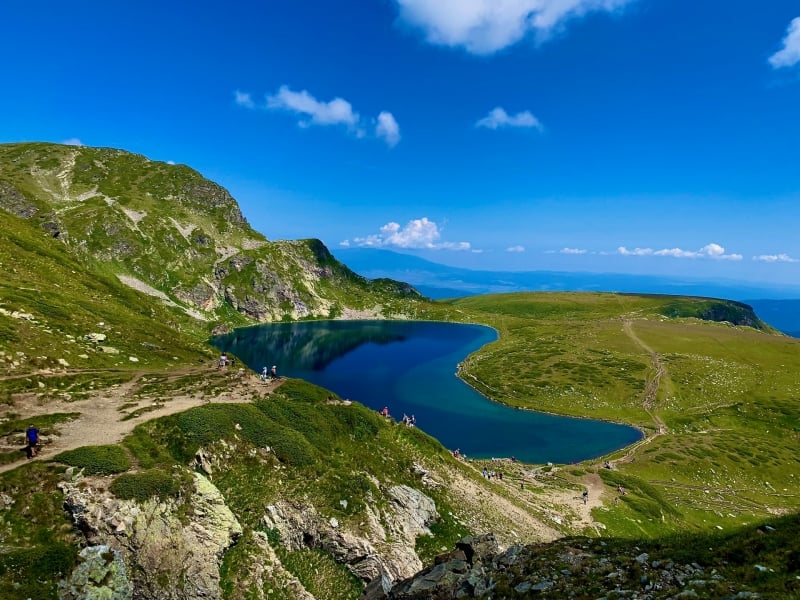 Meanwhile, Bulgaria destinations outside the capital are even easier on the wallet. The underrated city of Plovdiv is home to over 200 archaeological sites, while Bansko is a good stop for an affordable ski vacation. Enjoy Black Sea beaches like the well-loved Sunny Beach, or head to the Seven Rila Lakes for stunning scenery. 
Budget travellers can easily find Bulgaria accommodations that cost less than US$20, with some of the cheapest options even going as low as US$10. When it comes to daily expenses, food and transportation won't be a drain on your budget either. Travellers staying in Sofia can purchase the Sofia Pass, a three-day travel pass for unlimited use of public transportation in the city.
Estimated daily expenses: US$20–30
Also read: I Was Detained in Bulgaria on My Europe Trip & Here's How I Dealt With It
2. Romania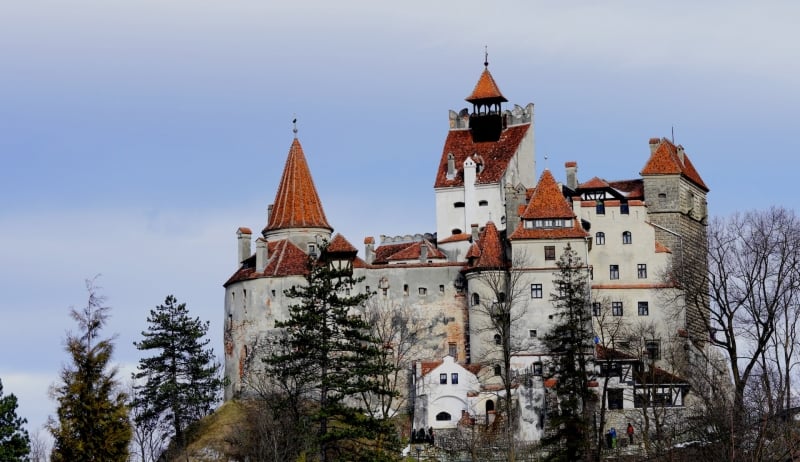 Even with well-known tourist spots — including Dracula's home, Bran Castle — Romania remains one of the cheapest European countries to visit. Take in the breathtaking sight of castles, cathedrals, and monasteries perched atop lofty mountains, while well-preserved medieval towns in Transylvania give tourists a chance to explore cobbled streets that feel untouched by time. Birdlife thrives in the Danube Delta, while hikers will fall in love with the remote wilderness of the Carpathian Mountains. Beaches along the Black Sea coastline are another tourist favourite in Romania.
Kick off your journey at the sprawling capital, Bucharest. The city flies under the radar of most travellers, so it's not only often uncrowded but also cheap. A lot of tourist attractions won't even cost you a cent, including the alluring 15th-century Old Town, Revolution Square, and Stavropoleos Church. Grab a bite at one of the many outdoor beer gardens to sample the local cuisine without spending much. Street food is also a great option!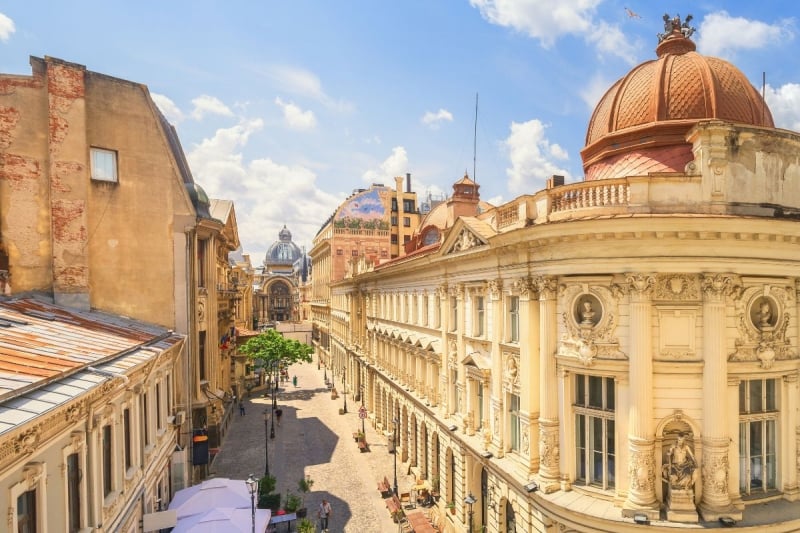 Make the most of your Romania trip by exploring other regions, like Transylvania and the Carpathian Mountains. In these rural areas, prices tend to be even lower than in Bucharest! Go castle-hopping to magnificent structures like Bánffy Castle, Hunyadi Castle, and Teleki Castle. 
Plus, travelling within the country is straightforward with its extensive transportation system. Trains in Romania are up there in age, but they're very affordable — and train rides through the scenic countryside add to the experience. Cheap food and transportation mean daily expenses in Romania are reasonable. Hotel and hostel accommodations range from US$10 to US$30, so you can pick whichever fits your budget.
Estimated daily expenses: US$30–40
Also read: 10 Fairytale Castles in Europe Filipinos Need to See!
3. Albania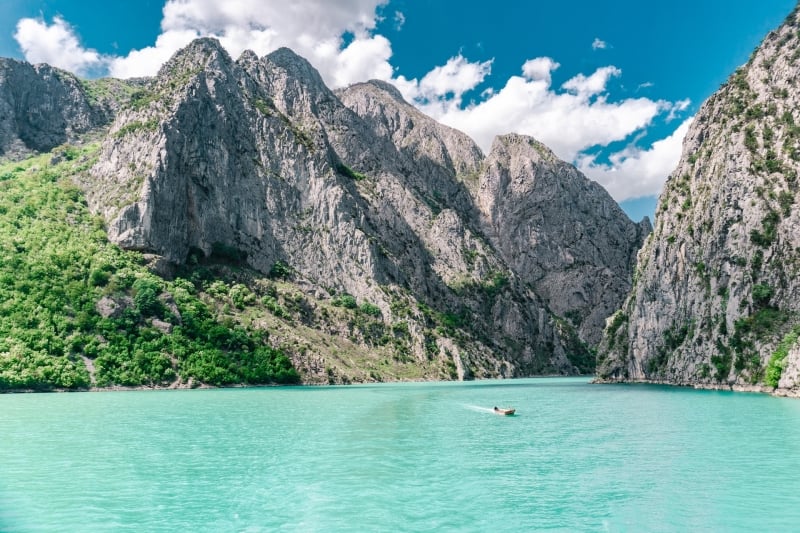 Albania allows you to discover a side of the continent that remains relatively unexplored. From the spectacular mountains of the Albanian Alps to the pristine beaches of the Albanian Riviera, the underrated country offers the best of Europe at a fraction of the price! When you're travelling Europe on a budget, this country is a must-visit.
 The capital city Tirana is a good place to start a vacation in Albania. It's a tourist-friendly city that's easy to explore on foot. Plus, there are plenty of things to do for free in Tirana, such as hanging out at Skanderbeg Square and visiting the bazaar Pazari i Ri. If you're ready for an excursion into nature, head to the Accursed Mountains — it's ominously named but a rising destination for hiking.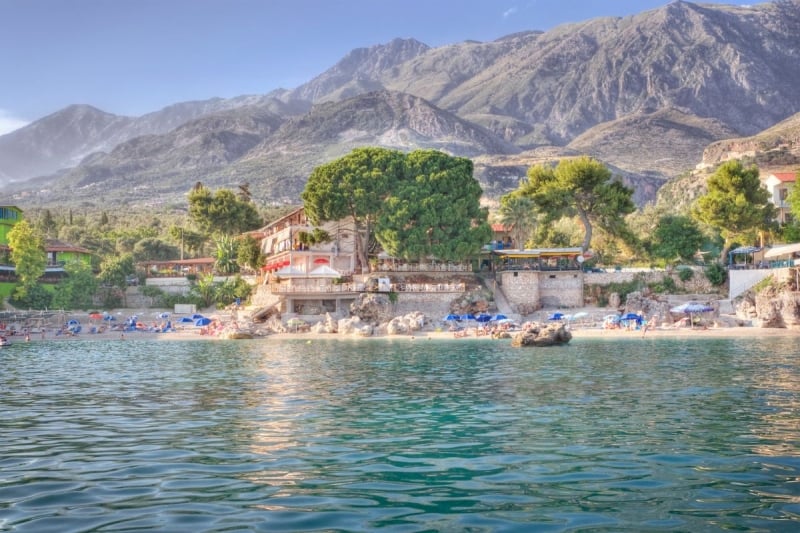 And of course, don't miss the gorgeous Albanian Riviera. The coastal stretch facing the Adriatic Sea is a natural marvel, with golden beaches framed by sweeping mountains. Turquoise waters and pretty hamlets rival more popular European destinations, like the Greek Islands and the Italian Riviera. It's a little pricier here than in the rest of the country, but still far more affordable than one would expect with good hotels and resorts costing an average of about US$50. 
In most places in Albania, accommodations can cost less than US$10 per night making it one of the cheapest places to visit in Europe. Food is equally affordable, even if you splurge and dine in a sit-down restaurant.
Estimated daily expenses: US$20–30
Also read: Hills View Mountain Villa in Davao Offers a Taste of the Swiss Alps
4. Serbia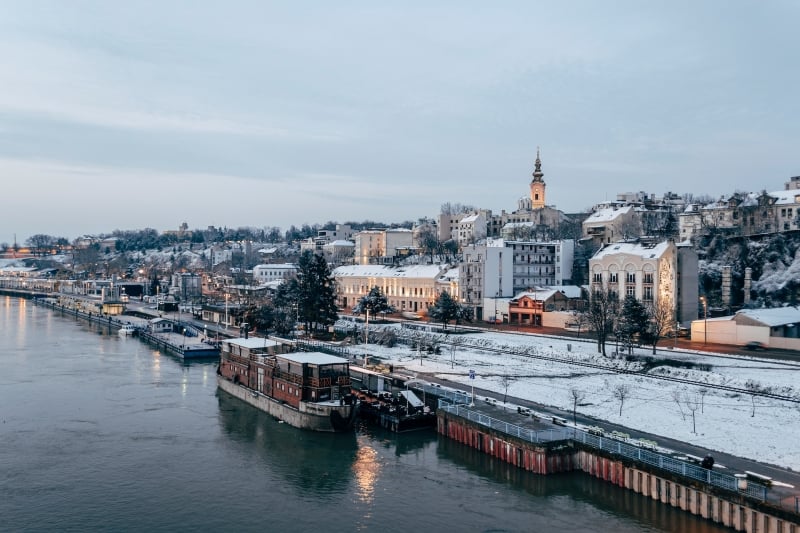 Travelling to the landlocked country of Serbia is a fun-filled experience outside Europe's busy tourist circuit. Part of its charm is its modest size; the country is small enough that going from the city to the national parks isn't a major operation. If you have a few days to spare, you can roam all the tourist spots in a single trip! 
Straddling the confluence of the Danube and Sava Rivers, Serbia's capital city Belgrade is a vibrant travel destination that's one of the cheapest cities in Europe. Local delicacies (such as goulash) are tasty, the nightlife is lively, and a hostel bed only costs about US$10. Budget travellers can enjoy free activities in Belgrade, like enjoying views from the top of Avala Mountain, strolling in Kalemegdan Park, and exploring city markets like Kalenic and Zeleni Venac.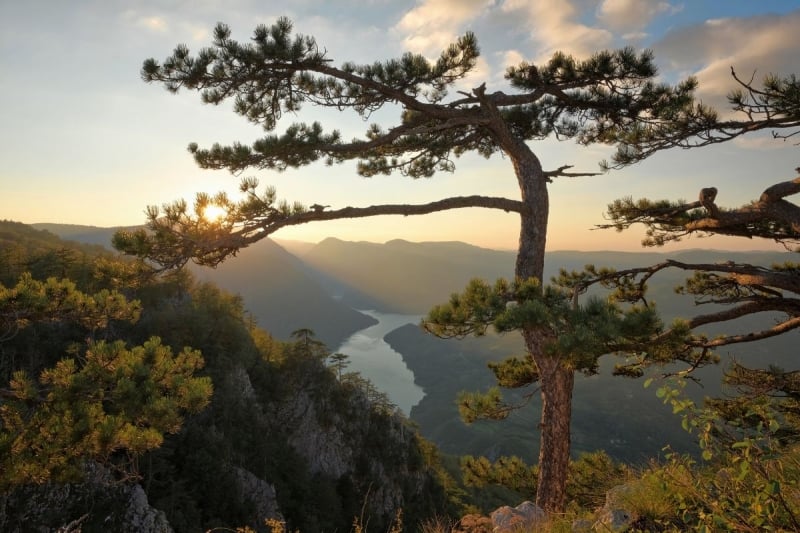 Travel to Novi Sad, another tourist-friendly centre home to striking neoclassical buildings and the 18th-century Petrovaradin Fortress. Prefer a natural escape? Tara National Park features a dramatic landscape for hikers, cyclists, and wildlife enthusiasts to explore. Meanwhile, skiers who want to hit the slopes can go to Kopaonik, known as one of the cheapest ski resorts in Europe.
 Estimated daily expenses: US$20–35
Also read: My Balkan Itinerary: North Macedonia, Kosovo, Bulgaria & Serbia
5. Croatia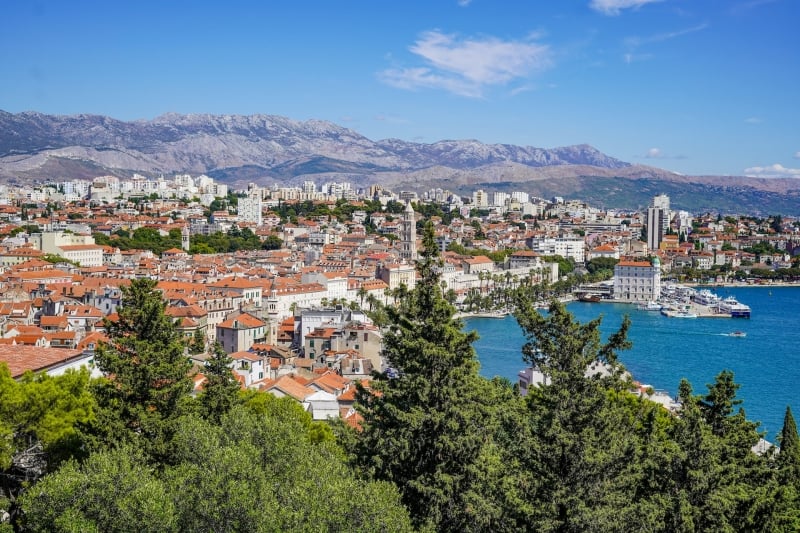 Welcome to Croatia, a dazzling country chock full of sandy beaches, historic walled cities, and rugged karst peaks. To be clear, Dubrovnik can be quite pricey. But outside of this Game of Thrones city, this Mediterranean wonderland is surprisingly among the cheapest European countries to visit. 
We recommend setting your sights on Split, a coastal city set on the eastern shore of the Adriatic Sea. Flights to Croatia can be expensive but if you stay in Split, you won't have to spend much on entertainment. Take a charm-filled walk on the cobblestoned roads of Old Town, explore the waterfront promenade Riva, or spend a day frolicking at Bačvice Beach or any of the city's many beaches — these are some of our favourite activities in Split and they're completely free! Visiting the enchanting Diocletian's Palace, an ancient complex with over 200 buildings, should also be on your itinerary.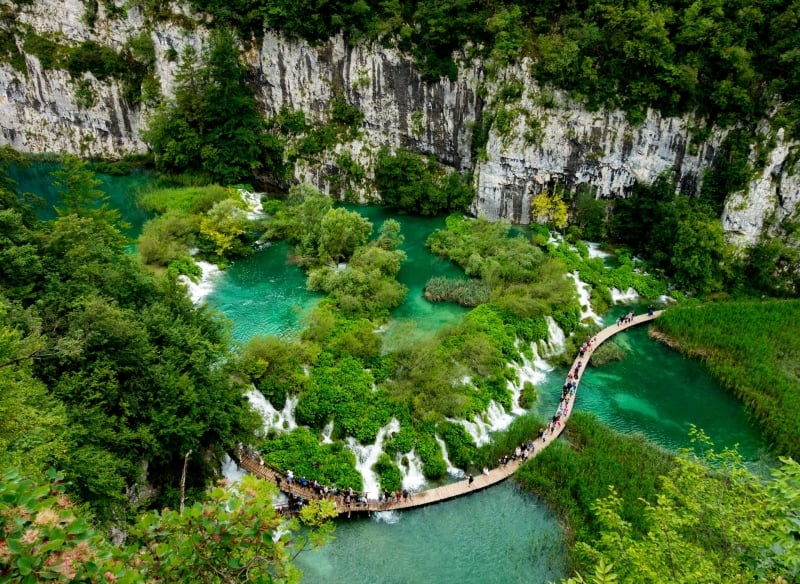 Nature lovers with money to spare can also visit the postcard-pretty Plitvice Lakes National Park. Get lost in the natural beauty of these electric blue lakes and waterfalls, then follow the hiking trails to the lush forests unspoiled by rowdy crowds.
 Backpackers on a budget can stay in a hostel in the city for around US$15, as hotel rooms can be twice as expensive. Although Croatia is somewhat pricier than other countries on this list, it's still relatively affordable for a dreamy Mediterranean getaway.
Estimated daily expenses: US$30–50
Also read: Croatia: A Filipino First Timer's Travel Guide
6. Poland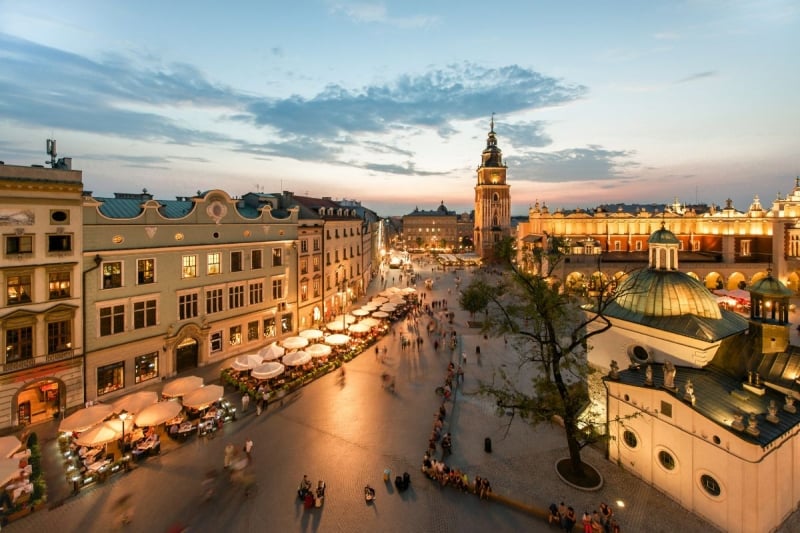 Besides being one of the cheapest places to visit in Europe, Poland is a country that suits all kinds of travellers. City lovers with an eye for history and architecture will enjoy roaming cities like culture-rich Kraków and lively Warsaw. But if you're looking to escape the crowds completely, the Carpathian Mountains lie in wait for skiers, hikers, and mountain bikers looking for adventure.
Medieval playground Kraków is a fantastic base, although this touristy city can be costly compared to other places in Poland. We think the city's free attractions make it worth the trip though. For instance, travellers can explore the largest medieval square in Europe, Kraków's Main Market Square. As you walk the streets of the city, you'll marvel at stunning architecture like St. Mary's Basilica and Wawel Castle. And if you stay in Kraków, you can easily take a day trip to the nearby Ojcow National Park.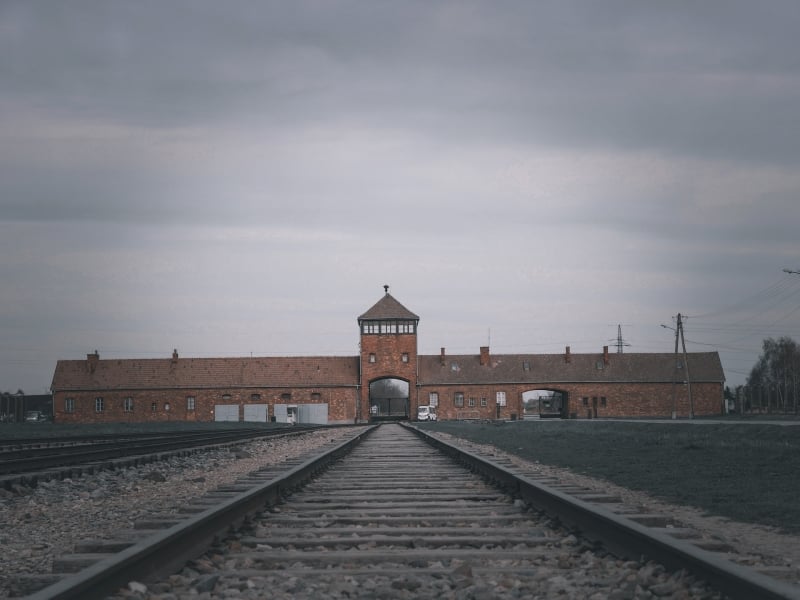 Warsaw is cheaper and less crowded than Kraków, a good alternative for a Poland adventure. Here, you can bask in the city's engaging history in museums like the Warsaw Rising Museum and the POLIN Museum of the History of Polish Jews. Travellers often take a trip to Poland to commemorate the tragedy of World War II. Pass through the former Auschwitz-Birkenau concentration camp in the town of Oswiecim, where over a million people were enslaved and murdered. Entry to the Auschwitz Memorial is free, although guided tours are paid. 
Even in tourist-favourite Kraków, budget accommodations are aplenty with the cheapest going as low as US$10. Time your visit wisely and avoid travelling to Poland in the summer months to keep your budget as low as possible.
Estimated daily expenses: US$15–30
7. Slovakia
Did you know that Slovakia is one of the countries with the most castles per capita in the world? These fairy-tale structures are everywhere, along with chateaus, churches, and monasteries. This makes it even more unbelievable that the country is among the cheapest places to travel to in Europe. Often overlooked in favour of nearby cities that draw in the crowds like Prague and Vienna, Slovakia keeps its prices relatively low and its tourist tracks pristine.
Enjoy the rustic Old-World atmosphere of Bratislava, the capital city. It's one of the smallest capitals in Europe — a treat for the walking tourist who doesn't want to spend much on vacation! Stroll the bustling lanes of the Old Town, where you'll have to keep an eye out for the four quirky Bratislava Statues. Other free highlights include the historic monument Slavín and the picturesque Blue Church. Looming over the city is Bratislava Castle, one of the most popular castles in Slovakia overlooking the Danube.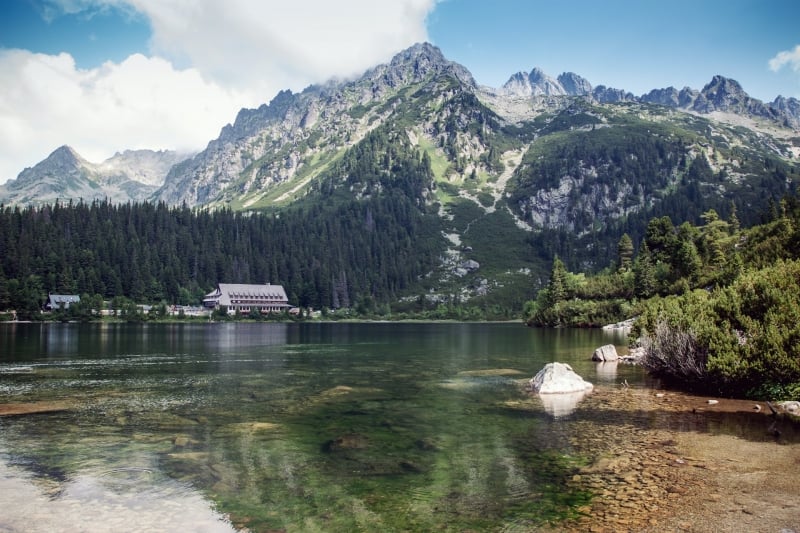 While the capital city is an enjoyable stop, the great outdoors remains the star of Slovakia tours. The country's national parks are some of the most beautiful in Europe — and they're all free to visit! The otherworldly beauty of High Tatras is the highlight, with its snow-capped peaks, glassy mountain lakes, and majestic waterfalls. Wintertime sees the emergence of top-notch ski resorts, as well. 
Accommodations aren't as cheap in Slovakia as in other places on this list. But ultimately, Slovakia is probably the best place to go for an unforgettable alpine experience without it costing an arm and a leg. 
Estimated daily expenses: US$40–60
8. Hungary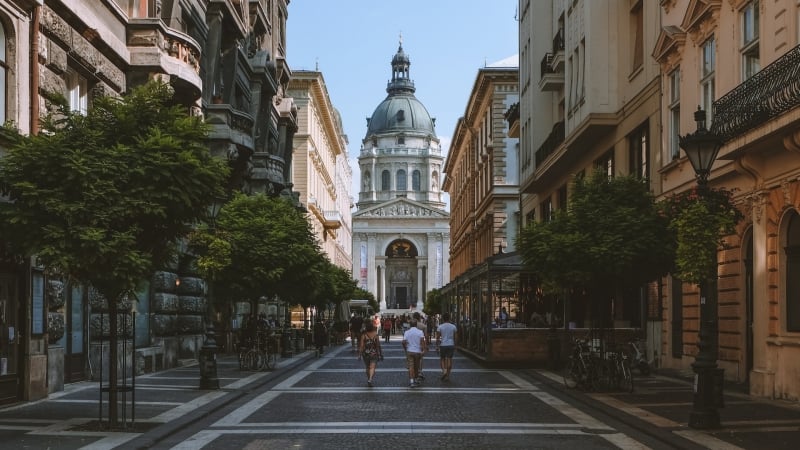 Look to Hungary for an Instagrammable experience while travelling in Europe on a budget. Historic buildings, eye-catching architecture, and cosmopolitan sophistication combine to make this central European country an incredible stop. Plus, Hungarian cuisine is famously mouthwatering — and you'll find eating at local haunts won't drain your budget at all. 
Despite being a big tourist draw, Budapest is one of the cheapest cities in Europe. The picturesque city is set on the banks of the Danube River, and many of the must-see travel spots are free: Fisherman's Bastion, Heroes Square, and Castle Hill, among others. Thermal baths aren't free, but the iconic Széchenyi Thermal Bath is worth visiting, anyway.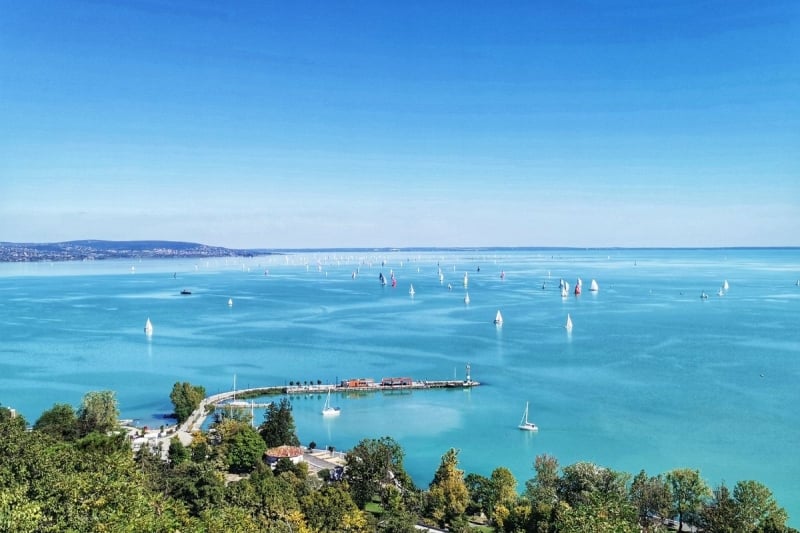 Sightseeing in Hungary gets even cheaper when you venture out of the capital city. Whether you're visiting the beaches of Lake Balaton, the world's largest thermal bath at Lake Héviz, or the wilderness of the Bükk Mountains, you'll find prices are fairly modest compared to similar spots in other parts of Europe.
Budget accommodations in Hungary cost around US$20 a night, with some hostels offering beds a couple of dollars cheaper.  
Estimated daily expenses: US$20–40
9. Portugal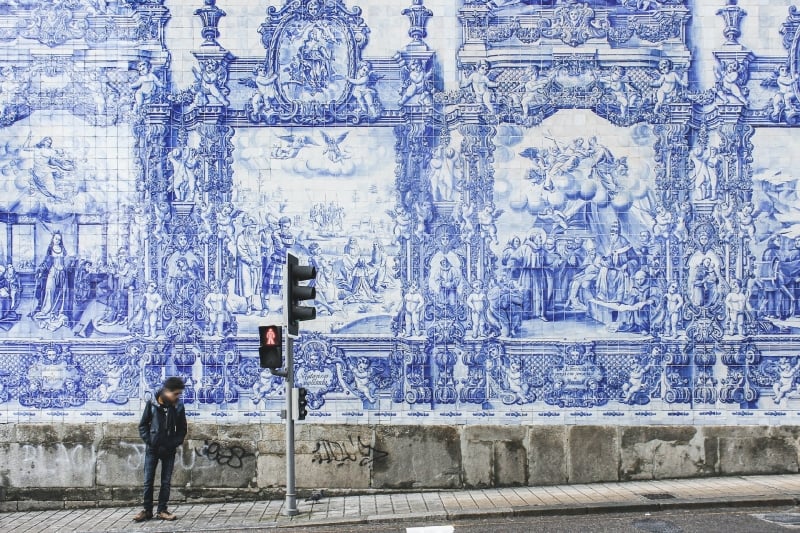 When hunting for the cheapest European countries to visit, don't miss Portugal. Although prices are creeping up this side of the continent, the photogenic destination is probably the most affordable country in Western Europe. When the budget is tight, you can't go wrong with Portugal's sun-soaked surf beaches, captivating castles, and colourful city attractions.
Porto and Lisbon are both gorgeous cities that should be on your list of dream destinations, but the latter is a bit cheaper to explore. Travellers determined to stick to free attractions are in luck; you'll have plenty of options. The riverfront Ribeira is one, a picturesque district with heritage buildings and the dizzying Luis I Bridge. 
Book lovers must visit Livraria Lello, one of the most beautiful bookstores in the world that was established back in 1906. Take on the streets of Porto for some of the most jaw-dropping street art you'll ever see, from massive murals to smaller paintings.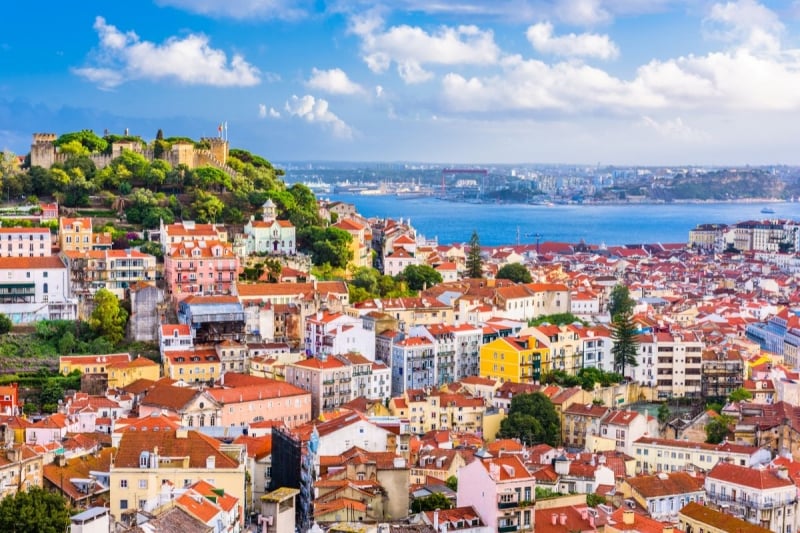 The capital city Lisbon is just as vibrant and mesmerising, with stunning street art all over the hilly city just waiting to be discovered. Historic churches in the city tend to be magnificently designed, from the façade to the interiors — and they're completely free to enter. As the day winds down, make your way to the steps of Cais das Colunas for a spectacular sunset over the Tagus River. 
Accommodations may be a tad more expensive here than in eastern and central Europe, with travellers typically shelling out about US$15 for hostels and US$35 for budget hotels. But you'll save a ton of money on food as eating out is relatively inexpensive in both Porto and Lisbon. If you visit smaller Portuguese towns, prices drop even further.
Estimated daily expenses: US$35–50
Also read: Portugal to Singapore by Land Journey: An Easy Guide to the Longest Adventure
10. Italy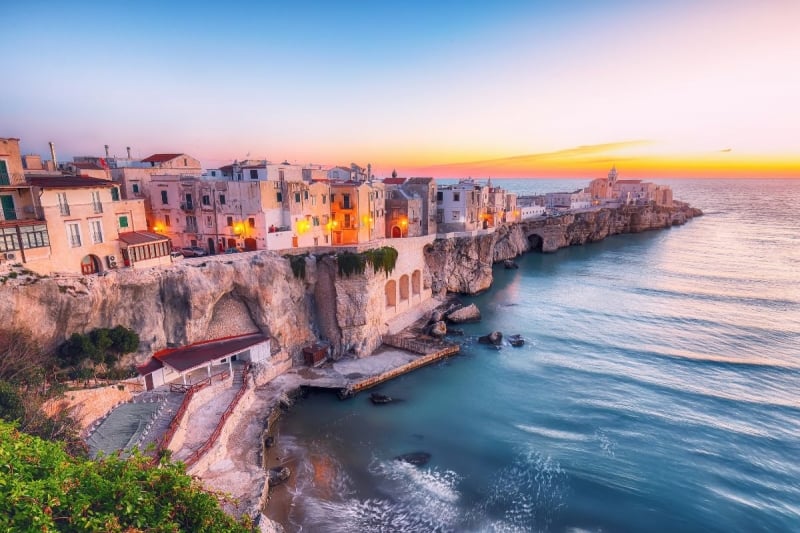 You wouldn't think a country like Italy would be one of the cheap travel destinations in Europe, right? Well, if you skip the tourist-heavy cities like Venice, Milan, Florence, and Rome, an Italian trip is shockingly affordable. Instead, immerse yourself in the quieter side of the country. (And if you stick to one region, you won't have to blow all your money on pricey trains or planes.) 
Even if you skip Italy's most popular destinations, you're still in for a trip of a lifetime. The sun-soaked region of Puglia is one of the best-value places in the country, particularly the sandy beaches of Gargano Peninsula and the town of Leece where stunning baroque architecture takes the spotlight. Artsy travellers should put Urbino on their itinerary instead of the pricier Florence. The stunning Renaissance city is the birthplace of Raphael and a UNESCO World Heritage Site.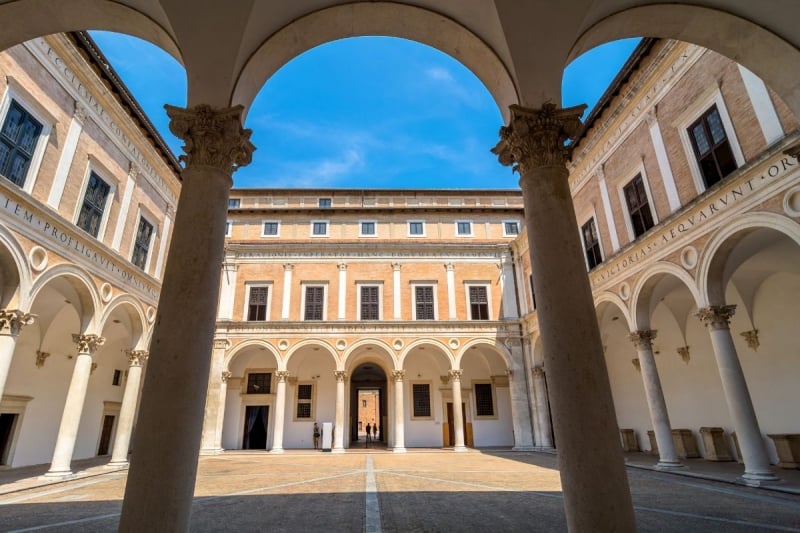 If you avoid sit-down restaurants and opt for take-out, you can save a fortune on delicious Italian cuisine. Weekend markets are a treasure trove of tasty bread, cheese, and other local delicacies. And if it's accommodations you're worried about, visit during winter for great deals and discounts. All in all, Italy is by far the most affordable of the "mainstream" European destinations. 
Estimated daily expenses: US$50–80
Even the cheapest places to visit in Europe are rich in experience, and we can't wait to tick them all off our bucket list. Are you ready for your great European adventure?
---
Featured image credit: Gabor Koszegi | Unsplash. This article was originally published on TripZilla.