Tell us: Is Samar Island on your bucket list? The island — consisting of the provinces Samar, Eastern Samar, and Northern Samar — remains largely out of the tourist radar. But that's exactly why we love it! True off-grid adventures are hard to find nowadays, but this island in Eastern Visayas promises to take explorers off the beaten path. 
From pink beaches in secluded islands to ancient rock formations on the coast, Samar is an underrated destination teeming with natural gems. Plus, most are enticingly empty. Read on for our roundup of the best adventures and natural attractions on Samar Island.
Also read: 10 Gorgeous Islands & Beaches in Leyte for Sun, Sand & Surf
Best adventurous things to do in Samar
1. Biri Island Rock Formations – Biri Island, Northern Samar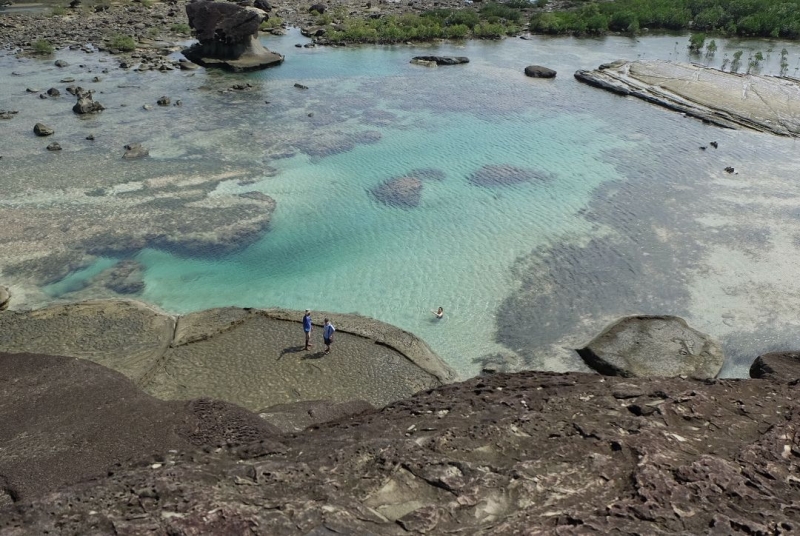 Nestled on the northernmost tip of Visayas, Biri Island is a remote rural destination. Expect basic accommodations, bumpy habal-habal rides, and a long journey of hours on the road and an hour-long boat ride. But trust us, the natural beauty of Biri Island makes up for the lack of luxury amenities. 
No doubt about it, Biri Rock Formations is nothing short of spectacular. In person, it's impossible not to be awed by the six mammoth rock formations carved by the powerful Pacific Ocean over the past millions of years. On one side is the Pacific; on the other, travellers can swim in natural pools protected from the waves by the ancient rocks.
2. Sohoton Caves & Natural Bridge Park – Basey, Samar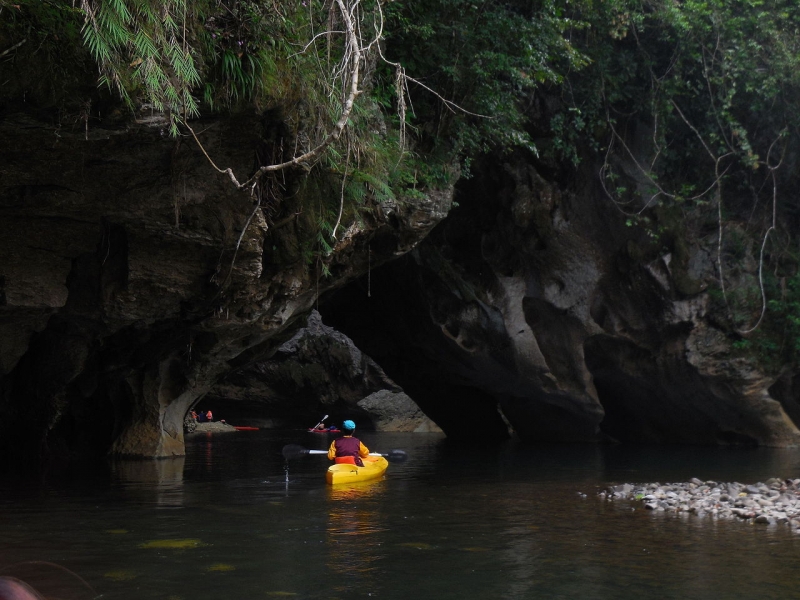 Deep in the Samar Island Natural Park is the Sohoton Caves and Natural Bridge Park. Home to jungles, limestone crags, ravines, caves, rivers, and a natural stone bridge, the 840-hectare protected natural area is one of the island's most stunning natural gems. A kayak ride will take you to the park's main attractions, including the main chamber of Sohoton Cave and the famous Natural Bridge. 
3. Calicoan Island – Guiuan, Eastern Samar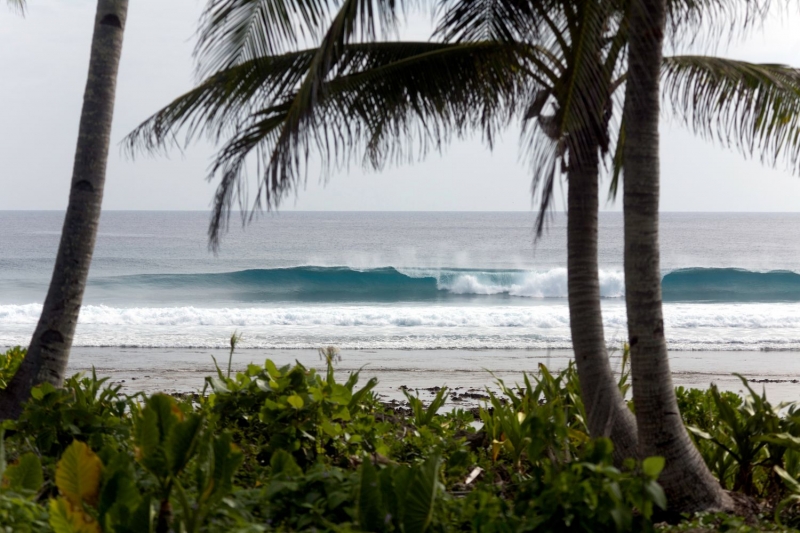 Everyone knows about Siargao, but wave-hunters roaming the archipelago should also make a detour to Calicoan Island. A quiet tropical paradise facing the Pacific Ocean, the island is a great place to ride waves (or learn how to) with uncrowded waters and a steady reef break. Surfers and surf instructors are typically found at Calicoan Beach. Not planning to paddle out? Swimming in Calicoan Villa's outdoor pool over the ocean is a relaxing alternative.  
Although it's the most popular surf spot on the island, Calicoan isn't the only place in Samar to get stoked on ride-worthy waves. Surfers can also enjoy great breaks along Baybay Boulevard in Borongan City.
4. Minasangay Marine Ecological Park – Balangkayan, Eastern Samar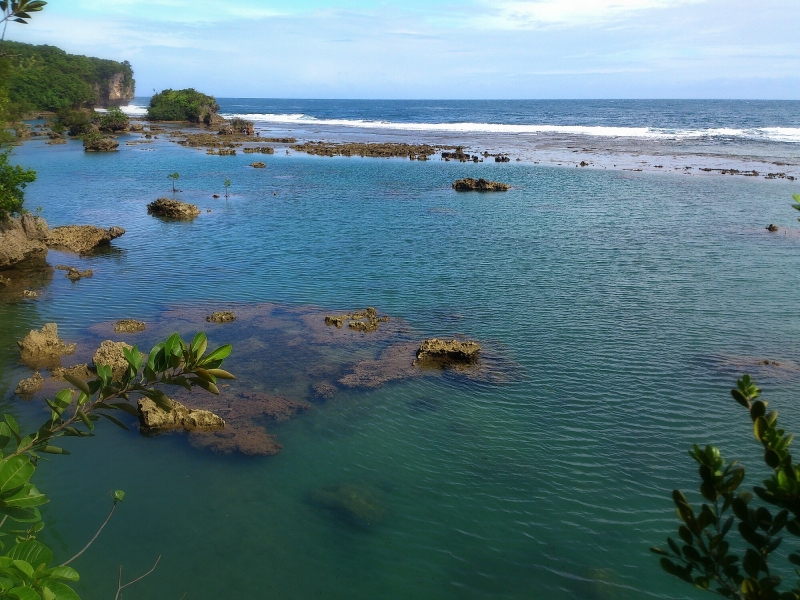 Next, travel to one of the most stunning natural attractions in Eastern Samar: Minasangay Marine Ecological Park. Travel time is quite long; it takes about one to six hours to get to this off-the-beaten-track park. But if you're like us, you won't mind travelling for hours to swim in some of the bluest waters you could ever imagine!
Breathtakingly clear lagoons, thriving marine life, and lush mangroves; truly, it's an unspoiled idyll hiding on Samar shores! Diving boards give cliff-jumpers opportunities to test their mettle from varying heights, while cottages offer travellers a place to rest if they want to stay overnight. Pictures hardly do Minasangay Marine Ecological Park any justice — we guess you'll have to see it in person to believe it. 
A similar Eastern Samar attraction is Apiton Island in San Policarpo, blessed with a picturesque landscape of startlingly blue lagoons and huge rock formations.
5. Pink Beach – Sila Island, Northern Samar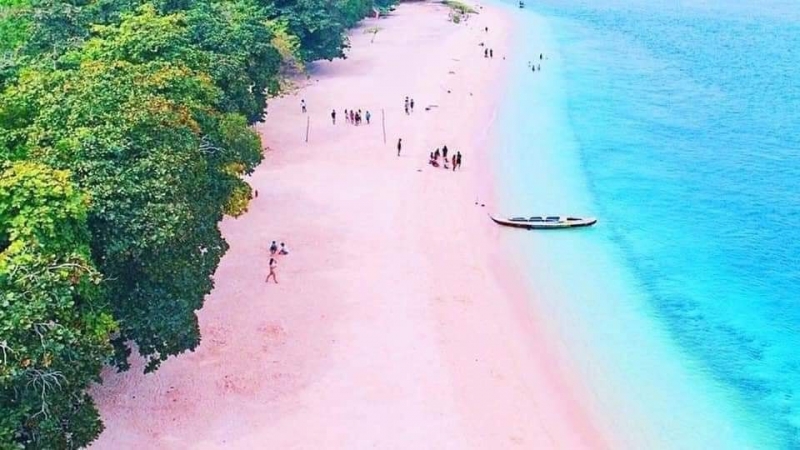 When talking about the most stunning natural attractions on Samar Island, we can't skip the beaches! It's the third-largest island in the Philippines, after all. So, the island is bound to deliver its fair share of pristine shores, right? 
Let's start with one of our favourites: Pink Beach. That's right; you don't have to fly to the Bahamas to experience the joys of playing on candy-coloured shores. Floating off the coast of San Vicente is Sila Island, where crushed corals and seashells have mixed with white sands to create a pinkish hue. 
The colour isn't as noticeable on cloudier days, but when the sun is out, make sure you're ready with your camera. Pink beaches may not be as big of a draw as Boracay-like white shores, but trust us when we say they can be just as mesmerising. Besides, pink-hued sands are even more eye-catching on the 'Gram!
Also read: 10 Underrated Philippine Beaches to Add to Your Bucket List
6. Acapulco Beach – Capul Island, Northern Samar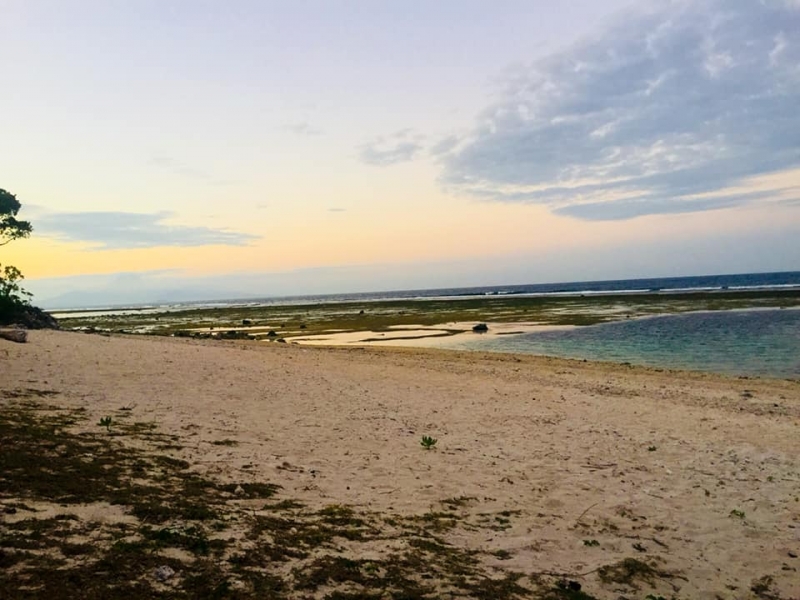 Acapulco in off-grid Samar? It's true: There's a white-sand Acapulco Beach tucked away in one of the isles of Northern Samar. Sure, it's not quite as picturesque as the iconic Mexican beach town. But with turquoise waters, gently swaying palms, and beautiful sunsets, Acapulco Beach sets the stage for a blissful beach vacation in the province. Plus, it's only one of the many beautiful beaches on Capul Island. Abak Beach is even more renowned for its powder-fine white sand and crystal-clear blue waters. 
7. Langun-Gobingob Cave System – Calbiga, Samar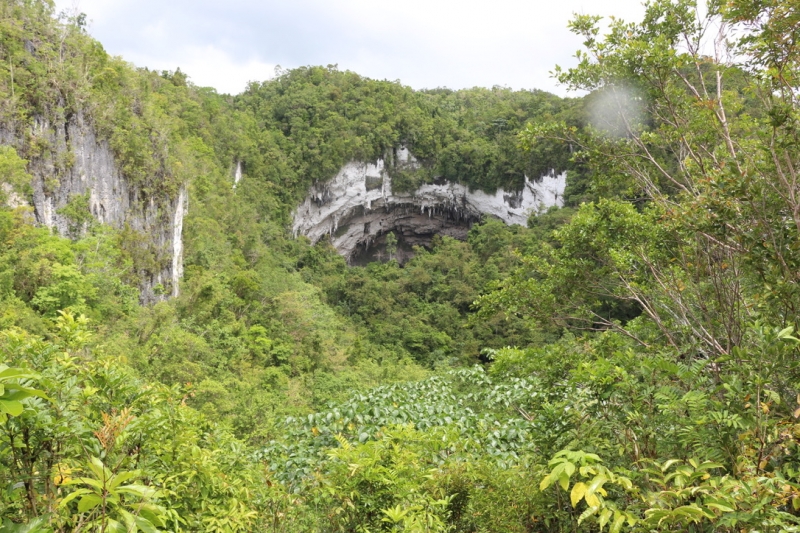 If you enjoy exploring caves, the Langun-Gobingob Cave System should be one of the attractions in Samar in your itinerary. Also known as Calbiga Caves, it's the largest cave system in the Philippines and the second-largest cathedral cave in the world — and this protected area sits hidden in the humble town of Calbiga! 
Twelve massive chambers lie in the seven-kilometre cave network; each is bigger than the last, with a few of them towering as high as buildings. Stalactites as big as tiny houses hang from cave ceilings, while occasional rustling hints at life thriving in the chambers. Bats, snakes, and other wildlife stay out of sight, but you'll probably catch a glimpse of a few as you make your way through the caves. Parts of the cave system are astonishingly lush, with moss and flora painting the jagged rocks green. For nature lovers, Langun-Gobingob is definitely a must-see.  
Also read: These 10 Enigmatic Caves in the Philippines Will Leave You in Awe
8. Ulot River – Paranas, Samar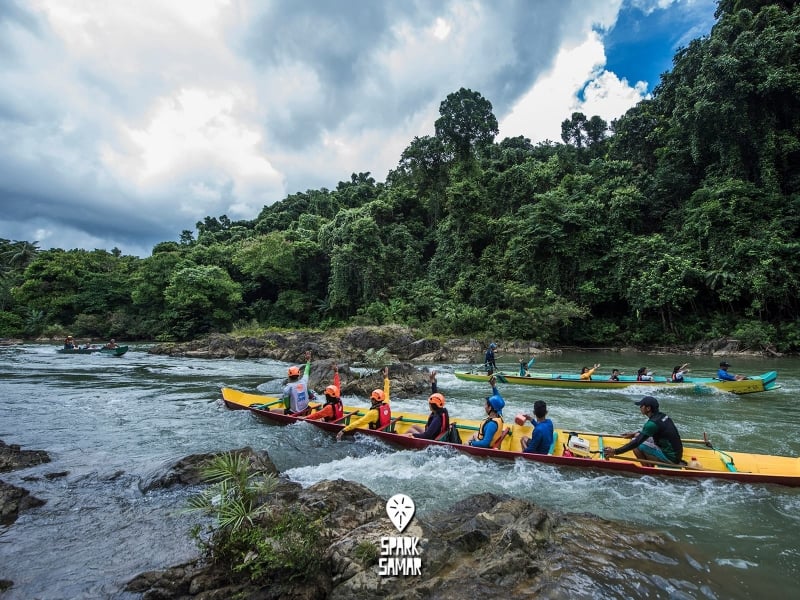 Natural wonders truly never end on this island; from caves to beaches, and now we're off to lush tropical rivers. Found within Samar Island Natural Park, Ulot River winds 90 kilometres from San Jose de Buan in Samar Province to Can Avid in Eastern Samar. 
We recommend going through Paranas, the jump-off point for the thrilling Torpedo Boat Extreme Ride. Zip through the white water, dodge boulders, and let the wild rapids carry you through — it's definitely one of the most exciting attractions in Samar! Ulot is the Waray word for monkeys, so keep your eyes peeled for cheeky monkeys peeking out from the unspoiled forest.
9. Bangon & Tarangban Falls – Calbayog, Samar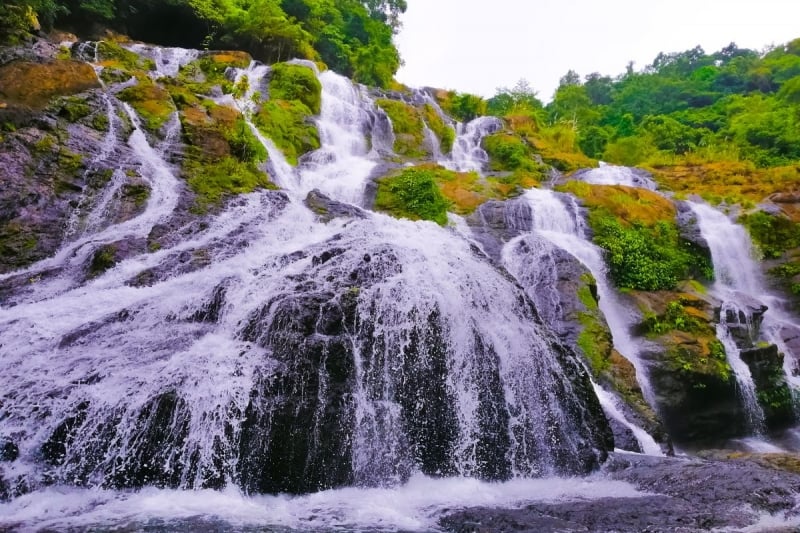 Looking to chase waterfalls? If so, you'll have a lot of natural attractions on Samar Island to choose from. When you're anywhere near Calbayog City, there are two beautiful cascades worth visiting: Bangon and Tarangban Falls. 
A mild trek through a verdant jungle will take you to the small Bangon Falls that's a picturesque spot for a refreshing dip. Then, go on to the bigger and wider Tarangban Falls. If you're steady on your feet, climb to the top for a sweeping view of the jungle vista. 
10. Pinipisakan Falls – San Jorge, Samar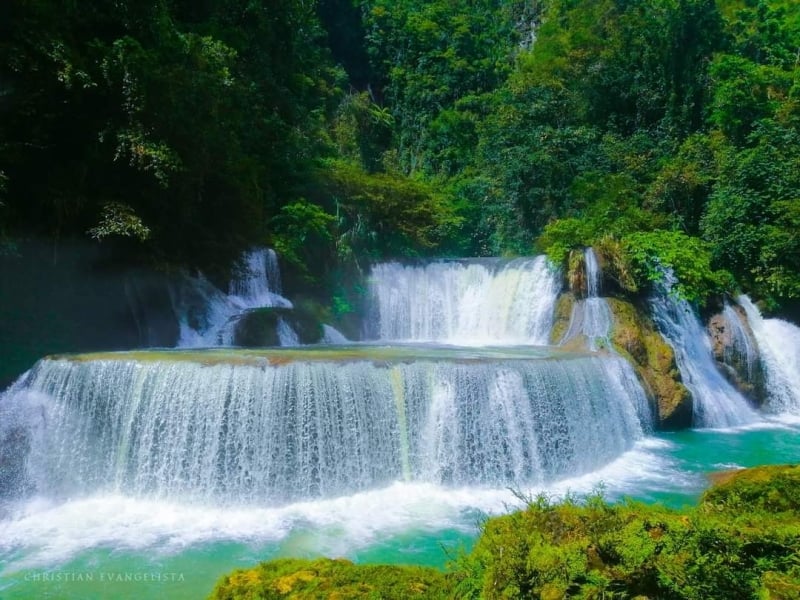 Finally, a trip to the secluded Pinipisakan Falls is a must when you're exploring natural attractions on Samar Island. It's often called one of the most beautiful waterfalls in the Philippines, a four-tiered marvel framed by wild ferns, huge boulders, and untouched jungle that lends it an enchanting Avatar-like allure. Top off the trip with a visit to the nearby Sulpan Cave. 
Another plus about visiting Pinipisakan Falls: Tourists are scarce, even more so than other Samar attractions. After all, it's a long and often tiring journey to get here: hours on the road, an upstream canoe ride, and a two-hour (or more) jungle trek. But then again, that's a price we're more than willing to pay to bask in the otherworldly beauty of Pinipisakan! 
Also read: 10 Waterfalls in Laguna for a Refreshing Natural Shower
Truthfully, these are only a fraction of the stunning natural attractions on Samar Island. Beaches, waterfalls, caves, and forests — more of each are scattered and hidden away on this underrated Visayan island. For explorers itching to see more of the Philippine Islands' natural beauty, this is your next stop. 
---
Featured image credit: Michael Edwards via Canva Pro