Dreaming of a romantic railway adventure? In the Philippines, the train isn't exactly the top choice for travellers on a getaway. But just so you know, the Philippine National Railways (PNR) is a legit option. Sure, the PNR is still a work in progress. It's in the process of revival, and there's definitely room for improvement. But if you're looking for a cheap, fast, and accessible way to travel right now, the national railway will do the job and take you to a host of fun PNR destinations.
Also read: Road Trips Made Easier: Barkada Trips You Can Take Aboard This Premium Bus!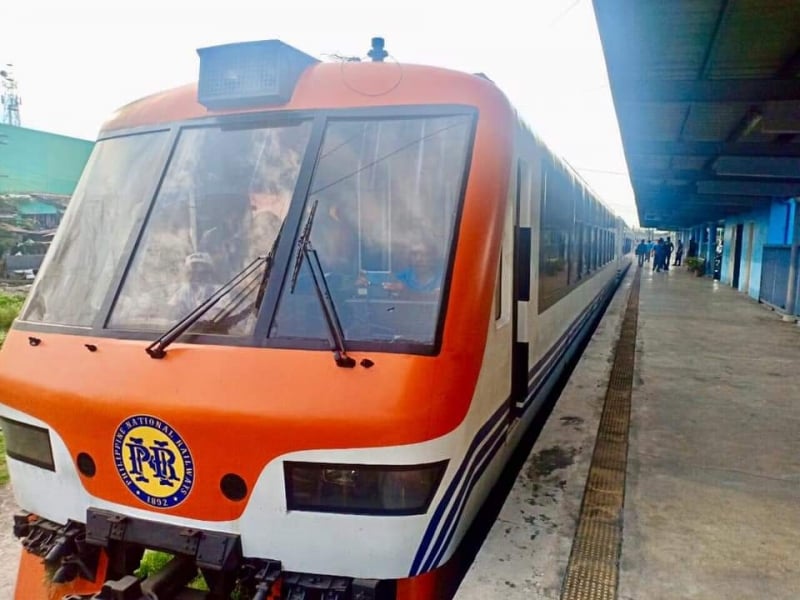 The PNR is a historic state-owned railway company that originally started operations in 1892 — yes, that far back! It was the first railroad network in the Philippines. Unfortunately, the trains and stations fell into disrepair over the years. Services shut down one by one, and the once-extensive rail network sputtered for decades.
Today, the PNR Metro Commuter Line shuttles passengers across Metro Manila and Laguna. It has two sections, both meeting in the main Tutuban station. Metro South Commuter runs from Tutuban to Alabang, with some trains going all the way to Calamba, Laguna. Meanwhile, Metro North Commuter runs from Tutuban to Malabon City. The newly revived PNR San Pablo–Lucena Commuter Line, which resumed operations in June 2022, takes travellers from San Pablo, Laguna to Lucena, Quezon.
So, where are we going? Here, we've rounded up our picks for the best PNR destinations you can visit for your next weekend trip out of town.
Also read: Southeast Asia by Train: 5 Train Travel Ideas for Filipinos
1. Malabon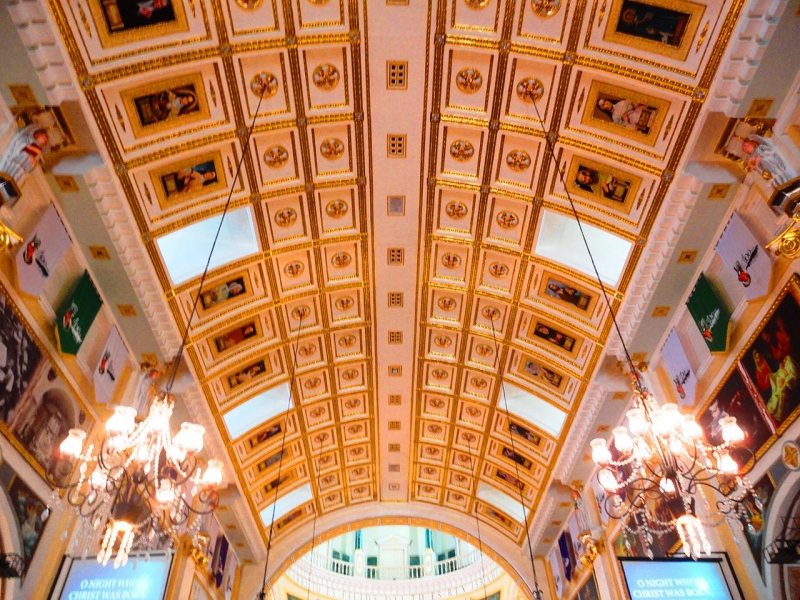 If you haven't taken the time to explore the city of Malabon, it's worth at least a day of sightseeing. After getting off the train, embark on the Malabon Tricycle Tours to hit all the best tourist spots in the city. For one, the 400-year-old San Bartolome Church in Poblacion, Malabon is a must-visit. It's a marvel — not just for the devout but also for travellers who appreciate history, culture, and architecture. Drop by the notable heritage houses in the area, as well, including the 19th-century Raymundo Ancestral House.
 When it's time to eat, the city's iconic pancit Malabon won't let you down. Try Nanay's Pancit Malabon, hailed as one of the best pancit Malabon in the metro.
2. Tutuban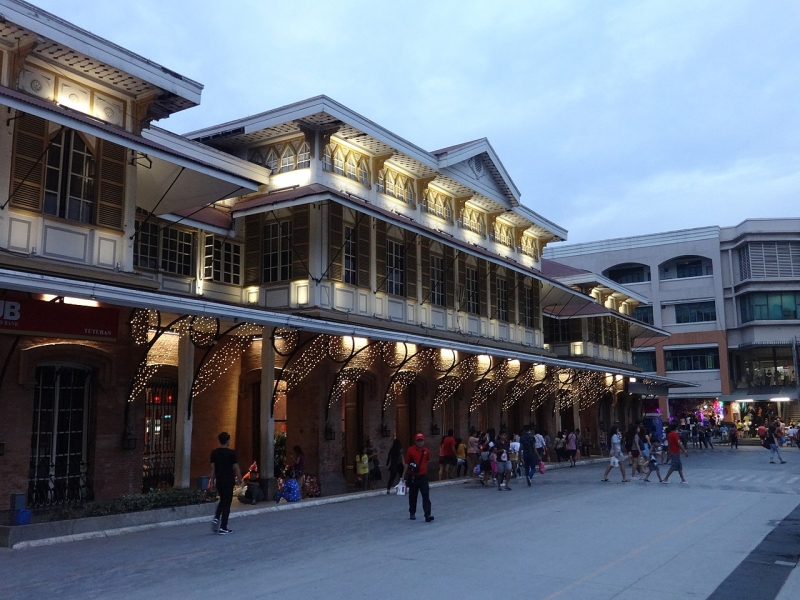 Retail therapy, anyone? Get the best bang for your buck at Tutuban, one of the PNR destinations known as much for cheap finds as it is for being the main railway terminal.
Just a block away from the current Tutuban Main Station stands the Old Tutuban Main Station, now converted into the thriving Tutuban Center. The retail buildings in this sprawling complex offer more shopping opportunities than you'd know what to do with! And beyond Tutuban Center, there's more: 168, Divisoria Mall, and Lucky Chinatown Mall, among others. Best of all, everything is cheaper than you can get elsewhere in Metro Manila. 
Once you've gotten your fill (or run out of money), head to Binondo to spend the rest of your cash on mouthwatering Chinese food. Our go-to tends to be the classics like Lan Zhou Lamien or Sincerity Cafe, but you'll find plenty of options in the world's oldest Chinatown.
Also read: 10 Restaurants in Binondo for Your Next Food Crawl
3. Biñan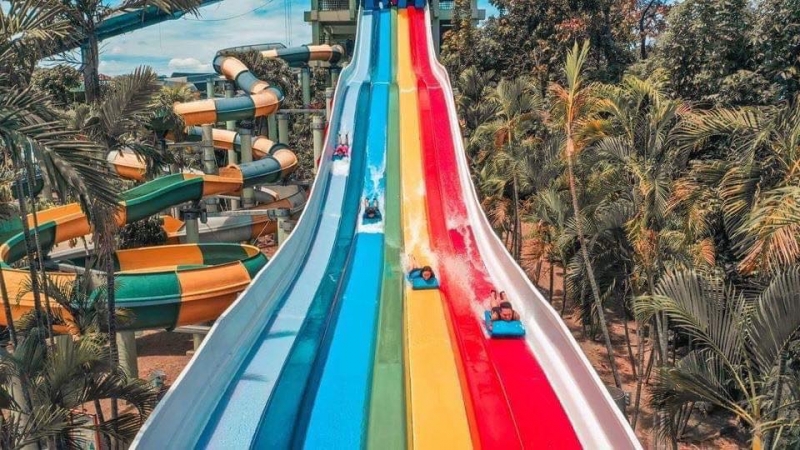 Scorching hot summer days in the Philippines aren't really the best time for a getaway — unless you're going to the country's favourite waterpark, that is. Take the PNR Metro South Commuter to Biñan, home of the delicious Puto Biñan and Splash Island.
If you haven't been to the waterpark since childhood, you're in for a pleasant surprise! Travellers can still splash around in the giant wave pool, relax on an inflatable in the Lazy River, and speed down an assortment of giant slides. Run and play in the inflatable on-water obstacle course, or head to the Adventure Zone's paintball course for some friendly competition. Zipline and wall climbing facilities also offer fun activities to enjoy out of the water.
4. Santa Rosa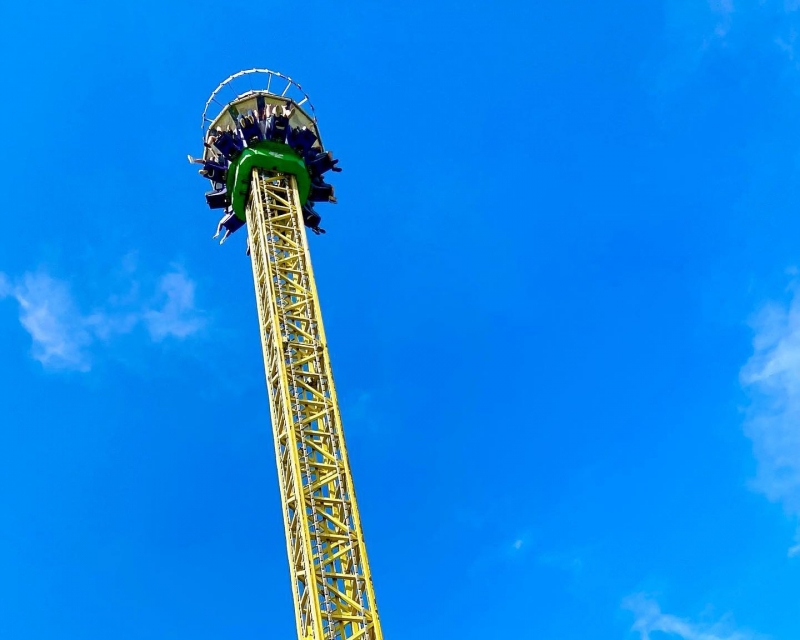 If Biñan has Splash Island to lure in the kids and kids-at-heart, then Santa Rosa has Enchanted Kingdom. No matter how many times you've been to the amusement park, you can count on the same thrills and spills on your favourite rides. Plus, there's always a new feature to keep things fresh! (Ekaleidoscope and Twin Spin are the park's newest attractions.) 
But while the country's premier amusement park may draw the biggest crowd in the city, Enchanted Kingdom is far from Santa Rosa's only claim to fame. A multitude of dining, shopping, and recreational attractions await every day-tripper willing to make the quick trip to one of the most fun-filled PNR destinations. Love shopping? Find great deals from popular brands at the Paseo Outlets in Greenfield City. Feel like tapping into a little local history? Museo de Santa Rosa (Gusaling Museo) is a small local museum that's worth a look when you're in town. The Coca-Cola Pavilion is also a fun stop for vintage memorabilia.
And of course, Nuvali. It's about a 30-minute ride from the train station, but definitely a top-notch PNR destination for biking, bird watching, boating, and more. Even if you're just grabbing a bite, it's a great place for a few hours on weekends.
5. Cabuyao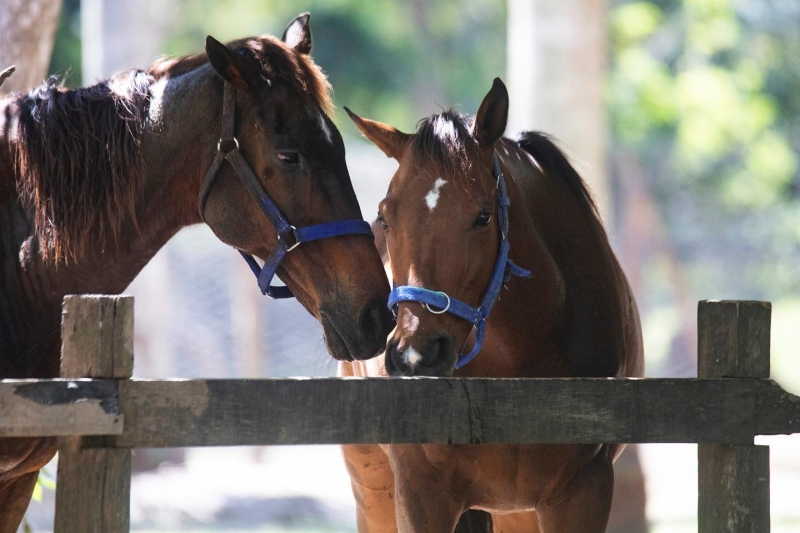 Missing the farm life? Fresh air, sunshine, and friendly animals are one train ride away. The family-friendly Fun Farm at Sta. Elena is one of the best things to do in Cabuyao, Laguna, especially for Manila residents craving a dose of nature. Horseback riding, carabao cart riding, and ziplining are a few of the all-natural fun to indulge in at the farm. Animal feeding is a fan favourite, though!
Also read: 15 Farm Stays in the Philippines for a Nature Escape
6. Calamba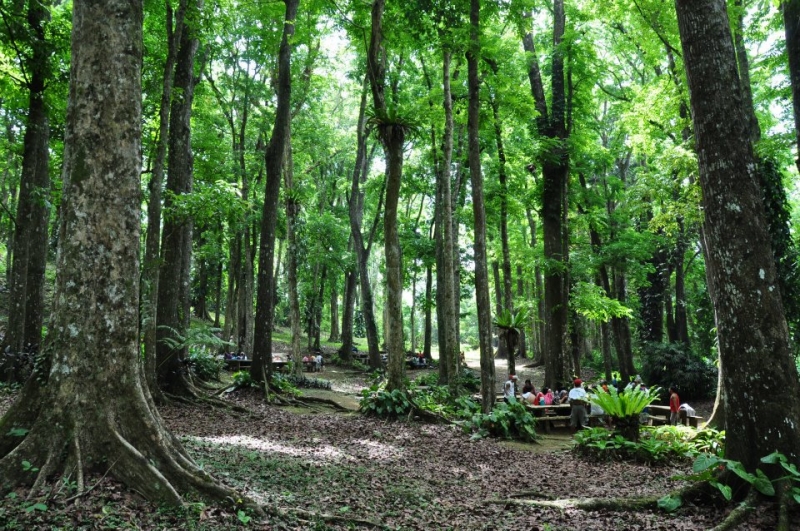 Soothing warm pools, good company, and maybe a little karaoke? Calamba isn't dubbed the "Spring Resort Capital of the Philippines" for nothing! When the weather is a little chilly, the hot spring resorts in Pansol make for the perfect weekend getaway.
Or retreat to the woods of Mount Makiling Forest Reserve, one of the top ecotourism destinations in Luzon. If you're lucky, you're in for close encounters with endemic wildlife like the Philippine warty pig and the Philippine deer. Within the forest reserve, the Makiling Botanical Gardens is a popular stop for visitors. Plantitas will be completely mesmerised by the lush and unspoiled grounds. 
As the birthplace and hometown of national hero Jose Rizal, Calamba is also home to the Rizal Shrine. The two-storey National Shrine is a reconstruction of the original Rizal house. Besides showcasing the living quarters of the hero and his family, the shrine features Rizal writings, drawings, and other memorabilia.
7. San Pablo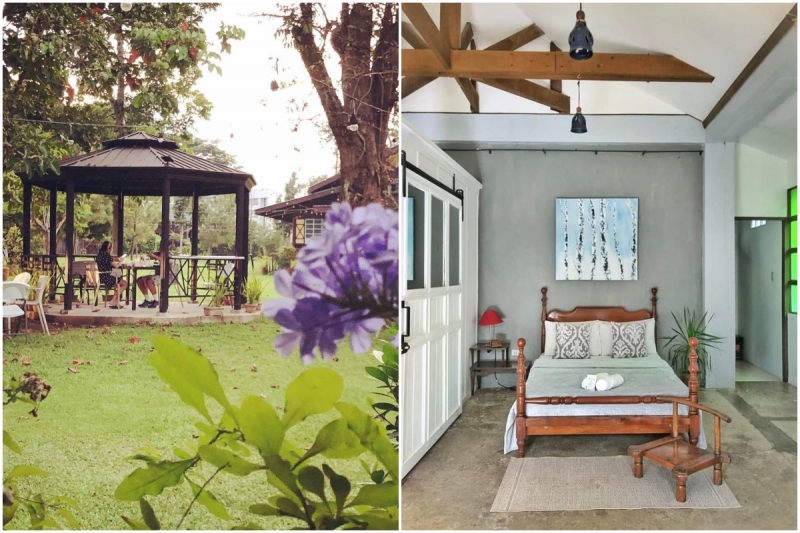 The newly reopened PNR San Pablo–Lucena line introduces the PNR destinations to folks from Laguna and Quezon. Now, travelling between San Pablo and Lucena will only take half an hour — all the more time to enjoy your weekend activities! 
Blessed with undeniable provincial charm, San Pablo is a quiet sanctuary to relax and unwind. We recommend booking a room at the rustic bed and breakfast Casa San Pablo, where you can bask in open grounds and quiet indoor nooks away from the city bustle. There's even a small art gallery on site! Plus, food is great at the cafe, so you won't even have to leave your cosy hideaway for meals. Located just 15 minutes away from the PNR San Pablo Station on foot, Casa San Pablo is a convenient option for commuters dreaming of a staycation.
8. Lucena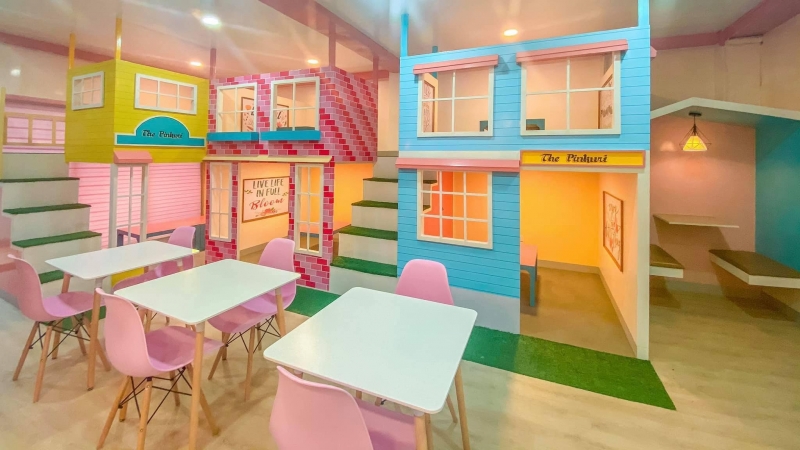 Lucena, the capital city of Quezon, is one of the recently revived PNR destinations. Travellers tend to be familiar with the Lucena Grand Terminal, which is frequently the jump-off point to tourist spots in (and beyond) the province. But this city is a fantastic destination in its own right, with attractions like Saint Ferdinand Cathedral, the seven-hectare Perez Park, and the Munting Talao-Talao Beach Resort. 
And you can't visit Lucena without sampling local food. The famous on-water Palaisdaan Restaurant is technically in Tayabas, but it's a stone's throw away from Lucena City and definitely worth a side trip. Make sure you come early, though! Otherwise, you'll have to wait in line to get a table in Palaisdaan.
Travellers who need a little pick-me-up before leaving the city can drop by The Pinkuri. Step inside the pastel-coloured cafe that feels kind of like an alternate dollhouse reality. It's the cutest way to wind down your PNR adventure!
Also read: 22 Best Cafes in Manila for Coffee, Brunch, and Dessert
Ready to hit the different PNR destinations? There are more train stations to come in the next couple of years, so you better start ticking off your bucket list ASAP!
---
Featured image credit: Gerald Escamos | Unsplash