Anyone who frequents Tagaytay would know that a quick getaway to this famous holiday town south of Manila is always a good idea. And no matter how many times you visit, it always has something fresh in store for you. Whether it's a new weekend brunch spot or a tourist attraction you haven't explored, Tagaytay and its cool breeze and outstanding sceneries await you. 
If you're already planning your next road trip to this city, you're most likely on the lookout for affordable yet quality accommodations. To help you out, we've curated some of the best budget hotels in Tagaytay for you to call your home away from home. Despite their cheap prices, these lodges promise awe-inspiring views and comfy spaces for some much-needed R&R! 
Also read: 8 Reasons to Visit Tagaytay as Soon as We Can Travel Again
Breathtaking budget hotels in Tagaytay for your next staycation
1. The Inn at Cliffhouse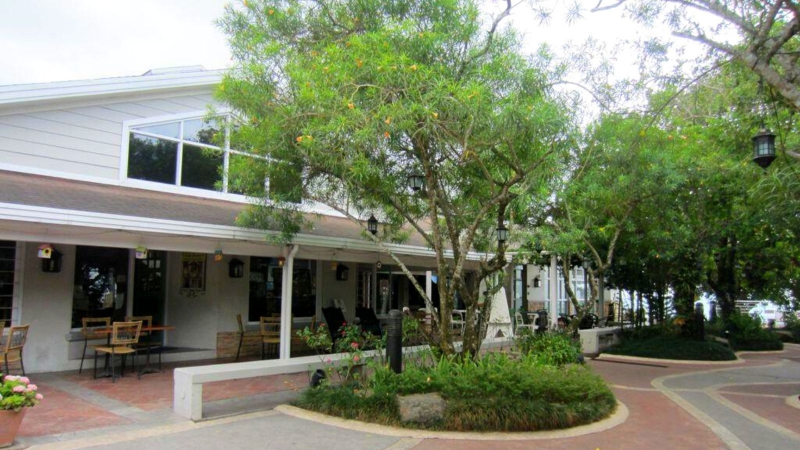 Looking for a luxurious stay with stunning views of the iconic Taal Volcano? The Inn at Cliffhouse Tagaytay offers just that for a pretty good deal! With its spacious suites, elegant furnishings, outdoor jacuzzis, and private terraces, you'll be transported to an unparalleled oasis.
Head to their Breakfast Salon for hearty, sumptuous meals and sweet delicacies that will surely satiate your cravings. The Cliffhouse Tagaytay also houses multiple spaces for celebrating your special occasions, like wedding receptions, birthdays, anniversaries, and whatnot. 
Book your stay here. 
2. The NEST Tagaytay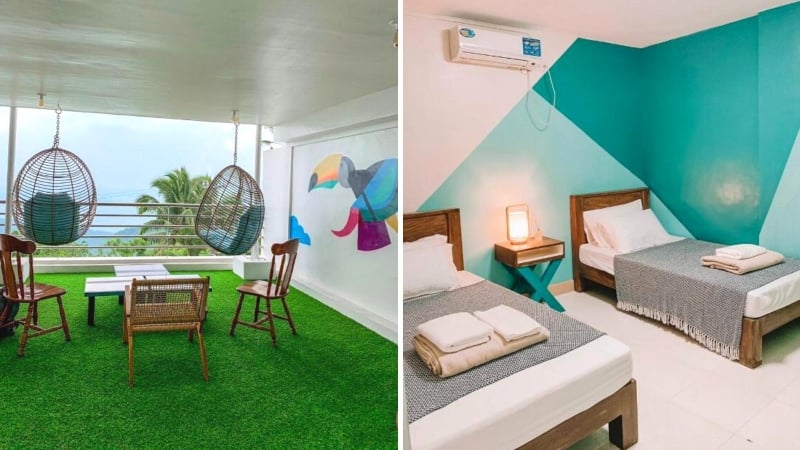 For your bed and breakfast needs, step into The NEST Tagaytay. Not only does it offer cosy and budget-friendly accommodations, but it also welcomes pets. So yes, you can bring your furry companions with you during your stay! 
Nestled at the Olivarez Rotunda, The NEST has a convenient location that lets you explore other nearby spots like Picnic Grove. As for its resto-cafe menu, it offers a wide range of food options for breakfast through meriyenda. Take delight in their selection of pasta dishes and sandwiches, or opt for all-time Pinoy faves like beef tapa and silog meals. 
Book your stay here. 
3. La Bella Boutique Hotel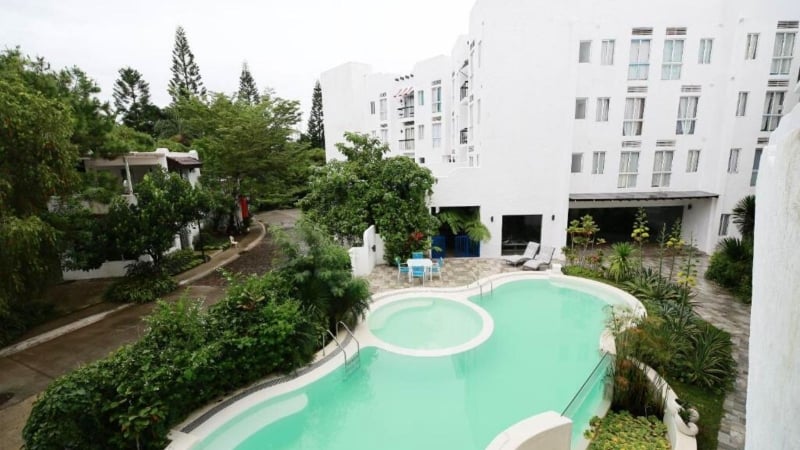 If it's an Instagrammable Tagaytay getaway you're after, La Bella Boutique Hotel is the place to be. Besides offering one of the most convenient and affordable stays in the city, it brings you closer to nature and peaceful sceneries. 
Splash around at the outdoor pool or go on a morning stroll in its lush garden. When hunger strikes, head to its in-house restaurant and grab a bite! As for its accommodations, there are various rooms to choose from — all perfect for solo travellers, groups, couples, and families. Feel the city life stress dissipate when you enter this picturesque enclave! 
Book your stay here.
4. Escala Tagaytay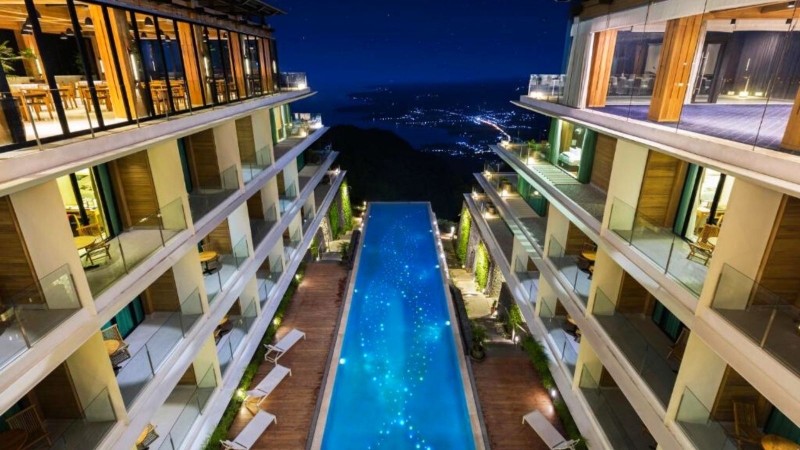 Practically located right at the heart of Kaybagal South, Escala Tagaytay promises staycationers a relaxing and breathtaking holiday. Among its hotel facilities and amenities, we must say that its outdoor infinity pool steals the spotlight. Marvel at panoramic views of Taal Lake while on an afternoon dip. Afterwards, enjoy a meal or a refreshing beverage at its al fresco restaurant, Bellissima. 
Escala Tagaytay also houses a spa and wellness centre — perfect for those who want to fully relax their body and mind. If you're willing to splurge a little more of a getaway like no other, then Escala is worthy of your attention! 
Book your stay here. 
5. Asian Village Tagaytay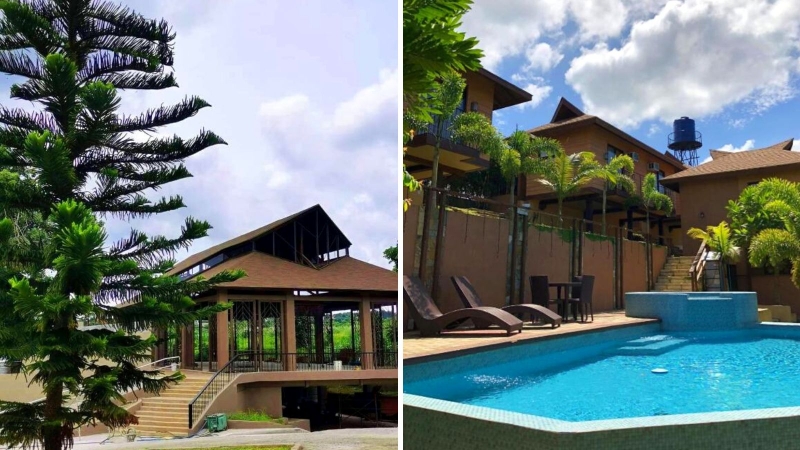 Looking for some intimate downtime with your significant other in Tagaytay City? Asian Village is a boutique hotel that lets you absorb the tranquil and calming side of the city. Thanks to its outdoor pool,  jacuzzi, green spaces, and camping grounds, you'll surely get back refreshed and well-rested after your stay. If you want to step out and explore, other nearby nature-filled attractions await, like Picnic Grove, Pink Sisters Chapel, and People's Park in the Sky.
Book your stay here. 
6. Casa Alegria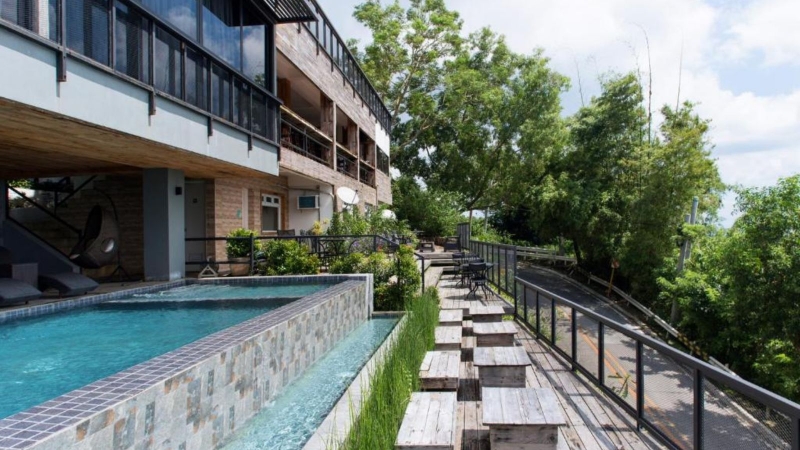 Lusting after unlimited lake views while dining and bathing? Then you'll surely get a lot of bang for your buck during your stay at Casa Alegria! Located in the highlands of Tagaytay, this boutique B&B provides guests with ease and comfort far from the bustling city. Its rooms boast clean and modern interiors and are fully equipped with the necessary amenities for your convenience. On top of this, it also features a multi-functional space for meetings, gatherings, and celebrations. An added bonus for wanderers: Its staff can help arrange sightseeing tours and other must-do activities in Tagaytay! 
Book your stay here. 
Also read: 10 Overlooking Restaurants in Tagaytay for Your Next Road Trip
7. Cabins by Eco Hotel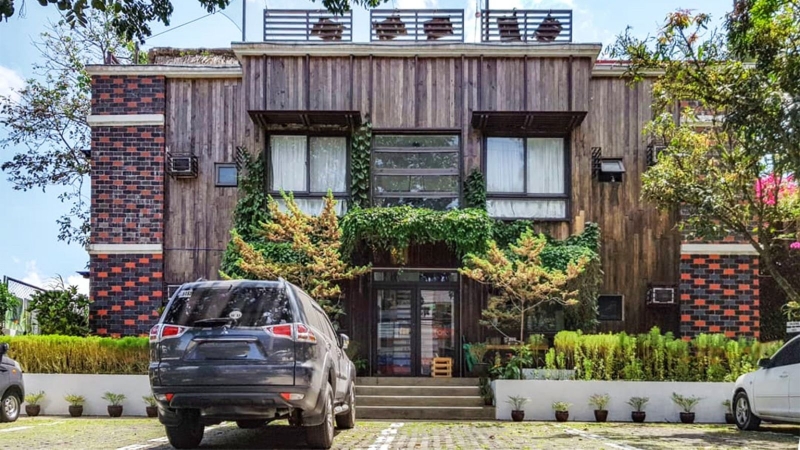 With sustainability making its way into the travel and tourism industry, more travellers are looking for eco-friendly options. Cabins by Eco Hotels is not just a great alternative for frugal travellers, but it also offers a quaint environment with stunning sights right from your window. If you don't mind staying in a small yet economical space, then you'll appreciate your stay here. But, what ultimately sets Cabins apart from other affordable hotels in Tagaytay is its architecture. Designed and built with upcycled materials and repurposed furniture, Cabins certainly has a quirky but warm and homey feel! 
Book your stay here. 
8.  Tagaytay Hotel SixB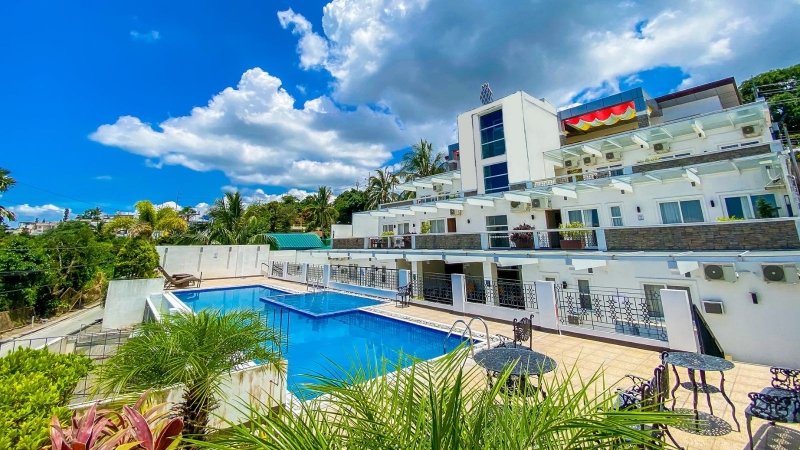 Another idyllic staycation spot in Tagaytay that's worthy of your attention is Hotel SixB. Thanks to its wide range of leisure facilities, you'll find it easy to disconnect and slip into vacation mode. As for its accommodations, they are all specifically designed to make guests feel at home for some much-needed unwinding. On top of all that, this gorgeous lodge is located in the city centre to make it easier for guests to explore top tourist attractions in no time. 
Book your stay here. 
9. The Lakeview Suites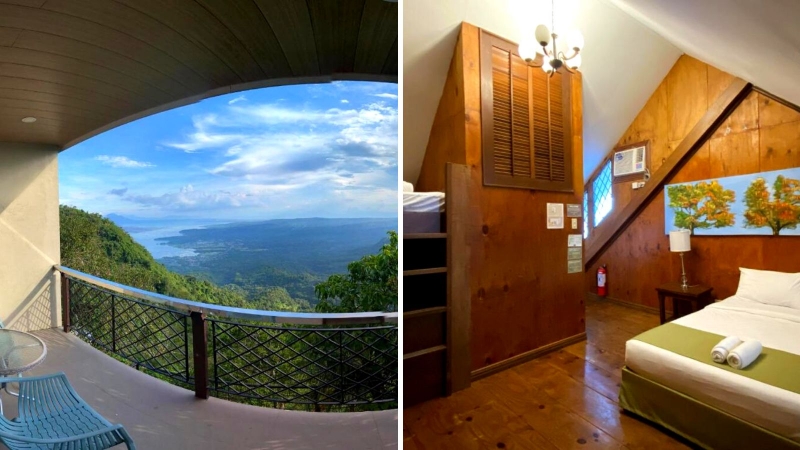 Perched atop a hillside facing Taal Lake, The Lakeview Suites certainly lives up to its name! It features a log-cabin architectural style which cultivates a rustic and warm feel amongst its guests. Much like the other breathtaking yet budget hotels in Tagaytay, it has an atmosphere that immediately brings you closer to nature. Wake up to sunrise views and indulge in their B&B staples to start your day right.
Book your stay here. 
10. Royal Parc Hotel Tagaytay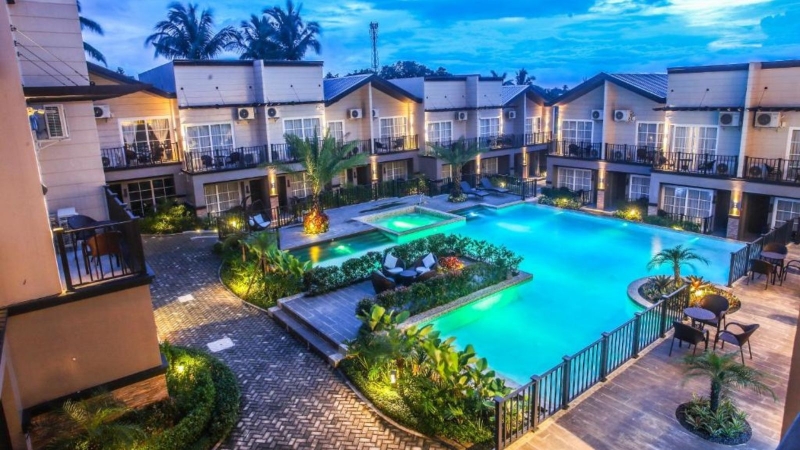 Ideally tucked along Emilio Aguinaldo Highway, Royal Parc Hotel makes it easily accessible for guests to reach major attractions in Tagaytay. Apart from its on-site Filipino restaurant, Dekada, it also houses a quaint cafe for afternoon tea and a bar lounge for evening cocktails. Other noteworthy leisure facilities include an outdoor pool area, a golf course, and a wellness centre for a rejuvenating retreat. Here at Royal Parc Hotel, there's no need to break the bank to enjoy a much-deserved staycation. 
Book your stay here. 
Also read: Top 10 Things to Do in Tagaytay for a Great Weekend Escape

Which of these budget hotels in Tagaytay are you eyeing? If you've experienced staying at any of these breathtaking accommodations, we would love to hear more about it! Share your story with us on our official Facebook page. Wishing you a great staycation!
---
This article contains affiliate links. When you book through these links, we may earn a small commission at no additional cost to you. All images courtesy of the respective property listings.