Is stress wearing you down? Living in a highly-urbanised neighbourhood like Metro Manila can actually be very demanding. We all know that stress can cause us to be counter-productive in every way. So, why allow this kind of feeling to take its toll on us if we could just shake it in a day or two?
The good news is that Metro Manila is surrounded by stunning budget-friendly weekend getaways that will surely wash all your worries away. This list is a compilation of places where you can unwind, relax, and fine-tune yourself like a well-oiled machine again.
They are ranked according to proximity from the metro! Read on.
1. Pinto Art Museum, Antipolo, Rizal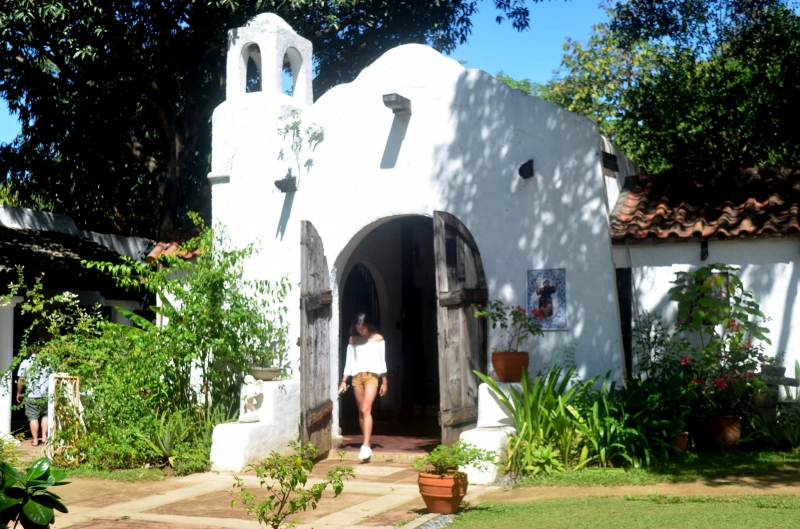 The Pinto Art Museum is a fitting name for a place which will awaken your appreciation of art and nature. This place is perfect for those who love art, lounging, and more art!
The museum, set in the heart of a garden that separates you from the noisy city life, has a minimalist, Mediterranean-inspired architecture to it. Did you just say Instagram pictures? You can't go wrong here, because every corner of this place is, well, Instagram-worthy! The museum is a photographer's mecca. It has been a venue of a countless number of amateur and professional photo shoots since the day it opened in 2010.
The museum has a wide display of contemporary Filipino art, and entering its doors is like being transported into a different world.
How to get there: If you are from Cubao, you can ride either UV express van or jeepney to Antipolo in front of Farmers Market. There is also another terminal at Valero Street behind RCBC Plaza in Makati. Your nearest jump-off point to Pinto Museum is Ynares Center, but the easier route is from the Antipolo Church. Tell the driver to drop you off at either of these two places. From Antipolo Church, ride a trike to the Pinto Art Museum.
Entrance fee: ₱200 (regular); ₱180 (senior citizens, PWDs); ₱100 (children, students)
Estimated cost: ₱500 – ₱600 per person (excluding food)
Also read: Day Trip to Antipolo City: Top Attractions to Visit
2. Angono Petroglyphs, Angono, Rizal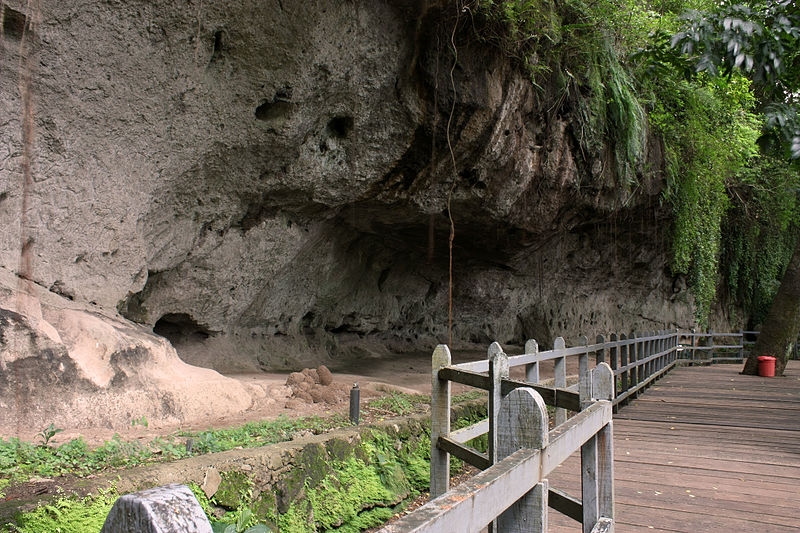 Standing in front of petroglyphs or primitive rock carvings is not an everyday experience for everybody mainly because there is only a handful of these in the world. Fortunately, we have one here in Angono, Rizal. The Angono Petroglyphs that date back to the late Neolithic period can be found inside a cave discovered by National Artist Carlos "Botong" Francisco in 1965. Having such a rare archaeological gem is a priceless possession the world over, much more if it is just within reach! This rare archaeological treasure must be on your next budget-friendly weekend getaway list!
How to get there: There are two major terminals in Metro Manila where you can ride Public Utility Vehicles (PUVs) going to Angono, Rizal: across Cubao Farmers Market, and across Shang-ri La Plaza or EDSA Crossing at Shaw, Mandaluyong. From there, ride the Angono-bound jeepney at Angono town proper and hire a trike that would take you directly to the Petroglyphs, better known as "cave" to the locals.
Entrance fee: ₱20 (adults); ₱10 (students)
Estimated cost: ₱500 – ₱600 per person (excluding food)
3. Mystical Cave, Antipolo, Rizal
As the name suggests, this cave in Puting Bato, Antipolo, is brimming with "mystical" stalactites and stalagmites adorning its insides. This place is deemed special by Catholic devotees because of its many natural rock formations that look like religious figures. Inside, you can see a section having a rock ceiling that resembles a typical cathedral. Because of this, the locals named it as such.
The cave, according to estimate, is eight storeys deep, but only the top-most part is allowed for the general public. The deeper sections are reserved only for advanced cavers and mountaineers.
The legend and overall beauty of the cave are mesmerising, enough to captivate the eyes of many filmmakers. More than five local teleseryes (TV series) have already been filmed here to date, including Encantadia, Dyesebel, and Marina. Come, meditate, and be renewed by the mystical aura of this place.
How to get there: If you are from Cubao, you can ride either UV express van or jeepney to Antipolo in front of Farmers Market. There is also another terminal at Valero Street behind RCBC Plaza in Makati. If you are from Mandaluyong, get to the terminal across Shang-ri La Plaza and look for UV express van or jeepney bound for Antipolo. Get off at Antipolo Church. From there, ride another jeepney at the back of 7-Eleven bound for Antipolo Hills subdivision and get off at the terminal. Then you ride a trike going to Mystical cave.
Entrance fee: ₱40 per head inclusive of guide
Estimated cost: ₱500 – ₱600 per person (excluding food)
4. Daranak Falls, Tanay, Rizal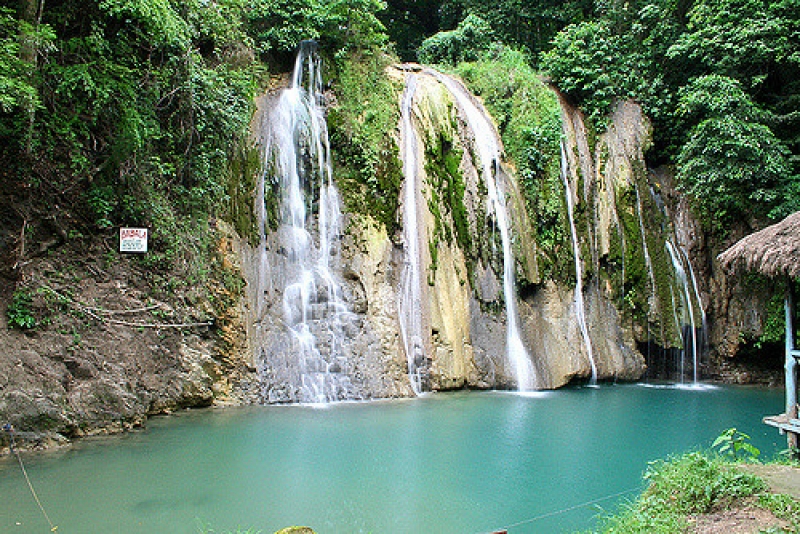 Serenely nestled at the foot of Tanay mountains, this humble gift of nature is starting to catch the attention of local and foreign thrill seekers and movie producers alike. Its surrounding tropical vegetation is still unspoiled. No wonder it is considered as one of Tanay, Rizal's finest tourist destinations.
Despite its growing popularity, Daranak Falls is still very clean as conservation efforts to preserve this amazing place is an ongoing task. Come and splash on its bright turquoise waters and wash all your worries away.
All around the falls' vicinity are native picnic sheds and tables that you could rent and lounge for a day. If you want to bring fresh meat and fish for cooking on site, the place has a grilling area, too. If you don't want to worry about cooking, however, a small canteen at the trail's entrance leading to the falls can cook them for you.
Oh, did I mention that you can also indulge in a unique stress-relieving activity while in the area? Yes, you can try your hands at balancing rocks along the banks of the river feeding the falls.
How to get there: There are many junctions (terminals) going to Tanay, Rizal. You can find these Tanay-bound terminals at these locations: in front of Starmall EDSA, near Mandaluyong Police Station and Unilever Philippines, and near LRT Santolan Station. From these terminals, ride a jeepney and get off at Tanay Market Transport Terminal. Proceed to PATODA Riders terminal also known as Daranak Falls Tricycle Terminal.
Entrance fee: ₱50 (adults); free for children below 3ft
Estimated cost: ₱800 – ₱1,000 per person
5. Corregidor Island, Cavite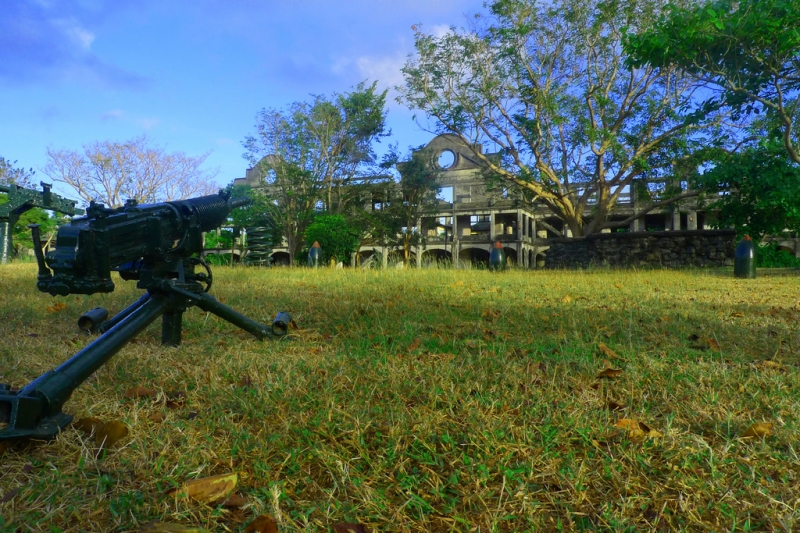 Do you know that Corregidor is a tadpole-shaped rocky island at the entrance of Manila Bay? And how can a tadpole-shaped rocky fortress of an island become a stunning weekend getaway? Well, think about World War II and the island's historically strategic location and you will know what I mean. The now silent war implements, stoic reminders of the island's past still stand on the island today. Isn't that inspiring enough to be in front of these war memorabilia that were once used to gain the freedom that we now enjoy?
The island can only be reached via a guided tour trip which makes the island ideal for unwinding. There are many awe-inspiring attractions in the island like the Mile-Long Barracks, the Spanish Lighthouse, and the Eternal Flame of Freedom, where you can make reflections and unwind. The relaxed, if not poignant ambience will surely ease all your troubles away.
How to get there: The safest and most convenient way to Corregidor Island is via a guided tour by Sun Cruises International, which is operated by Magsaysay Shipping. Kindly visit their website for more information about bookings.
Estimated cost: ₱2,550 (weekdays); ₱2,749 (weekends) inclusive of roundtrip ferry transfers, entrance fee, guided island tour onboard a tram, & buffet lunch
6. Sky Ranch Pampanga, San Fernando, Pampanga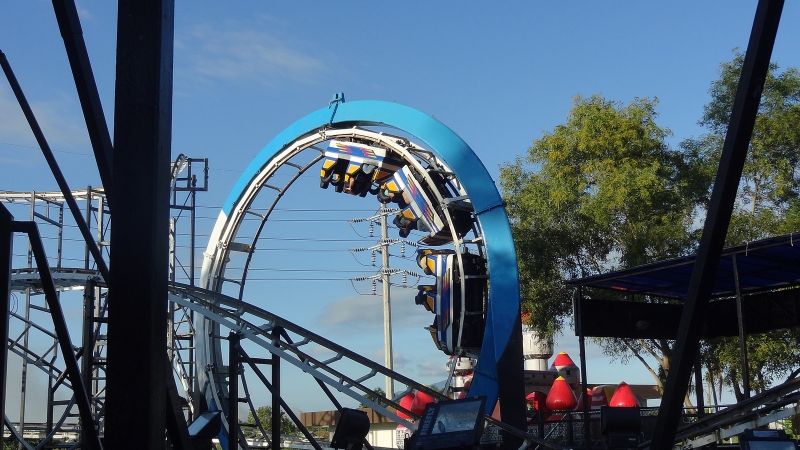 Do you love theme parks but bored of the usual theme park rides? Then you should visit Sky Ranch Pampanga. It is a family-friendly amusement centre with 22 different rides. Among its exciting and fun rides, "The Eye" is the grandest. Standing more than 200 feet, this giant Ferris wheel is currently the biggest…no, the tallest…in the country, and it offers the grandest view of the legendary Mount Arayat not far from your air-conditioned gondola. The Eye also offers a breathtaking view of the setting sun.
If you are looking for a weekend stress reliever and an adrenaline-pumping adventure at the same time, Sky Ranch, Pampanga is open every day for a day of fun and bonding with family members and friends.
How to get there: From Manila, Sky Ranch Pampanga is conveniently accessible from Caloocan, Cubao, Pasay, Manila, and Kamias terminals. Drop off point is in SM City Pampanga. From the mall, just take the Annex 1 exit and you're there.
Entrance fee: ₱80 (weekdays); ₱100 (weekends); free for children below 3ft
Estimated cost: ₱700 – ₱800 per person (excluding food)
7. Villa Escudero Plantations and Resort, Tiaong, Quezon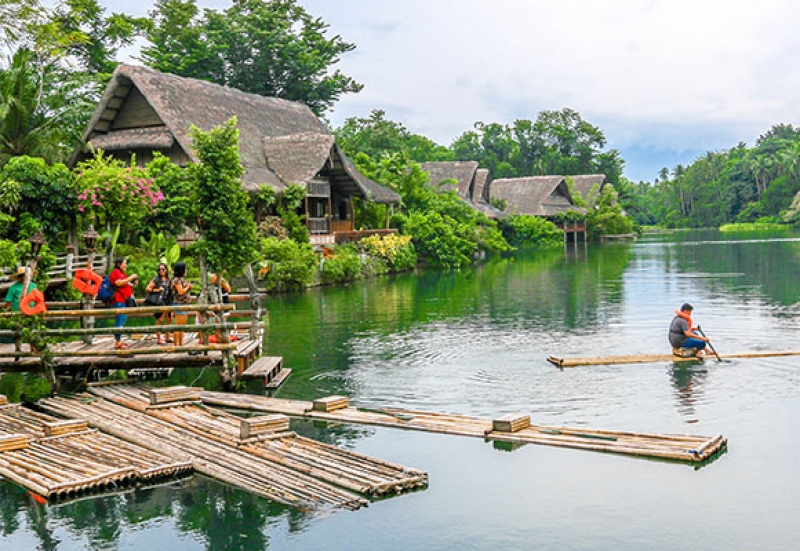 If you are looking for a relaxation with a cultural twist, visit Villa Escudero Plantations and Resort. Tour the whole property in a day, learn Filipino cultures of the past, ride bamboo rafts, and dine with a twist! Waterfalls Restaurant, which is the heart of the whole villa, let's you experience a one-of-a-kind dining – eating on native bamboo tables barefoot at the foot of a roaring man-made waterfall. Why barefoot? Because your feet are actually submerged in a shallow flowing water on the restaurant's floor courtesy of Labasin Falls. Now that's dining with a real twist!
Also read: 8 Resorts in the Philippines that Transport You Into a Totally Different World
How to get there: Take a bus from either Kamias terminal in Quezon City, Alimall (Araneta Center) terminal in Cubao, or Buendia terminal in Pasay going to Lucena, Quezon. Tell the driver or bus conductor that you are going to Villa Escudero so that they can drop you off at the Quezon Arch. The gate to Villa Escudero is right after the arch to the left.
Entrance fee: ₱950 (low season: Sept – Nov); ₱1,450 (peak season: Dec – Aug)
Estimated cost: ₱2,000 – ₱3,000 per person
8. Taal Volcano, Talisay, Batangas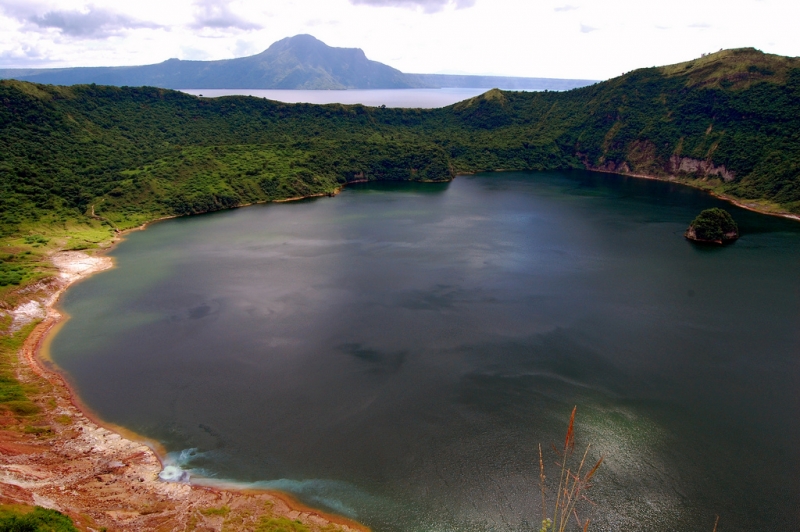 The grandeur of Taal Volcano never fails to amaze anyone. It is no wonder why many weary souls go here to unwind. Taal Lake or the crater lake fills the caldera that formed during its most violent eruptions between 500,000 and 100,000 years ago. Now, still considered as one of the most active volcanoes in the Pacific Ring of Fire, Taal Volcano is visited by thousands of visitors each year just to marvel at its splendour. Aside from trekking, the usual activities that you can enjoy in and around the crater lake are boat riding, horseback riding, camping, and of course, sight-seeing. Being surrounded by one of the most magnificent natural wonders of the world will surely relieve you from all the accumulated stress you get from everyday life.
How to get there: Ride a Batangas City via Tanauan-bound bus at Taft Avenue, Pasay City terminal and get off at Tanauan Public Market. Then ride a Talisay-bound jeepney. From there, proceed to the boat station and hire a motorized banca to take you to Taal Volcano Island itself.
Estimated cost: ₱2,000 – ₱3,000 per person
9. Lucban Church, Lucban, Quezon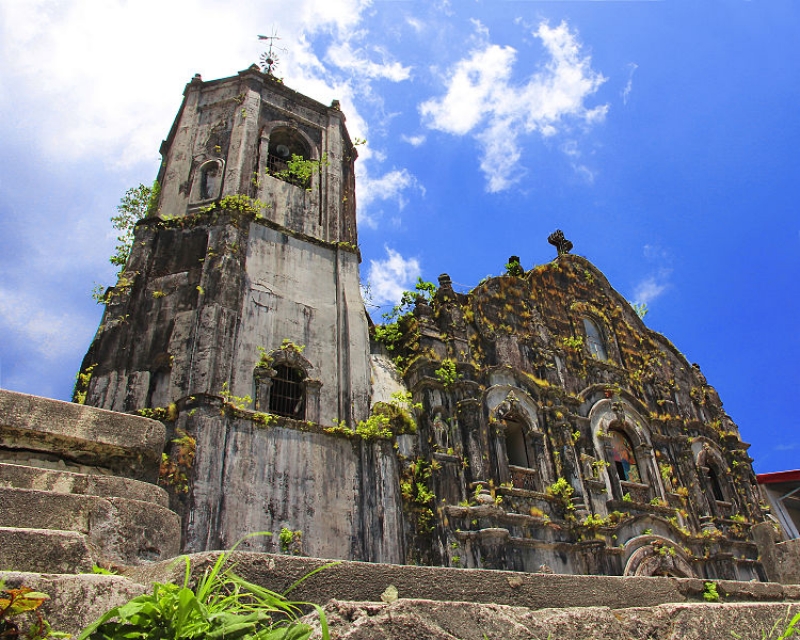 For many, visiting historical and religious places is a way to relax. And if you are one of them, Lucban Church, in Lucban, Quezon, is definitely a must-visit.
For history buffs, the church, which was originally built in 1595, has seen a lot of historical events that transpired during its lifetime. So, away from being a place of worship and meditation, Lucban Church is also a place where you can learn a lot of knowledge with great historical values, not to mention its significance as a starting point for the San Isidro Pahiyas Festival, an important celebration for those in the Catholic faith.
How to get there: From Metro Manila, board a Lucena-bound bus at EDSA-Kamuning. Alight at Lucena Grand Terminal. From there, proceed to Lucban by riding either a jeepney, van, or minibus.
Estimated cost: ₱700 – ₱800 per person (excluding food)
10. Museo sa Ilalim ng Lupa ng Nagcarlan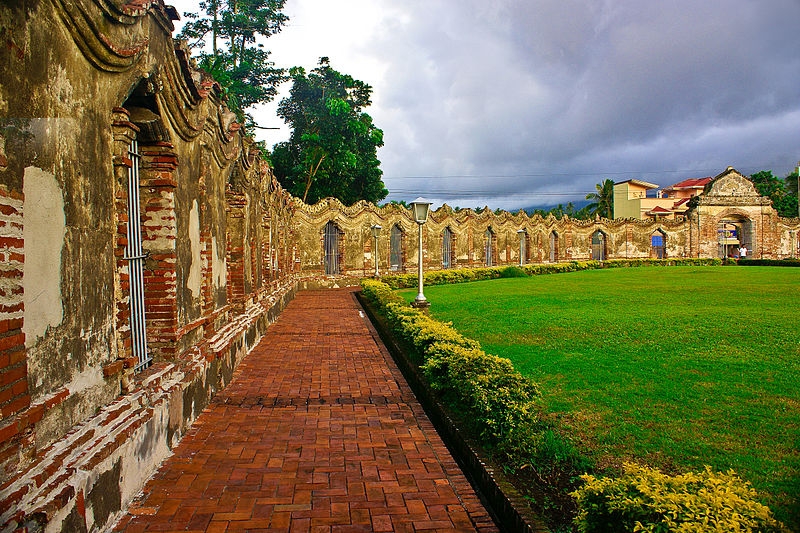 The word "cemetery" denotes a spine-tingling feeling for most people. That is why the Museo sa Ilalim ng Lupa ng Nagcarlan or the Nagcarlan Underground Cemetery is in this list, not to sow fear or grief but awe. Yes, this underground cemetery-turned museum is a very restful place not to mention its grandeur.
This octagonal stone-and-brick structure, with its intricate ornamental traceries and magnificently made wrought iron grills is a sight to behold. Together with the wall frescoes, the patterned azulejos floor tiles, and its ideal location, this cemetery cum museum exudes peace and serenity, not just for the souls buried under its crypts but also for the living who visit here to find peace themselves.
How to get there: From Cubao terminal, take a Sta. Cruz-bound bus and get off at Sta. Cruz Public Market. Proceed to ride a Nagcarlan-bound jeepney from there. Tell your driver to drop you off at Nagcarlan Underground Cemetery, which is in front of the gasoline station along the national highway.
Entrance fee: No entrance fee but donations are accepted
Estimated cost: ₱500 – ₱600 per person (excluding food)
11. Mount Maculot, Cuenca, Batangas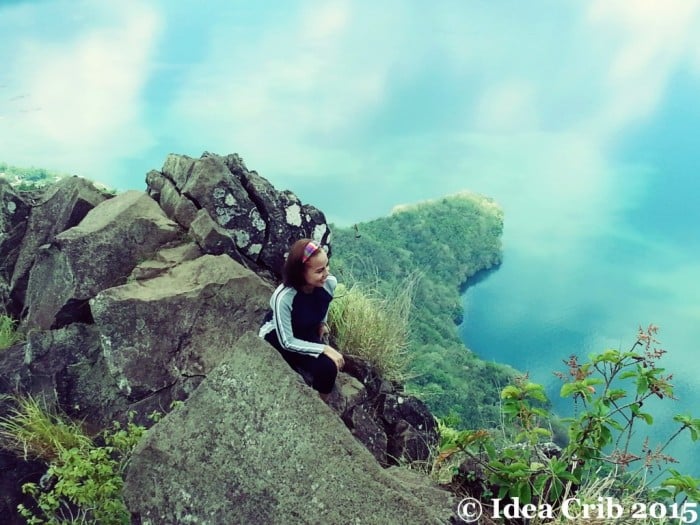 If you are a climbing junkie, Mount Maculot, which is located in Cuenca, Batangas, is the perfect weekend getaway for you! The mountain is famous for three things: the Rockies, which offers an unprecedented view of Taal Lake and Taal volcano itself; the grotto; and the summit, a famous spot where you can take a lot of splendid photos worthy of boasting in your social media channels.
A lot of climbers like the novice-friendly trail up this majestic mountain, so mark this one on your bucket list. Check out this Mount Maculot day-trip itinerary for more information.
How to get there: Get on board a Lemery-bound bus from Buendia terminal and alight at Cuenca town proper in Batangas. Then you can either walk or ride a trike to the Rockies' jump-off point, which also serves as the registration area.
Registration fee: ₱20 per person
Estimated cost: ₱500 – ₱800 per person
12. Puning Hot Springs, Porac, Pampanga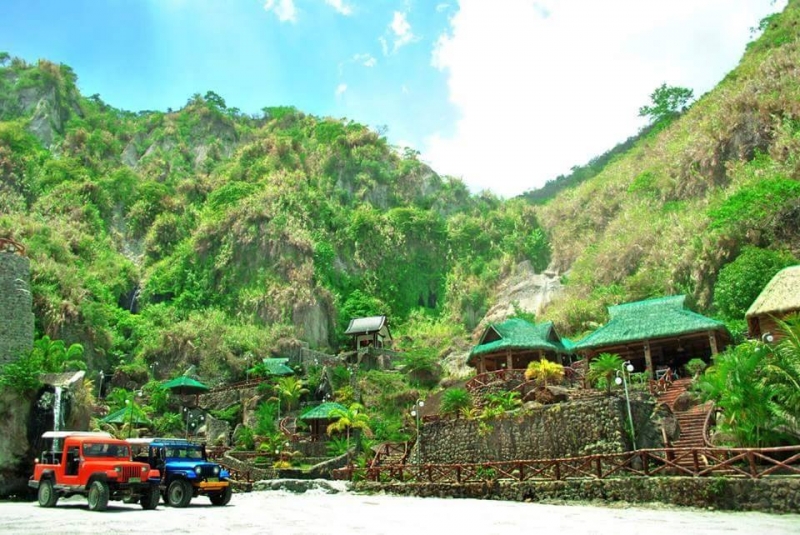 Puning Hot Spring is a fortress-like resort on a cliff at Sapang Bato, Porac, Pampanga. The once-verdant location, where the resort was snugly nestled, was laid waste by the destructive 1991 Mount Pinatubo eruption. On the lighter side, that eruption paved the way for not one but 11 hot springs of the resort.
Aside from dipping in its steaming waters, you can also experience a one-of-a-kind spa treatments here: hot sand and mudpack!
Also read: 8 FUNtastic Things to Do in Pampanga for a Weekend Outing
How to get there: From Metro Manila, take a bus to Mabalacat bus terminal in Pampanga. Manila terminals are located in Caloocan, Cubao, Kamias, Pasay, and Manila. Next, ride either a jeepney or a trike to Clark's main gate. Then take another jeepney ride going to Mini-Stop in Sutherland, Clark. From there, the resort's 4×4 vehicles will pick you up and bring you to your destination.
Estimated cost: ₱3,000 – ₱3,500 per person inclusive of 4×4 ride, buffet meal & entrance fees
13. Minalungao National Park, Nueva Ecija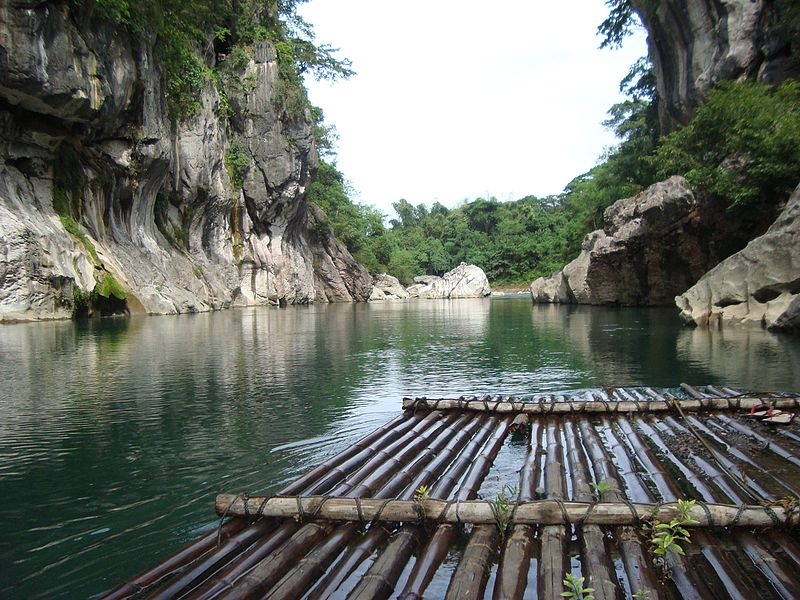 Experience genuine relaxation and a breath of fresh air, literally at Nueva Ecija's Minalungao National Park. The park is considered as one of the few untouched natural environments left in the Philippines. It boasts of a clean, green Peñaranda River where you can dive and swim all you want.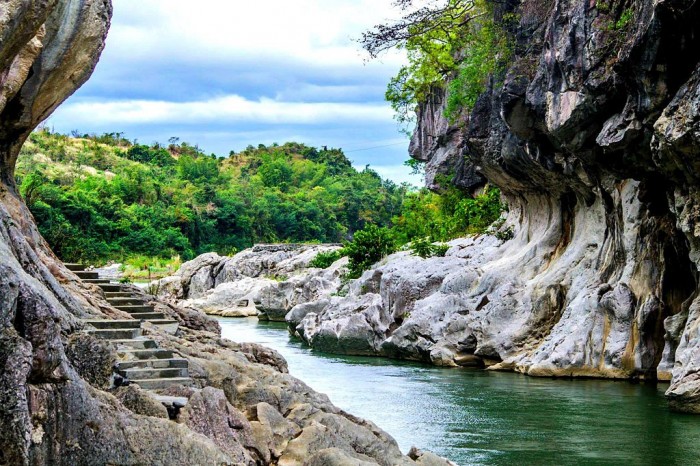 For those who want hardcore adventure, the towering rocky cliffs are perfect for climbing and cliff diving. Haven't you tried bamboo rafting before? Well, you can try it here! If caving is your thing, you can also explore what's inside the magnificent Minalungao Cave right at the foot of Minalungao Hill. Read this Minalungao National Park guide for more details.
How to get there: From Cubao or Pasay in Metro Manila, ride a Gapan/Cabanatuan-bound bus. You then take a jeepney going to General Tinio. Proceed by riding a trike to Minalungao Park.
Entrance fee: ₱40 per person
Estimated cost: ₱1,000 – ₱1,500 per person
14. Capones Island, San Antonio, Zambales
Just four kilometres off Pundaquit, Zambales, is an island called Isla de Gran Capon or the Capones Island. The two-kilometre bone-shaped island is perfect for no other than self-reflection and total relaxation as it has no inhabitants to it, except for the birds that make the island their home. All around the island is pure rustic beauty perfect for any relaxing you have in mind.
Its shoreline is enveloped in pristine white sands on one side and rocky shores on the other. Underneath its turquoise water is a rich marine life irresistible to beach bummers, divers, and snorkellers.
Aside from the Spanish lighthouse built in 1890 to warn ships of the rocky outcrops below the seemingly safe waters around the island, the only other structure in the island is an unfinished building. Ready your cameras for some Instagram-worthy shots!
The view from the top of the hill, where the lighthouse is located, is nothing short of impressive. If you want to stay for the night, camping is allowed as long as you have your camping equipment with you. Of course, don't forget to arrange a return trip from your boatman unless you deliberately want to stay there for good – which is definitely a no, no! While you're there, you might want to explore the nearby Anawangin Cove in San Antonio. This group of friends visited both Anawangin and Capones on a day trip with only ₱1,256 all-in budget.
How to get there: From Sampaloc terminal in Manila, take a bus going to Iba, Zambales. Tell the cashier at the terminal that you are getting off at San Antonio to avoid being charged with the full fare to the bus' destination. Also, tell the driver or the bus conductor to drop you off at San Antonio. From there, ride a trike to Barangay Pundaquit. Next, rent a boat (motorized banca) to Capones Island.
Estimated cost: ₱1,200 – ₱1,500 per person
15. Masinloc Eco-Tour, Masinloc, Zambales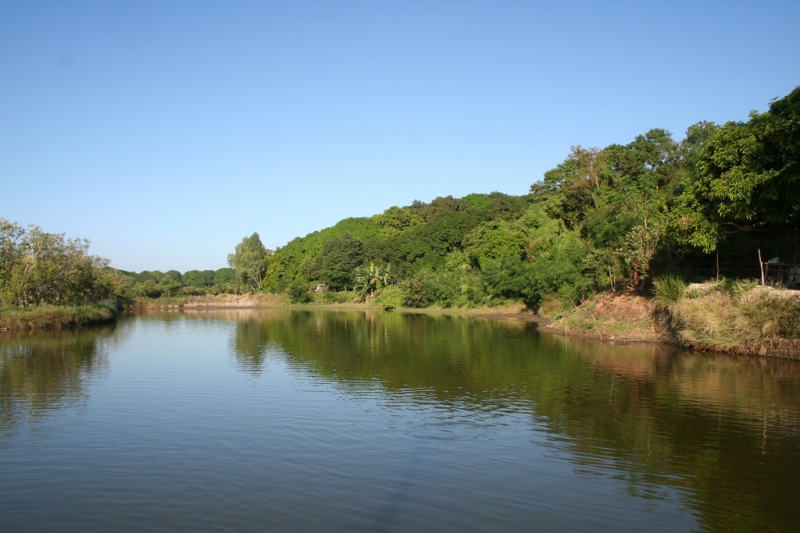 Masinloc in Zambales is known for many things: Carabao mangoes aka Philippine mango, Binabayani Festival, natural wonders, but most of all, it is known for its Masinloc Eco-Tour Program which starts at San Salvador Island's giant clam (taklobo) farm and Marine Protected Area. The tour's next stop is the usual lunch-time place – Bacala House. The house is standing on the Bacala white sandbar in the middle of the clear, turquoise waters of the Masinloc Oyon Bay. The one-day run ends at the nine-hectare Yaha Mangrove Forest Adventure, a unique mangrove forest that stands in the middle of the bay as well.
Snorkelling and diving at the giant clam farm and the Marine Protected Area will give you the thrill of your life as exotic marine species abound in these areas. Aside from giving you the relief you oh so wanted, you will also feel proud of yourself because every tour participant is given the chance to help in the ecotourism project. You do it by leaving your conservation footprint through planting a mangrove seedling before leaving the place.
How to get there: From Cubao, take a bus going to Olongapo then ride a UV Express (van) bound for Sta. Cruz. Tell the driver to drop you off at Masinloc bayan. Next, jump onboard a passenger boat to San Salvador Island.
Estimated cost: ₱2,500 per person (including food)
Also read: Underrated Northern Luzon Destinations Worth the Road Trip
So, where are you heading to next this weekend? Have you decided which place to visit yet? Whether you want a grand adventure or just pure relaxation, these weekend getaways near Metro Manila will surely make your day!