Getaway for two, please! Whether you're newlyweds fresh from tying the knot or a long-term couple still heads over heels with each other, the Philippine Islands are an exceptional place for romance. Secluded island coves, charming little cabins, and five-star beach villas promise to make your one-on-one time with your partner count. Here, we've rounded up some of the most swoon-worthy staycations for couples. Romance your way through the Philippines at these honeymoon-worthy Airbnb destinations that will have you falling irrevocably in love with the islands. 
Also read: 10 Airbnb Wedding Venues for Your Intimate Celebration
Gorgeous staycations for couples in the Philippines
1. This upscale clifftop villa with spectacular views in Boracay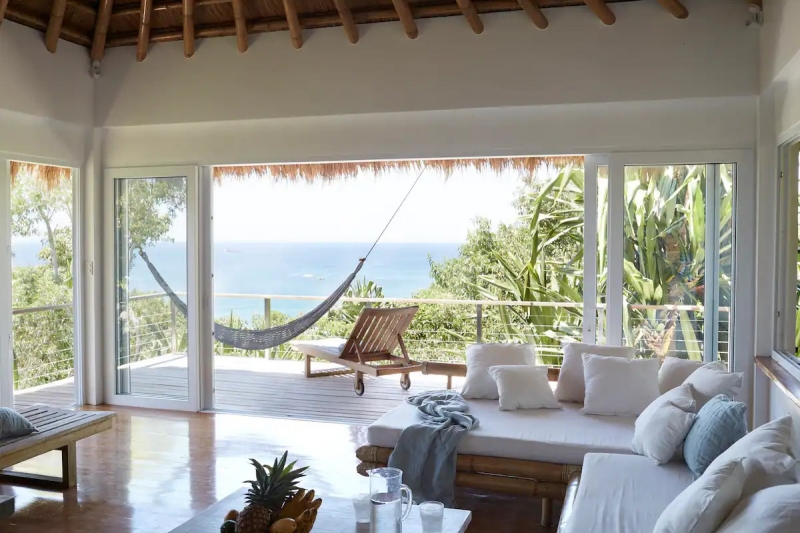 Listing name: SHELL VILLA, Diniview villa Resort, Boracay Island
Listing type: Private room in resort
Max. no. of guests: 2
No. of bedrooms: 1
Sun-seeking couples won't want to miss the chance to lounge on Boracay shores. White Beach is one of the world's best beaches, after all. Not to mention, this luxurious private villa at Diniview Villa Resort will spoil you for every other beach house out there! 
Tucked in the lush hills by Diniwid Beach, the tastefully designed two-storey Airbnb is a great place to hole up with your partner. It has a private plunge pool, plus a sundeck boasting gorgeous views of the sea and the famous Boracay sunsets. But if you're here for the beach — and let's face it, of course you are — we're happy to note that the resort's villas enjoy an exclusive access trail leading you straight to the white sand beach.
2. This private pool villa for a honeymoon in Palawan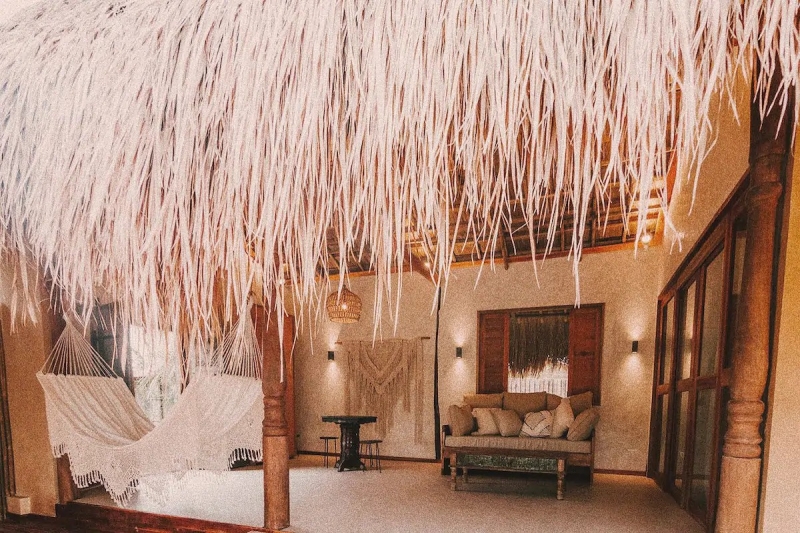 Listing name: 1Br Romantic Villa with pool / Casa Malaya: DOT ✔
Listing type: Entire villa
Max. no. of guests: 2
No. of bedrooms: 1
Another popular honeymoon destination in the country is Palawan, a province home to beaches that are arguably just as perfect as Boracay's White Beach. Near beautiful El Nido, the five-kilometre Nacpan Beach captures every sun-chaser's eye with super-fine sand and dazzling azure waters.
For honeymooners, Casa Malaya is one of our top picks. The dreamy designer villa is a beauty, with rustic Filipino tribal decor, breezy Bali-style design, a private pool, and free breakfast daily. Hop on complimentary beach bikes to explore the seaside neighbourhood, then retreat to your private oasis to spend one-on-one time with your better half. Remember to step out as the day winds down; sunsets at Nacpan Beach are spectacular! 
Also read: 17 Secluded Hotels & Resorts in Palawan That Are Off the Tourist Radar
3. This private island getaway in El Nido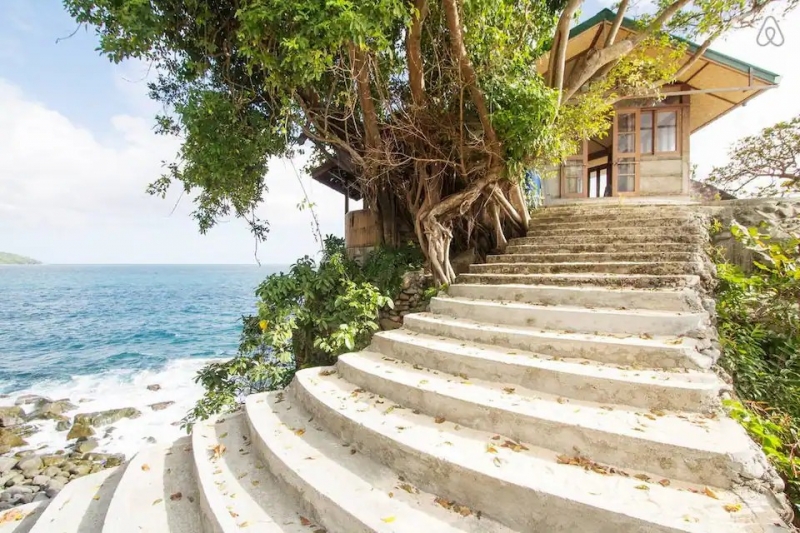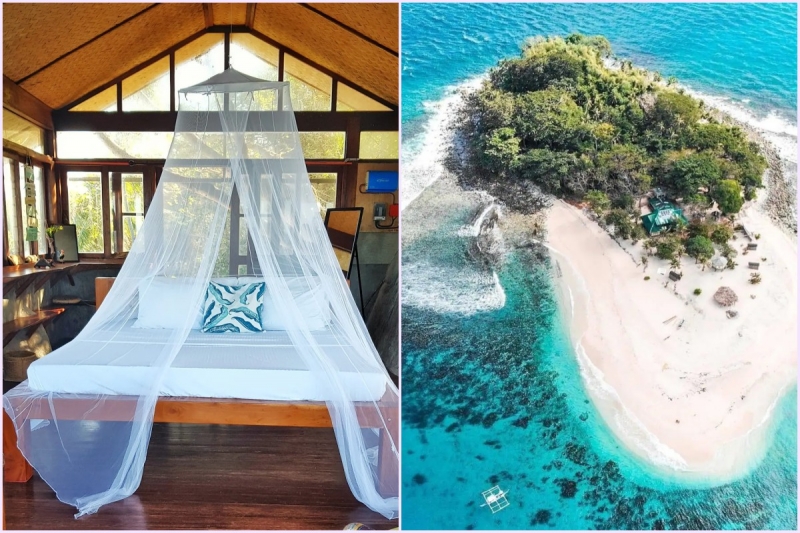 Listing name: Sulu Sea Honeymoon Suite + Infinity View
Listing type: Entire home
Max. no. of guests: 2
No. of bedrooms: 1
Fancy a private island? If so, this private island suite is for you. Dubbed as the Stairway to Heaven suite, the clifftop Airbnb was designed for staycations of couples and honeymooners. There's plenty to love about it: from the plush king-size bed with the canopy-slash-mosquito net, to the terrace overlooking stunning sea views. A majestic banyan tree offers a cool shade over the house. 
Swim, snorkel, and kayak during the day, then sit under the starlit sky at night. You get the run of the entire island! Although the owner's family house is on the other side of the isle, couples will enjoy their own private bubble during their stay. And best of all, it doesn't cost an arm and a leg. All meals are even included in the rates, as well as pick-up and drop-off from El Nido centre, water sports gear, and an hour-long beach massage. 
Also read: 10 Private Islands in the Philippines You Can Rent Right Now
4. This contemporary glass cabin with views of Batangas mountains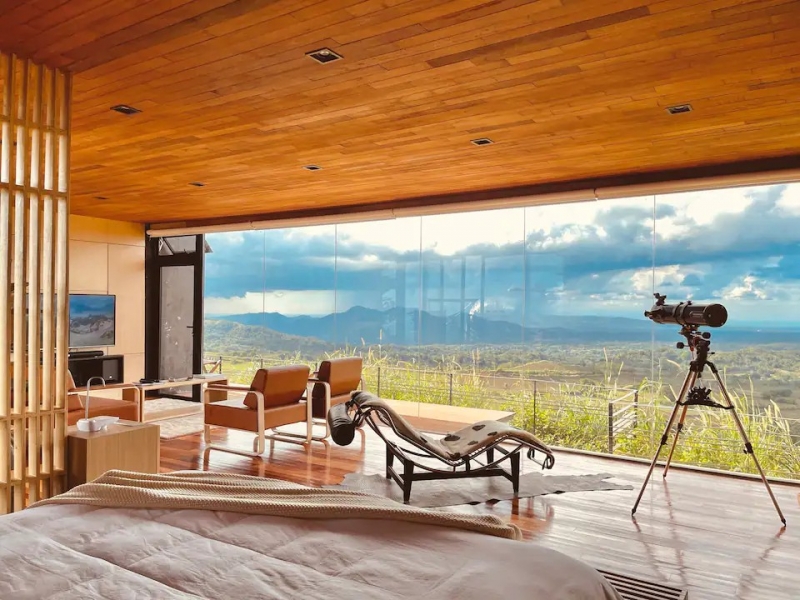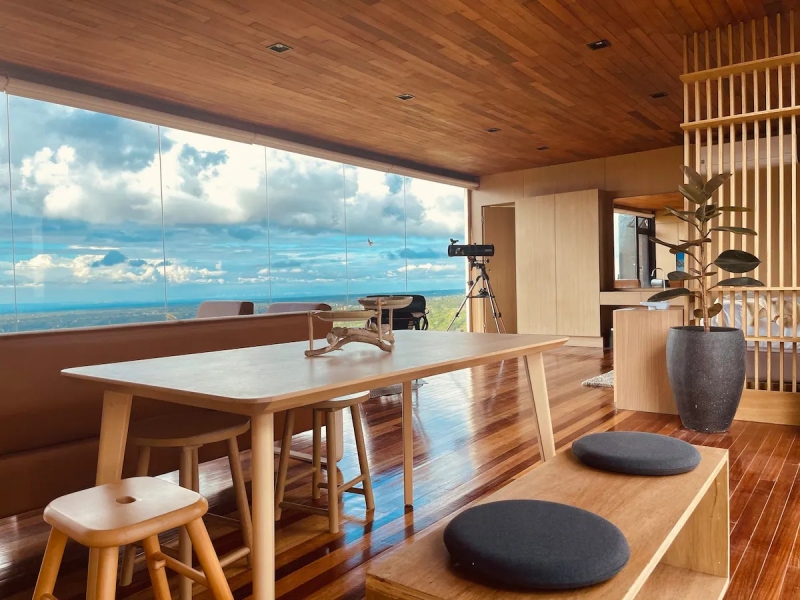 Listing name: Cabin 2-Modern Cabin w/Tempur bed & stunning view
Listing type: Entire cabin
Max. no. of guests: 4
No. of bedrooms: 1
If the beach isn't really your scene, then you may want to head to the mountains of Batangas instead. There are plenty of honeymoon-worthy staycations for couples within a couple of hours' drive away from Metro Manila. Look, this beautifully designed studio cabin in the town of Calaca is one. 
The Airbnb features luxurious beddings, a fully equipped kitchen, and a cosy living area. But the clincher? Floor-to-ceiling glass windows on either side of the cabin, letting guests bask in scenic views of verdant fields and magnificent peaks of Mt. Batulao, Mt. Talamitan, and Mt. Pico de Loro. 
Also read: 8 Pico de Loro Airbnb Stays for Your Weekend Getaway in Batangas
5. This pristine Siargao sanctuary with luxe fixings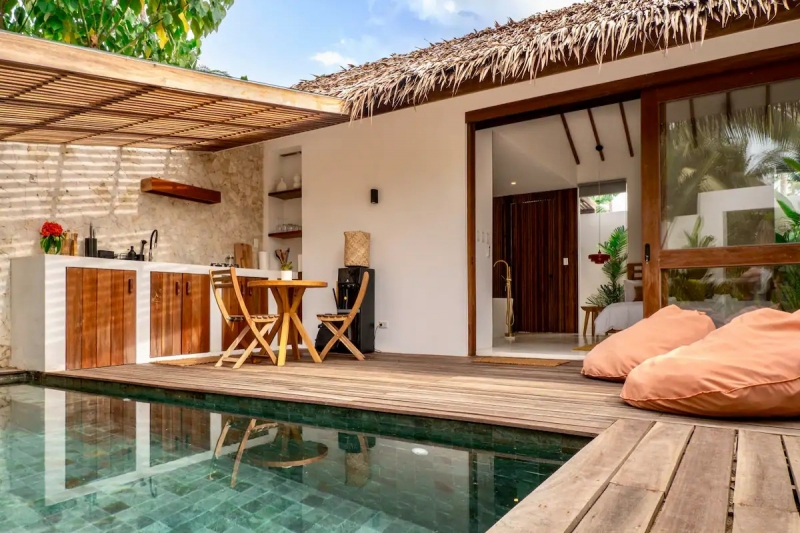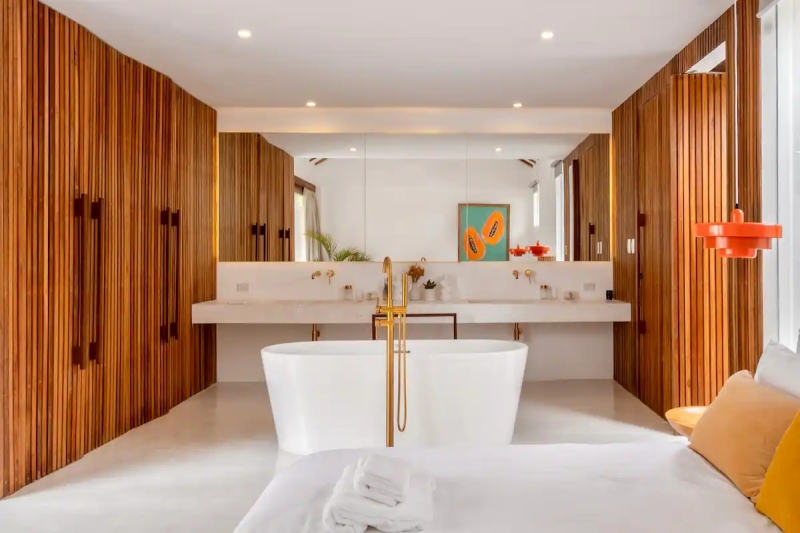 Listing name: Villa Manao · Private Pool | Bathtub | Sky shower
Listing type: Entire villa
Max. no. of guests: 2
No. of bedrooms: 1
A villa in Siargao is the stuff our tropical dreams are made of. Designed as a blissful sanctuary in the Surfing Capital of the Philippines, this VIP-worthy villa is only eight metres from a laidback beach. Surfers will also be happy that the Airbnb is only several minutes from the world-famous Cloud 9 on a scooter or tricycle. 
Not keen on catching waves? The private pool in this VIP-worthy villa guarantees you'll always have a place for a relaxing swim with your beloved! And did we mention the freestanding tub? This is definitely one of the staycations for couples you'll always remember.
6. This diving paradise on Pescador Island, Cebu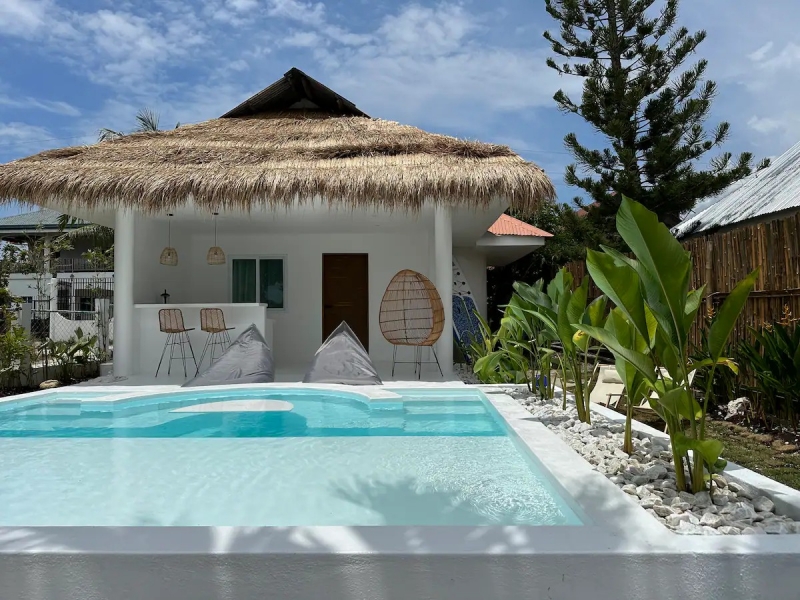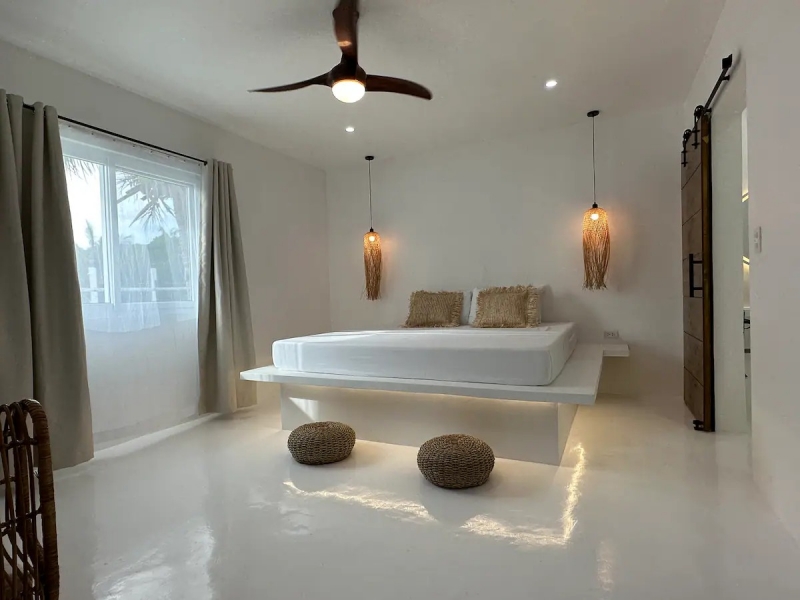 Listing name: Pawikan Seaview Villa with breakfast
Listing type: Entire home
Max. no. of guests: 2
No. of bedrooms: 1
Rekindle the flames of your romance in this charming beach abode in Cebu. The classic villa has everything couples need for comfortable staycations: a private pool, a 55-inch smart TV to Netflix and chill, and panoramic views of the sea. Additionally, booking an Airbnb on the quiet Pescador Island means you'll have the time and space to bond with each other away from crowded tourist attractions and bustling cities. 
7. This serene glass cabin in Bukidnon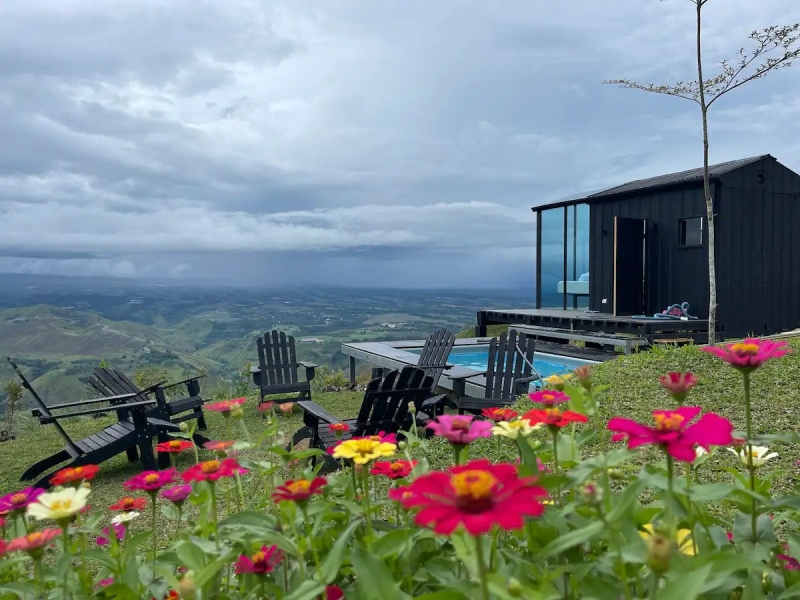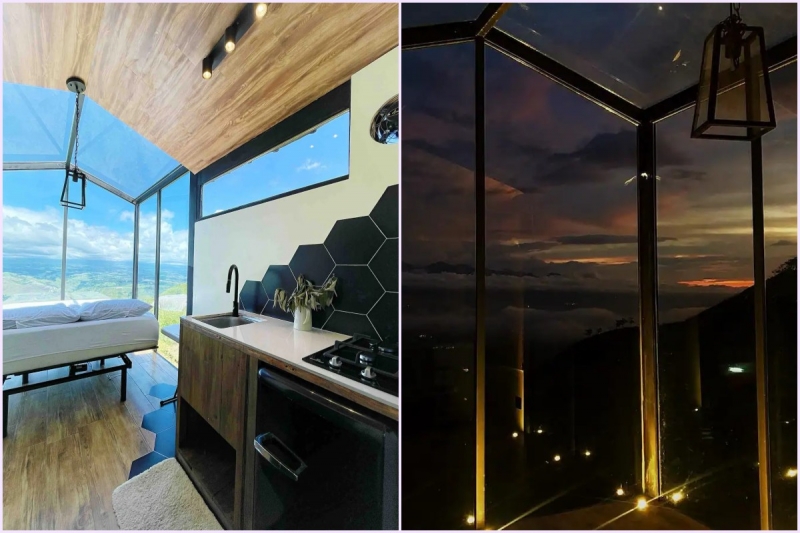 Listing name: The Glass Cabin
Listing type: Tiny home
Max. no. of guests: 2
No. of bedrooms: 1
If you feel like going off-grid after your big wedding, then consider this remote mountain retreat in Bukidnon. Here, it's just you and your partner under the stars — and you'll get to wake up to a sea of clouds and awe-inspiring mountain views, too. Glass walls and skylights mean you won't even have to go outside for stargazing!
If you're not very outdoorsy, don't worry; you won't have to rough it, even if this tiny home is quite secluded. There's air-conditioning, WiFi, a fully appointed kitchen, and an outdoor pool overlooking the mountains. Indeed, this Airbnb is one of those staycations perfect for couples looking to unplug and unwind together. 
Also read: 20 Airbnb Glasshouses in the Philippines With Spectacular Views 
Ready to take off with your significant other? For us, nothing says romance quite as much as a trip out of town. The Philippines is home to so many wonderful staycations for couples — best to make the most of them to woo your boo!
Got a property you'd like TripZilla to feature? Inquire with us here.
---
This article contains affiliate links. When you book through these links, we may earn a small commission at no additional cost to you. All images courtesy of the respective property listings.