I'll admit that I used to be one of those people who thought that all there was to Austria was verdant hills and a quaint countryside. And yes, you are correct — my opinions were exclusively based on the many times I watched The Sound of Music as a teen! As I grew more interested in travel and in learning more about what the world has to offer, I discovered that there's so much more to be charmed by at this European country. To say that it's studded with impressive palaces, breathtaking natural wonders, and picturesque sights at every corner would not even be doing it justice.
The magic of Swarovski Crystal Worlds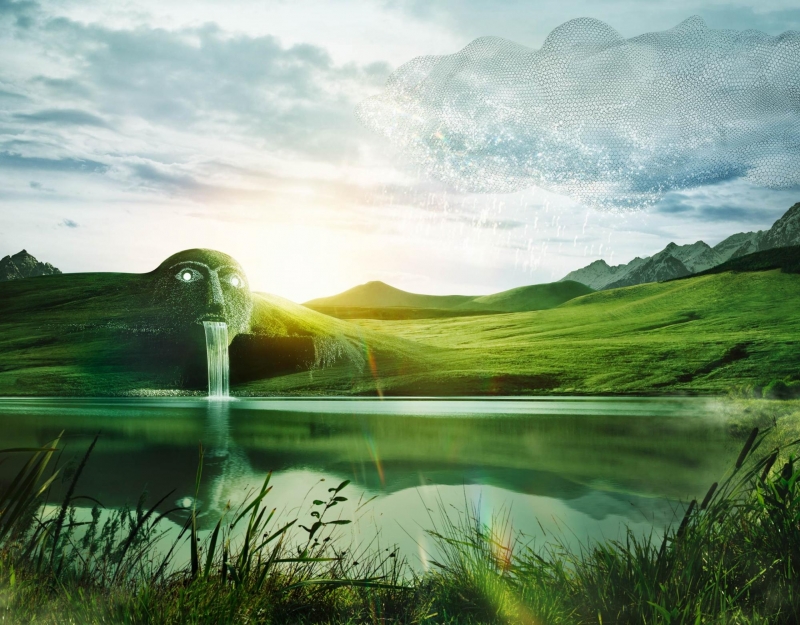 But what truly caught me by surprise was the dazzling wonderland set in Wattens, Tyrol: Swarovski Crystal Worlds, also known as Swarovski Kristallwelten. Practically hidden away in the little town, it seemed as though it was being kept secret. Funnily enough, it turned out not to be a secret at all: The all-in-one theme park, museum, gastronomic haven, and shopping centre actually happens to be one of Austria's most popular tourist attractions — and even that would have to be an understatement. In August 2019, Swarovski Crystal Worlds welcomed its 15 millionth visitor since opening its doors in 1995!
Also read: Inside the Dazzling Realm of Swarovski Crystal Worlds — What to See & Do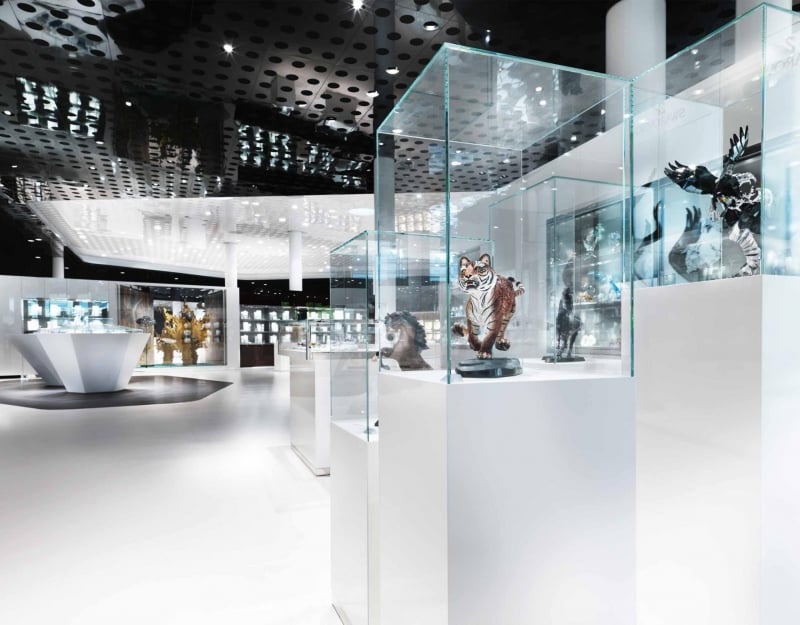 While this magical destination is best known for its iconic 'Giant' installation and awe-inspiring 'Chambers of Wonder', it also happens to be home to the largest Swarovski flagship store — Wattens is, after all, the brand's birthplace. Offering everything from sparkling accessories and decorative pieces to classy everyday items, it's just the place to purchase gifts for loved ones and souvenirs to remind you of your Austrian adventure.
Things to buy at Swarovski Crystal Worlds
To help you out, we've come up with a list of things to buy at Swarovski Crystal Worlds — your guide to shopping for timeless treasures at this dazzling wonderland!
1. Souvenirs from Swarovski Kristallwelten's exclusive collection
You're at one of Austria's most renowned attractions — why not grab a souvenir to commemorate your visit? We can't think of a better way to remember your trip than with a lasting crystal keepsake! The Swarovski Kristallwelten Store houses items under an exclusive brand of the same name, featuring colourful jewellery, accessories, and figurines that take inspiration from Austria's sights and traditions.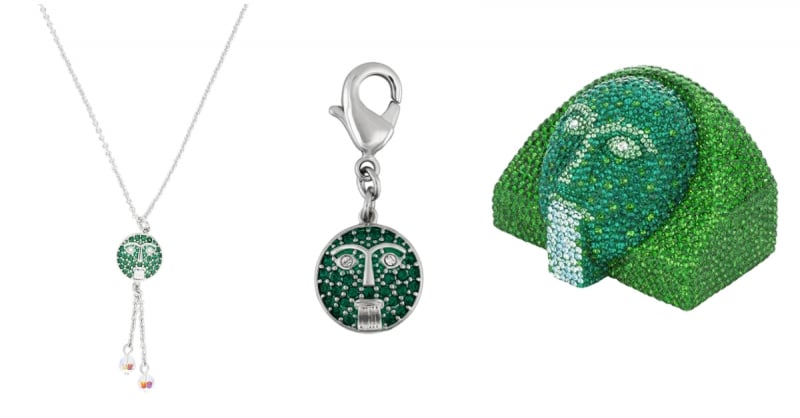 To make your purchase even more meaningful, we recommend taking your pick from the 'Giant' collection, which is exclusively available at Wattens' Swarovski Kristallwelten Store and souvenir shop. Our top choices include the necklace, charm, and figurine patterned after Swarovski Crystal Worlds' famous outdoor installation! 
2. Swarovski's iconic crystal figurines
Of all the things to buy at Swarovski Crystal Worlds, their famous crystal figurines are easily crowd favourites. These exquisite decorative items are perfect for dressing up your living spaces, or gifting to those with a penchant for collecting them! Their animal figurines, as well as their Disney and Star Wars collections are definitely among their standout pieces. Some of them are limited edition, so you might want to act fast!
Swarovski's famous animal figurines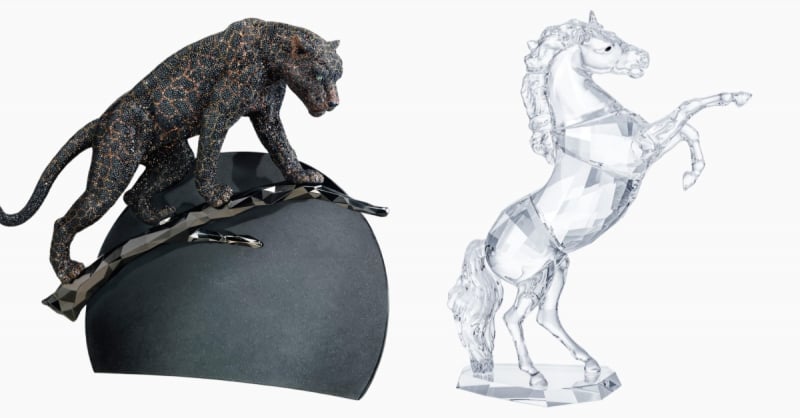 Along with their jewellery, Swarovski's animal figurines would have to be among their best-known products. An interesting fact? It was a simple crystal mouse that started it all! Made with chandelier components, the very first Swarovski figurine was launched back in 1976. Over time, their subsequent releases grew more and more elaborate in terms of design and material. 
From handsome jaguars and leopards to elegant stallions and swans, these wildlife-inspired figurines have become quite the collector's items, adorning many homes and work spaces — and often in large quantities. They're available in a wide range of varieties, too. You'll find clear crystal pieces handcrafted with facets, as well as limited edition figurines hand-set with colourful, glittering crystals. While miniature pieces can be even smaller than the palm of your hand, there are also larger, grander works worthy of a place of pride inside your home.
If you're a collector yourself, or are keen to start a collection of your own, then you're certainly in for an enjoyable time browsing through the Swarovski Kristallwelten Store's extensive selection! (A fair warning: It gets addicting!) 
Figurines of your favourite Disney characters and icons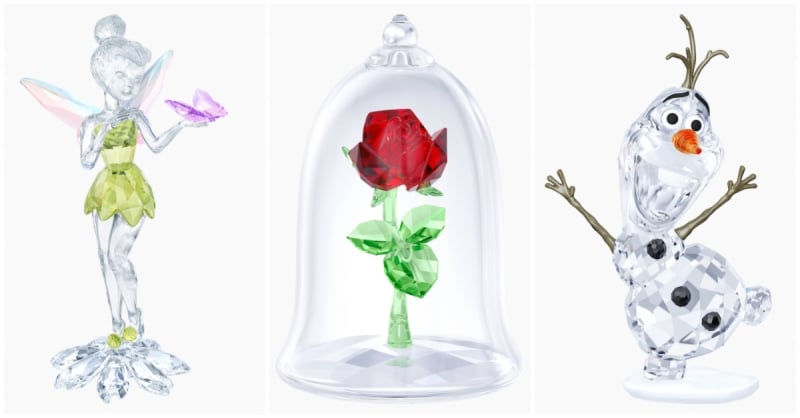 See your favourite Disney characters come to life in the form of these super-cute yet intricately designed crystal figurines. Whether you love classic animated films like Peter Pan,  Beauty and the Beast, or more recent releases like Frozen, you're bound to find a worthy addition or two (maybe even 10!) to your collection of Disney-inspired memorabilia!
Star Wars figurines that double as collectibles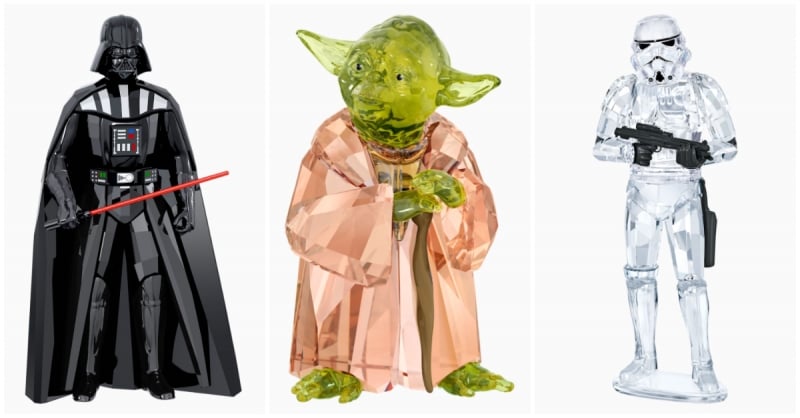 The Star Wars crew looks just as cool in crystal form — no surprises here! Definitely must-buy collector's items, these are pieces that any die-hard fan won't want to miss out on. And if you haven't started building your Star Wars figurine collection just yet, then we're confident you'll be walking out the doors of Swarovski Crystal Worlds with your first piece, at the very least. Welcome to the dark side!
3. Timeless jewellery items from Swarovski's various product lines and collaborations
Of course, no list of things to buy at Swarovski Crystal Worlds would be complete without zeroing in on Swarovski's extensive range of classic jewellery items. Whether you're looking for pieces appropriate for everyday or for dressier occasions, you certainly won't run out of options.
Jewellery items from Swarovski, Atelier Swarovski, and Swarovski Kristallwelten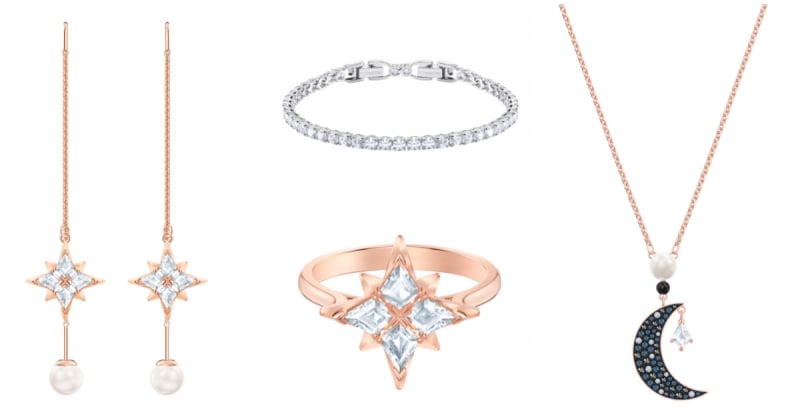 If you've got your heart set on purchasing pieces from one of Swarovski's product lines, then you're in luck. The Swarovski Kristallwelten Store happens to carry the widest selection of items under the Swarovski, Atelier Swarovski, and Swarovski Kristallwelten brands —  all under one roof, too. It's heaven for jewellery collectors everywhere!
From classic tennis bracelets and drop earrings to eye-catching pendants and dazzling rings, Swarovski's jewellery items are works of unmatched and expert craftsmanship, made only with high-quality crystals and gemstones.
These understated pieces will elevate any #ootd, and can easily transform your look from day-appropriate to evening chic! On top of that, they're the perfect gifts for any and all of the important women in your lives. You can't possibly go wrong with any of these timeless items — after all, nothing says 'I love you' better than anything Swarovski!
Jewellery pieces from Swarovski's collaborations with renowned and up-and-coming designers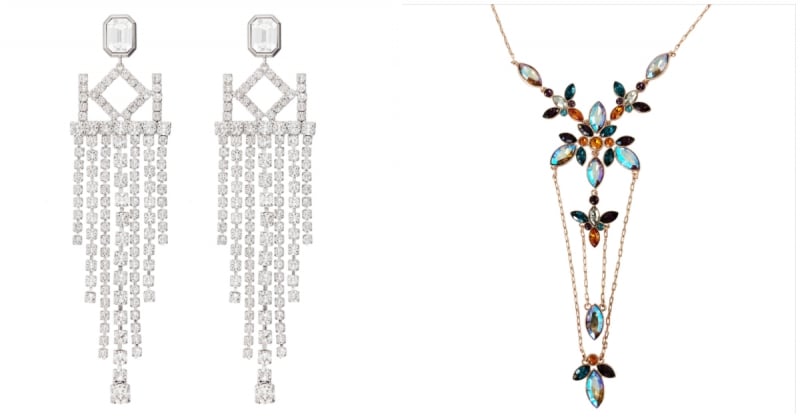 Looking for a little something different? The Swarovski Kristallwelten Store also carries unique, contemporary pieces from collaborations with prestigious labels like Karl Lagerfeld, Versace, and Roberto Cavalli. In addition, the store also houses special collections by new Swarovski designers, which are released every season. Ranging from necklaces and bracelets to earrings and rings, each piece combines Swarovski's timeless elegance with its corresponding designer's distinctive flair.
4. Tasteful women's accessories for every occasion
Ladies, the fun doesn't end at the jewellery section! At the Swarovski Kristallwelten Store, you'll also find a selection of statement fashion accessories that are tempting to add to your wardrobe.
Sunglasses
Trust Swarovski to always find the perfect balance between glitzy and understated. In particular, we recommend checking out Atelier Swarovski's tasteful selection. We just love how their crystal-studded sunglasses allow you to take your day-to-day style up a notch, without ever looking too flashy!
Purses
Nothing spells out 'glam' like a glittering statement piece, and Atelier Swarovski's purses do just that — while keeping it classy at the same time. Of all their designs, we're pretty partial to this clutch bag created with crystal mesh and a crystal-embellished clasp. Done in gold tones, this wardrobe essential can complete just about any evening look. To top it all off, it also comes with removable chain straps, allowing you to transform it into a sophisticated sling bag on other occasions.
5. Accessories for men of style
At Swarovski Crystal Worlds, male shoppers will certainly have their fun, too! Designed in leather, metal, and crystal, the pieces from the men's collection are perfect for any man of style looking to give his wardrobe an added boost.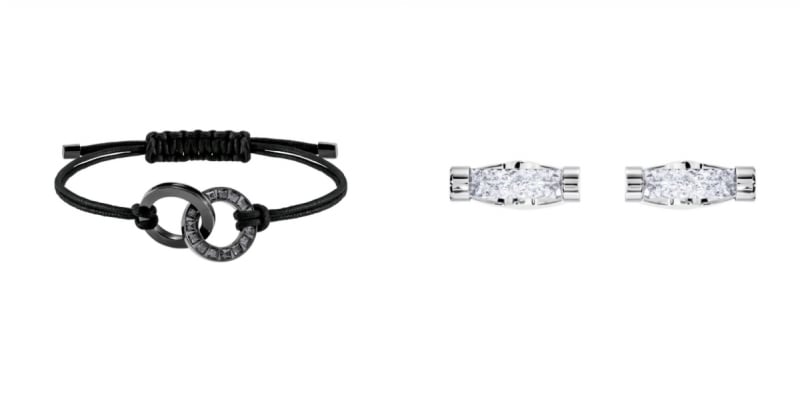 Bracelets
Because jewellery isn't only for women! Subtly embellished with crystal, Swarovski's men's bracelets are just the way to add a little personality to your look, while still keeping it masculine. It's an everyday must-have men's accessory, if you ask us!
Cufflinks
Swarovski's crystal-encrusted cufflinks are perfect for special occasions. They're available in various styles and colours — but for any man who just wants to keep it classy, we recommend those designed with clear crystals.
6. Classic timepieces for him and her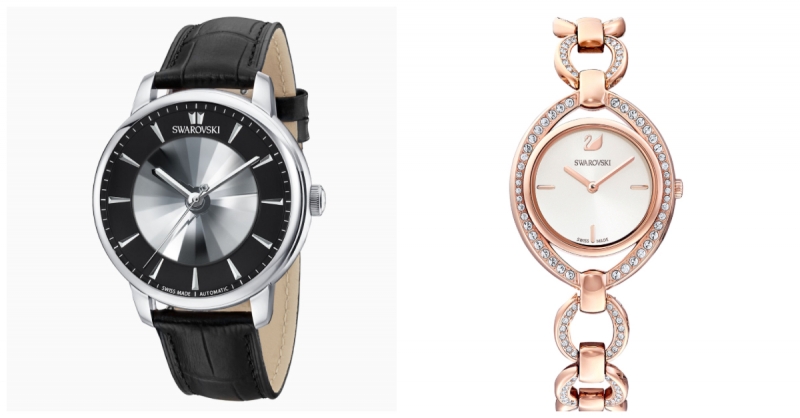 Style meets function in Swarovski's elegant timepieces. In typical Swarovski fashion, their watches are the picture of understated elegance, and designed to take you from day to night. Opt for more muted pieces designed with faceted crystals, or go for a crystal-embellished timepiece and tastefully sport your crystals with pride. With their generous lineup of designs, we're certain that every man or woman will easily find one that matches their personal style.
7. Swarovski crystal rock-encrusted smartphone accessories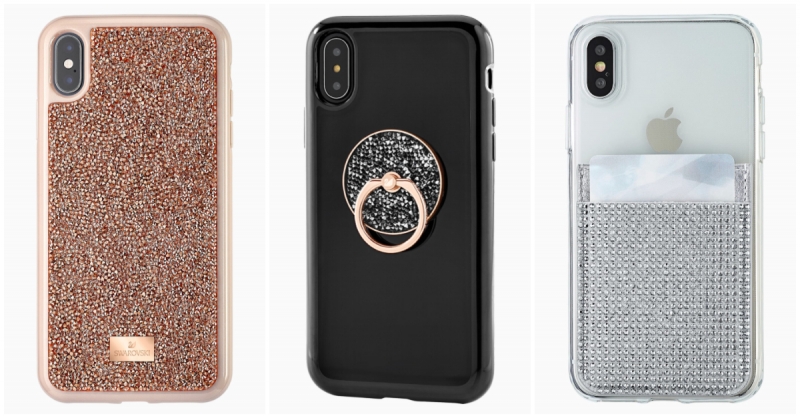 If your smartphone is your best friend, then there's no harm in showing it a little more love. Embellished with Swarovski crystal rocks, these smartphone accessories range from purely decorative to both pretty and functional. Choose between a bedazzled case, ring sticker, and sticker pocket, which allows your phone to double as a wallet! We particularly love those in black, silver, and pink gold tones — they're undeniably eye-catching and tasteful at the same time. 
8. Practical items with a little extra flair
Why not give your everyday items a classy upgrade? While they may be some of the simplest things to buy at Swarovski Crystal worlds, these will undoubtedly be put to good use!
Crystal-studded keyrings and bag charms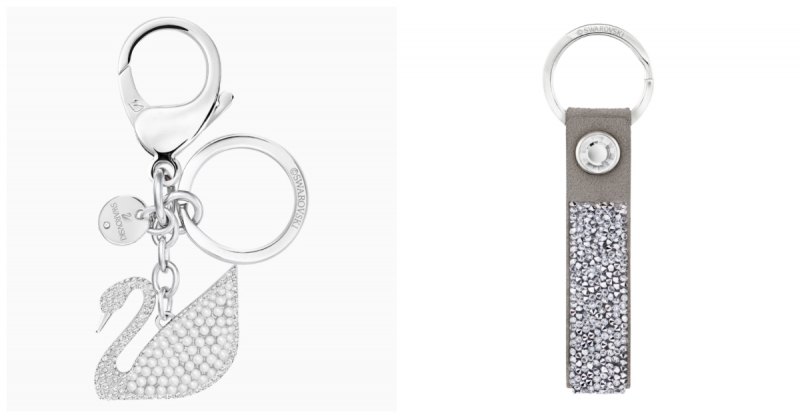 How could you possibly resist these sparkling trinkets? Swarovki's options range from classic keyrings embellished with micro crystal pearls to trendier pieces studded with crystal rocks. These fun accessories will easily add a touch of character to everyday items like bags, pouches, and — of course — keys. Here's another plus: They make for great, easy-to-pack gifts or souvenirs for your loved ones, too!
Crystal pens and styluses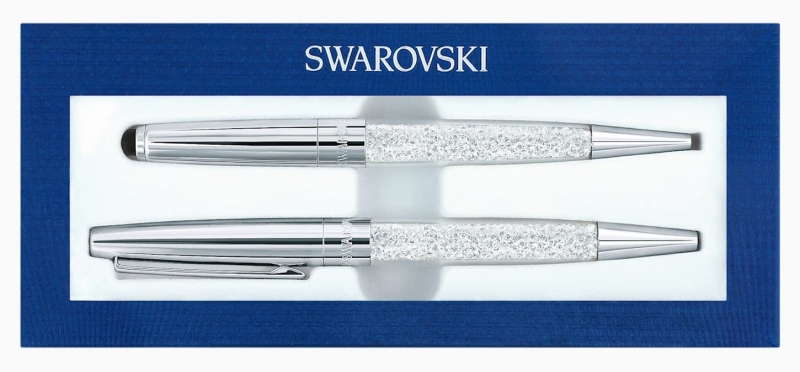 We're all about souvenirs that double as functional items, and these pens are glittering examples! Swarovski's stylish rollerball pens are filled with high-quality ink and designed with clear crystals, making these practical everyday tools extra fun to use. To add to this, the pens are also refillable — they get points for being reusable and for offering the perfect excuse to drop by another Swarovski store as soon as you get the chance.
Moreover, if you're equal parts old school and digitally savvy, you can also opt for Swarovski's two-in-one stylus pens. Capped with a silicon black stylus, this crystal-decorated ballpoint pen will certainly come in handy on multiple occasions!
Also read: Meet the Many Facets of Swarovski, Where Fantasy is Brought to Life
We imagine this list of things to buy at Swarovski Crystal Worlds could have done one of two things: It has either helped you narrow down your shopping list, or done the complete opposite. In any case, we're certain you won't be going home empty handed! Know that you won't go wrong with whatever you decide to purchase — these keepsakes are designed to last you a lifetime. We hope your visit is nothing short of magical!
We can't wait to see your Swarovski Crystal Worlds haul — don't forget to tag us at @tripzillaph.
For more information, please visit Swarovski Kristallwelten's official website and Facebook page.
---
Brought to you by Austrian National Tourist Office (ANTO) and Swarovski Kristallwelten.
Originally posted on TripZilla.com