One of the greatest pleasures of being a pet owner is playing and bonding with your pet — be it in the park, on the beach, or anywhere in the great outdoors. For travel-loving pet owners, travelling often means leaving the most loyal member of your family at home, where they can feel cooped up indoors. But what if we told you there was a way you didn't have to leave them behind? Weekenders get their pick of pet-friendly Airbnb homes in the Philippines so four-legged friends can come on family vacations!
Of course, there are a few things to keep in mind when travelling with pets. For starters, each property has its own set of rules concerning animals. Some Airbnb rentals in the Philippines may charge extra for breakages or accidents, while other pet-friendly listings only allow small dogs into their rooms. To be safe, always message the host on Airbnb to check if your four-legged friend meets their policy. More importantly, remember to treat these vacation homes as you would your own. 
If you're planning a road trip with your pet, go ahead to bookmark these vacation homes that cater to friendly, house-trained, and well-behaved pets. (Sorry, snake parents. Maybe next time!) Some of the hosts below are pet owners as well, which is a great sign that you're in the right place!
Also read: 11 Airbnbs for Your Next Barkada Staycation Near Manila
Pet-friendly Airbnb homes in the Philippines
1. This dog-friendly studio with a garden in Subic Bay
Listing name: Garden Nest in SBFZ: Clean, Pet Friendly, Netflix! 
Listing type: Entire home 
Max. no. of guests: 3
No. of bedrooms: 1 
Pam-purr your pets with all the love and attention they deserve at the Garden Nest, a dreamy abode within two hours from Metro Manila. This pet-friendly studio is run by Tamara, a cinematographer who lives in Subic Bay with her three dogs. With cosy and aesthetically pleasing interiors, the room is filled with novels and reading nooks, a hammock and an outdoor bathtub, a Netflix subscription and a couch, and a side garden where your pets can roam freely. Learn more about this Airbnb here. 
If you're looking for similar rooms that can fit up to four guests or more, check out Tamara's other listings at her Subic Rainforest Retreat: Eiwa Nest, Saya Nest, and Kahilom Nest.
Also read: 8 Airbnb Homes in Zambales That You'll Never Want to Leave
2. This rustic bed and breakfast in Tagaytay
Listing name: Moon Garden Casita 2 (Pet Friendly with Pet fee) 
Listing type: Room in bed and breakfast 
Max. no. of guests: 3
No. of bedrooms: 1
Looking for pet-friendly Airbnbs in Tagaytay? Fondly called a casita or "little house" in Spanish, this charming cottage on Airbnb is tailor-made for solo travellers and couples who need a break from city life. A quaint bed and breakfast, it has a thriving garden, a koi pond, a gazebo, scenic walking paths, and the cool Tagaytay breeze to fend off the summer heat. Plus, this rental also has enough outdoor space for your pets to wander around and explore. Learn more about this Airbnb here. 
3. This Taal Lake retreat in Alitagtag, Batangas
Listing name: Mertola's 
Listing type: Entire villa
Max. no. of guests: 16 
No. of bedrooms: 6 
Situated a few hours from Metro Manila, Mertola's is a relaxing place for pet-loving travellers to escape to. It's surrounded by mango and coconut trees, while a viewing deck offers a breathtaking view of Taal Lake. Upon request, you can enjoy local dishes such as tapang Taal and longganisa. Delicious fruits such as rambutan and langka are also not to be missed while they're in season. 
Guests at this Airbnb have commended Mertola's for being a pet-friendly place, so long as owners remember to clean up after their pets and keep the grounds clean — a common courtesy, really. Anytime you feel like taking your pet out on a stroll, the tree-lined walkways will provide a pleasant backdrop for your morning walks. Learn more about this Airbnb here. 
4. This secluded villa in the middle of a forest in Nasugbu, Batangas
Listing name: Palmos Place Residence & Events at Batulao Nasugbu 
Listing type: Entire villa
Max. no. of guests: 10
No. of bedrooms: 4 
Fruit trees and vine orchids create a lush getaway at Palmos Place, which flaunts an open deck overlooking Mount Batulao. This sprawling 1.5-hectare villa in Batangas was designed to host intimate birthday parties and garden weddings, so there's plenty of open space to go around.
If your dogs are well-behaved and can get along with other canines, they'll surely have a blast at the villa — sniffing and wagging their tails excitedly around the place. Afterwards, you can expect your beloved pooches to tire themselves out and snooze in the backseat on your drive home. Learn more about this Airbnb here. 
Also read: 18 Airbnb Homes in Batangas for When You Need a Quick Escape
5. This farm stay with a man-made lake in San Fernando, Pampanga
Listing name: EntireXclusive PoolLakeFarm Boat Fishing Pets Wifi
Listing type: Entire cottage 
Max. no. of guests: 6
No. of bedrooms: 1 
Just minutes away from Pampanga's city centre, this farm stay is home to two rustic cottages, a verdant garden, a swimming pool, small tents, hammocks, and — possibly its most eye-catching feature — a man-made lake filled with floating lilies. It's the very picture of serenity, and we bet your pet is going to love it, too! (A slight caveat: The property is often visited by wild and beautiful birds, so maybe leave your cat at home for this one.) Inside the casita, three sizable beds and a plant-filled space will make your stay very breezy indeed. Learn more about this Airbnb here.
Also read: 15 Farm Stays in the Philippines for a Nature Escape 
6. This pet-friendly condo in Baguio that won't break the bank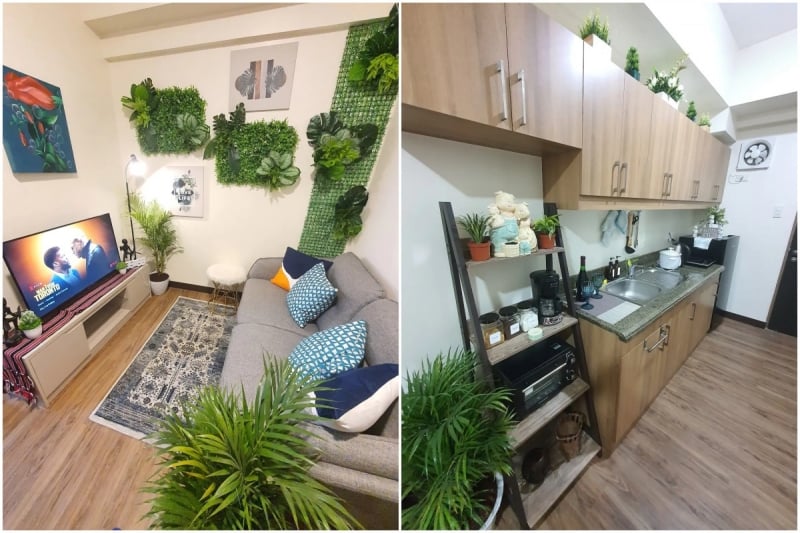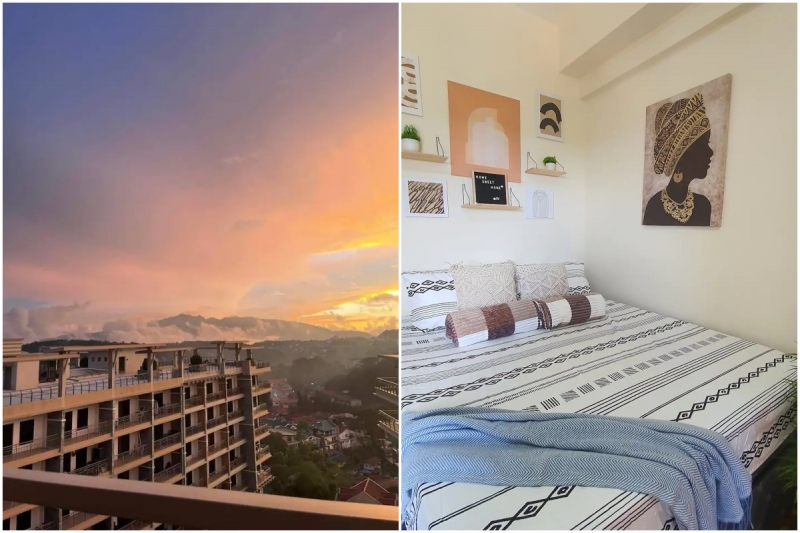 Listing name: Charming & Lush condo with a NICE VIEW and Balcony
Listing type: Entire condominium
Max. no. of guests: 4
No. of bedrooms: 1
Any pet-loving owner will tell you that spending money on pet food, toys, grooming sessions, and regular trips to the vet is worth every centavo. Still, these costs can make caring for your furry companion, well, a bit expensive.
So, we'd like to raise you a good alternative: this budget-friendly and pet-friendly condominium in Baguio that you can book on Airbnb. Not only does it allow dogs on the premises, but it also puts you in a peaceful neighbourhood with serene views of nature from your balcony. Reliable WiFi is a big plus, too. Learn more about this Airbnb here. 
Also read: Where to Stay in Baguio: 26 Vacation Rentals For All Budgets
7. This villa with picturesque views in Nasugbu, Batangas
Listing name: VILLA@RICARTE'S HILL (nr Tagaytay, with breakfast)
Listing type: Entire house
Max. no. of guests: 4
No. of bedrooms: 2 
If a remote sanctuary in the Philippines is what you're after, this pet-friendly vacation home on Airbnb lets you escape the busier parts of Tagaytay. It comes with three beds, a spacious garden, a private swimming pool, complimentary breakfast, a mango tree, and all the fresh air you need. Anytime you feel like heading out and splashing into the sea, you're less than an hour's drive away from the beaches in Nasugbu, Batangas. Learn more about this Airbnb here. 
8. This serene lake house that puts you close to Taal Lake
Listing name: Beautiful Lake House Taal Lake 
Listing type: Entire house 
Max. no. of guests: 8
No. of bedrooms: 2
Certainly, this picture-perfect house on the edge of Taal Lake is bound to get your pet's tail wagging! Located in Talisay, Batangas, it's ideal for outdoorsy travellers who want nothing more than to stretch their limbs and get acquainted with nature. Paddling a kayak on the nearby lake, swimming in the pool, exploring a fish farm on a raft, and admiring sunsets from a viewing deck are just some of the activities you can experience at this waterfront property. Learn more about this Airbnb here. 
Also read: 10 Cosy Airbnb Homes in Tagaytay for Your Next Out-of-Town Trip
9. This lovely pool villa in Angeles, Pampanga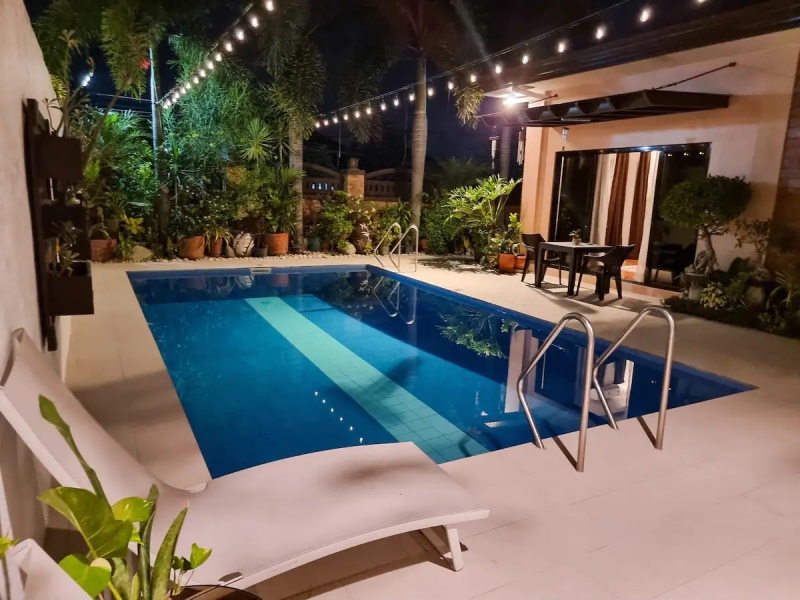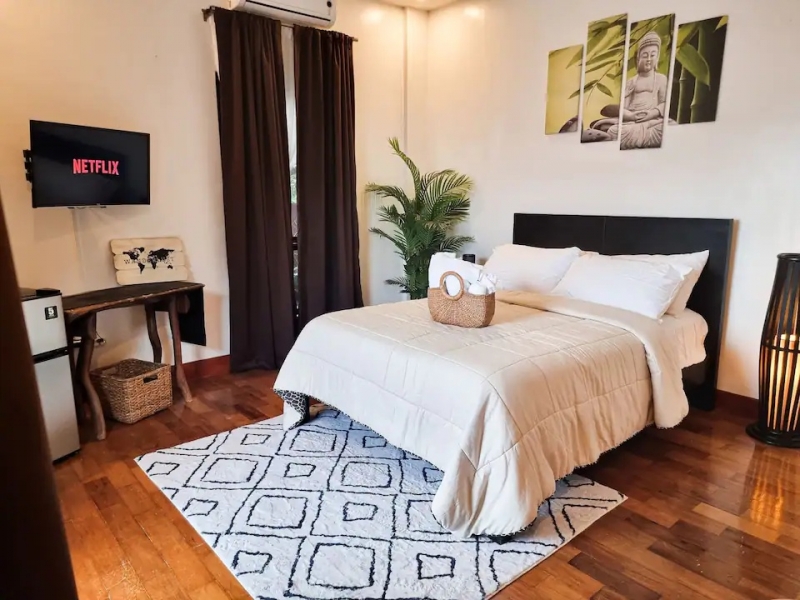 Listing name: Serene Villa+Your Own Pool!
Listing type: Entire home
Max. no. of guests: 4
No. of bedrooms: 1
Within two hours of a drive from Metro Manila, this tranquil villa offers a calming retreat in the heart of San Fernando, Pampanga. Designed with modern furnishings and indoor plants, this Airbnb creates a warm and intimate space that's perfect for staying in. Other exciting perks include a beautiful garden and a private pool. Furry friends are welcome here, as are plant titos and titas, who will no doubt feel right at home amidst the lush greenery around this gated residence. Learn more about this Airbnb here.
10. This beachfront cottage in Dinalungan, Aurora
Listing name: Beachfront Cottage 1
Listing type: Private room in cottage
Max. no. of guests: 6
No. of bedrooms: 1
Fancy a beach trip with your best buddy? Relive the feeling of summer at this laid-back cottage in Dinalungan, which serves as a jumping-off point to stunning beaches, rivers, and waterfalls in Aurora. Sitting between the mountains and the ocean, The Shores Beach Farm manages to bring you the best of bundagat life while also giving your fur babies enough sand to frolic around and leave their paw-prints behind. Learn more about this Airbnb here. 
Also read: 10 Tropical Airbnbs in the Philippines That You Need to Visit 
11. This tropical haven for Cebu pet lovers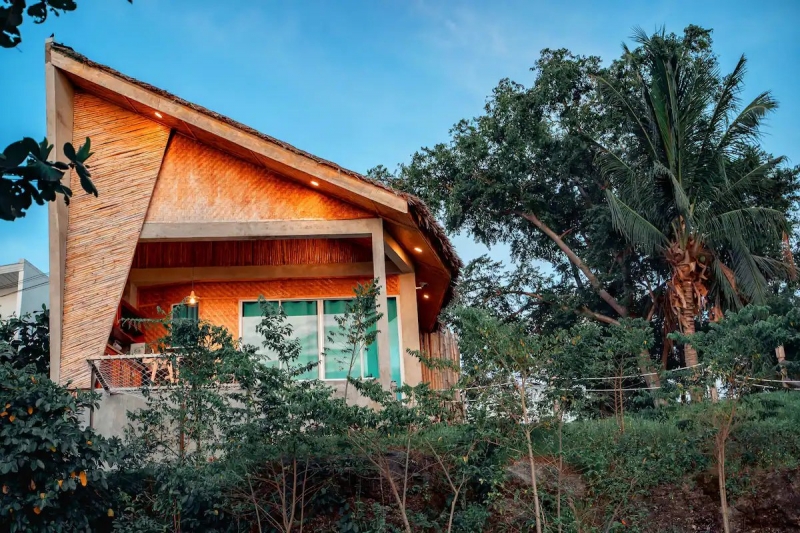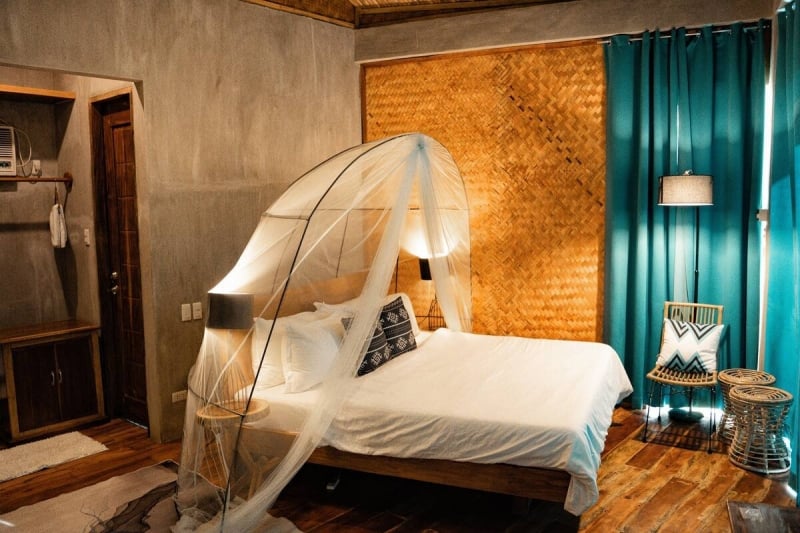 Listing name: Beach Villa, 15min to Kawasan Falls/Canyoneering
Listing type: Entire villa
Max. no. of guests: 6
No. of bedrooms: 1 
Travellers looking to rent pet-friendly Airbnbs in the Philippines with exceptional views should look no further than this beautifully designed clifftop villa in Badian, Cebu. Hardwood floors, amakan walls, and a nipa roof highlight local design, while modern comforts like plush memory mattresses and a smart TV allow guests to relax in total bliss.
Just steps away from the white sands of Lambug Beach, this is a beautiful beach escape for you and your fur babies. And with the home overlooking the ocean, you can wind down to magical sunset views every day. Learn more about this Airbnb here.
Also read: 10 Cebu Airbnb Homes for a Relaxing Staycation
12. This cool Brooklyn pad in Makati that allows small dogs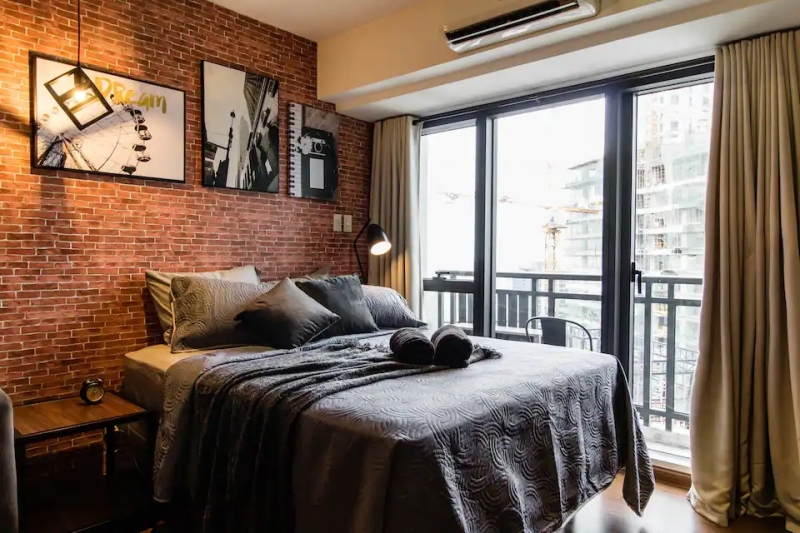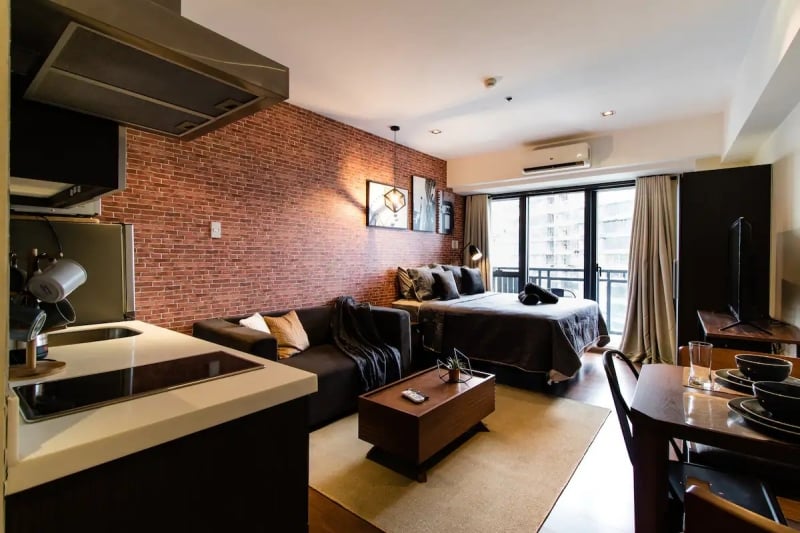 Listing name: Cool Brooklyn Vibe Knightsbridge 53rd Flr PROMO!
Listing type: Entire condominium
Max. no. of guests: 4
No. of bedrooms: Studio 
For a chic stay in the heart of Poblacion, this cool studio is one of your best bets. Trendy yet comfy, it channels the energy of New York, with exposed brick walls, black and white photographs, and sleek furnishings. There's a small balcony that's perfect for morning coffee or nighttime musings. One small dog per stay is welcome in this pet-friendly Makati condominium, although the building doesn't allow bigger dogs on the property. Learn more about this Airbnb here.
13. This family retreat in Tanay with stunning views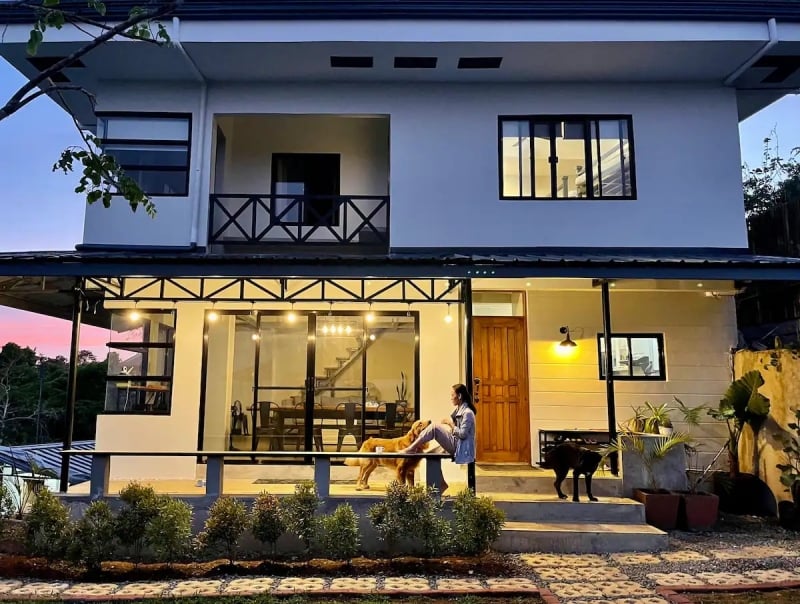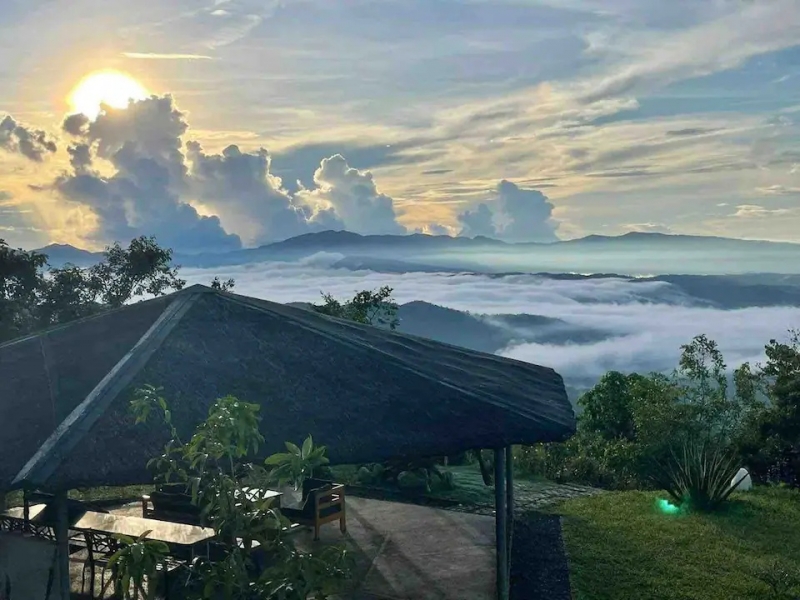 Listing name: Blackbird Hill (Stunning Mountain View)
Listing type: Entire home
Max. no. of guests: 14
No. of bedrooms: 2 
Fresh air, lush gardens, and a sea of clouds blanketing the mountainside — this sprawling property in Tanay is one that the whole clan is sure to enjoy. And by the whole clan, we mean everyone, fur babies included. 
Small and big dogs alike will get happy zoomies roaming the expansive outdoor area. Meanwhile, humans can indulge in activities like stargazing and trekking. Spot some of the region's most famous attractions from this hilltop Airbnb, including the Sierra Madre Mountain Range, Laguna Lake, and Pililla Windmills. Learn more about this Airbnb here.
Also read: 12 Airbnbs in Tanay That Are Perfect For a Weekend Getaway
14. This modern bungalow in Dasmariñas near a golf course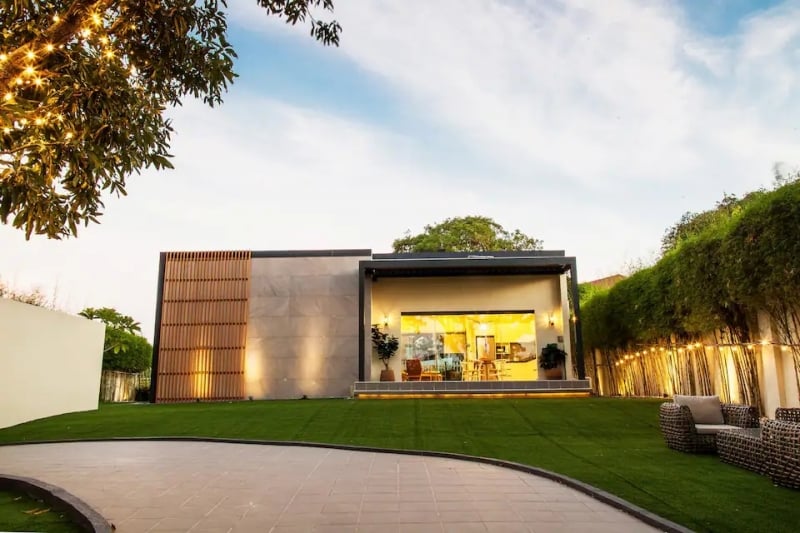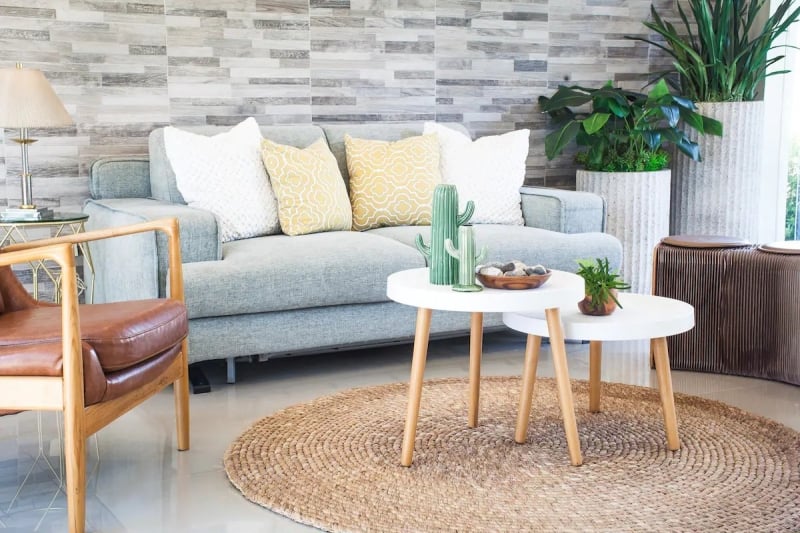 Listing name: Cheerful 2BR, home w/ free parking
Listing type: Entire home
Max. no. of guests: 6
No. of bedrooms: 2 
Tucked in an exclusive subdivision in Dasmariñas is this contemporary home that's just a short drive from the metro. This pet-friendly Airbnb is a quiet oasis in the Philippines, with tasteful interiors and modern luxuries for an extra-special stay. Watch golfers make aces at the nearby course in the spacious backyard, where there's plenty of green space for pups to run and play. Guests also enjoy access to club amenities, including the swimming pool and golf course. Learn more about this Airbnb here.
15. This Instagrammable vacation home in La Union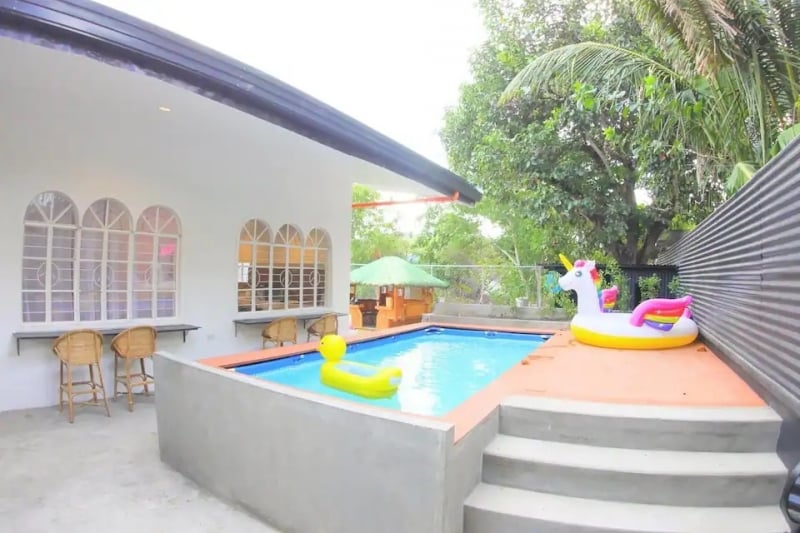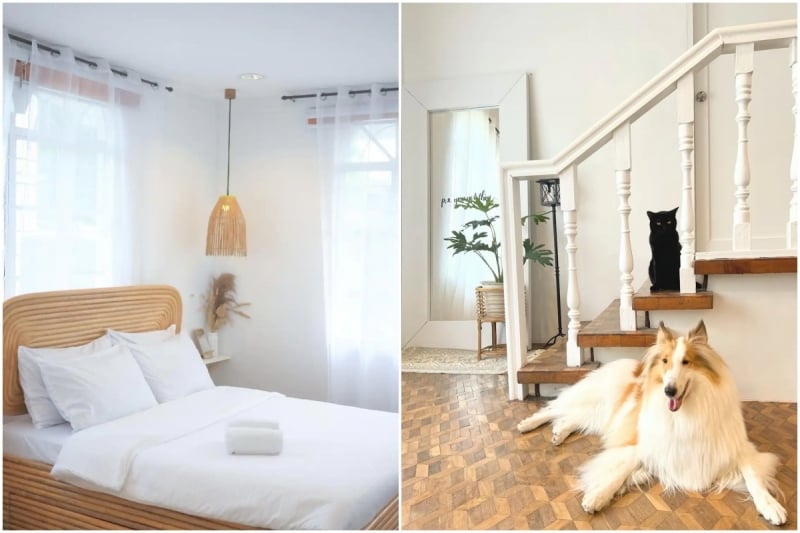 Listing name: VILLA MARIKIT 3 BR 4BA Pool | 3 Min Walk to Beach
Listing type: Entire home
Max. no. of guests: 11
No. of bedrooms: 3
Pack a suitcase for the whole clan — including furry family members — for a well-deserved night at this charming rental in San Juan, La Union. The Airbnb is big enough for everyone, with three bedrooms and a spacious common area. There's even a plunge pool for when guests want to take a quick dip without making the five-minute walk to the beach. Whether you're in Surf Town to work or play, Villa Marikit is a lovely base for a getaway. Learn more about this Airbnb here.
Also read: 13 Airbnb Homes & Hotels in La Union for Your Next Elyu Trip
Once you visit these pet-friendly Airbnb stays in the Philippines, going home will be like trying to drag man's best friend away from the dog park. Nevertheless, we hope this brings you an opportunity to turn a staycation into a fun bonding experience for you and your pet! Check out our Airbnb picks in Laguna, Bataan, and Antipolo for more out-of-town inspiration near Metro Manila.
Got a property you'd like TripZilla to feature? Inquire with us here.
---
This article contains affiliate links. When you book through these links, we may earn a small commission at no additional cost to you. All images courtesy of the respective property listings.