Image credit: Johan Börjesson
"Spontaneity is the best kind of adventure", goes a popular travel proverb. Granted you have the resources, sometimes you just need to book a flight to that one place you've been meaning to visit, or even someplace completely out of your travel radar.
In my case, it was Malapascua Island — a place I hadn't given much attention simply because barely anyone in my circle mentioned it, let alone recommended going there. Separated from mainland Cebu by the Visayan Sea, Malapascua is said to be the home of thresher sharks in the Philippines. This makes it one of the best spots for diving in the country, and the least ideal place to go to for a non-diver like me. Or so they say.
Unlike past unplanned trips, it took an invitation from a visiting friend from Europe to bring myself to the island — a journey that entailed a gruelling seven-hour bus and boat transfer from Cebu City (more on this later). But it was nothing compared to what awaited me at my eventual destination.
You see, this trip took place in December 2019. Typhoon Ursula had just struck the island's small community, leaving wrecks in all directions. While I'm sure there are plenty of reasons to visit Malapascua, at the time, mine came down to meeting a good friend and helping rebuild the island through simple means as a tourist. Even then, its distinct charm stuck out to me the second I laid my eyes on it. More so as I spent the next three days in its still-recovering state.
Also read: 12 Local Trips You Can Do For Less Than ₱5,000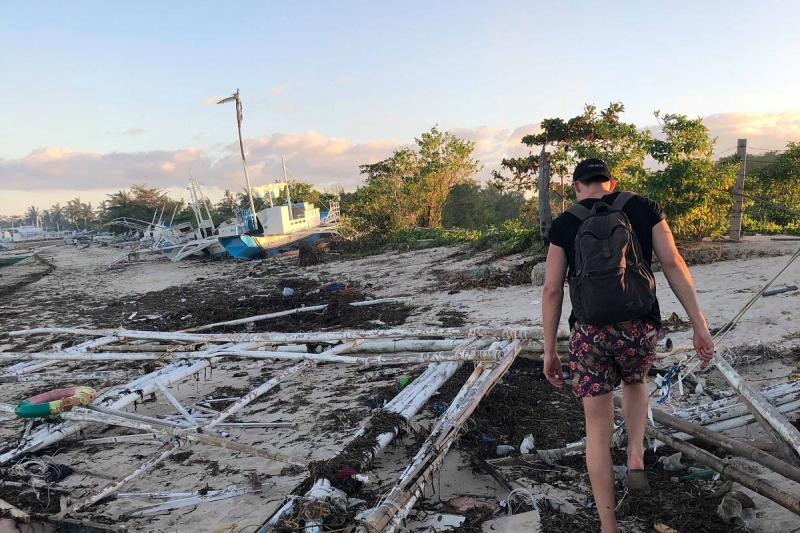 Contrary to popular belief, the island offers more than diving
Why bother going there if I'm not even planning to dive? This was probably one of my first thoughts upon agreeing to travel to this internationally-acclaimed diving destination, knowing I fear going into deep waters. The moment I set foot on the island, the sight of dive shops and dive organisers greeted me, but so did signs offering all sorts of other activities in and around Malapascua.
With beaches practically encircling the entire island, opportunities for beach bumming and snorkelling are infinite. Must-visits include Lighthouse Beach, the site of a remarkable Japanese wreck, and Logon Beach, which offers stunning sunset views.
Perhaps you intend on channelling your thrill-seeking energy elsewhere. What you can do is hire a boat to the nearby Lapus Lapus Island. Not just a spot for encountering spectacular corals, it's also known for a 15-metre-high cliff from where you can take a daring leap of faith into the waters of Malapascua.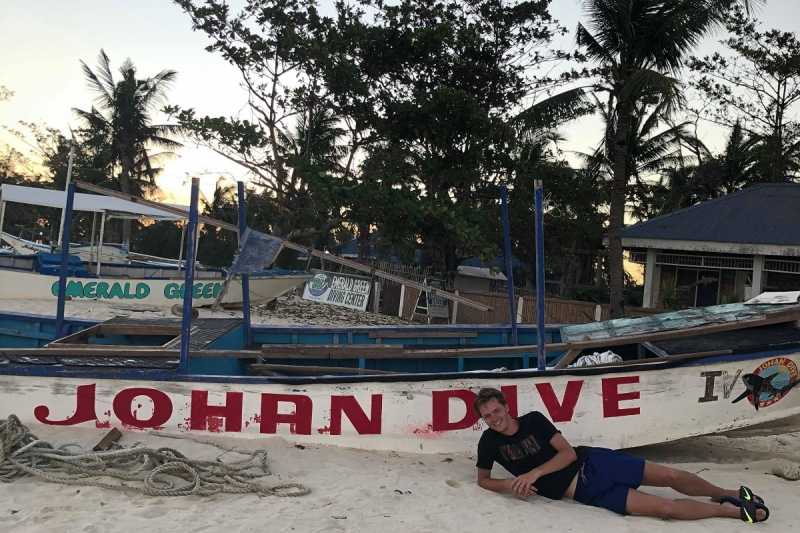 As for our small group, we decided to join a tour to Kalanggaman Island, home to a sandbank so pristine and exquisite, it could almost pass as a painting. The arrangement was far less complicated than when my college friends and I attempted (and failed) to visit it from Palompon, Leyte in 2017. My Swedish friend had deemed it the "best island in the Philippines" afterwards, and I could only nod (virtually) in agreement.
Believe it or not, there's a wide range of food and rooms
If your reasons to visit Malapascua include tasting a wide range of cuisines, then you're in luck. Tucked in quaint corners away from the beach fronts, carinderias or local eateries come in great abundance. You can rely on them for affordable yet authentic Filipino meals any day! Cebu mangoes are an apparent favourite on the island, too. In fact, you'll find staple Filipino desserts like mango floats and mango shakes on many establishments' menus.
For a remote destination, international cuisines aren't hard to come by in Malapascua, either. This, of course, was a delight to my companions. Available options in some hotels include pasta, pizza, and burgers. If your place doesn't serve them, there are always the international restaurants on the southern end of the island.
As for accommodations, I've said it at least once but I'll say it again. In my five years of travelling, I've never experienced a friendlier resort staff than the ones at Thresher Cove Resort. For my stay, I booked a bed in the resort's dormitory room for less than ₱500 per night, breakfast included. The space also came with lockers (just bring your own lock) and a clean shared washroom!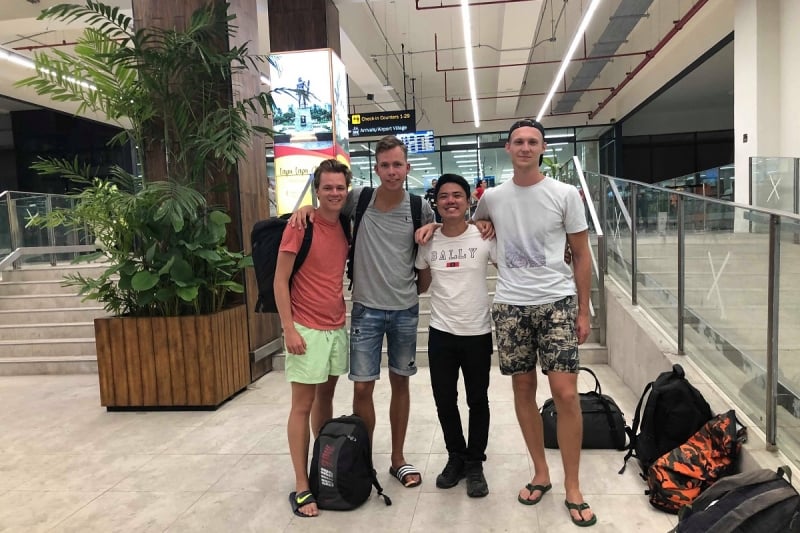 It's not the easiest to get to, so expect fewer crowds
To get to Malapascua from Cebu City, you'll need to reach the town of Maya in one of three ways. The bus is by far the cheapest option, but the ride takes the longest. Taking the minivan will be faster, but these vehicles offer very minimal space. A private car provides the most convenient transfer, but as you might expect, it won't come cheap at all. The journey takes anywhere from four to six hours. Upon arriving in Maya, you'll have to take a boat to Malapascua for about 30 to 45 minutes.
The trip is far from ideal if you're not keen on long transits in restricted spaces. This eliminates a significant number of potential visitors to the island. Having said that, Malapascua doesn't get as crowded compared to the more accessible places of Boracay and Coron. Logon Village, which occupies the whole of Malapascua, is also generally undeveloped — perfect for when you're longing for some good ol' peace and quiet while enjoying plain sailing tropical activities.
The island is so small, everyone is practically family
No bigger than Bonifacio Global City, the island offers everything — from resorts to restaurants — in almost touching distance. This makes accessibility of places another valid addition to your list of reasons to visit Malapascua. It'll not only help you save on transportation cost, but also encourage you to work on your walking skills. On our first day, we managed to tour nearly half of the island in about 45 minutes. Others say it's even possible to go around its entirety in just two hours!
On the downside, the streets are unusually narrow. Any vehicle larger than a tricycle will find it difficult to navigate through the island. In my experience, riding Malapascua's slow-going motorcycles alone was anything but a picnic, much less for my long-legged companions. Nonetheless, I'd choose the experience over braving the traffic-stricken Manila roads anytime.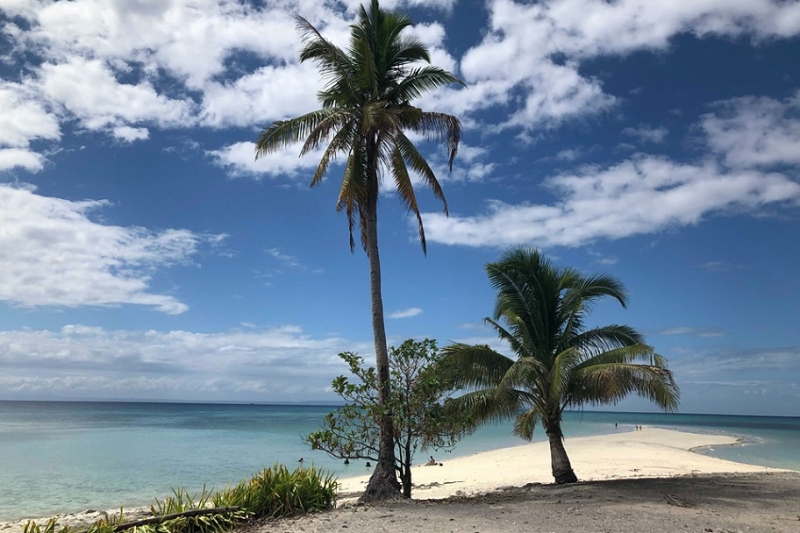 Furthermore, if you're the type of person who thrives on befriending locals and other travellers, then Malapascua — with its close-knit community — is the rightful place to be in Northern Cebu. Other than your accommodation, the beach bars in Malapascua provide the ideal ambience for meeting people, as do the famous disco nights that happen on the island every Saturday. Sadly, the party was cancelled during our visit due to that week's harrowing events.
Also read: Around the Philippines Without Flying: Best Bus & Boat Trips From Manila
Truth to tell, Malapascua isn't the kind of place that will appeal to anyone and everyone off the bat. And I don't doubt your reasons to visit Malapascua (if any) vary greatly from mine — considering my trip to the island resulted from classic spontaneity.
Nonetheless, Malapascua does a great job at keeping itself in fairly unspoilt condition, a quality lost on most Philippine islands. The fact that I did not set any expectations before visiting allowed me to revel in its simple offerings, even in the condition that it was in. For a first trip to the island, this was way more than I could have asked for.