Cebu boasts some of the most stunning and pristine beaches in the entire Philippine archipelago. From world-famous diving spots like Moalboal and Oslob to the powdery white sands of Badian and Bantayan Island, it features a number of coastal paradises for every beach bum. Looking for ideas for your next tropical escapade here? We've rounded up some of the best beaches in Cebu that you simply can't miss! 
Also read: 14 Airbnb Homes in Cebu For Your Next Getaway
Must-visit beaches in Cebu
1. White Beach (Basdaku Beach) – Moalboal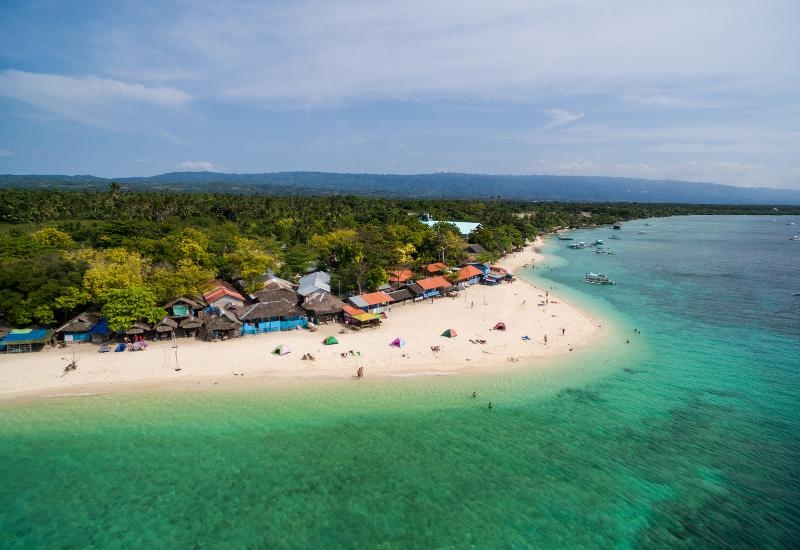 White Beach aka Basdaku Beach is among the most frequented beaches in Cebu by both locals and tourists. Rightfully so; here, you're met with clear turquoise waters and grainy, white sand. Located in the tourist hotspot of Moalboal in South Cebu, it often witnesses a steady influx of vacationers, especially during peak seasons. Even so, it remains a picturesque shoreline with ample space to laze around. Additionally, there are quite a number of local restaurants and bars, as well as cosy accommodations that are just a short walk from the beach. 
Also read: 10 Must-Visit Snorkelling Spots in the Philippines
2. Lambug Beach – Badian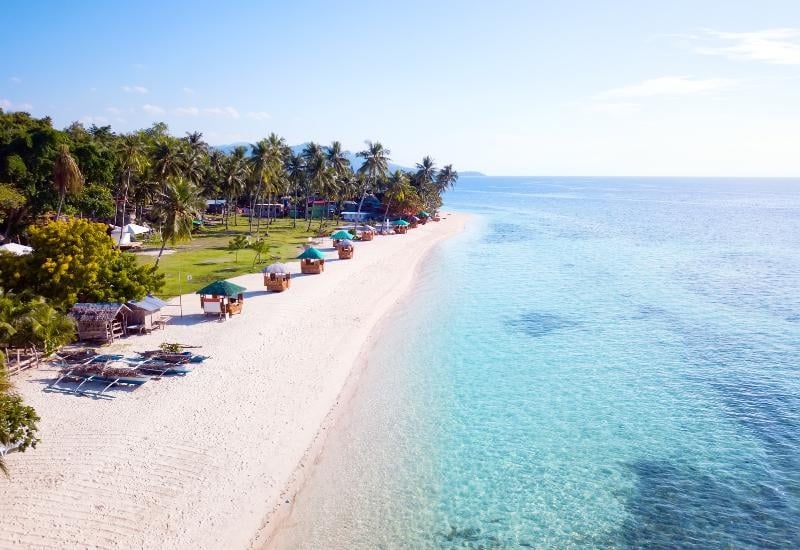 Tucked away in the coastal town of Badian in Southwest Cebu, Lambug Beach remains an unspoiled gem. Unlike some of the more crowded beaches in Cebu, it provides a laidback atmosphere for rest and relaxation. Want to experience the best of Lambug Beach? We recommend hitting this beach in the late afternoon to catch the sunset over the Tañon Strait. 
3. Paradise Beach (Sandira Island)  – Bantayan Island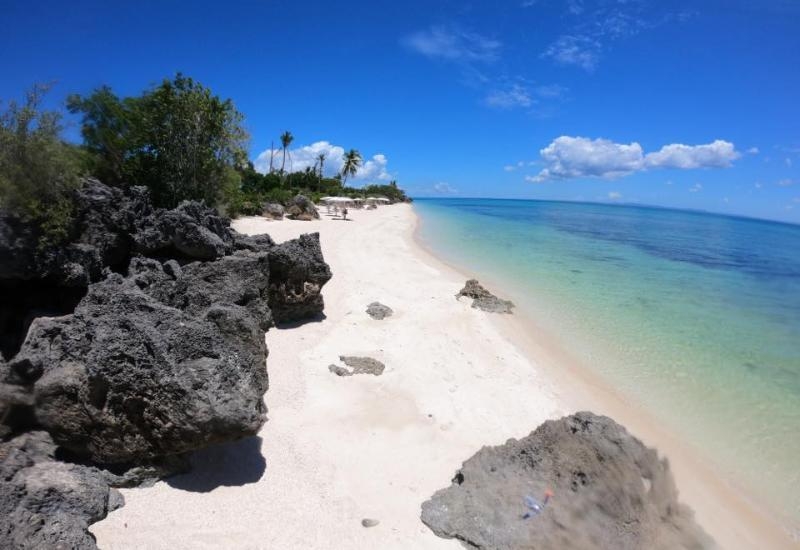 Situated on Bantayan Island, approximately half an hour away from Santa Fe, you'll find the secluded Paradise Beach aka Sandira Beach. Backed by rugged rock formations down a dirt path, it offers a serene haven for beach bums and nature enthusiasts away from the crowds. While there isn't much to do here except to swim and stroll along its powdery white shore, its shallow waters make it an ideal spot for families with kids.

Also read: Cebu Off the Beaten Path: 10 Hidden Gems to Explore
4. Bounty Beach – Malapascua Island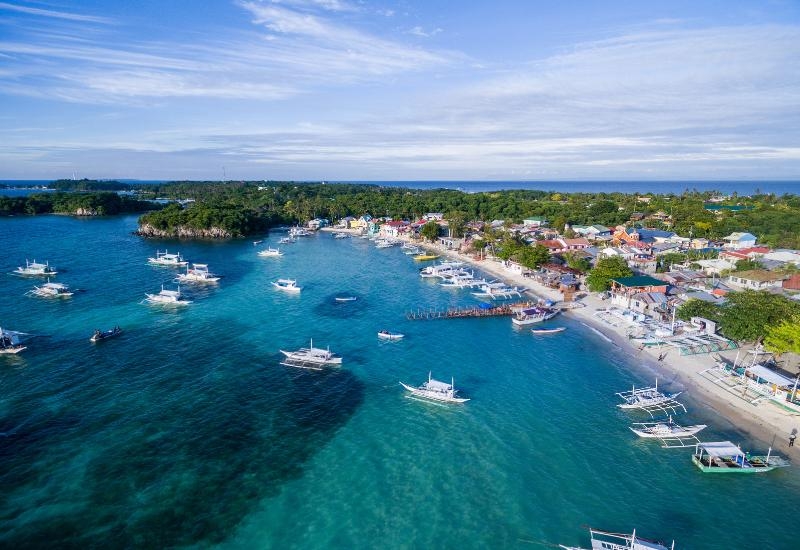 Located on Malapascua Island in northern Cebu, Bounty Beach stands as the primary beach and main draw of the island. Apart from boasting refreshing, azure blue waters, its 800-metre stretch of fine white sand is lined with bars, dining spots, and hotels. Up for a thrilling underwater adventure? There are also a couple of dive shops where you can arrange a snorkelling session or even a deep dive into its waters! 
5. Panagsama Beach – Moalboal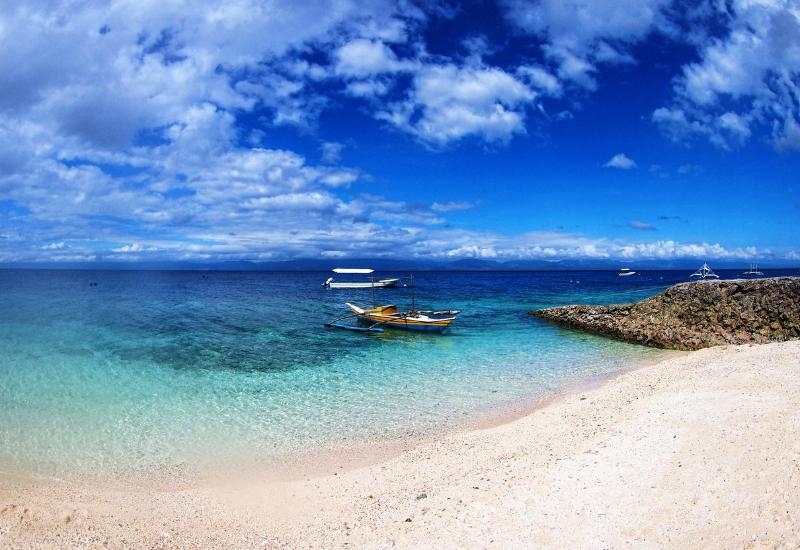 Clearly, we can't get enough of Moalboal's captivating seaside escapes! Another beach that's worthy of your attention in this tiny coastal resort town is Panagsama Beach. While its rocky and coral-covered shoreline makes it less favourable to sunbathers, its colourful house reef keeps it a perfect spot for the diving community. Discover Panagsama's vibrant marine life and chance upon aquatic critters like mackerel and tuna! 
6. Langob Beach – Malapascua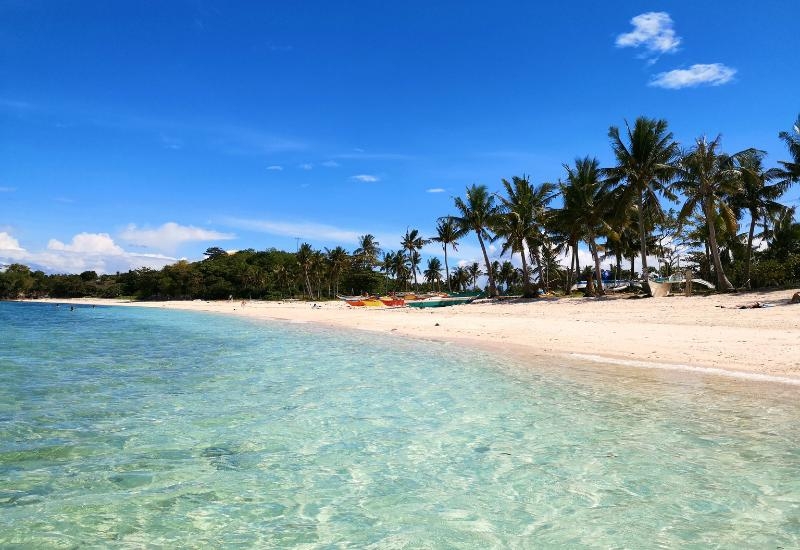 Langob Beach, also referred to as North Beach because it lies on the northernmost part of Malapascua Island, is one of the popular surf beaches in Cebu. While it offers pretty great waves for surfing, it's not as overcrowded as you would expect. Moreover, you can freely enjoy a range of epic water-based activities, as most of its boats are hauled away from the beach.

Also read: 10 Water Sports & Activities in the Philippines (And Where to Try Them)
7. Antig Tingko Beach – Alcoy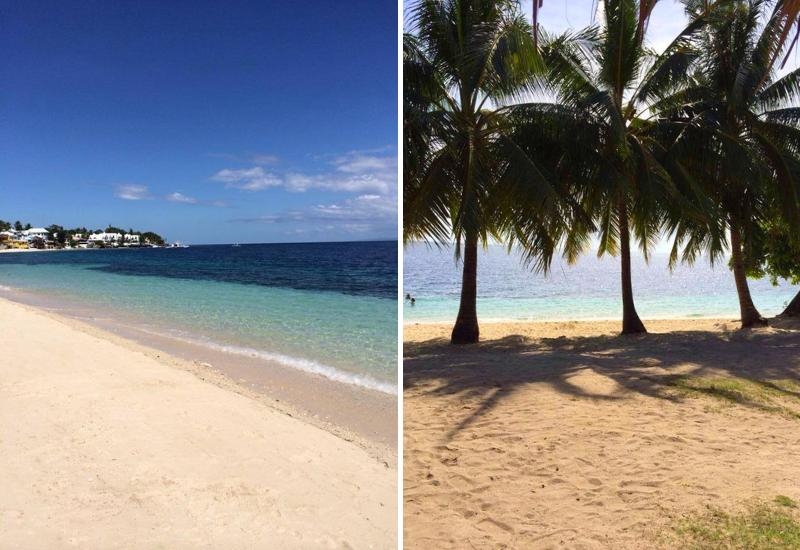 On a budget beach trip? Head over to Antig Tingko Beach in Alcoy, Cebu! It boasts a long stretch of beach divided into four sections: Tingko Beach 1, Tingko Beach 2, Voda Krasna Resort, and a public beach. If you want to skip the entrance fees, head over to the latter. But, if you're looking for a prime spot for picnics and activities, make a beeline for Tingko Beach Resort. 
8. Santiago Bay Beach – Camotes Islands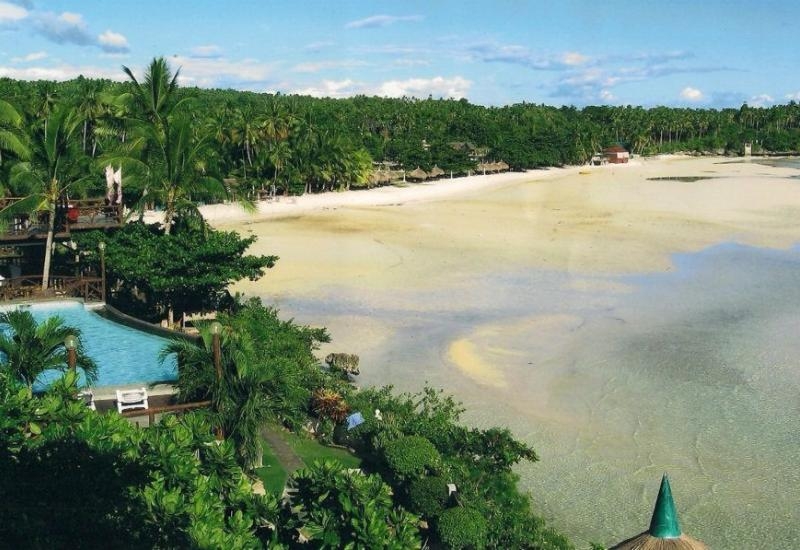 Camotes Island offers a multitude of beaches, but Santiago Bay Beach stands out as the island's most popular coastal gem. This captivating cove beach draws both locals and tourists alike for its rather remote and tranquil location. True to its name, it features shallow and calm waters even during high tide, which makes it suitable for a leisurely swim. 
Also read: 20 Restaurants in Cebu City That Will Keep You Coming Back for More
So, did your favourite beaches in Cebu make it to our list? On your trip to the Queen City of the South, don't miss out on these idyllic coastal wonders! If you've already been to these spots, we'd love to hear about your experience on our official Facebook page or tag us in your travel snapshots @tripzillaph with #TripZillaShare.