The expression "the pen is mightier than the sword" remains true to this day. Even with technology digitalising almost everything, some of us still find ourselves reaching for a pen and pouring our hearts out on a sheet of paper. Writing is a force that keeps us grounded and mindful. We get to stay in touch with who we were before we migrated to the digital era, where thinking before writing came naturally. 
For those fond of writing, a good pen is a must. The best option? Nothing less than some good old fountain pens! These pens are often used for artistic projects like calligraphy and journaling. But nowadays, we're seeing more people use them for everyday writing work. Pen enthusiasts know this well: There's nothing mightier than fountain pens.
Also read: 10 Must-Have Stationery Items for Your Bullet Journal
Write this down! Fountain pens that you can buy online
1. These vintage-looking fountain pens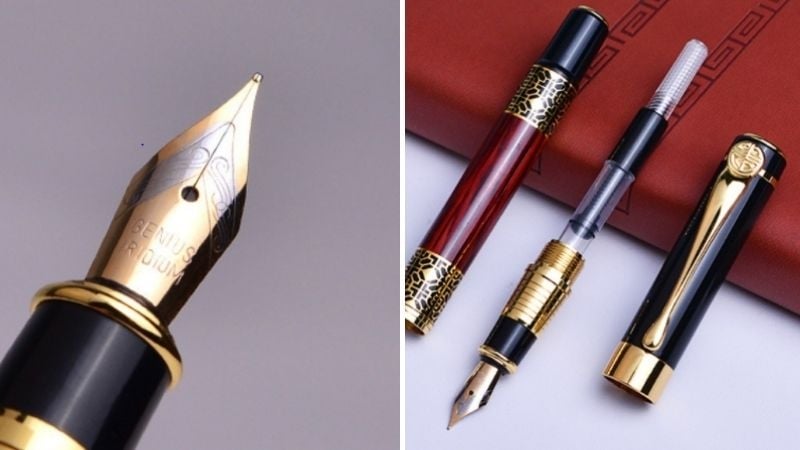 When looking for the right fountain pen, it's essential to consider where and when you'll use it. There's a right nib size for everyone. If you have small and neat handwriting, you should consider buying these retro-looking pens with a 0.5mm nib. We're also in awe of their black, gold, and wood details that complement each other to achieve a charming old-school look. 
Think it's for you? Order it on Shopee or Lazada for as low as ₱96.
2. These budget-friendly pens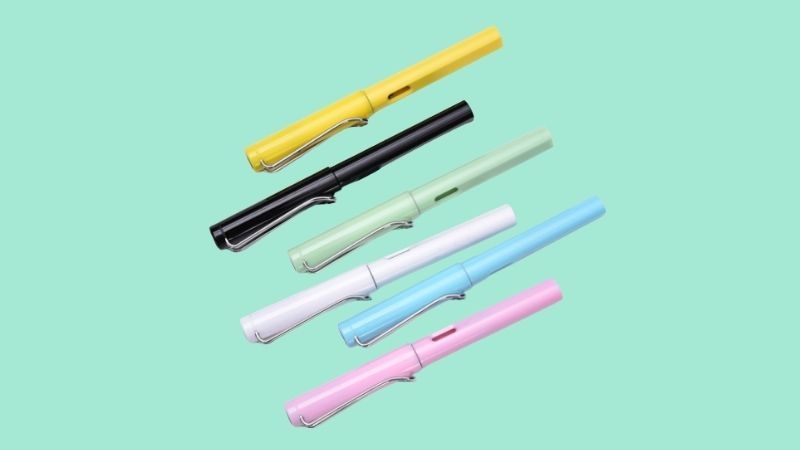 Fountain pens are likely the most sophisticated type among all the writing tools we can think of. So finding these pens that only cost ₱35 comes as a surprise. These pens are made of high quality and lightweight plastic, making it possible to write for a longer period of time. Students love these fountain pens for note-taking and random doodling! 
You can buy these affordable pens on Shopee for only ₱35. 
Also read: 13 Cute and Affordable Items to Buy for a Budget-friendly Retail Therapy
3. These dreamy fountain pens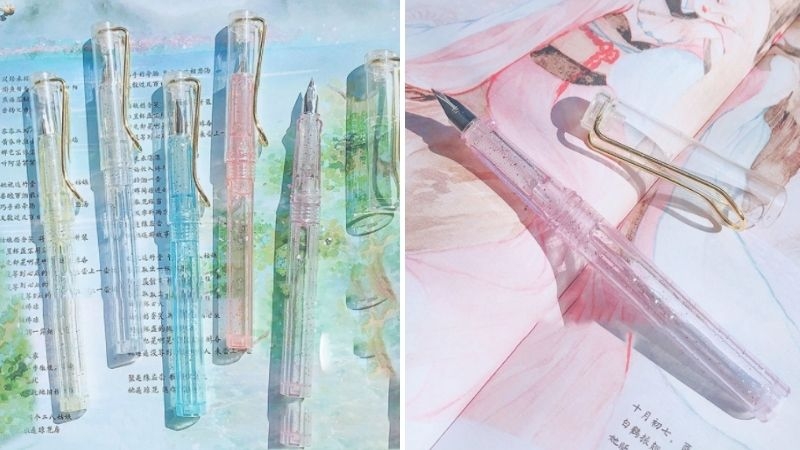 Is this the real life? Is this just fantasy? Although they look unreal, these fountain pens actually exist! Ink cartridges are interchangeable. Write-all-you-can if you want; their ink refill sets can go for as low as ₱14. 
Find these irresistible, too? You can order them on Shopee for ₱55.
Also read: 8 Pink and Floral Items That Will Unleash Your Feminine Side
4. These eye-catching resin pens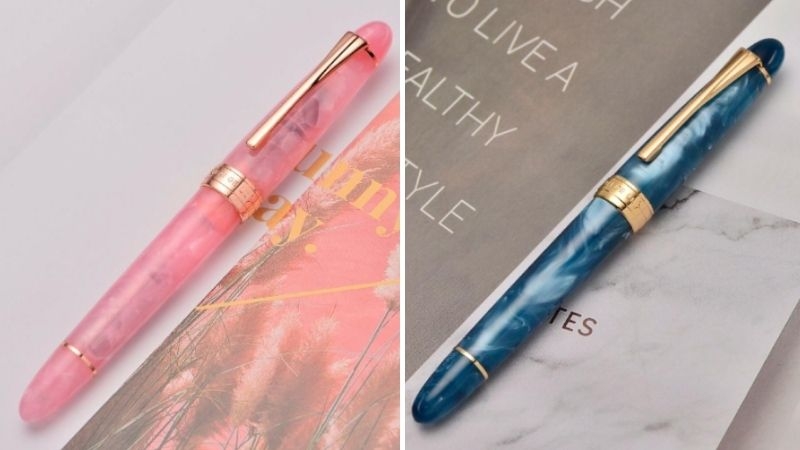 Created for smooth and effortless writing, these fountain pens with a 1.0mm nib are a hit for fountain pen users! They're a popular choice for those with big handwriting, those who like to sign in style, and those creatives who love to draw. In any case, we can all agree on this: these fountain pens can bring out your best handwriting!
Write in style and invest in these exquisite resin pens that you can buy on Shopee for ₱1,634.
5. This fountain pen gift set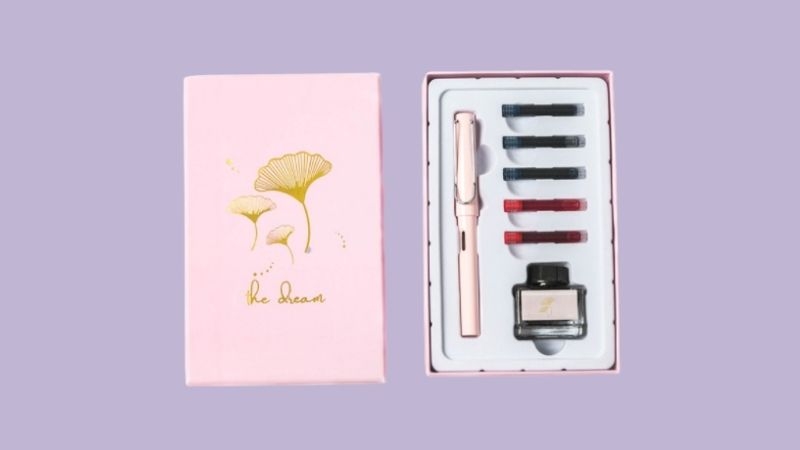 Share your love of fountain pens with your budol buddies! This gift set includes five ink sacs and a 15ml bottle of blank ink, making it a practical choice for beginners. They're stylish yet durable. We also like the small transparent window on the pen shell that makes checking the ink level convenient.
You can buy this gift set on Shopee or Lazada for only ₱324.
Also read: 10 Gift Ideas for Women That Are Perfect For Every Occasion
6. These rainbow fountain pens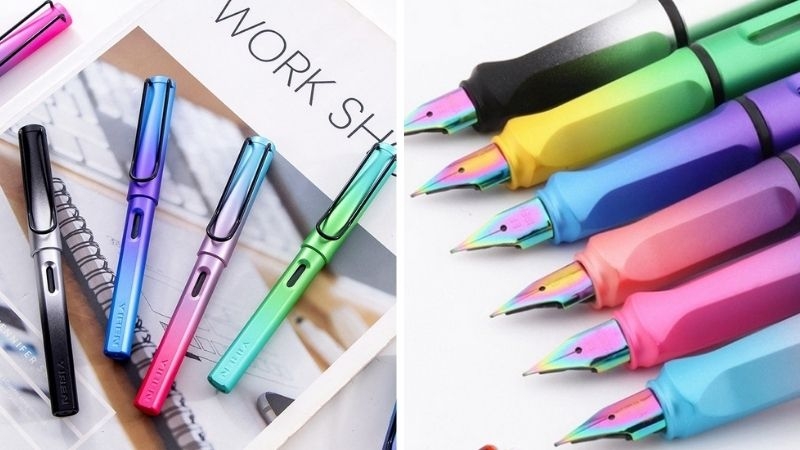 Colour speaks volumes. These rainbow-coloured fountain pens will surely make writing more fun! You can pick from an assortment of colours and choose between 0.38mm and 0.5mm nib sizes. We know it doesn't look like it, but the encasement is made of plastic, allowing users to enjoy a comfortable and easy grip.
Loving all the colours? Buy them all on Shopee for ₱89 each.
7. This retro quill pen set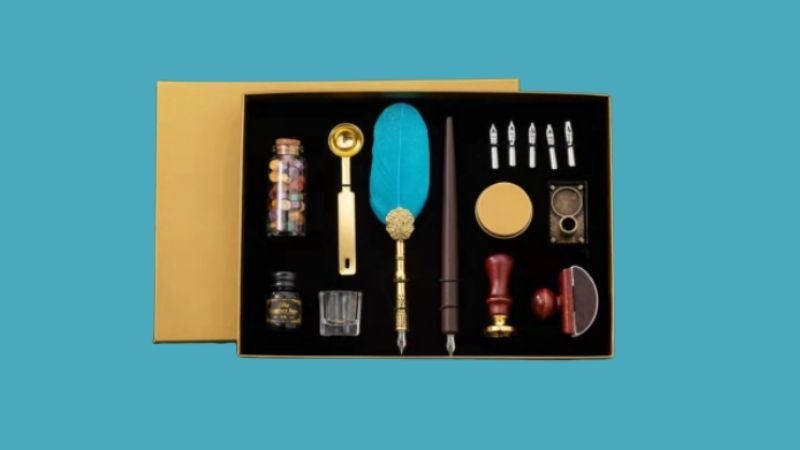 Hear, hear! Travel back in time with this quill pen collection. It's complete with exciting inclusions: feather pen, wooden pen, extra nibs, ink refill, and more! We don't know about you, but we're finding it impossible to think of anything that gets more sulit than this fountain pen gift set. 
Old souls will love this! Buy this adorable fountain pen set on Shopee or Lazada from ₱485 to ₱532.
Also read: Where to Buy Film Cameras in the Philippines for Under ₱2,000
When hobbies nowadays seldom include pen and paper, it's nice to know that there are still those into fountain pens and other traditional writing instruments we can enjoy. There's comfort in understanding that even if our methods of writing have changed, we can still go back and refuse to forget these classic tools.
---
This article contains affiliate links. When you make purchases through these links, we may earn a small commission at no additional cost to you.