While there is certainly no shortage of natural wonders in the Philippines, the heritage sites in the archipelago are just as unmissable. Dating back to the pre-colonial period, the country has undergone countless remarkable events that have transformed it into the vibrant melting pot it is today. And so, it is just obvious that every traveller must experience the rich Philippine heritage through its historical sites. But why settle with visiting these tourist spots when you can wake up in them? For your next adventure, explore our beautifully preserved history and culture through these heritage hotels in the Philippines, from North to South.
Also read: 13 Historical Sites in the Philippines Every History Buff Must Visit
Beautifully preserved heritage hotels in the Philippines
1. Villa Angela Heritage House — Vigan
Then Vigan gobernadorcillo Agapito B. Florendo built Villa Angela Heritage House in 1859. Today, it serves as a charming heritage hotel along Quirino Boulevard. Preserving this home has certainly not been easy; a fire blazed it in the 1930s, and then an earthquake struck in the 1950s — both catastrophic events almost costing its ultimate structural damage.
In 1988, the house was restored into a country inn, where guests could experience spending a night in an authentic Vigan heritage house. Its large dining hall and spacious garden are now most famous for opulent gatherings. 
Address: 26 Quirino Boulevard, Vigan, Ilocos Sur
2. Ciudad Fernandina Hotel — Vigan
Built in 1758, Ciudad Fernandina Hotel initially served as a house to a lineage of Mestizos de Sangley before it was eventually turned into a modern hotel in 2007. Situated in Vigan Heritage Village, the home has gone through careful restoration to retain its classic characteristics of a Vigan ancestral house: a brick and wood structure, a steeply pitched roof, and windows panels made of capiz shells, only to name a few. 
Address: 26 Mabini St. cor Plaridel St., Vigan City, Ilocos Sur
3. Hotel Luna — Vigan
Erected in 1882, Hotel Luna was originally a wedding gift from Don Florentino to his daughter, Dona Carmen Florentino. Decades later, the owners sold the property to a development corporation. Then, it transformed into the first and only museum hotel in the Philippines. 
Like Ciudad Fernandina Hotel, Hotel Luna also sits at the heart of the Heritage Village. Beyond its classic ancestral house structure, the hotel also hosts fine works of local art created by venerable and contemporary artists. Each of its 54 rooms presents an eclectic mix of traditional Spanish architecture and modern design.
Address: De Los Reyes St, Vigan, Ilocos Sur
4. Casa Vallejo — Baguio
The oldest hotel in Baguio City, Casa Vallejo has been around for over a century, surviving both world wars. Built in 1909, it was initially referred to as Dormitory 4 when it housed employees of the Bureau of Public Works, and then German prisoners in 1917. By 1923, the dormitory was transformed into a hotel but continued to live through historical events. It served as a British and Indian refugee centre in 1940 and then persisted through the Japanese carpet bombing in 1941. 
Fast forward to today, Casa Vallejo is now recognised as a historic site, with a National Historical Commission of the Philippines sign marking its cultural value by the entrance.
Address: Upper Session Road, Baguio, Benguet
Also read: Where to Stay in Baguio: 25 Airbnbs for All Budgets
5. Las Casas Filipinas de Acuzar — Bagac
If you're seeking the romance of old Manila — wide empty streets, balsa boats, city centres sprawling with plants — then visit Las Casas Filipinas de Acuzar. A collection of restored Spanish-Filipino houses, this heritage destination brings travellers back in time. Jose Acuzar, the owner of New San Jose Builders, Inc., styled the structures in Las Casas Filipinas de Acuzar to mimic old Manila through its design — each casa, a different story. Various tours are also offered to experience authentic old Manila. 
Address: Brgy. Ibaba, Bagac, Bataan
Also read: 12 Airbnb & Vacation Rentals in Bataan for a Road Trip Near Manila
6. Manila Hotel — Manila
Being the oldest premiere hotel in the Philippines, The Manila Hotel boasts an old-school magnificence that radiates all over its structure: from its lobby lined with Doric columns, to its chandeliers made of brass, crystal, and seashells, to its furniture made of pure Philippine mahogany. Not to mention, other than its opulent spaces, the five-star hotel also offers extravagant services. There's a limousine rental and a helipad on its roof deck, for example. 
Needless to say, The Manila Hotel serves as the epitome of luxury — unsurprising, as it was specifically built to adorn Manila, after all. Since 1912, the hotel has hosted several significant figures, including The Beatles, Michael Jackson, and General Douglas MacArthur.
Address: One Rizal Park, Manila
7. Miramar Hotel — Manila
Arguably the jazziest among all the heritage hotels in the Philippines, Miramar Hotel, which opened in the 1930s, owes its character to the Art Deco movement. The glitzy hotel, dressed in zig-zag patterns, vibrant yellow hues, and a dramatic mural, also houses the first and oldest-running elevator in Manila.
While it doesn't look like the rest of the Spanish-inspired heritage hotels in the Philippines, Miramar Hotel echoes the Heritage Conservation Society in its mission to preserve the nation's history. Thus, it is commonly referred to as an architectural gem in the country.
Address: 1034-36 Roxas Blvd corner UN Avenue, Ermita, Manila
Also read: 8 Heritage Restaurants and Cafes You Can Find in Metro Manila
8. The Henry Hotel — Manila
Differentiating itself from other heritage hotels in the Philippines, The Henry Hotel Manila holds an artsy-modern vibe that elegantly fuses with its nostalgic personality. Built in 1948, the boutique hotel maintains its original post-liberation structure, while also providing a quirky take on 20th-century Manila. (Think aparadors, ventanillas, and sampaguita glass vis-a-vis modern light fixtures!) While the property itself has been around for a few decades, The Henry Hotel Manila only opened as a 34-bedroom hotel in late 2014. 
Address: 2680 Compound, F.B. Harrison St, Pasay, Kalakhang Maynila
9. Rizal Park Hotel — Manila
Over a hundred years old, the Rizal Park Hotel is considered a significant player in the history of Philippine-American relations. Back in 1898, the hotel was known as The Army and Navy Club Manila, where US military personnel and civilians vacationed every now and then. In 1991, the NHCP declared Rizal Park Hotel a National Historic Landmark. 
Today, the structure preserves its dignified architecture, designed by the renowned city planner and architect William Parsons. From its century-old acacia tree to its grand wrought iron fence, Rizal Park Hotel certainly lives up to its motto, "History in Style."
Address: South Road, Ermita, Kalakhang Maynila
10. The Luneta Hotel — Manila
Designed with inspiration from French Renaissance architecture and Filipino stylised beaux-arts, The Luneta Hotel has won the affections of several notable personalities since 1918. In fact, the hotel landed in the 1920 Yearbook of the Philippine Islands by the Camara de comercio de las Islas Filipinas. With this, it has been globally known for its European imports. 
The Luneta Hotel has gained international prominence throughout the years, hosting numerous events such as the 33rd Eucharistic Congress in 1937. Finally, the hotel was declared a National Historic Landmark in 1998.
Address: 414 T.M. Kalaw Street, Ermita, Manila
11. Paradores Del Castillo — Taal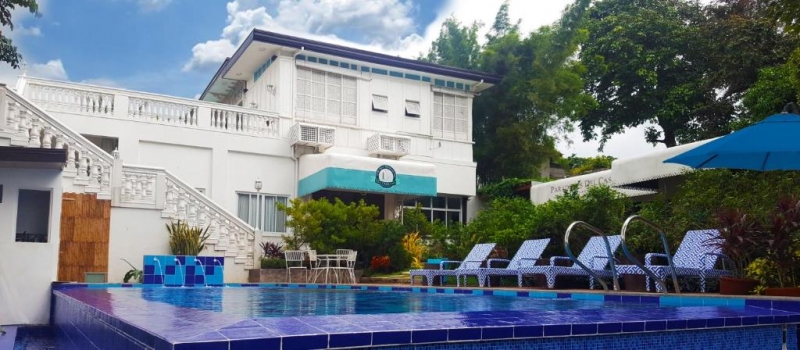 Transport yourself to old-world Batangas in Paradores Del Castillo, an ancestral home from the 1900s turned into a quaint bed and breakfast for travellers looking to relax. Beautifully restored, this charm-filled hotel features a Spanish-American colonial take on the traditional Filipino bahay na bato. When it comes to heritage hotels in the Philippines, Paradores Del Castillo is a must-visit. 
Inside, timeless furnishings and classic art pieces fill the halls and bedrooms. As a previous guest put it: "It's like staying in a museum." All in the best ways, of course! Additionally, history junkies keen on exploring other heritage sites in town will only be a stone's throw away from notable tourist attractions. A few of the crowd favourites include Virgin of Caysasay Church and Basilica de San Martin.
Address: C. H. del Castillo, Taal, Batangas
Also read: 18 Airbnbs & Vacation Rentals in Batangas for Quick Escapes
12. Villavicencio Wedding Gift House — Taal
Heritage hotels in the Philippines are a fantastic choice for vacation accommodations. But if you'd rather hunker down in your own private space, you'll have your pick of historic homes, too! 
Here's an exquisite Taal ancestral house: Villavicencio Wedding Gift House. It was built when Eulalio Villavicencio married the Godmother of the Philippine Revolution Gliceria Marella Villavicencio. Now, more than a century later, the colonial stone house is one of the most famous spots in town. Grandiose and traditional yet colourful enough to appeal to modern Insta-loving travellers, this Airbnb stands out — a blast to the past that's definitely not outdated! 
Address: 32 G.Marella St., Taal, Batangas
13. Villa Escudero Plantations and Resort
We all know Manila is teeming with history, but let's not overlook the provinces in our country. Cue: Villa Escudero Plantations and Resort. In 1872, Don Plácido Escudero and his wife, Doña Claudia Marasigan, founded a sugar cane plantation, growing it into an 800-hectare hacienda. Then, the hacienda turned into the Villa Escudero in 1981. 
On top of showcasing the rich culture of the Philippines, Villa Escudero also houses a family-owned museum. If you're interested in paying a visit, you can ride a carabao cart ride and tour around the rural Quezon.
Address: Villa Escudero, Km 91, Tiaong, Quezon
14. Palm Grass Hotel — Cebu
While Palm Grass Hotel hasn't endured wars or experienced years of disasters, the hotel is still celebrated as a historic hotel in Cebu. In fact, the hotel's grand opening occurred on the 3rd of April to mark the commencement of the Cebu Revolution against Spain. 
Built in 2016, the young hotel strongly advocates for the preservation of the Cebuano heritage. Looking up to the legacy of Don Isidro Guivelondo who hosted and accommodated Katipunan leaders from the province, Palm Grass Hotel also aspires to be an establishment of timeless Filipino hospitality. 
Address: 68 General Junquera Street, Barangay Kalubihan, Cebu City
Also read: 14 Airbnb Homes in Cebu for Your Next Getaway
While it's not a mistake to look forward to the future, remembering lessons of the past is just as important. Celebrate the Filipino heritage in one of these heritage hotels in the Philippines.
Got a property you'd like TripZilla to feature? Inquire with us here.
---
This article was originally published on TripZilla STAYS and contains affiliate links. When you book through these links, we may earn a small commission at no additional cost to you. All images courtesy of the respective property listings.